Get the Basics...
Learn how to strengthen tight hip flexors and increase hip mobility.
The following exercises require no equipment, which makes them simple to do at home.
Watch demonstration videos by Dean Somerset, an expert in strength training and mobility recovery.
If you have tight hip flexors, they're probably compensating for weaker muscles in the butt, back, and core. The hip flexor along with the aforementioned muscles needs to be strengthened. To show what we mean by "hip flexors," here's a simplified diagram: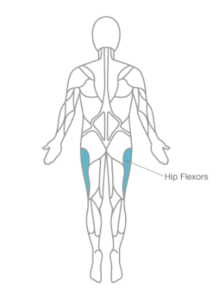 Below, you'll find four exercises demonstrated by Dean Somerset, an expert in strength training and mobility recovery. These workouts will warm up the hip flexors without overworking them, and there's no equipment needed.
For many other exercises and content, go PRO today for access to certified personal trainers, workout plans, and more.
#1 – Lying Side Hip flexion
The lying side hip flexion is simple to learn. Just lie on your stomach with your forehead on your hands, and slowly pull up one bent leg, with your knee facing out to the side. This form protects the spine so that it doesn't bend. This exercise also strengthens your lower back, groin, quads, hamstrings, and other thigh muscles.
#2 – Wall-Facing Hip Circles
Wall-facing hip circles are also simple to learn. All you need is a wall for balance and your body to remain stable. Without leaning onto a wall, pull up one leg, and make a large, circular motion with your hip. Make sure your core, spine, and pelvis are stabilized. Your hip (with your leg, of course) is the only body part that rotates. 
Get More Out of Your Exercises. Go PRO!
Sign Up
#3 – Butterfly Hip Flow
The butterfly hip flow has more moving parts than the previous exercises. It's a calisthenics workout that increases strength and flexibility in the hips. It combines the butterfly position with squats and pivots. This workout puts pressure on the knees, so if yours are bony, slip a mat underneath you! 
#4 – Flow Hip Mobility Warmup
The flow hip mobility warmup is a succession of repetitive movements involving twists, lunges, strides, pivots, and squats. This workout concentrates on hip rotation, squat mechanics, core activation, range of motion, and control. As you link each new movement together, your heart rate will get a boost!
Frequently Asked Questions (FAQ)
How many days a week should I exercise?
Three to five workouts a week is recommended for best results.
How do I create my own workout plan?
You can either sign up for an Exercise.com PRO membership or enlist the help of a personal trainer!
What should I do on my rest days?
Sleep, hydrate, eat well, foam roll, and engage in enjoyable movement.
Track your hip flexor progress and more when you go PRO today. Gain access to certified personal trainers, workout plans, goal trackers, and more!