Dean Somerset knows how to set the training bar high. He's a Certified Exercise Physiologist, a Certified Strength and Conditioning Specialist, and a Medical Exercise Specialist. Not only does he maintain a schedule full of clients, but he has also written for several fitness publications and teaches seminars all over the world.
To know Dean is to know his approachable humor. You can encounter it on his website, where you'll access his energetic YouTube demonstrations and expert advice. Dean may have endless fun doing what he does, but he's seriously passionate about helping you reach your power potential. He'll push you to be stronger, healthier, and more limber. He'll just happen to make you laugh along the way!
It'll even be hard to hate him during deadlifts when your body's on fire.
Dean, Let's Get Started With Your . . .
Location: Edmonton in Alberta, Canada
Name of business: Somerset Fitness (Creative, huh?)
Years of experience: 14
One word to describe your personality: Upbeat
Tell me a little about your background. How did you get into the training world?
Part of it stems from being a lifelong meathead and a desire to do something that allows me to make a living doing something I love, and most of it comes from truly selfish desires to just learn more and more about how to train myself for personal and sports benefits. The downside is I was never really a great athlete, and I wound up injured way more than I should.
As a result of that, I developed an interest in rehab concepts and wanted to take that element of the training and health continuum onto the gym floor. There's typically a bit of a disconnect between the clinic and the training environment, so bridging that gap helped make me valuable for training clients who had their own injuries or medical conditions to overcome.
When starting out, what's something new that you discovered about fitness?
That pretty much everyone with any kind of restriction or reason not to work out could actually benefit from working out, with some guidance if needed.
I've worked with heart-transplant and double-lung-transplant clients; spinal-cord-injured clients; and clients with metabolic conditions, musculoskeletal issues, congenital defects, and motor vehicle accidents . . . everything under the sun. And in every case, starting relatively slow and gradually building produced improved outcomes in different measures of fitness and health across the board.
What business skills have you developed since then?
When it comes to a very people-oriented business like personal training, communication has become more important than anything else.
Giving a plan is easy, but having the client understand how and why to do everything on the plan and how that can actually help them see results can be the difference between someone who has huge adherence and gets the results they're after and then someone who dreads each workout and doesn't follow up as needed.
It also helps to form a more meaningful relationship with the individual and gives them lots of opportunities for feedback and questions to keep them engaged in the process, and plus, it lets you have some fun along the way.
Describe your training style. What's your approach?
I don't have a single style but borrow heavily from a lot of different elements depending on what the clients' needs are. I've used powerlifting, bodybuilding, kettlebells, sports performance, aesthetic training, rehab elements, varied breathing modalities, and a bunch of other stuff to help clients get results, but I tend to come back to more of the strength training elements of things than anything else.
How does your approach to injury recovery compare to physical therapy?
Typically, I work in conjunction with individuals' therapists or medical providers as much as possible to ensure we're all communicating effectively and working on the same plan without conflicting, which helps clients get the best results.
Often, I'll defer to the recommendations and guidance of the therapists, as they're the experts in their field and develop programs around their treatments or things they want to work on or avoid. Essentially, I try my best to work as an appropriate extension of what the therapist does.
What's been the most challenging part of your work? The most rewarding?
The biggest challenges are getting some people who are very gung-ho to actually slow down and focus on quality movement over the speed of reps. It again comes down to communicating why that's important, but some people are stuck on high speed all the time.
The best rewards are the times when clients are able to say they can do stuff we usually take for granted but has been a huge challenge for them.
Someone who has a long-term leg issue is able to climb stairs without using the handrail for the first time in years. Someone who has had heart issues can run around and play with their grandkids. Someone who has been overweight their entire life can shop in a clothing store that only has sizes they've never been able to wear before. Those are the best moments.
What does a typical offline training day look like for you, and how does that compare to your online presence?
I actually still train clients in person, so most of the work day is spent working with clients versus doing online work. I usually start around 6 AM and finish at either 6 PM for two days a week or at 2 PM for two days a week. My online work comes between clients, at the end of the day, or on weekends.
How has our Exercise.com platform been the most helpful for you?
Developing an easy intake system and ways to scale the delivery of workouts has been huge. Working with 20-30 individuals who each have specific goals and restrictions can be challenging, but your platform makes it easy to organize everyone's programs and put a plan together that will get them the best results possible.
You also host a group option for a program I've developed — High Tensile Strength — and allow the use of an app, which is a massive benefit I wouldn't have been able to have without using your platform.
See for yourself - Meet with the Exercise.com Team today
Train Anyone, Anywhere in the World.
What's your favorite workout right now and why?
Because summer in Edmonton is relatively short, I tend to bike to and from work each day, barring terrible weather. This is a 20-minute sprint while trying to keep up with traffic each way, so it's great for getting me started in the day and building a sweat.
If you could have a superpower, what would it be?
Telekinesis would be pretty awesome. Can you imagine how much of a boss you'd be in the gym if you could lift stuff with your mind? I'd be the first person to deadlift 3,000 pounds.
Name two tunes that get you pumped!
Like most people, I have a pretty broad love of music but tend to come back to 90s rap and hip hop. DMX is fantastic for anything heavy, Kendrick Lamar's new album is awesome, and nothing beats early Kanye.
What's on the horizon for you?
Some small projects on the go, traveling to teach some workshops in North America and Europe, and hopefully continuing to crush it with in-person and online clients.
Note: This interview has been edited for clarity. You can find Dean on Facebook, Instagram, and Twitter.
Sign up for online training with Dean today!
---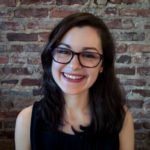 Lauren Smith is passionate about nutrition and holistic health (how the body, mind, and emotions intersect). She lives in Baltimore City, where she writes stuff, plays music, embarks on long power walks through the park, takes contemporary dance lessons, and enjoys healthy, flavorful cuisine. Lauren has written for a literary journal called Skelter and for Honestbodyfitness.com.