Hey, it's Jeff Crews, Chief Marketing Officer for Exercise.com, and I'm going to show you five ways fitness businesses are delivering workouts online to increase revenue.
But before I get into that I want to give you a brief history on Exercise.com and who we are.
Since 2011, we've had fitness businesses all over the world leverage our all-in-one business software to get their own custom-branded apps to manage their business, deliver workouts, and, ultimately, increase revenue and engagement while saving time.
We have many parts to our software, but our e-commerce allows fitness businesses and professionals to deliver workouts online in a way that's automated, engaging, professional, and, most importantly, affects their bottom line by increasing revenue.
When it comes to the word "online" please take that with a grain of salt because I know your mind might go to somebody on Instagram or Facebook.
That typical online trainer, and yes, we've helped those people do really well, but we've also helped the brick-and-mortar businesses who are training clients every day, and this is an opportunity for them to deliver workouts online, still in their gym, but in a more efficient way.
You can take payment for a workout, and at different opportunities when you think about an add-on or a down-sell or somebody's completely canceling, you now have opportunities to still increase revenue.
I'll show you five main ways that a variety of genuine clients who are right now leveraging these ways to increase revenue, and I hope it's a great resource to you.
If you're ready to manage your business better, schedule a demo with Exercise.com.
#1 – Single Workout Plans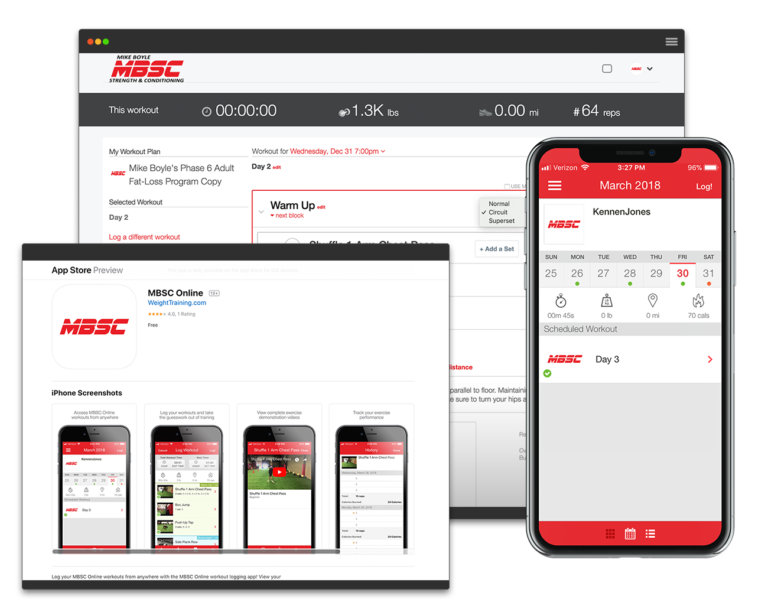 One way to increase revenue online is by selling single workout plans. Think of it as this: here's a six-week workout program around a goal I can help you achieve.
Give me a single amount of money and you'll get access to this plan for life with all the benefits that my apps provide: logging, scheduling, performance tracking, exercise demonstration videos.
Much like when people buy an audiobook, when they buy a workout plan from you through your apps, they have it for life. And there are different ways you can market this. If you're online it's pretty self-explanatory: "Hey, buy this program."
The cool thing is if they're already a member, it's a great way to get them to make another purchase. Or if they're not a member, it's a great way to get them in the door to make that purchase, and subsequently, get them on a membership or whatever other services you're offering. And again, they would have them for life.
But if you're a brick and mortar gym or fitness business, it's a great way to increase revenue when you think about add-ons.
So maybe a current client or member has been a member or client for years, well now's an opportunity to say "Hey, here's a workout plan that's around the goal you'd like to achieve. Pay a single price and you have it for life, and you can do it whenever you want."
Or if you think about a down-sell, maybe they're not going to have time for personal training, but they still need a workout program, now you have an opportunity to provide that.
If they're completely canceling, or if they're just going away for a while, it's just a great way to offer a workout program that they'll have for life, that can increase the revenue for your fitness business.
Again, whether you're online or a brick-and-mortar business, the same principles apply. It helps you make more money. It helps you provide a more professional experience.
One example of a real-life client who is benefitting from this is AMPD Performance. AMPD is a gym out of Dallas. They train a lot of pros like Jordan Speith, and they use our software in a lot of different ways.
One way they utilize our software is using it to sell workout plans. You see they're selling this $49 workout plan for shoulder care, and the customer simply clicks to get started. Once he or she does that, that's when our software takes over and begins handling everything.
We're on their domain. Simply create an account: email, first and last name, password.
Or I can log into my account. I sign up. I pay with my credit card information and take advantage of any coupon codes if they're available. I click complete purchase, and at that point, I'm paying $49.99 for just this four-week plan for life.
Once I purchase it I have access to it from my computer. I can see days, weeks, videos, what's prescribed, all that great stuff.
I've actually started this plan, so it's on my workout journal. Whether or not I access my workout journal from my computer, I can see the scheduled workout and I can log it and print off a PDF. Again, it happens automatically.
Whether or not I download the AMPD iPhone or Android apps, I can simply open up the apps, login, and I'll see that on the 13th is my scheduled workout. I can simply tap on that scheduled workout to go right into it.
This entire professional experience happens automatically through our technology.
It's a great resource too. Simply tap on that first exercise. Just for example's sake, I can see the video, I can see the exercise notes if they're available. I can see what's prescribed, in this case, it's a timer; so, I can start that timer, but you can do weights, sets, reps, time, or distance. You name it, it can happen. Then, I simply click up here to go to the next exercise.
As I complete exercises, I get a green checkmark, then I hit log, and my data's saved for life.
You can see what a powerful product that is and what a game-changing experience it is. And that's just one way clients are using it. The same principle applies to a lot of our other clients.
I can start. I can stop. I can have that flexibility all within your software, which is really our software handling it all.
Another example is Don Saladino. He's a celebrity trainer. He has a gym in New York City, and one of the ways he leverages our software is by selling single workout plans. Specifically, he has a lot of celebrities he trains like Blake Lively, Ryan Reynolds, and in this case, it's a Hellboy program. It's six weeks and he's selling it for $80.
So, when I click any of his calls-to-action, our software takes over where they sign up: email, first and last name, password, they pay, and they get started.
If I go to Don's app right here, you'll see that it's in my library as a purchased program along with others that I've purchased that I can start and stop whenever I want.
I've actually started it, and the same principle applies. On Monday, I have a scheduled workout. I can tap it and see what's prescribed in a very professional, engaging manner [with] videos. It tells me exactly what to do and I log it and it saves my progress.
Another satisfied client example is Mike Boyle Strength & Conditioning. He and his crew are a top-10 gym in America. Mike is considered a godfather of strength and conditioning, and they've done very well selling 12-week programs at various goals and to various demographics.
Getting Started with MBSC Online Traininghttps://t.co/9i5caB243K

— Mike Boyle (@BodybyBoyle) May 20, 2016
So, let's just say this adult fitness program. I simply click that, and, again, we take over. We sign up. They pay. They get started, and then they get access to the plan for life. It's a very engaging plan.
Again, if I go over to Mike's apps, you'll see the same idea. There's the program on the computer with everything that I have prescribed. I've started this plan as well just to give you an example of what it looks like in the journal.
I'll throw it on right now. I can easily see my scheduled workout, tap to open it, and see all of MBSC's videos for each exercise: sets, reps, time, distance, and I can log and track that performance. For life, it's available to me as a great resource underneath my plans tab along with other programs I may have purchased. And all the while, MBSC has increased their revenue.
So you can see how this applies.
Whether you're online, whether you're in-person, whether you're dabbling with either or, you can increase revenue by selling workout plans, and these are just a few examples of fitness businesses doing that right now and delivering it through a custom-branded experience.
#2 – Group Workout Memberships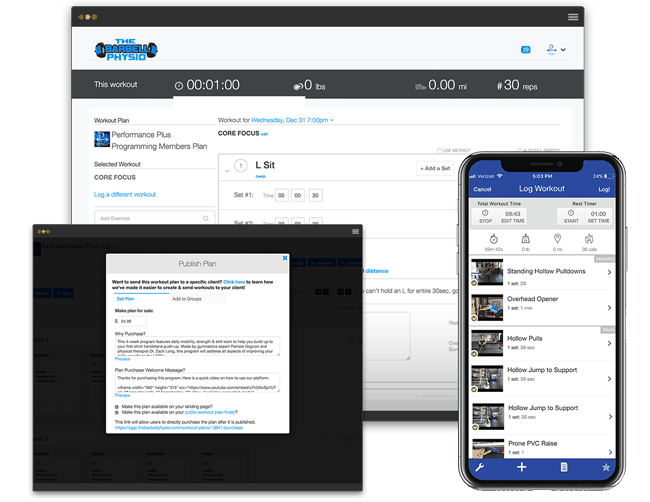 A second way to increase revenue online is by selling group workout memberships. There are three main ways you can do this. I'll show you some real examples right now of clients doing that, and you can apply whether you are completely online or a brick-and-mortar business.
Either way, you're going to get people on a recurring workout membership where they get new workouts or workout plans automatically with the same professional, engaging experience through your custom-branded apps.
The first way is through a monthly-workout-plan model like PJF Performance does. They're a gym out of LA and they train top NBA professionals like James Harden. But they're very well-known when it comes to specific sports performance goals.
One such performance goal is increasing your vertical. So, if you have a great track record of helping others achieve this specific goal, you can make the following offer: join this membership for $27.95 a month or $275 one-time purchase and get a new four-week vertical jump program every month for a year that's going to help you increase your vertical.
Whatever your specialty is, you can make a similar offer. The system is smart enough to understand that if you joined maybe three months ago, you'd have up to month number three. If I joined today I'd only have month number one. So we'd be on our own journey.
See for yourself - Meet with the Exercise.com Team today
Let the team at Exercise.com show you how to grow and manage your fitness business better!
It's ultimately going to be the same journey, but it can take anybody where they're at and get them started and take them through that automatically, so you can concentrate on marketing it, setting it, and forgetting it.
In this case, the same process applies when it comes to collecting payments. I'll just click here and once I do that, I'm taken to the signup where I'm on their domain, custom-branded to them, and I create my account or I log in.
I'm paying $27.95 a month, and I also have the opportunity to enter coupon codes. I click complete purchase, and now I'm on that recurring payment. Every month as I continue paying, I get a new workout plan in my library.
So I'm actually going to go into the PJF Performance app. I have a scheduled workout, but I'm going to go over here and go to my library, and you'll see I have a bunch of plans because I've been part of this membership for a while now.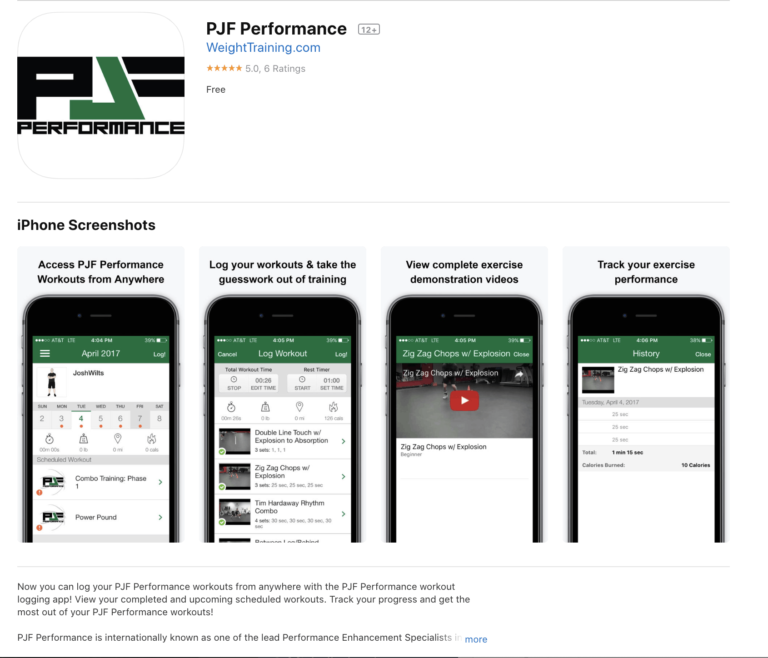 Every time I get a new plan I get an email and web notification that I have a new plan available. Whenever I want to, I can click on a plan. I can start and stop it and create my own schedule so that it shows up on my workout journal.
I simply go into the gym, whether I'm on the iPhone, Android, or computer, there's my scheduled workout. Easy to follow. Easy to do because it tells me exactly what I need to do when it comes to the exercise: sets, reps, time, and all that.
I simply go into exercises, and as I complete them, I click next. And as I do that, I get green checkmarks and I can click log and track that performance.
This is a model that works a lot when you're trying to get someone to a goal, a higher level goal, and you want to give them monthly workout plans.
You can create your schedule as the business, PJF Performance in this case, and then the system will start that person on it with these plans automatically in their library. And they can now start and stop, and everyone can be on their own schedule based on when they get signed up.
A second way to increase revenue through group workout memberships is to think Netflix or Costco or BJ's: Having the membership is what gives you access to everything.
That's what Barbell Physio's doing.
For $19.99 a month or $140 a year, I get access to a bunch of different workout plans that I can start/stop whenever I want automatically. No time release or any of that.
I just click register now. I start their payment process: signing up, logging in, paying. In this case, I'm paying $140 a year after a 14-day free trial. Enter my credit card information, and I complete the purchase. When I go to that app, you'll see that right away: no time release or anything.
In my plans, I have access to a database of very beneficial programs that I can start and stop whenever I want. This is obviously an online application, but if you're a brick-and-mortar business, think about if you have a lot of people coming into your facility and using the equipment.
If those customers aren't using any personal training services, this is a great way to engage them.
"Don't want a full-time personal trainer? No worries. Join our membership where you can get workouts and you can follow through the app no matter where you are or what you want to do. We have a bunch of workout plans for various goals."
#3 – Workout Of The Day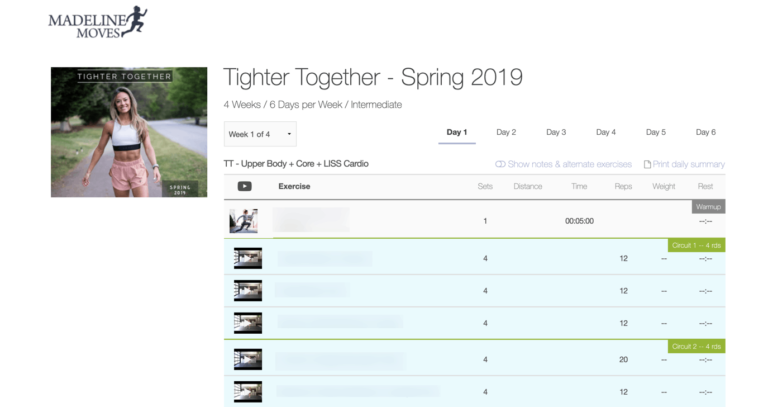 The third way to increase revenue through a group workout membership is to use a workout of the day model.
In the previous two examples, you're taking a workout plan and assigning it whether you're saying it's available immediately or whether it's available in three months.
In this example, you're using our group workout calendars to actually put workouts on a calendar so that whatever's on the calendar is automatically going to show for all the members in the group on their workout journal.
This is really good when the participants in your workouts don't necessarily need the progress monitoring, but just need to make sure the exercises are being done. They're coming in and doing them or going to their gym and doing them.
It builds great community and engagement because every day everyone's doing the same workout, and it's easy to market around that.
Here is one example: Madeline Moves. She is offering weekly workouts. They pay monthly or yearly. They click that button and we take over.
We collect payment. We make sure they get their workouts. And we make sure it's all being delivered through Madeline's apps.
So email, first name, last name, password. They pay. I'm going to pay $20 a month in this case. Enter my credit card information, and then whatever Madeline puts on the calendar is going to automatically show on my app along with everybody else.
It is a great way to manage a large group of people because it's one calendar. Today's date: here's the workout and do it. And it's super engaging because it teaches habits when it comes to your members saying "Ok, open the app," and boom, there's the workout of the day.
Simply click on it, tap it, open it, and I'm good to go, and I have everything I need.
So those are three main ways to leverage group workout memberships to increase revenue. You can have time-release plans, and that's good when you're thinking about long-term tracks.
You can say here's a database of plans, think Netflix, and you can pick and choose whatever you want; we all have different goals, here' a big database for you to choose from.
Or you can use the workout-of-the-day model. Follow this calendar, everyone's doing it together. And simultaneously, you created a way to both increase engagement and revenue.
#4 – Group Workout Challenges
A fourth way to increase revenue online is by running group workout challenges. This is a great option because you're not only going to increase revenue (pay $50 to join this challenge), but you're also going to increase engagement because it's real time.
It's similar to the workout-of-the-day format, but for a very specific time block (e.g. the next four weeks or six weeks), and it's focused around a specific goal. For the next four weeks, starting on October 8th, everyone's going to get the same workouts that are going to help everyone get strong and lean.
It's a great way to increase revenue because it's user-friendly like a single workout plan. It's easy for someone to understand pay a single price, get access to this challenge, and then the plan for life after that.
The challenges really trigger people's minds to get invovled and get engagement going.
So the same process applies when someone goes to the sales page, purchases the challenge, and gets access to it. They simply open up the app, and whatever the calendar has set, the scheduled workout will show.
When it comes to a calendar, I'm just going to go to a demo portal because I don't want to mess up any current client challenges. You can see this is the group workout challenge calendar. Whatever is on this workout is going to show for all those members.
In this case, this plan's only going for four weeks, and after that, it's done and they get access to the plan for life.
So a challenge, a great way to increase engagement and increase revenue. Whether you're online or in-person, there are a lot of different ways you can leverage this to make that money and to make other people make other purchases down the road because it's a killer, engaging experience.
#5 – Individual Workout Programs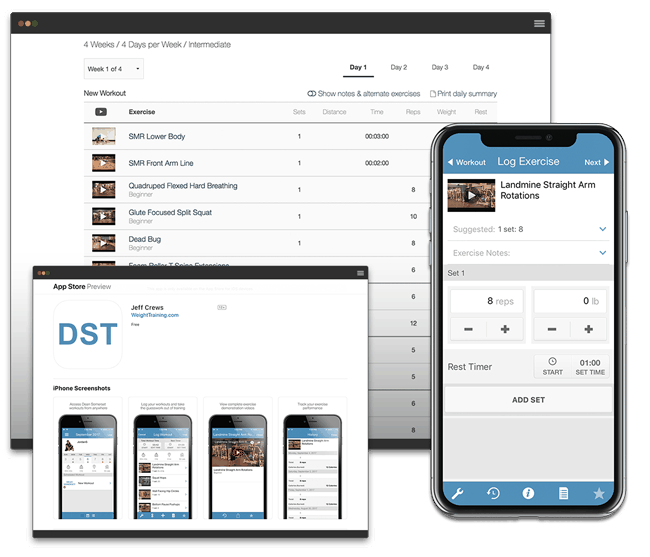 The last way to increase revenue online is by delivering custom, individual workout programs. Because of the time investment involved in the customization of these programs, you'll be able to offer a higher price point for this service but have fewer clients opting for it.
However, those clients will likely be more invested in you because they're willing to pay more for what you're able to provide for them.
The process of signing up is the exact same process you've seen. I simply click sign-up online, or I can do it in person, and then once I do that I start the checkout process where I create an account or log in. I pay, in this case, $259 a month, and now I'm a client of Dean, and he can manage my account.
In the plan of AMPD, they have a few different pricing options, so I can pay $149 a month or I can pay a six-month or an annual contract.
I click that to start the payment process. In the six-month case, I'm paying $816 every six months, which is really good because the trainer is getting more commitment up front. Then I'm a client of AMPD and they can deliver workouts directly to me.
I'm going to go to a demo portal because I don't want to mess up any clients' live workouts, but I can give you an example of the two ways you can deliver workouts.
One of those ways is the calendar model. You can see I simply go to the calendar, and once I'm there, I can easily build workouts from our database.
I can add saved workouts with one click. I can copy workouts or I can import workout plan templates to the calendar, but ultimately, whatever's on the calendar is going to show on my workout journal, so it's easy for me and for you to know what's going on.
For example, if I open up the app and a workout is scheduled for today, I tap that and go through with it. You can see how it's a professional and engaging experience that is worthy of its price point.
The second way you can deliver workouts to clients is to just assign a plan to their account that they can start and stop whenever they want.
You can see in this example they've assigned a six-week strength workout plan that was assigned April 17.
A lot of clients do that when they don't necessarily know their schedule, but people are willing to pay a higher price point to get fully individualized programs that they can start and stop at their discretion.
To recap the five main ways you can increase revenue online are through single workout plans, group workout memberships, workout-of-the-day plans, group workout challenges, and fully customized individual workout plans.
The workouts are delivered in an engaging, professional manner with proven results. The workouts are easily accessible through our user-friendly and intuitive apps.
Regardless of the physical location of your fitness practice, we can help you increase revenue with our e-commerce software and do it in a way that is time-saving, cost-effective, and lucrative to your business.
Book a demo to start that process. We'd love to help you take your business to the next level.