Reviews
Reading Exercise.com reviews online makes clear: Exercise.com is made with ❤️ and it shows.
We ❤️ our customers, and they ❤️ us.
See for yourself.
Look up Exercise.com reviews on Capterra, G2, SourceForge, TrustPilot, GetApp, SoftwareAdvice, or any of the major software review platforms and one thing is for certain: we aren't perfect, but we will do everything within our power to make YOUR fitness business successful.
Here is just a sample: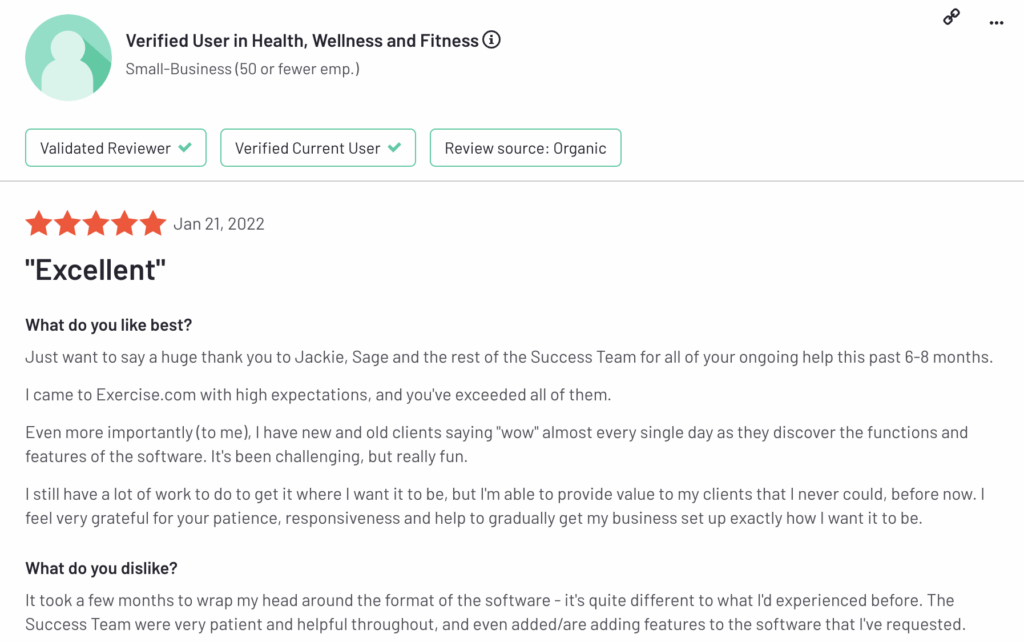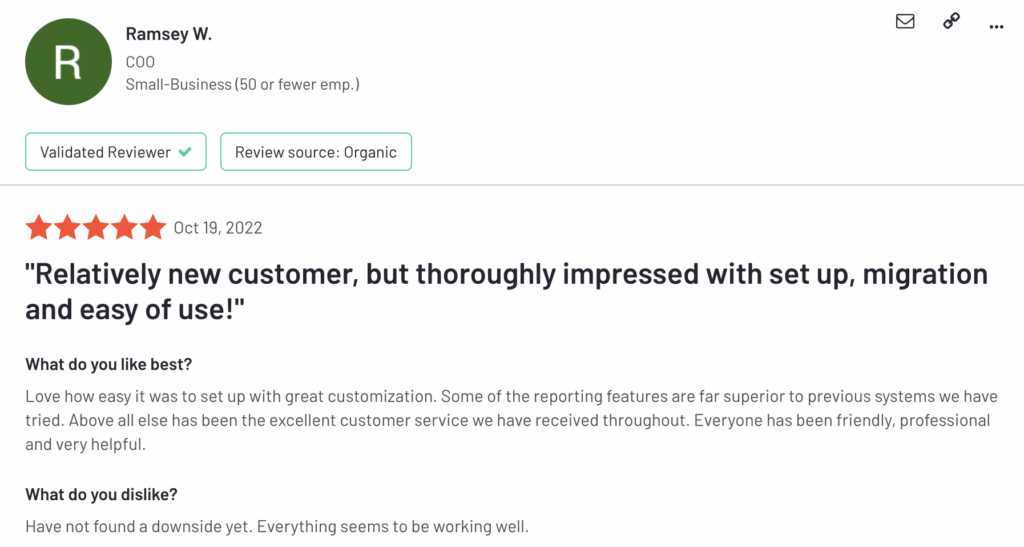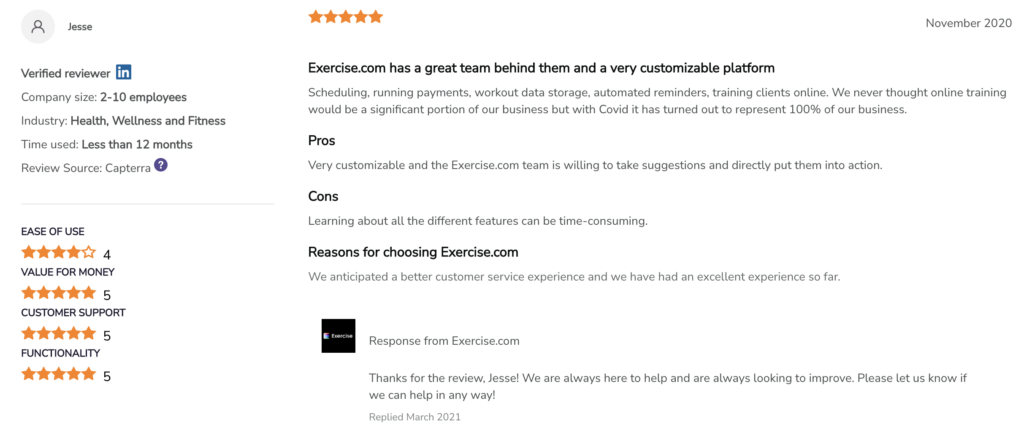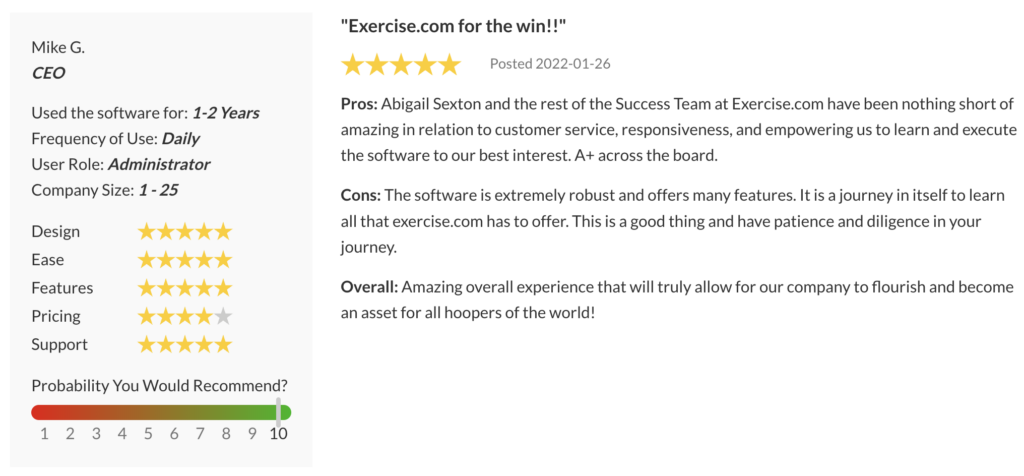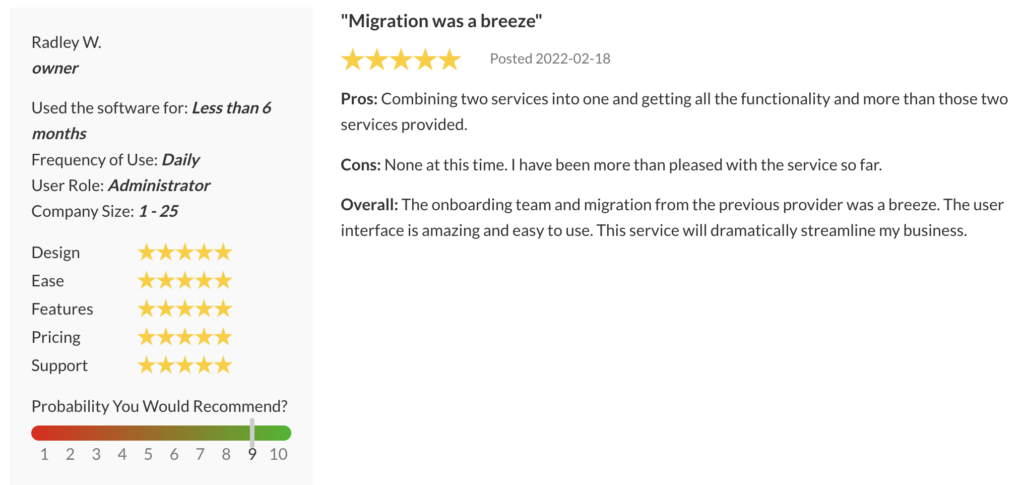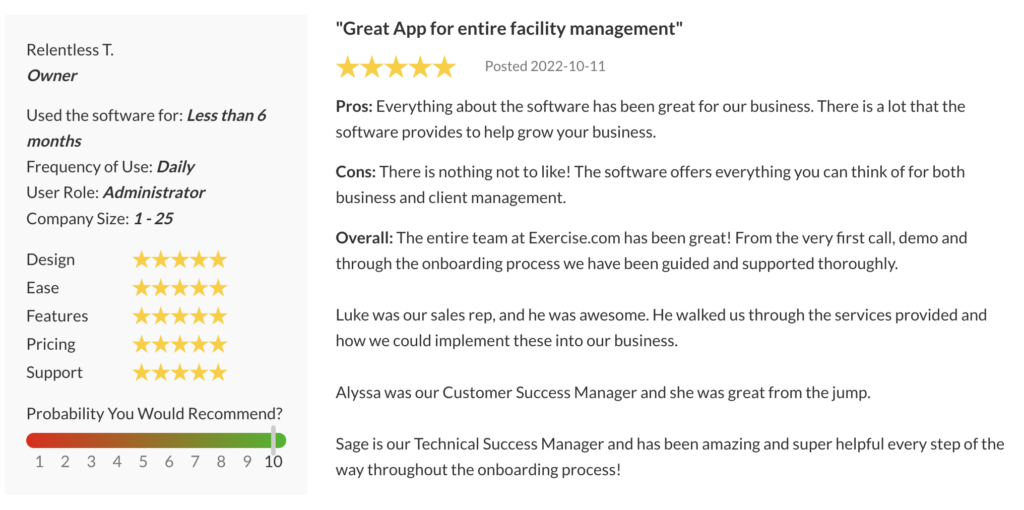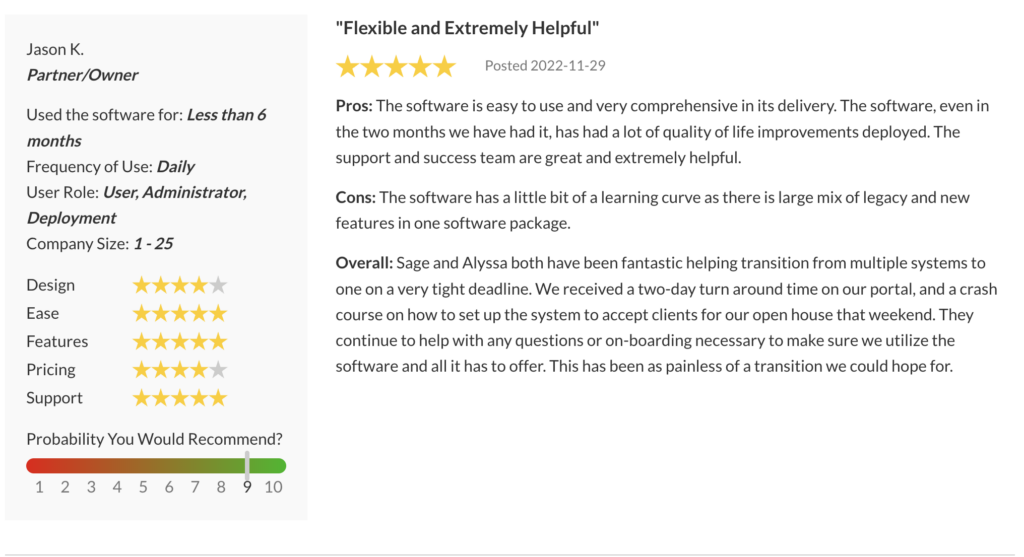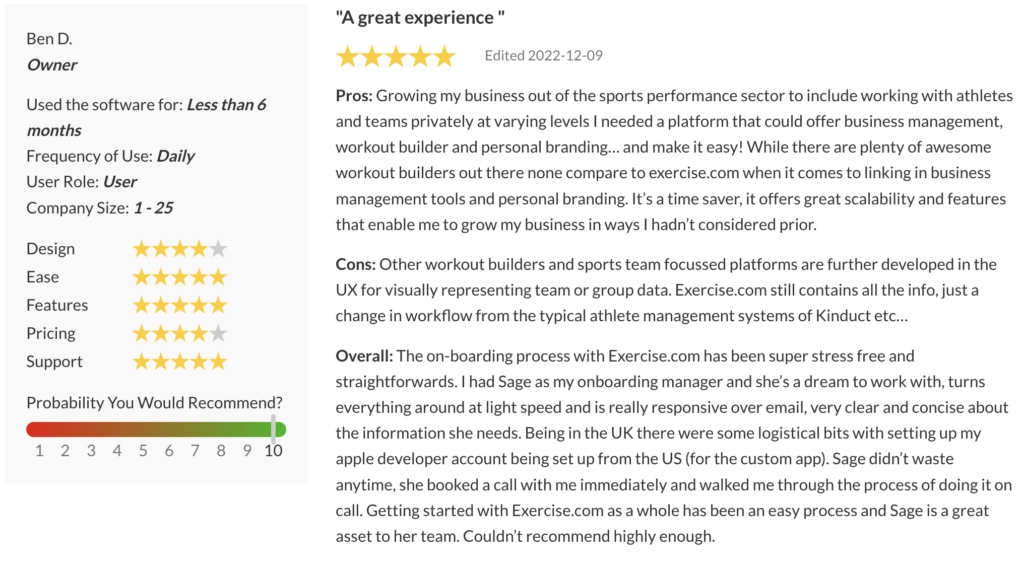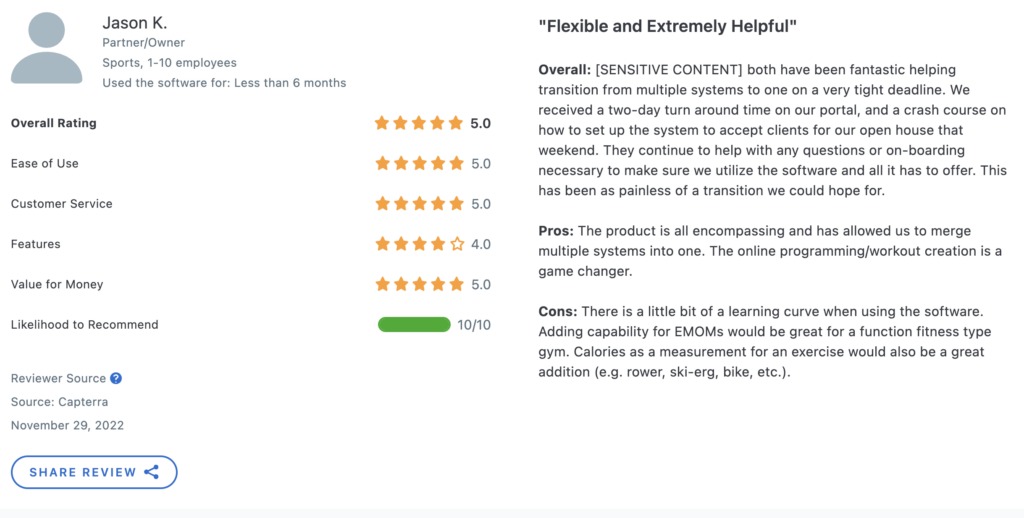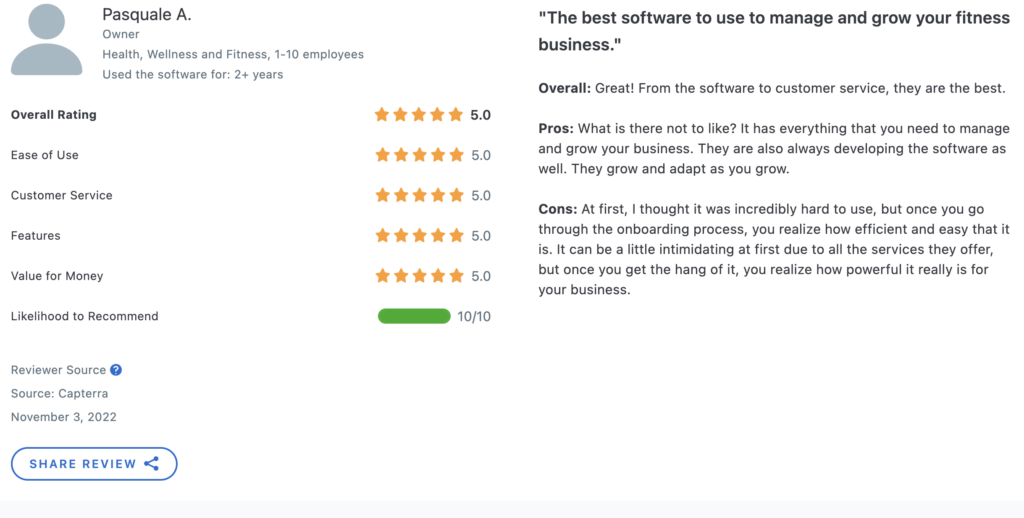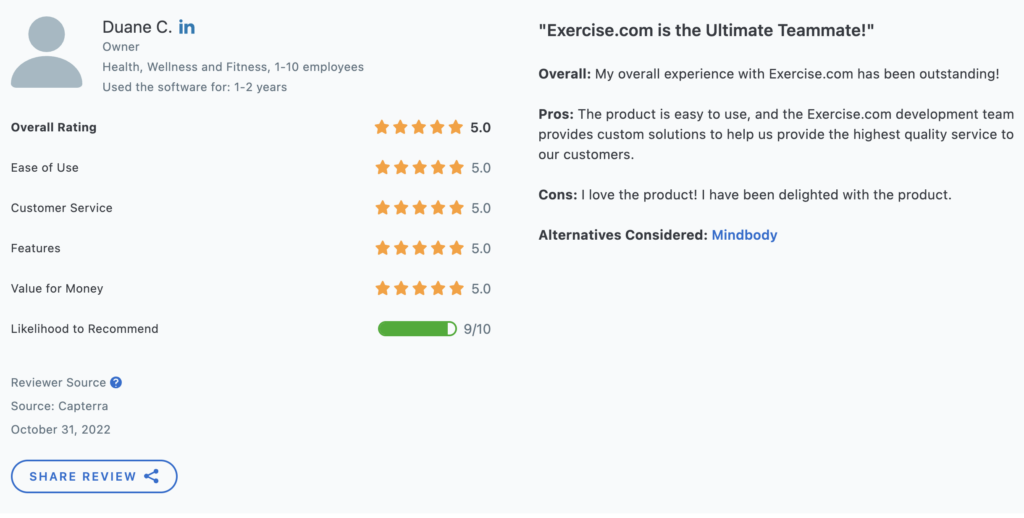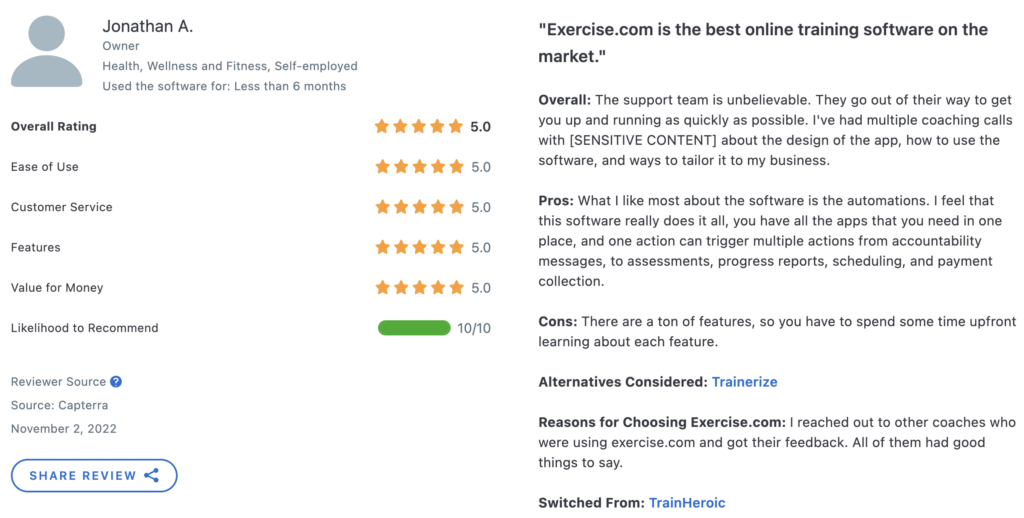 Exercise.com is amazing. Exercise.com was awesome. They were timely in their communication and they truly worked their hardest to get my app launched despite some of the difficulties in working with Apple. They were always kind and easy to work with. They are fantastic and couldn't recommend them more to someone looking to expand online services to their clients.

– Jonathon E., TrustPilot
"If you want to offer an elite service for the end user you need to get with the times and use elite level software that is intuitive, visually appealing, and effective. That is exactly what Exercise.com delivers to its clients."

– Jimmy Myers, Owner/Trainer, Relentless Sports Performance
"Wonderful experience. Highly recommend Exercise.com and Alyssa on their success team! I have nothing but great things to say about my experience with this company. Right from the start their team was incredibly responsive and helpful in guiding a novice like myself through the software training and providing valuable insight into how to make my business more successful. I have been working with Alyssa and she is a true expert in the software and communicating to someone not as tech savvy such as myself. She has gone above and beyond to ensure that I understand how to maximize the potential of the software and demonstrated how this can help my business to be more successful as well as streamlining various processes in order to save me time as a small business owner. Highly recommend Exercise.com and Alyssa on their Success Team!"

– G2 Verified User in Health, Wellness, & Fitness
"With Exercise.com, I'm able to reach people around the world with the programs that I design, implement, and push out. You don't have that opportunity working in a local gym. So that's been huge."

– Kellie Davis, Founder/Trainer, Fit Thrive
"The Ferrari for gym and PT softwares. We, Sprintkraftwerk, are delivering online training programs to young, ambitious soccer players. We were looking for a software that not only allowed us to manage the training side of things but also the business part and exercise.com, even though not the cheapest, turned out to be the best fit for our needs. But it is worth every cent as it is utterly comfortable to have all your business in one software. Furthermore, the onboarding and the customer support, in our case mainly done by [SENSITIVE CONTENT] , was fantastic, she answered all the questions we had and instructed us on how to use the software properly. Overall we are very happy to have picked exercise.com as a software solution for our business."

– Felix H., Capterra
"I came to Exercise.com with high expectations, and you've exceeded all of them.

Even more importantly (to me), I have new and old clients saying "wow" almost every single day as they discover the functions and features of the software. It's been challenging, but really fun.

I still have a lot of work to do to get it where I want it to be, but I'm able to provide value to my clients that I never could, before now. I feel very grateful for your patience, responsiveness and help to gradually get my business set up exactly how I want it to be."

– G2 Verified User in Health, Wellness, & Fitness
"We were using three or four different apps or softwares to do what we can now do all in one with the Exercise.com platform."

– Brandon Stroupe, Founder and President, APEC Sports Performance
"Great App for entire facility management. Everything about the software has been great for our business. There is a lot that the software provides to help grow your business. There is nothing not to like! The software offers everything you can think of for both business and client management. The entire team at Exercise.com has been great! From the very first call, demo and through the onboarding process we have been guided and supported thoroughly."

– Relentless T., SourceForge
"Overall Very Happy + Positive Experience. I liked that it allows me to roll out different programs to large numbers of people in an automated way. I also really like having a customer service rep that is always very quick to respond to any help that I need."

– Bess, SoftwareAdvice
"Exercise.com has enabled our company to expand in ways we couldn't imagine possible. It is much easier to get our programming out to not only our local clientele but also new clientele throughout the world as well as our professional athletes in different cities."

– Eric Mahanke, Head Strength & Conditioning Coach, Carr Elite
"I have nothing but great things to say about my experience with this company. Right from the start their team was incredibly responsive and helpful in guiding a novice like myself through the software training and providing valuable insight into how to make my business more successful. I have been working with Alyssa and she is a true expert in the software and communicating to someone not as tech savvy such as myself. She has gone above and beyond to ensure that I understand how to maximize the potential of the software and demonstrated how this can help my business to be more successful as well as streamlining various processes in order to save me time as a small business owner. Highly recommend Exercise.com and Alyssa on their Success Team!"

– Brandon Moss, TrustPilot
"Migration from previous provider was seamless and easy.

(What do you like best?) Ease of use. Multiple upgrades from previous provider. Combining two previous provider services into one for a more streamlined business.

(What do you dislike?) There are no dislikes at this moment. Yay!

(What problems is the product solving and how is that benefiting you?) More streamlined business functionality both internally and customer facing. Better user interface than prior providers."

– Radley W., G2
Exercise.com is the best online training software on the market. The support team is unbelievable. They go out of their way to get you up and running as quickly as possible. I've had multiple coaching calls about the design of the app, how to use the software, and ways to tailor it to my business. What I like most about the software is the automations. I feel that this software really does it all, you have all the apps that you need in one place, and one action can trigger multiple actions from accountability messages, to assessments, progress reports, scheduling, and payment collection. There are a ton of features, so you have to spend some time upfront learning about each feature.

– Jonathan A., GetApp
Exercise.com is the ultimate teammate! My overall experience with Exercise.com has been outstanding! The product is easy to use, and the Exercise.com development team provides custom solutions to help us provide the highest quality service to our customers. I love the product! I have been delighted with the product.

– Duane C., GetApp
The best software to use to manage and grow your fitness business. Great! From the software to customer service, they are the best. What is there not to like? It has everything that you need to manage and grow your business. They are also always developing the software as well. They grow and adapt as you grow. At first, I thought it was incredibly hard to use, but once you go through the onboarding process, you realize how efficient and easy that it is. It can be a little intimidating at first due to all the services they offer, but once you get the hang of it, you realize how powerful it really is for your business.

– Pasquale A., GetApp
Elevate your game. You can tell this was built by those with deep experience and knowledge of the industry. Simply put, they have a superb support team and a success team that will make your goals happen. An important delineation in any industry or stage of business, but especially for those looking to scale their business within the fitness and wellness industry. Would highly recommend to those who are ready to elevate their game.

Exercise.com is the top-tier software at any stage of your profession within the fitness or wellness industry, especially the growth stage. I came to Exercise.com to systematize my client management process from first point of contact to purchase and referral while also preparing for a large contract where I would have to service over 100+ individuals while providing them with a digital platform for their training plans and group coaching.

At every stage of the process, the Exercise.com team is there to ensure they understand your objectives with the platform and, most importantly, provide insights that only those who are experienced within the industry would be able to give. The most empowering experience thus far is the onboarding and ongoing support from Alyssa and her team in making sure every aspect of my business is reflected on the platform, from scheduling, integrations, subscriptions, coaching plans, onboarding other coaches and groups. Her knowledge of the software allows me to pose unique cases that I need to solve with the software and get immediate support on how to ensure I can execute what I need to grow my business. Better yet, Exercise.com continuously looks to add new and purposeful features throughout your subscription period.

Would have liked to be able to trial the software, that being said, you are able to book as many guided demos as needed to address your questions and concerns prior to purchase.

– Nicholas L., GetApp
Exercise.com for the win! The Success Team at Exercise.com have been nothing short of amazing in relation to customer service, responsiveness, and empowering us to learn and execute the software to our best interest. A+ across the board.

The software is extremely robust and offers many features. It is a journey in itself to learn all that exercise.com has to offer. This is a good thing and have patience and diligence in your journey.

Amazing overall experience that will truly allow for our company to flourish and become an asset for all hoopers of the world!

– Mike G., SourceForge
Great service and platform.

I have been very impressed with the amount of service and response I get! Jackie has been great to work with! She understands my business and continually is teaching me how to get the most out of the platform to maximize my business and impact.

My only regret is that I did not sign up sooner…

– Aaron Z., SourceForge