The best Trainerize alternative is Exercise.com. Watch out for the Trainerize compromise.
If you're looking for the best Trainerize alternative, see why Exercise.com vs Trainerize results in fitness businesses upgrading to the fully custom branded Exercise.com fitness business management software platform to attract more clients, increase revenue, and grow their fitness businesses.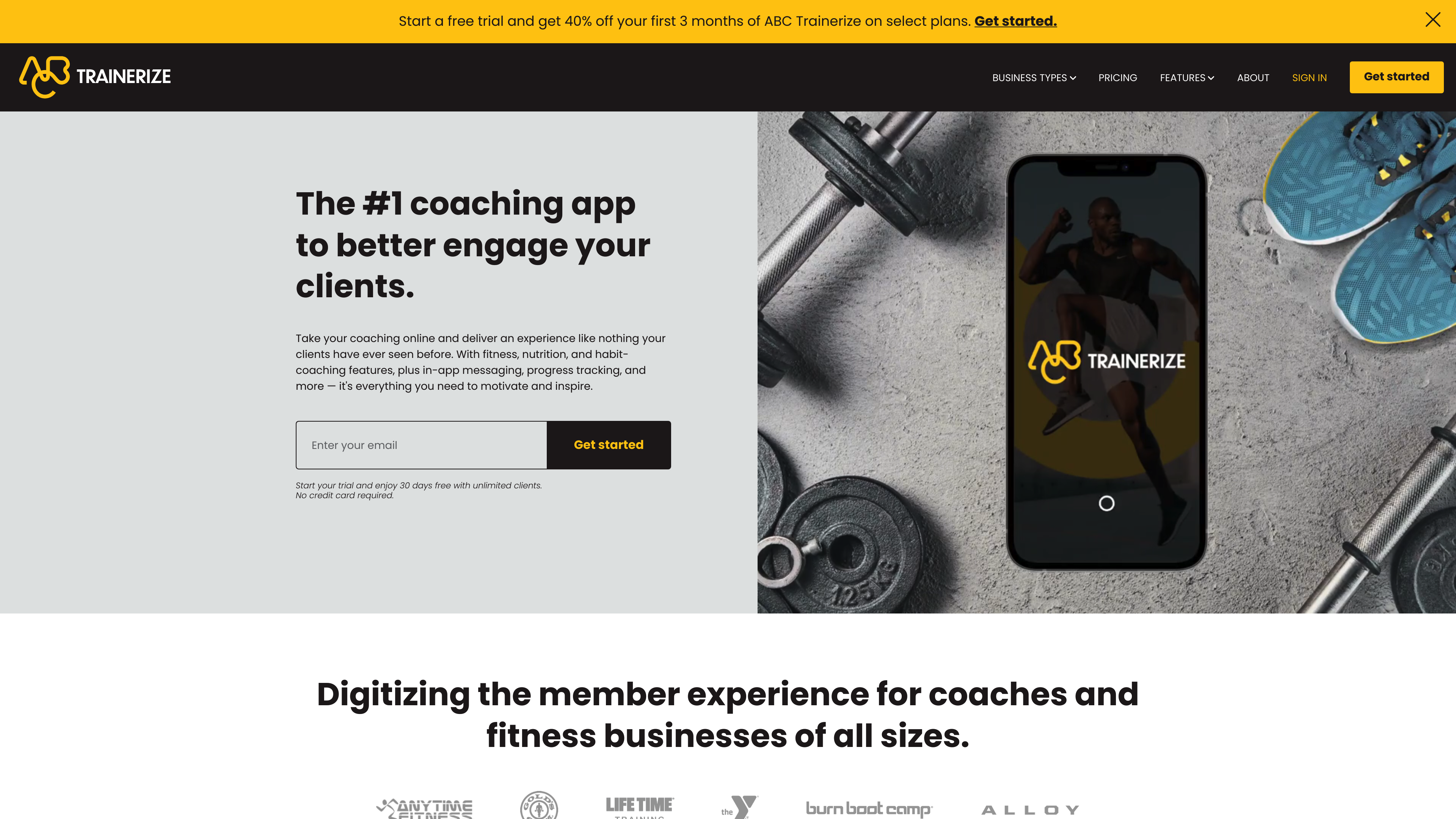 How much does Trainerize cost?
Trainerize is free for one client and up to $250/mo+ for large gyms, but you will need to buy other software to run your business. With Exercise.com you can run your entire business on the best gym management software platform (get a free demo now!).
How good is Trainerize?
Creating simplified workouts is a Trainerize specialty, but you will need to buy other software to run your business.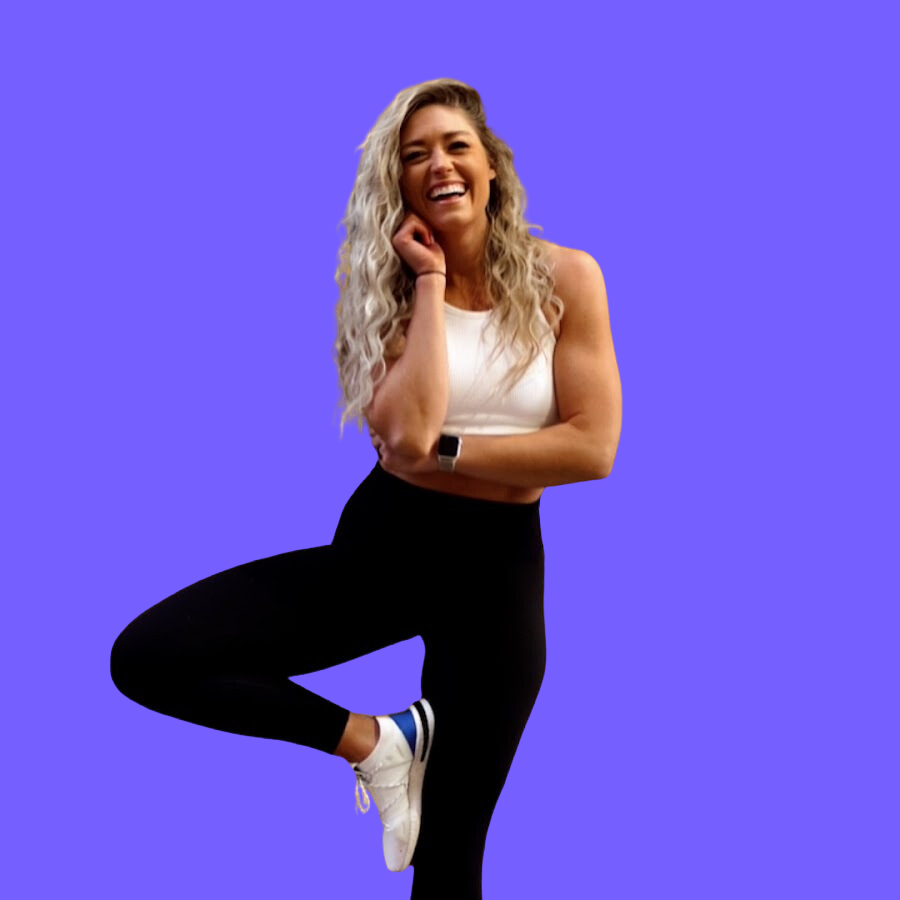 Our overall experience with Exercise.com is a breeze. We love how easy it is to integrate this app with our current workflow while providing great fitness programs for our customers and save us time in the process.
Julie Ledbetter
Owner, Ledbetter Fitness
The Takeaway
There are many Trainerize alternatives and Trainerize competitors, but gym owners, personal trainers, and other fitness business owners use the Exercise.com all-in-one platform to run their entire business, not just their workout programming. If you choose the Exercise.com platform, you can cancel Trainerize, cancel Mindbody, and cancel all of the other software platforms you use for all of the following:
Get started with a free Exercise.com demo and see how easy it is to run your entire fitness business on one platform.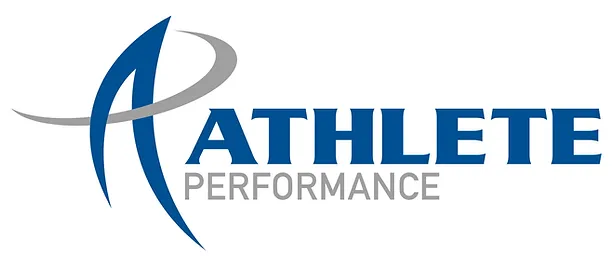 Exercise.com has become an essential piece to our brand and business model. The ease of use and consumer reports have allowed us to maintain great client relationships and rebuild others.
Logan Zagrodnik
General Manager, Athlete Performance
Trainerize Reviews
If you read Trainerize reviews online you will find that Trainerize is known for their simple workout program creator and client workout logger. Other functionality needed to run a gym or fitness business is simply not available. And, ever since ABC Financial acquired Trainerize in 2020, they likely never will, opting instead to cross-sell their customers on ABC Financial's software.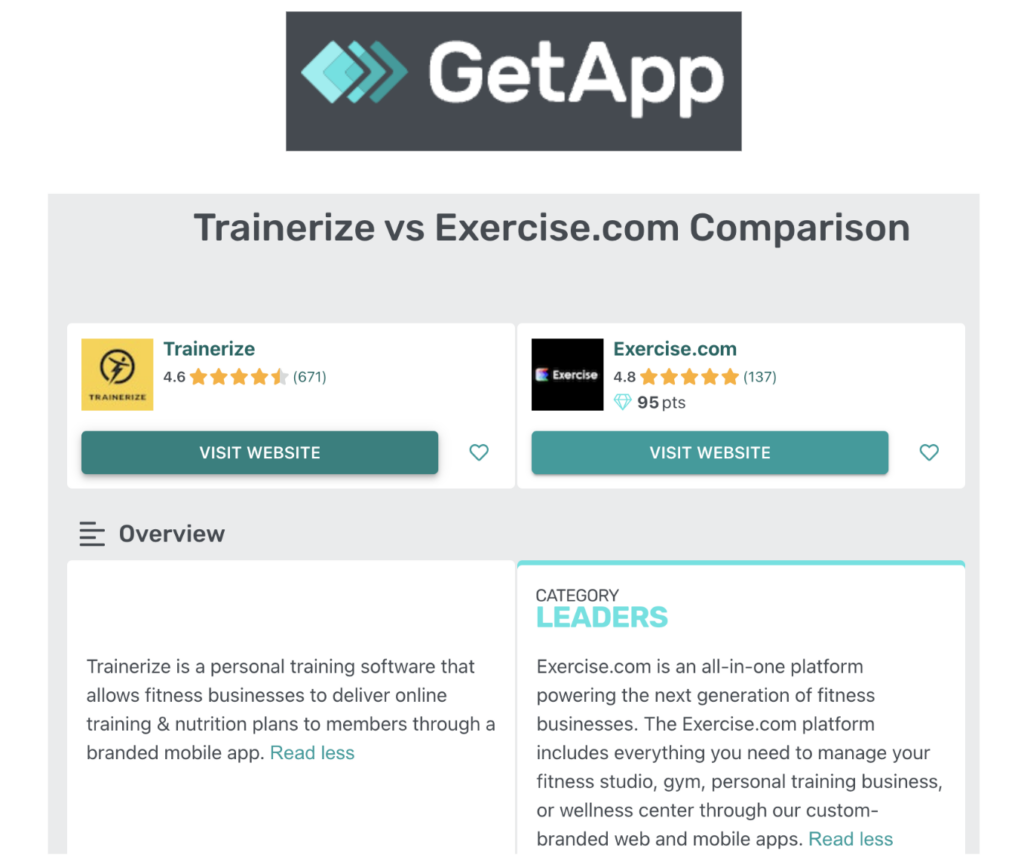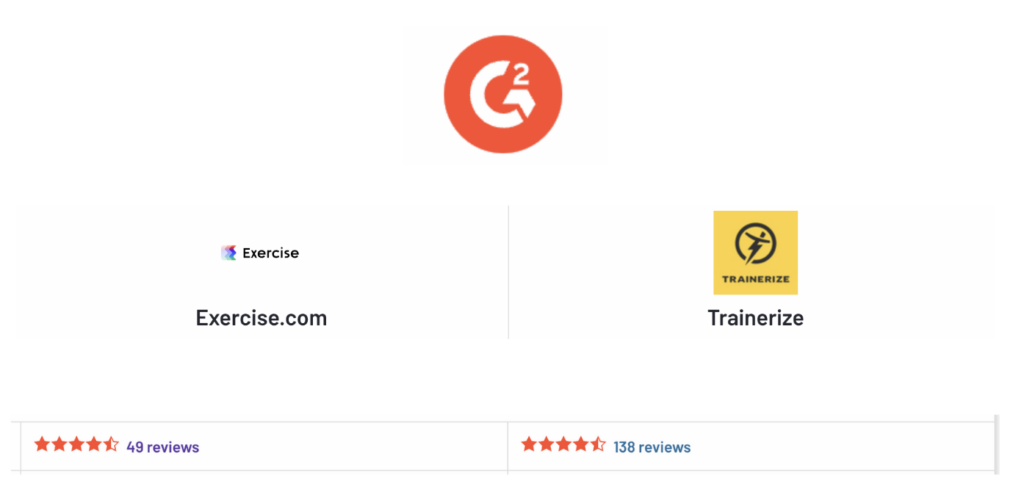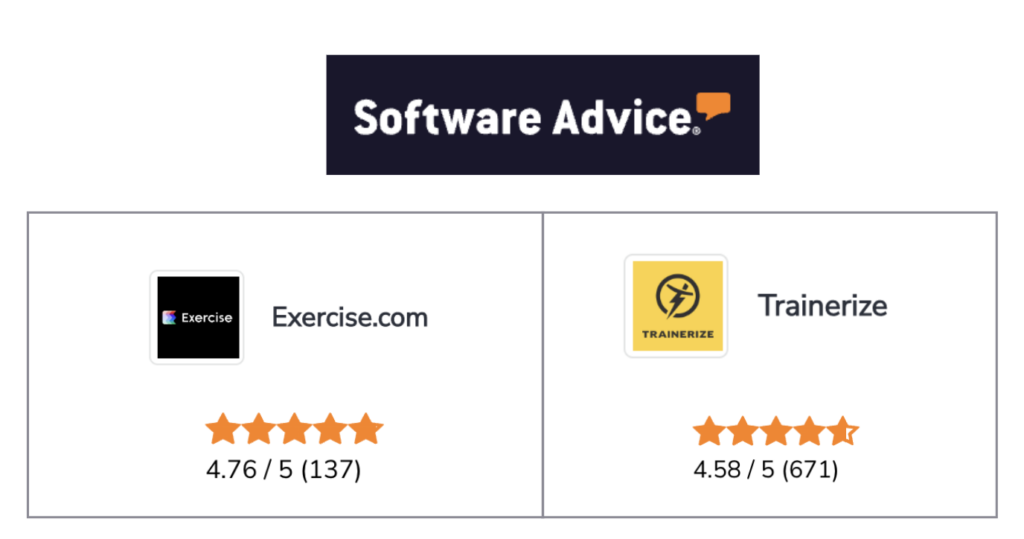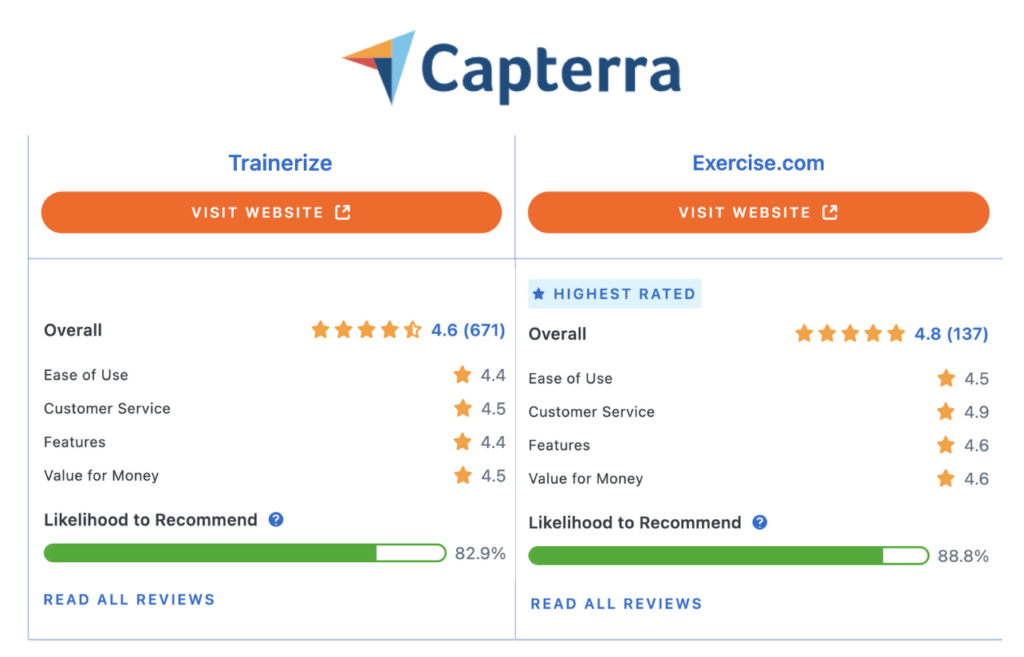 Read More

: Trainerize
Trainerize Complaints
Trainerize makes great workout software, but one of the common Trainerize complaints online is that Trainerize only makes great workout software. So if you need to operate a gym, fitness business, or personal training business of any size and scale then be prepared to pay up for more software. Not only will the additional cost end up sometimes being overly expensive, you will then find yourself in the unenviable position of explaining to your clients that they will need to download two, three, or even four different apps in order to work with your business (one for personal training, one for booking, one for assessments, etc.). Though it remains to be seen how the ABC Financial Trainerize acquisition will change the company's culture and customer service, Trainerize is a good company, but with a limited feature set for functionality outside of their core workout creation software expertise. Naturally, Exercise.com allows you to run your entire fitness business on a single platform—all under your own brand.
What is Trainerize?
Trainerize is a software company founded in 2012. Where is Trainerize based? Trainerize is located in Vancouver, British Columbia. According to the most recent available data, their software is utilized by 75,000 gyms and independent trainers.
While that figure represents the number of direct subscribers to the service, Trainerize further estimates that an additional 300,000 people use the platform as clients of those gyms and trainers.
According to business information resource Owler.com, Trainerize has approximately 130 employees and generates $11.2 Million in annual revenue.
There are many Trainerize competitors, but when you are ready to upgrade to a business-grade platform, then Exercise.com is the best Trainerize alternative.
To learn how to use Trainerize, refer to our article, "How do I use Trainerize?"
Unless otherwise stated, all images and reviews below are of/about the Exercise.com All-In-One Fitness Business Management software platform.
Fitness Business Management Software
How do you use Trainerize?
Trainerize and Exercise.com both provide clients with fitness business management software. However, Trainerize's software does not include all of the features provided by Exercise.com unless you purchase an Enterprise-level plan. Essentially, how you use Trainerize and the features that come along with it comes down to how much you are willing to pay.
Is Trainerize safe?
If you're asking, "Can I use Trainerize without a trainer?" then the answer is yes. Using Trainerize without a trainer is possible, but our stance at Exercise.com is that we want to enable fitness professionals to be happy and successful by empowering them to do what they do best (help their customers) while we create software to power their businesses.
Trainerize Enterprise
Trainerize has increasingly realized the need to move upmarket and add true business-grade tools to its fitness software platform, originally focused on solopreneur personal trainers managing a couple clients with simple workouts. With a much higher price tag, Trainerize Enterprise is attempting to add on needed mission-critical fitness business functionality. For a fully featured all-in-on fitness business management platform, compare Exercise.com to Trainerize and you will be pleasantly surprised at what Exercise.com can offer.
Client/Class Scheduling
Both Trainerize and Exercise.com have extensive and user-friendly scheduling and booking systems.
The Exercise.com Business Management Software Platform gives you the capability to perform the vital task of scheduling as well as workout delivery. You and your staff will be able to schedule and manage all appointments and classes with options for one-time and recurring reservations. One of the best features for companies with multiple trainers is the option to set availability. This enables clients to book appointments online through your business's custom-branded app.
Gym/Facility Management
Managing a staff of any size is time-consuming but Exercise.com FBM saves you time with assignable staff roles, so you can put staff management on autopilot. And you'll have sales and business reports for all of your clients, classes, and workout packages to make managing your business easy.
Trainerize, however, does not provide facility management features with its two lower-tiered plans. Under the Pro Plan, you have access to Mindbody and ABC Financial add-ons (with an additional monthly fee), but you don't get full insights until you upgrade to the most expensive Enterprise Plan.
Business Dashboard Reports
With Exercise.com, all of your reports can be run in a single software. No more safaris for which software has which reports. The Exercise.com Fitness Business Management (FBM) software platform makes reports easy — sales, business, appointments, class, and payroll reports all in one place. Plus you can also sort reports by:
These reports empower you to have your finger on the pulse of your business and if you're bringing on new trainers you'll know how much to pay staff based on commissions.
Client Automation
Trainerize offers automated program delivery and client communication so that trainers can connect with their clients through the profiles clients create in the software.
Exercise.com has the features you need to engage your clients whether it's manually with direct messaging or through automated notifications which you can customize to fit your unique brand persona. Use these to automatically send emails, texts, in-app notifications so clients get ongoing support and accountability to stay on track in training.
Dedicated Zapier Support
Exercise.com and Trainerize both partner with Zapier for added integrations and support.
Dedicated Account Manager
Trainerize provides customer support with an online help center and email, live chat, and phone support Monday through Friday.
But Exercise.com takes customer support very seriously, so we go further than standard support. All Exercise.com clients are provided with a dedicated account manager for all of their software-related needs. From adding an online store to full managing a brick and mortar gym, your account manager is there to help you and your business succeed.
Custom Branded Fitness Software
Custom branded software is very important as your apps and website are the first things many clients use and see when searching and communicating with your business. Exercise.com will fully customize your web and smartphone app to meet your appearance and functionality needs.
Custom-Branded
Trainerize offers custom branding for your app, but you must pay for the highest-priced Enterprise Plan in order to have the same features as the all-inclusive Exercise.com. If you choose to pay for a cheaper plan, your app will be missing the crucial features that make your business stand out.
No one beats Exercise.com when it comes to custom-branded apps. Our service goes way beyond simply skinning the app with your logo. Your clients won't be searching for Exercise.com to find your app. It's your brand, your app from A to Z.
We can customize everything from colors and logos to client language to your workout library. And it's not just iPhone and Android apps, we fully customize a web app to manage your business and a website to match.
The possibilities are endless with your Exercise.com custom-design apps and more.
iOS & Android Apps
With its primary function of connecting trainers with clients remotely, Trainerize relies heavily on its mobile apps, the most recent version being Trainerize 6 (as of October 2020). As mentioned above, the more money you're willing to pay, the more functional your app becomes; the custom app under the Pro Plan has far fewer capabilities than the app under the Enterprise Plan.
Additionally, Trainerize places severe restrictions on how many times you can revise your app. There are no revisions under the Pro Plan, only one revision under the Studio Plan, and three revisions with the Enterprise Plan.
Exercise.com offers a fully customizable health and fitness app with numerous features for managers, staff, personal trainers, and exercisers. Your business can have a cohesive look with your branding showcased on the mobile app and website. You don't have to pay more for added features, and there are no restrictions on app revisions. Everything is included when you partner with Exercise.com.
Marketing Integrations
For your business's marketing needs, Exercise.com software has an array of integrations that can be used to attract and retain clients and boost revenue. A few of those integrations include:
MailChimp
ConstantContact
ConvertKit
Zapier
Google Analytics
Facebook Pixel
Workout Software
Exercise.com workout software provides features that are easy to use and flexible solutions to save you time and make it simple for clients to receive their training plan and log their workouts.
Let's look at the main differences between Exercise.com and Trainzerize when it comes to workout creation and delivery:
Workout Creator/Logger
Both software offers a workout creator but Exercise.com stands out for its ease of use and customization. As a fitness business-focused platform, how workouts are built and distributed to clients may be the most important factor of all in judging overall quality.
This software enables trainers to build nearly any workout they can imagine. Before we get ahead of ourselves though, let's look at the overall structure of how it operates:
Any serious professional knows that workouts should not be stand-alone events but part of a larger program aimed at a defined goal. Trainers will, therefore, appreciate that Exercise.com works the same way; beginning at the level of the program then building the individual workouts that make it up.
The nuts and bolts of designing a workout are very simple. You can use the extensive exercise library which can be searched by exercise name directly or sorted by target muscle group, movement, etc.
Trainerize and Exercise.com both support 1-1 training, group training, and online training. Where Exercise.com stands apart from Trainerize is with its customization options for your Exercise.com library and what you can deliver along with your workouts.
1-1 Training
This traditional method of personal training is still in high demand at most fitness centers. The Exercise.com system supports your trainers by organizing, communicating, and creatively managing multiple clients so they can deliver a quality training experience for every client.
Group Training
The Exercise.com group training feature provides the same resources and support as it does for one-on-one training but members benefit from the community and accountability of the group setting. Trainerize offers a similar feature where trainers can deliver group training programs online.
Online Training Software
Exercise.com and Trainerize both provide online training software. Trainerize automatically creates a Trainerize.me profile for every trainer so they can sell their online personal training services and accept payments. However, Trainerize.me has thousands of profiles and is very competitive, so it is unlikely that this resource would be effective in generating revenue.
Exercise.com, however, allows you to market your online training directly from your website. This drives member and non-member traffic directly to your business and boosts your revenue.
Exercise Library
When adding an exercise from the library, Trainerize automatically includes their brief instructional video of the movement.
But here's the issue with the built-in videos:
The technique demonstrated and described by the Trainerize staff actors/models just isn't very good. For many videos, particularly those for weight training, it appeared the model had little or no experience in the movement prior to the demonstration. Certainly, he did not have the proficiency to be used as an example of how these movements are performed.
Exercise.com allows trainers to not only customize their library videos, but each pre-filmed video in our library is demonstrated with proper form in mind.
Custom Exercises
Both Trainerize and Exercise.com enable you to upload your own videos to the exercise library. With Exercise.com, you can add your videos directly into the platform and with ease by just copying and pasting a link to the video into your library. Additionally, Exercise.com allows trainers to create training cycles and workouts based on their clients' needs.
TV Workouts
Trainers and instructors can also cast Exercise.com exercise videos onto a TV screen during a group training session. This switches up the presentation style and adds a personal touch to a group workout.
Gym Ecommerce Software
Trainerize uses an online platform for personal trainers called Trainerize.me for the majority of its ecommerce sales and opportunities. Trainerize automatically generates a Trainerize.me profile for each trainer so they can sell workouts, services, products, and more, plus connect with other fitness enthusiasts.
While this might be a great deal for your trainers, it doesn't do much to benefit your business. Transactions made through Trainerize.me go directly to the trainer and not to your business.
Exercise.com has endless ways you can increase revenue and take commissions. As an all-in-one solution for your fitness business, Exercise.com gym ecommerce software provides ecommerce tools that fit every kind of online and brick-and-mortar fitness business.
You can set up billing for in-person services on a one-time or recurring basis to get paid for your personal training or membership packages. Plus, our platform has been used by top coaches to open up their business for online sales to customers worldwide with online coaching and programs.
Payment Processing
The Exercise.com Fitness Business Management software platform makes it easy to set up packages for your training where clients can pay a one-time or recurring price with cash, check, or credit card. Plus accept direct deposits and allow online purchasing of packages — all in one easy to use software.
Trainerize's software does not come with payment processing. Businesses can use Trainerize Pay to collect and automate payments, but this is considered a package upgrade and users will be charged $7/month plus transaction fees for this feature.
Sell Products
Trainerize allows you to sell products in three ways: online through the trainer's Trainerize.me account, manually in-person, and by sending virtual offers to clients.
Manual transactions and virtual offers can only be used for existing customers and have to be initiated and/or completed by a trainer. Transactions made through a trainer's Trainerize.me account are credited to the trainer's account and not to your business.
With Exercise.com, we make selling products easy and fun! Effortlessly increase your revenue by selling products like branded apparel, water bottles, gear, and supplements in your app, on your website, and in-person.
These transactions can be initiated by your customers (and aren't limited to existing customers like with Trainerize, so you can increase your profit from non-members) and profit is appropriately divided between business revenue and trainer commissions.
Sell Workout Plans
Trainerize workout programs are sold through Trainerize.me, but this doesn't bring your business profit. Instead, Exercise.com's ecommerce structure brings your business greater profit. Easily sell workout plans on your app and website, which allows local and remote customers to connect with your brand.
Exercise.com client Mike Boyle, of Mike Boyle Strength & Conditioning (MBSC), had over 700 clients within 12 months of releasing programming online using our software!
Offer Online Workout Memberships
Offer online workout memberships to cater to traveling clients, stay-at-home moms, and any other target demographic that cannot find time to go to the gym with Exercise.com. Again, unlike Trainerize, there are no client caps or monthly ecommerce fees.
Sell Workout Challenges
Promote your brand and positive gym community by providing fun and engaging workout challenges! Exercise.com software effortlessly runs and manages workout challenges so they increase your revenue without increasing your workload. Customize your own challenges to fit the needs and preferences of your participants and let it run automatically!
Fitness Assessment Software
Exercise.com and Trainerize both provide assessments.
Exercise.com fitness assessment software allows trainers to stay productive and engaged with their clients. Keep reading to find out more about how our completely customizable forms and assessments help boost your trainers' productivity and client engagement!
Assessments
Trainerize's assessments allow for collecting body stats, progress photos, nutrition tracking, the setting of fitness targets, and personal best monitoring.
Trainers using Exercise.com Performance Health Assessments can conduct custom assessments for new client onboarding and base their training on the actionable data collected via remote self-assessment or an in-person guided session.
With our software, you can even have training programs delivered automatically based on the assessment outcome; a major step in streamlining online training.
Performance & Measurement Reports
The Exercise.com Performance Health Software features allow you to follow up with repeat assessments that prove the efficacy of your training and solidify your client relationships. This too can be automated so that you engage clients and gain valuable data to evolve their training with no additional time-cost to you.
Nutrition
Trainerize and Exercise.com both provide trainers with the ability to set macronutrient (carbohydrates, protein, fiber, fat) goals with their clients. Clients can track their intake for trainers to view using MyFitnessPal and trainers can then provide assistance to help clients meet their health and fitness goals.
Trainerize Software Pricing
So, how much does Trainerize cost? Does Trainerize cost money? Yes, Trainerize costs money for trainers to use Trainerize (clients typically pay their trainer, not Trainerize). Check out the chart below to see how Trainerize breaks down its pricing by client volume:
| Plan | Free | Grow | Studio | Pro |
| --- | --- | --- | --- | --- |
| Pricing | 1 Client – $0/mo | Up to 2 Clients – $5/mo | Up to 5 Clients – $20/mo | Up to 500 Clients – $250/mo |
| | | | Up to 15 Clients – $40/mo | Unlimited Clients – $350/mo |
| | | | Up to 30 Clients – $60/mo | |
| | | | Up to 50 Clients – $90/mo | |
| | | | Up to 75 Clients – $125/mo | |
| | | | Up to 100 Clients – $160/mo | |
| | | | Up to 200 Clients – $200/mo | |
| | | | Unlimited Clients – $300/mo | |
Trainerize also has an Enterprise Plan for large fitness chains and franchises. Many of the features Trainerize advertises are only available under the Enterprise Plan, such as full reporting, custom branding, app customization, and marketing integrations. Trainerize doesn't disclose the price of the Enterprise Plan, so you must contact the vendor for a custom quote.
If you're not interested in the Enterprise Plan, be prepared for additional fees for add-ons. From a lack of payment processing to missing business reports, the Studio and Pro Plans are not sufficient to run a fitness business without purchasing necessary add-ons. Regardless of the plan you choose, it's likely you'll encounter hidden fees from forced upgrades and add-ons.
Trainerize Alternatives
In the web-based training software category, Trainerize's biggest competition comes from these companies:
Zen Planner
TeamSnap
Pike13
EZFacility
My PT Hub
PT Distinction
But Exercise.com is the best Trainerize alternative because we offer complete custom-branding for your business's online platform and mobile apps.
The Bottom Line: Pros and Cons
Trainerize stacks up pretty well in the world of fitness business management software. With that being said, Exercise.com still has the advantage.
Trainerize
Trainerize is a good software platform for managing workouts, but it still doesn't offer all the benefits of Exercise.com. Additionally, Trainerize nickel and dimes its customers with a boatload of add-ons, upgrades, and hidden fees. Many fitness businesses may be forced to use the Enterprise Plan simply because the other plans strategically don't have essential business management features.
Exercise.com
As all-in-one fitness business management software that will allow you to grow and manage your business with ease, Exercise.com is the perfect solution to a fitness business owner's management needs.
We build your web and smartphone apps with your brand in mind. We do not stick our logo at the bottom. We do not merely slap your brand's colors on a webpage and call it a day. It's your app, your software, and your brand front and center.
Hopefully, you see the benefit of not waiting to have a system and software in place that allows you to manage and grow your business for years to come.
What features are most important for your business?
If you're ready to grow and manage your business with a software that can be customized to your business, book a demo with Exercise.com.
Is it easy to transfer from Trainerize to Exercise.com?
Yes, Exercise.com offers a simple and straightforward process for transferring from Trainerize to the Exercise.com platform.
Will Exercise.com transfer all of my data from Trainerize?
Yes, Exercise.com will transfer all of your data from Trainerize to their platform.
Is there any training for me to switch from Trainerize to Exercise.com?
Yes, Exercise.com offers free migration support and a team of dedicated account managers to help you through the process.
How much does Trainerize charge to withdraw and cancel?
Trainerize charges a $50 withdrawal fee for annual subscriptions, but does not charge a cancellation fee for monthly subscriptions.
Is Trainerize a CRM?
No, Trainerize is not a CRM. It is primarily a platform for managing personal training and fitness programs.
Does Trainerize have an app?
Yes, Trainerize has a mobile app that allows clients to access their workouts and communicate with their trainer.
What are the benefits of the Trainerize app?
The Trainerize app allows clients to easily access their workouts, track progress, and communicate with their trainer from anywhere at any time.
Can you make money with Trainerize?
Yes, trainers can make money by using Trainerize to offer virtual personal training and sell digital workout programs.
How do I get the most out of Trainerize?
To get the most out of Trainerize, it is important to use all of its features, such as tracking progress, communicating with clients, and utilizing the mobile app.
Can clients build their own workouts on Trainerize?
No, clients cannot build their own workouts on Trainerize. Only trainers have access to build workout programs.
Can I create my own workout with Trainerize?
Yes, trainers can create their own custom workout programs for their clients using Trainerize.
Can a client have two trainers on Trainerize?
No, clients cannot have two trainers on Trainerize. Each client can only have one assigned trainer.
How do I cancel my Trainerize subscription?
To cancel your Trainerize subscription, you can contact their customer support team or cancel directly through the platform.
Can you use PayPal on Trainerize?
Yes, Trainerize supports PayPal as a payment option.
What are the fees for Trainerize?
Trainerize offers different pricing tiers based on the number of clients you have, with prices starting at $5 per month per client.
How much does Trainerize take from payments?
Trainerize takes a 5% fee from payments made through their platform.
How much is Trainerize monthly?
Trainerize offers different pricing tiers based on the number of clients you have, with prices starting at $5 per month per client.
Is Trainerize secure?
Yes, Trainerize is secure and takes measures to protect client and trainer information, such as using SSL encryption and adhering to PCI compliance standards.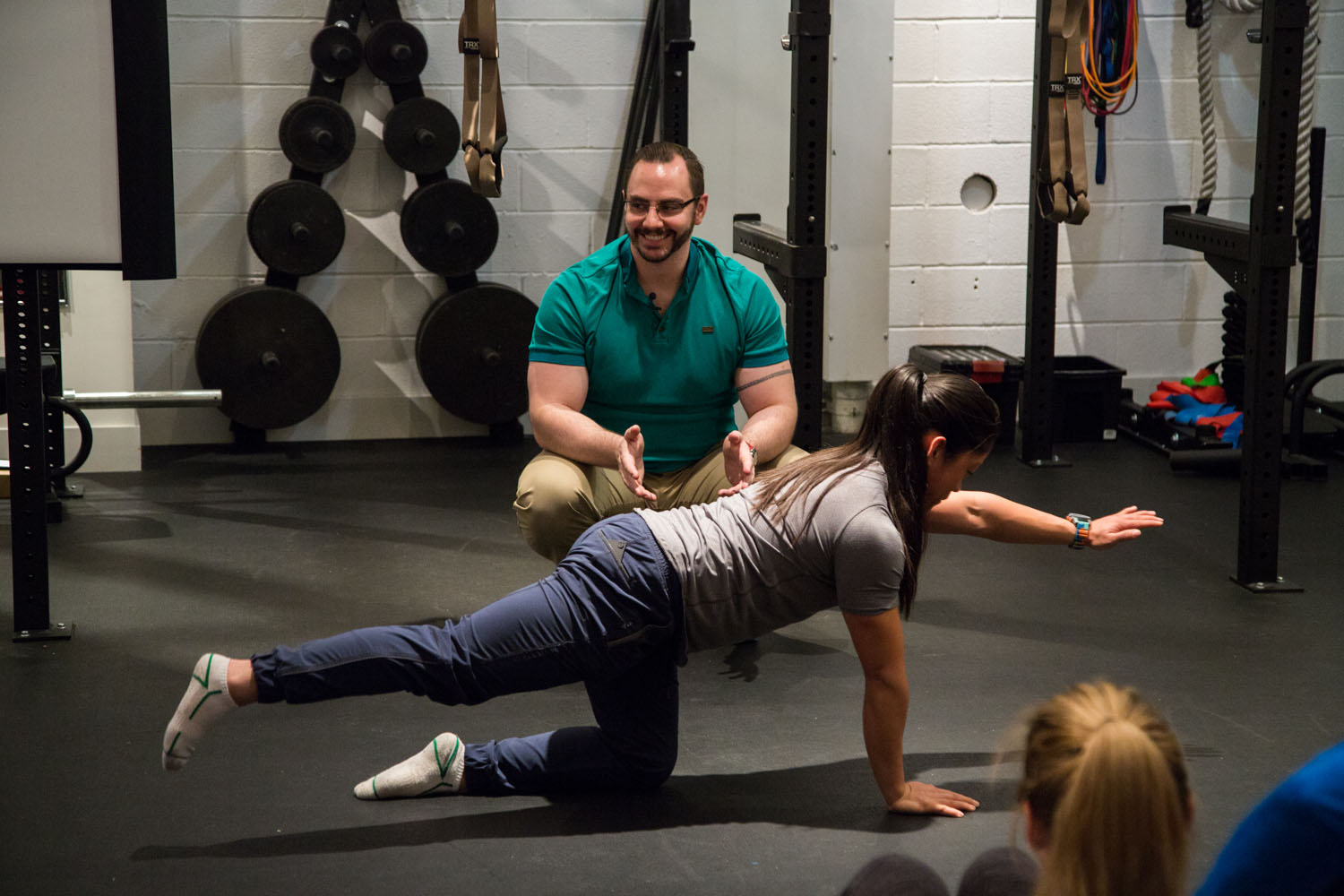 "Developing an easy intake system with my apps and ways to scale the delivery of workouts has been huge. Working with 20-30 individuals who each have specific goals and restrictions can be challenging, but your platform makes it easy to organize everyone's programs and put a plan together that will get them the best results possible. The simple, effective tools help expand and simplify my coaching process."
Dean Somerset
Owner, Somerset Fitness
Ready to learn more about the Exercise.com all-in-one platform? Book a demo with Exercise.com!