If you've already chosen Exercise.com as your health club management software, this review of the ClassPass app will give you another option for bringing in revenue without having to do any marketing at all.
With access to fitness facilities in over 50 cities across the world, customers who may not be in your local area can now visit a participating facility for a class at any time! In the age of social media marketing, very few things are more important than word of mouth.
In this ClassPass app review, we will cover the origins of ClassPass, take a comprehensive look at its features, scour the market for other apps that rival ClassPass, and review the most frequently asked questions. The overall goal is to show you how ClassPass will integrate with your Exercise.com custom branded app, bringing you more business and spreading the word about you, your facility, and your brand!
ClassPass Inc. Company Review
"ClassPass is about getting people to find a time in their lives and schedule that time to recenter, heal and challenge themselves." – Payal Kadakia, former CEO and Founder of ClassPass
Ever wanted to try a new type of workout, but didn't know where to go and the Google search for the perfect place was leaving you empty-handed? In 2013, ClassPass founder Payal Kadakia was thinking exactly that.
Struggling to find a dance class to take after work and running into more complications trying to find and schedule a class is what drove Payal to create an app and a website that allowed customers to find and book classes without needing a membership to their facility.
ClassPass is a one-stop-shop marketplace helping users find and book classes and workouts for a monthly subscription. With the ClassPass app, enthusiasts can get into a variety of clubs, crucial in a fitness landscape where people want to enjoy their workouts and fitness hobbies.
ClassPass Inc. Company Information: 
Members have access to over 8,000 gyms and fitness facilities worldwide
Around 200 employees
Formerly known as Dabblenow and Classivity
Recognized as one of Forbes Next Billion-Dollar Startups
$45 Million generated in revenue per year
While Exercise.com is handling your business and marketing needs from a full-fledged customization standpoint, ClassPass lists your gym as a participating facility, and no transactions ever have to be made, while your business gets a kickback from every visit.
ClassPass Features Overview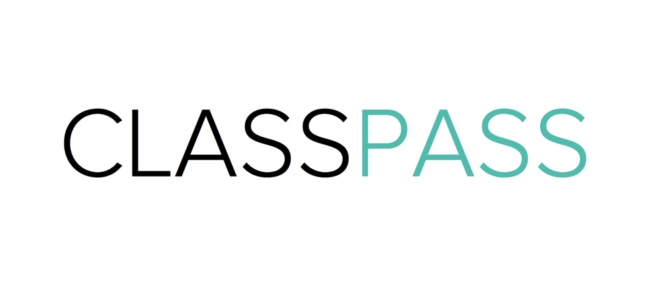 The top feature of ClassPass is that for travelers it becomes easy to find a fitness facility that meets your needs, not just the hotel gym. With locations all over the country, subscribers never have to worry about fitting a workout in while on the road:
| East Coast | Southeast | Midwest | West Coast | Southwest | International |
| --- | --- | --- | --- | --- | --- |
| Washington D.C. | Tampa | St. Louis | Seattle | San Antonio | Malaysia |
| Pittsburgh | Raleigh | Minneapolis | San Francisco | Phoenix | London |
| Philadelphia | Orlando | Milwaukee | San Diego | Las Vegas | Indonesia |
| New York | New Orleans | Kansas City | Salt Lake City | Houston | India |
| Boston | Nashville | Indianapolis | Sacramento | Dallas | Hong Kong |
| Baltimore | Miami | Denver | Portland | Austin | Germany |
| | Charlotte | Columbus | Missoula | | Calgary |
| | Atlanta | Cincinnati | Los Angeles | | Bristol |
| | | Chicago | Inland Empire | | Brisbane |
| | | | Honolulu | | Adelaide |
Paired with your Exercise.com custom website and app, ClassPass subscribers will have access to and get a feel for what they can expect at your location when they're in town.
Other features include:
Access to one of the largest and fastest-growing fitness enthusiast networks
Brand amplification with their space that features your workouts and business to potential class buyers
Dynamic pricing uses a system that ranks class positions on availability and popularity which ensures you get paid accordingly
Customization that helps your business presence on ClassPass
Exercise.com can take a user's ClassPass experience one step further by providing assessments to your potential clients, making sure they are the right fit for your business as another part of your plan. You'll be able to not just meet new customers and clients, but sell them single workout plans without them even visiting your location!
Exercise.com PRO Version features the following:
Workout Logging
300+ Workout Plans
Ask a Trainer
Professional Diet Plans
Calories Burned Statistics
Workout Plan Creator
Advanced Workout Stats
Who Uses ClassPass?
User Perspective
Customer feedback on the ClassPass website:
"I've tried tons of classes that I wouldn't have tried otherwise.  I truly enjoy working out now, which is definitely a first." – Kelly

"I love the flexibility and the variety.  I have a hard time staying motivated, but with ClassPass I can choose activities that work with my schedule." – Libby

"Now that I'm on ClassPass, I exercise 75% more than I did, and I'm feeling healthier and happier than ever before." – Ellen
On average, ClassPass members visit twelve different studios every 6 months. Spreading the word about your facility and everything you stand for as a fitness professional is easy when you have the support of your Exercise.com team paired with ClassPass enthusiasts coming through your doors.
ClassPass Partners feedback from ClassPass:
"ClassPass brings in new clients that I wouldn't otherwise reach, to fill spots in class that would otherwise go empty, without costing me anything." – Olivia

"Our revenue has increased dramatically in the past six months with ClassPass. ClassPass does the marketing and I can get people in my studio who I normally would not reach." – Siobahn
Benefits
ClassPass partners have seen the following:
Around $300,000,000 sent back to partners to date
20% revenue growth
Access to a whole new market – 20% of customers who use ClassPass are also new to studio gym memberships
95% of ClassPass subscribers have tried an activity they've never tried before
Your business gets paid with every reservation made to your facility
The ClassPass integration with Exercise.com allows you to worry about your clients and your facility. Classpass automatically schedules the booking for you when you list your business on their platform, and the most work you'll have to do is check your bookings screen with ClassPass to verify ClassPass customers.
Exercise.com business solutions in our all-in-one software will allow you to:
Schedule Appointments & Classes
Automate Payments Securely & Easily
Online & In-Person Booking
Automated Email, Text, App Reminders
Business Dashboard & Reports
Staff Roles, Permissions and Schedules
Endless Marketing Integrations
and more available!
See for yourself - Meet with the Exercise.com Team today
Let the team at Exercise.com show you how to grow and manage your fitness business better!
With a 96% partner retention rate, you can be sure that the integration of your Exercise.com website into a ClassPass partnership will help you reach more people inside and OUTSIDE of your network.
Some versions of the ClassPass subscription allow for customers to log into workout sessions and give access to your available workout video library, which are both available features with your custom Exercise.com PRO website.
ClassPass Pricing and Payouts
Customers on ClassPass will pay a subscription fee shown on the table below:
| | Trial | Option 1 | Option 2 | Option 3 | Average Class Credits |
| --- | --- | --- | --- | --- | --- |
| New York | Two weeks free - 35 credits to book 4-8 classes | $49/month for 27 credits to book 2-5 classes | $79/month for 45 credits to book 4-10 classes | $159/month for 100 credits to book 10-20 classes | 6 credits |
| Miami | Free month | $49/month for 27 credits to book 3-6 classes | $79/month for 45 credits to book 5-12 classes | $139/months for 85 credits to book 9-21 classes | 6 credits |
| Chicago | Two weeks free - | $49/month for 27 credits, book 2-4 classes | $79/month for 45 credits to book 5-8 classes | $139/month for 85 credits, book 9-13 classes | 6 credits |
| Atlanta | Two weeks free - 35 credits to book 5-10 classes | $49/month for 27 credits, book 3-6 classes | $79/month for 45 credits to book 5-13 classes | $139/month for 89 credits, book 10-22 classes | 6 credits |
| San Diego | First week free - 23 credits for 4-7 classes | $39/month for 21 credits, book 3-6 classes | $59/month for 33 credits, book 4-11 classes | $99/month for 60 credits, book 8-18 classes | 6 credits |
It does take a decent-sized monthly investment from ClassPass users to have access to more than one location of a fitness or wellness hobby that they may be interested in. Some really would rather have the flexibility to go to several places than be locked into one, and that's where ClassPass and Exercise.com work really well in conjunction with one another.
The Exercise.com support team's ultimate goal is making sure you as a business owner has every tool necessary to succeed and grow your business, all in one place, without third parties.  AMPD Golf Performance had the following to say about the team at Exercise.com:
"Working with Exercise.com and their team has been an amazing experience and a dream come true in terms of accomplishing a vision! Their workout technology has helped us effectively engage our community, and I highly recommend Exercise.com to grow your business!"
If ClassPass is an addition you'd like to feature with your business and website, Exercise.com will also help you do that. Because Exercise.com is able to seamlessly integrate with a wide range of third-party applications like ClassPass, you are able to get the most bang for your buck while simultaneously ensuring that clients and/or potential customers have a positive, user-friendly experience when interacting with your custom-made web and smartphone apps.
Top ClassPass Competitors
Virtuagym's competition with ClassPass software stems from its ability to store workout exercises without sending a Youtube video, making it easy for clients to stay on track with their workouts.
8Fit is your upgraded personal accountability fitness app.  It competes with ClassPass because it helps make working out a better consumer experience with workout plans, nutrition and meal planning, progress tracking, etc.
Fitocracy turns exercising into a competition and cooperative effort between friends and family. Turning its platform into somewhat of a "gaming" experience, users are able to meet other like-minded, goal-oriented individuals and compete, providing a more enticing fitness experience.
FitReserve follows the same basic ClassPass model but is currently limited to Boston, New York City, and Washington, D.C, with plans to expand to Chicago.
GuavaPass was a former competitor of ClassPass but was recently acquired by them for $4.2 million earlier in 2019.
Frequently Asked Questions
Below are questions ClassPass subscribers ask that will help you to make a decision on whether ClassPass, paired with Exercise.com's all-in-one business solution, is right for your business:
What is ClassPass?
"ClassPass is a monthly fitness membership that provides you with access to thousands of different studios, gyms, and wellness offerings across ClassPass cities worldwide*."
Can I use ClassPass while traveling?
Yes, as long as you're traveling to any city that has gyms that allow for ClassPass credits to be used! As a business owner, it's on you to decide if having ClassPass will add revenue, especially if your club is in a tourist area.
How many times can I visit a studio each cycle?
"You can go to most studios on ClassPass as often as you want each month*. Depending on what city you are in, after you attend a studio 3 or 4 times in a membership cycle, the credit rate may increase."
Is there a list of studios available?
On the ClassPass homepage, you can use the Explore Studios function to find out if there's a studio that takes ClassPass credits. If you are a health club owner, partnering with ClassPass gets your business listed so subscribers to ClassPass can find you.
What are credits?
"Credits are what you use to book classes through ClassPass. In certain cities, you can also use your credits to book gym time and wellness appointments. Depending on your membership plan, you get a certain number of credits each month. You choose how to use your credits each cycle. Classes have different credit rates, which are dynamically priced based on a number of factors."
How are credit rates determined?
Credit rates for each club and class vary depending on several factors.  Class time, location, studio type, booking time, popularity, and visit count are all factors that determine the credit rate for each location.
As a business owner, you can choose your peak hours and best class times according to your ClassPass revenue needs, and Exercise.com can help!
 Do my credits roll over?
"If you don't use all of your credits before your cycle ends, we will automatically roll over up to 10 unused credits to your next cycle. These credits will appear in your account within 24 hours of your cycle renewal date. We are unable to roll over more than 10 credits each month, and your credit rollover restarts each cycle so unused credits do not accumulate cycle to cycle. If you cancel your account, you are ineligible for roll over credits."
How many classes can I take each cycle?
"Depending on your membership plan, you get a certain number of credits each month, which you use to book reservations on ClassPass. The number of classes you can take per cycle depends on the classes you book."
Will Exercise.com's business software help my business increase revenue?
"Champion Physical Therapy and Performance created over $4,500 monthly recurring revenue within the first month with Exercise.com. We love how we can consistently showcase our brand from our gym, to our homepage, to our online training platform, to our apps. It's a unified experience for all our users."

Mike Reinold, PT, DPT, SCS, CSCS
What is the ClassPass cancellation policy?
As a business owner, it's important to know that you'll be compensated for your work. ClassPass does charge a cancellation fee to members:
"This policy is important for our partners because it ensures that studios are still paid for spots that go unfilled due to late canceling or missing a reservation. For many of our studios, filling each spot is critical not only for their business, but for guaranteeing you have a high-quality experience every time you attend."
The Bottom Line
ClassPass is NOT a club management software application, however, ClassPass does work with most apps. ClassPass is an app that provides a subscription service for users in which the return is credits that can be used at select clubs and businesses who partner with ClassPass.
Why does this matter?
If you decide while using your customized all-in-one Exercise.com software that adding ClassPass would be beneficial for your business, leave it to our endless integration capabilities to make sure the job gets done: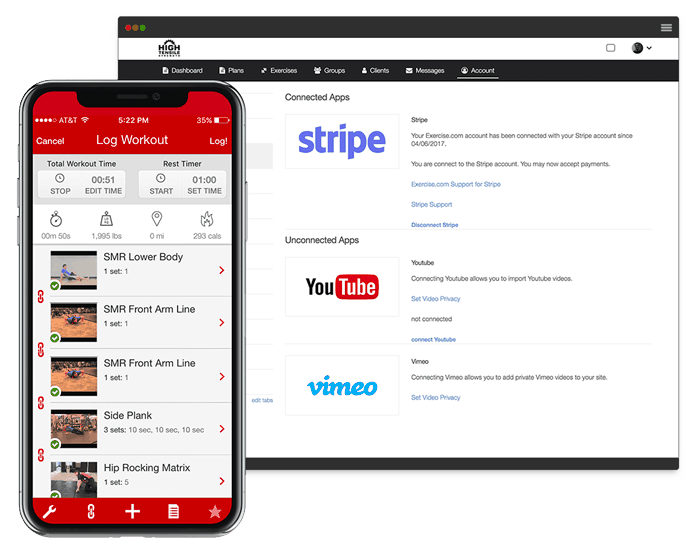 With integrations and customizations, your business will always be ready to hit the ground running. Exercise.com is constantly adapting to the ever-changing health club and gym management climate and has built a reputation for providing solutions that meet demand:
"The Exercise.com team is amazing and their web and mobile workout technology is more than we ever expected! Not only can clients watch exercise video demonstrations, but they can also select alternative exercises, log workouts, and track their performance. All of this is made possible by a high-quality platform and tremendous team!" – Mike Boyle Strength and Conditioning
Exercise.com provides all-in-one software that is designed with your plans in mind; whether those plans include automation, scheduling, reminders, POS, workout logging, etc. A fully capable integration platform that's completely branded to your business is the solution you will get from Exercise.com.
Ready to let Exercise.com handle your business needs?  Book a demo for the all-in-one custom-branded Exercise.com Business app today!