Exercise.com: Your ClubRight Alternative
| Features | | ClubRight |
| --- | --- | --- |
| Gym / Facility Management | | |
| Workout Creator / Logger | | |
| 1-1 Training | | |
| Custom Exercises | | |
| Websites | | |
| Marketing Integrations | | |
| Custom Branded | | |
| iOS & Android Apps | | |
| Online Training | | |
| Sell Products | | |
| Payment Processing | | |
| Exercise Library | | |
| Assessments | | |
| Client / Class Scheduling | | |
| Nutrition | | |
| Dedicated Account Manager | | |
| Dedicated Zapier Support | | |
| Client Automation | | |
| Performance & Measurement Reports | | |
| TV Workouts | | |
| Offer Online Workout Memberships | | |
| Run Workout Challenges | | |
| Sell Workout Plans | | |
| Group Training | | |
| Business Dashboard Reports | | |
Why Choose Exercise.com?
Here are five reasons why fitness professionals use Exercise.com vs. ClubRight.
Fitness Business Management Software to Run Your Business
Unlike ClubRight, Exercise.com software is designed to have all components needed to run a fitness business in one place – making it easy and efficient to organize and grow your fitness business with client and class scheduling, check-ins, and billing — all from your custom-branded apps. 
Fitness Business Management Software to Run Your Business
Unlike ClubRight, Exercise.com software is designed to have all components needed to run a fitness business in one place – making it easy and efficient to organize and grow your fitness business with client and class scheduling, check-ins, and billing — all from your custom-branded apps.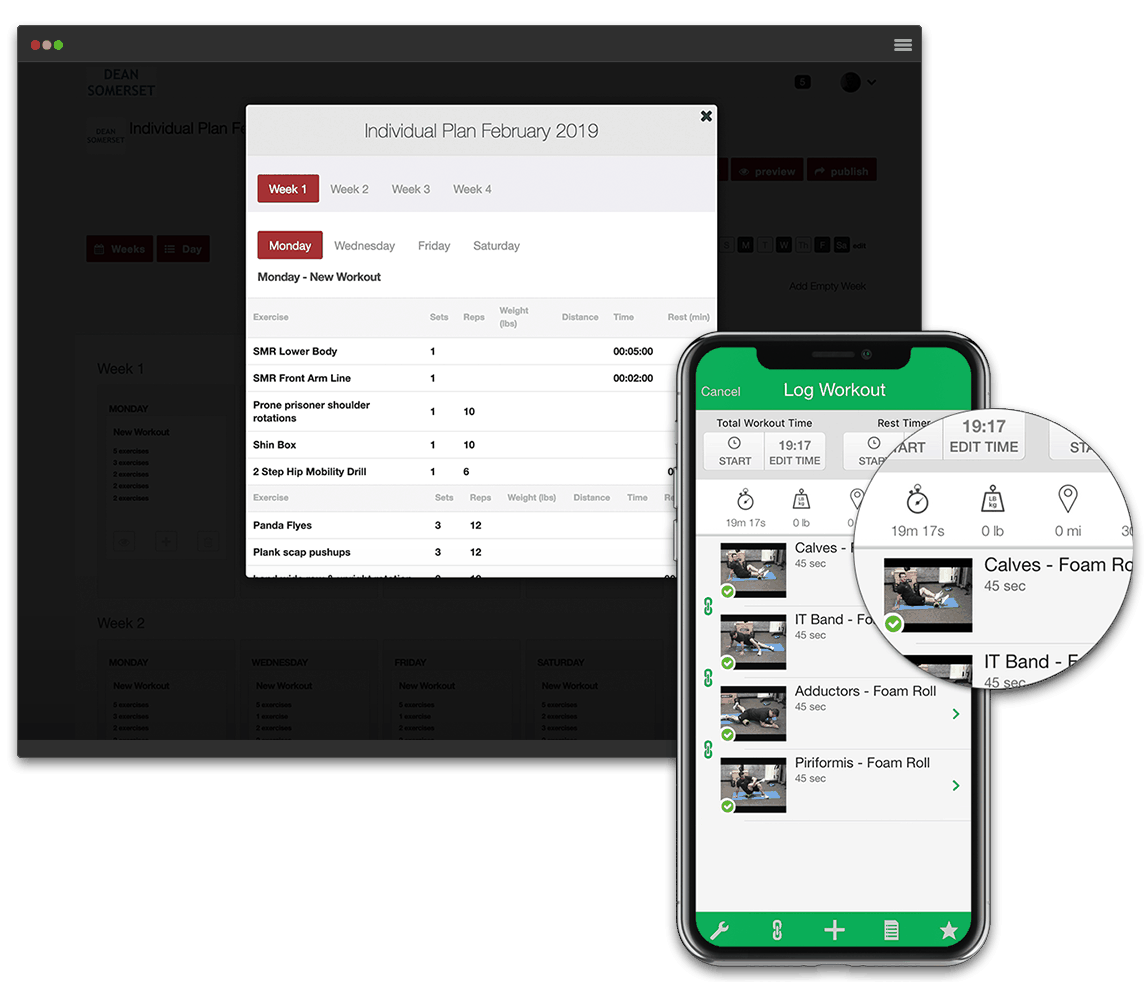 Workout Software to Power Your Training
ClubRight does not offer workout software – an essential component for running a fitness business. The Exercise.com workout plan creator and exercise manager provide flexible solutions to save you time creating workouts with built-in integrations, tools, and more.
Ecommerce Software to Increase Revenue
Fitness professionals cannot use ClubRight's limited ecommerce features to sell training packages, workout challenges, or online memberships. Exercise.com, however, has full ecommerce capabilities allowing trainers to sell single workout plans, offer automated workout memberships, run workout challenges, and deliver individual training.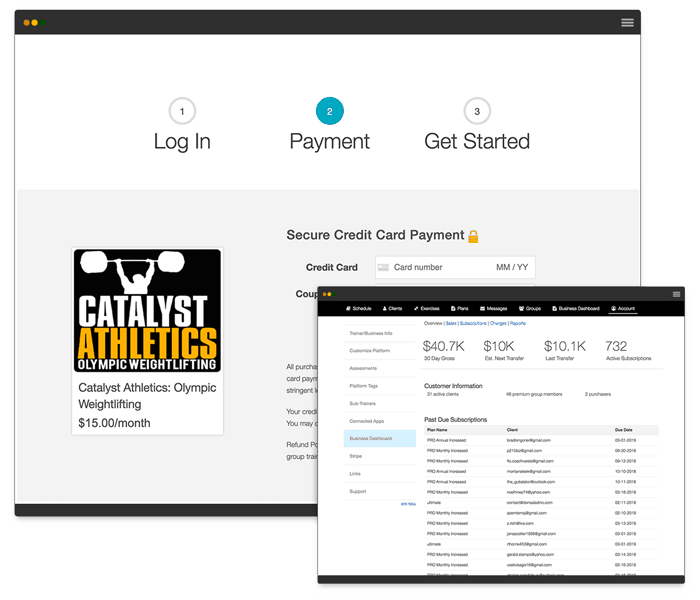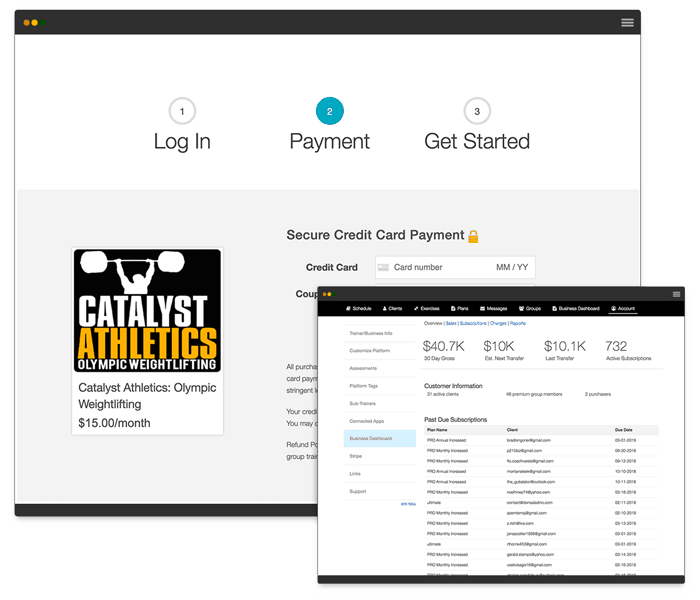 Ecommerce Software to Increase Revenue
Fitness professionals cannot use ClubRight's limited ecommerce features to sell training packages, workout challenges, or online memberships. Exercise.com, however, has full ecommerce capabilities allowing trainers to sell single workout plans, offer automated workout memberships, run workout challenges, and deliver individual training.
Assessment Software to Improve Client Engagement and Retention
ClubRight lacks assessment software, but that's not the case with Exercise.com. Take clients through personalized assessments to deliver custom workouts and nutrition notes for their individual needs – providing massive growth potential and saved time.
Stand Out With Your Own Custom-branded Apps
ClubRight's apps provide no options for custom websites or to create custom exercises. Exercise.com, however, offers fully-customized apps and websites built to make your life easier by providing your clients with a unified scheduling and workout experience with your brand displayed front-and-center.
Stand Out With Your Own Custom-branded Apps
ClubRight's apps provide no options for custom websites or to create custom exercises. Exercise.com, however, offers fully-customized apps and websites built to make your life easier by providing your clients with a unified scheduling and workout experience with your brand displayed front-and-center.
If you're ready to get started with an easy-to-navigate, all-in-one fitness software, designed to fuel your business, request a demo with Exercise.com today.
And, if you want to see how ClubRight's additional features stack up to Exercise.com software features, check out our in-depth guide below.
What is ClubRight?
ClubRight is a fitness software company, based in the UK, whose goal is to help club owners effectively manage their membership base. This cloud-based system is used by gyms, dance studios, fitness studios, and martial arts centers. As part of its member management, ClubRight offers billing and payment platforms, progress tracking, and class schedules.
The goal of founder and CEO, Wayne Heath, was to design a software based on his personal needs when he was a gym owner. Using the obstacles and opportunities he faced, Heath developed ClubRight in an effort to help other gym owners run their business efficiently.
ClubRight is used, today, for small and large businesses. The company offers three different pricing tiers, which we will get into later, that work for different types of owners from individual personal trainers to large clubs.
ClubRight and Exercise.com have several features in common including workout creators and loggers, scheduling features, and facility management elements. We will get into the details of these features as we proceed but, even among the similarities, there are some differences that stand out.
The two main differences in the companies come from the customizable elements and the features included at given pricing levels. ClubRight fails to provide any customization of its software, meaning that websites, apps, and dashboard look and function the same way for all users. This is not the case with Exercise.com. We give you the opportunity to customize every aspect of your software so that your business can be run in a way that fits your unique needs.
Exercise.com offers this customization, as well as all other features, for one low price. Unlike ClubRight, who offers three different tiers, Exercise.com does not make you choose the option that most closely fits your needs, we give you the option that fits your exact needs.
Let's take a look at how the two companies stack up in some other key feature areas.
Unless otherwise stated, all images and reviews below are of/about the Exercise.com All-In-One Fitness Business Management software platform.
Fitness Business Management Software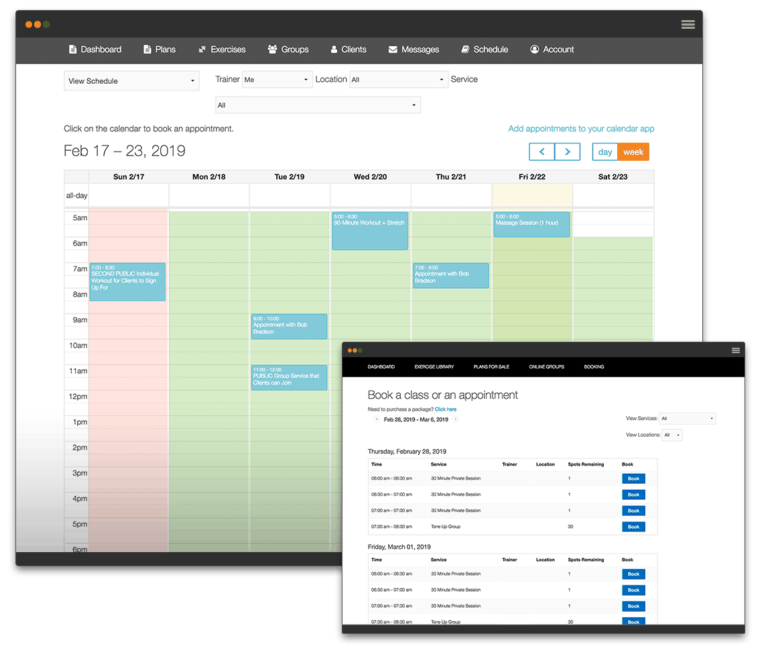 ClubRight and Exercise.com share competency in the business management elements of their respective products, but only Exercise.com's gym management software can truly claim to be comprehensive. We are proud to say that you can do anything and everything your business needs, within our software. The best part is that if you want something that is not currently built into our software, our partnership with Zapier allows you to integrate it in so you are still managing from one spot.
Even among the similarities, there are subtle differences in certain areas of the two software. Here are some details.
Client/Class Scheduling
ClubRight does an adequate job in the client and class scheduling realm. Members are able to view schedules, book a spot in classes, and pay for their service online. These options are also available through the ClubRight app.
Exercise.com also provides scheduling platforms for whatever type of calendar your business may need. Members can view calendars and sort them by the class studio, instructor, trainer, day, time, type of class, or any other method you choose to make available.
Gym/Facility Management
Facility management decisions are made by using information about the performance of the facility. For these purposes, Exercise.com gives owners the ability to generate custom reports on any number of different aspects of their software.
You can choose to analyze your group fitness attendance, view revenue trends for personal training by month, or take a look at membership growth from year to year. These are only a few examples of the type of reports you can view. Our software is customized so that you can generate a report on any type of information that is gathered by our software.
ClubRight does offer reporting features in their platform, however, they are limited and not able to be customized. Essentially, this means that you can only view the data they think is important for your business. You know your business better than anyone, so not being able to potentially gather information you consider useful is something to consider.
Business Dashboard Reports
Managing a staff of any size is time-consuming, but FBM from Exercise.com saves you time with assignable staff roles, so you can put staff management on autopilot.
Plus, all your reports can be run in a single software. No more safaris for which software has which reports. Exercise.com Fitness Business Management (FBM) software makes reports easy — sales, business, appointments, class, and payroll reports all in one place. Plus you can also sort reports by:
These reports are easily accessible on our customizable report dashboard so you have your finger on the pulse of your business. ClubRight also has a dashboard but it isn't customizable.
You got into the business because of a love for fitness, not complicated logistical tasks, so it's crucial to set up the efficient processes that run reliably and don't need your constant attention. Let Exercise.com handle it!
Client Automation
Both ClubRight and Exercise.com offer automated features, but ClubRight does so in a more limited capacity and the features are determined by the pricing tiers. For example, automated emails and text messages do not kick in for ClubRight unless a customer is paying for the highest level of their software.
With Exercise.com, you get a wide variety of automated features that are all included in one low price. We do not make things messy with different pricing structures that give and take various features. We believe all of our customers should have access to each and every one of our features. Some of our more popular automated features include:
Automatic Emails and Texts
Automate Workout Delivery
Automate Resource Delivery
Automate Assessment Delivery
Automate Reminders/Alerts via app, text, and email
Dedicated Zapier Support
At Exercise.com, we strive to provide our clients with any integration they may need in order to fully utilize our software. We realize, however, that some clients have other tools that they find effective but are not already integrated with our software. For these types of situations, we have partnered with Zapier.
With over 2,000 apps to choose from, Zapier helps make your company's website as efficient and user-friendly as possible. Our partnership with them allows you to integrate by linking your web apps so they can share data, automate the information that is passed between your apps, and innovate faster processes.
This partnership is a big part of why we deem our software the best all-in-one fitness business management software; you truly can do everything from one place.
Dedicated Account Manager
Customer service is a strong point of emphasis at Exercise.com which is why we make sure all of our clients have a dedicated account manager to help them with any need that may arise throughout the process. While other companies may assign someone to help you get started and then cut you loose, we make sure that you have your account manager with you indefinitely.
This means that, if you want to redesign your website, your account manager will make it happen. If you want to set up an ecommerce store, you know you have someone in your corner to help you get it done. Our world-class development team will accomplish any task at a high quality. Whether it is simple or complex, we will help you get it done.
Customized Software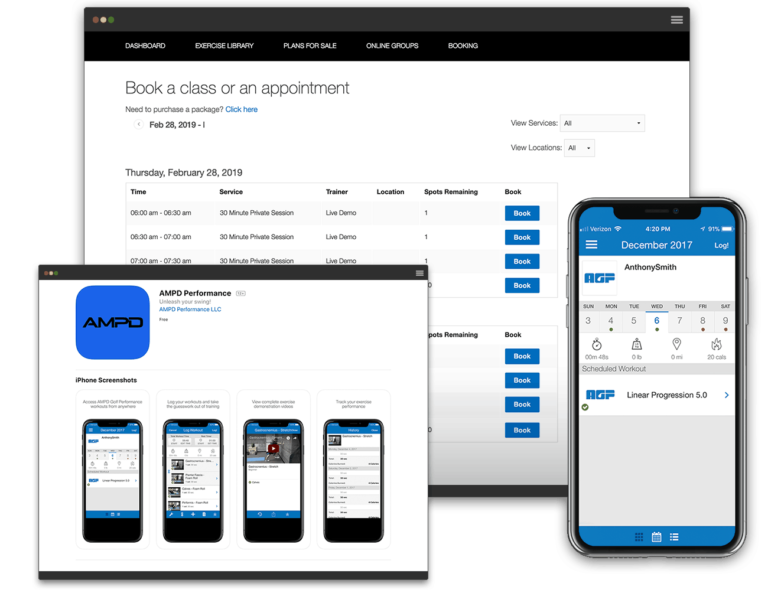 Exercise.com makes every aspect of its software customizable. We want our software to work as effectively as it can for your business and that means tailoring it to your unique needs. Not all fitness businesses are the same and the industry is constantly changing. We provide customers with software that can adapt to any environment and help any business thrive.
The only customized feature mentioned on the ClubRight website is an automated email template. This seems to be a very generic offering that does not add much value for ClubRight customers. In addition, this offer is only available to those customers who are signed up at the highest price point.
Custom-Branded
As we mentioned, not all fitness businesses are the same, so you want yours to stand out among your competitors. You want people to know, simply by seeing your brand, what your business is all about and why they should choose you over another option.
For these reasons, Exercise.com provides custom branding to our customers. Your logo, colors, and pictures of your facility can appear in the software so that it shows off the unique elements of your business. Current or potential members will be able to see something that distinguishes your business from another that they may have seen.
iOS & Android Apps
Exercise.com provides our iOS and Android compatible apps to our clients at no additional fee. These branded apps for personal trainers are completely customizable so your members can utilize your business from the palm of their hand. They can view schedules, book appointments, and even track their workouts all from their mobile device.
ClubRight does provide its customers with an app, however, it lacks the customization features that are included with the Exercise.com app. There are also numerous poor reviews detailing the inadequate booking features, glitches, and crashing.
Websites
ClubRight does not offer a customized website to its customers. This means that ClubRight customers have to either develop a website on their own or use a third party to do so and then integrate it with their software.
With Exercise.com, you are given a custom, SEO-optimized fitness business website that is included in your purchase. This website is specifically designed to match the brand and vision of your business so that potential members can find out everything they need to know about your business. Some of our website design features include:
Responsive
Built to convert visitors to leads
Google Certified Partner
Security Features
While the ClubRight website makes no specific mention of security features, Exercise.com realizes the importance of protecting information for you and your members. We want you to trust us and your members to trust you in keeping your information secure. Some of our top features are:
SSL Secure
Privacy Shield Framework
Google Cloud
Marketing Integrations
One of Exercise.com's main goals for our clients is to help their businesses grow. Marketing is one of the most crucial aspects of business growth, so we want to set you up to succeed as best we can. We have made sure that our software already includes integrations with popular marketing platforms but, if there is something else you prefer to use, our partnership with Zapier ensures that we can make it work together.
Some of our more popular integrations include:
MailChimp
ConstantContact
ConvertKit
Zapier
Google Analytics
Facebook Pixel
Learn more by clicking the button below.
Exercise.com is the best ClubRight alternative.
Workout Software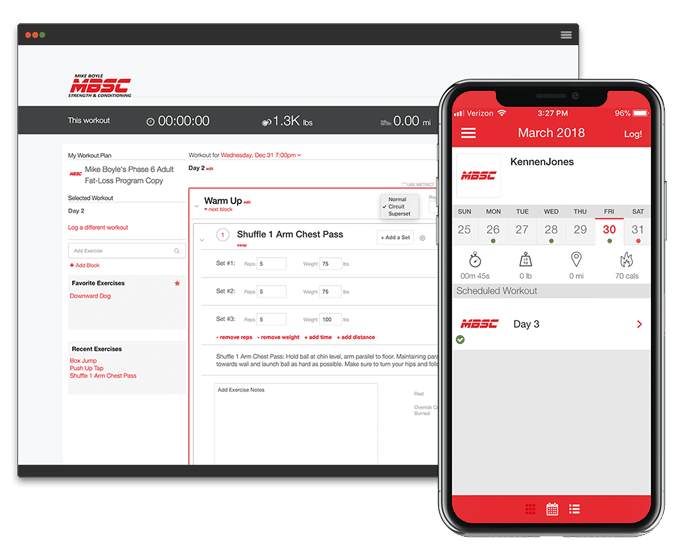 One of Exercise.com's most prominent features is our workout software. This is a part of our platform that can help take a fitness business from good to great and its revenue from average to exceptional. Our software helps trainers and clients get the most out of their workouts and if also offers owners and trainers creative platforms to provide additional streams of revenue.
ClubRight, on the other hand, only scratches the surface of workout software. They focus more on club management than the growth of individual aspects of a club, such as personal training.
Workout Creator/Logger
The software provided by Exercise.com provides users with a platform in which they can create workouts for clients or general members. These workouts can be individualized to any given person or they can be made available to anyone who is looking for a more generic workout to follow.
As these workouts are completed, your members and clients can log the results of their workouts in our tracker so they are able to see their progress over time. This helps them to know how well they are proceeding toward their goals, which is a big selling point for your facility.
Our workout creator/logger provides users with endless possibilities for delivering workouts, tips, and encouragement to clients in any scenario, including:
1-1 Training
Personal training is a classic part of most gyms and is also an important piece of overall revenue. By using our software to help create and track workouts, your clients will see the additional value because they have access to their workouts and results at all times. As they see their progress, they are seeing how your facility is helping them reach their goals. This is an important element for client retention, which ultimately leads to higher revenue.
Group Training
Some people are motivated by having friends or family members working out next to them. This might be with a trainer or just following a workout together, but having a partner can provide people with an extra boost.
Exercise.com software is set up to manage group training so that those who might feel intimidated by a one-on-one session can still receive professional guidance, but with the motivation of someone they know. They are still able to use the workout tracker to see their progress and help push others in the group to reach their full potential.
Online Training
Online training is becoming an increasingly valuable tool for trainers and gyms alike. Personal trainers enjoy utilizing this method because it gives them the ability to work out with more clients in a shorter amount of time. Gyms are starting to use this method more and more for the same reasons as trainers because it makes more efficient use of time and generates more income.
Whatever the reason might be that someone makes use of online training, Exercise.com software is up to the challenge. Our workout creator and logger is an important feature, but trainers are also able to communicate with their clients within the software and keep the session feeling personal.
Exercise Library
Most fitness software companies (ClubRight being an exception) provide their customers with a pre-built exercise library. This compilation of exercises helps save trainers and instructors time when creating workouts because they can choose from a list that is already made.
This is an important option to have and it can be very useful, but Exercise.com also provides another option. Trainers and instructors can choose to upload custom videos or exercise into their library.
Custom Exercises
Custom exercise videos can be used in place of the pre-built library or in addition to it. It can add a more personal touch for clients to be able to see a familiar face in the exercise demonstration video during their workout. It gives your business a better opportunity to connect with your clients because they are not seeing a stranger showing them how to do an exercise. Instead, they see someone from your staff, which makes it easier to trust the exercise and it can be more motivational to complete the workout.
TV Workouts
Clients already have the ability to watch videos of exercise demos in their personal workouts, but gyms have another option in which to utilize this part of the software. Casting videos onto a TV screen during a training session or group exercise class is a great way to add value because it shows your members how prepared your staff is for that particular workout. It is something that not all facilities do, so it gives your gym a more personal feel to your members.
Gym Ecommerce Software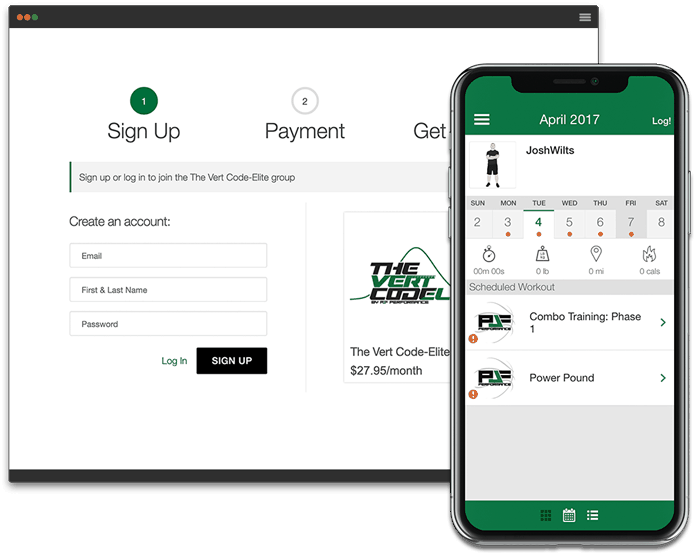 Many fitness software companies, like ClubRight, provide a platform for their customers to sell products. Exercise.com's gym ecommerce software also fits into this category, but we take an additional step by allowing your clients and members to purchase workout plans, sign up for workout memberships, or pay to join an online workout challenge.
Since ClubRight does not have a workout creator in its software, selling workout-based services or products in an ecommerce format is not something they have chosen to include.
Payment Processing
Exercise.com uses Stripe to process payments safely and securely. You can accept a single payment for a product or service, collect monthly membership fees, send a bill for personal training sessions, or include everything into one accrued bill and your time interval of choice.
ClubRight does not make note of its payment processing methods.
Sell Products
As your business grows, you might want to give your members the opportunity to represent your brand. You can do this by putting your brand on shirts, hats, water bottles, or any number of other products you or your members may deem useful.
Both software companies, in this comparison, have a platform with which to sell products, but Exercise.com takes it further and gives you the opportunity to sell different types of workouts like these:
Sell Workout Plans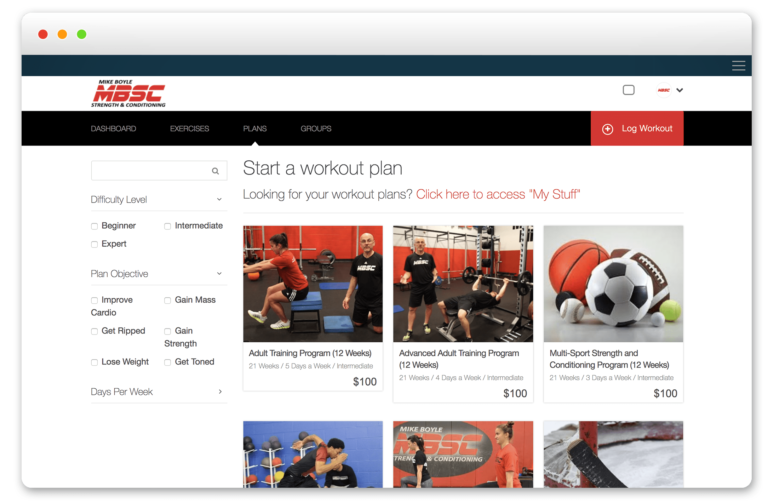 There are plenty of people, in most gyms, who know proper form and do not necessarily want a trainer next to them, but they do want help with a workout plan to follow. Exercise.com software can help you meet these needs by creating workout plans and making them available for purchase.
The type of workout is completely up to you. You might choose to create weightlifting workouts, core workouts, running workouts, or anything else you can think of. You know your members best and you know what types of workouts will appeal to them to purchase.
Offer Online Workout Memberships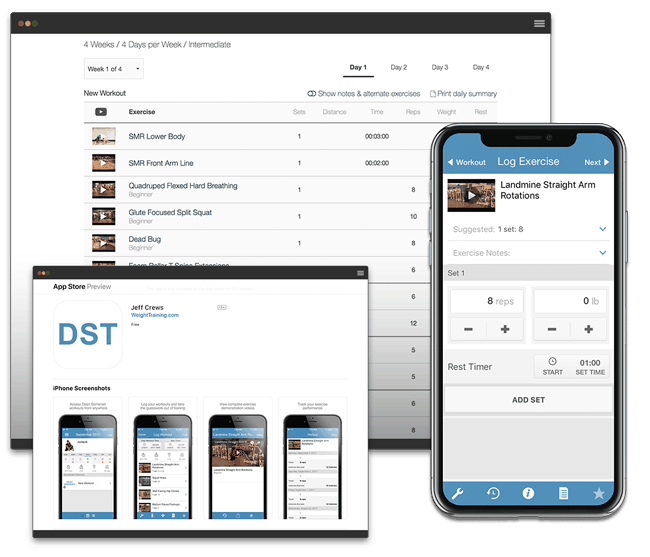 Most trainers would agree that if someone is following the same workout routine they will plateau somewhere between four and six weeks. To make sure that doesn't happen, you can offer online workout memberships to your clients and members through the Exercise.com gym membership software platform.
In this format, you would create workouts in advance that are automatically delivered at regular intervals to those in the membership. This is beneficial to your business because it is a steady stream of income and it is beneficial to your members because they will avoid a plateau.
Sell Workout Challenges
Gyms are a great place for communities to come together and there are few things that facilitate this as well as a challenge. Your members could be competing against each other or working toward the same goal but, if a challenge is issued, they are likely to come together to overcome it in one way or another.
This is beneficial for your business for a couple of reasons. The first is that you can earn revenue from having people pay for these challenges, but the second is more from a marketing standpoint. When your members are excited about the things happening at your gym, they are likely to talk to their friends. Word of mouth is one of the most powerful marketing tools, so this could eventually lead to new members and additional revenue for your business.
Fitness Assessment Software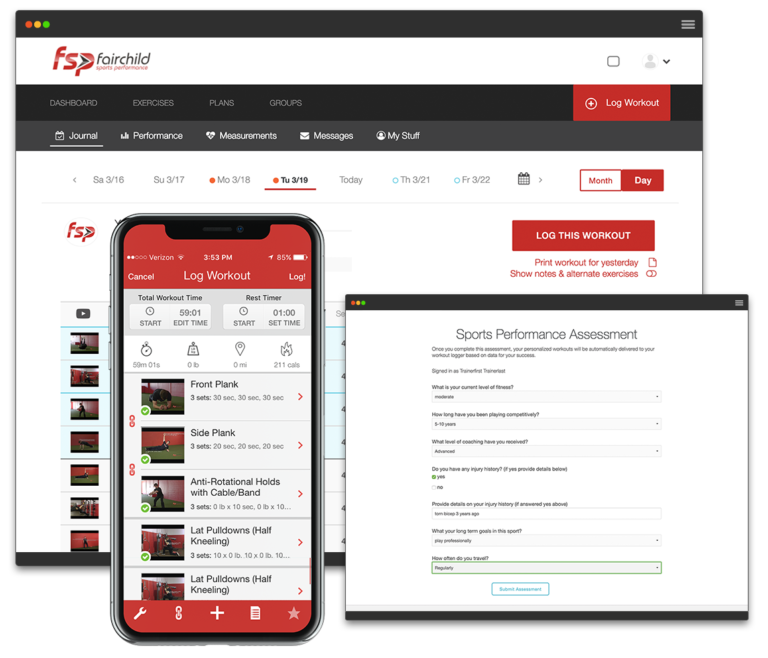 Most people will join your facility because they have a goal in mind. Those people are more likely to stay members at your facility if they know that you are helping them to reach their goals. Exercise.com's fitness assessment software is a valuable tool in helping people see their progress and retain them as members.
It starts with establishing a baseline of information about a person's current fitness status and then retesting against this baseline as their journey goes along. As they see their progress, they will see just how much your facility has helped them and this will give them confidence in their membership.
Assessments
Establishing a baseline of fitness data is the first step in measuring someone's progress. After all, it is impossible to tell how much we have achieved unless we know exactly where we started. With Exercise.com, you can customize your assessments to fit any new members who join your gym.
Instead of using the same test for everyone, you can test a powerlifter on strength, a runner on endurance, and a soccer player on agility. This makes the information most applicable to each individual person so that they have a better understanding of their progress.
Performance & Measurement Reports
Once a baseline is established, progress is measured by re-assessing the same measurements over time. Exercise.com software helps you automatically deliver these results to your clients. They may include progress photos, measurements, or other relevant data that will show clients how far they've come over a certain period of time.
Nutrition
Even though our main focus is not on nutrition, Exercise.com realizes the vital role food plays in fueling your workouts and recovering from them. For those reasons, we have added a nutrition tracker to our software. Clients can log their food and water intake so that trainers can give guidance, within their scope of practice, on the right type of eating for a certain goal.
ClubRight Software Pricing
As we noted at the beginning of this comparison, ClubRight offers three different pricing tiers to potential customers. The features change based on which tier a customer is in. Here is a breakdown of the pricing and features. Please note that prices are converted from pounds to USD.
| Package | GoRight | ClubRight | ProRight |
| --- | --- | --- | --- |
| Price | $38.52/mon | $91.64/mon | $131.49/mon |
| Features | Member Management | GoRight Features, Plus: | ClubRight Features, Plus: |
| | Online Members Area | Joint Group Memberships | Customizable Email Templates |
| | Member App | Manage Staff User Access Levels | Member Journey Automation |
| | Online Joining & Payments | Staff Activity Hours Worked | Intuitive Retention Tools |
| | Automated Booking Confirmation | Member Payment Alerts | Automated Task Builder |
| | ClubRight Connect | Online Diary & Class/Room Booking | Automated Task Builder |
| | Member Profile Page | Automated Waiting List | Automated Class Follow-Up |
| | Automated Payments & Processing | Online Register Prospects | Automated SMS Text Messaging |
| | Email & Two-Way Text | Full Dashboard | Automated Email |
| | Member Tracking & Registration | Point of Sale | |
| | Online Class & Appointment Scheduling | Membership Referrals, Welcome Screen, & Retention Tools | |
| | Member Alerts | Full Audit Trail | |
| | Sell Products & Services | | |
ClubRight Alternatives
Listed below are four of ClubRight's main competitors and the associated prices with each. Please note that the price for each product is accurate at the time of writing this comparison.
| Competitor | Minimum Starting Price | Maximum Price |
| --- | --- | --- |
| Perfect Gym | $152.96/mon | $473.11+/mon |
| Clubworx | $59.00/mon | $127.00/mon |
| ClubExpress | $24.00/mon | Dependent on number of active membership and staff users |
| PushPress | $0.00/mon | $139.00/mon |
The Bottom Line: Pros and Cons
There is a lot to consider when choosing which software you want to help run your business but, by now, we hope we've shown you that Exercise.com is up to the task. We can meet your every need through our customer service and customizable features, and we are truly committed to your success.
Before we wrap up, let's take one final look at some of the key points we've covered.
ClubRight Cons
ClubRight does an adequate job on several of the aspects we've covered such as facility management, class scheduling, and product sales. Where they fall short, however, is in the ability to provide growth opportunities for their customers.
They are lacking an exercise library and workout creator, which means they do not have the option to easily provide additional services like online training or selling workout plans. This is a lost opportunity for revenue, which is also a lost opportunity for potential growth.
ClubRight also lacks any customizable features beyond their email template. A business should want to display their unique qualities, but using ClubRight does not afford you this opportunity. The company has also chosen not to provide performance health software. This makes it difficult for your clients to track their progress, which can lead to difficulties in client retention over the long run.
Exercise.com Pros
Exercise.com is the right software program not only to manage your business but to help it grow. We offer many different marketing integrations that will help promote your facility and your services to members and the public alike. Within these marketing features, along with your website and app, you are able to show off your brand so that people can identify the unique qualities of your business and decide why they should choose you over a competitor.
Everything about our software is customizable, meaning that it can be made to fit whatever needs your business may have. If you are unsure of what you need, we provide you with a dedicated account manager and a world-class development team to help you through every step.
Our workout software and customized exercise library give you the tools you need to increase your revenue by adding value to existing services and creating others. Once these services are being utilized by your clients, you can retain them by using our performance health software to establish a baseline and track their progress. As they see how much your business is helping them, your clients will gladly continue paying for your services.
Overall, Exercise.com can do whatever your business needs because we are built to adapt. We want your business to stand out, which is why we don't give you a cookie-cutter product. We are successful when you are successful, and we believe we are the right partner for you.
What elements of your business do you want to stand out?
If you want to work with a fitness management company that is committed to your individual business, request a demo today.