Exercise.com: Your Kinduct Alternative
| Features | | Kinduct |
| --- | --- | --- |
| Nutrition | | |
| Dedicated Account Manager | | |
| Dedicated Zapier Support | | |
| Client Automation | | |
| Performance & Measurement Reports | | |
| TV Workouts | | |
| Offer Online Workout Memberships | | |
| Run Workout Challenges | | |
| Sell Workout Plans | | |
| Group Training | | |
| 1-1 Training | | |
| Custom Exercises | | |
| Websites | | |
| Marketing Integrations | | |
| Custom Branded | | |
| iOS & Android Apps | | |
| Online Training | | |
| Sell Products | | |
| Payment Processing | | |
| Gym / Facility Management | | |
| Exercise Library | | |
| Assessments | | |
| Client / Class Scheduling | | |
| Workout Creator / Logger | | |
| Business Dashboard Reports | | |
Why Choose Exercise.com?
Here are five reasons why fitness professionals use Exercise.com vs. Kinduct.
Fitness Business Management Software to Run Your Business
Unlike Kinduct, Exercise.com software is designed to have all components needed to run a fitness business in one place– making it easy and efficient to organize and grow your fitness business with client and class scheduling, check-ins, and billing — all from your custom-branded apps.
Fitness Business Management Software to Run Your Business
Unlike Kinduct, Exercise.com software is designed to have all components needed to run a fitness business in one place– making it easy and efficient to organize and grow your fitness business with client and class scheduling, check-ins, and billing — all from your custom-branded apps.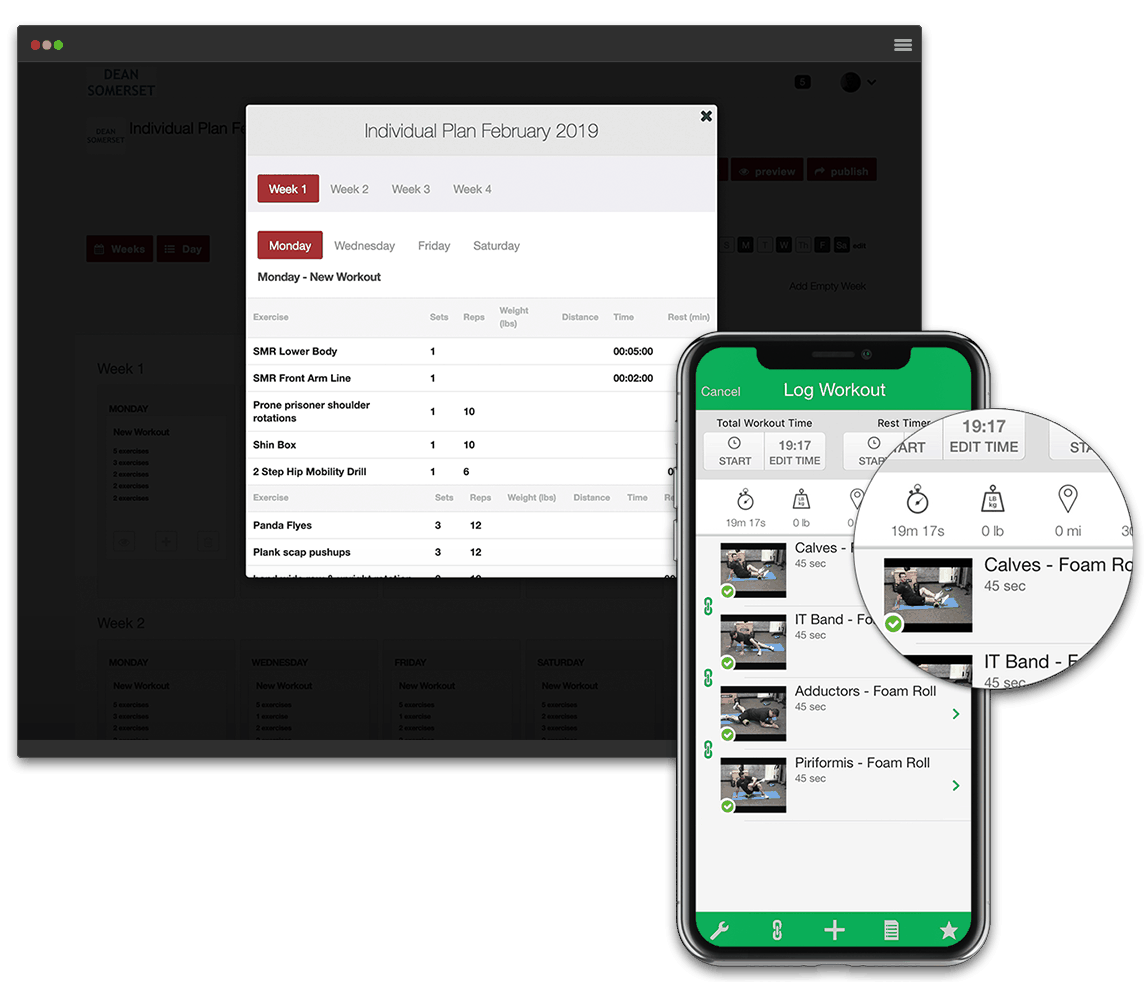 Workout Software to Power Your Training
Kinduct does offer workout software, but the emphasis is on rehabilitation and training for athletes. The Exercise.com workout plan creator and exercise manager provide flexible solutions to save you time creating workouts with built-in integrations, tools, and more.
Ecommerce Software to Increase Revenue
Fitness professionals cannot use Kinduct's ecommerce features to workout challenges, single workout plans, or to process payments. Exercise.com, however, has full ecommerce capabilities allowing trainers to sell single workout plans, offer automated workout memberships, run workout challenges, and deliver individual training.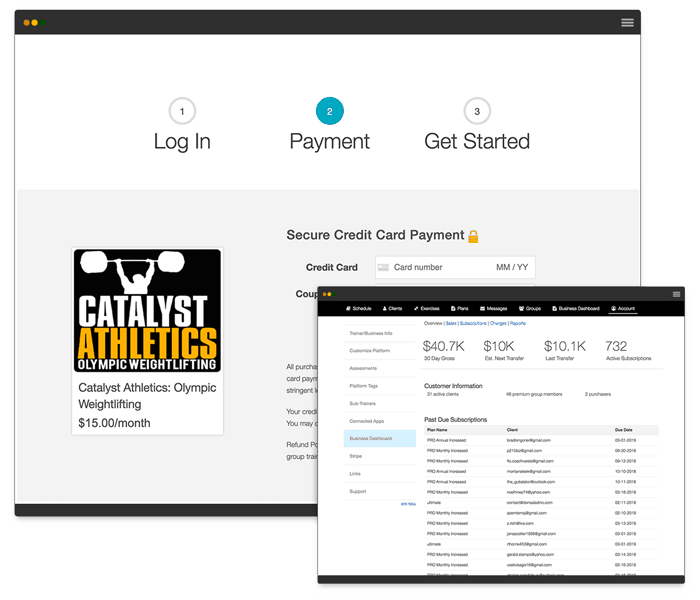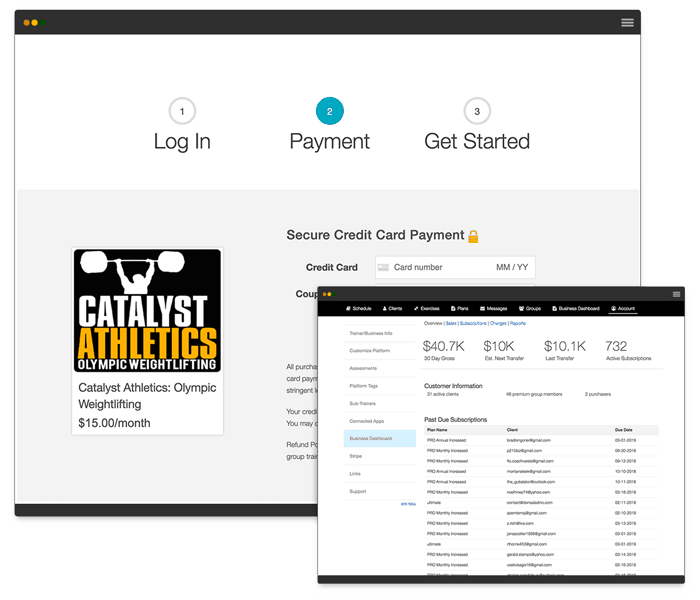 Ecommerce Software to Increase Revenue
Fitness professionals cannot use Kinduct's ecommerce features to workout challenges, single workout plans, or to process payments. Exercise.com, however, has full ecommerce capabilities allowing trainers to sell single workout plans, offer automated workout memberships, run workout challenges, and deliver individual training.
Assessment Software to Improve Client Engagement and Retention
To access all available assessments through Kinduct, you need to access and integrate with multiple third-party platforms; that's not the case with Exercise.com. Take clients through your personalized assessment to deliver custom workouts for their individual needs – providing massive growth potential and saved time. No third-party software necessary.
Stand Out With Your Own Custom-branded Apps
Kinduct does not offer any commercial apps for fitness professionals. On the other hand, Exercise.com offers fully-customized apps built to make your life easier by providing your clients with a unified scheduling and workout experience with your brand displayed front-and-center.
Stand Out With Your Own Custom-branded Apps
Kinduct does not offer any commercial apps for fitness professionals. On the other hand, Exercise.com offers fully-customized apps built to make your life easier by providing your clients with a unified scheduling and workout experience with your brand displayed front-and-center.
If you're ready to get started with an easy-to-navigate, all-in-one fitness software, designed to fuel your business, request a demo with Exercise.com today.
And, if you want to see how Kinduct's additional features stack up to Exercise.com software features, check out our in-depth guide below.
What is Kinduct?
Kinduct Technologies Inc. was founded in 2010 by Dr. Travis McDonough, who currently also serves as the Kinduct CEO. Dr. McDonough has a background in kinesiology and chiropractic care. He also has a few NASM (National Academy of Sports Medicine) certifications. Kinduct offers a data-driven, athlete management platform that serves as a central platform to view and analyze data for athletes in one location.
(To find additional information on Kinduct, Crunchbase is a great resource. The Kinduct LinkedIn page is another resource worth perusing.)
Because Kinduct is primarily for athletes, it lacks the range of features many fitness business owners need to run their businesses smoothly.
Exercise.com, however, provides business owners with all-in-one software that equips fitness professionals with the tools they need to manage their companies in an easy-to-use, fully-customizable way.
You won't have to purchase an additional software platform to perform performance health assessments and to run your business, as our software meets both of those needs. Additionally, your app will feature your brand, not the brand of the software that you've paid to use.
Unless otherwise stated, all images and reviews below are of/about the Exercise.com All-In-One Fitness Business Management software platform
Fitness Business Management Software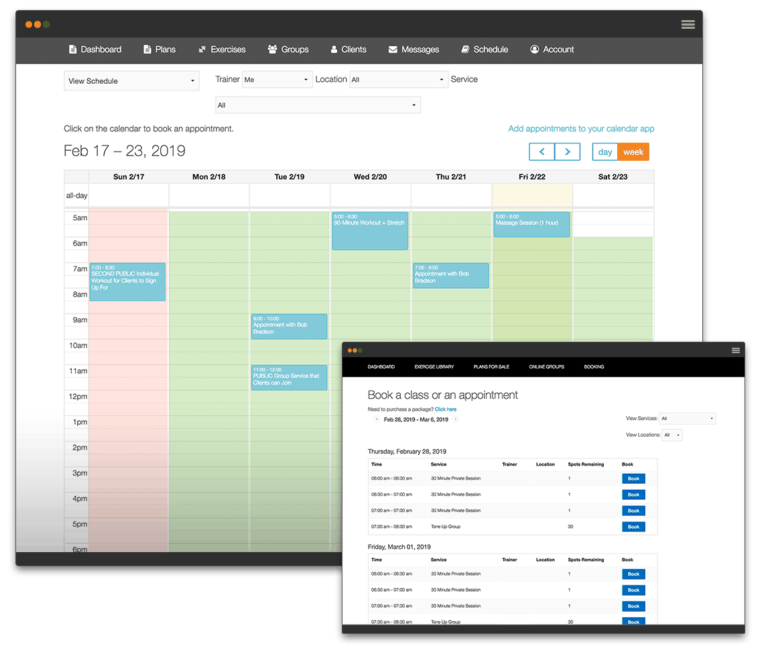 There are features within Kinduct for sports performance staff to develop and schedule workouts for athletes. They can add, edit, or create exercises and training, workout, or rehabilitation programs with the ability to add documents such as videos, pictures, or other files. Athletes can view and log workouts using a laptop, tablet, or smartphone. They can also log their workouts offline.
With Exercise.com, our software is capable of those same Kinduct features. We created our dedicated Fitness Business Management Software (FBM) that is capable of managing many features such as schedule management for classes, members, and employees. Workout creation and delivery are also featured as well as billing, notifications, and reporting. All these features are operable within our all-in-one software so there is no need to learn different systems.
Client/Class Scheduling
Kinduct doesn't have a class or client scheduling or booking feature, nor does it integrate with one. This puts your business a significant disadvantage in accommodating customers! In order to smoothly run your business, you'd need a separate scheduling and booking system.
The Exercise.com calendar features will empower you to track visits, book classes and sessions, engage your clients with recurring appointment reminders via email and text, and provide calendar integration with Google and Apple for easy management. With our calendars, you can also sort by:
Trainer

Location

Service

Recurring

Time

Availability
Gym/Facility Management
Managing a business is time-consuming! Unfortunately, Kinduct doesn't include any facility management features with its software. This means you must invest in other management software, which isn't an efficient use of resources.
Exercise.com has extensive gym/facility management features that save you valuable managerial time and streamline your business, like reporting and automation features, staff permissions, payroll, and reports. Our detailed but easy-to-understand reports are readily accessible on your app or desktop so you can make the best decisions for your business.
Business Dashboard Reports
Kinduct has a dashboard for in-depth data from athlete monitoring, but it doesn't have a dashboard for business reports.
Exercise.com has a multitude of reporting options and a fully customizable business dashboard. Staff and management can generate and/or customize reports on clients, staff, trainers, or sales to view data that is useful to review business operations and stay on track with useful information about your organization or facility.
We also make reports easy — sales, business, appointments, class, and payroll reports are all in one place. Plus you can sort reports by:
These reports empower you to have your finger on the pulse of your business, and if you're bringing on new trainers, you'll know how much to pay staff based on commissions.
Client Automation
Kinduct has a feature that allows triggers and alerts to be sent via email or text to athletes and performance staff when certain parameters are either too low or too high. Another automation feature is the use of athlete questionnaires. However, Kinduct lacks automation that is beneficial to fitness clients, like automatic workout and assessment delivery, nutrition plans, and more.
Exercise.com allows for questionnaires and follow-up with active individuals based on performance assessments or workout goals. Trainers are also able to automate marketing, email, messages, appointments, billing, and workout delivery.
Here are just a few of the ways that you can use our automation feature:
Automatic Emails and Texts/Other Automatic Features
Automate Workout Delivery
Automate Resource Delivery
Automate Assessment Delivery
Automate Reminders/Alerts via app, text, and email
Dedicated Zapier Support
Exercise.com packs as many integrations into its software as possible. We recognize, however, that there are some cases that require some extra help. For this reason, we have partnered with Zapier. By using this platform, you can:
Link your web apps with a few clicks so they can share data
Pass information between your apps with workflows called Zaps
Build processes faster so that you can get more done
With this partnership, you get dedicated support every step of the way. Zapier has over 2,000 apps to choose from, so you can be sure that your company's website is easy to use and friendly for your members.
Dedicated Account Manager
With Exercise.com you will also have a dedicated account manager. Your personal account manager will help with any modification or guidance you may need. If your business model changes and you need to redesign your website, your account manager will help get it done. If you are getting requests for products and want to set up an ecommerce store, your account manager will get it done. We are here for everything you need from simple to sophisticated.
Custom Fitness Software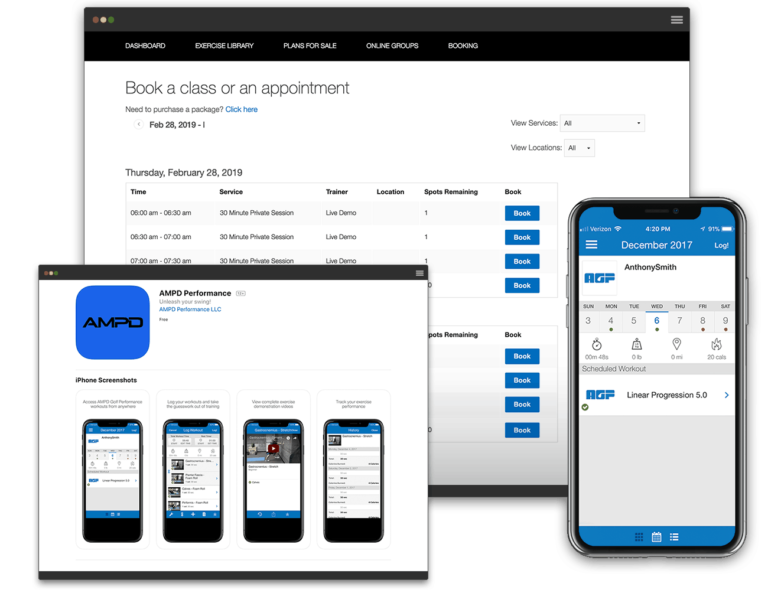 This is the part of our comparison in which Exercise.com shines especially bright. The entirety of our software can be customized to create exactly what your business needs in order to run most efficiently. You are able to show off your brand through a custom app and website, integrate with other marketing tools, and gain peace of mind knowing that your information and that of your members is safe and secure.
Custom-Branded
Being able to showcase your brand the way you want is important for marketing. The Kinduct software does not offer you customizable options for your brand.
Customization and flexibility are key features that make our software stand out from the rest. Professionals can choose the features that are most useful to their business. Exercise.com apps and websites can be fully customized to match your logo, colors, voice, and brand so your clients are able to easily recognize it.
iOS & Android Apps
The Kinduct software and mobile app are available on iOs and Android but only to athletes and professionals who have purchased the software. Neither is available to the general public.
In comparison, Exercise.com has a fully customizable health and fitness app available for trainers and clients on both Android and iOS devices. Our apps are built to create, track, and log workouts, and features options for billing, check-ins, health performance assessments, and automated features. Exercise enthusiasts can use the mobile app to track workouts, view the exercise library, book classes, purchase memberships, and set goals using assessments or challenges.
Fitness Business Websites
Kinduct doesn't include custom website creation with its software, which means you must invest additional time and money into creating and managing your company website.
But with Exercise.com, you get a fully customizable, SEO-optimized fitness business website tailored to your liking–included with our software! Designs are not just your brand's colors and logo; your website is entirely yours. Our websites are responsive and built to convert visitors to leads. You also don't need to be a tech expert as our dev team takes care of the coding and any features needed.
Security Features
Kinduct has security features that include a Comprehensive Information Security Management System (ISMS) and DDoS protection. Exercise.com provides the necessary security measures for Payment Card Industry (PCI) compliance and SSL (Secure Socket Layer) certification while also utilizing Google Cloud.
Marketing Integrations
Kinduct is primarily for professional athletes, so there's no emphasis on marketing integrations. However, this puts your business at a disadvantage because you need marketing integrations to be competitive with other fitness facilities.
Exercise.com knows the importance of a variety of marketing strategies, so we provide plenty of marketing integrations that include:
MailChimp
ConstantContact
ConvertKit
Zapier
Google Analytics
Facebook Pixel
Learn more by clicking the button below.
Exercise.com is the best Kinduct alternative.
Workout Software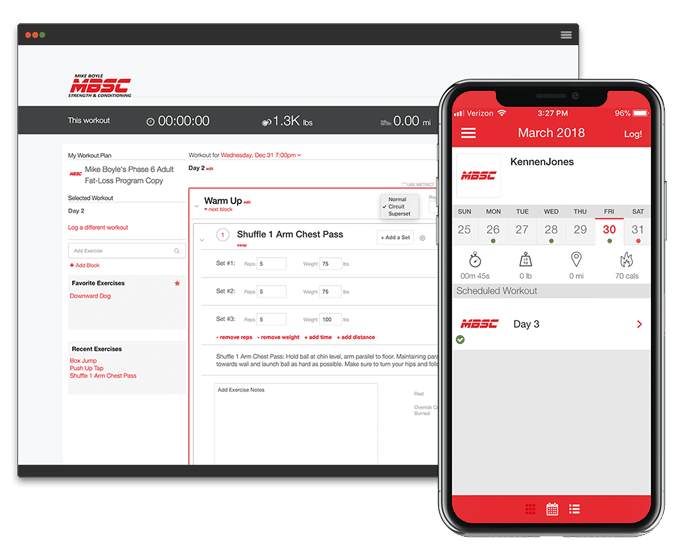 Being able to create, update, send, and track workouts and client progression can be important for your fitness business. Just as personal trainers know how important it is for a client to put work in outside of a training session, coaches would agree that putting in work outside of practice is vital to the growth of their players. Using Exercise.com software, trainers and coaches can design workouts specifically tailored to the individual's goals. Whether it be a weight-loss goal or a faster 40-yard dash time, our software allows you to create a program to achieve the goal.
Workout Creator/Logger
Kinduct has features for strength and conditioning staff and personal trainers to develop workout and training programs for athletes. The most notable features are a training program builder, strength cards, logs, load calculations, and fitness testing and assessments.
Exercise.com workout software also has numerous features available for workout creation and delivery, like an exercise library with exercise descriptions, videos, muscles worked, and instructions, plus tracking features, logging features, customization, and organizational features. The best part? You don't have to be a professional athlete to use it. Our software is built to be used in many different scenarios, including:
1-1 Training
When a trainer or coach is able to work with someone individually, there is more attention given to that person which means greater potential for growth. With our software, you can add a personal touch to your workouts and help your client or athlete reach his or her fullest potential.
Group Training
Group settings can be very motivated both on the field and in the gym. Our software allows you to create group workouts so that the participants can motivate each other and help guide each other through. The community feel of these workouts can also promote friendly competition which leads to better results.
Online Training Software
The future is here in the fitness industry and it comes to us in the form of online training. That does not mean that face-to-face training will ever go away, only that virtual options are here and there are people who want to take advantage of them. Exercise.com online training software gives you the opportunity to create workouts, track your client's progress, and communicate with them.
This portion of our platform could also be very useful for coaches. Sports teams can consist of dozens of different players, so giving individual attention can be difficult and time-consuming. By providing online workouts, coaches can make sure that the athletes get individualized training without having to commit to spending as much time in person.
Exercise Library
Kinduct and Exercise.com both have extensive exercise libraries.
Exercise.com provides its users with a pre-built library of exercises and videos that can be used to create workouts for your clients. While this can be a great tool to save time and is certainly worth having as an option, there is something to be said for a more personal touch.
As an added value to your business, Exercise.com provides the opportunity to create custom videos and exercises to add to your library.
Custom Exercises
Clients and athletes feel more of a connection when they see a familiar face in a video or picture of an exercise. It is more motivating because it is still their coach or trainer giving them instructions and it adds a certain level of believability to the training method. Both Kinduct and Exercise.com allows custom exercise videos.
By uploading your own videos, you are keeping the connection strong between you and your client or player. Motivating them, in this way, will help them to reach their goals faster.
TV Workouts
Exercise demos can be cast onto television screens allowing for numerous methods of engagement.
Gym Ecommerce Software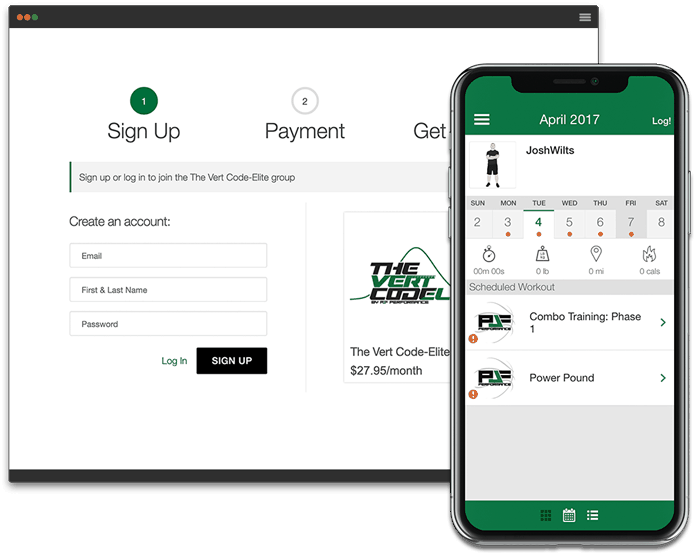 Again, because Kinduct is primarily for professional athletes, ecommerce isn't an emphasis for Kinduct. In fact, there are no ecommerce and point-of-sale options via the Kinduct software, so there is no ability to sell training packages or memberships. Revenue generation is a feature that is not included with Kinduct.
On the other hand, Exercise.com gym ecommerce software has many features available for ecommerce.
Payment Processing
Kinduct does not have a payment processor with its software, nor does it integrate with a payment processor. You must set up your own processor and manually track all your expenses and revenue.
Far better, Exercise.com integrates with the convenience and security of Stripe. You're able to access all of your payment tools in the same custom-branded web and mobile app. Clients can pay a one-time or recurring fee or membership with cash, check, credit card, or direct deposit online or in-store. You can also allow online purchases for packages and products and run business and sales reports from your dashboard. 
Sell Products
Selling merchandise can be a great way to help promote your business. It might be clothing items, water bottles, or even nutritional supplements, that you have available to members. Whatever products you choose to have available can be listed in your online store to allow for easy browsing and purchase by your members.
This is a missed opportunity with Kinduct because it does not provide its users with a way to sell products in a store format.
Sell Workout Plans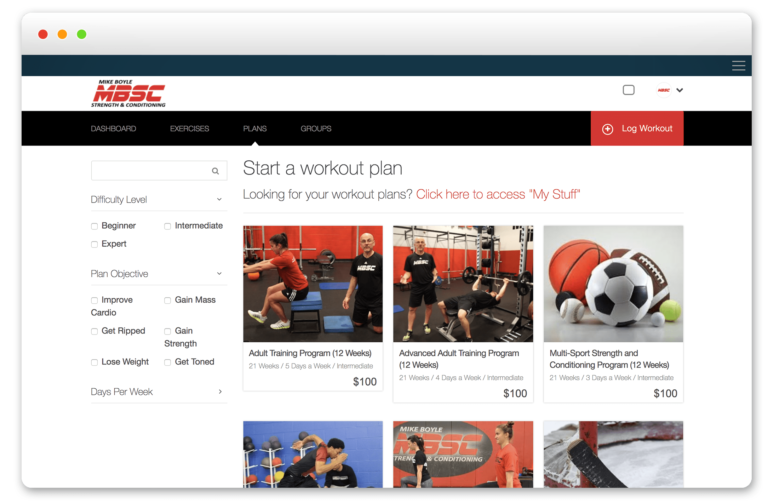 Another great feature of Exercise.com is the option to sell specialized or customized workout plans to anyone, anywhere. Let's say you are a personal trainer and you have had excellent results with a golf strengthening and conditioning program that you developed locally, but you are ready to take it to the next level. Exercise.com has the option for you to sell this specialized program for anyone in the world to purchase, view, and complete on their own if they desire.
Athletes using Kinduct don't need to purchase workout plans, so this feature isn't offered with Kinduct. However, this is missed revenue and customer engagement for your business!
Offer Online Workout Memberships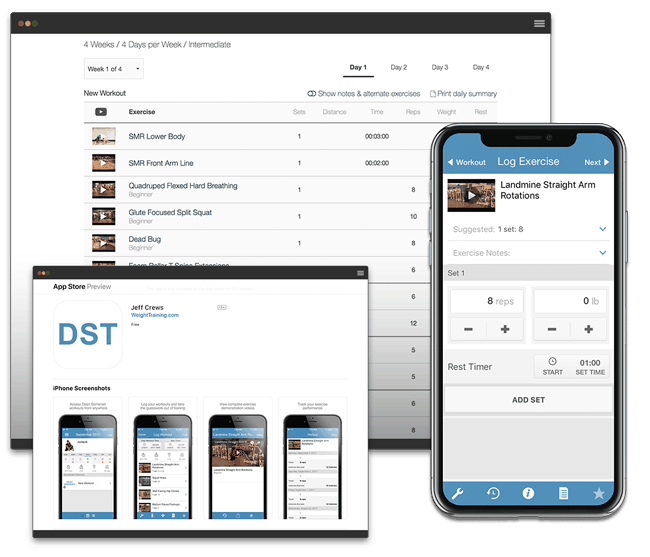 Offering different types of online workout memberships can be especially useful for your business if you already have pre-built workouts available for members and clients. There are many people who want to follow a program but don't know where to start, so selecting a single program to purchase is difficult. Only with Exercise.com you have the ability to offer and automate online workout memberships in which workouts can be sent automatically at a designated time/situation.
Sell Workout Challenges
Attract potential customers and keep existing customers engaged by selling workout challenges such as a six-week weight loss challenge.
The friendly competition that is perpetuated within a workout challenge helps promote a sense of community among your members. They can be competing as a team or against each other, but having the same common goal helps them to push each other whether they know it or not. This is an opportunity exclusive to Exercise.com and isn't offered with Kinduct.
Fitness Assessment Software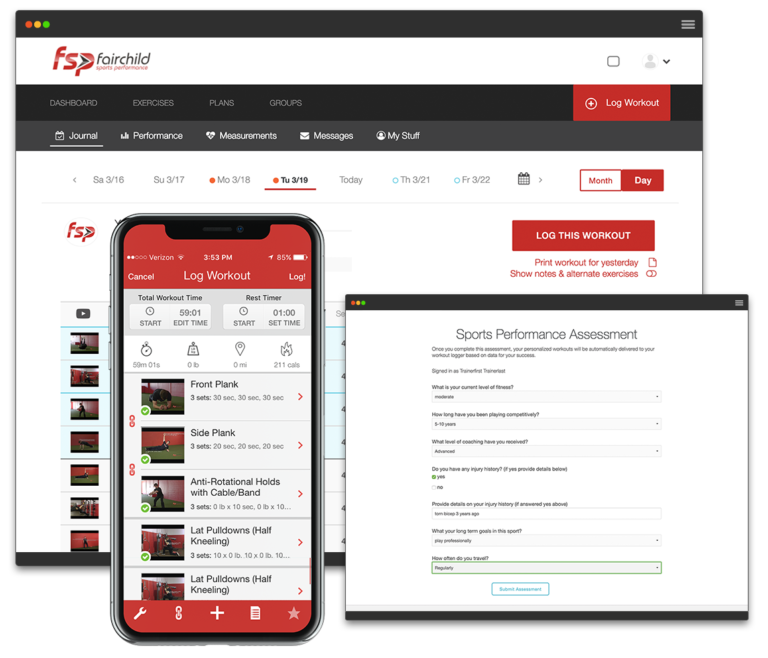 Establishing a baseline at the start of training, whether it's for fitness or sport, is important for being able to track progress. You can't know how far you've come unless you know where you started. Exercise.com fitness assessment software allows you to manage key areas in assessments, reports, and nutrition.
Assessments
Kinduct uses data from performance assessments such as the Functional Movement Screening (FMS), Selective Functional Movement Assessment (SFMA), and the Y-balance test (YBT). All of these assessments are stand-alone and do not have to be used in conjunction with Kinduct. Kinduct has integrated with these assessments to include them with their system.
These assessments are certainly impressive. However, it is important to remember that these assessments are not exclusive to Kinduct and can be used without signing up for Kinduct's software; as such, they are not unique to Kinduct's software system.
Exercise.com has assessments that are unique to our software and helps clients meet their fitness goals and track progress along the way. No need to pay for or learn another system for billing, ecommerce, or marketing. With Exercise.com, you have everything that you need in one software package.
Performance & Measurement Reports
Some of the performance health assessment features available include tracking measurement data, injuries, and custom assessment notes. Some of the measurements and assessments include weight, height, activity level, distance runs, power output, range of motion measurements, and others.
You are also able to track assessments using graphs and charts. Trainers and health professionals can also add custom assessment information to the system, giving a tremendous amount of flexibility to meet the needs of all clients and athletes. The great news is that the performance health software is built into the all-in-one Exercise.com setup, so no need for additional systems or programs.
These features allow you to turn leads into clients by gauging their health and fitness levels and re-engage existing clients by showing them how they have progressed over time. More importantly, the data collected by these assessments are fully customized to the specific needs of your clients.
Kinduct's performance reports are intense assessments intended for professional athletes; it's unlikely these would apply to the majority of your clients. Instead, use Exercise.com's customizable performance assessments so you can accurately assess each individual client.
Nutrition
Nutrition is an important component of one's fitness and overall health so it is important that the software you use has nutritional capabilities. Kinduct, unfortunately, does not have any nutritional tracking features. With Exercise.com trainers are able to monitor their clients' eating habits such as their daily intake and are able to upload meal plans, files, or pictures.
Kinduct Software Pricing
There is no information posted by Kinduct about the pricing structure. Some information online indicates different pricing packages for various team sizes and desired features.
Kinduct Alternatives
Other athlete management systems, platforms, and software that are alternatives to Kinduct include CoachMePlus, SMARTABASE, AthleteMonitoring, and EDGE10.
Regarding fitness business management software, Kinduct cannot compete with a majority of business management software companies, because Kinduct is not able to offer most features that businesses need to thrive. For an all-in-one package that incorporates performance health assessment software in addition to the features needed to run a successful business, Exercise.com is the best Kinduct alternative.
The Bottom Line: Pros and Cons
Those that are considering Kinduct are likely not looking for a fitness business development software program, as Kinduct does not provide the features required to run a successful business. Exercise.com, however, boasts a wide range of features that make running a business easier.
Kinduct Cons
When comparing the features of Kinduct and Exercise.com for fitness management software, Exercise.com clearly has features that are more appropriate to fit the needs of personal trainers and health club owners. Kinduct focuses more on athletes and performance data, whereas fitness professionals are working with a variety of active individuals, not just athletes. Fitness clubs and personal trainers have very different needs which an athlete management software does not have available.
First, Kinduct is missing many of the management software features and e-commerce features that Exercise.com has, including customization, scheduling, automating payments, class booking, and marketing integrations. If you are looking for a fitness business software, Exercise.com would be a better fit because of its software benefits for fitness professionals.
Second, Kinduct is geared toward athletes, whereas Exercise.com is geared toward personal trainers and fitness facilities and their clientele. Many of the features that Kinduct uses for athletes, such as sports statistics, player tracking (GPS), and rehabilitation programs and plans are not useful for personal trainers or fitness facility staff.
Exercise.com Pros
For anyone interested in all-in-one fitness business management software that will allow them to grow and manage their business with ease, Exercise.com is the clear choice.
From building custom web and smartphone apps with your brand in mind to ecommerce capabilities, workout builders, nutrition tracking, endless integration possibilities, and a world-class development team that is focused solely on you and your needs, Exercise.com provides business owners with all that they need to get back to what they love most: helping clients become the best versions of themselves.
Hopefully, you see the benefit of not waiting to have a system and software in place that allows you to manage and grow your business for years to come.
What features are most important for your business?
If you're ready to grow and manage your business with a software that can be customized to your business, book a demo with Exercise.com.