Exercise.com: Your SportsPlus Alternative
Comparison of SportsPlus to Exercise.com

| Features | | SportsPlus |
| --- | --- | --- |
| Nutrition | | |
| Dedicated Account Manager | | |
| Dedicated Zapier Support | | |
| Client Automation | | |
| Performance & Measurement Reports | | |
| TV Workouts | | |
| Offer Online Workout Memberships | | |
| Run Workout Challenges | | |
| Sell Workout Plans | | |
| Group Training | | |
| 1-1 Training | | |
| Custom Exercises | | |
| Websites | | |
| Marketing Integrations | | |
| Custom Branded | | |
| iOS & Android Apps | | |
| Online Training | | |
| Sell Products | | |
| Payment Processing | | |
| Gym / Facility Management | | |
| Exercise Library | | |
| Assessments | | |
| Client / Class Scheduling | | |
| Workout Creator / Logger | | |
| Business Dashboard Reports | | |
Why Choose Exercise.com?
Here are five reasons why fitness professionals use Exercise.com vs. SportsPlus.
Fitness Business Management Software to Run Your Business
Unlike SportsPlus, Exercise.com software is designed to have all components needed to run a fitness business, big or small, in one place – making it easy and efficient to organize and grow your fitness business with client and class scheduling, check-ins, and billing — all from your custom-branded apps.
Fitness Business Management Software to Run Your Business
Unlike SportsPlus, Exercise.com software is designed to have all components needed to run a fitness business, big or small, in one place – making it easy and efficient to organize and grow your fitness business with client and class scheduling, check-ins, and billing — all from your custom-branded apps.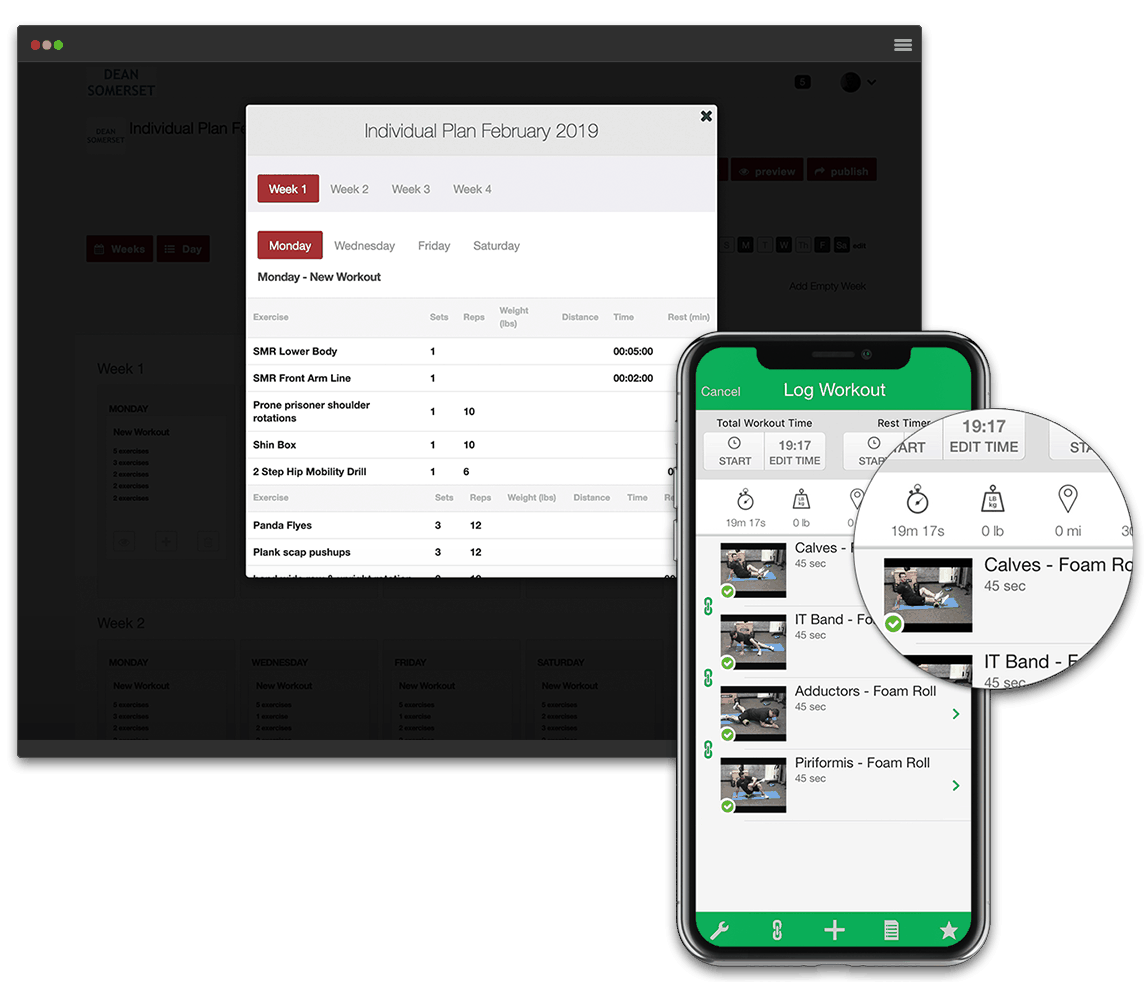 Workout Software to Power Your Training
SportsPlus does not offer workout software; Exercise.com, however, does. The Exercise.com workout plan creator and exercise manager provide flexible solutions to save you time creating workouts with built-in integrations, tools, and more.
Ecommerce Software to Increase Revenue
SportsPlus does not provide its users with the option to sell products. Exercise.com, however, offers the gamut of ecommerce features, including product sales, payment processing, and selling online training, online memberships, and workout challenges.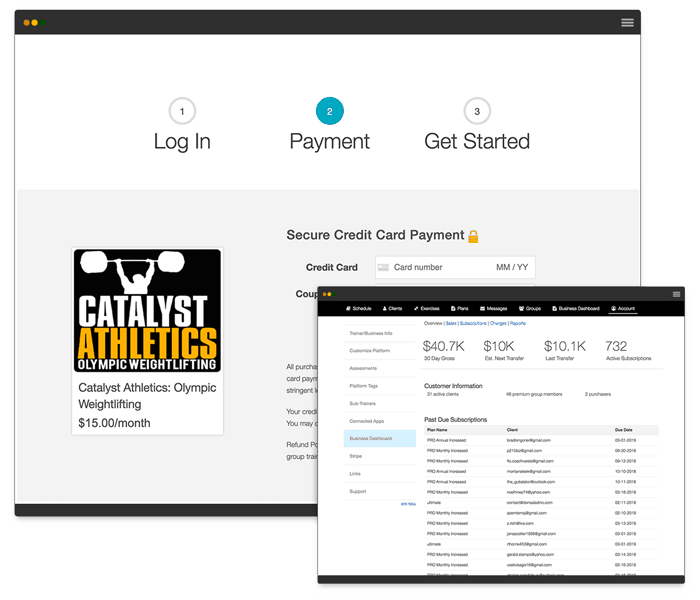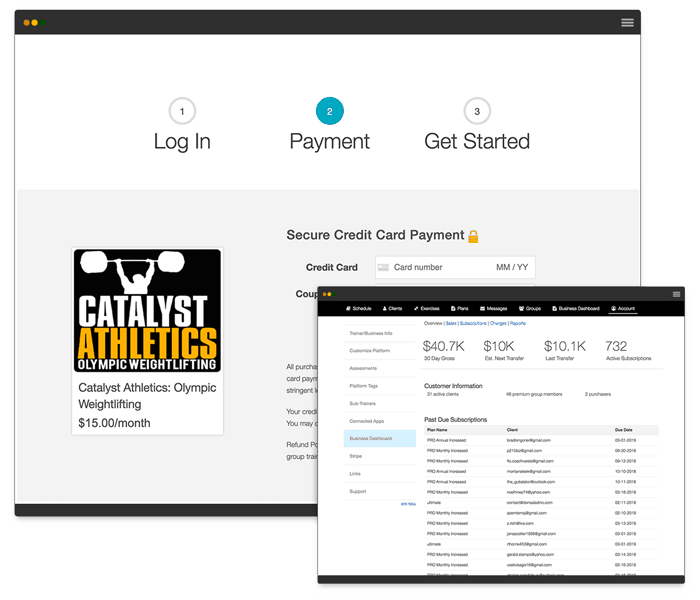 Ecommerce Software to Increase Revenue
SportsPlus does not provide its users with the option to sell products. Exercise.com, however, offers the gamut of ecommerce features, including product sales, payment processing, and selling online training, online memberships, and workout challenges.
Assessment Software to Improve Client Engagement and Retention
SportsPlus does not offer health and fitness assessments. With Exercise.com, however, your clients will receive personalized assessments that deliver custom workouts for their individual needs – providing massive growth potential and saved time. All for one price. All on one platform.
Stand Out With Your Own Custom-branded Apps
SportsPlus does not offer fully customizable apps and websites. Exercise.com, however, offers apps and websites that are fully customized to make your life easier by providing your clients with a unified scheduling and workout experience with your brand displayed front-and-center.
Stand Out With Your Own Custom-branded Apps
SportsPlus does not offer fully customizable apps and websites. Exercise.com, however, offers apps and websites that are fully customized to make your life easier by providing your clients with a unified scheduling and workout experience with your brand displayed front-and-center.
If you're ready to get started with an easy-to-navigate, all-in-one fitness software, designed to fuel your business, request a demo with Exercise.com today.
And, if you want to see how SportsPlus' additional features stack up to Exercise.com software features, check out our in-depth guide below.
What is SportsPlus?
SportsPlus is a gym management software platform designed for sport and fitness organizations of any size. SportsPlus offers many features that can assist business owners with managing clients, organizing products and rosters, and increasing revenue.
SportsPlus originates out of California and is considered a Thapos Incorporated company. Thapos operates similarly to SportsPlus but with a target clientele of sports clubs or teams rather than fitness centers.
According to Glassdoor, employees enjoy working for both SportsPlus and Thapos. They rate their experience consistently at four out of five or higher. They also have yet to have any complaints via the Better Business Bureau.
SportsPlus reviews and product details are mostly positive. Like many other business software platforms, some users complained that there were features that weren't necessary that they were paying for. Other users noted that there were some functions that needed improvement on the platform.
SportsPlus handles a large assortment of needs for prospective businesses, so it's no surprise that there are some flaws in different aspects of their resources.
Unless otherwise stated, all images and reviews below are of/about the Exercise.com All-In-One Fitness Business Management software platform.
Fitness Business Management Software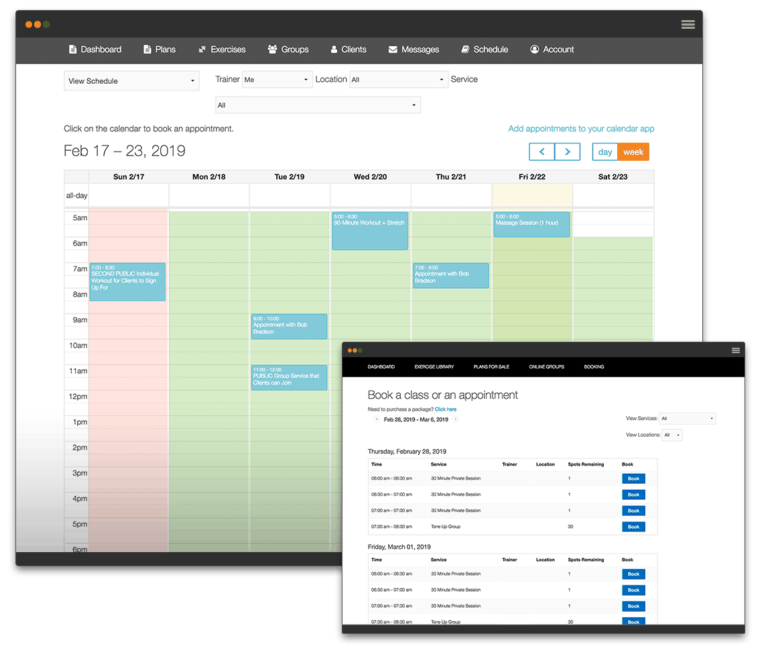 Exercise.com is one of the alternatives to SportsPlus that can handle the endless needs of fitness organizations and businesses. Exercise.com offers software that covers scheduling, payment solutions, revenue tracking, and much more.
The software offered by Exercise.com is designed to be user-friendly for business owners and clients alike and features an all-in-one platform to make navigation seamless.
Client/Class Scheduling
When your business starts expanding, it becomes increasingly difficult to keep track of your class schedule, participants, and any changes that might be in the upcoming schedule. This is still important when organizing different types of sports.
SportsPlus scheduling is designed to appeal to sports teams and leagues with numerous sports teams. They offer a service that allows league managers to provide league members with a league schedule with different fields.
This would be something that could be worthwhile if your organization has more than one class hosted at the same time. They offer control features such as scoring, schedule changes, and game cancellations. There have been some noted complaints on the lack of ability of the platform to be customized.
Exercise.com offers a customizable platform that allows you to create an adjustable calendar that clients can use to quickly book and pay for classes, as needed. This supplements similar features to SportsPlus such as a mobile app, export capability, and the aforementioned control features.
Gym/Facility Management
SportsPlus offers facility management to help users find open/closed fields, make reservations, and schedule games or practices on the correct fields.
These features are important to help avoid confusion. Exercise.com takes these features to the next level by incorporating staff management, inventory, and memberships that are all customizable.
Business Dashboard Reports
SportsPlus advanced reports are available to track member participation and member or item payments. Reports are able to be searched and filtered for convenience. You'll find similar access with Exercise.com where you can run reports on anything that generates revenue.
These reports are valuable to help analyze expenses so you can allocate staff, resources, and availability around your most profitable assets.
Client Automation
SportsPlus offers a number of automated features that make matters easier for business owners. For example, they have auto-generated schedules, automated payment reminders, and auto-publishing features so that clients can stay up-to-date via the company website.
You'll find the same features and more at Exercise.com:
Automated workout delivery
Automated assessment delivery
Automated resource delivery
Automated reminders (call/text/email)
In modern society, there are few things more valuable than time. Automated features help you save time where it matters.
Dedicated Zapier Support
Have more than one facility or business? Link your web apps and make them more efficient with the Exercise.com Zapier partnership. With Zapier, you'll get the max out of your web apps to satisfy your clients' needs. This feature is not offered with SportsPlus.
Dedicated Account Manager
One of the more frustrating aspects of online business management software is that you don't know who you can trust if you have a problem. With Exercise.com, you'll be provided an account manager who can answer questions, improve your site/apps, set up a store, and more.
Customized Software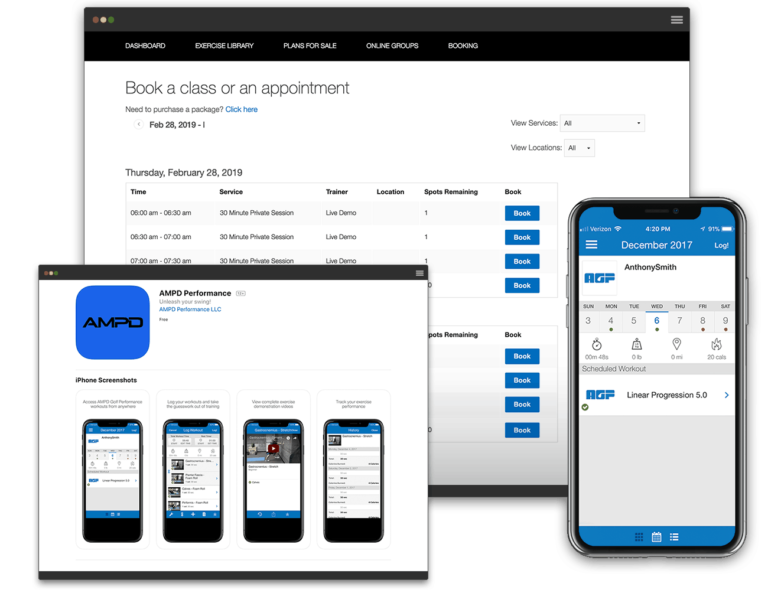 SportsPlus has its own mobile app, however, most of the features they rely on are better served for their website. Their team app can let you manage a team schedule, perhaps for your staff, but there are some limits on the usage of this app.
Exercise.com offers customizable websites and custom-branded fitness trainer apps at no expense. This continues to help clients stay organized for their clients and employees, without all of the hassles. For example, if you're a gym owner, all of your trainers could have their own websites linked to your main site for continued ease with scheduling, payments, and more.
Custom-Branded
With the SportsPlus team app, you can have a certain number of teams (and apps) dependent on the price point you choose to sign up for. These apps are inbuilt and appear to be predesigned so they won't be considered customizable.
Exercise.com provides fully-customized software so that your pages and apps can stand out and function to handle any day-to-day needs you might have. Even better, there are no limits and the price won't change if you add more sites.
iOS & Android Apps
As mentioned above, SportsPlus does have an app that is available on both Android and iOS. Even so, Exercise.com provides those same luxuries but with customizable features and a host of additional services like workout creating and logging, fitness assessments, and more.
Websites
With SportsPlus, websites are available for a specified number of teams, again depending on which price you pay initially. These sites have limited features and might have additional limits if you choose one of their cheaper options.
Exercise.com, however, offers fully customizable, SEO-optimized fitness websites that ensure your brand is front-and-center.
Security Features
SportsPlus does offer some security with their products but there are limits. They claim that they won't save any payment information but they don't advertise much in terms of protection beyond SSL.
Exercise.com offers security features to assure customers remain safe while using its products. Some of those features include:
SSL Secure
Google Cloud
Privacy Shield
If you plan to use your app or website to receive payments, you'll want to be secure.
Marketing Integrations
SportsPlus does offer some marketing products both free and at an added cost. Some of the basic tools, such as email forwarding, are only available with their upper-tier products.
Not only does Exercise.com offer email forwarding for free, but it also has a bundle of other marketing tools via software integrations to maximize business visibility for continued growth. Many of the features are automated so you won't even have to remember to send out alerts. These include:
MailChimp (email forwarding)
ConstantContact (email marketing)
ConvertKit (email marketing)
Zapier (product integration)
GoogleAnalytics (marketing measurement)
Facebook Pixel (marketing measurement)
Marketing in competitive industries is key. With automated services, you'll get the marketing but save time.
Learn more by clicking the button below.
Exercise.com is the best SportsPlus alternative.
Workout Software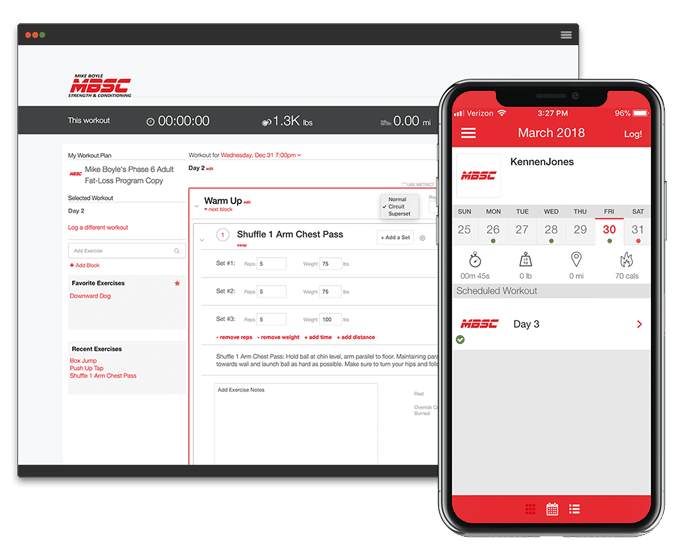 SportsPlus is known for its ability to help with league and team management. They help to organize various aspects of leagues like field availability, schedules, staffing, teams, rosters, and even payments.
What if you want your team to get stronger? Does SportsPlus offer workout software? Let's take a look.
Workout Creator/Logger
With all of the SportsPlus features, they don't offer workout management, creation, or design. Coaches are able to use a chat feature to provide team members with workouts but they won't be able to log them.
There's also no way to host a live video with SportsPlus, so virtual training is out of the question with the SportsPlus software. Exercise.com is designed to assist with accountability, progress tracking, and overall ease of access for workouts.
Exercise.com also believes that progress equals retention. It's important to be able to progress your teams both individually and as a group. Exercise.com workout software built for gyms and personal trainers allows for that continued progress to help keep your team intact.
1-1 Training
If you have SportsPlus and you're a coach looking to work 1-on-1 with your athletes, you'll have to find a second app since SportsPlus software doesn't include 1-on-1 training features.
Exercise.com software allows trainers and coaches to seamlessly work 1-on-1 with others whether it be fitness, sport, or other skills.
Group Training
Just as you won't find 1-on-1 training with SportsPlus, there are no features that allow for group training using that software. Their products will help trainers and coaches stay organized but won't help them conduct training sessions.
The group training features from Exercise.com will allow clients and trainers to continue building rapport while getting the job done. You can create and implement workouts for groups. You can even have these workouts automated so they send at a specific time each week.
Online Training
Online training has boomed over the past couple of years. Sadly, SportsPlus software isn't designed to host or share online training. Members can get creative and send players or clients instructions, but otherwise, the SportsPlus platform is limited.
You can send workouts to anyone with the Exercise.com software. This is just another bonus feature that Exercise.com includes.
Exercise Library
Whether you're operating a league, a team, or a business, it's nice to have a library to serve as a reference for your clients. This way, your clients will know exactly what to do and how to do it when the time comes.
Exercise.com boasts the ability to create yet another customizable feature, an exercise library. Your exercise library can be modified so that you, or a team member, will instruct others exactly how to perform any movement.
This can be valuable whether you're considering exercise in a gym or skills on a field. For example, obscure sports like rugby will have movements and skills that your members might need help reviewing.
Custom Exercises
Many fitness business management companies offer software with pre-recorded exercise videos. SportsPlus has no exercise library at all.
Exercise.com allows you to upload and customize any exercise videos so that you can continue to maintain a personal relationship with your clients while upholding high expectations. Have a new exercise? Upload it and share it with your clients. The possibilities are endless.
TV Workouts
Many fitness and performance studios have TVs set up around the facility. It's probably not a great idea to put on the Weather Channel. What can you put on the TV in a gym?
Well, with SportsPlus, you'll have to stick with whatever is on cable or your personal streaming devices. With Exercise.com, all of the customized videos from your exercise library can be streamed on your TVs.
Want to share how-to videos? The Exercise.com platform provides the software necessary to present these where all of your guests can see.
Ecommerce Software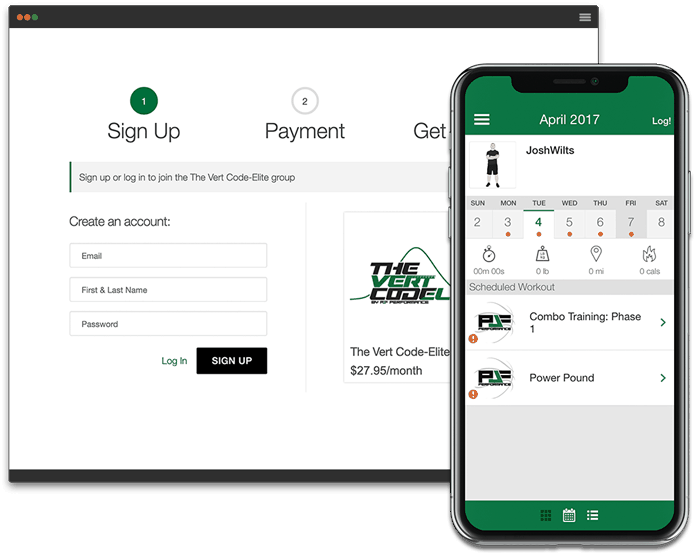 SportsPlus ecommerce software allows members and guests to make payments online or offline, as needed. Technically, SportsPlus does utilize a third party, but it is integrated into their software.
Exercise.com gym ecommerce software offers the same features as SportsPlus and more. Let's take a look.
Payment Processing
In a mobile world, it's important to be able to pay on the go. SportsPlus software does feature online payments via debit cards, credit cards, and ACH. You can also accept offline payments if needed. These features are all provided with any level of SportsPlus product.
SportsPlus does have payment processing fees of 2.9% and a .30 cent transaction fee. Payments and refunds should process immediately.
Exercise.com also accepts payments online or via a mobile app. The payment processing system allows for continued customization so that clients are able to automate payments, combine bills, and purchase other products as desired.
Both Exercise.com and SportsPlus use Stripe for payment processing.
Sell Products
One of the major drawbacks of SportsPlus is the absence of a POS system for teams or leagues to sell products. As the world becomes more and more electronic, it's helpful to have convenient and accessible POS to sell apparel, accessories, or refreshments.
Exercise.com allows business owners to sell an unlimited number of products in whatever categories they desire. Many of our companies sell sports drinks, weightlifting accessories, gym gear, personal training packages, and even workout plans.
Sell Workout Plans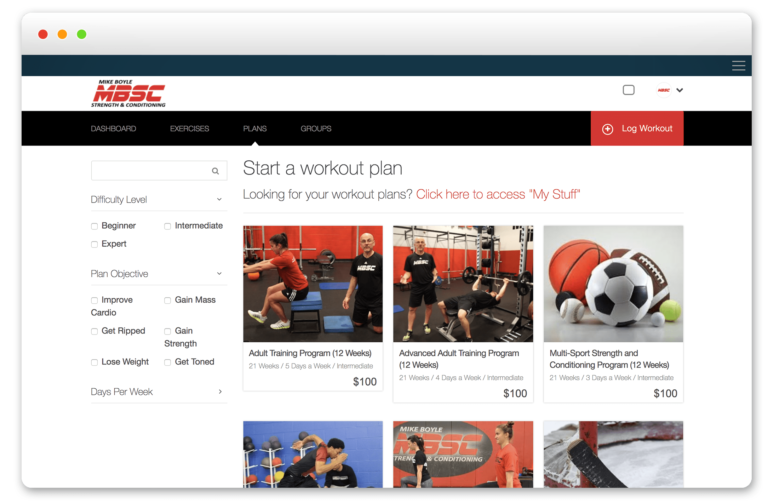 Personal training is a unique business that requires many clients and trainers to become very personal with one another. SportsPlus doesn't offer much for leagues, teams, and players in the form of building relationships.
Exercise.com is very interactive for business owners and has features that allow trainers and coaches to work directly with their clients. Sometimes, it's nice to have something put together for those who don't necessarily need direct instruction but need a plan.
You'll be able to create and sell pre-made workout plans for anyone to purchase through Exercise.com. This could be a nice addition for prospective clients or current clients looking for an extra session on their own.
Offer Online Workout Memberships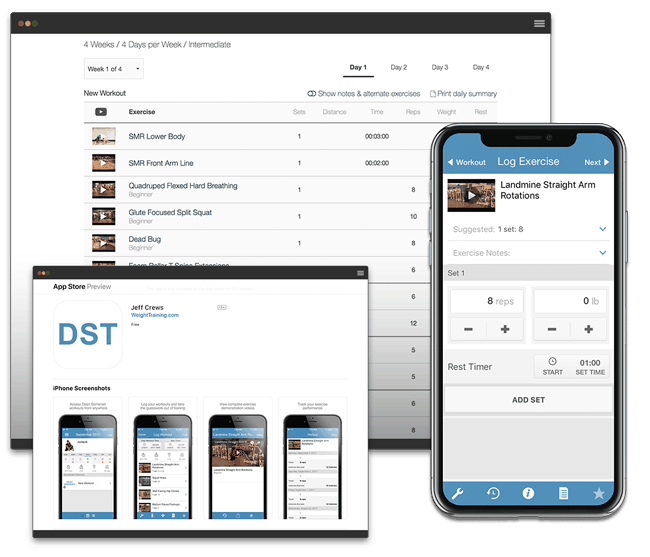 Online workout memberships are another feature you won't be able to utilize with SportsPlus. Exercise.com has even more features that can make workouts readily available for clients.
With online workout memberships, you can create personalized plans at your convenience and save them for an automated delivery for when the time is right. This way, you won't have to rush to create plans for a bunch of clients at the same time.
Sell Workout Challenges
Without a true POS system, SportsPlus has limitations on the products you can sell or deliver. Through the Exercise.com website and app, you can sell workout challenges to get clients excited and motivated.
Workout challenges can be a useful tool because they increase motivation and ultimately generate positive results for gym-goers. Good results can turn into testimonials and bring in more business.
Health and Fitness Assessment Software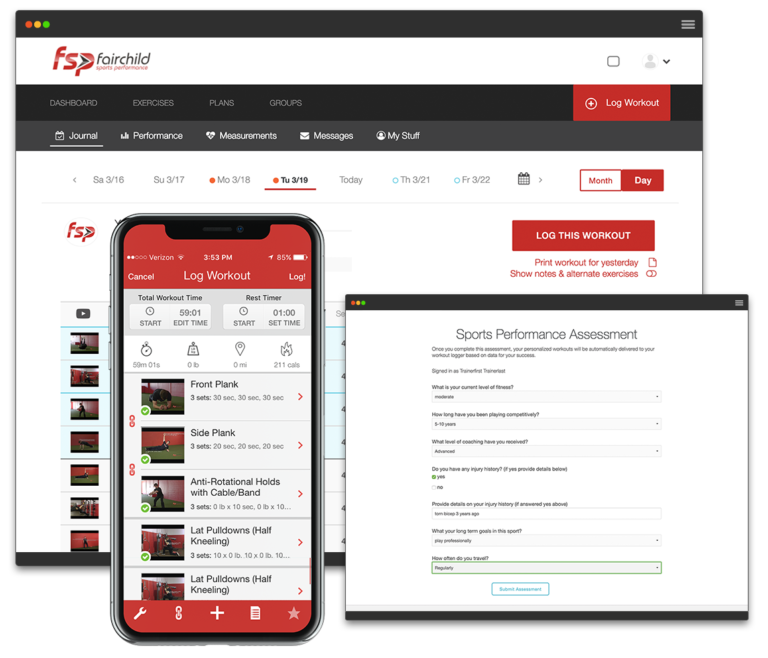 Even though SportsPlus might not necessarily be designed for fitness enthusiasts, teams and leagues could still benefit from assessment software. Exercise.com offers fitness assessment software for client retention and engagement.
Fitness Assessments
Any coach or trainer knows the importance of taking and tracking assessments. With limited POS capability and customizable components, SportsPlus won't be a reliable software option to sell and track assessment results.
Exercise.com allows trainers and coaches to sell assessments like any other product. You'll also be able to use the software to manage results for your clients to refer back to.
Performance & Measurement Reports
Not only will Exercise.com allow you to utilize assessments, but you'll also be able to automate them to help measure future progress. You can also automate other check-ins and reminders to help your clients reach their goals.
You could send their goals, progress reports, progress photos, and more. The more you can measure for your clients, the happier they will be.
Nutrition
With SportsPlus, there will be limits on your ability to provide nutrition advice. Your best bet would be to take advantage of their chat feature to send out some basic recommendations.
Exercise.com has a nutrition tracking and logging platform to help your clients stay within their nutrient ranges for the day and week. You can't outwork a bad diet.
SportsPlus Pricing
SportsPlus, like many SportsPlus competitors, has numerous options to choose from at different price ranges. The features you get will be based on the amount you pay.
Pricing for SportsPlus App

| Package | Bronze | Silver | Gold |
| --- | --- | --- | --- |
| Price | $49.00/mon | $95.00/mon | N/A |
| Features | 50 team limit | 100 team limit | Unlimited teams |
| | 750 member limit | 2,000 member limit | Unlimited members |
| | Online registration | Email hosting | Phone support |
| | Member app | Email and chat support | Dedicated account manager |
| | Member communications | Same as Bronze | Same as Bronze and Silver |
| | Facility schedules | | |
| | Integrated payments | | |
| | Business dashboard | | |
| | Scoring platform | | |
| | Fundraising | | |
You'll see above that SportsPlus starts off reasonable at just $49.00 per month. To get many of the same features that Exercise.com offers, you'll have to double that monthly payment at the least.
With their Silver level, you'll get similar email hosting to Exercise.com but still won't have the same level of support or a dedicated account manager. Not to mention, there are many functions with Exercise.com that you can't get with any level of SportsPlus products.
SportsPlus Alternatives
There are a handful of SportsPlus alternatives and competitors that offer similar features. Take a look below at some of the businesses that are most commonly compared to SportsPlus.
SportsPlus App Competitors

| Competitor | Minimum Starting Price | Maximum Starting Price |
| --- | --- | --- |
| TeamSnap | $9.99/mon | $17.99/mon |
| Jersey Watch | $29.00/mon | $59.00/mon |
| SportsEngine | $69.00/mon | N/A |
| Engage Sports | $149.00/mon | N/A |
| Playbook | $0.00/mon | $85.00/mon/user |
As far as price is considered, SportsPlus compares to some of the top industry competitors. In this particular example, they fall somewhere in the middle since they are more expensive than software such as TeamSnap but cheaper than EngageSports.
Exercise.com might not be designed specifically for teams and league sports, however, with various functions and a customizable platform, users can benefit from the Exercise.com software at a reasonable price.
The Bottom Line: Pros and Cons
Whether you're looking to host a league, team, or sports business, you'll want software that can handle all of your needs. The easier the platform, the more likely your members will be to interact and stay with your organization.
This SportsPlus overview has covered their reviews, product options, and prices. Let's see some of the key takeaways.
SportsPlus Cons
SportsPlus is a simple and effective tool that can help with organizing team and league schedules. There seem to be some limitations on what the software is capable of. Let's break it down:
No POS system
No training features
Few ecommerce features
Exercise.com Pros
Exercise.com offers users a fully customizable platform to organize schedules, sell products, provide online training, and more. Some other key features are:
Customizable POS System
Capable of online training/instruction
Various ecommerce tools
The Exercise.com software platform provides users with many additional features that SportsPlus doesn't. Despite having a different target audience, Exercise.com appears to be a better choice for fitness enthusiasts, rehabilitation facilities, and even sports leagues.
If you're looking for an alternative to SportsPlus and are ready to grow and manage your business with fully customizable software, book a demo with Exercise.com.