Exercise.com: Your SportsSignUp Play Alternative
| Features | | SportsSignUp Play |
| --- | --- | --- |
| Nutrition | | |
| Dedicated Account Manager | | |
| Dedicated Zapier Support | | |
| Client Automation | | |
| Performance & Measurement Reports | | |
| TV Workouts | | |
| Offer Online Workout Memberships | | |
| Run Workout Challenges | | |
| Sell Workout Plans | | |
| Group Training | | |
| 1-1 Training | | |
| Custom Exercises | | |
| Websites | | |
| Marketing Integrations | | |
| Custom Branded | | |
| iOS & Android Apps | | |
| Online Training | | |
| Sell Products | | |
| Payment Processing | | |
| Gym / Facility Management | | |
| Exercise Library | | |
| Assessments | | |
| Client / Class Scheduling | | |
| Workout Creator / Logger | | |
| Business Dashboard Reports | | |
Why Choose Exercise.com?
Here are five reasons why fitness professionals use Exercise.com vs. SportsSignUp Play.
Fitness Business Management Software to Run Your Business
Unlike SportsSignUp Play, Exercise.com software is designed to have all components needed to run a fitness business in one place – making it easy and efficient to organize and grow your fitness business with client and class scheduling, check-ins, and billing — all from your custom-branded apps.
Fitness Business Management Software to Run Your Business
Unlike SportsSignUp Play, Exercise.com software is designed to have all components needed to run a fitness business in one place – making it easy and efficient to organize and grow your fitness business with client and class scheduling, check-ins, and billing — all from your custom-branded apps.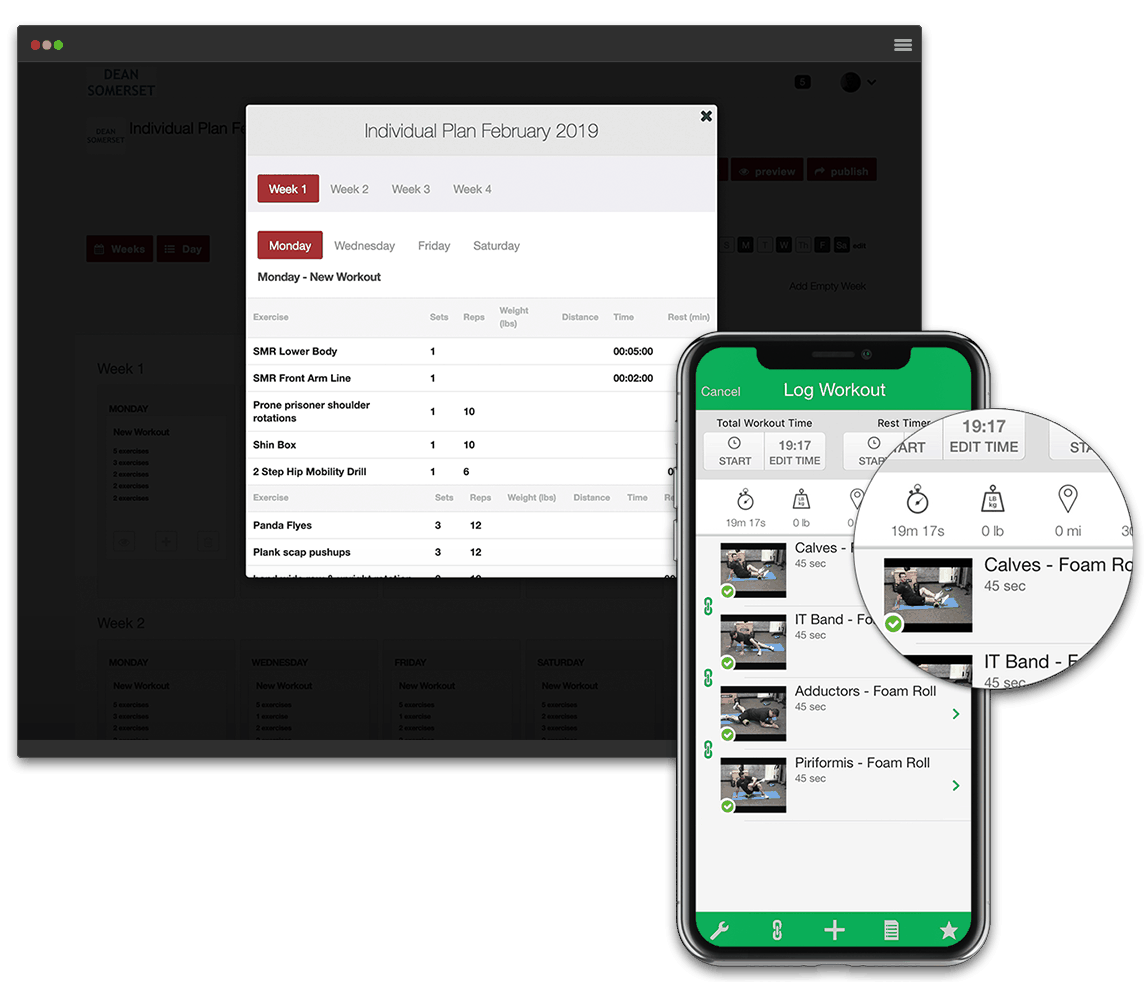 Workout Software to Power Your Training
SportsSignUp Play does not offer workout software – an essential component for running a fitness business. The Exercise.com workout plan creator and exercise manager provide flexible solutions to save you time creating workouts with built-in integrations, tools, and more.
Ecommerce Software to Increase Revenue
Fitness professionals cannot use SportsSignUp Play's limited ecommerce features to sell training packages, workout challenges, online workout memberships, or single workout plans. Exercise.com, however, has full ecommerce capabilities allowing trainers to sell single workout plans, offer automated workout memberships, run workout challenges, and deliver individual training.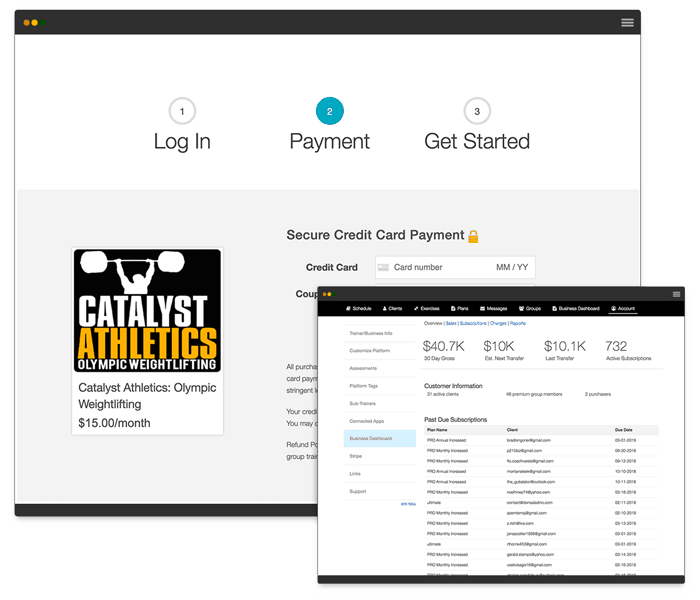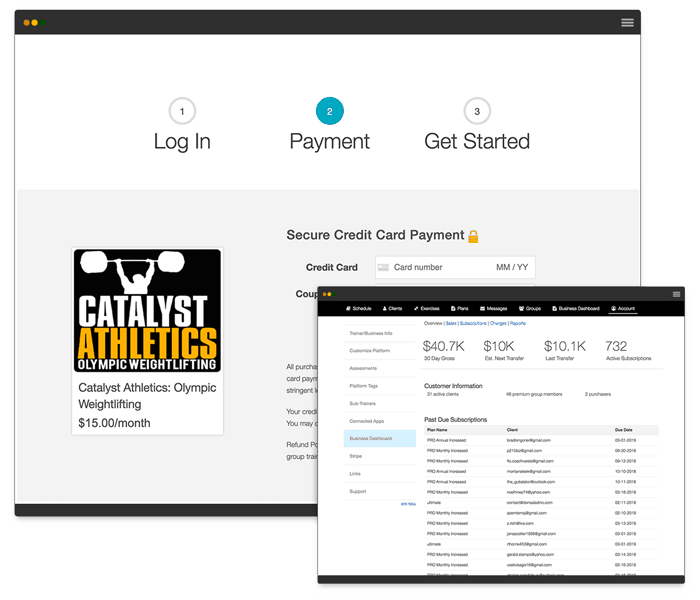 Ecommerce Software to Increase Revenue
Fitness professionals cannot use SportsSignUp Play's limited ecommerce features to sell training packages, workout challenges, online workout memberships, or single workout plans. Exercise.com, however, has full ecommerce capabilities allowing trainers to sell single workout plans, offer automated workout memberships, run workout challenges, and deliver individual training.
Assessment Software to Improve Client Engagement and Retention
SportsSignUp Play lacks assessment software, but that's not the case with Exercise.com. Your clients will receive personalized assessments that deliver custom workouts for their individual needs – providing massive growth potential and saved time. All for one price. All on one platform.
Stand Out With Your Own Custom-branded Apps
SportsSignUp Play's apps provide no options for designing custom exercises. Exercise.com, however, offers apps that are fully customized to make your life easier by providing your clients with a unified scheduling and workout experience with your brand displayed front-and-center.
Stand Out With Your Own Custom-branded Apps
SportsSignUp Play's apps provide no options for designing custom exercises. Exercise.com, however, offers apps that are fully customized to make your life easier by providing your clients with a unified scheduling and workout experience with your brand displayed front-and-center.
If you're ready to get started with an easy-to-navigate, all-in-one fitness software, designed to fuel your business, request a demo with Exercise.com today.
And, if you want to see how SportsSignUp Play's additional features stack up to Exercise.com software features, check out our in-depth guide below.
What is SportsSignUp Play?
For coaches, parents, players, and league administrators, SportsSignUp Play focuses on team and league management technology from online registration, integrated website, scheduling, and a team mobile app. SportsSignUp Play resides under the SportEngine company umbrella of products.
SportsEngine, an NBC Sports Group company, is a provider of Sport Relationship Management (SRM) software, empowering athletes, parents, coaches, and sports organization administrators with tools and services to manage their organizations and sports lives.
What sets Exercise.com apart from SportsSignUp Play is our ability to be fully customizable inside and out and curtailed to your business needs. But Exercise.com doesn't just begin and end with customizable apps and websites, we also offer a suite of features to help your fitness business thrive.
Moving forward in this article, we will be taking a more specific look at individual aspects of both software platforms.
Unless otherwise stated, all images and reviews below are of/about the Exercise.com All-In-One Fitness Business Management software platform.
Fitness Business Management Software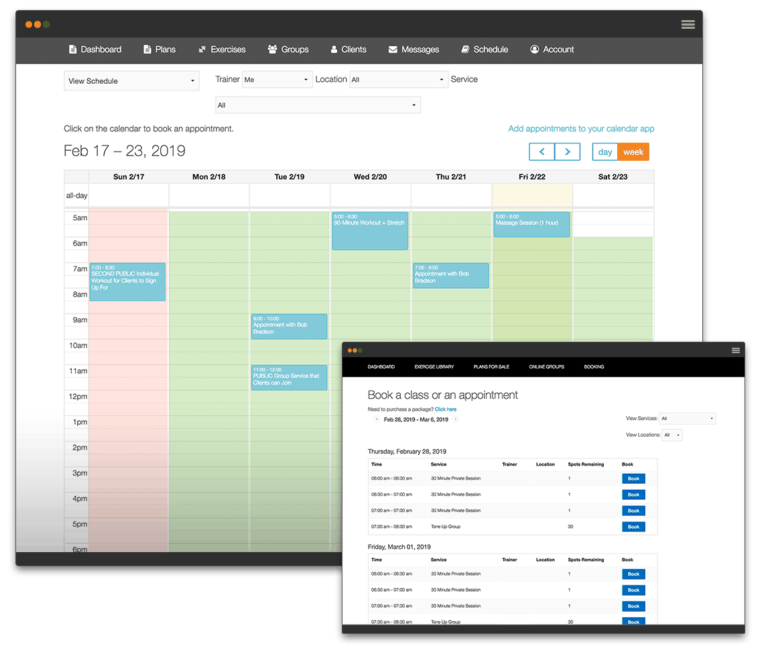 One of the most popular aspects of the Exercise.com gym management software is that you can manage all aspects of your business from one place. SportsSignUp Play, while it does offer various scheduling features, online payments, and mobile apps, is still not equipped with everything your fitness business needs including, but not limited to, client assessments, online workouts, or 1-on-1 and group training.
Conversely, Exercise.com software is fully-customizable and user-friendly. Our platform allows you to manage personal training, memberships, schedule and track workouts, alerts, payments, generate reports, and even integrate with other programs if desired. Let's take a deeper look into everything Exercise.com can do for your business.
Client/Class Scheduling
Scheduling is a feature that SportsSignUp Play does well. The bulk of its software is focused on the scheduling component specifically when it comes to games, tournaments, and practices. SportsSignUp Play allows users to generate games for multiple teams, multiple leagues, and seasons while offering registration for any and all levels of the process. However, it might not be the best fit for a fitness-based business due to its inability to schedule and book class-specific purchases.
Exercise.com, in addition to being able to schedule individual classes and training sessions, provides calendars for whatever platform your fitness business needs. The software accommodates multiple trainers, multiple class studios, and can be easily sorted for customers to view. They can make appointments and pay for services they've booked, all within the software.
Gym/Facility Management
When owning a fitness business, it's important the services and amenities that you offer match with pricing that ensures your business remains profitable. Both Exercise.com and SportsSignUp Play offer competitive pricing that can reach all sorts of client types. The difference, however, is in the features offered. Management software must offer all the customizable options a fitness business owner needs while never making you pay for features you'll never use.
With Exercise.com software, you can generate reports to see anything from total purchases to gross revenue while itemizing everything individually. Similarly, SportsSignUp Play also offers a custom reporting function specifically to track incoming finances and revenue as well as team and league membership. A business owner needs to have these features at their fingertips to analyze the growth and profit to make decisions on changes needed.
For example, a fitness business owner might want to analyze their cycling class times. After generating a report, the results show more revenue coming in from the morning and evening classes over the lunchtime cycle. Simply eliminating the midday class option might save the company in payroll and facility costs.
A similar report can showcase revenue from one group class instructor over another to give you the option to utilize your staff most profitably. You can even manage staff roles and availability within the Exercise.com dashboard.
Business Dashboard Reports
With Exercise.com, you get a completely customizable dashboard to view all your frequented reports. This keeps your finger on the pulse of your business at all times, improving the fitness experience for your clients and boosting retention and revenue. Choose the reports you wish to feature, the layout, and more!
Client Automation
SportsSignUp Play and Exercise.com both offer automation features. SportsSignUp Play's automation is limited to scheduling alerts, payment features, and event, team, or league registration. Exercise.com, however, offers an array of customization options.
To maintain a smooth operation, you want your business to operate as easily as possible. Exercise.com offers automated features to keep your clients engaged with their workouts and your facility in general. Here are a few of the offerings:
Automatic Emails and Texts/Other Automatic Features
Automate Workout Delivery
Automate Resource Delivery
Automate Assessment Delivery
Automate Reminders/Alerts via app, text, and email
Dedicated Zapier Support
At Exercise.com, we provide our clients with a plethora of integrations – but, sometimes, you want a bit of a boost. Our partnership with Zapier allows you to, in Zapier's words, "Integrate (link your web apps with a few clicks, so they can share data), Automate (pass info between your apps with workflows called Zaps), and Innovate (build processes faster and get more done – no code required).
Part of this partnership includes dedicated Zapier support to help you through every step of the process. With over 2,000 apps to choose from, you can rest assured that your company's website is as efficient and user-friendly as possible.
SportsSignUp Play also incorporates third-party website integration to boost its current services. Platforms like iScore, MyGear, and NCSA Recruiting all help to make running your teams and leagues more effective. However, the third-party app integrations SportsSignUp Play utilizes, while they work great for running a sports program, are not effective for a fitness-based business.
Dedicated Account Manager
At Exercise.com, we take customer service very seriously; which is why we provide our clients with a dedicated account manager to help them through every step of the process – indefinitely.
If you want to redesign your website, your account manager will get it done. If you want to set up an e-commerce store, your account manager won't blink twice. Whatever you need, our world-class dev team will come through. From the mundane to the complex, we have you covered.
Customized Software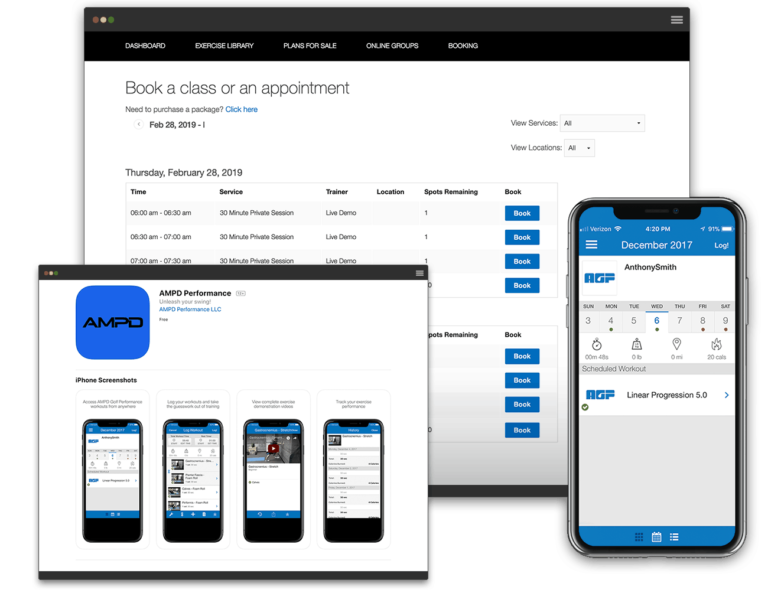 With SportsSignup Play's website and Web Creator tool, users can create their own website that represents them individually. League and Team websites link directly to your online registration and league management system, displaying registration banners automatically during registration season while syncing up to schedules, news, scores, and standings.
Exercise.com also includes all these features, however, we also add in a fully customized, SEO-optimized fitness website curtailed to your particular fitness business including logo, colors and features all while being backed by your own support team at no additional cost. That means more features and fewer headaches!
Custom-Branded
SportsSignUp Play offers its own custom-branded website option for those wanting to distinguish themselves from other leagues and teams. As a part of its platform, its "glove-fit" design services can make your league stand out from the rest. SportsSignUp Play's design services team will create a custom web presence, making your league and brand easy to find.
Unfortunately, though, there is a limit to what its branding can do and its service is limited to sports teams and leagues.
Exercise.com custom branding is unlimited across all of our features from your website, gym and facility management software, mobile apps and even the custom workouts for sale and TV broadcasting.
iOS & Android Apps
With the SportsSignUp Play mobile app, you can quickly send those everyday team reminders, from game notifications to planning that upcoming team cookout; you can also stay in contact with your team via streamlined email, text, and SportsSignUp Play's Team Chat feature.
SportsSignUp Play's Web Creator is loaded with pre-made mobile themes and templates that are perfect for any sports league looking to jump-start their season. Drag-and-drop mobile widgets allow you to place content and news where you want it with ease. Edit directly on the web page, allowing you to see your results in real-time. All templates are mobile responsive and will reformat to fit perfectly from any iPhone or Android device.
Yet, not all users are happy with the mobile platform. One such user reviewed:
"No mobile / app for admins. Product enhancements and fixes are slow. Financial reporting, website presence and admin tools are poor. Customer service takes 2-3 days to reply. The mobile app for parents, coaches and players is cumbersome and often has bugs." (SportsSignUp Play Capterra Reviews)
Unlike SportsSignUp Play, Exercise.com provides fully customizable fitness trainer apps at no additional cost – apps that can be seamlessly used by admins and clients.
Websites
As mentioned above, SportsSignUp Play does website creation well. Similar to Exercise.com, SportsSignUp Play offers a website builder team to help users create a unique site that can represent any league or team and their online presence needs. However, the difference between the two comes down to what each development team can do. In order to run a proper sports league, users must utilize outside team and league pages and functions in order to comply with their community standards.
With such a robust website creator, it can often be difficult for those who are not technologically inclined. One user commented:
"The website is not user friendly on desktop and is even more difficult on a mobile device. It takes people a while to get comfortable with especially if they aren't 'techy.' There are a lot of reports that you can customize but it's difficult to access so many people don't use it." (SportsSignUp Play Capterra Reviews)
Exercise.com does not require integrations to create a custom website for your business. Our top-rated dev team will create a one-of-a-kind website that reflects your wants and needs as a business owner. Our website development team can offer the following features and more, all included:
Responsive
SEO optimized
Unlimited theme changes
Built to convert visitors to leads
Custom graphic work
Google Certified Partner
Security Features
SportsSignUp Play and Exercise.com both provide users with added security features so that their business and client information remains safe and secure.
Exercise.com security features include:
SSL Secure
Privacy Shield Framework
Google Cloud
Marketing Integrations
SportsSignUp Play offers a variety of marketing functions that serve to distribute information about leagues, teams, and game and practice times. Banners on custom websites and multiple communication avenues all help to spread the word for SportsSignUp Play owners.
Exercise.com, however, does marketing right. We have built-in integrations where the possibilities are endless, and we direct our focus to custom-branded solutions for retention, client and lead follow-ups, marketing and advertising, along with other features intended for faster, easier, and more automated business growth.
Some of our more popular integrations include:
MailChimp
ConstantContact
ConvertKit
Zapier
Google Analytics
Facebook Pixel
Learn more by clicking the button below.
Exercise.com is the best SportsSignUp Play alternative.
Workout Software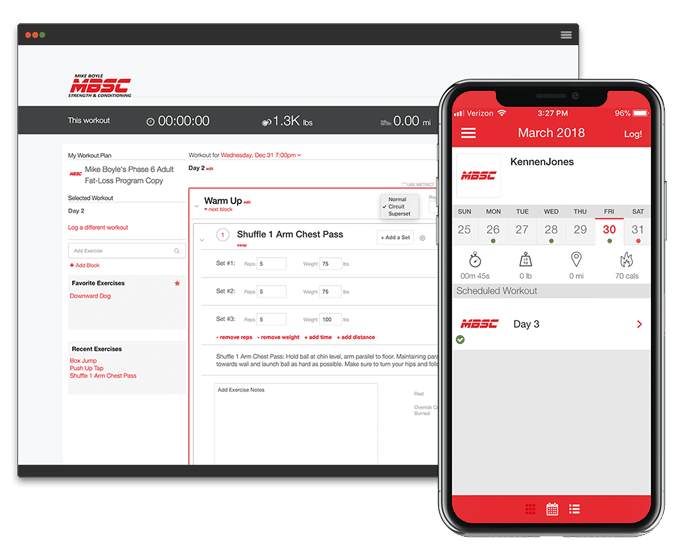 As fitness trends lean more towards leading a healthy lifestyle over temporary yo-yo dieting and fads, it's imperative for a fitness professional to be able to easily create, update, send, and track workouts for all their clients. Exercise.com holds the key to selling and sharing custom workouts with clients through our top-notch workout software built for personal trainers that is unmatched by any competitors.
Does SportsSignUp Play rise to the challenge? Let's find out.
Workout Creator/Logger
SportsSignUp Play does not have a system for delivering custom workouts. Its software, to date, has no function for workout creation templates, a client and trainer workout logging app, exercise library creation, workout progress, or high-level automated workout progress engagement. Its delivery system surrounds the organization and implementation of practices, games, and tournaments.
The Exercise.com business app knows that tracking progress is a major component of client retention and happiness, which can easily be quantified in business revenue. The more a client feels valued and that their hard work is paying off, the longer they will stay with that business/trainer and the happier they will be over time.
We know what it takes to keep your clients happy and that's why our workout creation is full-featured and allows an array of customizations for your brand.
Our workout creator/logger provides users with endless possibilities for delivering workouts, tips, and encouragement to clients in any scenario, including:
1-on-1 Training
There are few aspects more valuable than a personalized 1-on-1 session with a personal trainer. By utilizing Exercise.com workout software, personal trainers can add a personal touch to their training sessions; creating individualized sessions for each client. Exercise.com also takes it one step further by giving trainers and clients the ability to communicate directly within that 1-on-1 training module to track progress, check statuses, and share feedback.
SportsSignUp Play does not offer this level of 1-on-1 care for each member of its teams or leagues. League and team owners can instead communicate about practice times, games, tournaments, and billing all through the various communication apps and chats.
Group Training
Our workout software also allows for seamless group training sessions and provides clients with the ability to be a part of a "community" with like-minded, goal-oriented fitness enthusiasts. Trainers and fitness business owners can sell and/or share group training sessions with ease using the Exercise.com software; thus creating a sure way to spread positive marketing buzz around their clubs.
Online Training
Online training is becoming more and more popular as people transition to a more digital lifestyle. Fitness clients in today's society find it easier to look to their phones or devices for workout plans rather than coordinate schedules for in-person training.
The Exercise.com workout software allows you to send workouts to anyone, at any time, anywhere. As clients progress through their online training sessions, trainers can also track progress and maintain communication with each client through their fitness journeys.
Exercise Library
Because SportsSignUp Play is meant to serve as a runner of sports teams and leagues, it does not provide its customers with an exercise library. This puts your business at a disadvantage because trainers lack the necessary tools they need to provide instruction and guidance for their clients.
With Exercise.com, however, you have a robust video library of exercise demonstration videos. Our professional videos demonstrate proper technique and form so clients can achieve optimal fitness results. The videos can be used in our workout creator to keep clients engaged and motivated with their workouts.
Custom Exercises
With Exercise.com, you can showcase your business by featuring your fitness staff in custom videos. Your clients and their fitness needs are unique and so is your business. The best method to share your club's custom workouts is by using videos filmed at your location, featuring your staff members. Simply merge your YouTube and/or Vimeo accounts with our library!
This gives you full ownership of what your clients are using for their workouts as well as creating even more value for your price point and is not a feature included with SportsSignup Play.
TV Workouts
Aside from providing clients with the ability to watch demos of the exercises you've sent them within their workout plans, gyms can use the exercise library as well as a great way to cast exercise demos onto gym television screens during group classes or one-on-one training sessions.
This is a great way to provide that "personal touch" so many people look for when choosing a gym.
Gym Ecommerce Software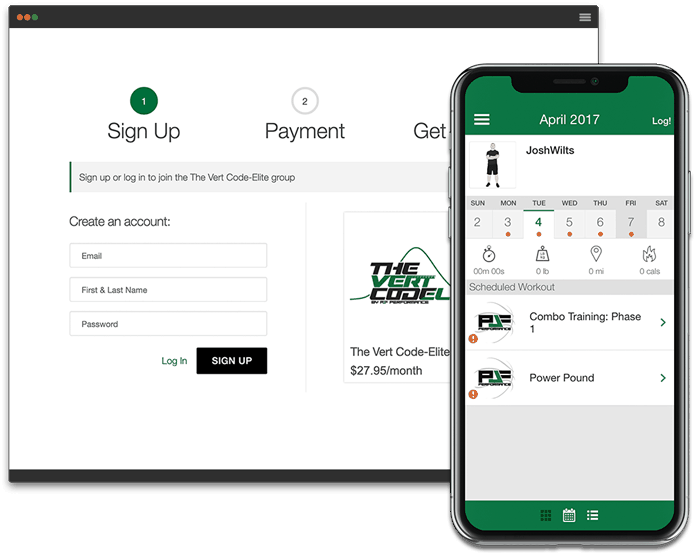 Handling online payments is quick and secure for SportsSignUp Play users. SportsSignUp's "easyMerchant" allows you to safely accept all major credit cards, and still keep the option to accept and track all offline payments via check and cash.
However, Exercise.com takes it two steps farther. When it comes to selling memberships, training packages, running workout challenges, delivery of individual training, and selling single workout plans, Exercise.com gym ecommerce software allows for purchases within any of these platforms with customizable functions at every step of the way.
Payment Processing
As mentioned above, SportsSignUp Play uses easyMerchant to process all payments made online. easyMerchant allows organizations to accept major credit cards from registrants and/or web store customers without acquiring a third-party Merchant Account. Because sports teams and leagues happen at all times and all seasons, coaches and league owners can also collect cash or check payments in person. SportsSignUp Play has a tool to track those payments as well.
SportsSignUp Play also has a reporting feature; from registration breakdowns by age/gender/grade to league income. You can track who's signed up for what team—including volunteers—and who still needs to pay.
Exercise.com also provides users with payment processing options and can accept payments for any product or service in a secure manner.
Using Stripe, a complete payment platform, our software can accept one-time payments for products or services, send recurring monthly membership invoices, sell packages for personal training or group classes, or combine all accrued payables into one monthly bill for customers. Payments through Exercise.com can truly be customized to whatever will work most efficiently for your business
Sell Products
Both SportsSignUp Play and Exercise.com provide users with e-commerce capabilities to sell products and services online. SportsSignUp Play's products are limited to gear and sports equipment as an addition to the league and team memberships.
However, Exercise.com provides users with the ability to also sell training packages like the below examples:
Sell Workout Plans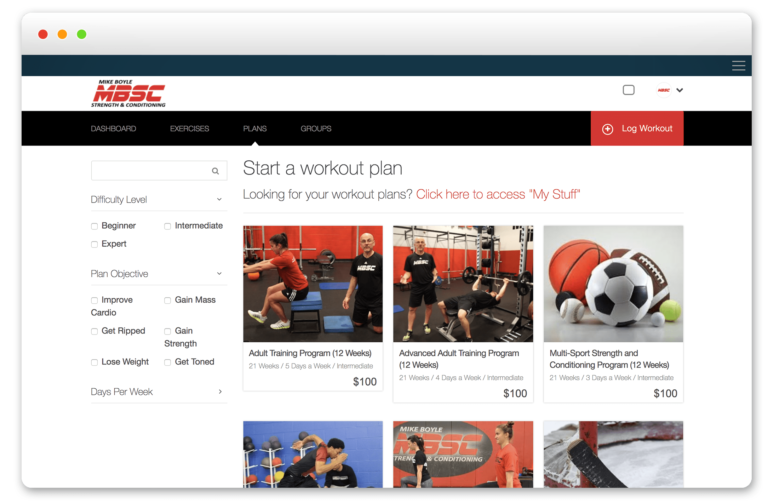 Personal training or custom-designed workout plans offer many benefits, but they may not necessarily be for everyone. Some members might already have a decent base of fitness knowledge and want a more generic plan that helps them generate ideas during times when they just want to mix it up. While other members may be too shy to ask for help in person and need a little help to boost the start of their own fitness journeys.
Despite the level of fitness experience of your users, there is a workout plan that will benefit them all at every level.
Exercise.com gives you the chance to sell pre-built workout plans for members who might fall into this scenario. They may not be comfortable paying for personal training or asking for a custom plan, but by having pre-built plans available, you are offering a tool that they can use to be successful while generating revenue for your business. The great thing is that the same plan can be purchased by dozens of different people, which means more marketing buzz for your business and more revenue for you and your trainers!
As we mentioned earlier, the majority of society today is more comfortable working with electronics than a live person. The ability to reach this population by offering something they wouldn't normally ask for themselves increases your business revenue while allowing you to track the most purchased and, therefore, most popular workout plans.
Offer Online Workout Memberships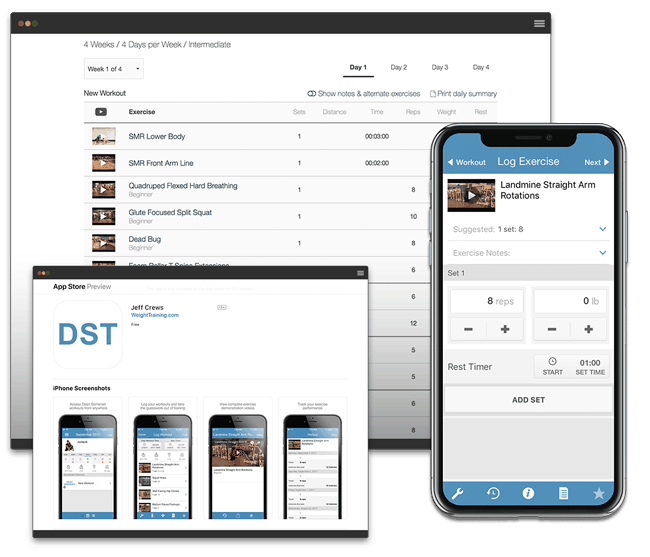 For virtual clients who want a customized training program, businesses can charge a premium price, but that usually dictates a higher time commitment from the trainer generating the program. Taking time out to create custom workouts for each client is time-consuming and normally cannot be used for any other client.
Exercise.com helps to save you time and energy by providing automated programming delivery.
Rather than having to take the time to send a new workout at the end of each cycle, the workouts can all be created in advance and be sent automatically at a predetermined time and rate that works for you and the client. Your client can then complete these workouts on their own time and at a location of their choice while your trainer tracks their progress and provides feedback.
Sell Workout Challenges
Whether intentionally or unintentionally, fitness businesses promote a real sense of community. Gym members see the same faces several days per week, develop friendships, and share in the success of others. By running a workout challenge, you are providing an opportunity for members to engage with others as a team and/or in friendly competition.
The more your fitness business shares that sense of community, the more members will want to tell their friends about it. This is an amazing marketing opportunity for your gym. Fitness challenges like boot camps, weight loss challenges, and running or biking competitions are some of the most popular programs run at gym clubs all over the world to this day.
Exercise.com can help you to create, promote, market, and sell those workout challenges all online and all included!
Fitness Assessments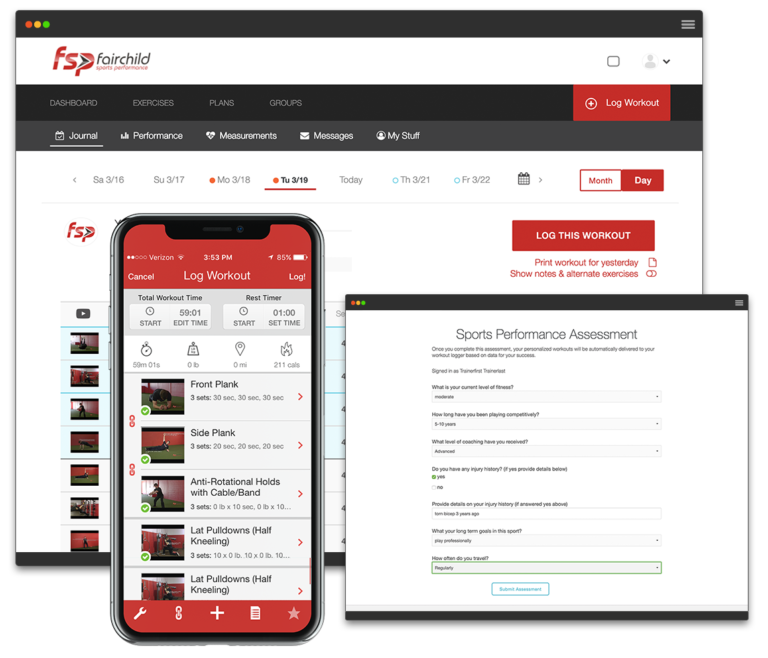 Another key to being a great fitness business owner and trainer is knowing where your clients are in their fitness journeys and having a plan set in place for how you will help them meet their fitness goals. To be an effective fitness entrepreneur, you'll need effective performance software.
Fitness assessment software should allow you to:
Turn leads into clients
Engage clients through fitness assessments
Track measurement data, injuries, etc.
Show current fitness level and compare to an optimal level of fitness specific to the client
Optimize the delivery of personalized workouts and nutrition
SportsSignUp Play does not give users the ability to conduct fitness assessments on their main dashboard or via any third-party apps.
Exercise.com assessment software, however, is fully customizable from A-to-Z and allows you to onboard clients and deliver workouts automatically without the need for a third-party app.
You can onboard leads into clients by gauging their fitness and health levels through a set of customizable assessments and re-engage clients at set intervals to show progress and increase retention. Most importantly, the data collected is customized to your business and clients. This smart data ensures you have the data that's important for your clients' fitness journeys, personalized to them. The value this data adds to your business is unmatched.
Assessments
As a fitness business owner, the benefits of offering fitness assessments to your clients and members add up to increased revenue and member retention. For the client, the information obtained in the assessment gives them a glance at personal fitness information they cannot get elsewhere and is priceless to working towards their overall fitness goals. These assessments showcase where they are now at their baseline fitness level and give you and your trainers a plan of attack for each member specific to their goals.
Performance & Measurement Reports
Client and member retention is a top priority when it comes to running a business. No business ever wants to lose a client, and fitness businesses are no exception. One way to keep your clients engaged with your business is by automating your interactions with them. Reminding clients of their goals and progress is a great way to keep them engaged with your company, and being able to automate this service saves you time.
When it comes to the fitness world, people who aren't committed tend to fall off track easily and quickly. Automating communication through real-time progress checks is a great way to keep your members engaged!
Exercise.com performance health software allows you to deliver recurring assessments, progress photos, and measurements to promote client re-engagement and retention and it's all included in our all-in-one service!
Nutrition
When speaking of performance health software many people think of workouts alone; however, our software takes it one step further to include nutrition. After all, for performance to be at its peak, your clients need to take stock of their daily dietary choices – that's where Exercise.com nutrition tracking and logging comes into play.
Your clients can track their daily intake and share with their trainers what they are eating. They can even highlight certain meals such as pre- and post-workout meals.
SportsSignUp Play Pricing
SportsSignUp Play offers two different platform levels to enter into depending on the needs of your league or team. Additionally, on top of each level, they offer website builder packages as an a la carte add on. Users will need to contact them directly for price quotes, however, you can reference the following grid to see what features come at each level:
| PACKAGE | COST | FEATURES |
| --- | --- | --- |
| Set Up | Call for Quote | Dedicated Onboarding Team, Registration Setup Assistance, Guided Walk Through, Unlimited Company Emails, Website Domain Hosting, Unlimited Support, Design Consultation |
| Core Features | Call for Quote | Online Registration System, League & Team Website, Integrated Scheduling Software, Text, Email & Chat, SportsSignUp Play Mobile App, Scoring & Statistic Tools, Roster Management, easyMerchant® Payment Processing |
| Website: Kick Start | Call for Quote | Exclusive Stock Photos, 0 Site Building Hours |
| Website: Varsity | Call for Quote | Everything in Kick Start plus: Logo Treatment, 2 Site Building Hours, Custom Registration Button, Custom Background |
| Website: Competitive | Call for Quote | Everything in Varsity plus: Call to Action Buttons, Variable Theme Choices, 3 Site Building Hours |
| Website: Professional | Call for Quote | Everything in Competitive plus: Completely Custom, Design Consultation, Custom Site Building Hours |
| Additional Website Services | Call for Quote | Volunteer Background Check Provider, Fundraising Tool and Design firm for Logo Design, Call to Action Buttons, Additional Site Setup, Marketing Materials, Landing Pages, Seasonal Designs, Custom Footers and More. |
SportsSignUp Play Alternatives
There are many comparable companies that fulfill many similar functions to SportsSignUp Play. Below is a list of those competitors including a listing of basic features and functions:
| COMPETITOR | COST |
| --- | --- |
| Trainerize | $5-$350/Month |
| My PT Hub | $20-$49/Month |
| WellnessLiving | $59-$259/Month |
| PTminder | $36-$110/Month |
| RhinoFit | $57-$149/Month |
| MINDBODY | $129-$599/Month |
| Vagaro | $25-$85/Month |
The Bottom Line: Pros and Cons
Choosing the right software to run your business can mean the difference between success and failure, but it doesn't have to be a hard choice. Exercise.com has all the customization and features your fitness business needs to succeed well into the future.
SportsSignUp Play Cons
SportsSignUp Play comes with a wealth of features for tournament directors, sports league owners, and coaches. Yet despite its depth and abilities to efficiently manage all things sports, it cannot do everything a fitness business needs to succeed.
Sports teams utilize SportsSignUp Play for its ability to schedule games, tournaments, practices, communicate with parents, players, and coaches, as well as website creation for their teams and leagues. However, SportsSignUp Play cannot offer creative workouts, assessments, performance/measurement reports, nutrition assistance, an exercise library, online training, marketing integrations, offline memberships, or most importantly, gym and facility management.
Exercise.com Pros
If you're looking for an all-in-one fitness business management software that will allow you to grow and manage your business with ease at a competitive price point, then Exercise.com should be your first choice.
An Exercise.com user called our platform "The most robust software I've ever seen" and continued on to review:
"The custom-branding is huge for me, love having my own BasketballHQ apps. I currently use them to sell programs and offer online group subscriptions. I also love their workout plan creator, it's very intuitive and once you have the pieces in place, it make[sic] it easy to create plans. The support team is also great. I can request a support video call whenever I need one which helps a lot and they're always quick to respond. It also seems like [they] add a lot of new features every month so it's always improving."
Exercise.com builds your web and smartphone apps with your brand in mind. It's not a simplistic, unbranded software platform. It's your app, your software, and your brand front and center. So, if you need a feature, integration, and more engaging performance health software, let us know. Our world-class dev team has a proven track record of delivering software that just works.
What features are most important for your business?
If you're ready to grow and manage your business with software that can be customized to your business, book a demo with Exercise.com.