Exercise.com: Your SwimTopia Alternative
| Fitness Software | | SwimTopia |
| --- | --- | --- |
| Nutrition | | |
| Dedicated Account Manager | | |
| Dedicated Zapier Support | | |
| Client Automation | | |
| Performance & Measurement Reports | | |
| TV Workouts | | |
| Offer Online Workout Memberships | | |
| Run Workout Challenges | | |
| Sell Workout Plans | | |
| Group Training | | |
| 1-1 Training | | |
| Custom Exercises | | |
| Websites | | |
| Marketing Integrations | | |
| Custom Branded | | |
| iOS & Android Apps | | |
| Online Training | | |
| Sell Products | | |
| Payment Processing | | |
| Gym / Facility Management | | |
| Exercise Library | | |
| Assessments | | |
| Client / Class Scheduling | | |
| Workout Creator / Logger | | |
| Business Dashboard Reports | | |
Why Choose Exercise.com?
Here are five reasons why fitness professionals use Exercise.com vs. SwimTopia.
Fitness Business Management Software to Run Your Business
Unlike SwimTopia, Exercise.com software is designed to have all components needed to run a fitness business in one place – making it easy and efficient to organize and grow your fitness business with client and class scheduling, check-ins, and billing — all from your custom-branded apps.
Fitness Business Management Software to Run Your Business
Unlike SwimTopia, Exercise.com software is designed to have all components needed to run a fitness business in one place – making it easy and efficient to organize and grow your fitness business with client and class scheduling, check-ins, and billing — all from your custom-branded apps.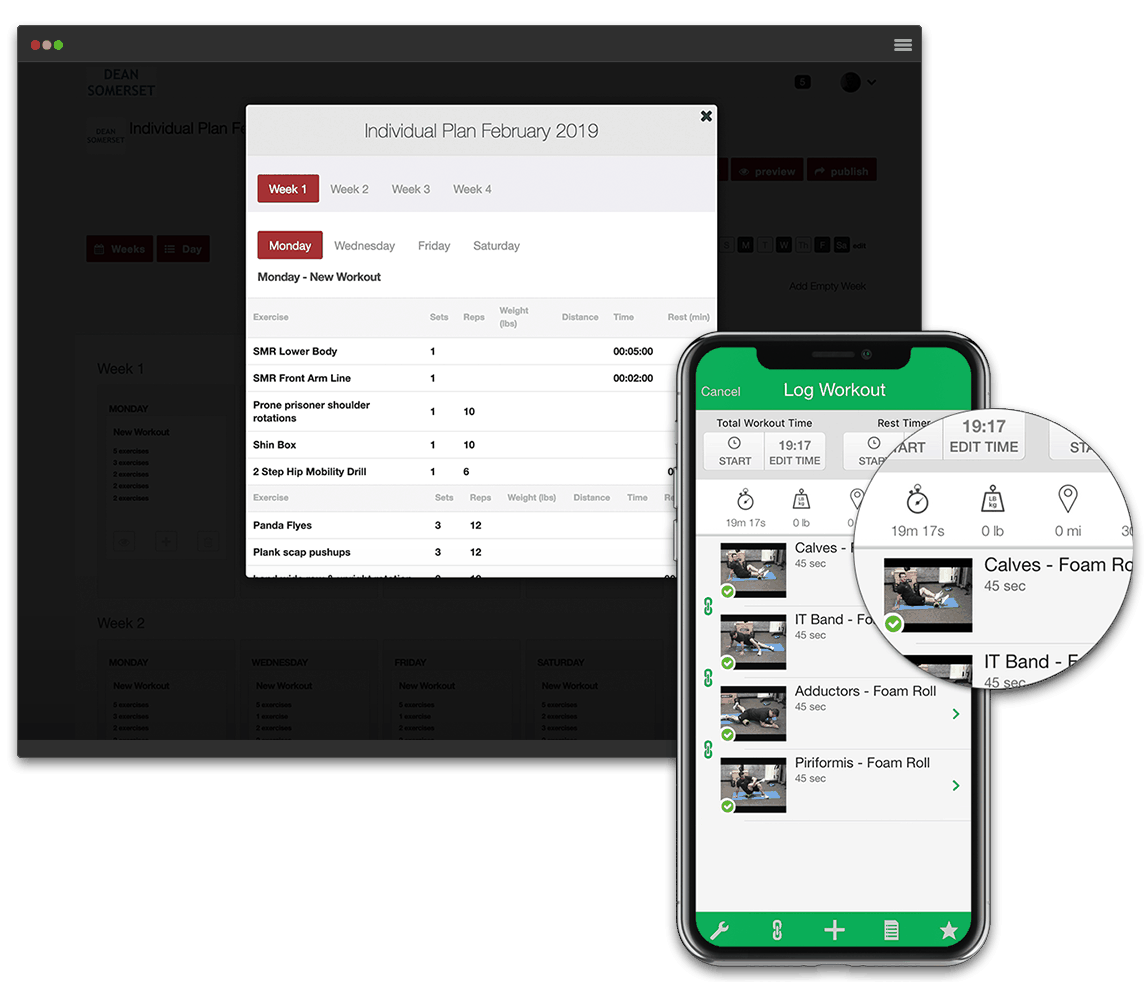 Workout Software to Power Your Training
SwimTopia does not offer workout software – an essential component for running a fitness business. The Exercise.com workout plan creator and exercise manager provide flexible solutions to save you time creating workouts with built-in integrations, tools, and more.
Ecommerce Software to Increase Revenue
Fitness professionals cannot use SwimTopia's limited ecommerce features to sell training packages, workout challenges, or single workout plans. Exercise.com, however, has full ecommerce capabilities allowing trainers to sell single workout plans, offer automated workout memberships, run workout challenges, and deliver individual training.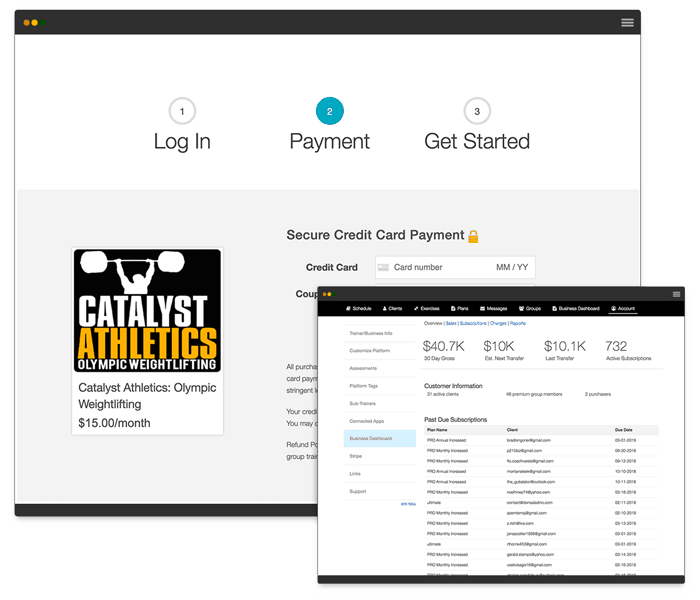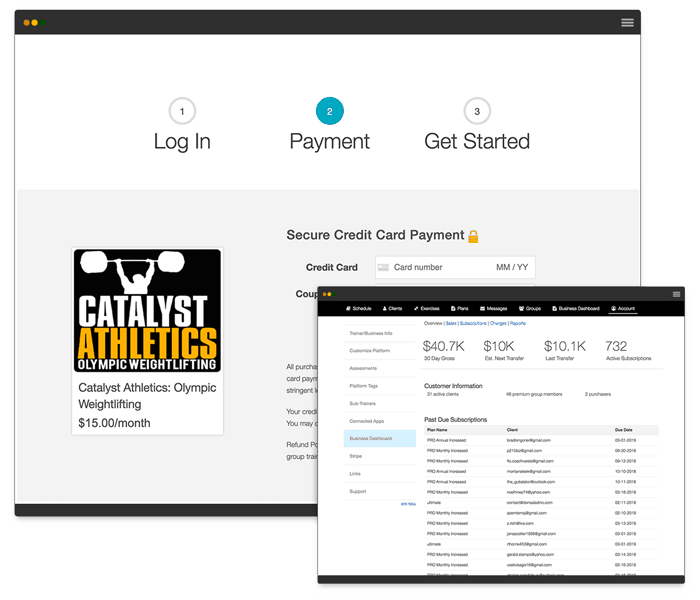 Ecommerce Software to Increase Revenue
Fitness professionals cannot use SwimTopia's limited ecommerce features to sell training packages, workout challenges, or single workout plans. Exercise.com, however, has full ecommerce capabilities allowing trainers to sell single workout plans, offer automated workout memberships, run workout challenges, and deliver individual training.
Assessment Software to Improve Client Engagement and Retention
SwimTopia lacks assessment software, but that's not the case with Exercise.com. Your clients will receive personalized assessments that deliver custom workouts for their individual needs – providing massive growth potential and saved time. All for one price. All on one platform.
Stand Out With Your Own Custom-branded Apps
SwimTopia's apps provide no options for designing custom exercises. Exercise.com, however, offers apps that are fully customized to make your life easier by providing your clients with a unified scheduling and workout experience with your brand displayed front-and-center.
Stand Out With Your Own Custom-branded Apps
SwimTopia's apps provide no options for designing custom exercises. Exercise.com, however, offers apps that are fully customized to make your life easier by providing your clients with a unified scheduling and workout experience with your brand displayed front-and-center.
If you're ready to get started with an easy-to-navigate, all-in-one fitness software, designed to fuel your business, request a demo with Exercise.com today.
And, if you want to see how SwimTopia's additional features stack up to Exercise.com software features, check out our in-depth guide below.
What is SwimTopia?
SwimTopia's purpose is to simplify swim team and swim meet management: unifying everything needed to run a swim team into a single, web-based, swim software solution.
SwimTopia, created by Team Topia, covers the needs of summer and high school swim teams: website hosting, online registration, online meet entries, team communication, volunteer management, merchandising, and fundraising. HyTek compatible and with an accompanying mobile app, SwimTopia seeks to cover all swim team needs.
There are only a few aspects that SwimTopia and Exercise.com have in common. Among them are the calendar and scheduling functions, payment processing, retail sales, and mobile apps. However, the SwimTopia software is specifically a swim team and league management system and cannot function as a platform to run a fitness business completely.
Exercise.com, conversely, can encompass a much larger range of services. This gives fitness businesses, with any number of different focuses, the ability to use the software as an all-in-one service for their needs.
Because SwimTopia is built to aid in the management of swim teams only similar to other sports team management software, it cannot supply a user with the ability to run a fitness business using their software alone. This is not the case with Exercise.com. Our software can be used for many of the same functions as SwimTopia but has a broader range of other functions to cater to a more diverse group of fitness businesses.
Moving forward in this article, we will be taking a more specific look at individual aspects of both software platforms.
Unless otherwise stated, all images and reviews below are of/about the Exercise.com All-In-One Fitness Business Management software platform.
Fitness Business Management Software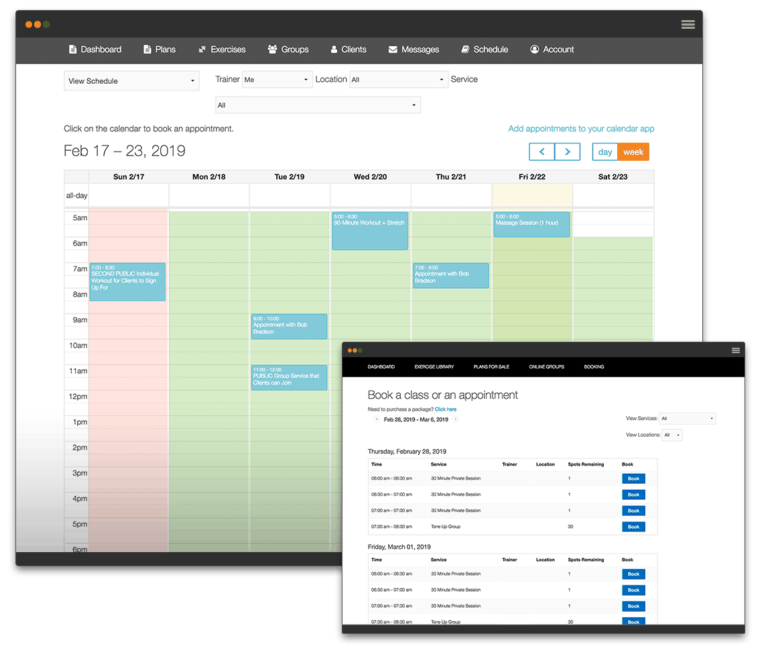 There are many integral aspects of a successful fitness business software. Functionality, ease of use, and price are a few of the most important components you should look for in a software platform. You want a program that is easy to use by your employees, meets the needs of your facility, the services you offer and helps streamline the day-to-day running of your business, while also being a platform that can grow along with your company.
Exercise.com gym management software checks all of these boxes and more. Our software platform allows you to easily schedule appointments or classes, take payments, customize your website, create custom workouts, generate reports, run quality assessments, and connect with your members to keep them engaged in your business.
When you have a program that can manage all aspects of your business and grow and adapt with you, there is no end to the potential growth your business will see. The Exercise.com software can handle whatever you decide to throw at it and does so in an efficient and easy to use manner.
Client/Class Scheduling
Unfortunately for users looking to book classes, schedule training, or communicate with members through planned workouts, SwimTopia is unable to provide those functions. For SwimTopia, registration for meets and a portal for job and event signups is as close as the software gets to a scheduling calendar. Their registration calendar easily ties heat sheets, results, and other important information together seamlessly. Users can even create social events on the calendar to help manage RSVPs and volunteering.
Exercise.com, on the other hand, can do all that and more. The platform allows for the scheduling of personal training sessions and group workouts while tailoring these communications according to location and staff members.
Members can view upcoming classes, sign up, pay, and even purchase add ons like one-on-one sessions with a trainer, all through Exercise.com's online and app platforms.
Gym/Facility Management
Simply put, businesses cannot be sustained or successful unless they are profitable. While this may sound like an obvious statement, it is an important consideration when choosing software to help manage your company.
With SwimTopia, times of meets and event registration are the software platform's primary concerns. While SwimTopia is great for any user wanting to run or take part in swim league management, its abilities stop there. Their software cannot support the day-to-day of a fitness facility including personal training management, online workout sales, fitness assessments, or membership sales and reporting.
For example, a fitness business may want to run a report to see which fitness class times bring in more revenue. Upon running that report, the owner finds the morning and nighttime classes have almost double the number of attendees than the midday class. Because of this, the owner will want to cancel or replace the midday class to maximize revenue. The only type of reporting that SwimTopia can perform is meet attendance or payment tallies.
Business Dashboard Reports
SwimTopia doesn't include business reports or a dashboard for displaying business data. This puts you at a disadvantage because you must manually input your business data into separate software, which takes time away for your customers and puts more on your managerial plate.
Exercise.com's business dashboard features standard and customizable reports which enable you to keep your finger on the pulse of your business. Our dashboard is easily customizable, giving you free-range to how you want to analyze your business or filter information.
Client Automation
Keeping in touch with your members and clients is important for retention; specifically utilizing multiple means of communication. SwimTopia's contact with their members is done solely through their "Communication Center" where users can send targeted emails and notification alerts to specific groups.
Exercise.com, on the other hand, can communicate using automation. Here are a few examples:
Automatic Emails and Texts/Other Automatic Features
Highlight Exercise.com
Automate Workout Delivery
Automate Resource Delivery
Automate Assessment Delivery
Automate Reminders/Alerts via app, text, and email
Dedicated Zapier Support
At Exercise.com, we provide our clients with a plethora of integrations – but, sometimes, you want a bit of a boost. Our partnership with Zapier allows you to, in Zapier's words, "Integrate (link your web apps with a few clicks, so they can share data), Automate (pass info between your apps with workflows called Zaps), and Innovate (build processes faster and get more done – no code required).
Part of this partnership includes dedicated Zapier support to help you through every step of the process. With over 2,000 apps to choose from, you can rest assured that your company's website is as efficient and user-friendly as possible.
Dedicated Account Manager
At Exercise.com, we take customer service very seriously; which is why we provide our clients with a dedicated account manager to help them through every step of the process – indefinitely.
If you want to redesign your website, your account manager will get it done. If you want to set up an ecommerce store, your account manager won't blink twice. Whatever you need, our world-class dev team will come through. From the mundane to the complex, we have you covered.
Customized Software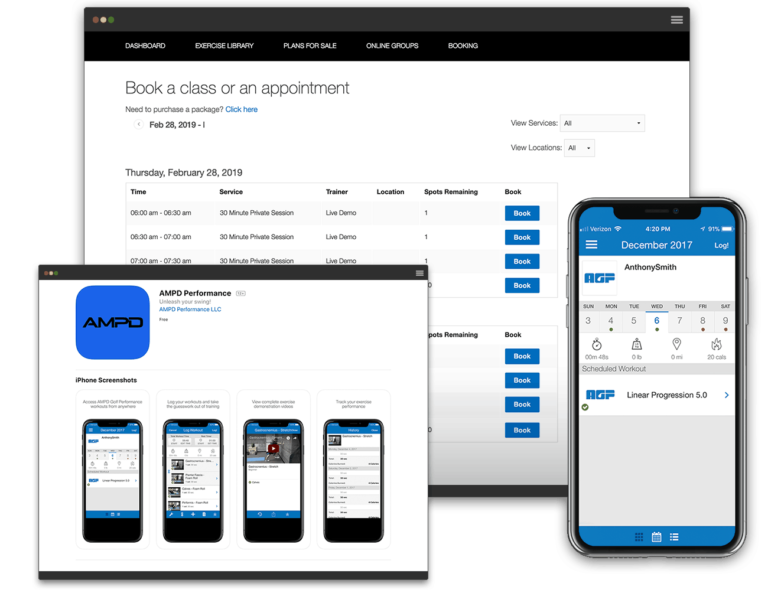 A business's software should be unique to the company it represents. That is why Exercise.com provides you with customization at no added cost. This means you will not be forced to navigate or conform to someone else's platform. Instead, you can customize our software for what works for you, using your logo, and only highlighting features your company needs while never making you pay for features you won't use.
When speaking of SwimTopia, there is no ability to customize their software for your use. Its purpose is to use their platform to create and edit upcoming swim meet events while maintaining communication with coaches, players, and families. While its walkthrough features are easy to use, it is not something you can add or edit for your personal business use.
Custom-Branded
In addition to a customized software function, Exercise.com allows you to put your brand at the forefront of your website, training videos, email communications, and mobile app. There is no additional fee for these services as everything about your experience with Exercise.com is included in one low price. This means any trace of Exercise.com logo or colors can be replaced by your colors and themes.
SwimTopia does not give the user the ability to customize their site for your use. Outside of the use of their custom website templates, their branding, unfortunately, cannot be detached from their software.
iOS & Android Apps
Both Exercise.com and SwimTopia offer the use of mobile apps on both the iOS and Android platforms. SwimTopia's free mobile app shows a personalized view of each family's meet entries, volunteer signups, and swim history. The SwimTopia app keeps families and coaches informed with notification alerts and Live Event/Heat Bar for meet days.
One SwimTopia app user review states that the user wishes the app offered more:
"The lack of a mobile app that allows more features such as meet signup is the one thing I wish it had. Text message capability would also be good – the push notifications are helpful but text messages would be ideal."
While another SwimTopia app user review stated:
"There are a few things that can be accomplished on the web-based version of the tools that can't be done in the iOS or Android apps. For our parents who are increasingly demanding to interact with us through a phone not a laptop, this presents a few challenges."
That's why it's important to know, only Exercise.com provides a branded app for personal trainers that can be fully customized.
Websites
SwimTopia offers custom website templates users can choose from to tailor the look, feel, and domain of their landing pages. Content is managed with their "drag and drop" tool adding images, coach bios, maps, social media feeds, sponsor logos, email contact forms, and more with a click of a button.
The only downside to this customization is that users are limited to the templates pre-built and loaded by SwimTopia. This means that building a site from scratch to match your company's unique look and feel may not necessarily be attainable.
Exercise.com, on the other hand, does all the work for you by offering fully customized, SEO-optimized fitness business websites. Once you have decided on the customized features you would like on your site, our highly rated development team goes to work. Whatever you want or need, as a business owner, will be provided for you by our team. We want to create the best experience possible for you and your customers.
Here are a few of the features included in our custom fitness website designs:
Responsive
SEO optimized
Unlimited theme changes
Built to convert visitors to leads
Custom graphic work
Google Certified Partner
Security Features
Exercise.com is committed to keeping your and your customers' information safe at all times. We have added features to our software to make sure that security is never an issue for your business.
While SwimTopia secures all user data via their cloud storage, here are a few of the security features provided by Exercise.com:
SSL Secure
Privacy Shield Framework
Google Cloud
Marketing Integrations
Growing your business means promoting your services. Marketing integrations are a necessary tool to boost your business and increase revenue.
SwimTopia does not offer any type of marketing-specific integrations. The most a user can do to spread the news is through social media, "SwimTopia Mobile" notification alerts, or one-click emails through their communications center and reporting feature.
Exercise.com comes with endless possibilities for growth due to the integrations we offer with our marketing tools. These customized integrations allow you to advertise, engage, and promote your business to facilitate both membership growth and retention. These user-friendly features help foster growth and increase member retention.
Some of our more popular integrations include:
MailChimp
ConstantContact
ConvertKit
Zapier
Google Analytics
Facebook Pixel
Learn more by clicking the button below.
Exercise.com is the best SwimTopia alternative.
Workout Software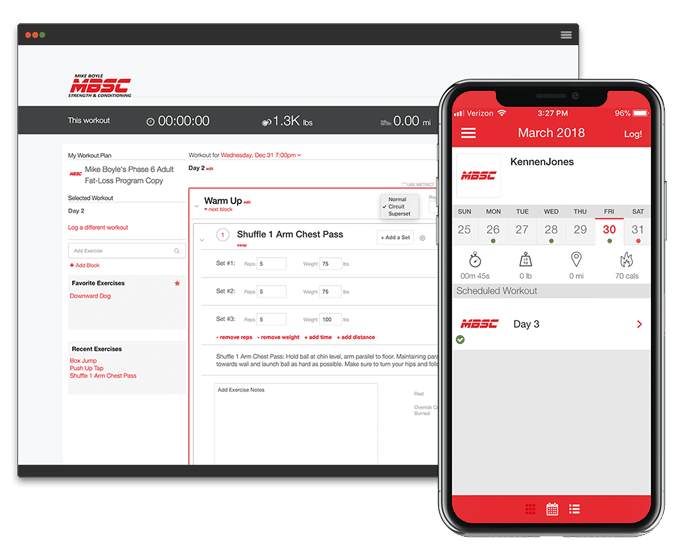 Being there for your clients through the course of their individual fitness journeys is imperative to client and member retention in the fitness industry. You want to be able to connect with them in a variety of ways to help them become successful while also providing income for your business. One way to do this is to offer workout software.
SwimTopia does not offer a workout portion within its software. So, rather than comparing this element, we will tell you what Exercise.com workout software has to offer.
Workout Creator/Logger
Creating and scheduling workouts for your clients ahead of time can save you time and money while providing your clients with one of a kind workout plans. Exercise.com has a built-in workout creator that allows you to design custom and pre-built workouts, save them, and share them with your members with the click of a mouse.
It is also important, for the success of your clients, to be able to track their progress. Clients can log their weights, repetitions, workout frequency, and more to keep track of where they started and how far they've come. All the details are viewable by their trainer so all parties are up to date and workouts can continue to challenge the client while helping them grow closer to reaching their fitness goals.
Our workout creator/logger provides users with endless possibilities for delivering workouts, tips, and encouragement to clients in any scenario, including:
1-1 Training
One-on-one personal training is one of the most popular and lucrative aspects of any fitness business. Using our software, trainers can connect with their clients on an individual level by scheduling workouts, communicating through the app and alerts, and tracking progress. Personal training requires a connection between trainer and client, and our software helps facilitate and foster that connection.
Group Training
When a group of individuals who have similar fitness goals gets together in a workout setting, oftentimes, they find themselves meeting or exceeding their fitness goals at a faster rate than going at it alone. Group training is a great way to create excitement, stir up buzz, and incorporate some healthy competition.
The Exercise.com software is just as accessible for groups as it is for individuals. Workouts can be created, scheduled, and tracked with ease.
Online Training
In an increasingly digital world, the popularity of online training is on the rise. The Exercise.com software platform will always keep up with the times and trends of the fitness world. We do this by allowing you to send workouts to anyone, anywhere, and anytime while never breaking communication.
Exercise Library
Again, SwimTopia does not offer a specific workout delivery platform in their software, so it would make sense that they also do not have an exercise library. This is not the case with the Exercise.com software platform.
The internet is flooded with pre-built workouts; oftentimes it can be confusing searching for a workout that's right for you or your clients.
While many companies provide fitness businesses with pre-built workouts that can be sent to clients, the Exercise.com software platform offers an opportunity to design your library how you want. Rather than miss out on the opportunity to connect with your clients by giving them a generic workout, you can engage your followers with workouts designed specifically for them.
Custom Exercises
The fitness market is saturated with written, picture, and video workouts from trainers all over the world. Unfortunately, these trainers, no matter how well-known, are strangers to you and your members. With the Exercise.com platform, you can customize and upload videos of exercises by the trainers at your location. This makes your members' experience more personal while also boosting marketing for your company.
TV Workouts
Aside from providing clients with the ability to watch demos of the exercises you've sent them within their workout plans, gyms can use the exercise library as well as a great way to cast exercise demos onto gym television screens during group classes or one-on-one training sessions.
This is a great way to sell personal training while providing that "personal touch" that is sure to impress your current and potential members.
Gym Ecommerce Software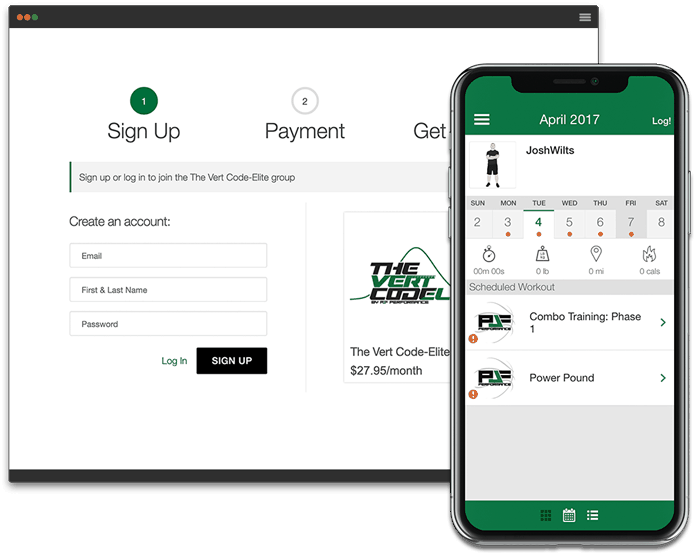 With SwimTopia, families can make payments by credit card, check number, or member number (useful for country clubs or gyms). For credit card payments, SwimTopia utilizes WePay. Teams simply set up an account with WePay and funds are deposited directly into their accounts. To maximize security, all credit card information is transmitted directly to WePay and is never stored in or transmitted through SwimTopia's computer systems.
Exercise.com gym ecommerce software takes it one step further and lets you customize the way you accept payments. Your fitness business may sell products such as water bottles and shirts, or services such as massages and physical therapy, in addition to the training services you provide. Our software is capable of taking any type of payment you need for your business.
Payment Processing
The Exercise.com platform utilizes Stripe for payment processing. Using Stripe, you can accept single payments for an item or service, send monthly bills and invoices, sell packages of products or services, or combine any number of these into a single monthly bill for your customers. This is another area where Exercise.com's customization offerings make complete sense for the needs of your fitness business.
As we mentioned, SwimTopia's credit card payments all go through WePay. Although SwimTopia doesn't charge users for payment transactions, WePay charges standard credit card processing fees of 2.9% + $.30 per transaction. There are no fees associated with payments made through check number or club membership linked accounts.
Sell Products
Both SwimTopia and Exercise.com provide the ability to host online retail sales. But Exercise.com goes the extra mile and provides users with the ability to sell extras such as the items listed below.
Sell Workout Plans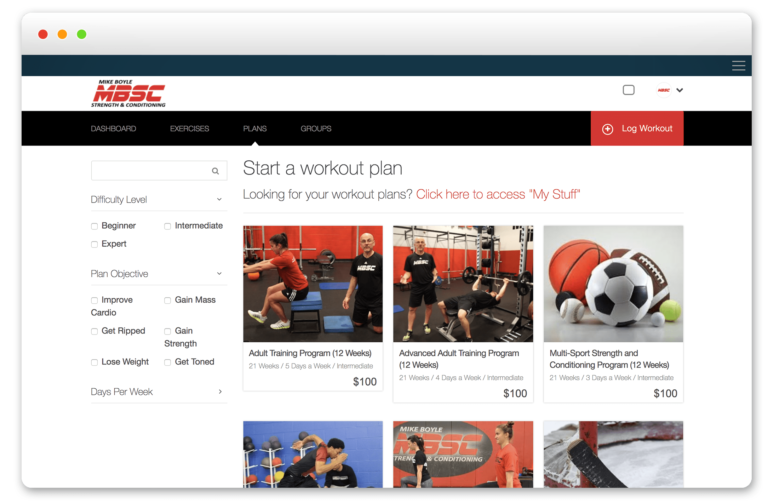 Personal training is a valuable service for a fitness business, but it might not be suitable for every member. Some members don't feel comfortable working with a trainer in a one-on-one or group setting while some members feel it's a luxury they cannot afford.
In these situations, creating and selling customized workout plans is the answer to all these needs and more.
With the Exercise.com software, you can provide customized, pre-built workouts for members of your gym to purchase. This is mutually beneficial because your members can utilize a workout created by a professional and your business can charge for this service. There are endless possibilities such as a workout of the day, monthly training programs, or specific targeted workouts.
Gym owners and their trainers have the freedom to create whatever type of workout they want to sell. Your business benefits from the added revenue and your members benefit from the quality workouts they are purchasing.
Offer Online Workout Memberships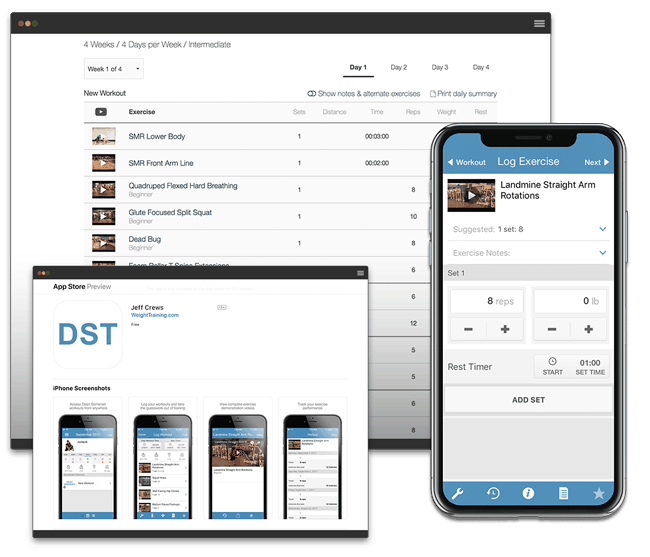 Some clients are looking for a customized training experience without having to meet a trainer in person. Those clients are often willing to pay an additional price for customized delivered workouts.
Exercise.com meets this need through our automated workout delivery. The trainer responsible for creating a client's program can create an entire workout plan all at once on their own time. The trainer then schedules an automated delivery for each workout directly to their client. All they have to do, once workouts are created and sent, is to monitor their clients' progress and success.
Sell Workout Challenges
Word of mouth is one of the most powerful and effective marketing tools available to businesses today. Every fitness business loves it when its members spread the buzz about challenges going on in the club and one way to do this is by selling workout challenges.
When people come together for a specific goal or friendly competition, a sense of community is an automatic result as members compete and foster the buzz of excitement.
Similar to the individual training workouts available for purchase, Exercise.com also enables trainers and owners to sell group workout challenges available to a numbered amount of members to take part in. It's a great way to create buzz around the weight room, bring your members together, market your location, and increase revenue.
Fitness Assessment Software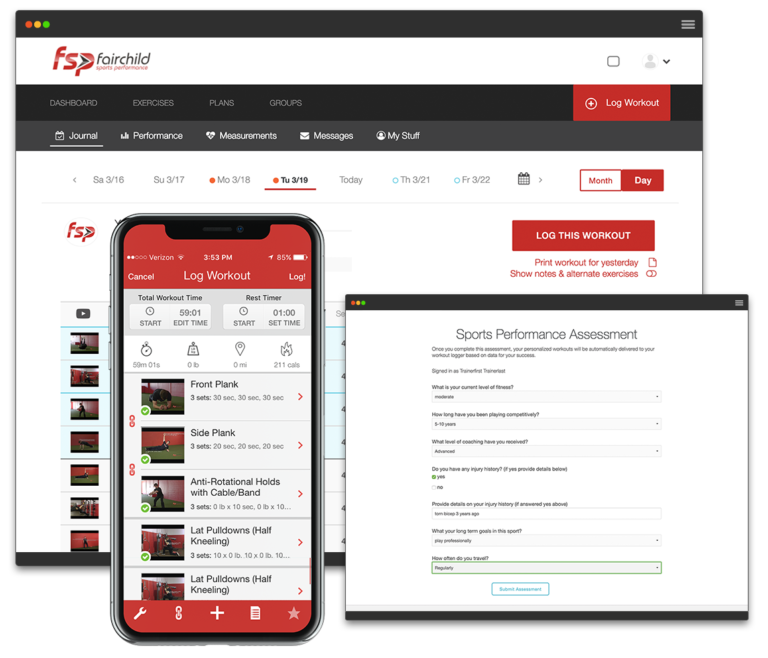 Part of being a great trainer or fitness business owner is establishing a fitness baseline for your clients while creating a way for them to reach their goals and establish a new baseline. This baseline is normally established through assessments. These assessments allow you to:
Provide in-depth body fitness measurements
Show comparisons to help clients create realistic goals
Motivate your clients as you track their progress
Show potential clients how your services can help them reach their fitness goals
Create leads and turn them into clients
SwimTopia, being a platform specifically geared toward managing swim teams, leagues, and meets, does not have software that provides these functions.
With Exercise.com fitness assessment software, however, you can customize every aspect of your assessments to fit the needs of your clients and promote the mission of your business.
Assessments
As we mentioned above, providing customized assessments adds enormous value to any fitness-based business. However, not all fitness assessments are created equal. Many gyms and clubs today offer their members a standard one size fits all evaluation that is not able to showcase a client's true fitness baseline; including their age, weight, past injuries, workout knowledge, personal goals, and more.
It is much more beneficial for new members to complete an assessment that is based on their fitness goals. A swimmer and a powerlifter, for example, are unlikely to benefit from the same assessment because they need to track different metrics to see progress. Exercise.com allows you to customize an assessment for every individual member.
Performance & Measurement Reports
Keeping your clients engaged and focused on their goals is important for retention. After all, no business wants to lose a client.
By giving your clients a performance report where they can see their progress pictures and statistics, you are showing them how your services have helped them toward meeting their fitness goals. When clients can see proof of their progress, they are more likely to remain a loyal member, spread the news to others about their progress, and even add on additional services.
Nutrition
Any professional in the fitness industry would agree that nutrition is an important component of achieving fitness-related goals. That is why Exercise.com provides a way for clients to track their daily caloric intake. This information is also available for trainers to view and track. This exclusive offering is just one of the many levels of accountability that the Exercise.com platform offers which adds even more value to your fitness business.
SwimTopia Software Pricing
SwimTopia's pricing structure is broken down by team and league type. Pricing and included features are differentiated between the following:
Summer & Rec Teams
High School Teams
Year-Round Teams (Coming Soon)
Summer Leagues
Please reference each table below for details on the cost structure for each team or league type.
| Summer & Rec Teams | Cost Per Year* | Extra Fee per Athlete |
| --- | --- | --- |
| *Price shown for first year only. Price increases after first year. | | |
| 300 Athletes | $529 | $2.00 |
| 200 Athletes | $399 | $2.25 |
| 150 Athletes | $329 | $2.50 |
| 100 Athletes | $259 | $2.50 |
| 50 Athletes | $179 | $2.75 |
| Middle or High School | Cost 1st Year | Cost after 1st Year | Fees |
| --- | --- | --- | --- |
| Unlimited # Athletes | $200/School | $250/School | 2.9% plus 30¢ per transaction for online credit cards |
| Summer League Type | Initial Cost | Annual Cost |
| --- | --- | --- |
| Team Owner/Coach | Free Trial | Contact for Quote* |
| League Director | Free Trial | Contact for Quote* |
| *Discounts available for leagues if all teams in league use SwimTopia software | | |
The following features are included in every pricing tier:
Meet Management:
Fully integrated meet management with Meet Maestro


($150/year value)

CTS Dolphin compatibility
Companion Mobile App:
Push notifications for team alerts
Live event/heat bar
Family overview
Live results (with Pro subscription)
Swim Team Management:
Custom website and hosting
Online registration
Meet entry management
Volunteer management
Flexible communications—email and push alerts
Merchandise sales
Meet and event RSVPs
Calendar syncing
Records tracking
Robust reports
SwimTopia Alternatives
Numerous software platforms supply similar services to SwimTopia. Take a glance at the table below to measure each competitor's pricing and features:
| Competitor | Price Range | Features |
| --- | --- | --- |
| SportsEngine | $69+/Month | Registration, Site Builder, Team Management, Mobile Apps, Tournament & League Management, Safety, Invoicing, Fundraising |
| Playpass | $10-$90/Month | Scheduling, Registration, Referrals, Waivers, Website Builder |
| Jersey Watch | $29-$59/Month | Website, Registration, Communication, Scheduling, Background Checks |
| Sports Connect | Contact for Quote | Mobile Registration, Professional Websites, Payment Processing, Team Management, Reporting, Scheduling, Communication, Online Store, Safety & Compliance |
| Ezfacility | Contact for Quote | Facility & Member Management, Point of Sale, Inventory, League Management, Client Portal, Marketing, Registration, Mobile Apps, Alerts, Calendar Functions, Payroll, Reporting |
| LeagueApps | Contact for Quote | Program Management, Revenue, Growth, Player & Parent Communications, Data Control, Websites, Branded Apps |
The Bottom Line: Pros and Cons
After reading all of the details regarding what the Exercise.com platform can do for you, the choice for a software company that fits the needs of your fitness business is ultimately up to you. No one knows the needs and future goals of your business better than you do. Our motive is to give you all of the information you need so that you can decide how the goals of your business integrate with the functions of fitness business software options.
We believe that Exercise.com can help your business in whatever way you need. However, let's take one final look at SwimTopia and Exercise.com
SwimTopia Cons
SwimTopia is a great software platform for coaches, league directors, parents, and players who take part in recreational or competitive swimming. While it has similar features to what a fitness business might need, such as scheduling, communication, website editing, online payments, and mobile apps, it cannot fully manage a fitness business in its entirety. In order to run a fitness business successfully, software needs to be able to edit and sell online workouts, manage a gym facility including memberships and training, as well as fostering a client-trainer relationship and performing fitness health assessments.
Exercise.com Pros
If you're looking for all-in-one fitness business management software that will allow you to grow and manage your business with ease at a competitive price point, then Exercise.com should be your first and final choice.
Exercise.com builds your entire facility management platform with your brand in mind. It's not simplistic, unbranded software. It's your app, your software, your logo, and your brand front and center. So, if you're looking for a platform rich in features to help bring your business success, let us know. Our world-class dev team has a proven track record of delivering software that just works.
What features are most important to you for the current and future state of your fitness business?
If you're ready for customized software that can help grow and manage your fitness business, request a demo today.