Exercise.com: Your TeamSideline.com Alternative
| Features | | TeamSideline.com |
| --- | --- | --- |
| Nutrition | | |
| Dedicated Account Manager | | |
| Dedicated Zapier Support | | |
| Client Automation | | |
| Performance & Measurement Reports | | |
| TV Workouts | | |
| Offer Online Workout Memberships | | |
| Run Workout Challenges | | |
| Sell Workout Plans | | |
| Group Training | | |
| 1-1 Training | | |
| Custom Exercises | | |
| Websites | | |
| Marketing Integrations | | |
| Custom Branded | | |
| iOS & Android Apps | | |
| Online Training | | |
| Sell Products | | |
| Payment Processing | | |
| Gym / Facility Management | | |
| Exercise Library | | |
| Assessments | | |
| Client / Class Scheduling | | |
| Workout Creator / Logger | | |
| Business Dashboard Reports | | |
Why Choose Exercise.com?
Here are five reasons why fitness professionals use Exercise.com vs. TeamSideline.com.
Fitness Business Management Software to Run Your Business
Unlike TeamSideline.com, Exercise.com software is designed to have all components needed to run a fitness business in one place – making it easy and efficient to organize and grow your fitness business with client and class scheduling, check-ins, and billing — all from your custom-branded apps.
Fitness Business Management Software to Run Your Business
Unlike Teamsideline.com, Exercise.com software is designed to have all components needed to run a fitness business in one place – making it easy and efficient to organize and grow your fitness business with client and class scheduling, check-ins, and billing — all from your custom-branded apps.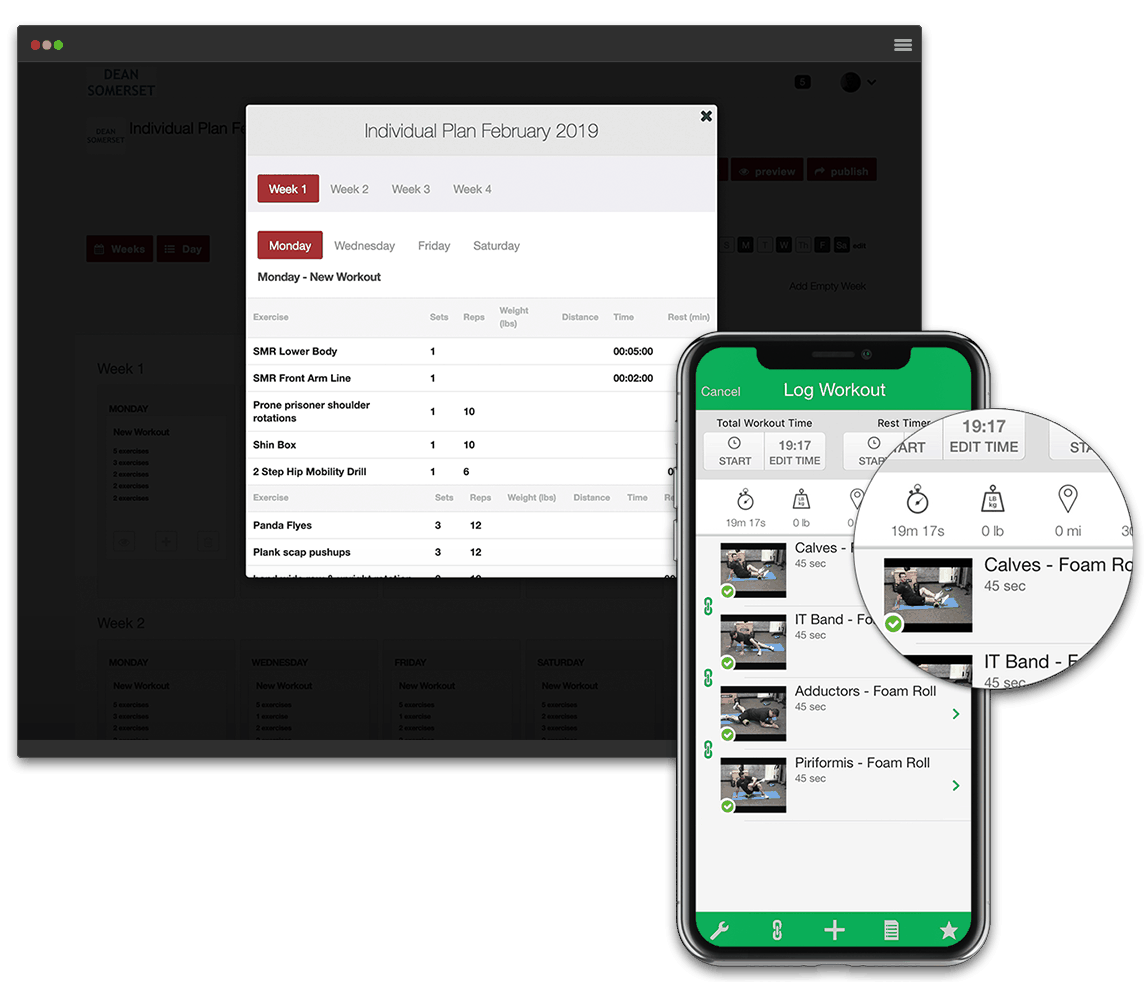 Workout Software to Power Your Training
Teamsideline.com does not offer workout software – an essential component for running a fitness business. The Exercise.com workout plan creator and exercise manager provide flexible solutions to save you time creating workouts with built-in integrations, tools, and more.
Ecommerce Software to Increase Revenue
Teamsideline.com only offers payment processing. Exercise.com, however, has full ecommerce capabilities allowing trainers to sell single workout plans, offer automated workout memberships, run workout challenges, and deliver individual training.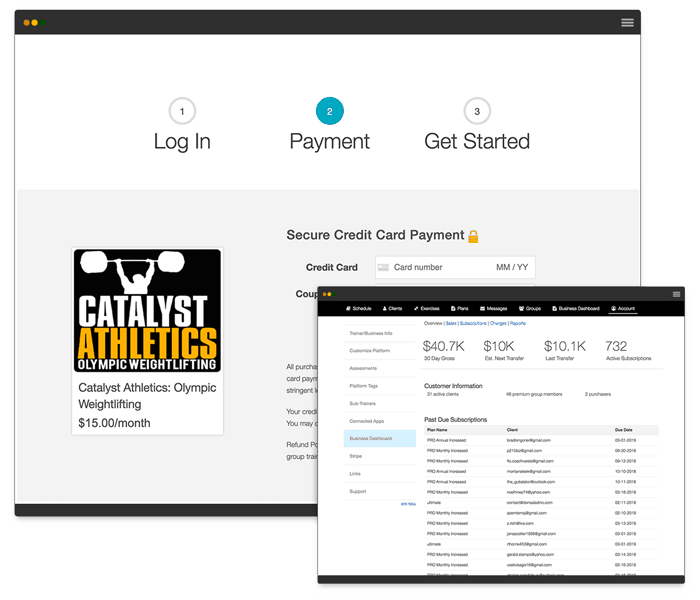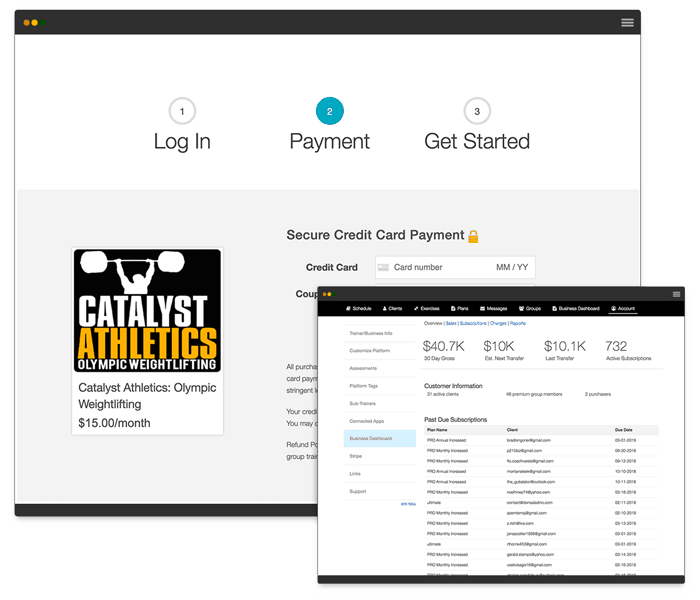 Ecommerce Software to Increase Revenue
Teamsideline.com only offers payment processing. Exercise.com, however, has full ecommerce capabilities allowing trainers to sell single workout plans, offer automated workout memberships, run workout challenges, and deliver individual training.
Assessment Software to Improve Client Engagement and Retention
Teamsideline.com lacks assessment software, but that's not the case with Exercise.com. Take your clients through personalized assessments to deliver custom workouts for their individual needs – providing massive growth potential and saved time.
Stand Out With Your Own Custom-branded Apps
The apps provided by Teamsideline.com offer no options for designing custom exercises. Exercise.com, however, offers apps that are fully customized to make your life easier by providing your clients with a unified scheduling and workout experience with your brand displayed front-and-center.
Stand Out With Your Own Custom-branded Apps
The apps provided by Teamsideline.com offer no options for designing custom exercises. Exercise.com, however, offers apps that are fully customized to make your life easier by providing your clients with a unified scheduling and workout experience with your brand displayed front-and-center.
If you're ready to get started with an easy-to-navigate, all-in-one fitness software, designed to fuel your business, request a demo with Exercise.com today.
And, if you want to see how TeamSideline.com's additional features stack up to Exercise.com software features, check out our in-depth guide below.
What is TeamSideline.com?
TeamSideline.com is a sports management software company whose main focus is on finding ways to allow coaches, volunteers, and players to spend less time on the administration part of their leagues. Their mission is to deliver the most comprehensive solutions for sports organizations while providing the best service in the industry.
Founded in 2007, TeamSideline.com took aim at its competitors by attempting to eliminate team and players transaction fees, provide faster and more simple support, and create a more all-encompassing software platform.
TeamSideline.com boasts that it can provide service to nearly every type of sports league at any level including youth, adult recreation, and sports organizations. For example, for TeamSideline, YMCA would be a great client. Sports-wise, for TeamSideline, soccer or softball teams would be great fits. While catering to a wide range of organizations can be beneficial, it also has the potential to mean that individual sports do not get everything they need.
Unless otherwise stated, all images and reviews below are of/about the Exercise.com All-In-One Fitness Business Management software platform.
Fitness Business Management Software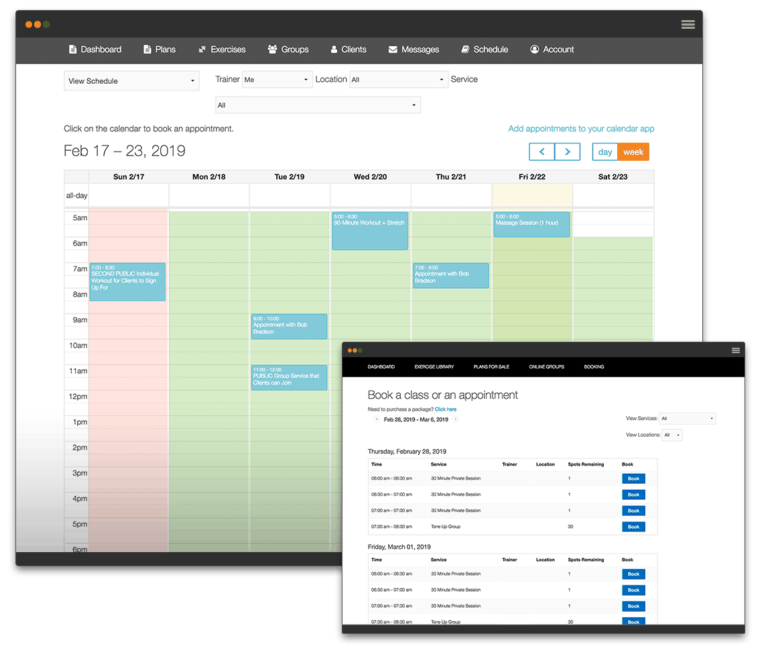 Exercise.com is known for the all-in-one element of its
gym management software
. This means that you do not have to use multiple forms of software to get all of the functions that you need.
This is not a problem with Exercise.com. We have included as much as we can into our software and, for the things that aren't there, we've developed a partnership with Zapier to provide integrations to keep everything all in one place.
Below are some features of our management software.
Client/Class Scheduling
This is one area in which TeamSideline.com does prove to be competent. Within the software, teams can develop practice and tournament schedules and also create sign-ups for facility usage.
Exercise.com also features scheduling tools. Fitness centers can post and sort by an instructor, trainer, studio, class name, or any other category they choose. Members have access to these same search options through the customized website and app we provide. Sports organizations could also use our software to sort schedules by field, court, team, time, or whatever else they felt would be beneficial.
Gym/Facility Management
Having the right information can help you make decisions on what will take your business from good to great. With Exercise.com, you can run reports that will give you information on anything you choose. You might want to look at the revenue for a certain class, client growth in the personal training department, or overall membership growth by month. Whatever information you want, we can help you run a report.
This information is extremely valuable for growth and increased revenue. For example, knowing which months are most active in personal training can help you decide when to run promotions in order to increase business. In the same way, seeing that every single cycling class you offer is sold out could convince you to make a slight price increase. You have the ultimate choice when it comes to the growth and management of your business, but having the information is crucial in making a decision.
Our software also allows you to create employee schedules in different areas of your facility. You can easily log hours and keep track of how many staff members you need in a given department at one time. This element would also more than adequately serve the needs of scheduling volunteers and officials in a sports organization.
Business Dashboard Reports
Having your business reports all in one place helps you stay organized, gives an overview of your whole business, and lets you address priority issues immediately. TeamSideline.com doesn't have any reports, so it doesn't have a dashboard to display them.
With Exercise.com, you get a customizable dashboard to display all your reports–you choose the layout and the reports you want to view! All of your reports can be run in a single software. No more safaris for which software has which reports. The Exercise.com Fitness Business Management (FBM) software platform makes reports easy — sales, business, appointments, class, and payroll reports all in one place. Plus you can also sort reports by:
These reports empower you to have your finger on the pulse of your business and if you're bringing on new trainers you'll know how much to pay staff based on commissions.
Client Automation
TeamSideline.com does provide options for automation, but they are limited. Schedules and websites are automatically updated when there is a change to a game schedule or time. Officials for given sporting events are also automatically notified of changes. In other forms of communication, however, league managers must use a "send now" option when sending messages to groups or individuals.
With the Exercise.com software, you can automate the delivery of a wide range of different features. By scheduling communication in advance, you can save time and help your business run more efficiently. Some of our features include:
Automatic Emails and Texts/Other Automatic Features
Automate Workout Delivery
Automate Resource Delivery
Automate Assessment Delivery
Automate Reminders/Alerts via app, text, and email
Dedicated Zapier Support
As previously mentioned, Exercise.com packs as many integrations into its software as possible. We recognize, however, that there are some cases that require some extra help. For this reason, we have partnered with Zapier. By using this platform, you can:
Link your web apps with a few clicks so they can share data
Pass information between your apps with workflows called Zaps
Build processes faster so that you can get more done
With this partnership, you get dedicated support every step of the way. Zapier has over 2,000 apps to choose from, so you can be sure that your company's website is easy to use and friendly for your members.
Dedicated Account Manager
At Exercise.com, we take pride in the customer service we provide. In order to ensure the high quality we're after, we provide our clients with a dedicated account manager to guide them through each and every step of the process. This individual isn't just with you at the beginning, they are with you for your entire relationship with our company.
If your business model changes and you need to redesign your website, your account manager will help get it done. If you are getting requests for products and want to set up an ecommerce store, your account manager will get it done. We are here for everything you need from simple to sophisticated.
Customized Software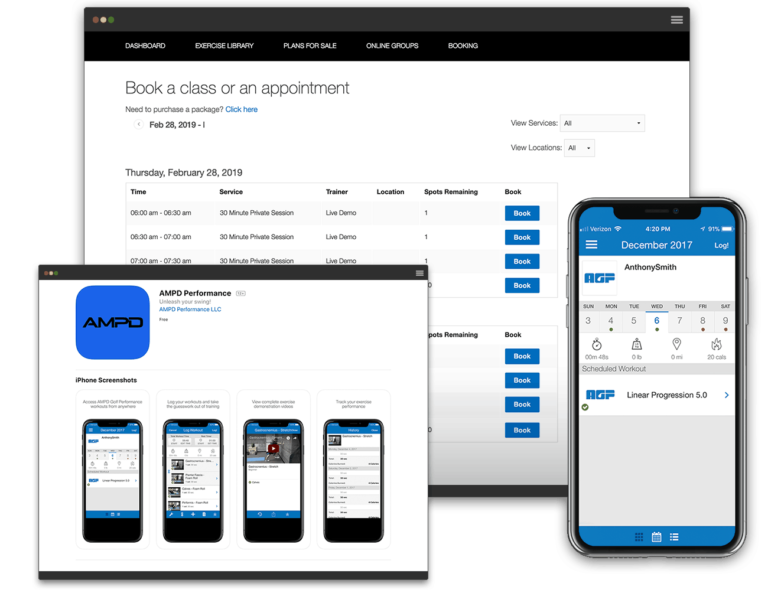 This is the part of our comparison in which Exercise.com shines especially bright. The entirety of our software can be customized to create exactly what your business needs in order to run most efficiently. You are able to show off your brand through a custom app and website, integrate with other marketing tools, and gain peace of mind knowing that your information and that of your members is safe and secure.
Custom-Branded
TeamSideline.com does not make any mention on its website of the ability to custom-brand any of its software besides custom graphics for your website. Exercise.com, on the other hand, encourages you to show off your brand by making every aspect of our software customizable. Display your company's logo, show off your colors, and deliver a visual representation of your business through the custom-branding of your software.
iOS & Android Apps
TeamSideline.com does have an app called Team Sites available on both iOS and Android. Although the company says a chat feature is on the way, the current state of the app provides nothing more than email and text communication, which are functions most people could use without the assistance of an app. There are no customizable features of the Team Sites app making it fairly generic.
The opposite can be said of the Exercise.com branded app for personal trainers. You can customize the entire thing from A-Z to feature your brand and make your organization stand out among its competitors. The communication features are top-notch, allowing for instant communication between staff and members.
Websites
Between the two companies, only Exercise.com creates custom-branded, SEO-optimized fitness business websites for its users. TeamSideline.com does offer a website, but it is generic in that it looks essentially the same for all users. If you want to stand out as an organization, you can't look the same as your competitors.
We have a top-of-the-line development team ready to create a website built just for your business. Some of the features of our websites include:
Responsive
SEO optimized
Unlimited theme changes
Built to convert visitors to leads
Custom graphic work
Google Certified Partner
Security Features
Keeping your and your members' information safe is one of our top priorities at Exercise.com. While TeamSideline.com does not make specific mention of how it handles security, a few of the Exercise.com software platform's features include:
SSL Secure
Privacy Shield Framework
Google Cloud
Marketing Integrations
TeamSideline.com's website does not mention any marketing integrations other than the ability to connect to social media through the software.
Exercise.com already has a lot included, when it comes to marketing ability, but we recognize that your organization might already have tools that you enjoy and have found successful. We want what is best for your business and, because of this, our software has the ability to integrate with other marketing tools.
Some of our more popular integrations include:
MailChimp
ConstantContact
ConvertKit
Zapier
Google Analytics
Facebook Pixel
Learn more by clicking the button below.
Exercise.com is the best TeamSideline.com alternative.
Workout Software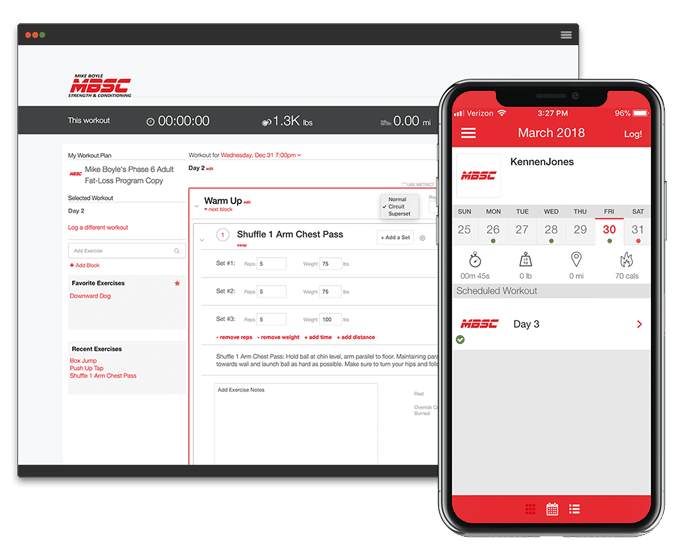 The
workout software
portion of this comparison is exclusive to Exercise.com. While TeamSideline.com could certainly benefit from having software that provides the ability to create sport-specific workouts or training programs, the company has decided not to include these options. Instead, we will focus on these features from the Exercise.com software and how they can be applied to both fitness and sports organizations.
Workout Creator/Logger
Just as personal trainers know how important it is for a client to put work in outside of a training session, coaches would agree that putting in work outside of practice is vital to the growth of their players. Using Exercise.com software, trainers and coaches can design workouts specifically tailored to the individual's goals. Whether it be a weight-loss goal or a faster 40-yard dash time, our software allows you to create a program to achieve the goal.
Progress can only be measured through some form of comparison, and that is where the logging portion of our software comes into play. Clients and athletes can log their workouts as they go so that they are able to see progress along the way.
Our workout creator/logger provides users with endless possibilities for delivering workouts, tips, and encouragement to clients in any scenario, including:
1-1 Training
When a trainer or coach is able to work with someone individually, there is more attention given to that person which means greater potential for growth. With our software, you can add a personal touch to your workouts and help your client or athlete reach his or her fullest potential.
Group Training
Group settings can be very motivated both on the field and in the gym. Our software allows you to create group workouts so that the participants can motivate each other and help guide each other through. The community feel of these workouts can also promote friendly competition which leads to better results.
Online Training
The future is here in the fitness industry and it comes to us in the form of online training. That does not mean that face-to-face training will ever go away, only that virtual options are here and there are people who want to take advantage of them. Exercise.com software gives you the opportunity to create workouts, track your client's progress, and communicate with them.
This portion of our platform could also be very useful for coaches. Sports teams can consist of dozens of different players, so giving individual attention can be difficult and time-consuming. By providing online workouts, coaches can make sure that the athletes get individualized training without having to commit to spending as much time in person.
Exercise Library
Exercise.com provides its users with a pre-built library of exercises and videos that can be used to create workouts for your clients. While this can be a great tool to save time and is certainly worth having as an option, there is something to be said for a more personal touch.
As an added value to your business, Exercise.com provides the opportunity to create custom videos and exercises to add to your library.
Custom Exercises
Clients and athletes feel more of a connection when they see a familiar face in a video or picture of an exercise. It is more motivating because it is still their coach or trainer giving them instructions and it adds a certain level of believability to the training method.
By uploading your own videos, you are keeping the connection strong between you and your client or player. Motivating them, in this way, will help them to reach their goals faster.
TV Workouts
People can already watch demos of exercises through the website and app you receive with Exercise.com software, however, there is an added bonus. These workouts can be cast onto a TV to be used during individual or group workouts. This can be effective whether the trainer or coach is there or not, and it adds a more personal touch by showcasing your staff and going through proper form.
Gym Ecommerce Software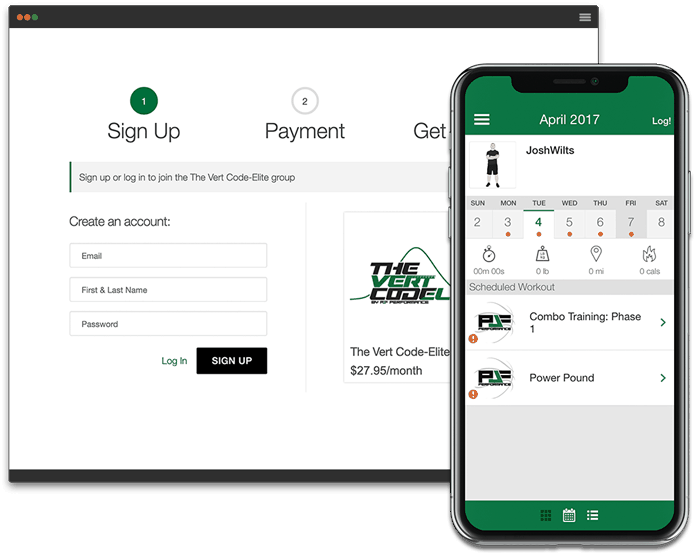 TeamSideline.com does not offer much in the way of ecommerce. The software is set up to handle money mainly in regard to registration or team uniform fees. There is an option to send invoices, but currently, there is not a place for an online store.
The opposite is true for Exercise.com. Not only do we offer secure payment processing, but our gym ecommerce software allows for an online store where you can sell products, workouts, and different types of memberships. Here is a more in-depth look at these features.
Payment Processing
There is not much mention on the TeamSideline.com website of how payments are processed. The company assures customers of low rates on credit card processing and promises that payments will go directly into your bank account, rather than an account through Team Sites. Other than that, there is little information offered.
Exercise.com uses Stripe to securely accept payments for products and services in a secure manner. Our software can collect one-time payments, monthly membership dues, payments for services, or combine all accrued payments into one monthly bill. It can truly be customized to fit the needs of your business.
Sell Products
Selling merchandise can be a great way to help promote your business. It might be clothing items, water bottles, or even nutritional supplements, that you have available to members. Whatever products you choose to have available can be listed in your online store to allow for easy browsing and purchase by your members.
TeamSideline.com does not provide its users with a way to sell products in a store format. Users are only able to send invoices within the software.
Sell Workout Plans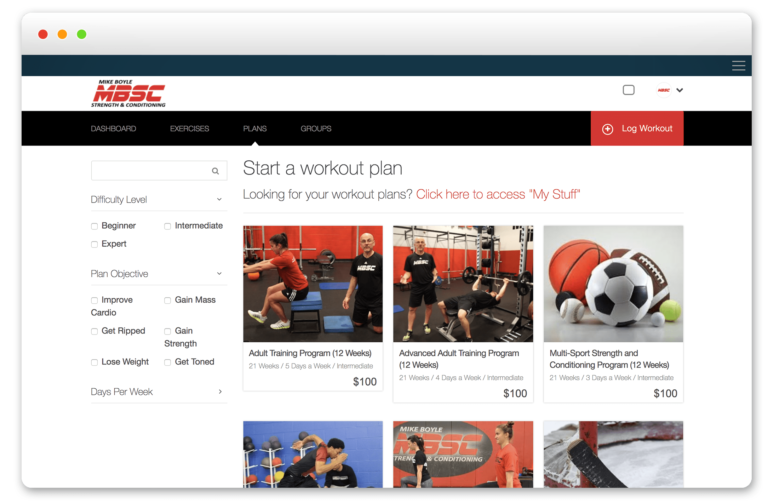 Many people want to have a workout backed by the knowledge of a personal trainer but they don't want the face-to-face session. For individuals in this category, having workout plans available for purchase is a great option. You can make these workouts as specific or broad as you like, but having options costs very little for your business while having the constant potential to earn on one product over and over again.
These workout plans are pre-built, meaning they are not customized to an individual. This means that they can be purchased an unlimited number of times after the initial time the plans take to be created.
Offer Online Workout Memberships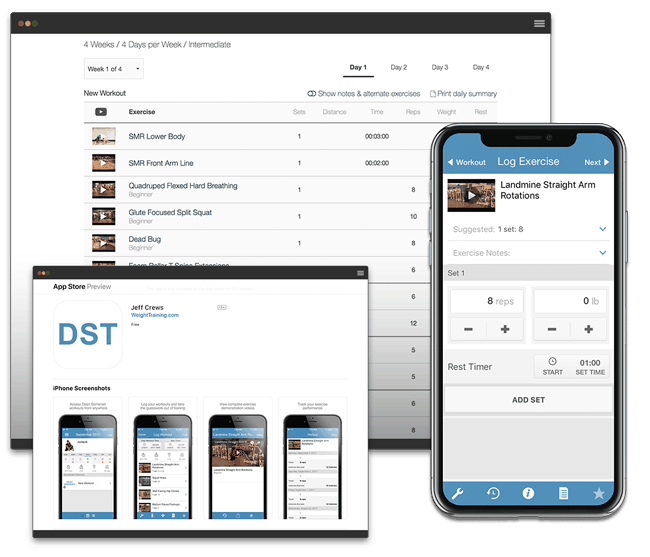 Offering different types of online workout memberships can be especially useful for your business if you already have pre-built workouts available for members and clients. There are many people who want to follow a program but don't know where to start, so selecting a single program to purchase is difficult.
By offering online workout memberships that can be delivered at whatever frequency you choose (daily, weekly, monthly, etc.), you are helping guide your members in their fitness journey. They can be assured that they have a workout crafted by a skilled trainer and that the workout will be delivered to them on time to keep them on track to progress.
Sell Workout Challenges
The friendly competition that is perpetuated within a workout challenge helps promote a sense of community among your members. They can be competing as a team or against each other, but having the same common goal helps them to push each other whether they know it or not.
You can capitalize on this as a business by offering these challenges for a fee. You can decide the parameters of the challenge, but bringing your members together as a community is good for your business from a revenue and promotional standpoint.
Fitness Assessment Software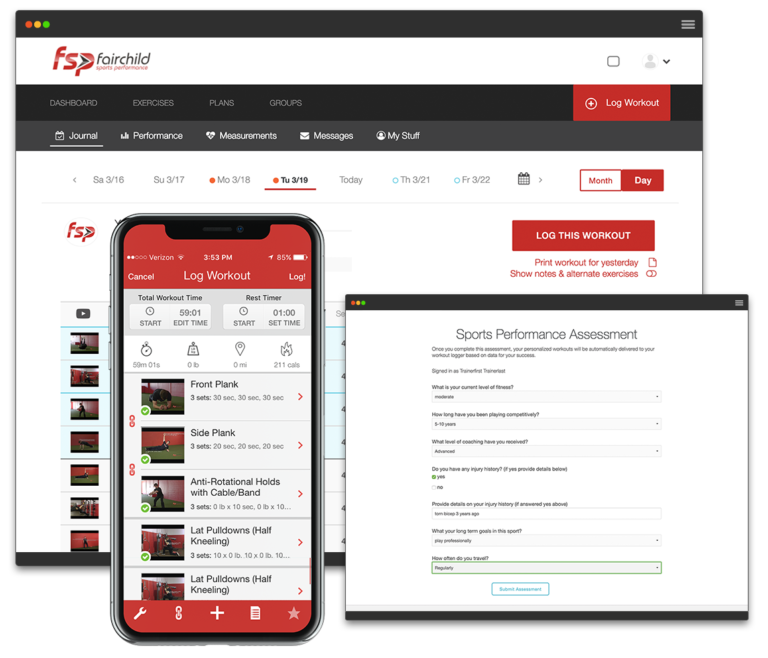 TeamSideline.com is a sports management tool and is therefore not focused on tracking the individual progress of players or athletes. It is focused mainly on administrative tasks. While this is certainly up to the company, this is a key piece missing that could help athletes develop and leagues expand.
By using Exercise.com software, you can still accomplish all of the administrative tasks you need to but also help your players progress by giving them assessments and tracking their progress. Here are a few ways our fitness assessment software can help.
Assessments
Establishing a baseline at the start of training, whether it's for fitness or sport, is important for being able to track progress. You can't know how far you've come unless you know where you started. Exercise.com software gives users the ability to create custom assessments for clients.
Many gyms use a generic form of fitness assessment for every person who walks in the door. This generic assessment might be applicable to some people but, for others, it is completely worthless. For instance, testing a bodybuilder on a one-mile run test would not provide any applicable information for that individual whose focus is on strength and muscle gain.
With Exercise.com, you can make the assessments personal. This can help you promote your services and give your members a more accurate account of their current fitness standing.
Performance & Measurement Reports
Once you have a system in place to record a baseline, it is important to follow up with future data so that you can keep your clients engaged by showing them their progress. With Exercise.com software, you can automate the delivery of assessment reminders, progress reports, progress photos, and other meaningful data that shows they are making a lasting change.
When clients can see a visual representation of how their training is working, they are likely to continue utilizing your services. Showing them their progress will motivate them on a personal level, which is good for the revenue of your business.
Nutrition
Exercise.com realizes the vital role that nutrition takes in any health and wellness goal. While the software is built for fitness, we do include a nutrition tracker to help clients stay on the right course. Trainers are able to check their clients' logs, communicate with clients, and give advice on nutrition within their scope of practice.
TeamSideline.com Pricing
TeamSideline.com does not specifically list pricing tiers on its website, however, the use of the term "starting at" would imply that there is the possibility for additional costs along the way. For now, the following table simply lists the minimum starting price as well as a list of features.
| Starting Price | $499.00/year |
| --- | --- |
| Features | Unlimited phone/email customer support |
| | Team Sites app |
| | Email and text communications |
| | Youth, adult, or team registration |
| | Website graphic support |
| | Integrated game scheduling |
| | No transaction fees |
| | No sponsors |
TeamSideline.com Alternatives
Listed below is a table featuring the pricing structures for four of TeamSideline.com's competitors. These prices are accurate at the time of writing this article.
| Competitor | Minimum Starting Price | Maximum Starting Price |
| --- | --- | --- |
| TeamSnap | $9.99/mon | $17.99/mon |
| Jersey Watch | $29.00/mon | $59.00/mon |
| SportsEngine | $69.00/mon | N/A |
| Engage Sports | $149.00/mon | N/A |
The Bottom Line: Pros and Cons
We hope that by this point in the article we've given you enough information to make an informed decision as to the best software option for your business. The two companies target slightly different markets, but we also hope we've made it clear that Exercise.com software can work perfectly for sports organization management and even provide some features that TeamSideline.com does not.
Still, the decision is ultimately yours. Let's take one final look at some of the main points within our comparison.
TeamSideline.com Cons
TeamSideline.com works adequately for leagues looking for a generic software to manage their organization. For those looking to be more successful, however, the lack of customizable options is a problem. Leagues or organizations looking to grow are held back by the fact that websites and apps cannot be customized and that there are no marketing integrations featured within the software.
Additionally, the software is missing out on the potential for athlete development by not including a platform for individualized training. Athletes greatly benefit from a plan created specifically for them, but they would need to meet a coach in person in order to accomplish this.
For a software company whose touts itself as being comprehensive, there seems to be more than one feature lacking that could lead to greater potential for the platform.
Exercise.com Pros
The most outstanding quality of the Exercise.com software is the fact that it is fully customizable to your needs. For this reason, it can provide high-quality service in the sports management industry even though it is built for gyms and other fitness businesses. You can post league schedules, practice schedules, player rosters, volunteer schedules, and everything else that TeamSideline.com can do, but we can provide you with extra options.
Our workout creator allows you to provide training for your athletes even when they aren't practicing. Our workout logger gives players a place to track their progress so they can see what they need to work on and where they are getting better.
The ecommerce portion of our software is also a major benefit for sports management. Parents and other fans always want to purchase gear to support their player and having an online shop is a great way to provide income for your league and give easy access for people to support your team.
At the end of the day, Exercise.com can be whatever you need it to be to support your organization. We are there for you, with our top-rated development team, to create something just for you and your organization. We will set you up to succeed so that you can spend less time at a computer and more time enjoying the game.
We hope that you can see how Exercise.com can benefit your sports organization with custom software and exceptional customer service.
What are the biggest needs of your organization?
If you want to see how our business management software can benefit your organization, request a demo now.