Exercise.com: Your TeamUnify Alternative
| Features | | TeamUnify |
| --- | --- | --- |
| Nutrition | | |
| Dedicated Account Manager | | |
| Dedicated Zapier Support | | |
| Client Automation | | |
| Performance & Measurement Reports | | |
| TV Workouts | | |
| Offer Online Workout Memberships | | |
| Run Workout Challenges | | |
| Sell Workout Plans | | |
| Group Training | | |
| 1-1 Training | | |
| Custom Exercises | | |
| Websites | | |
| Marketing Integrations | | |
| Custom Branded | | |
| iOS & Android Apps | | |
| Online Training | | |
| Sell Products | | |
| Payment Processing | | |
| Gym / Facility Management | | |
| Exercise Library | | |
| Assessments | | |
| Client / Class Scheduling | | |
| Workout Creator / Logger | | |
| Business Dashboard Reports | | |
Why Choose Exercise.com?
Here are five reasons why fitness professionals use Exercise.com vs. TeamUnify.
Fitness Business Management Software to Run Your Business
Unlike TeamUnify, Exercise.com software is specifically tailored to fitness businesses – making it easy to organize and grow your fitness business with client and class scheduling, check-ins, and billing — all from your custom-branded apps.
Fitness Business Management Software to Run Your Business
Unlike TeamUnify, Exercise.com software is specifically tailored to fitness businesses – making it easy to organize and grow your fitness business with client and class scheduling, check-ins, and billing — all from your custom-branded apps.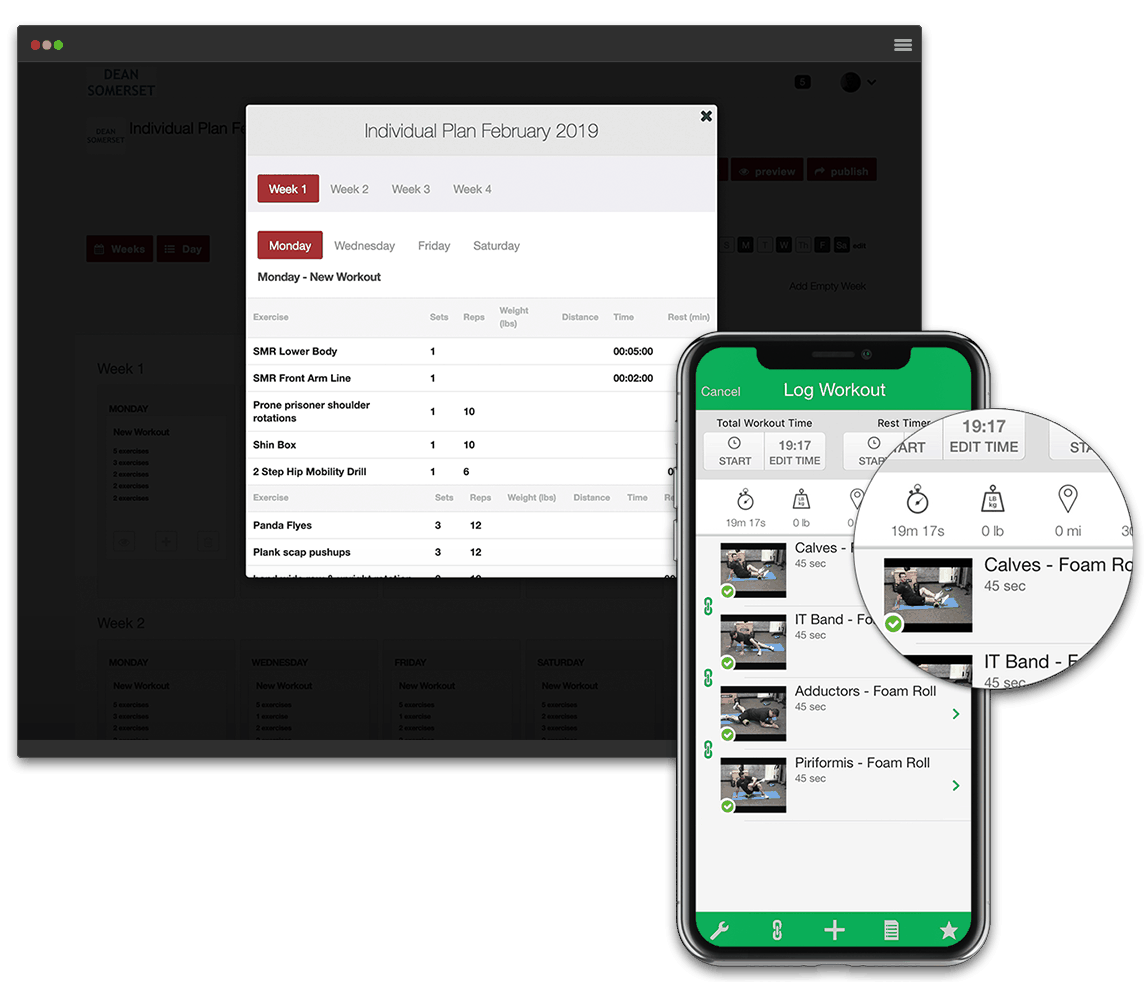 Workout Software to Power Your Training
TeamUnify's workout software does not include an exercise library. The Exercise.com workout plan creator and exercise manager provide flexible solutions to save you time creating workouts with built-in integrations, tools, and more.
Ecommerce Software to Increase Revenue
Fitness professionals cannot use TeamUnify's ecommerce features to sell online memberships, workout challenges, or single workout plans. Exercise.com, however, has full ecommerce capabilities allowing trainers to sell single workout plans, offer automated workout memberships, run workout challenges, and deliver individual training.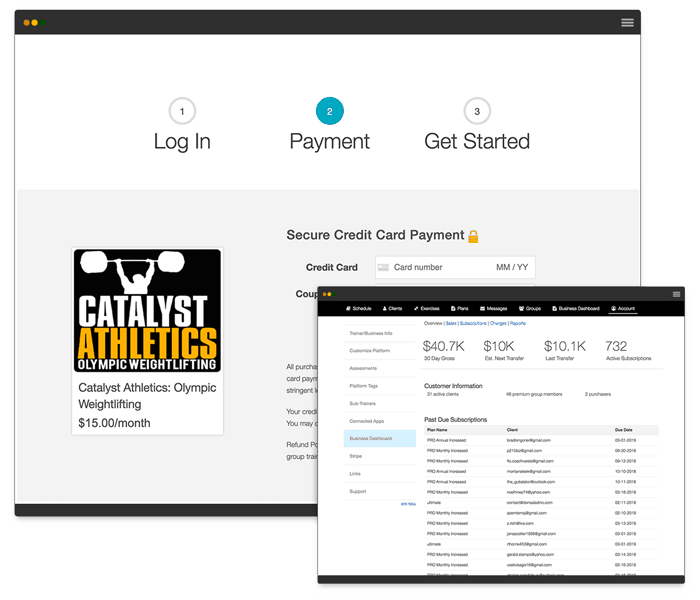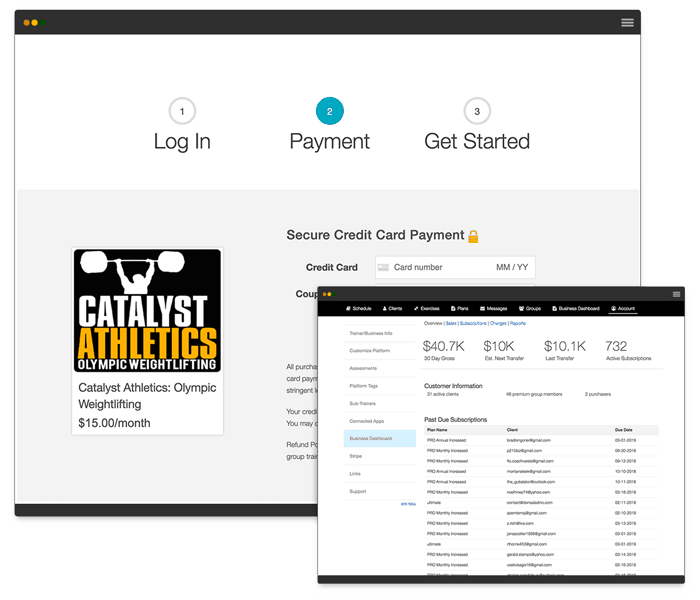 Ecommerce Software to Increase Revenue
Fitness professionals cannot use TeamUnify's ecommerce features to sell online memberships, workout challenges, or single workout plans. Exercise.com, however, has full ecommerce capabilities allowing trainers to sell single workout plans, offer automated workout memberships, run workout challenges, and deliver individual training.
Assessment Software to Improve Client Engagement and Retention
TeamUnify lacks assessment software, but that's not the case with Exercise.com. Take clients through personalized assessments to deliver custom workouts for their individual needs – providing massive growth potential and saved time.
Stand Out With Your Own Custom-branded Apps
TeamUnify's mobile app and websites focus on swim team management and do not have customized options for fitness businesses. Exercise.com, however, offers fully-customized apps built to make your life easier by providing your clients with a unified scheduling and workout experience featuring customizable exercises with your brand displayed front-and-center.
Stand Out With Your Own Custom-branded Apps
TeamUnify's mobile app and websites focus on swim team management and do not have customized options for fitness businesses. Exercise.com, however, offers fully-customized apps built to make your life easier by providing your clients with a unified scheduling and workout experience featuring customizable exercises with your brand displayed front-and-center.
If you're ready to get started with an easy-to-navigate, all-in-one fitness software, designed to fuel your business, request a demo with Exercise.com today.
And, if you want to see how TeamUnify's additional features stack up to Exercise.com software features, check out our in-depth guide below.
What is TeamUnify?
TeamUnify LLC is a software program that is specifically designed for swimming.
The TeamUnify swim clubs platform was originally created by a parent of a swimmer who wanted to find a solution for better tracking of results, event management, and communication. TeamUnify's software is used for managing members, scheduling lessons, billing, and communication.
While these functions may offer help for businesses that are designed only for swimming, there is a gaping hole for fitness businesses that include other services like personal training, group fitness, spa services, and/or other offerings. A common complaint is that TeamUnify is down at times, resulting in an inability to log into the system:
"It was difficult to get anyone to take this problem seriously despite the fact that we had a database we could not use for several weeks and we have lost most of our attendance data on our swimmers." (TeamUnify Capterra Review)
The most prominent difference between TeamUnify and Exercise.com is fairly obvious. While TeamUnify is built only for swimming, Exercise.com is able to encompass a much larger range of services. This gives fitness businesses, with any number of different focuses, the ability to use the software as an all-in-one medium for their needs.
Because TeamUnify is built only for swimming, businesses who choose to utilize their software, but also offer other services, will have to have another software platform to accommodate everything they offer. This is not the case with Exercise.com.
Our software can be used for many of the same functions as TeamUnify but has a more broad range of other functions to cater to a more diverse group of fitness businesses.
Moving forward in this article, we will be taking a more specific look at individual aspects of both software platforms. Unless otherwise stated, all images and reviews below are of/about the Exercise.com All-In-One Fitness Business Management software platform.
Fitness Business Management Software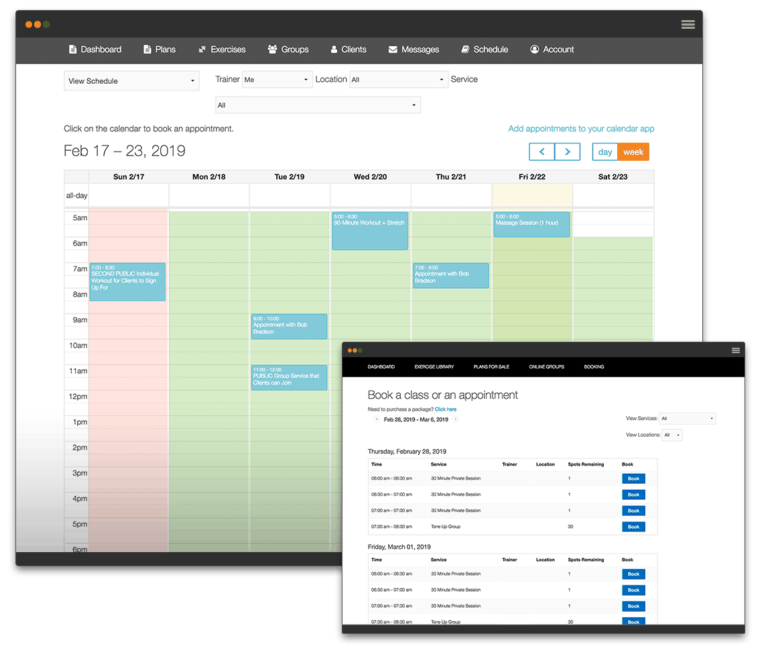 Efficiency and functionality are two of the most important components you should look for in a software platform to manage your fitness business. You want a program that is easy to use for your employees, meets the needs of your facility, meets the needs of the services you offer, and helps streamline the day-to-day running of your business. Exercise.com checks all of these boxes.
The fitness business management software platform allows you to easily schedule appointments or classes, take payments, customize your website, and connect with your members to keep them engaged in your business.
When you have a program that has every feature you need, because it can be customized for you, there is constant potential for your business to grow. You never have to worry about how you will accommodate new members or deal with additional services you want to offer. The Exercise.com software can handle whatever you decide to throw at it and does so in an efficient and easy-to-use manner.
Client/Class Scheduling
For TeamUnify, lesson and event scheduling would be a more appropriate name for this category. Managers or instructors are able to schedule private lessons, group lessons, or events on a calendar. Members who would-be parents, athletes, or administrators, would then be able to view these bookings on a mobile application.
Exercise.com has these same features but they can be used for a broader range of services than swimming alone. The platform allows for the scheduling of personal training sessions and group workouts and these appointments can also be categorized by location and instructor.
This means that, while Exercise.com was not specifically built for swimming, the software could still be used to schedule lessons, make a schedule for aquatics classes, or put together a calendar of events. This is especially useful if you have a fitness-based facility that also has an aquatics program.
Gym/Facility Management
Businesses cannot be sustained unless they are profitable. While this may sound like an obvious statement, it is an important consideration when choosing software to help manage your company. Both TeamUnify and Exercise.com offer services to help your business stay on the positive side of cash flow.
TeamUnify has the capability for reports such as transactions and payment summaries.
Exercise.com not only has everything you need to manage revenue, but it also provides detailed reports on whatever you might choose to look at to grow your business.
For example, you may want to perform an evaluation of your group fitness schedule. After running a report with your Exercise.com software, you notice that nearly every cycling class on the calendar is consistently full, while pilates classes are struggling to draw more than a few members. With this information, you might opt to replace a few pilates classes with cycling. This helps increase class attendance, appeals to more members, and ultimately increases your revenue.
Business Dashboard Reports
TeamUnify does have reporting capabilities but they lack an intuitive dashboard that presents your businesss' analytics and operations.
With Exercise.com, as soon as you enter your business dashboard, information such as your schedule for the day, recent clients, messages, and business reports are shown to you and can be customized to your preferred presentation.
Exercise.com's business dashboard reports are easily customizable, giving you free-range to how you want to analyze your business or filter information. Whether you want to run custom reports on your revenue, staff, or clients, Exercise.com gives you many options to analyze how your business is doing.
Client Automation
Keeping in touch with your members and clients is important for retention. TeamUnify and Exercise.com both offer ways to communicate within the platform. TeamUnify mainly highlights its automation features in billing, but Exercise.com has ability to do that and much more. Here are a few examples:
Automatic Emails and Texts/Other Automatic Features
Automate Workout Delivery
Automate Resource Delivery
Automate Assessment Delivery
Automate Reminders/Alerts via app, text, and email
Dedicated Zapier Support
At Exercise.com, we want your business to run as smoothly as possible between all the functions you need to use. Part of achieving this goal means offering integrations between our software and other tools you may already be successfully using. While there is an endless number of integrations already built into our software, we want to make sure that all of your tools are available to you.
For this reason, we have partnered with Zapier. This partnership provides a way for applications, that do not have a natural integration, to be used together. With only a few clicks, you can link apps you already use, share information between them, and build faster processes so you can get more done. An important aspect of this partnership is the dedicated Zapier support through every step of the process. With over 2,000 apps available to choose from, you know your company's website will be efficient and user-friendly.
Dedicated Account Manager
Customer service is extremely important to us at Exercise.com, which is why we provide you with a dedicated account manager throughout the entirety of your partnership with us. We truly view your business as a partnership and your account manager is committed to providing you with the best possible service.
Any changes you ever want to make to your software will quickly and efficiently be handled by your account manager. You want to grow your business, and we believe our software can help. As you grow, your needs may change and your account manager will help you adapt.
You might end up wanting to add merchandise, services, or automation to the software you customized at the start. This is never a problem. Our team works for you and we are dedicated to making your fitness business successful.
Customized Software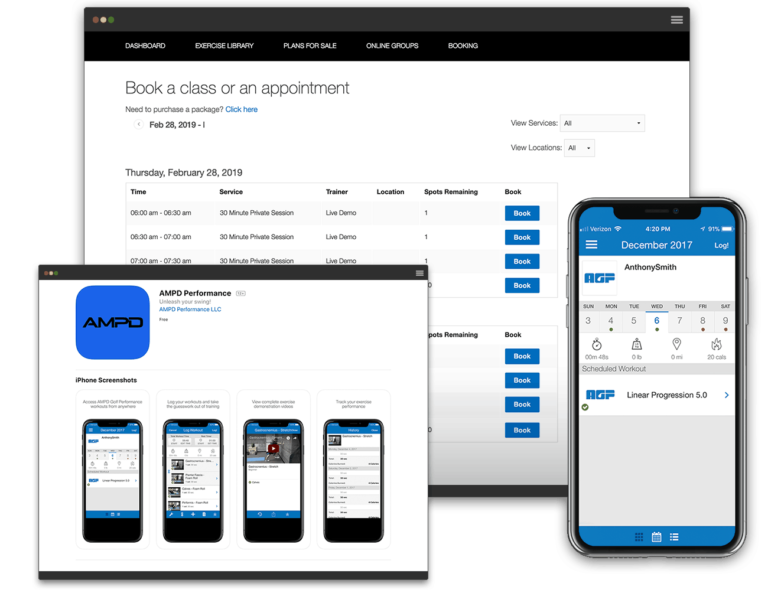 You want your software to be completely unique to your fitness business and the services you offer. That is why Exercise.com provides you with customization at no added cost. This means no additional headaches or worries because you don't have to worry about making a decision on whether or not to pay extra money for this service.
Below, we will get into more detail on how TeamUnify stacks up in customization capabilities.
Custom-Branded
In addition to a customized software function, Exercise.com allows you to put your brand at the forefront of your website and mobile app. There is no additional fee for this service. Everything about your experience with Exercise.com is included in one low price. TeamUnify does not offer full custom branding of their website or app, only the ability to change colors and themes.
iOS & Android Apps
Exercise.com and TeamUnfiy both have an app available for iOS and Android. However, as stated above, only Exercise.com provides you with a fully custom-branded fitness trainer app.
Websites
TeamUnify does not build custom websites for its customers. They do provide a TeamUnify website platform with templates to choose from but the responsibility for building and maintaining the site falls on you and your business.
Exercise.com, on the other hand, does the work for you. Once you have decided on the customized features you would like on your site, our highly rated development team goes to work. Whatever you want or need, as a business owner, will be provided for you by our team. We want to create the best experience possible for you and your customers.
Here are a few of the features included in our customized, SEO-optimized fitness business websites:
Responsive
Built to convert visitors to leads
Google Certified Partner
Security Features
Exercise.com is committed to keeping your and your customers' information safe at all times. We have added features to our software to make sure that security is never an issue for your business. There is no information on TeamUnify's website to indicate any particular security measures. Here are a few of the security features provided by Exercise.com:
SSL Secure
Privacy Shield Framework
Google Cloud
Marketing Integrations
Growing your business means promoting your services. Marketing integrations are a helpful tool to get this done. TeamUnify does not offer marketing integrations, other than social media platforms. The software appears to be based on serving the needs of a specific swimming team or program rather than the growth of a business.
Exercise.com comes with endless possibilities for growth due to the integrations we offer with marketing tools. These customized integrations allow you to advertise, engage, and promote your business to facilitate both membership growth and retention. These fast and easy features help develop a culture that leads to automated business growth. Some of our more popular integrations include:
MailChimp
ConstantContact
ConvertKit
Zapier
Google Analytics
Facebook Pixel
Learn more by clicking the button below.
Exercise.com is the best TeamUnify alternative.
Workout Software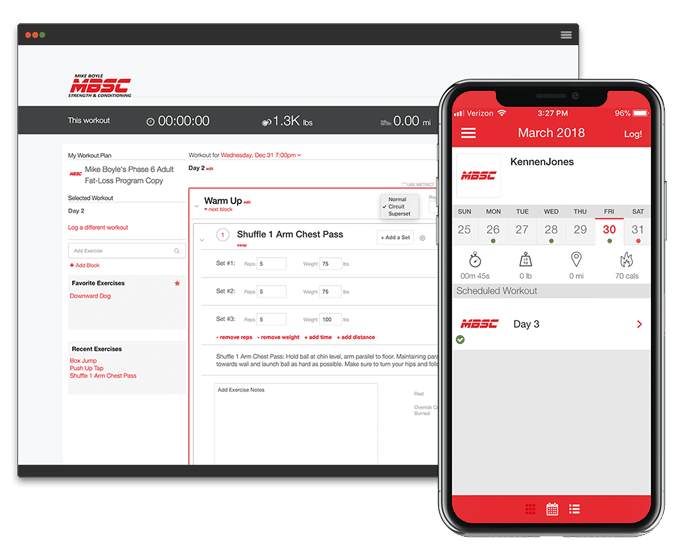 Client retention, in the health and fitness industry, is based on showing your clients that they are on a lifelong journey rather than a short-term sprint. You want to be able to connect with them in a variety of ways to help them become successful while also providing income for your business.
TeamUnify does not offer a workout portion within its software. So, rather than comparing this element, we will tell you what Exercise.com has to offer.
Workout Creator/Logger
You want to make workout creation as simple as possible to save time and money. TeamUnify has more of a curriculum creation system and does not expand further in this area other than the ability to create a curriculum name and description. Exercise.com has a built-in workout software built for personal trainers that allows you to design both custom and pre-built workouts, save them, and make them available to your members. This helps keep engagement high, which leads to increased use of your services.
It is also important, for the success of your clients, to be able to track progress. This is where the logging portion of the software plays a role. Clients can log their weights, repetitions, workout frequency, and more in order to keep track of where they started and how far they've come. Our workout creator/logger provides users with endless possibilities for delivering workouts, tips, and encouragement to clients in any scenario, including:
1-on-1 Training
One-on-one personal training is a staple service of most fitness businesses. Using our software, trainers can connect with their clients on an individual level by scheduling workouts, communicating, and tracking progress. Personal training requires a connection between trainer and client, and our software helps facilitate that connection.
Group Training
Many times, a group of people with similar goals will come together to pursue fitness training. The Exercise.com software platform is just as accessible for groups as it is for individuals. Workouts can be created, scheduled, and tracked with ease.
Online Training
In an increasingly digital world, the popularity of online training is on the rise. With TeamUnify you can possibly work around their system to offer online training, but their software platform does not have a stern focus on online training features. Exercise.com does not want you to fall behind on this trend and, because of this, our software allows you to send workouts to anyone, anywhere, and anytime.
Some clients are unable to make it in during normal personal or group training hours, so this online feature allows you to provide them with a billable service that still helps them reach their goals and showcases your abilities as a business.
Exercise Library
Again, TeamUnify does not offer a specific workout platform in their software, so it would make sense that they also do not have an exercise library. This is not the case with Exercise.com. While many software companies provide fitness businesses with pre-built workouts that can be sent to clients, Exercise.com offers an opportunity to design your library how you want.
Rather than miss out on the opportunity to connect with your clients by giving them a generic workout, you can engage your followers with workouts designed specifically for them.
Custom Exercises
A video of an exercise that features a random person who doesn't work for your business lacks a personal touch that could provide value to your clients. With Exercise.com, you can customize and upload videos of the exercises you want to use for your clients. Seeing one of your trainers in the video brings a more personal and connected feel for your clients, which will help keep them engaged.
TV Workouts
In addition to a client's ability to watch exercise videos they've been sent for a workout plan, your facility has the ability to cast these same videos onto a TV during a personal or group training session. This gives your clients the ability to see a demonstration of the exercise and also adds a personal touch to their workout.
Gym Ecommerce Software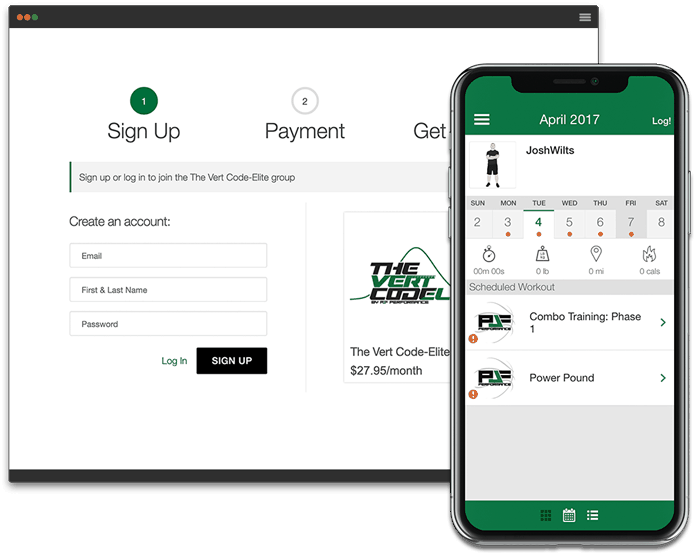 TeamUnify does provide its customers with the ability to take payments and send invoices through the software. These payments and invoices, however, are only from lesson or membership fees. There is no ability to sell a single product or other merchandise. Exercise.com has gym ecommerce software that lets you customize the way you accept payments.
Your fitness business may sell products such as water bottles or tee shirts in addition to the services you provide. Our software is capable of taking whatever type of payment you need for your business.
Payment Processing
TeamUnify states to offer a fully automated and flexible payment processing system for credit cards and ACH/bank drafts.
Exercise.com utilizes Stripe for payment processing. Using Stripe, you can accept single payments for an item or service, send monthly bills and invoices, sell packages of products or services, or combine any number of these into a single monthly bill for your customers. This is another area where Exercise.com's customization offerings make complete sense for the needs of your fitness business.
Sell Products
Between Exercise.com and TeamUnify, Exercise.com is the only software that provides you with e-commerce capabilities to sell products online. But, that is not all. Exercise.com goes the extra mile and provides users with the ability to sell extras like the items listed below.
Sell Workout Plans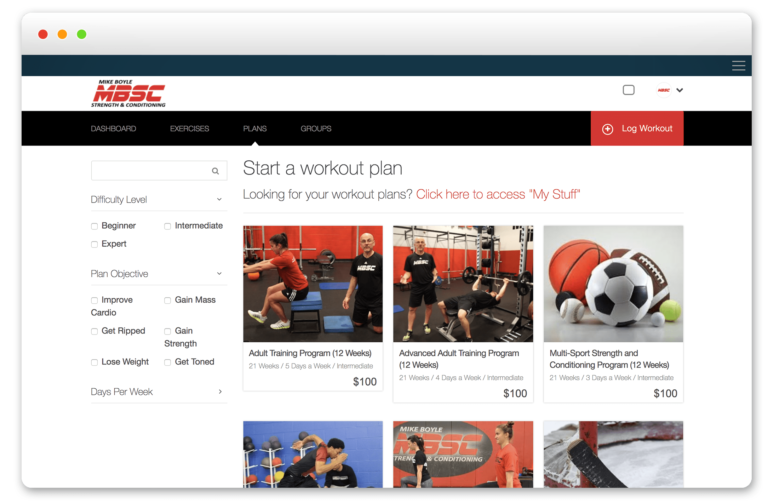 Personal training is a valuable service for a fitness business, but it might not be suitable for every member. For a variety of reasons, from price to comfort level, there is likely to be a group of your customers that choose not to utilize personal training services. In these situations, it is very beneficial for your business to find another billable service to provide these members.
Selling workout plans can meet this need. With the Exercise.com software platform, you can provide customized or pre-built workouts for members of your gym to purchase. This is mutually beneficial because your members are able to utilize a workout created by a professional and your business is able to charge for this service.
There are endless possibilities such as a workout of the day, monthly training programs, or specific targetted workouts like upper body or core. You have the freedom to create whatever type of workout you want to sell. Your business benefits from the added revenue and your members benefit from the quality workouts they are purchasing.
Offer Online Workout Memberships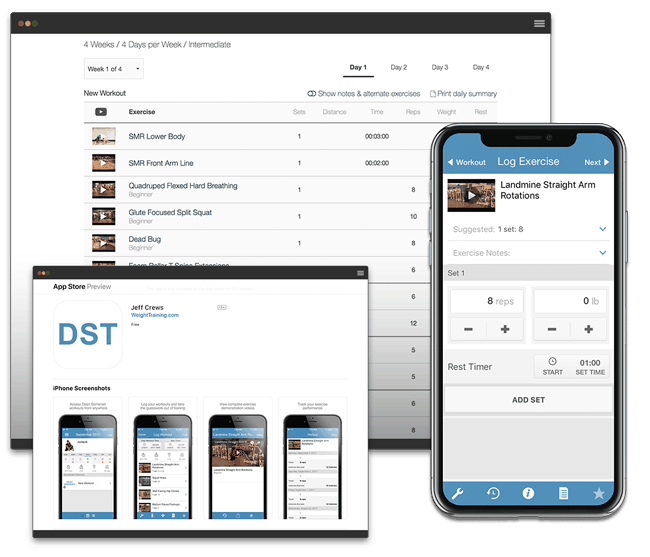 Some clients who do not want a trainer but do want a customized program are willing to pay a premium price, but that income can be partially offset by the time it takes to make sure the workout is delivered in a timely manner.
Exercise.com eliminates this problem through automated workout delivery. The trainer responsible for creating a client's program is able to create the entire plan in one sitting and then schedule automated delivery for when the client should receive his or her workout.
Getting everything done in one shot is much more efficient and it allows your trainers to take on more clients. All they have to do, once workouts are created and sent, is to monitor the progress and success their clients are having.
Sell Workout Challenges
Word of mouth is one of the most powerful and effective marketing tools available. You want your members to be talking with others about your fitness business and one way to do this is by selling workout challenges. When people come together for a specific goal, even in a competitive nature, there is a sense of community being built.
Members connect with each other throughout the challenge, and they also share their success with friends and family members who may not yet be a member of your facility. One of your goals should be to deliver high-quality services that make your members want to market for you. Selling workout challenges, which promote camaraderie and community, is a great way to accomplish this.
Fitness Assessments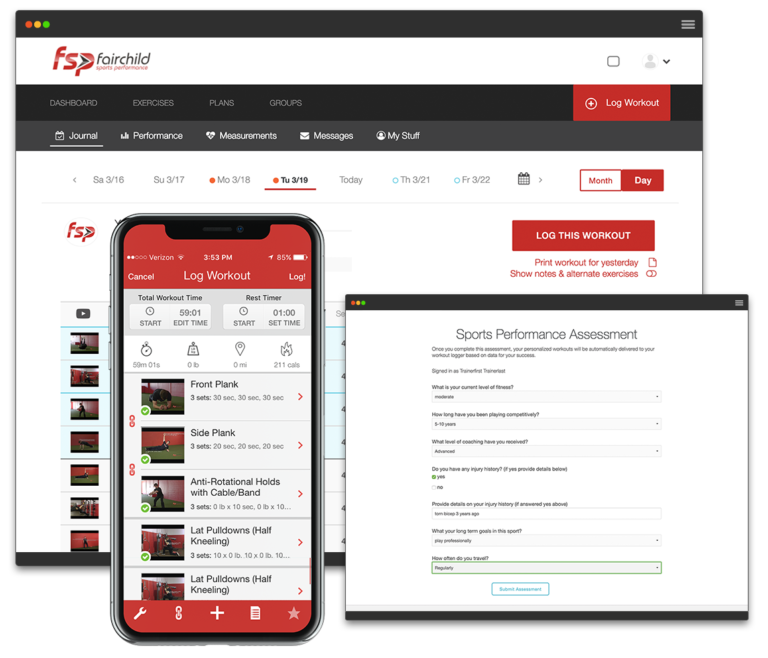 Part of being a great trainer or fitness business owner is establishing a baseline for your clients and then creating a way for them to reach their goals and establish a new baseline. This baseline is normally established through assessments. These assessments allow you to:
Create leads and turn them into clients
Measure progress and injuries
Motivate your clients as they progress
Show potential clients how your services can provide benefit to them
TeamUnify does not have a portion of their software that provides these functions which is unfortunate. For a swim team, the TeamUnify software will not be enough for a fully immersive training and management experience due to its lack of assessment software.
With Exercise.com fitness assessment software, however, you are able to customize every aspect of your assessments to fit the needs of your clients and promote the mission of your business.
Assessments
Providing customized assessments is a huge value to your business and your clients. So many fitness businesses offer a generic assessment consisting of tests like push-ups, planks, and wall-sits. These tests, however, may not even be applicable to the majority of new members who walk in your door.
It is much more beneficial for new members to complete an assessment that is based on their individual goals. A tennis player and a competitive powerlifter, for example, are unlikely to benefit from the same assessment because they need to track different elements in order to see progress. Exercise.com allows you to set up an assessment for every individual member.
Performance & Measurement Reports
Keeping your clients engaged and focused on their goals is important for retaining them. After all, no business wants to lose a client. By giving your clients a performance report where they can see their progress pictures, statistics, and starting point you are showing them how your services have helped them toward their goal.
When a client can see a visual representation of their progress, they are not only going to continue utilizing your services but potentially think of adding extras to take their journey to the next level. TeamUnify does not provide performance and measurement reports. However, there is the TeamUnify Touchpad that delivers live swim meet results to any browser.
Nutrition
Any professional in the fitness industry would agree that nutrition is an equally important component of successfully achieving a goal. That is why Exercise.com provides a way for clients to track their daily intake and for trainers to view their client's entries. This mutual accountability paves the way for your clients to be successful and your business to shine because of it.
TeamUnify Software Pricing
How much does TeamUnify cost?
TeamUnify uses a subscription-based pricing model for its services. Their basic plan is $99.95 a month while their Pro plan is $149.90 a month. If you want a seasonal option, you would need to contact them to receive a price quote.
TeamUnify Alternatives
Below is a list of alternatives to the TeamUnify software.
Because TeamUnify is specifically designed for swimming programs, there are not many direct competitors for that market (TeamUnify vs Swimtopia being the exception). However, the alternatives listed below have software that is capable of many of the same functions provided by TeamUnify, and that is why they've been chosen for this comparison.
| Competitor | Minimum Base Price | Maximum Base Price |
| --- | --- | --- |
| GoMotion | $295/mon | N/A |
| Sports Engine | $69/mon | N/A |
| Jersey Watch | $29/mon | $59/mon |
| Wooter | Free | $99/mon |
The Bottom Line: Pros and Cons
The choice for a software company that fits the needs of your fitness business is ultimately up to you. No one knows the needs and future goals of your business better than you do. Our goal is to give you all of the information you need so that you can decide how the needs and goals of your business integrate with the functions of fitness business software options. We believe that Exercise.com can help your business in whatever way you need.
Let's take one final look at TeamUnify and Exercise.com
TeamUnify Cons
TeamUnify is a software platform specifically designed for swimming and aquatics programs. While the functionality of their software does hit many of the needs for its target audience, it does not provide for facilities that have aquatics programs but also offer other services.
Whereas Exercise.com software could be used for most of the functions offered by TeamUnify, it does not work the other way. TeamUnify does not have the capabilities for personal training, group training, spa services, or online merchandise sales.
For TeamUnify, swim clubs are the primary niche. Overall, TeamUnify is so specific with their offering that they take themselves out of the running for the large market of facilities that offer both aquatic and fitness services.
Exercise.com Pros
Exercise.com has positioned itself to meet every need your business has through the customization it offers. Rather than a generic-looking app and website, you can customize to project your mission and brand for all to see.
When new members join your facility, you can provide them with custom assessments to address their unique goals and then promote your services accordingly. These services can include personal and group training, but you can also customize other offerings to include online training, individual workout sales, and workout challenges.
Members who have become clients can then track their progress and view their workouts within your customized app. They can also view any appointments they've scheduled with you or classes that you have added to your own schedule. Exercise.com offers everything you need and provides you with a dedicated account manager to be there for you as your business grows.
We are there to ensure your success every step of the way. Now that we've gone over details and provided you with information on our product, we hope we have successfully shown you the ways that Exercise.com can provide benefit and value for your business. We are committed to providing you with everything you need to be successful right now and being there for you as you grow into the future.
What features are most important, to you, for the current and future state of your fitness business?
If you're ready for customized software that can help grow and manage your fitness business, request a demo today.