Get the Basics...
 Some homeowners go above and beyond in order to create home gyms that are nothing short of extravagant.
It's possible for you to have a home gym without spending a fortune.
Stick to the basics and you can create a home gym that helps you reach your goals, even on a budget.
Home gyms are rising in popularity.
With so many great equipment options now being offered to the public, a lot of gym-goers are trading their gym memberships for home-based workouts. Cutting down on membership costs, commute times, and having the ability to set your own rules are all enticing reasons for building a home gym.
While many outfit their gyms with the basic necessities, there are some that go above and beyond in order to create home gyms that are nothing short of extravagant.
For a home gym workout routine, go PRO today.
Ultimate, Extravagant, Upper-Class Home Gyms
These spaces are a step above the rest and are fully customized with ergonomics in mind and ambient lighting. Additional features include:
Weight racks
His-and-hers treadmills
Saunas
Rock-climbing wall
Basketball court
Built-in aquariums
Jacuzzi with light therapy, aromatherapy, and a built-in stereo
Fully-stocked wet bar with health drinks, refrigerator, microwave, adjustable stools, granite countertops, and custom cabinetry
His-and-hers showers with dressing rooms
High-end audio-visual electronics (wall-mounted big screen TV, surround sound, 6-disc CD changers, Wi-Fi capability)
Architectural features, such as windows that let in the daylight, but become opaque for privacy at the touch of a button and moveable glass walls that allow you to connect with nature
The "Architect of Anatomy"
The renowned "Architect of Anatomy," Mark Harigian, of Harigian Fitness, Inc., designs and executes the most amazing home gym spaces for the likes of Bill Gates, Madonna, Scott Bakula, and Shaquille O'Neal. Also available as a personal trainer and motivational speaker, Harigian is probably best known for his custom "workout environments."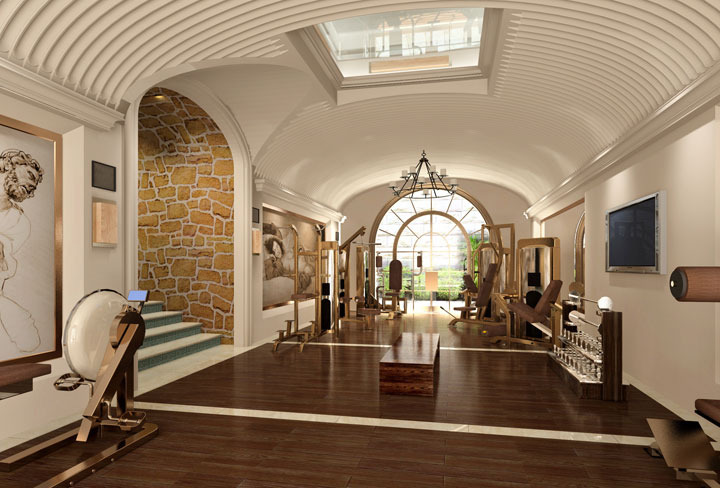 These Taj Mahals of the exercise world are outfitted with laser-etched stainless steel equipment, made at Harigian's own factory, to look great and work seamlessly. This is all state-of-the-art and top-of-the-line, but to get one built, you'll need to write a check with a-lot-of-zeroes.
His website offers a glimpse into the home gyms of the celebrities for whom he has created one-of-a-kind, custom workout environments. Check out the owners of  five of the most extravagant home gyms below:
1. Kate Moss – The Best of Both Worlds
Moss doled out a pretty penny for her dreamy workout space and sauna, as part of a 2.5 million pound remodeling project for her old mansion. If you love old luxurious mansions but also love to workout in the comfort of your own home, why not have the best of both worlds?
2. Tiger Woods – Privacy Is Paramount
Tiger Woods has worked out the nagging problem of finding space in his $60 million-dollar mansion for his home gym, by simply having a separate, 9,500 square foot building built to his specs, to house his specialized golf workout plan and get his mind off of his problems. It comes complete with an oxygen therapy room, too!
3. The Jewel of Maui – Vacation Is No Excuse to Skip a Workout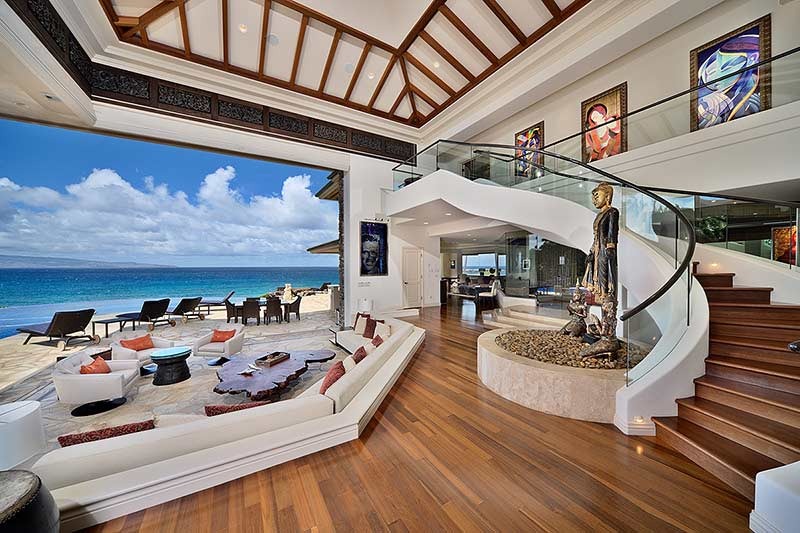 Available for rental, the Jewel of Maui is a fabulous Hawaiian mansion that has every possible amenity, and its workout room has something that very few other extravagant home gyms have, which is a view of the Pacific Ocean, set in the midst of paradise. While your next beach vacation may not involve staying in a luxury mansion, at least you can show off the results of your beach body workout plan for all to see.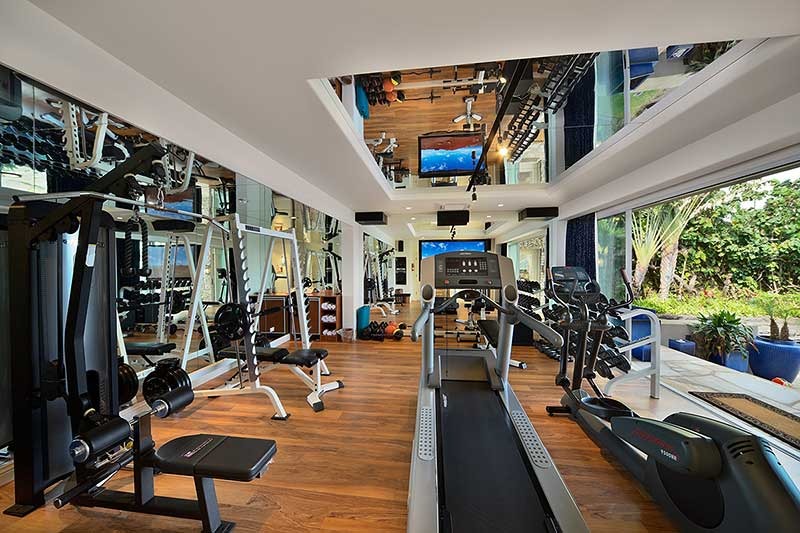 All of this comes at a price of $6,750 to $8,250 per night.
Get More Out of Your Exercises. Go PRO!
Sign Up
4. Madonna – Raising the Roof (literally)
Madonna bought a Manhattan townhouse in 2009 after her split from Guy Ritchie and built a new top floor to the mansion to house a swanky new home gym. The house cost, reportedly, a cool $40 million, and this new ultimate home gym will set her back another $2 million. For two hours a day, she and her personal trainer, Tracy Anderson, will be working out on those three-pound weights and putting Anderson's own invention called the "hybrid body reformer" to very good use.
As Madge herself has said, "If I have to go out on stage and, you know, jump around in a pair of hot pants, I better look good; and when I perform, I'm like an athlete, and I have to be in good shape." That comes at a price, but she can afford it.
5. Tony Parker –  A Basketball Paradise
Tony Parker, of the San Antonio Spurs and the ex of Eva Longoria, built this home gym as part of the $7.1 million dream home that he and Eva began building when they were happy newlyweds. For basketball lovers, this is a basketball workout heaven, where you can simply slip on some shoes, walk down from the bedroom, and walk into the gym.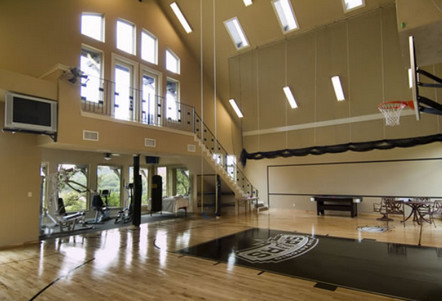 This personal home gym has a basketball court, soaring ceilings with skylights, a big screen TV hanging overhead of the court, a workout room annex with top-of-the-line equipment, a volleyball court, a tennis court, a pool, and even a mini-water park.
No Need to Spend a Fortune
Fortunately, it's possible for you to have a home gym without spending a fortune. By sticking to the basics, you can create a home gym that helps you reach your goals, even on a budget. Here are a few things that you should consider purchasing to get started:
Dumbbells
Medicine Ball
Pull up bar
Bench
Barbell & Plates
Kettlebell
Plyo-box
Jump rope
Our PRO plan features a wide range of workouts that are tailored to your goals and that can be done from the comfort of your home gym. Go PRO today to get started.