Exercise.com: Your TrainingPeaks Alternative
| Features | | TrainingPeaks |
| --- | --- | --- |
| Nutrition | | |
| Dedicated Account Manager | | |
| Dedicated Zapier Support | | |
| Client Automation | | |
| Performance & Measurement Reports | | |
| TV Workouts | | |
| Offer Online Workout Memberships | | |
| Run Workout Challenges | | |
| Sell Workout Plans | | |
| Group Training | | |
| 1-1 Training | | |
| Custom Exercises | | |
| Websites | | |
| Marketing Integrations | | |
| Custom Branded | | |
| iOS & Android Apps | | |
| Online Training | | |
| Sell Products | | |
| Payment Processing | | |
| Gym / Facility Management | | |
| Exercise Library | | |
| Assessments | | |
| Client / Class Scheduling | | |
| Workout Creator / Logger | | |
| Business Dashboard Reports | | |
Why Choose Exercise.com?
Here are five reasons why fitness professionals use Exercise.com vs. TrainingPeaks.
Fitness Business Management Software to Run Your Business
Unlike TrainingPeaks, Exercise.com software is designed to have all components needed to run a fitness business in one place – making it easy and efficient to organize and grow your fitness business with client and class scheduling, check-ins, and billing — all from your custom-branded apps.
Fitness Business Management Software to Run Your Business
Unlike TrainingPeaks, Exercise.com software is designed to have all components needed to run a fitness business in one place – making it easy and efficient to organize and grow your fitness business with client and class scheduling, check-ins, and billing — all from your custom-branded apps.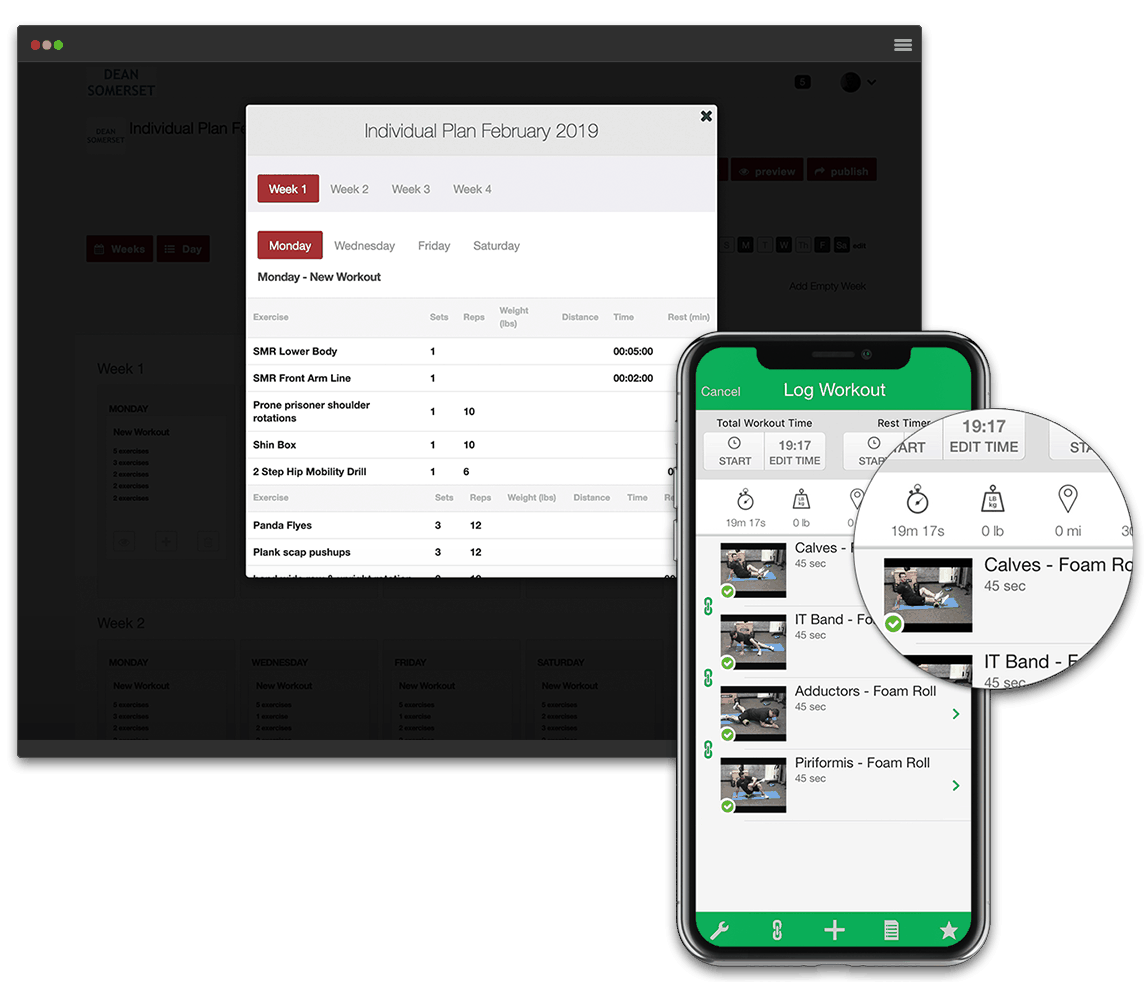 Workout Software to Power Your Training
TrainingPeaks workout software does not allow for clients to participate in TV workouts, group training, or workout challenges. Exercise.com workout software, however, includes all of these options and provides flexible solutions to save you time creating workouts with built-in integrations, tools, and more.
Ecommerce Software to Increase Revenue
TrainingPeaks's limited ecommerce platform does not offer options to process payments or to sell your own merchandise or online workout memberships. Exercise.com, however, has full ecommerce capabilities allowing trainers to sell single workout plans, offer automated workout memberships, run workout challenges, and deliver individual training.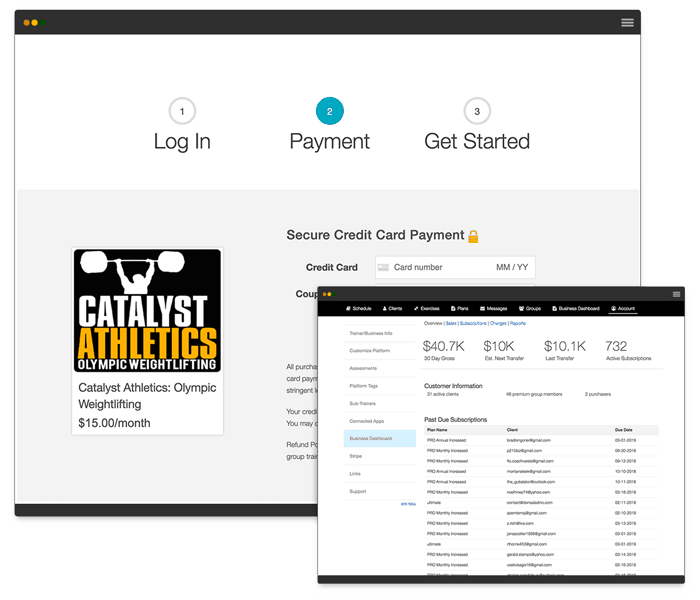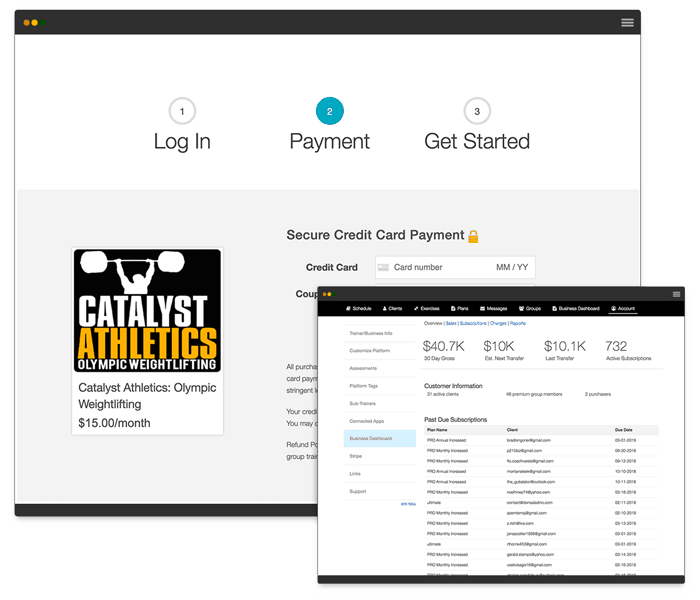 Ecommerce Software to Increase Revenue
TrainingPeaks's limited ecommerce platform does not offer options to process payments or to sell your own merchandise or online workout memberships. Exercise.com, however, has full ecommerce capabilities allowing trainers to sell single workout plans, offer automated workout memberships, run workout challenges, and deliver individual training.
Assessment Software to Improve Client Engagement and Retention
TrainingPeaks lacks assessment software, but that's not the case with Exercise.com. Take your clients through personalized assessments to deliver custom workouts for their individual needs – providing massive growth potential and saved time.
Stand Out With Your Own Custom-branded Apps
TrainingPeaks's apps provide no options for custom websites or exercises. Exercise.com, however, offers apps that are fully customized to make your life easier by providing your clients with a unified scheduling and workout experience with your brand displayed front-and-center.
Stand Out With Your Own Custom-branded Apps
TrainingPeaks's apps provide no options for custom websites or exercises. Exercise.com, however, offers apps that are fully customized to make your life easier by providing your clients with a unified scheduling and workout experience with your brand displayed front-and-center.
If you're ready to get started with an easy-to-navigate, all-in-one fitness software, designed to fuel your business, request a demo with Exercise.com today.
And, if you want to see how TrainingPeaks's additional features stack up to Exercise.com software features, check out our in-depth guide below.
What is TrainingPeaks?
In the late 1990s, Joe Friel had become a popular coach for endurance athletes, thanks in large part to his Training Bible series of books. In order to make his business more efficient and up to date, he wanted to figure out a way to get his training programs on the internet rather than using notebooks as trackers and fax machines for communication.
Fortunately, Joe found a connection, through his son Dirk, to an engineer and fellow cyclist name Gear Fisher. After talking it over, Fisher was confident he could create a web-based training log where the Friels could deliver workouts to their clients. From this discussion, TrainingPeaks was born.
Today, the company aims to provide complete web, mobile, and desktop solutions for endurance training. While endurance training is specifically mentioned, the software does allow for other forms of fitness or sport-specific training to be given.
It is important to note that there are two ways to use TrainingPeaks: one is as an athlete and the other is as a coach. For the purposes of this comparison, we will be focusing on the coaching portion of the software because it is most applicable to business management. However, the features provided to athletes play a role in how coaches use the software, so we will be making mention of that portion from time-to-time.
Exercise.com is all-in-one fitness business management software, meaning that everything you need to successfully grow and run your business can be found in one place. We feature workout creation and tracking, just like TrainingPeaks, but we also offer so much more. Our software is completely customizable so that you can make every aspect of your business unique to you rather than using the same template as everyone else.
With Exercise.com software, you can run reports to help you make business decisions, set up a store to sell products, manage schedules, and make sure your brand stands out on all web and mobile platforms. We will get into specifics on all of that later, but there are simply some aspects of Exercise.com software that TrainingPeaks cannot match.
To learn how to use TrainingPeaks, refer to our article, "How do I use TrainingPeaks?"
Unless otherwise stated, all images and reviews below are of/about the Exercise.com All-In-One Fitness Business Management software platform.
Fitness Business Management Software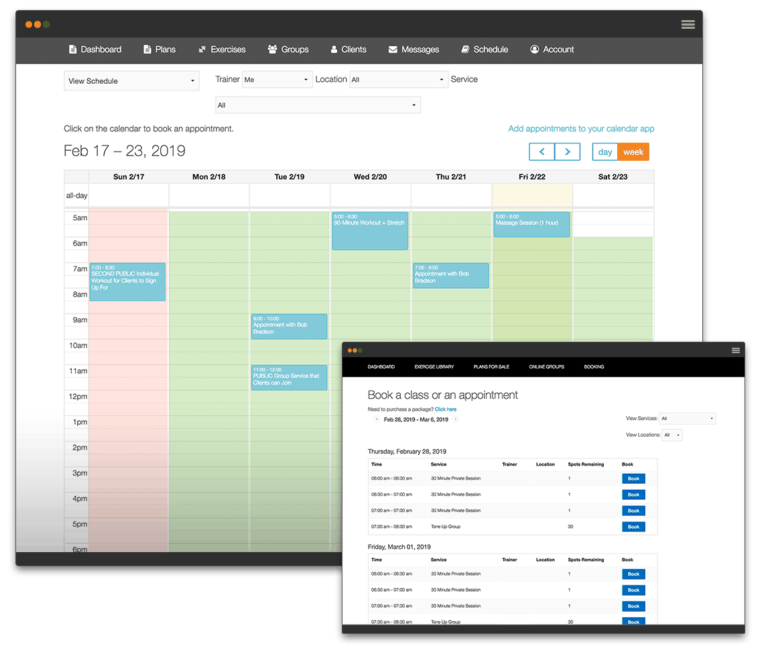 If you want your business to run as smoothly as possible, you want to be able to do everything you need from the same platform. It will slow things down if you have to use multiple forms of
gym management software
to operate your business, and that is why Exercise.com is such a great option. We have all the tools, features, and integrations you need to manage from one place.
The software is very straightforward and easy to use for both your employees and your customers. That means you'll save time and money because you don't have to spend as much time training your employees, and your customers will make the best use of their workouts because they are comfortable using the software.
Let's take a look at some of the features of Exercise.com software.
Client/Class Scheduling
TrainingPeaks doesn't have a scheduling feature with its software. Your staff and clients must use separate software for scheduling.
Exercise.com software is set up to assist you with any type of scheduling tools you might need to do for your business. From personal training to group fitness, you can post and view your entire schedule so that you and your clients can easily have access. You can even sort by class, trainer, instructor, day, time, or any other way that works for your business. Clients are also able to pay for classes or sessions when they sign up.
Gym/Facility Management
TrainingPeaks doesn't have facility management tools, which leaves your business at a disadvantage. There are no options for staff roles and permissions, inventory tracking, or business reports.
Exercise.com provides all these tools and more! Perform scheduling, business management, workout delivery, and more. You and your staff will be able to schedule and manage all appointments and classes with options for one-time and recurring reservations. For gyms with multiple trainers, you can set availability parameters for clients to book appointments through your business's custom-branded app.
Depending on the type of fitness business you have, you might have a membership base to keep track of in addition to personal training and group fitness participants. Fortunately, Exercise.com has you covered with membership capabilities as well. Having all of this information in one place is especially useful when making decisions about the growth of your business.
Business Dashboard Reports
When you make a decision for your business, you need to have data to back up that decision. With Exercise.com, you can run a wide range of reports on the information collected in your software. From membership growth to personal training sales to group fitness attendance, all of the information you need can be found in one place.
For example, after running a membership and personal training report, you might notice a correlation between an increase in monthly membership numbers and an increase in personal training sales. Using this information, you might decide to bolster your marketing plan to increase membership in an effort to also increase personal training sales.
Our valuable reports are organized on a completely customizable business dashboard. You choose the featured reports, layout, and more, so your finger is to the pulse of your business at all times.
TrainingPeaks runs reports on client progress and organizes these on a dashboard but doesn't have a dashboard for business reports. This is only a feature you'll get with Exercise.com!
Client Automation
Other than workout plans appearing in a schedule for clients, there are no automated features included with the TrainingPeaks software. Exercise.com is on the other end of the spectrum. We want to make life easier for you and your clients, and that is why we want to save you time and create greater efficiency.
We have a variety of different ways that you can keep in touch with your clients and do so without constantly having to log into your account. Here are a few of our top features:
Automatic Emails and Texts
Automate Workout Delivery
Automate Resource Delivery
Automate Assessment Delivery
Automate Reminders/Alerts via app, text, and email
Dedicated Zapier Support
At Exercise.com, we want your business to have everything it needs to succeed. That is why we provide a large number of built-in integrations so that you can continue using tools that already work well for you. We do also understand that you could have integration needs that are not included in our software and, because of this, we have partnered with Zapier.
Zapier allows you to choose from over 2,000 different apps that your business can use. With dedicated support through every step of the process, you can link your web apps so they share data, pass information between them, and build faster processes to increase your efficiency.
Dedicated Account Manager
Customer service is one of our highest priorities at Exercise.com. We are only successful if you are successful, which is why our clients receive a dedicated account manager to help them with everything they need over the course of the process. Best of all, your account manager is with you the entire time you are one of our customers, not just at the beginning.
If you want help integrating social media, your account manager is there to assist. Maybe you have expanded your group fitness schedule and need help with scheduling between multiple studios. Your account manager knows just what to do. Whether large or small, our high-quality development team will help with any problem or request you might have.
Customized Software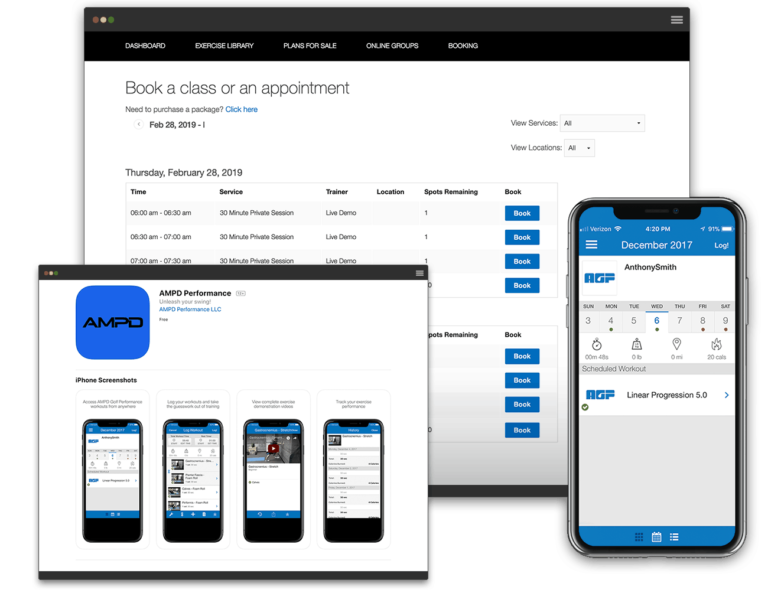 With Exercise.com, you have free range to customize any aspect of our software to fit your business. We don't want your business to blend in, we want you to stand out from your competitors. Our software should reflect your business and that is what we aim to do by providing you with customization.
This is not something available within the TrainingPeaks software. All users are working from the same generic template and this means it is difficult for coaches to stand out when they are trying to recruit new clients. These coaches could be the best in the world but if they don't have a way to market that within the software, the growth of their personal business will be stunted.
Here are a few of the customizable features of Exercise.com.
Custom-Branded
Branding is one of the most powerful tools for business growth which is why you want more than just a generic outline for people to see. By using Exercise.com software, you can display your logo, change colors, and format the layout in a way you feel is most beneficial for your business. You decide how you want your software to look and we will get the job done. All you'll have to do is watch your business grow.
iOS & Android Apps
TrainingPeaks does offer an app along with the software, but the TrainingPeaks app is not customizable. Athletes and coaches simply can use the app for scheduling and tracking workouts.
Exercise.com includes custom-branded fitness trainer apps for iOS and Android at no additional cost. Your app is completely customizable so your business can shine. You can also schedule and track workouts within the app, but you also are able to utilize all of the other features of our software, which we will talk more about later.
Websites
TrainingPeaks claims to have a private web page for its coaches but doesn't give specifics on how this is accomplished, what features are provided, or customization options.
With Exercise.com, you receive a custom-built, SEO-optimized fitness website at no extra charge. Much like your app, you can display your logo, colors, images, and whatever else you feel reflects the mission and vision of your business. In today's online world, websites are a primary source of information for potential customers, so having a site that makes your business stand out is key.
Responsive
SEO optimized
Unlimited theme changes
Built to convert visitors to leads
Custom graphic work
Google Certified Partner
Security Features
Keeping information safe and secure is a primary focus for Exercise.com. Not only do we not want your information to fall into the wrong hands, but we feel the same about your customer's information. For this reason, we take security seriously. Security features of our software include:
SSL Secure
Privacy Shield Framework
Google Cloud
Marketing Integrations
TrainingPeaks doesn't have any marketing integrations to grow your business, but if you graduate from TrainingPeaks University (workshops and online courses that teach coaches how to use TrainingPeaks products more efficiently and improve coaching skills), TrainingPeaks will match you up with athletes to coach. But this isn't the same marketing services your business needs to communicate with potential and current customers and puts your business behind competing gyms.
As mentioned when we discussed our partnership with Zapier, Exercise.com wants to provide as many integrations to you as possible to help your business run smoothly. If you have tools, outside of our software, that work well for you, we want you to be able to continue using them.
Some of our more popular integrations include:
MailChimp
ConstantContact
ConvertKit
Zapier
Google Analytics
Facebook Pixel
Learn more by clicking the button below.
Exercise.com is the best TrainingPeaks alternative.
Workout Software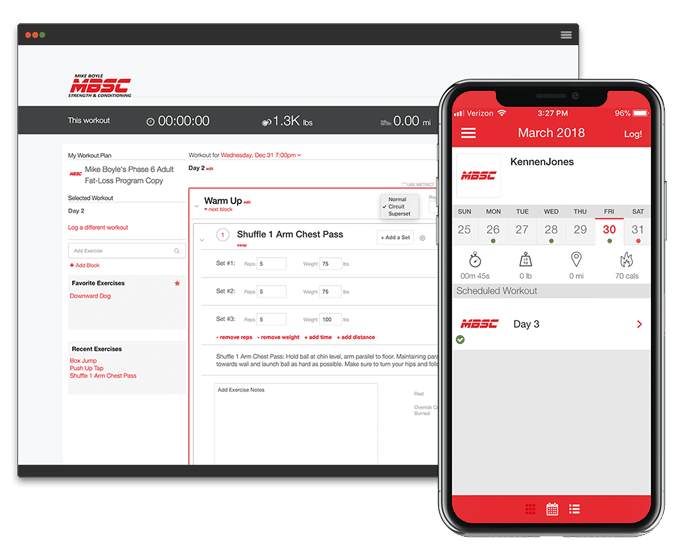 Over the course of managing your business, you will undoubtedly run into many different types of clients, all who have different wants or needs in mind for how to reach their fitness goals. For this reason, Exercise.com software sets you up with options to provide different methods of training. This means you have the option to create workouts for anyone and make sure they reach the client in whatever way is most suitable for them.
TrainingPeaks does offer some of the same elements but is lacking in other areas. Their software was created for coaches to work with endurance athletes one-on-one. This affects the number of people they can impact at once, as well as the way they can build workouts.
Workout Creator/Logger
TrainingPeaks and Exercise.com both offer workout creation and logging, however, the metrics are a bit different. Since TrainingPeaks was built with endurance athletes in mind, TrainingPeaks' workouts seem to be more about setting distances, time goals, or specific intervals for endurance sports like running, cycling, or swimming. To be fair, these are not the only sports the software can handle, but it is certainly a more broad way to create workouts and then log them.
Exercise.com provides a much more specific way to create and track workouts. It can handle endurance workouts, but it also allows users to plan strength, core, HIIT, or any other type of workout. When clients log their workouts in our software, they are able to track their progress in a more specific way because of the more specific workouts they are receiving.
Our workout software built for fitness professionals provides users with endless possibilities for delivering workouts, tips, and encouragement to clients in any scenario, including:
1-on-1 Training
One-on-one training is a classic part of the fitness industry. Using the Exercise.com software, you can add extra value to your clients by giving them a place to view and track their workouts even after their session is complete.
Group Training
People often like having an extra push from their friends in their workouts, which is why group training is an important option to have. Exercise.com software is fully capable of displaying and tracking group workouts whether a trainer is with the group or not. The clients still have accountability because their workout has been created and scheduled by a trainer and now also have one or more friends to make sure it gets done.
TrainingPeaks doesn't offer a group training feature, so your business and clients miss out on this opportunity to engage your gym community.
Online Training
Online training is the main area of focus for TrainingPeaks. After all, the main reason the software was created, in the first place, was to give people a way to send workouts and track them without physical pieces of paper. Once a coach is hired by an athlete, that coach creates and posts workouts into the app for the athlete to view and complete.
Exercise.com goes a step further. We provide customers the same ability to create and post workouts into the software, but we also offer communication, progress photos, and assessments along the way to keep your clients motivated.
Exercise Library
Fitness software businesses frequently include a pre-built exercise library for their clients so that workouts can be created more quickly. This is not the case with TrainingPeaks. There is no exercise library to build workouts with.
Exercise.com wants to make your business as efficient as possible, which means saving time. With that in mind, we do provide our customers with a library of exercises that is ready to use immediately. We also, however, take things a step further by providing the opportunity to create custom exercises.
Custom Exercises
Adding a personal touch to a workout, even when you can't be there face-to-face, is a great way to add value to the workout. Instead of feeling uneasy about watching a video demonstration featuring a person they don't know, your client will be more comfortable seeing one of your trainers performing an exercise. This keeps the session feeling personal, which is something that will keep your clients coming back.
TrainingPeaks does not have an exercise library and, therefore, cannot provide a customized one.
TV Workouts
Your clients already have the ability to watch demos of exercises that they've been given within their workout plans, but your gym can also use the exercise library as a great tool to cast onto television screens. This could be useful in a personal training session, group session, or group fitness class as a way to show proper form. It also gives a personal touch and gives your facility an element to stand out from competitors.
Gym Ecommerce Software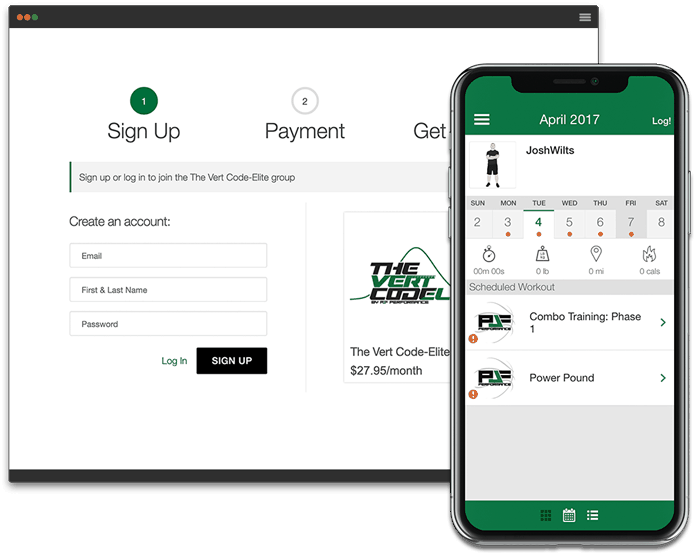 The e-commerce side of the TrainingPeaks software is a little bit complex. From the information shown on the TrainingPeaks website, it is unclear how athletes pay for coaching. It is clear that both coaches and athletes have to pay for access to utilize the TrainingPeaks software, but whether the athletes then pay coaches through the software or by another method is unknown.
Exercise.com's gym ecommerce software makes things much simpler. Payments for products, workout plans, and memberships can all be made within our software. This keeps things simple for you and simple for your clients.
Payment Processing
As previously stated, TrainingPeaks is unclear about the fee athletes pay for coaching, on top of what they pay for access to the software.
Exercise.com software can accept payments for any product or service in a safe and secure manner. Using Stripe, you can collect payment for personal training, group fitness, monthly membership, individual products, or combine everything into one monthly statement. Whatever works best for your business is what we will develop for you.
Sell Products
Many facilities sell products like shirts, water bottles, or hats as a form of marketing. Exercise.com makes this easy, both in-person and online, but we go the extra mile and also provide you with the chance to sell workout plans, memberships, and challenges within our software.
Sell Workout Plans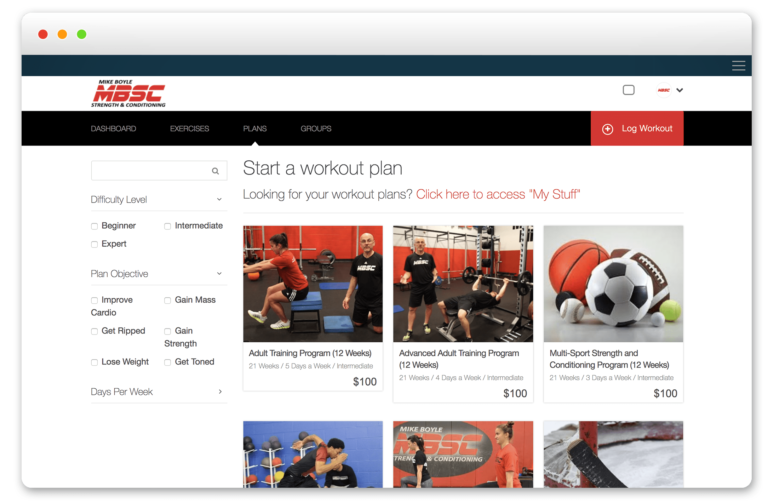 Having pre-built workout plans is a great option for gyms to have on their menu of services. With Exercise.com software, you can create workouts in any type of category and then have them for sale so you can earn revenue from them over and over again without having to continue to invest time in creating multiple, universal workout plans
There is a large market for people who want to know what they should do for a workout, but do not necessarily want to hire a trainer. You don't want to miss out on the opportunity to turn these people into customers, so having a pre-built workout available as a product is a great way to draw them in.
TrainingPeaks also offers pre-built workouts within its software. When an athlete signs up to use TrainingPeaks, it does not necessarily mean they have to hire a coach. There are workouts available to purchase a la carte. These workouts are created by coaches who sign up for TrainingPeaks, provided they sign up for an add-on to their software.
TrainingPeaks also allows coaches to sell training plans through their personal webpage, but TrainingPeaks takes 30% of your earnings as commission.
Offer Online Workout Memberships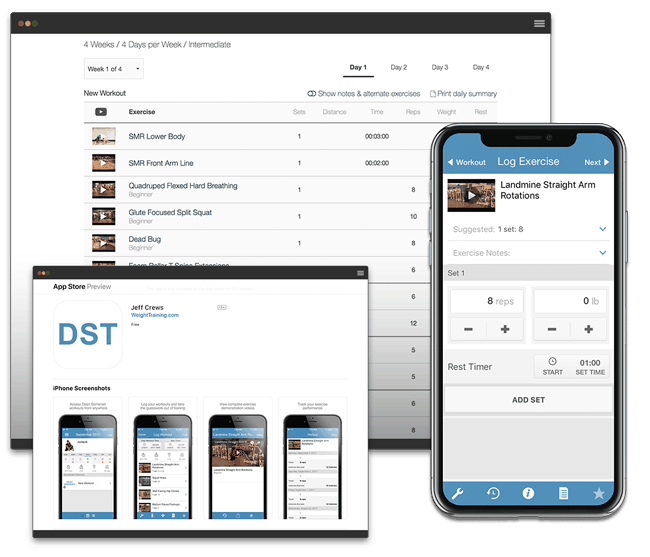 Some of your potential customers might shy away from the idea of purchasing a single plan every time they want to change up their workout. For these people, an online workout membership is a great option. They will get a pre-built workout sent to them at regular intervals (daily, weekly, monthly) and your business will generate consistent revenue without the need for a major time investment.
Sell Workout Challenges
People love feeling a sense of accomplishment, and there is no better way to facilitate this than to give them a challenge. Using the Exercise.com software, you can create and sell workout challenges for your clients or the general membership base. It is a fun activity that will bring participants together and it gets those participants excited about what your facility is offering.
Depending on the type of challenge you offer (weight-loss, most classes attended, etc), you might even convince the participants to utilize your other services to win or get the most out of their challenge.
Fitness Assessments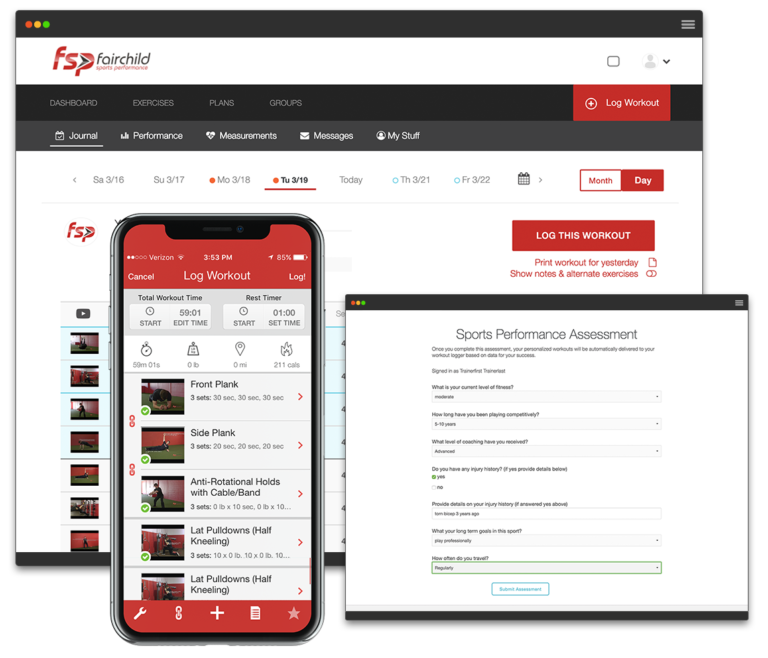 Part of standing out as a fitness owner is the ability to continually help your clients and members progress in your facility. One way you can do this is by establishing a baseline of measurable data and then re-testing your clients periodically so they can see their progress. Exercise.com software allows you to:
Turn leads into clients
Engage clients through assessments
Track measurement data, injuries, etc.
Optimize the delivery of personalized workouts and nutrition
For athletes using the base level plan with TrainingPeaks, workout tracking is not available. However, after upgrading to a premium plan, they can then receive progress reports based on the workouts they have logged.
With Exercise.com, every aspect of this fitness assessment software is included for one low price. You don't have to play a guessing game, trying to decide which features you need, or whether or not you need to use a third-party app. The data our software provides can help ensure your client's progress and the growth of your business.
Assessments
One important step in ensuring your client's success is to offer them a wellness assessment when they join your facility. This gives the client valuable information about where to start, how to proceed, and how to measure their progress. It also gives you a chance to showcase the services you offer such as personal training or group fitness.
Once you have Exercise.com software working for you, you can decide what types of assessments to have available. As with all aspects of our software, these assessments can be customized so that you provide a unique service to every person who joins your facility.
Performance & Measurement Reports
After a baseline of metrics has been established with a client, you can keep them engaged by sending them performance and measurement reports. It is easier to keep an existing client than it is to recruit a new one, so you want to do everything you can to keep them excited about how they are progressing.
With Exercise.com software, you automatically deliver recurring assessments, progress pictures, and measurements. This will help retain your clients and keep them coming back to utilize your services.
Nutrition
Nutrition is not the main focus of Exercise.com software, but we recognize the importance of it for any fitness goal. For this reason, we added a nutrition tracker where your clients can log their food and trainers can help them stay on the right path for their goals.
TrainingPeaks Pricing
So, how much does TrainingPeaks cost? There are two TrainingPeaks plans with separate pricing structures to be aware of within TrainingPeaks software. The first is for athletes. It is important to note that neither pricing structure includes a coach; it simply allows athletes to track their workouts and gather information. Coaches are available for an additional fee.
| Package | Basic | Premium |
| --- | --- | --- |
| Price | Free | $9.92/mon annually; or $16.33/mon quarterly; or $19.95/mon monthly |
| Features | Upload over 100 workouts from different apps | All basic features |
| | Map your workouts | Track your fitness improvements |
| | Detailed workout summary | Drag-and-drop workout builder |
| | Daily workout reminders | Track peak performances |
| | Set goals and events | Plan future workouts |
| | | Heart rate, pace, and power charts |
| | | Weekly fitness summary |
| | | Create multiple workout libraries |
| | | Edit completed workouts |
| | | Search and filter workouts |
The second pricing structure is for coaches. To get the most out of TrainingPeaks, athletes and coaches should be using the same software. Signing up allows them access to athletes who are also using the TrainingPeaks software and would like to utilize the services of a coach.
| Package | Basic | Premium |
| --- | --- | --- |
| Price | $19.00/mon | $49.00/mon |
| Start-up fee | $99.00 | $99.00 |
| Features | Access to four basic level athletes | Unlimited basic level athletes |
| | Access to one premium level athlete | Access to one premium level athlete |
TrainingPeaks Alternatives
Below is a list of a few of TrainingPeaks's top competitors. The prices listed in the table are accurate at the time of writing this article.
| Competitor | Minimum Starting Price | Maximum Starting Price |
| --- | --- | --- |
| GoMotive | $9.00/mon | $350.00/mon |
| TrueCoach | $19.00/mon | $99.00/mon |
| PT Distinction | $19.90/mon | $80.00/mon |
| TotalCoaching | $49.00/mon | N/A |
The Bottom Line: Pros and Cons
Your choice of software to manage your fitness business is crucial to your success. We hope that, by now, we have shown you the value that Exercise.com can bring. With that said, we'd like to give one final recap, to review the information we've given you before you make your decision.
TrainingPeaks Cons
TrainingPeaks is limited by its lack of available information and the inability to provide customization.
It is confusing, both for potential athletes and coaches, understanding coaching fees. As an athlete, you would want to know how much you have to pay in order to work with a coach. In the same way, coaches want to know if the fee is up to them or if it is set by TrainingPeaks. An athlete just wanting a workout tracker would find portions of TrainingPeaks to be worth it but, even then, there are a limited number of features.
Lack of customization is a major problem for coaches because they have no way to stand out to potential athletes who want to train with them. Since TrainingPeaks gives the same-looking software to all of its clients, it is difficult for coaches to show athletes why they should be chosen.
Exercise.com Pros
Exercise.com gives you all of the information that you need to make your decision without leaving you to wonder how it all works. You can rest assured that our software will provide everything you need because it is fully customizable.
Our workout creators and trackers are top-of-the-line, our automated features make life easier for you and your staff, and our e-commerce platform gives you an unlimited number of options for product or service sales. Our marketing integrations, custom websites and apps, and custom branding make your business stand out among your competitors.
The bottom line is that, because Exercise.com software is customizable, it will always be everything you need it to be. Best of all, if your needs change, you have a dedicated account manager who will help you work through everything to keep your business running successfully.
We hope that we've given you enough information to make a sound decision for your business. We believe Exercise.com can meet all of the needs of your fitness business and we hope that you do, too.
What are the most important things, in management software, that you think your business needs to succeed?
If you are ready to see how Exercise.com can help your business, request a demo today.