Exercise.com: Your WorkoutLabs Train Alternative
| Features | | WorkoutLabs Train |
| --- | --- | --- |
| Nutrition | | |
| Dedicated Account Manager | | |
| Dedicated Zapier Support | | |
| Client Automation | | |
| Performance & Measurement Reports | | |
| TV Workouts | | |
| Offer Online Workout Memberships | | |
| Run Workout Challenges | | |
| Sell Workout Plans | | |
| Group Training | | |
| 1-1 Training | | |
| Custom Exercises | | |
| Websites | | |
| Marketing Integrations | | |
| Custom Branded | | |
| iOS & Android Apps | | |
| Online Training | | |
| Sell Products | | |
| Payment Processing | | |
| Gym / Facility Management | | |
| Exercise Library | | |
| Assessments | | |
| Client / Class Scheduling | | |
| Workout Creator / Logger | | |
| Business Dashboard Reports | | |
Why Choose Exercise.com?
Here are five reasons why fitness professionals use Exercise.com vs. WorkoutLabs Train.
Fitness Business Management Software to Run Your Business
Unlike WorkoutLabs Train, Exercise.com software is designed to have all components needed to run a fitness business in one place – making it easy and efficient to organize and grow your fitness business with client and class scheduling, check-ins, and billing — all from your custom-branded apps.
Fitness Business Management Software to Run Your Business
Unlike WorkoutLabs Train, Exercise.com software is designed to have all components needed to run a fitness business in one place – making it easy and efficient to organize and grow your fitness business with client and class scheduling, check-ins, and billing — all from your custom-branded apps.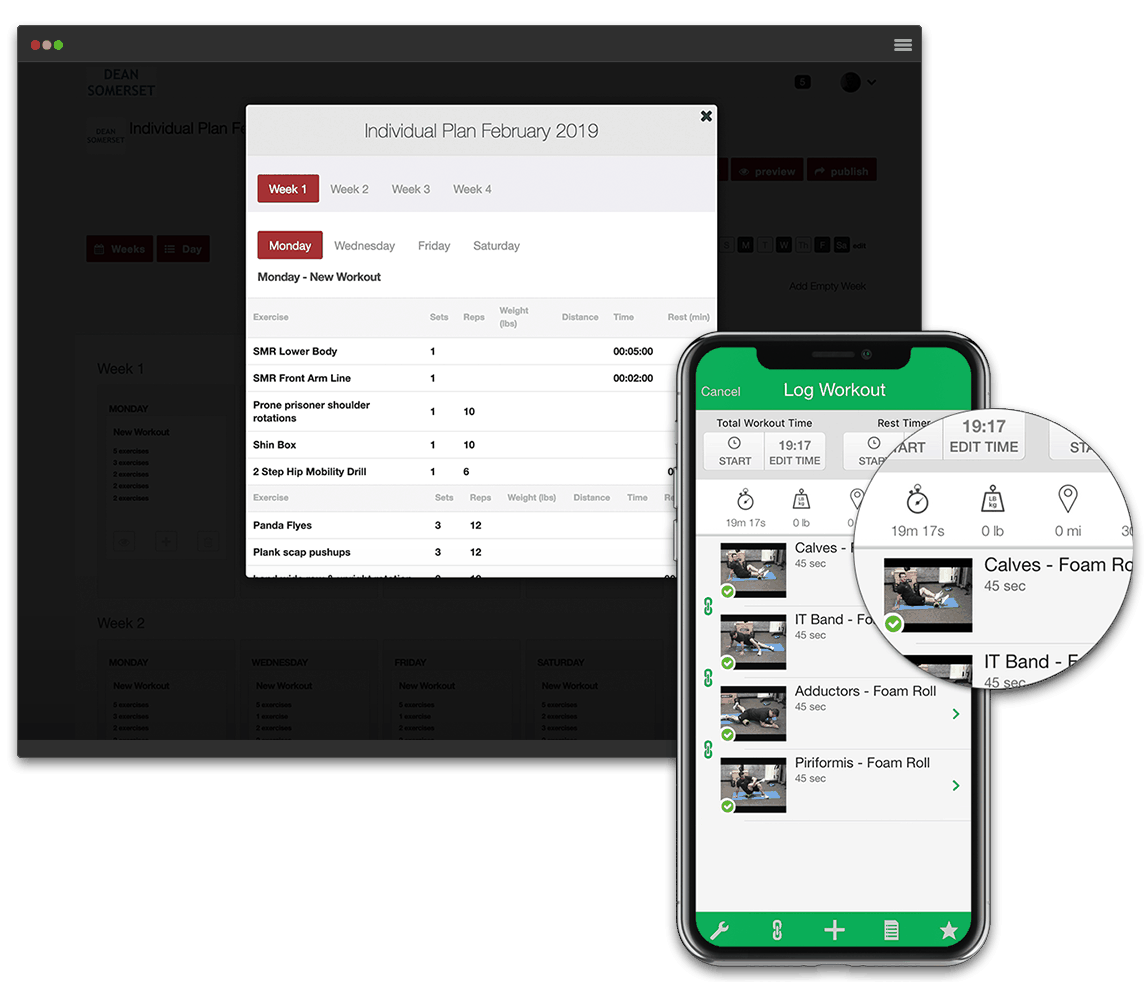 Workout Software to Power Your Training
WorkoutLabs Train's workout software doesn't allow for clients to participate in TV workouts, group training, or workout challenges. The Exercise.com workout plan creator and exercise manager provide flexible solutions to save you time creating workouts with built-in integrations, tools, and more.
Ecommerce Software to Increase Revenue
WorkoutLabs Train has no viable ecommerce platform or capabilities to speak of. Exercise.com, however, has full ecommerce capabilities allowing trainers to sell single workout plans, offer automated workout memberships, run workout challenges, and deliver individual training.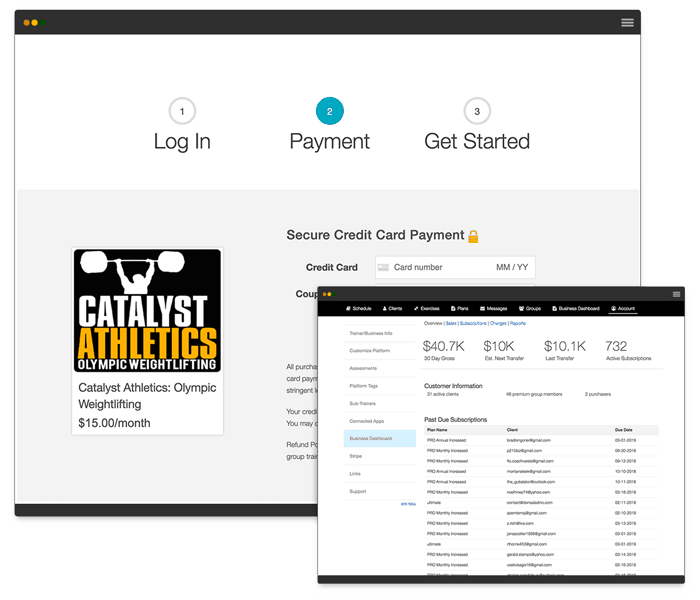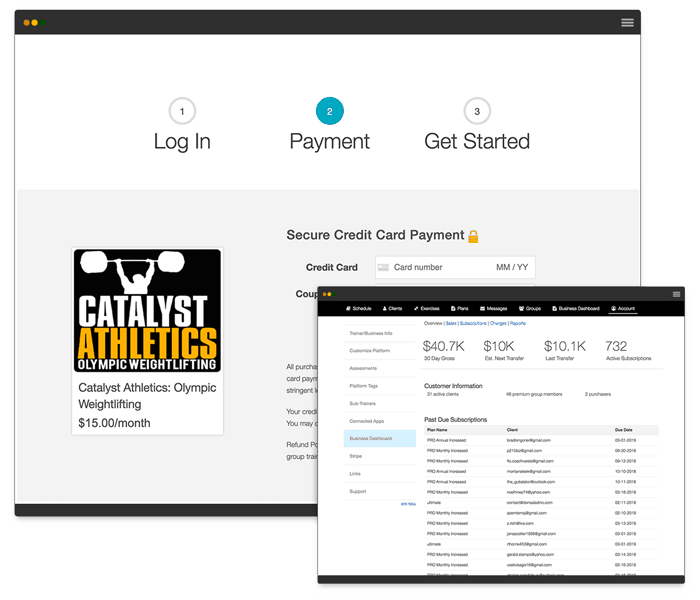 Ecommerce Software to Increase Revenue
WorkoutLabs Train has no viable ecommerce platform or capabilities to speak of. Exercise.com, however, has full ecommerce capabilities allowing trainers to sell single workout plans, offer automated workout memberships, run workout challenges, and deliver individual training.
Assessment Software to Improve Client Engagement and Retention
WorkoutLabs Train lacks assessment software, but that's not the case with Exercise.com. Take your clients through personalized assessments to deliver custom workouts for their individual needs – providing massive growth potential and saved time.
Stand Out With Your Own Custom-branded Apps
WorkoutLabs Train's apps provide no options for custom websites. Exercise.com, however, offers apps that are fully customized to make your life easier by providing your clients with a unified scheduling and workout experience with your brand displayed front-and-center.
Stand Out With Your Own Custom-branded Apps
WorkoutLabs Train's apps provide no options for custom websites. Exercise.com, however, offers apps that are fully customized to make your life easier by providing your clients with a unified scheduling and workout experience with your brand displayed front-and-center.
If you're ready to get started with an easy-to-navigate, all-in-one fitness software, designed to fuel your business, request a demo with Exercise.com today.
And, if you want to see how WorkoutLabs Train's additional features stack up to Exercise.com software features, check out our in-depth guide below.
What is WorkoutLabs Train?
WorkoutLabs Train was created in 2012 by William Artamon. It began as a personal use drag-and-drop workout builder and grew from there. WorkoutLabs has two main focuses: Train and Fit. Train is a software platform created to help personal trainers create programming for their clients, while Fit is for a gym buff's personal use.
The idea of simplification is great for fitness business owners, however, WorkoutLabs Train is a little too simplified. While the drag-and-drop workout builder is convenient for quick adds and moving around workouts, there is access to illustrations only for exercise guidance, whereas, video explanations tend to be more reputable and help remote clients who are learning form and technique.
Illustrations are certainly a step up from utilizing Excel Spreadsheets but in today's fitness world, you want to be able to offer the best guidance possible to your clients.
Exercise.com offers an all-in-one package of features useful to fitness businesses and personal trainers. No need to have separate software for membership management, a separate system for class calendars and scheduling, and a separate system for personal trainers to build workouts. Exercise.com has all of this, plus more.
You're likely building your base of clientele and seeking software that will help you do what you do best – train clients. You're probably hoping to offer remote workouts in order to build additional revenue each month. You want to offer the most to your clients so they tell their friends about you. Therefore, customization and extra features are going to be key to stand out.
Unfortunately, WorkoutLabs Train is so simplified that its list of features is pretty obsolete.
The customization that is offered is a change of business name, logo, and brand color across the platform. In addition, they have shareable buttons to help promote your services across various social networks. However, that's where the platform's customization ends.
Exercise.com includes those features, PLUS additional features that are necessary to run a successful fitness or personal training business. Exercise.com not only includes features to create customized workouts but also options to deliver those workouts to clients. Clients and members can book and manage classes, view class schedules or open appointments, purchase memberships, class packages, or specialized workouts, and more.
Unless otherwise stated, all images and reviews below are of/about the Exercise.com All-In-One Fitness Business Management software platform.
Fitness Business Management Software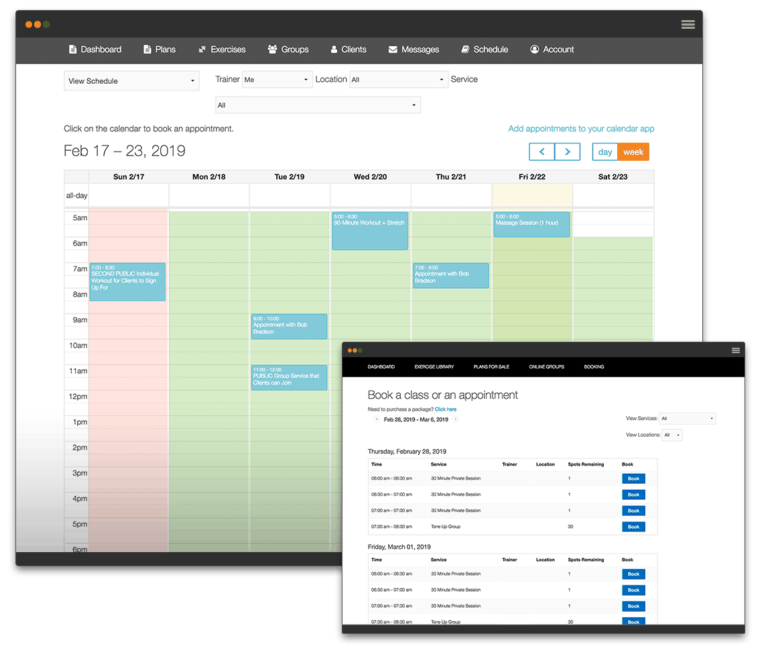 Since WorkoutLabs Train's software is very simplified, they only offer workout creation with no other management tools. Their software will allow for attendance tracking to showcase if a client has completed the assigned workout. In addition, they do have the ability to see when the client logged in last. However, there are no other management items to collect payments or create group fitness class schedules.
With Exercise.com gym management software, fitness staff or management can set up calendars to show class schedules, instructor information, waitlists, and automate payments. There is a business dashboard for reporting and managers can set up staff roles and permissions.
Managers can turn features on/off for the most user-friendly experience for staff and clients. The technology team is constantly adding new features based on feedback from current users of Exercise.com.
Exercisers can book and manage classes, see waitlists, set up reminders and notifications, set up automatic payments, or pay for classes or memberships. They can view schedules by location, trainer, time, or type of class.
There are no limits to the number of clients you can manage, and you can manage the software from anywhere. There are also endless marketing integrations included with Exercise.com to help upsell current clients or reach new clients.
Client/Class Scheduling
We bet you'd rather be spending your time working on growing your business. That's why we've developed our All-in-One Fitness Business Management (FBM) software.
How many more clients could you onboard, engage, and retain if you had an easy-to-use software to schedule and book clients?
Plus what if that software was built into the same platform you use to build workouts, sell plans, and deliver assessments?
No more learning a dozen different software to run your business.

No more teaching a bunch of different systems to your staff.

No more confusion and fractured experiences for your clients.
It's the same unified experience for your staff and clients from web to apps.
FBM will empower you to track visits, book classes and sessions, engage your clients with recurring appointment reminders via email and text, and provide online fitness calendar integration with google and apple for easy management. With FBM's calendar, you can also sort by:
Trainer

Location

Service

Recurring

Time

Availability
Gym/Facility Management
Managing a staff of any size is time-consuming but FBM saves you time with assignable staff roles, so you can put staff management on autopilot. Never worry about sales, staff, clients, or data logged falling between the cracks with reporting at your fingertips in your custom web and mobile apps.
Business Dashboard Reports
All your reports can be run in a single software. No more safaris for which software has which reports. Exercise.com Fitness Business Management (FBM) software makes reports easy — sales, business, appointments, class, and payroll reports all in one place. Plus you can also sort reports by:
With Exercise.com, you get a fully customizable business report dashboard to display all your frequented reports. These reports empower you to have your finger on the pulse of your business and if you're bringing on new trainers you'll know how much to pay staff based on commissions.
Client Automation
WorkoutLabs Train does not have an automation system in place, besides the immediate email delivery of one's workout each day.
The automation features of Exercise.com make it easy for fitness staff and trainers to stay in constant communication with clients via mobile apps, texting, or email. Payments for memberships or classes can also be automated for members so they have one less thing to remember.
It's simple to automate reminders and notifications via the mobile app, texting, and email. Trainers can also automate specialized workouts, workout plans, or performance assessment data. Communicating with clients has never been easier with these features.
Dedicated Zapier Support
Exercise.com has many business management integrations already built into our software, but we didn't stop there. We partner with Zapier so that your business can have access to any tool it needs for a fully customizable, immersive, user-friendly experience.
Dedicated Account Manager
Providing our clients with exceptional customer service is very important to us, which is why every Exercise.com client receives a dedicated account manager for all of their software-related needs.
If you want to add an online store for increased revenue, or if you want to rebuild your website to attract more customers, your account manager will get the job done.
Customized Software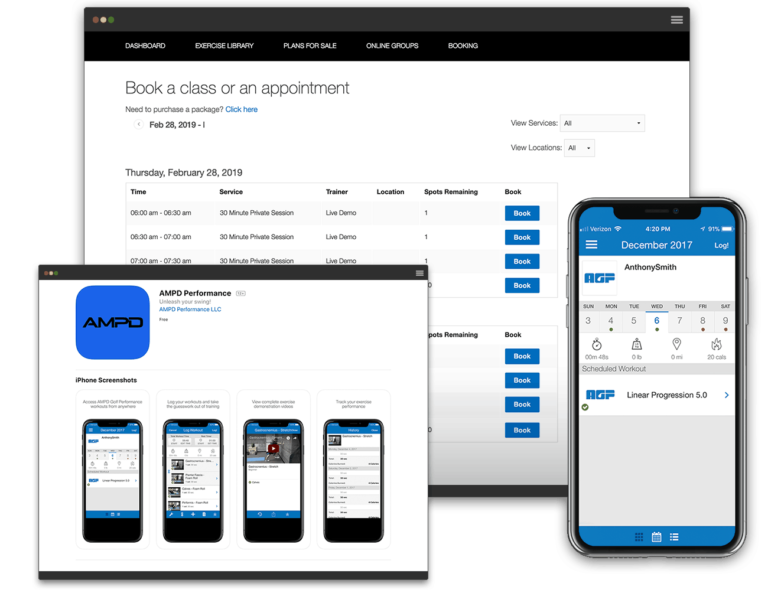 Having fully customized software is very important to your company's success. WorkoutLabs Train does not offer full customization. Exercise.com, however, does. Let's look at how Exercise.com excels in app and web customization.
Custom-Branded
With Exercise.com, clients receive fully customized apps and websites for all of their business-related needs. WorkoutLabs Train provides basic customizations like the addition of a logo, company name, and brand colors, but that is where customization options stop.
iOS & Android Apps
Currently, WorkoutLabs only has an iOS app; the Android app is planned to launch sometime next year. This is unfortunate for the clients and trainers using Androids who must use the web version of WorkoutLabs. The app has a free 14-day trial but is then between $9.99-$11.99/month or between $59.99-$99.99/year (depending on which package you purchase).
The WorkoutLabs Fit app only records workouts and a few custom metrics like weight, body measurements, and water intake. There is no communication with trainers, assessment delivery, access to your gym's schedule for class and/or appointment bookings, ecommerce, nutrition tracking, and more.
However, Exercise.com offers a branded app for personal trainers with all these features and more for managers, staff, personal trainers, and exercisers. Your business can have a cohesive look with your branding showcased on the mobile app and website. There are also custom dev options to meet your needs for the mobile app and website. Plus, our app is free for customers and staff members to use.
Websites
WorkoutLabs does not offer fully customized websites.
Exercise.com, on the other hand, does. Our world-class dev team will build you a custom, SEO-optimized fitness business website that will embed all of the information seen in your app along with a blog for posts and areas for ecommerce. Additional custom features include:
Responsive
SEO optimized
Unlimited theme changes
Built to convert visitors to leads
Custom graphic work
Google Certified Partner
Security Features
Exercise.com also has important features to keep your information and data secure, including SSL security and privacy shield framework.
Marketing Integrations
For your business' marketing, automate your efforts by connecting to a number of Exercise.com integrations like:
MailChimp
ConstantContact
ConvertKit
Zapier
Google Analytics
Facebook Pixel
Learn more by clicking the button below.
Exercise.com is the best WorkoutLabs Train alternative.
Workout Software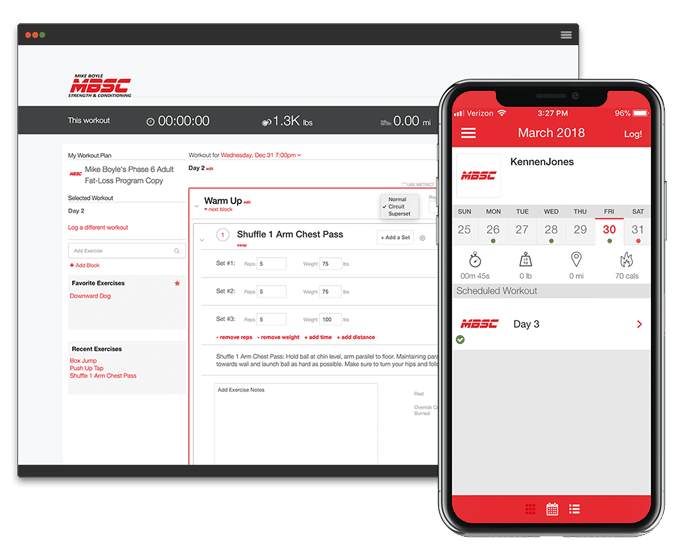 WorkoutLabs Train and Exercise.com both provide their clients with workout software. Let's take a look at the features offered.
Workout Creator/Logger
WorkoutLabs Train's workout creator is an easy-to-use drag and drop workout builder that creates illustrated routines. Directions, reps, and sets can be added to each exercise and clients are able to access these workouts in print or on a tablet, mobile device, or computer.
The Exercise.com workout software is also user-friendly and goes beyond illustrated images and the addition of reps, sets, and notes. Workouts can be created, customized, and automated depending on the goals of your clients. Scenarios that our clients have used the workout delivery feature for include:
Workout Planning-Personal Training
Nutrition Assistance
Goal Setting
Traveling Athletes
In-Person Clients
Trainer Logging
Online Clients
Hybrid Clients (in-person/online)
Busy Professionals
1-1 Training
One-on-one training is a staple in gyms and fitness facilities, and fitness software needs to provide trainers with services that make one-on-one training as simple as possible; Exercise.com software does just that.
Group Training
The Exercise.com group training feature provides the same resources and support as it does for one-on-one training but members benefit from the community and accountability of the group setting.
Online Training
With Exercise.com, personal trainers can sell training programs online with NO additional costs. This is included in the pricing of Exercise.com, so no need to worry about a minimum number of users or getting a bill at the end of the month; this is all included.
Exercise Library
WorkoutLabs Train has an exercise library of illustrations only. Their site does not currently handle videos or any image that is greater than 5mb (png or jpg only) so trainers would only be able to choose from the WorkoutLabs exercise cards available. Exercise.com has an exercise library for personal trainers with instructions, videos, muscles worked, and sample workouts. Trainers can also add custom exercise demo videos for clients to view. These can range from visual workouts to solely text-based workouts depending on the needs of your facility.
Custom Exercises
Exercise.com workout customization options include:
Workout Plan Creator
Intervals
Alternate
Block
Smart Delivery
Custom Exercise Library
Easily Embed Your Videos into Your Platform
Your Descriptions, Workouts, etc
TV Workouts
While exercises can be viewed on a computer or mobile device, they can also be cast onto a TV screen during group training and 1-1- sessions. This allows clients to see you performing the movements along with them to make them feel more confident and at ease.
Gym Ecommerce Software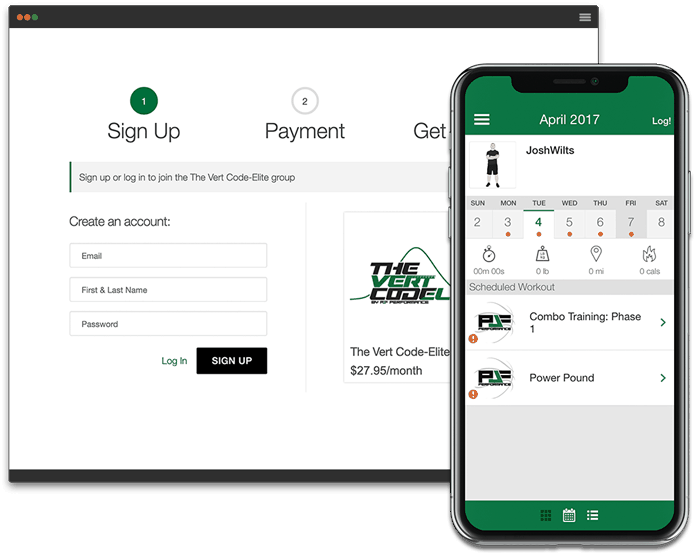 WorkoutLabs Train does not have any function of ecommerce setup. Therefore, if you use their platform, you must collect money elsewhere. This can be difficult to implement, especially if you are dealing with older clientele who may not be as tech-savvy as the younger generation.
On the contrary, Exercise.com's gym ecommerce software has endless options to increase revenue while engaging clients and members. You can sell memberships, packages of classes, single classes, or workout plans. You can even help virtual clients meet their fitness goals.
Payment Processing
We know accepting payments securely and easily takes a lot of time, especially using one software for booking, another for workouts, and another for payments.
That's why we came up with a Fitness Business Management (FBM) software where you can access all of your payment tools in the same custom-branded web and mobile apps, so that professionals like you could spend less time tracking down failed charges, taking payments, and managing payment details and have more time for growing your business.
FBM makes it easy to set up packages for your training where clients can pay a one-time or recurring price with cash, check, or credit card. Plus accept direct deposits and allow online purchasing of packages — all in one easy to use software. And you'll have sales and business reports for all your clients, classes, and workout packages to make managing your business easy.
Sell Products
Boost your company's revenue by selling products in your ecommerce store; something that WorkoutLabs Train does not provide. The Exercise.com store allows you to sell more than just workout plans and workout memberships. You can also sell products like branded apparel, water bottles, gear, supplements, and more!
Sell Workout Plans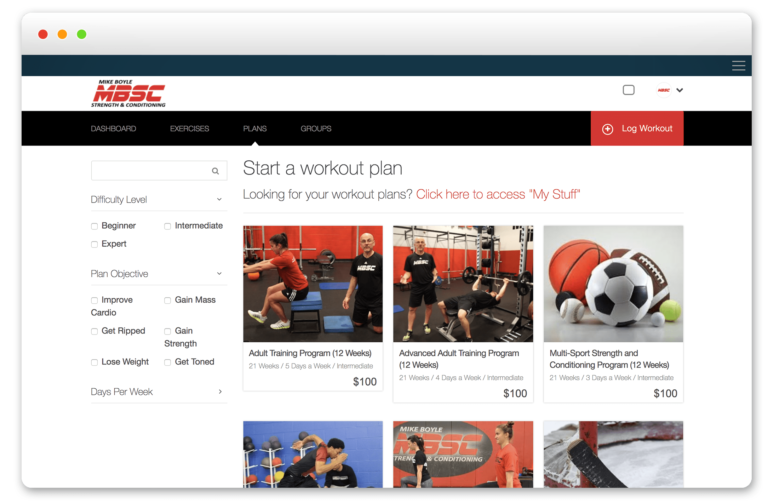 Let's say one of your dedicated clients travels for work and cannot always meet with you to train in-person. You can develop and deliver a customized program that can be automatically delivered to your client for them to complete at your gym, a hotel gym, their home, or anywhere on the road.
Offer Online Workout Memberships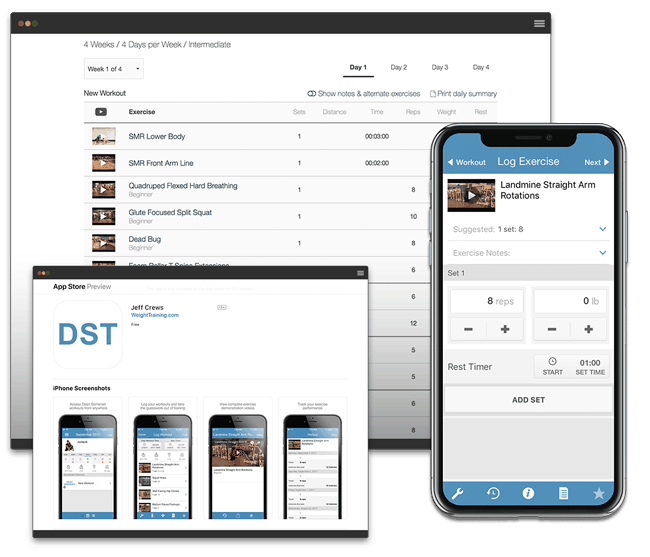 Exercise.com also allows trainers or coaches to sell workouts online. You are not charged by the number of users, unlike WorkoutLabs Train, so you could sell to two clients or 100 clients and it is included with the other features of Exercise.com.
Sell Workout Challenges
Challenges are excellent ways to create a sense of community and to increase motivation among the members of your gym Additionally, by running workout challenges directly from your software platform, you are not restricted to only running challenges at your brick-and-mortar location. You can run them for online clients as well.
Fitness Assessment Software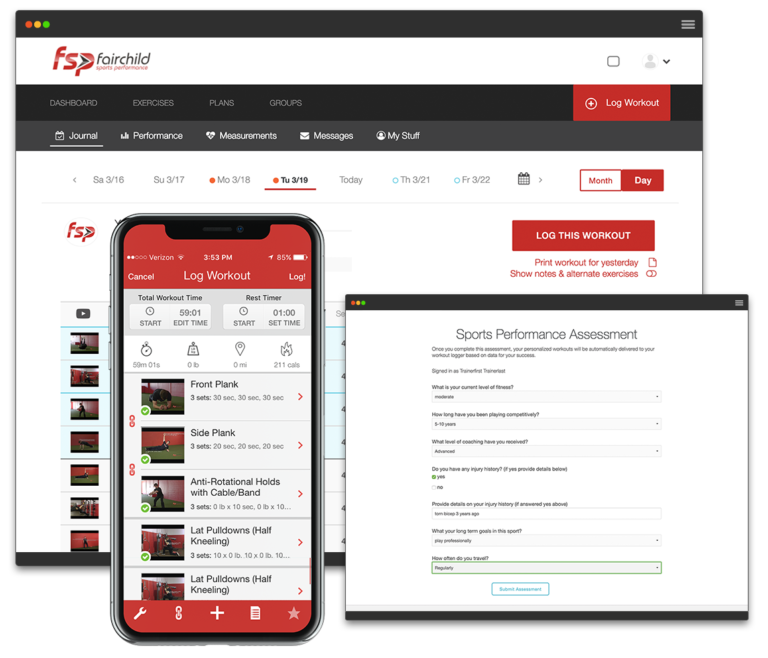 Assessing clients and tracking their progressions are one of the best ways to show that your program is working. However, WorkoutLabs Train does not have an area where these assessments can take place. Furthermore, there is no way to track progressions. If a trainer wanted to implement tracking assessments and progressions of weight lifted. etc, they would have to do it outside of this software.
Since WorkoutLabs Train doesn't have assessments, let's take a look at Exercise.com's fitness assessment software.
Assessments
Exercise.com offers a variety of assessment features. Not only can you assess 1RM for muscular fitness, but you can also complete assessments for cardiorespiratory fitness and flexibility. You can also track other measurement data, provide questionnaires, and track injuries with Exercise.com.
Performance & Measurement Reports
Exercise.com allows trainers to deliver customized or specialized workouts based on health performance assessments. Clients can view their performance assessments and track results over time with the mobile app or dashboard.
Nutrition
Beyond the fitness realm, WorkoutLabs Train does not provide any nutritional features. With many people seeking fitness and nutritional guidance, the lack of nutrition features may be a setback for trainers who are hoping to keep everything in one area.
With Exercise.com, trainers can set macronutrient (carbohydrates, protein, fiber, fat) goals with their clients. Clients can track their intake for trainers to view and trainers can then provide assistance to help clients meet their health and fitness goals.
WorkoutLabs Train Pricing
Below we broke down the pricing of WorkoutLabs Train. It's important to remember that if you need to collect payments, have project management software and/or if you need a way to track group fitness classes and memberships – you will need to find other software companies (and thus, pay additional fees outside of what WorkoutLabs costs) for those resources.
| PACKAGE | Flexible Monthly | Unlimited Yearly |
| --- | --- | --- |
| Price | $29/month with up to 3 clients, $5/month per additional client | $295/year |
WorkoutLabs Train Alternatives
| Alternative | Min. Starting Price | Max Price |
| --- | --- | --- |
| TheStudioDirector | $39/month | $149+/month |
| Trainerize | $5/month | $250/month |
| 10to8 | $9.6/month | $40/month then customized pricing |
| ClubExpress | $24/month | $.40/member up to 100 then discounts for groups |
| EZFacility | *n/a, contact | Free Trial then Subscription |
| Pike13 | $129/month | $179/month |
| TeamSnap | $9.99/month or $69.99/year | $17.99/month or $129.99/year |
| Zen Planner | $117 | $414-964(software, website, marketing) |
The Bottom Line: Pros and Cons
Exercise.com is an all-in-one software platform to meet the needs of many types of fitness businesses. With features like workout creation and delivery, performance assessments, scheduling, automation, and ecommerce, our software fits the needs of fitness businesses small and large.
With Exercise.com you have everything you need in one easy-to-use package so that you can spend more time growing or improving your business while interacting with clients and members. WorkoutLabs Train's features simply do not stack up to the features provided by Exercise.com.
WorkoutLabs Train Cons
WorkoutLabs Train's platform is overly simplified. While many of their users enjoy the simplified style, it is better suited for a trainer who has a few remote clients per month. If you're running a gym setting, with group fitness classes, 1-on-1 clients, and you need to be able to accept payments, create class schedules, and do workout programming – you will not be happy with their product.
Exercise.com Pros
The Exercise.com software platform offers many of the workout creation and delivery features that are offered by WorkoutLabs Train, but also includes many features that are not offered by WorkoutLabs Train. Exercise.com truly is an all-in-one software platform that fitness businesses can use to support all of the features needed to run a successful business.
Our software has numerous options for workout creation and delivery, ecommerce, scheduling and booking, reporting, and automation. Personal trainers and businesses have all the tools they need to interact with clients and members and a simple platform for all functions needed daily when using Exercise.com.
Exercise.com allows trainers to develop and deliver workouts without additional costs per user and no minimum number of users. Our goal at Exercise.com is to help you maximize income, efficiency, and availability to serve more clients.
Request a demo of our software today to learn more.