Exercise.com: Your Zen Planner Alternative
| Features | | Zen Planner |
| --- | --- | --- |
| Workout Creator / Logger | | |
| Business Dashboard Reports | | |
| Client / Class Scheduling | | |
| Assessments | | |
| Exercise Library | | |
| Gym / Facility Management | | |
| Payment Processing | | |
| Sell Products | | |
| Online Training | | |
| iOS & Android Apps | | |
| Custom Branded | | |
| Marketing Integrations | | |
| Websites | | |
| Custom Exercises | | |
| 1-1 Training | | |
| Group Training | | |
| Sell Workout Plans | | |
| Run Workout Challenges | | |
| Offer Online Workout Memberships | | |
| TV Workouts | | |
| Performance & Measurement Reports | | |
| Client Automation | | |
| Dedicated Zapier Support | | |
| Dedicated Account Manager | | |
| Nutrition | | |
Why Choose Exercise.com?
Here are five reasons why fitness professionals use Exercise.com vs. Zen Planner.
Fitness Business Management Software to Run Your Business
Unlike Zen Planner, Exercise.com software is designed to have all components needed to run a fitness business in one place – making it easy and efficient to organize and grow your fitness business with client and class scheduling, check-ins, and billing — all from your custom-branded apps.
Fitness Business Management Software to Run Your Business
Unlike Zen Planner, Exercise.com software is designed to have all components needed to run a fitness business in one place – making it easy and efficient to organize and grow your fitness business with client and class scheduling, check-ins, and billing — all from your custom-branded apps.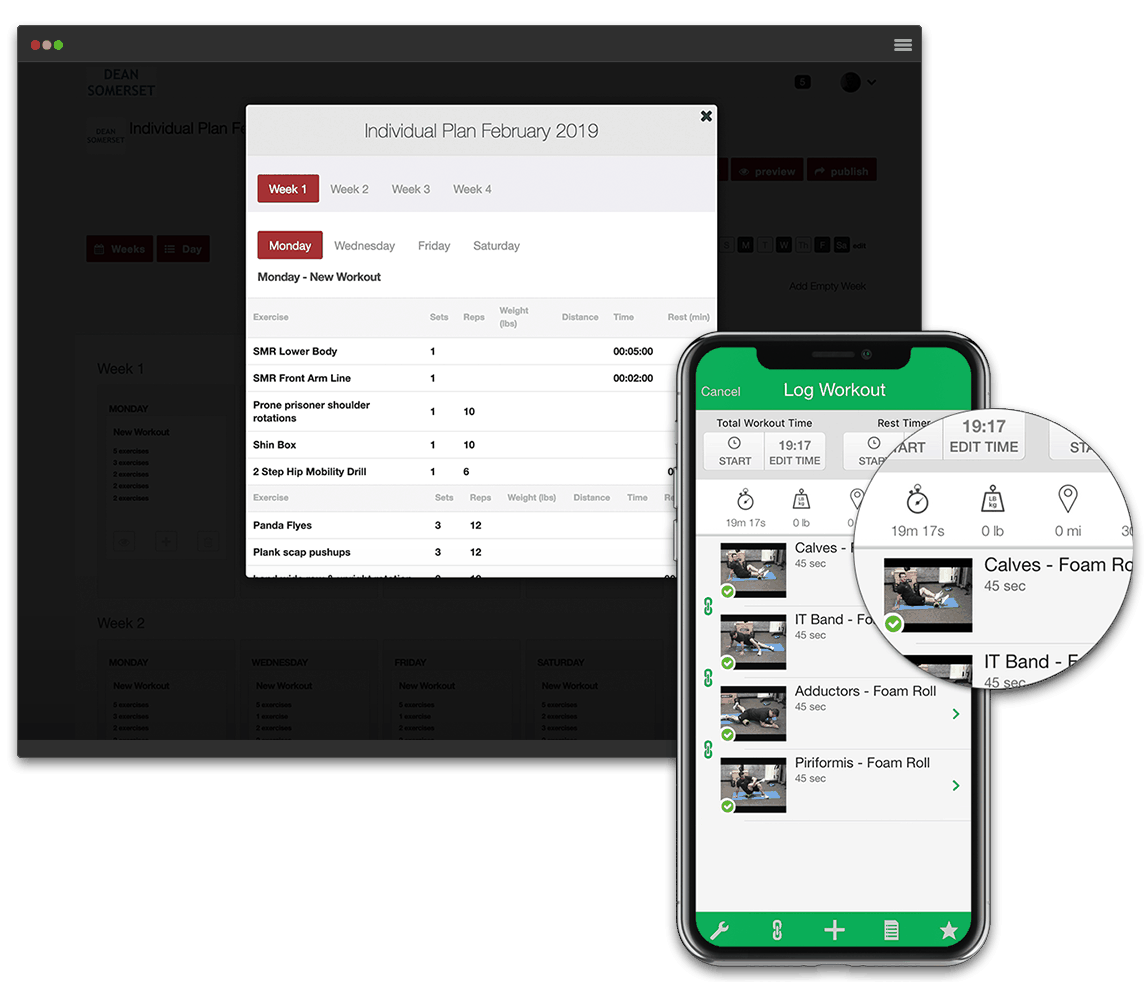 Workout Software to Power Your Training
Zen Planner workout software doesn't allow for clients to participate in TV workouts. The Exercise.com workout plan creator and exercise manager provide flexible solutions to save you time creating workouts with built-in integrations, tools, and more.
Ecommerce Software to Increase Revenue
Fitness professionals cannot use Zen Planner ecommerce features to sell workout challenges, individual workout plans, or online workout memberships. Exercise.com, however, has full ecommerce capabilities allowing trainers to sell single workout plans, offer automated workout memberships, run workout challenges, and deliver individual training.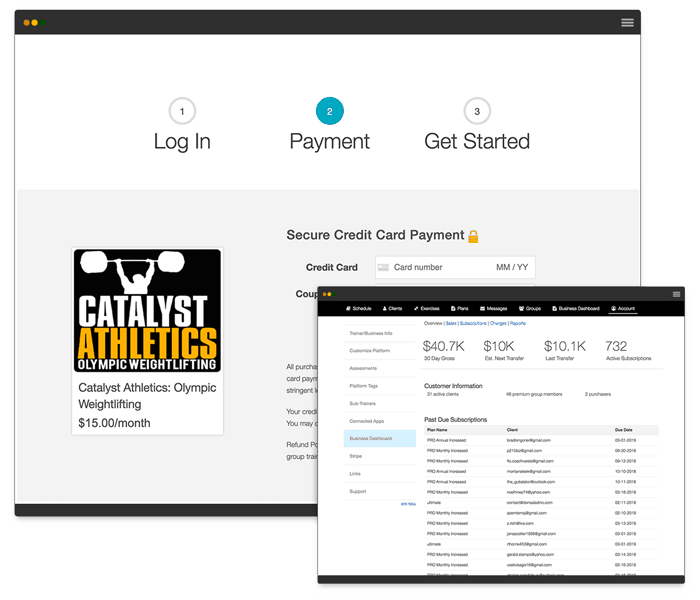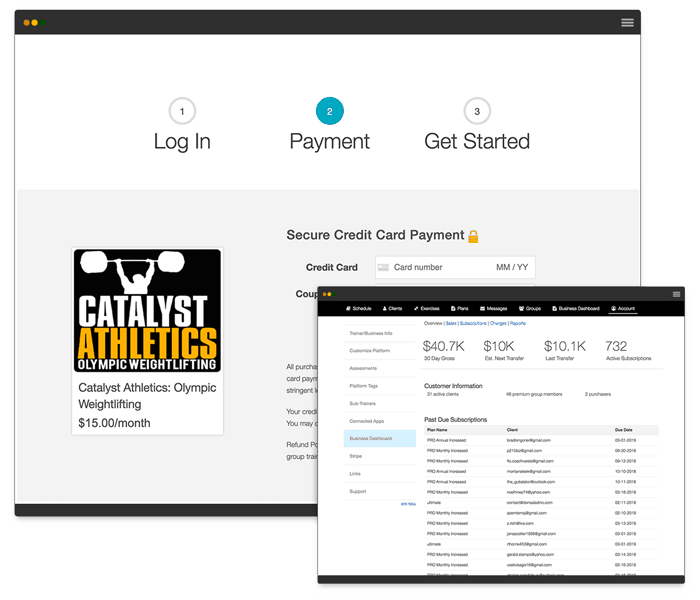 Ecommerce Software to Increase Revenue
Fitness professionals cannot use Zen Planner ecommerce features to sell workout challenges, individual workout plans, or online workout memberships. Exercise.com, however, has full ecommerce capabilities allowing trainers to sell single workout plans, offer automated workout memberships, run workout challenges, and deliver individual training.
Assessment Software to Improve Client Engagement and Retention
Zen Planner assessment software lacks the ability to track assessments and nutrition, but that's not the case with Exercise.com. Take clients through personalized assessments to deliver custom workouts and nutrition notes for their individual needs – providing massive growth potential and saved time.
Stand Out With Your Own Custom-branded Apps
Zen Planner apps provide no options to design custom exercises. Exercise.com, however, offers fully-customized apps built to make your life easier by providing your clients with a unified scheduling and workout experience featuring customizable exercises with your brand displayed front-and-center.
Stand Out With Your Own Custom-branded Apps
Zen Planner apps provide no options to design custom exercises. Exercise.com, however, offers fully-customized apps built to make your life easier by providing your clients with a unified scheduling and workout experience featuring customizable exercises with your brand displayed front-and-center.
If you're ready to get started with an easy-to-navigate, all-in-one fitness software, designed to fuel your business, request a demo with Exercise.com today.
And, if you want to see how Zen Planner's additional features stack up to Exercise.com software features, check out our in-depth guide below.
What is Zen Planner?
Zen Planner is a Colorado-based company whose software is used by over 5,500 gyms, yoga studios, martial arts schools, and Crossfit boxes. The company, founded in 2006, has grown rapidly since 2017, employing many with steady Zen Planner jobs, when it was acquired by Daxco, one of the premier providers of large-scale facility management software for multi-location health clubs.
Zen Planner represents an option best suited to small businesses. While it provides the capability to set up linked accounts for management of multiple locations, it is primarily designed to serve single locations with membership bases fewer than 250 clients.
If you have hopes to eventually grow beyond 250 clients, you may feel constrained by Zen Planner's platform. It is also worthwhile to note that Zen Planner customers seemingly search the question, "Is Zen Planner down" often enough for it to appear as a related search on Google, meaning that bugs and crashes with the software are likely.
Zen Planner boasts a long list of features from the basic, universally used member check-in to specialty functions like skill and rank belt tracking for martial arts studios. What separates Exercise.com from Zen Planner is a software experience that is fully customizable without requiring web-development experience. An added bonus is that your website and applications will display your brand and not the brand of your website-and-app developer.
Full customization is a must for a well-branded business. Great branding helps attract leads and helps turn those leads into clients. Let's dive in!
To learn how to use Zen Planner, refer to our article, "How do I use Zen Planner?"
Unless otherwise stated, all images and reviews below are of/about the Exercise.com All-In-One Fitness Business Management software platform.
Fitness Business Management Software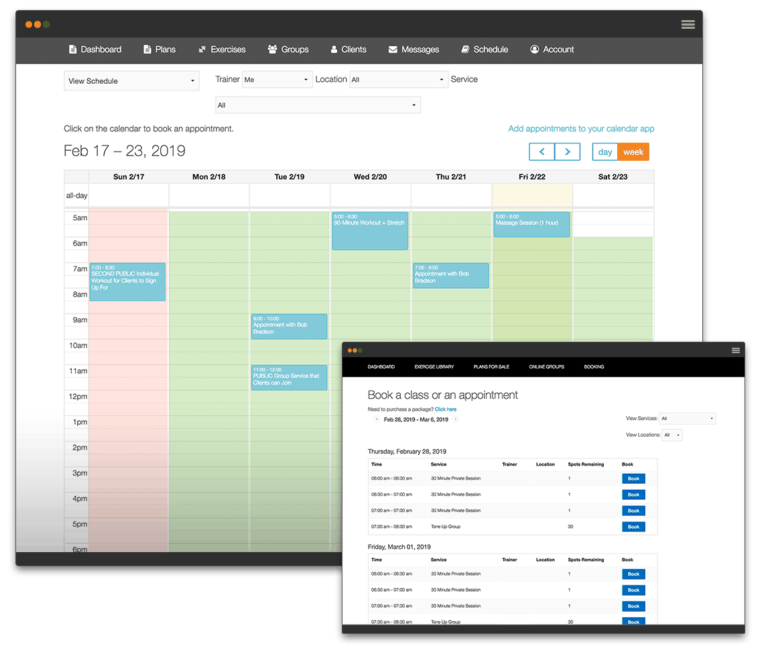 Successful gym owners constantly stay in tune with the performance of their business, not just their clients. Quick access to your gym's critical data and staff on a daily basis is a key feature of management software. ZenPlanner does offer Data Reporting and Staff Management. However, it doesn't stand up to some of the robust features that we offer.
Never worry about sales, staff, clients, or data logged falling between the cracks with reporting at your fingertips in your custom web and mobile apps. Managing a staff of any size is time-consuming but FBM saves you time with assignable staff roles, so you can put staff management on autopilot.
Plus all your reports can be run in a single software. No more safaris for which software has which reports. The Exercise.com fitness business management software makes reports easy — sales, business, appointments, class, and payroll reports all in one place. You can also sort reports by:
These reports empower you to have your finger on the pulse of your business and if you're bringing on new trainers you'll know how much to pay staff based on commissions.
Client/Class Scheduling
Both Exercise.com and Zen Planner's Zen scheduler allow for client and class scheduling. You are also able to sync Apple and Google calendars with both software.
However, it should be noted that changing an appointment in Zen Planner's system is a hassle. For instance, if a client wants to change their personal appointment from Thursday to Friday, the admin must delete the Thursday appointment and create a new Friday appointment. With Exercise.com, the admin can easily drag and drop the Thursday appointment into the Friday slot–keeping all the details. This saves admin time and frustration, especially when handling a high volume of customers.
Gym/Facility Management
Every business has countless tasks to manage. Staff members and privileges, memberships, classes, personal training sessions, ecommerce, inventory, revenue, amenities, and more, need constant monitoring in order to maximize success.
Zen Planner and Exercise.com each have a variety of facility management tools, such as billing, automations, member self-service, and marketing reports. Exercise.com is superior, however, because we offer more services to your customers and have management tools for each service.
Business Dashboard Reports
Zen Planner and Exercise.com both allow you to keep your finger on the pulse of your business with a business dashboard. Exercise.com allows you to customize your dashboard to your preference, style, and efficiency.
Exercise.com also has a number of standard and customizable reports for revenue, staff, and clients. You can dive deep into reports and analyze every aspect of your business, which improves the satisfaction of your customers and the profitability of your business.
Client Automation
As a gym owner or coach, the more aspects of the business you can automate, the more you can focus on training and client relationships. Thus, a feature like automated emails to your clients is a must-have in your management software. Zen Planner comes with a default list of suggested automatic messages. There are dozens of templates set up to auto-fill the appropriate information about the client's name, membership type, and relevant dates. Additionally, all emails can be customized giving you the ability to create an automation based on any piece of data you track in Zen Planner.
However, with Exercise.com, automation isn't just for messages. You will be able to automate a wide range of areas that include:
Emails and Texts/Other Automatic Features
Workout Delivery
Resource Delivery
Assessment Delivery
Reminders/Alerts via app, text, and email
You can also put ecommerce on autopilot with group memberships or annual subscriptions. You will be able to deliver custom-built performance health assessments to onboard new members as well as re-engage and adjust programming for existing members.
You even have the capability to automate the delivery of nutrition plans, videos, and just about anything else you could think of. The options for automation are endless.
By using the Exercise.com gym management software automation features, you can reinforce the member's decision to join, build rapport, and potentially even gain new leads all without lifting a finger after the initial set-up.
Are you catching the pattern?
Implement systems that save you time

Have all your management tools in one software

Manage your business from anywhere
Dedicated Zapier Support
With our dedicated Zapier support, you can be sure that you will be able to integrate and automate with over 2,000 applications creating an efficient and user-friendly experience.
Dedicated Account Manager
Customer service is very important to us. This is why your dedicated account manager will help you every step of the way. Your dedicated account manager will be there to help with any changes or assistance you may need.
Customized Software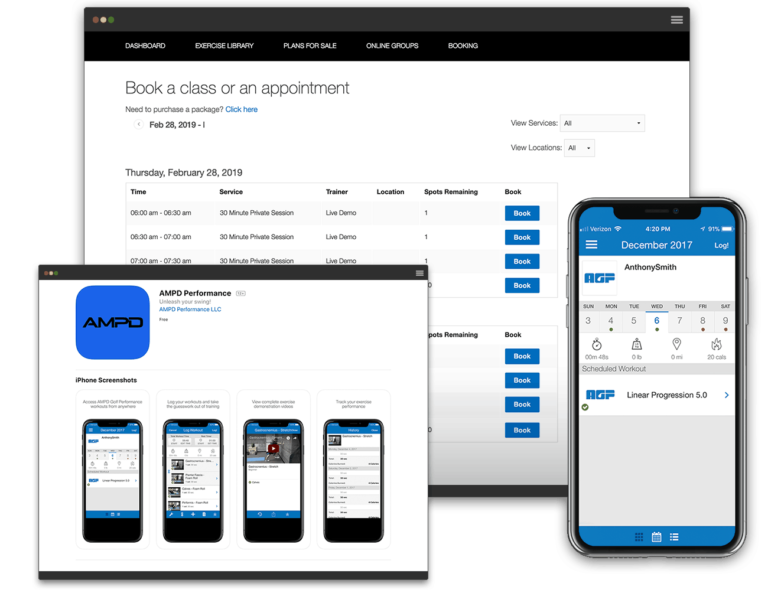 Custom-Branded
Zen Planner allows for standard customization of your site information, such as your gym's location, member photos, an online map, and images and logos. However, these basic customizations are different from what Exercise.com offers, which is custom branding.
Branding your software helps set your business apart which leads to more clients; this is only possible with Exercise.com. With our platform, you can choose the wording in your app, colors, custom dev work, a custom website to match your software, and custom performance health software assessments.
iOS & Android Apps
The use of smartphones is the norm. Being able to accomplish tasks on mobile devices easily and efficiently can be very important for business owners, staff, and clientele.
Zen Planner's mobile apps are its greatest weakness — not so with Exercise.com.
Zen Planner has separate apps for staff and members. Even though gym owners will find some limited convenience in the ability to quickly add a membership or change a client's saved payment information, the Zen Planner Staff App and Zen Planner Member App seem to have been created as an obligatory afterthought rather than the mainstay they could potentially be.
Processing payments in the Staff App is its glaring weakness. There is no way to process on-time payments. To demonstrate the problem, imagine your client wishes to pay their monthly dues in person. As a staff member utilizing this app, you are unable to input the payment unless it is already late and an alert has appeared on the member's profile.
While you can process the transaction using the software's full version on a desktop computer, it begs the question, "If there is an app that can process payments, why must I go through this trouble?" Zen Planner's app is confusing and frustrating for members and staff alike.
On the other hand, the Exercise.com gym management software allows you to not only set up recurring payments but also take single payments from your custom software–all on your custom-built gym apps.
Zen Planner's Member App claims it allows members to view schedules, reserve classes, and make payments, but for a lot of gym members, it is an experience that will end in frustration. Member App users overwhelmingly report problems with the app failing to load, repeated failed logins, or crashing so frequently as to render the app practically unusable.
Zen Planner's apps currently lack custom branding. With Exercise.com, you'll get custom gym apps that showcase your brand. You'll build your brand reputation with a professionally tailored app that customers know is exclusive to your company.
You will be able to complete any task in our all-in-one software so there will be no need to learn different systems or applications.
Websites
Zen Planner allows for a website with features like mobile optimization, blog access, and a responsive design. However, it is not custom branded.
The Exercise.com software platform is fully customized so that your company is front and center exactly the way you want it. You will be equipped with custom-branded, SEO-optimized fitness websites and be able to customize them in ways such as inputting a blog for posts, having access to unlimited theme changes, or designing your website with custom graphic work — the choice is yours.
Security Features
Zen Planner states to use SSL certificates for its websites. With Exercise.com you are being protected with security features that include:
SSL Security
Privacy Shield Framework
Google Cloud
Marketing Integrations
Zen Planner integrates with MailChimp for email marketing, along with PaySimple and Bluefin. Zen Planner also has partnered with Infusionsoft.
Exercise.com powers your business with well-known integrations that include:
MailChimp
ConstantContact
ConvertKit
Zapier
Google Analytics
Facebook Pixel
Learn more by clicking the button below.
Exercise.com is the best Zen Planner alternative.
Workout Software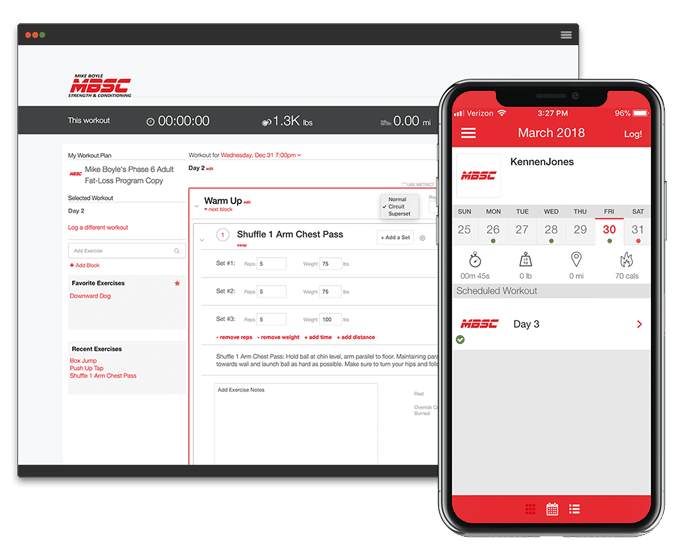 Being able to create, update, send, and track workouts and client progression can be a defining factor for your fitness business.
Workout Creator/Logger
Among Zen Planner's advertised features is the ability to create workouts and track trainees' performance. The usefulness of this function is hit or miss; it will be based on your gym's particular style of workouts and programming.
Contrast that with the predominant approach of a strength and conditioning coach who guides a trainee through a progressive training program in which the work requirement of each workout and it's component parts needs to be deliberately increased over time as the trainee improves.
This would require a robust workout building and tracking software strong in its ease-of-use when updating the workouts themselves.
This is beyond the scope of Zen Planner's workout tracking feature. To put it bluntly, the system is simply too slow and unintuitive and with no exercise library, a coach would find himself spending an inordinate amount of time trying to bend this feature to his purpose.
Our Exercise.com workout software built for fitness professionals provides an easy-to-use workout plan creator, a customizable exercise library, workout and progress tracking, and more. Keeping clients motivated is easier when they can see their progress over time and on their own time.
Our workout creator/logger through the Exercise.com business app provides users with endless possibilities for delivering workouts, tips, and encouragement to clients in any scenario, including:
1-1 Training
By utilizing Exercise.com workout software built for gyms, personal trainers can customize their one-on-one training sessions the way they want to.
Group Training
Our workout software also allows for customized seamless group training sessions.
Online Training
With the digital lifestyle more apparent than ever, online training has become more popular and widely used in recent years. Zen Planner integrates with Zoom for live virtual group workouts and personal training sessions.
While Exercise.com also integrates with Zoom, we go one step further by enabling trainers to send workouts to anyone at any time of the day. This gives clients greater flexibility to complete a workout, increasing program adherence and fitness success.
Exercise Library
Zen Planner has an exercise library where trainers can select an exercise (for example, back squats), modify the reps and rounds, include an optional YouTube video, and input into a workout template. Exercise.com also has this function, but Exercise.com's library includes professional demonstration videos for every exercise.
This boosts the professionalism of your business and client program adherence. It also saves your trainers the time of finding YouTube videos for exercises.
Additionally, your video libraries and exercises can be customized to your liking. This is key for trainers as they create perfectly personalized workouts so clients are better engaged with their workouts and experience greater fitness success.
Custom Exercises
Showing instructional exercise videos to clients can help clients learn and retain information. With Exercise.com, you will be able to take this a step further by being able to show instructional videos featuring you or your staff members. This adds a personalized touch that your clients can connect with more.
TV Workouts
Gyms can also use your customized exercise library to cast exercise demos onto gym television screens. Create customized workout experiences such as casting a demo video pertaining to the current workout session.
Ecommerce Software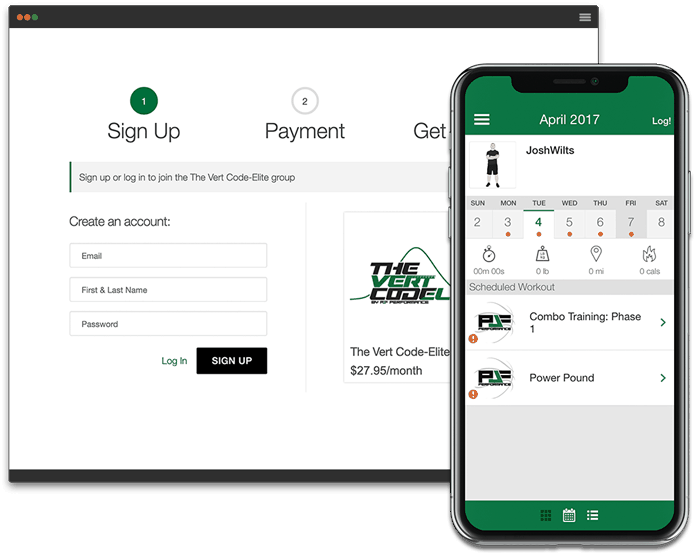 Having the capability to utilize ecommerce can be a very important factor in your business.
Zen Planner does offer a POS and inventory tracking feature. However, the Zen Planner POS doesn't provide the endless options for selling that Exercise.com does.
With the Exercise.com gym ecommerce software, you can go above selling products and memberships and can include a wide range of additional revenue-increasing options by upselling, down selling, and re-engaging clients. These options include:
single workout plans
group workout memberships
workout of the day subscriptions
annual subscriptions
group workout challenges
individual workout programs
other programs that are specifically tailored to your business
Payment Processing
As mentioned earlier, Zen Planner uses PaySimple and Bluefin for payment processors. You are able to track payments as online, offline, automated, or self-pay.  With Exercise.com, you will be able to accept one-time payments for products or services, send recurring monthly membership invoices, sell packages for personal training or group classes, or combine all accrued payables into one monthly bill for customers. Our Zapier partnership allows you to utilize different processing systems such as Stripe.
Sell Products
Both Exercise.com and Zen Planner provide users with ecommerce capabilities to sell products online.
Sell Workout Plans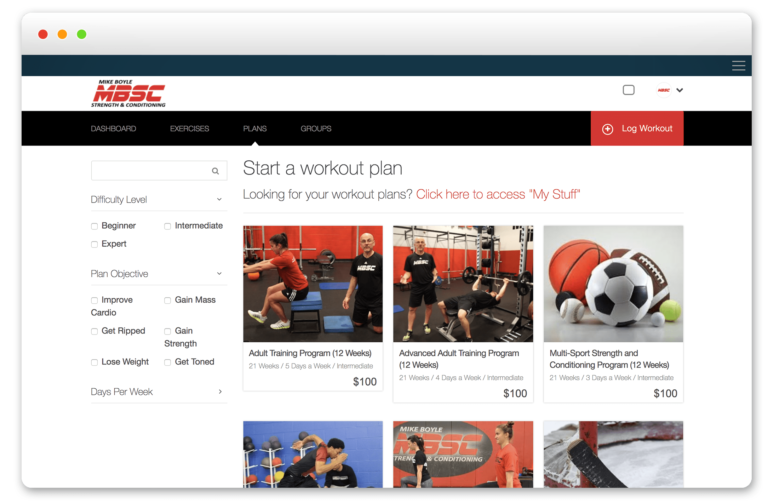 Zen Planner does not allow you to sell workout plans. With Exercise.com you have the ability to sell custom workout plans for customers.
Offer Online Workout Memberships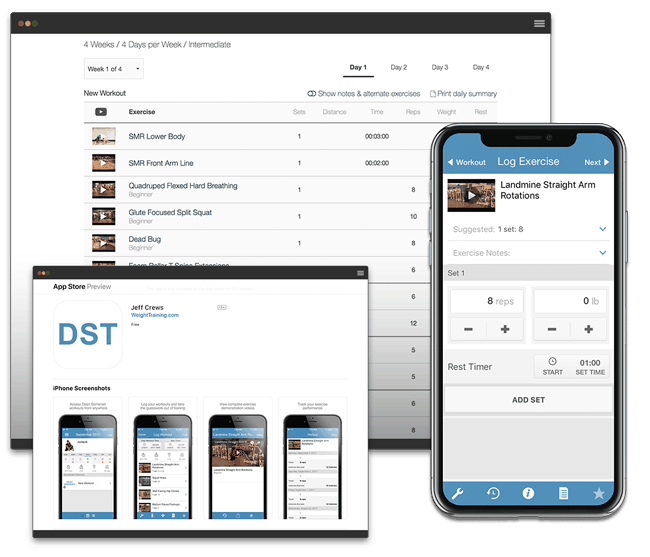 Zen Planner does not offer online workout memberships. With Exercise.com you can offer online workout memberships in many ways especially through automated programming delivery.
For example, Exercise.com client, PJF Performance, set up group memberships for basketball vertical and handles training. Each group has its own leaderboard, exercises, videos, instructions, and more. These workout plans are time-released for specific goals enabling Paul to reach hundreds of clients with a single workout plan. PJF is set up for passive income monthly for years to come. You can even sell specific workout challenges to add a personal touch and keep clients engaged.
Sell Workout Challenges
With Exercise.com you also have the ability to create special challenges for clients, such as a three-week conditioning challenge. You can create a custom way of engaging and motivating clients.
Fitness Assessment Software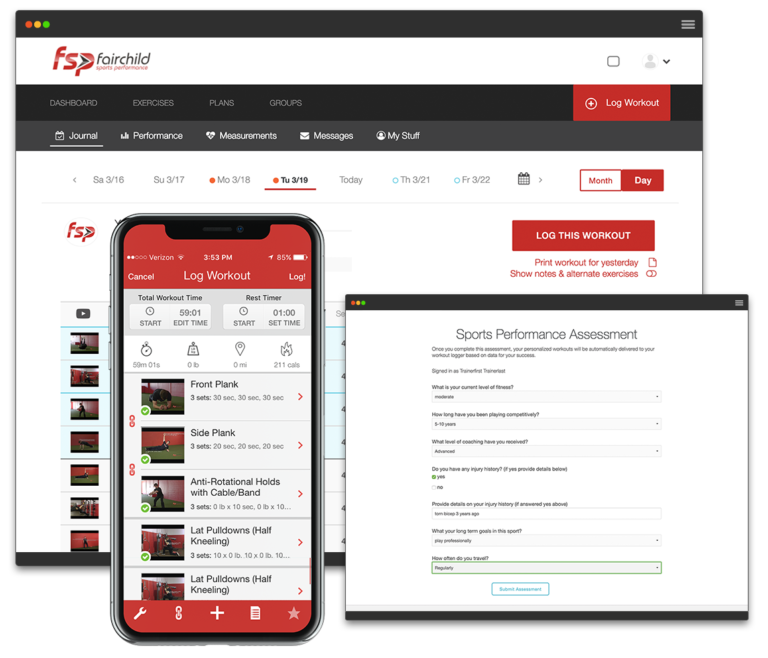 Having a baseline for your clients along with the ability to constantly change that baseline can help optimize your clients' health goals tremendously.
Our fitness assessment software allows you to:
Turn leads into clients
Engage clients through assessments
Track measurement data, injuries, etc.
Optimize the delivery of personalized workouts and nutrition
Assessments
Performance assessments are a signature feature from Exercise.com which is not available with Zen Planner. Exercise.com makes collecting data from client assessments and using that data to customize tailored workouts easy and straightforward. Assessments can be automatically inserted into a training regimen which can help clients increase their performance and progression.
Performance & Measurement Reports
Zen Planner has a skill and measurement tool to help track client progress. You can create your own or select one of Zen Planner's pre-made measurements, such as the 1 Mile Run, Deadlift, or Max Box Jump. Exercise.com can do the same while also keeping clients engaged with your business through automation–a feature Zen Planner doesn't have.
The Exercise.com assessment software platform allows you to deliver recurring assessments, progress photos, and measurements automatically. Not only does this make life simpler for you but it also helps the retention of clients as they are able to see how and why they are progressing.
Nutrition
Zen Planner's software does not provide you with nutritional content or features. As performance and nutrition can go hand in hand, it is important that the software you use utilizes nutritional features and options. With Exercise.com, your clients can track their daily intake and you can monitor their eating habits.
Zen Planner Pricing
Zen Planner uses tiered pricing based on your gym's number of active memberships. An active membership would be any person in your database as a member, even if their membership is on hold or has a past due balance. Not included are people saved in your database as prospects or alumni of your gym. Zen Planner automatically adjusts your payment based upon how many active memberships you have.
0-50 Members: $117/month
51-100 Members: $157/month
101-250 Members: $197/month
251+ Members: $227/month
It should also be noted that if you choose to utilize the Zen Planner website, there is an additional set-up fee of $499. If you choose to use a payment processor that is not PaySimple or Bluefin, there is a $20/month fee.
Exercise.com does not price per member which allows gyms optimal growth no matter if they are just starting and thinking big about growth or already managing a huge client base. Our packages are all-inclusive and never charge hidden or add-on fees.
Zen Planner Alternatives
If you're searching for a Zen Planner alternative, Zen Planner's top competitors are:
| Zen Planner | Competitors and | Price |
| --- | --- | --- |
| | Min Price | Max Price |
| Virtuagym | $29/mon | Contact vendor |
| Rhinofit | $57/mon | $147/mon |
| TeamSnap | $13.99/mon | $17.99/mon |
| Mindbody | $129/mon | $599/mon |
| Vagaro | $25/mon | $85/mon |
The Bottom Line: Pros and Cons
Choosing the right software to run your business can mean the difference between success and failure, but it doesn't have to be a hard choice because Exercise.com makes everything easier.
Zen Planner Cons
Many reviewers love the Zen Planner app and their customer service team but the inability to fully customize apps without upgrading, paired with a steep learning curve, leaves some users frustrated.
Zen Planner is also lacking in key features that are crucial to a fitness business, such as assessments, nutrition tracking, 1-1 and group training capabilities, custom exercise libraries, and more.
Exercise.com Pros
If you're looking for all-in-one fitness business management software that will allow you to grow and manage your business with ease, Exercise.com should be your choice.
We build your web and smartphone apps with your brand in mind. It's not just a cookie-cutter, pick-a-color software. It's your app. It's your software. It's your brand front and center. If you need a feature, integration, and more engaging performance health software let us know. Our world-class dev team has a proven track record of delivering software that works and works well.
Hopefully, you see the benefit of not waiting to have a system and software in place that allows you to manage and grow your business for years to come.
What features are most important for your business?
If you're ready to grow and manage your business with software that can be customized to your business, book a demo with Exercise.com.