Get the Basics...
Choosing the right personal trainer certification is an important decision.
ACTION Certified Personal Trainer (ACTION-CPT) is one of the many certifications available.
There are positive and negative aspects of the ACTION-CPT certification.
ACTION Certified Personal Trainer (ACTION-CPT) is one certification exam of numerous options available for personal trainers to choose from. There are many factors to consider when choosing the right personal training certification, so it's important for fitness professionals to weigh the positives and negatives of each certification before deciding which certification is the best fit for their career goals.
This review will discuss the details about the ACTION-CPT credential and exam. Ready to find out how to grow and manage your fitness business? Schedule a demo with Exercise.com today.
About ACTION
Previously known as ACT (Athletic Certification Training), the ACTION-CPT exam is administered by the ACTION Governing Board. There is little information online about the ACTION governing board.
ACTION offers three certifications: the ACTION certified personal trainer (ACTION-CPT), an Advanced Nutrition certification, and a Group Exercise Instructor certification.
ACTION also offers an online personal training certificate. This certificate does not give the individual certified personal trainer (CPT) credentials. Most fitness businesses, health clubs, and gyms only want to hire certified trainers so you will need to take the ACTION-CPT certification exam to earn those credentials. Learn more about the ACTION-CPT certification process by watching the video below:
About the ACTION Certified Personal Trainer Exam
The ACTION Certified Personal Trainer (ACTION-CPT) exam has three different study plans to choose from in order to prepare for the exam. The table below describes those plans, the materials included with each, and the costs.
| | BASIC plan | PROFESSIONAL plan | PLATINUM plan |
| --- | --- | --- | --- |
| Cost | $99 | $149 (or $9.95 monthly) | $249 (or $19.95 monthly) |
| Priority Support System | No | No | Yes |
| Advanced Nutrition certification included | No | No | Yes |
| Free Recertification for Life | No | No | Yes |
| Insurance Rate Benefits | No | Yes | Yes |
| Business Plan | No | Yes | Yes |
| Personal Trainer Form Library | No | Yes | Yes |
| Job Reference Letter | No | Yes | Yes |
| Practice Exam Questions | 10 | 200 | 400+ |
| Real World Simulations | 5 | 12 | 21 |
| Online classes | 2 | 18 | 28 |
| Books | Textbook | Textbook, Kindle book, and flashcards | Textbook, Kindle book, and flashcards |
| Online CPR Training | No | Yes | Yes |
If you choose the monthly payment plan, you are charged $35 and immediately have access to the resources and materials for that plan. You are charged the monthly fee until it exceeds the total cost of the plan. You can then cancel the monthly fee, or continue to pay it and apply to the next highest plan (Platinum plan).
On occasion, there is a Groupon available for the Platinum Plan. The Groupon price is $149, which is $100 off the normal price of $249.
Shipping for the textbook to the US and Canada is included in the cost of the materials. Aspiring personal trainers outside of North America must have a $14.95 shipping fee. A pdf of the textbook is available for immediate download. A Kindle book is available for those who purchase the Pro or Platinum plans.
The online courses are available to stream online or you can download the videos for mobile viewing offline. The ACTION Learning system is available via the mobile app. You can also purchase additional videos for around $15.
The only additional charge on top of the study materials is the $99 fee for the testing center.
Applicants can sign up and pay online to schedule the exam. You must have current CPR and AED certification and provide proof to take the personal trainer exam. The exam must be taken within one year of purchase.
The exam is given by the Prometric test centers, which have locations across the US and worldwide. Test times and dates are during the week from 9:00 am to 5:00 pm with some availability also on weekends.
ACTION recommends the Basic Plan if you have a fitness background, prior experience in the fitness industry, or previous education in exercise science. If you learn well from reading a book, you can probably also pass the exam with the Basic Plan. Others who need additional resources would benefit from the Pro Plan.
ACTION also has one option to take the exam without the purchase of any study materials. The costs of just the exam with no study materials are $99 for the testing center fee and $99 for the exam fee for a total of $198.
There is no fee to re-take the NCCA-Accredited exam, but you must wait 90 days to re-take the certification exam and pay a $99 testing center fee. There is no waiting period to re-take the online exam but you must pay a $35 fee.
Exam Structure and Content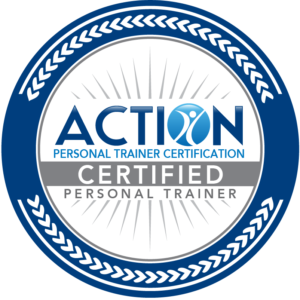 The ACTION-CPT exam has 150 questions. You have 2.5 hours to take the exam and you must achieve a 70% to pass the exam. You will receive your score immediately via email.
The overall content of the ACTION-CPT focuses on education, instructor training, and practical knowledge. The following topics are covered in the certification exam:
Anatomy
Biomechanics
Client Assessment
Flexibility Exercises and Importance
Program Design
Safety
Special Populations
Nutrition
Legal and Business Topics
The ACTION online personal trainer certificate comes with the study materials and has no charge to take the online exam. Some test-takers will use this as a practice exam for the ACTION-CPT exam.
Recertification and CEUs
All personal training certifications require recertification for fitness professionals to stay current with continuing education and to keep their certification active. Different organizations have different recertification time lengths as well as differing continuing education credits or units.
ACTION-certified personal trainers (CPTs) must renew and recertify every two years and the cost is $65. Those who chose the Platinum Plan do not have to pay any recertification fees for their lifetime, which could add up to significant savings over time.
CPTs must obtain 2.0 Continuing Education Credits or CECs in the two-year period to renew their certification. This amounts to 20 hours of face-to-face or online learning.
The table below compares the recertification cycle, costs, and CEUs/CECs required for seven different personal training certifications, including ACTION.
| Organization | Recertification length for each cycle | Recertification cost per cycle | CEUs or CECs required per certification cycle |
| --- | --- | --- | --- |
| ISSA (International Sports Sciences Association) | Two years | $99 | 20 hours of CEUs |
| NASM (National Academy of Sports Medicine) | Two years | $99 | 2.0 CEUs (20 hours) |
| NSCA (National Strength and Conditioning Association) | Three years | $75 | Between 2.0 CEUs (2 hours) 6.0 CEUs (60 hours) depending on when certification was obtained |
| ACE (American Council on Exercise) | Two years | $129 | 2.0 CEUs (20 hours) |
| ACSM (American College of Sports Medicine) | Three years | $45 | 45 CECs (45 hours) |
| NESTA (National Exercise and Sports Trainers Association) | Four years | $149 | 4.0 CEUs (40 hours) |
| ACTION | Two years | $65 | 2.0 CECs (20 hours) |
ACTION accepts CECs offered by other organizations, so you do not have to get all of those directly from ACTION. ACTION offers two additional certifications that count for CECs. Those are:
The Advanced Nutrition Certification, which regularly costs $149.95, but is currently on sale for $99.95. It counts for 0.8 CECs and covers nutritional recommendations, supplements, and sports nutrition.
The Group Exercise Certification also usually costs $149.95 and is currently on sale for $99.95. It counts for 0.6 CECs and prepares instructors to lead safe and effective group exercise classes as a group exercise instructor.
See for yourself - Meet with the Exercise.com Team today
Grow and manage your fitness business with Exercise.com
The Positives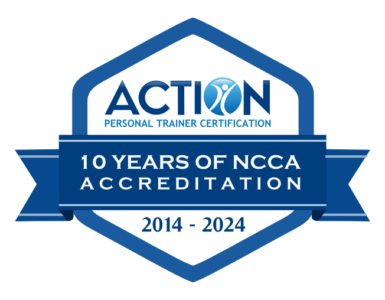 The ACTION personal trainer certification is accredited by the NCAA (National Commission for Certifying Agencies). The accreditation was granted in 2014 and expires in 2024. Accreditation means that specific standards have been met by the organization and in the exam.
The ACTION personal trainer certification exam is the cheapest exam available, at only $198. This covers both the testing center fee and the fee for the certification exam.
The study materials are available in a variety of formats. There is a physical copy of the textbook, a digital copy of the textbook, flashcards, practice exams, videos available for online or offline viewing, and a mobile app.
Another positive is that you have one year to take the ACTION-CPT exam once you register. The online format gives you the flexibility to progress at your own pace and take the exam when you feel ready to do so.
The ACTION-CPT gives you the foundational knowledge you need to be successful as a personal trainer. If you purchase the study materials, you have access to them forever.
ACTION also has some negotiated deals for liability insurance. Liability insurance is important for all personal trainers to carry, so this might save you a little money in the long run. The career transition materials that are available in the Pro and Platinum plans are also nice additional resources to help you as a newly certified personal trainer.
The Negatives
The ACTION CPT is not one of the most reputable certifications available. This may be because it is a newer certification and is it fairly new to NCCA accreditation. Other personal training and fitness training certifications have a long history of accreditation, like ACSM (American College of Sports Medicine), ACE (American Council on Exercise), NASM (National Academy of Sports Medicine), and NSCA (National Strength and Conditioning Association).
One other negative of the ACTION-CPT is that while it gives a good educational foundation for personal trainers, it is not nearly as in-depth or research-based as some of the other well-known certifications. Some users have commented that the textbook also has some inconsistencies in information.
ACTION does not provide phone support to the test takers and certified professionals. They do provide email, chat, and text message support.
One of the biggest complaints about the ACTION-CPT exam is that ACTION is trying to sell its Personal Training System, which is a platform to use to develop, deliver, and track workouts, assessments, and nutrition information for clients. They advertise and recommend this system throughout the textbook, as well as on their website.
When you purchase one of the study plans, a screen comes up for a 10-week free trial of the Personal Training System. After this, you will be charged $39.95 a month until you cancel.
It's also confusing that ACTION offers the free online personal training certificate that comes with the study plans. A personal trainer certification is not enough to get a job as a personal trainer, so this is a useless credential. The certified personal trainer (CPT) credential is needed to be a reputable personal trainer.
The fact that a personal training certification offers a Groupon for their CPT exam is an odd occurrence. Why not just offer the Groupon price as the regular price for the certification program?
The Bottom Line
The ACTION-CPT exam is one of the cheapest options available, but not one of the most reputable. If you are just looking for a certification to have one, this one might work for you. But if you are looking to be competitive as a personal trainer, one of the other more reputable certifications would be better suited for you.
It is considered more of an entry-level certification, which may be appropriate for some fitness professionals. Others might be looking for a more in-depth or challenging certification to obtain.
ACTION does not require a high school diploma to take the ACTION-CPT exam, nor do they have an associate's or bachelor's degree requirement, which could be a positive or negative aspect depending on how you look at that.
Check out another ACTION promotional video below:
Frequently Asked Questions (FAQs)
What are the requirements to take the ACTION certified personal training (ACTION-CPT) exam?
You must have CPR/AED certification or obtain them online through one of the plans. For most certifications, you must have a high school diploma, but ACTION does not require that at this time.
Is personal training a good career to get into?
Yes, if you enjoy working with individuals to help them meet their fitness goals, motivating and encouraging people to be active, and if you are willing to work hard and have a positive mindset, personal training may be a good career for you.
How much does the ACTION-CPT cost?
The exam fee without any study materials is $99, plus a testing center fee of $99.
What is the difference between the online personal training certificate and the ACTION-CPT exam?
The online personal training certificate is free with any of the study plans and is taken online. Some use this online exam as a practice exam for the ACTION-CPT exam. The ACTION-CPT is NCCA accredited and gives you the CPT credentials, which is important for a job in the fitness and personal training industry.
Where do you take the ACTION-CPT exam?
The exam is given at Prometric Testing Centers, which are available worldwide.
How long should I study for the ACTION-CPT exam?
This will vary depending on your experience and expertise. If you have a background in fitness, have taken coursework in exercise science, or have prior experience working in health and fitness, then you would need less time to prepare than someone new to the fitness industry. It's important to develop a study plan based on your background that's flexible enough to meet your schedule. You have one year to take the exam from the time you register for it.
After you're certified, find out how to grow and manage your fitness business. Schedule a demo with Exercise.com today