Exercise.com: Your Dash Platform Alternative
| Features | | Dash Platform |
| --- | --- | --- |
| Workout Creator / Logger | | |
| Client / Class Scheduling | | |
| Assessments | | |
| Exercise Library | | |
| Gym / Facility Management | | |
| Payment Processing | | |
| Sell Products | | |
| Online Training | | |
| Business Dashboard Reports | | |
| iOS & Android Apps | | |
| Custom Branded | | |
| Marketing Integrations | | |
| Websites | | |
| Custom Exercises | | |
| 1-1 Training | | |
| Group Training | | |
| Sell Workout Plans | | |
| Run Workout Challenges | | |
| Offer Online Workout Memberships | | |
| TV Workouts | | |
| Performance & Measurement Reports | | |
| Client Automation | | |
| Dedicated Zapier Support | | |
| Dedicated Account Manager | | |
| Nutrition | | |
Why Choose Exercise.com?
Here are five reasons why fitness professionals use Exercise.com vs. Dash Platform.
Fitness Business Management Software to Run Your Business
Unlike Dash Platform, Exercise.com software is designed to have all components needed to run a fitness business in one place – making it easy and efficient to organize and grow your fitness business with client and class scheduling, check-ins, and billing — all from your custom-branded apps. 
Fitness Business Management Software to Run Your Business
Unlike Dash Platform, Exercise.com software is designed to have all components needed to run a fitness business in one place – making it easy and efficient to organize and grow your fitness business with client and class scheduling, check-ins, and billing — all from your custom-branded apps.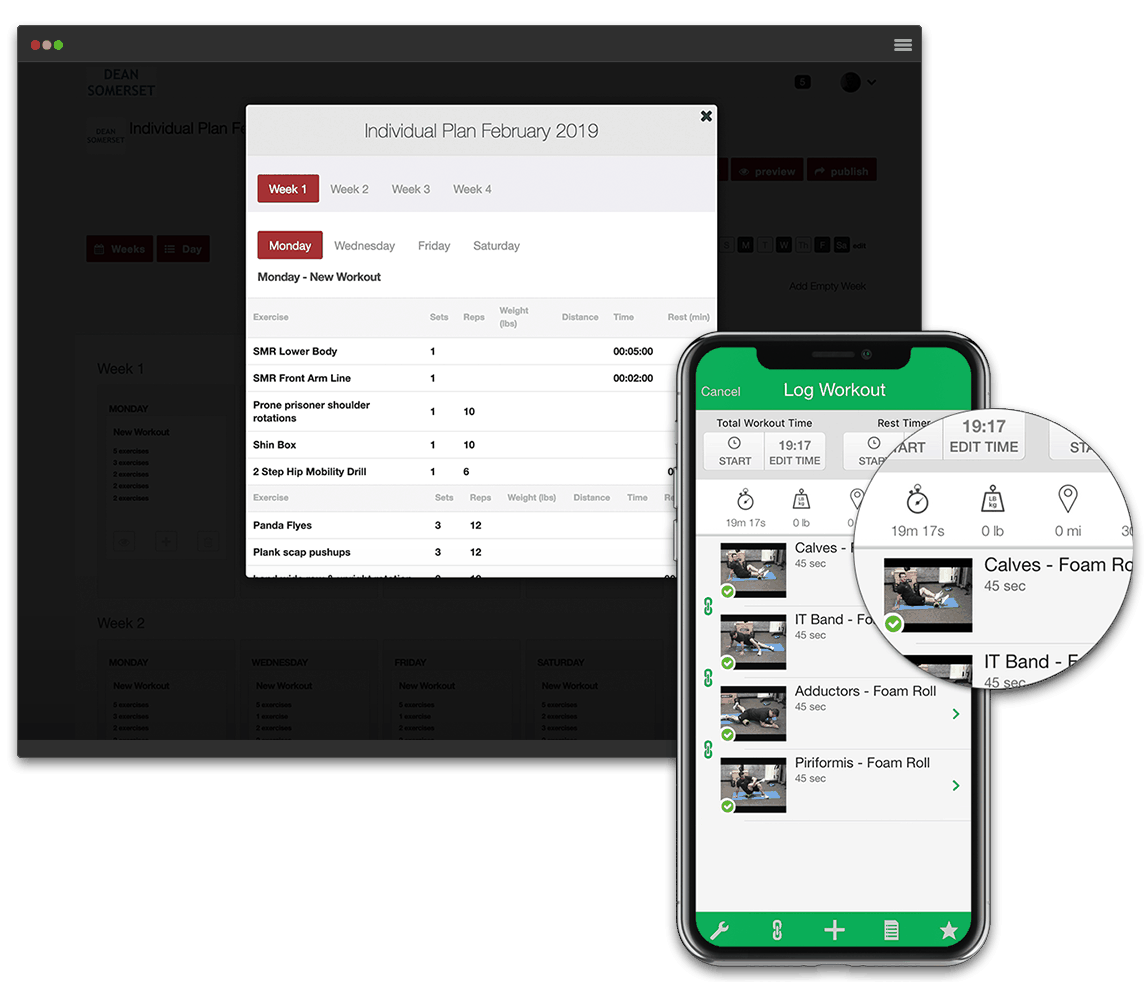 Workout Software to Power Your Training
Dash Platform does not offer workout software – an essential component to running a fitness business. The Exercise.com workout plan creator and exercise manager provide flexible solutions to save you time creating workouts with built-in integrations, tools, and more.
Ecommerce Software to Increase Revenue
Dash Platform allows fitness businesses to process payments and sell products but has no other ecommerce capabilities. Exercise.com, however, has full ecommerce capabilities allowing trainers to sell single workout plans, offer automated workout memberships, run workout challenges, and deliver individual training.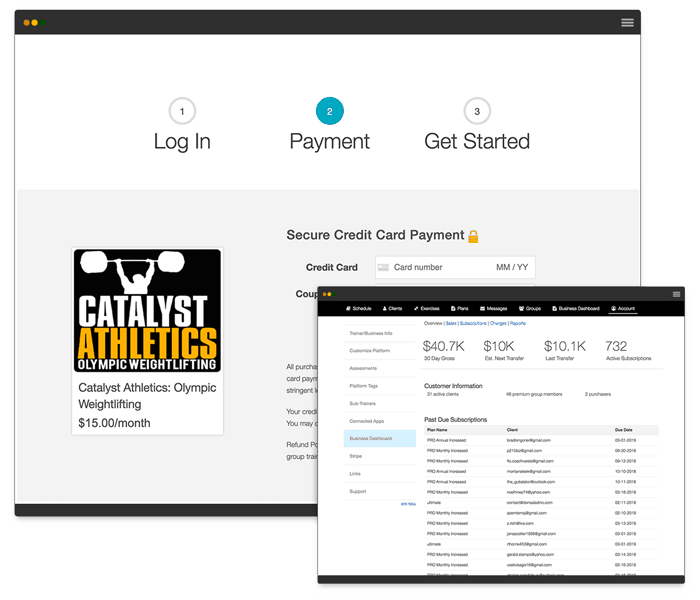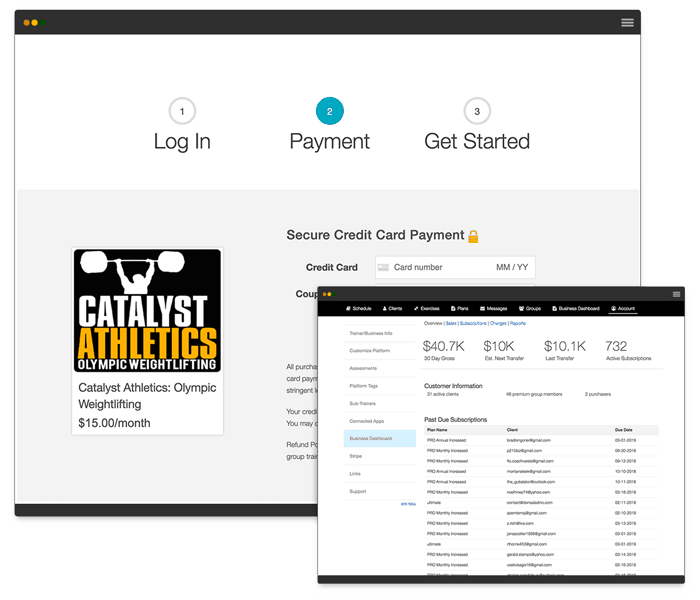 Ecommerce Software to Increase Revenue
Dash Platform allows fitness businesses to process payments and sell products but has no other ecommerce capabilities. Exercise.com, however, has full ecommerce capabilities allowing trainers to sell single workout plans, offer automated workout memberships, run workout challenges, and deliver individual training.
Assessment Software to Improve Client Engagement and Retention
Dash Platform lacks assessment software, but that's not the case with Exercise.com. With Exercise.com, you can take clients through personalized assessments to deliver custom workouts and nutrition notes for their individual needs – providing massive growth potential and saved time.
Stand Out With Your Own Custom-branded Apps
Dash Platform does not offer any commercial apps or websites for fitness businesses. Exercise.com, however, offers fully-customized apps and websites built to make your life easier by providing your clients with a unified scheduling and workout experience with your brand displayed front-and-center.
Stand Out With Your Own Custom-branded Apps
Dash Platform does not offer any commercial apps or websites for fitness businesses. Exercise.com, however, offers fully-customized apps and websites built to make your life easier by providing your clients with a unified scheduling and workout experience with your brand displayed front-and-center.
If you're ready to get started with an easy-to-navigate, all-in-one fitness software, designed to fuel your business, request a demo with Exercise.com today.
And, if you want to see how Dash Platform's additional features stack up to Exercise.com software features, check out our in-depth guide below.
What is Dash Platform?
Dash Platform was founded in 2001 and claims to be one of the leading management software for sports facilities, non-profits, and parks and recreation organizations. The Dash CRM features include program, class, and league management, scheduling, point of sale (Dash POS), payment and processing, and reports. The platform is detail-oriented in efforts to please customers and admins alike.
Although Dash has been around for a few decades, there aren't many customer reviews on the software. Further, Dash's website isn't detailed in describing many of its features. This leaves businesses with many uncertainties in purchasing Dash's software.
Dash and Exercise.com share similar features but have different niches. While Exercise.com is designed to meet the needs of fitness businesses, Dash is for ice and multi-sports facilities, non-profits, and parks and rec. Dash's broad customer base means its features aren't specifically helpful to any one industry. Without the specificity to fitness, Dash is little more than a generic business management software, lacking the tools your business needs to grow.
But Exercise.com is laser-focused on meeting the needs of each unique fitness business. We give you a custom website and app; key features to grow your business such as facility management, thousands of integrations, and ecommerce variety; and fitness-specific functions such as performance assessments, workout creator/logger, and nutrition trackers. With the power of a customized platform, your fitness business is set up to succeed!
As we will see in the review below, Dash may get the job done, but there is no specificity to fitness businesses. Like every business field, there are certain features and functions that make your fitness business more efficient and profitable. Despite what Dash proposes, there isn't a one-size-fits-all software for businesses.
Let's dive into the review!
Unless otherwise stated, all images and reviews below are of/about the Exercise.com All-In-One Fitness Business Management software platform.
Fitness Business Management Software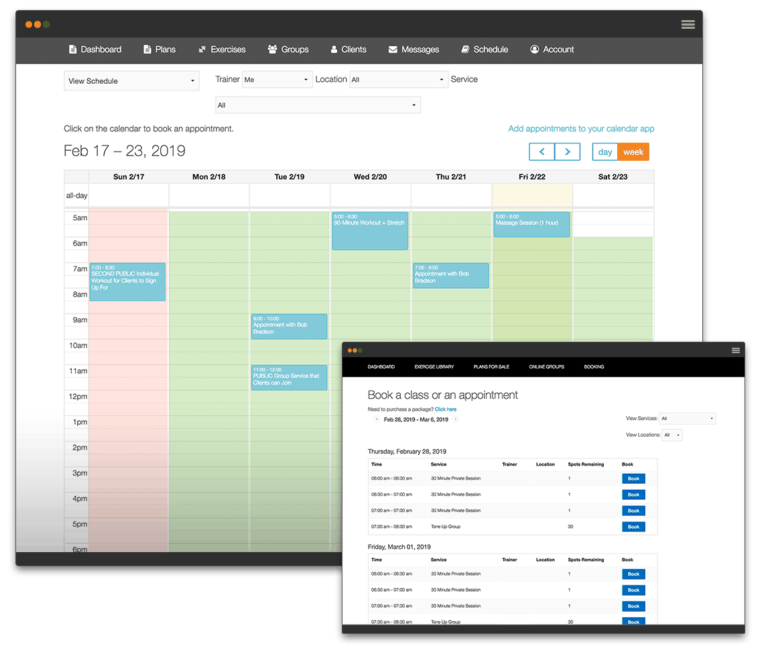 Fitness centers are fast-paced environments that require relationship-building strategies and customer engagement to keep retention high. But it's challenging to build relationships and community when you're stuck behind a desk manually tracking and analyzing reports or sending customer-specific emails.
This is why a reliable, efficient management software is invaluable to fitness businesses. A platform that automatically performs time-consuming tasks opens up hours in a managers' day so they can stay engaged with their staff and customers.
Dash has features that may meet the basic needs of business management, but as you'll see below, Exercise.com gym management software meets–and exceeds–these needs with a fitness-specific, comprehensive approach.
Client/Class Scheduling
Not much information could be found about the specifics of Dash's booking and scheduling feature. According to its brief website description, Dash has a drag-and-drop feature that makes it easy to schedule entire sports seasons at once. Dash also allows field reservations, facility bookings, and rentals, attendance tracking, check-ins, and kiosks for drop-in classes, scheduled classes, and leagues and camps. Individual, family, and group memberships are supported by Dash.
While some of these features could be helpful for a fitness business, there are many other missing features that can help manage and grow your business. For instance, Dash doesn't have an easy way to schedule or manage 1-1 or group training sessions and has no online booking capabilities. These are missed opportunities for your business!
But Exercise.com is designed for fitness centers, so it supports all of your scheduling and booking needs! A busy fitness center with a packed schedule can be overwhelming for members to view. But with our search filter feature, members can view your schedule by location, trainer, day, time, and more, to find the class that fits their schedule. This results in more bookings and greater profit!
Additionally, clients can view and book individual appointments with their trainers. This is an essential function of a fitness center's scheduling that Dash doesn't support.
Gym/Facility Management
Dash and Exercise.com are compatible with regard to reporting as both offer a number of standard and customized tests.
Exercise.com has dozens of targeted reports (and report analyses) to examine your business from all angles. The invaluable insight gained from these reports and analyses helps streamline your business and increase your profits. Better understand your clientele base, your staff's strengths and weaknesses, marketing strategies, and more, so you can make informed decisions that grow your business! A few of the Exercise.com software platform's tailored reports include:
Revenue
Taxes
Commission and ecommerce
Client and group reports
Customized reports
Business Dashboard Reports
With Exercise.com, all of your reports can be run in a single software. No more safaris for which software has which reports. The Exercise.com Fitness Business Management (FBM) software platform makes reports easy — sales, business, appointments, class, and payroll reports all in one place. Plus you can also sort reports by:
These reports empower you to have your finger on the pulse of your business and if you're bringing on new trainers you'll know how much to pay staff based on commissions.
Client Automation
According to the limited information found on Dash's website, Dash allows automatic programming, scheduling, and registration of sports events as well as custom client emails, but these must be manually created and sent.
Client automation is key for a fitness business, and not knowing what Dash offers is a big risk for your business. Manual tasks are what keep you behind your desk and away from building relationships with customers! Further, while Dash does have some automatic features, they don't have fitness-specific features that eat away at your time.
But with Exercise.com, you can send workout deliveries, nutrition plans, and resources automatically. Send class, appointment, or event reminders through email, text, and push notifications in your custom-branded. app. Membership renewal and payments can be accepted automatically, as well. These not only save you and your customers time but also engage customers with timely, customized notifications.
Dedicated Zapier Support
Dash has three main integrations: you can integrate the schedule and registration with your already-existing website, integrate with social media platforms, and link your account with Google Analytics to track data about your website. But any business manager knows there are many other integrations you need to run a successful, profitable business.
Exercise.com has dozens of integrations already embedded in our software. But we don't stop there! We also partner with Zapier and its over 2,000 apps so your business can run at its peak efficiency and deliver a positive, personalized experience to every customer. This a huge advantage to your business that Dash doesn't offer.
Dedicated Account Manager
Like many companies, Dash's customer service department can be reached by email, chat, or phone, and requests are answered in the order in which they were received by a customer service representative. There are no user reviews on Dash's customer service, but queues are notorious for being backlogged and slow. This format of customer service can severely impact the service you're able to provide to your customers.
Exercise.com takes our customer service very seriously, so instead of waiting through a queue system, you receive a dedicated account manager who personally assists with all of your software needs–indefinitely! Your account manager is with you from the beginning to help set up your perfectly personalized website and app and is yours to contact at any time throughout your partnership with us.
As your business grows, your account manager can quickly adjust your platform, website, and app to meet your needs. Your account manager is happy to make every alteration and guide you and your staff through any changes.
Customized Software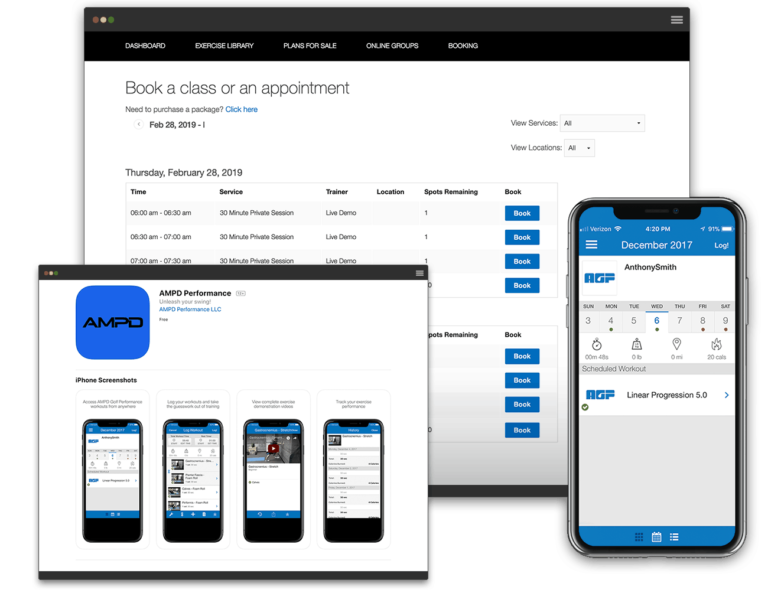 Dash has some customization that allows admins to alter their financial dashboard, input custom data, and create new schedules. But otherwise, the platform isn't customizable to the specific needs of your business; instead, your business must adapt to Dash.
But Exercise.com is here for your business. Our platform is completely customizable, user-friendly, and designed to help your fitness business succeed. Let's examine the many ways this is accomplished below.
Custom-Branded
Dash integrates with your website but doesn't offer any custom branding. This means customers will use their Dash login to log into the Dash Platform app instead of your custom-branded app and Dash's logo is displayed for the schedule, registration, and payment process. Essentially, your brand is second to Dash's.
But Exercise.com promotes your brand from start to finish. Your custom app, website, ecommerce opportunities, workout software, and performance software all celebrate your unique brand, which keeps your customers strongly connected and engaged with your business.
iOS & Android Apps
Dash offers a customer app (Dash Online) where customers can view the schedule, register for events, make payments, view their member and player card, track player stats, and more. However, the app is unable to be custom-branded and has countless poor reviews.
While some of the features are helpful, they aren't specific to fitness. Dash won't deliver workouts, performance assessments, or nutrition plans. This forces your trainers to manually create and deliver every plan and their clients to keep track of these plans in print form or another app.
Additionally, no data could be found about a Dash admin app. This is surprising given that a customer app is available, but nevertheless, we are unable to confirm that an admin app is provided or if Dash Online has admin features. If Dash doesn't have an admin app, this means all admin tasks must be completed on a computer, which significantly impacts your business, productivity, and customer engagement.
Exercise.com, on the other hand, has both customer and admin apps for a comprehensive platform. Our professional, custom-branded app for personal trainers keeps everything organized in one place and customers engaged with your brand. Easily send automatic email and/or text reminders and alerts, plus deliver workouts, resources, nutrition plans, and assessments straight to clients. With our admin app, managers and trainers alike can take their business with them and access tasks on-the-go.
Websites
Every business needs a professional, eye-catching website that is both informative and engaging. Unfortunately, Dash doesn't offer any website creation; it only allows you to integrate Dash with a pre-existing company website. This means you must spend time and money on website creation and maintenance, which is another managerial task on your plate.
However, the Exercise.com software platform is comprehensive–we build and maintain a custom, secure, and SEO-optimized fitness business website for you! Choose from unlimited theme changes, custom graphic work, colors, features, custom dev, and more. After set up, your dedicated account manager manages your website according to your specifications. This saves you hours of valuable admin time! (Plus, we're a Google Certified Partner.)
Security Features
Dash uses its own Dash Payments for payment processing. There are no reviews or data on the security of this processor, so this is potentially a big risk for your business and customers. In the Terms of Service, Dash states that it protects business and customer information through "commercially reasonable efforts," but doesn't list how.
But Exercise.com takes the security and protection of membership data very seriously. We want all of our customers (and their customers) to be confident in the storage of private health and payment information. That's why our websites and apps are SSL Secure, client information is protected with the internationally-secure Privacy Shield Framework, and we utilize Google Cloud for storing and transferring data. Payments are made and processed through Stripe.
Marketing Integrations
Marketing integrations are essential for an efficiently-run business. They give a competitive advantage to your business by maintaining customer relationships, boosting profits and sales, and saving time, money, and stress.
Another huge drawback to Dash is that it lacks marketing integrations. Dash can integrate with social media platforms, but many businesses need more than social media capabilities. This means you must invest time into manual marketing strategies or money into a marketing integration program.
Exercise.com knows the importance of marketing integrations for your business, so we offer dozens of integrations to help your business succeed! Some popular integrations include:
MailChimp
ConstantContact
ConvertKit
Zapier
Google Analytics
Facebook Pixel
And more!
With the addition of Zapier, our software integrates with almost every program, making Exercise.com an exceptionally versatile and valuable fitness management platform!
Learn more by clicking the button below.
Exercise.com is the best Dash Platform alternative.
Workout Software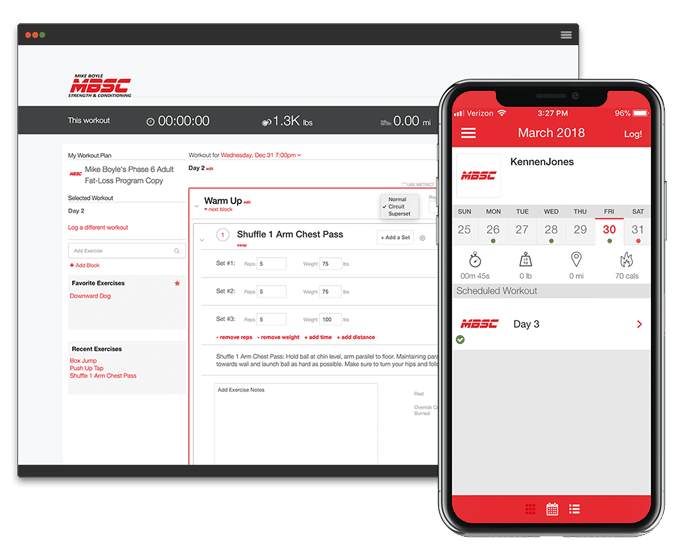 One of the best ways fitness businesses can provide the personalized fitness experiences their customers desire is through workout software. This aids in customer satisfaction, retention, and ultimately increased profit.
Even though Dash can be used by ice and multi-sports facilities, it doesn't offer workout software. This is because Dash is primarily designed to manage the reservations of facilities and schedules of sports teams; it is not designed for personalized fitness experiences. This means using Dash as your business software won't provide personalized fitness experiences that engage customers with your brand.
Exercise.com knows how workout software boosts customer satisfaction, so we've carefully created an exceptional workout software that aids in customer retention and boosts revenue. Since Dash doesn't provide workout software, let's take a look at how Exercise.com workout software aids your business!
Workout Creator/Logger
The Exercise.com top-of-the-line workout creator and logger keep clients engaged and motivated towards meeting their fitness goals. Our efficient system allows trainers to assign clients a pre-designed workout or create a personalized workout to meet the specific needs of the client. These plans are delivered automatically to the client via your custom-branded app.
Inside your app, clients can view and log their workout anytime, anywhere, as well as communicate with their trainers. Trainers can track workout completions, results, assessments, and more. This system highly personalizes a client's fitness experience while keeping your trainers productive.
Exercise.com knows that every trainer-client relationship is different, so our workout creator/logger has countless possibilities to deliver workouts, tips, and encouragement to clients in any scenario, including:
1-1 Training
Exercise.com supports this traditional training method by keeping all your clients' workouts, nutrition plans, resources, goals and progress reports, and performance assessments in one accessible location–your app! The app also allows client-trainer communication at any time. All of these features encourage better program adherence, which leads to improved results and greater client satisfaction.
Group Training
Group exercise boosts customer satisfaction, fosters a tight-knit gym community, and ultimately increases your profit. With Exercise.com software, trainers can simply use the same resources and support as 1-1 training and apply them to group training! Exercise.com allows you to easily create, schedule, and track attendance, so you experience the benefits of group classes without the headache of managing all the moving pieces.
Online Training
In today's fast-paced society, more customers are demanding online training as a provided training option from their various fitness centers. The Exercise.com software platform allows you to cater to these customers by providing online training services! And the process couldn't be easier: trainers simply customize workouts by using our extensive video and exercise library, then track client progress and stay in communication via the app.
Exercise Library
Exercise.com has an extensive library of educational and instructional exercise videos that can be used for a variety of purposes, such as the creation of pre-designed or custom workouts. These professional videos give clear instructions on proper form and modifications for injuries and difficulty levels.
This is a feature unique to Exercise.com and is not included with Dash. Using Dash leaves your trainers without the necessary tools to effectively do their job; they would need to provide their own videos or pay for an exercise logger and library. Neither of these options is efficient, and instead, leaves clients and trainers frustrated by Dash's inadequacies. Far better, Exercise.com keeps everything–including workouts– organized in your custom-branded app.
Custom Exercises
Not only does Exercise.com offer dozens of professional videos demonstrating standard and modified exercises, but we also enable your business to merge with your YouTube or Vimeo accounts. Incorporating your own videos into the exercise library and workout logger is an excellent way to build trainer familiarity and promote your brand!
TV Workouts
During group classes or 1-1 training sessions, trainers can easily cast Exercise.com videos or your own custom videos onto a gym television screen. This personalized touch is yet another way Exercise.com promotes your brand!
Gym Ecommerce Software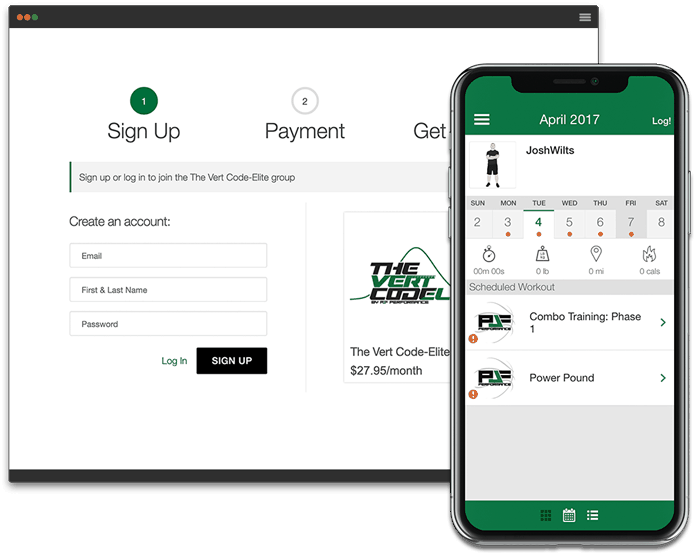 As more commerce is moved to online purchases, it is becoming increasingly vital for fitness businesses to capitalize on ecommerce opportunities. Fitness businesses have endless options to make a substantial profit through ecommerce–but only if you have software that supports ecommerce. And unfortunately for Dash, their ecommerce capabilities are limited to Point of Sale (POS), rentals, and concessions.
But the Exercise.com gym ecommerce software platform is here to support your unique ideas and endeavors. Check out just a few popular ways Exercise.com grows your business through ecommerce:
Payment Processing
As mentioned above, Dash uses Dash Payments. According to Dash's website, it accepts EMV and is PCI Compliant, but no other data or user reviews could be found. This lack of information could be very risky for your business!
Exercise.com uses the ease, security, and accessibility of Stripe for all payments. You and your customers can be confident with the reliability of our platform's payment processor.
Sell Products
Sell just about anything in your personalized ecommerce store, which boosts your revenue and promotes your business. You can list just about anything in your store, such as custom-branded workout gear and paraphernalia, supplements, nutrition bars, and more. When members use or wear your custom-branded apparel in the community, your business gains creative advertising and strengthens customer loyalty.
Sell Workout Plans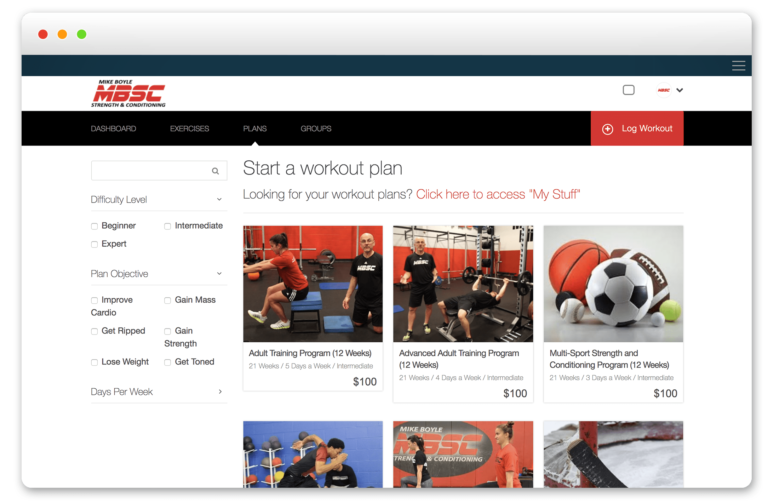 Creating and selling your own pre-built workout plans has many benefits for your business, such as further engaging current members, retaining members that don't have time to make it to the gym, giving members the experience of a personalized trainer in the comfort of their own home, and boosting your revenue!
Since you know your clientele, your workouts can be completely customized to meet the needs of your customers! This gives you an advantage over generic workout videos and promotes your brand.
Best yet, Exercise.com enables you to sell unlimited plans, so there's no cap on your potential profit! This allows you to offer a variety of plan lengths, difficulties, fitness focuses, and even highly-specific workout plans to best meet the needs of your clients and customers.
Offer Online Workout Memberships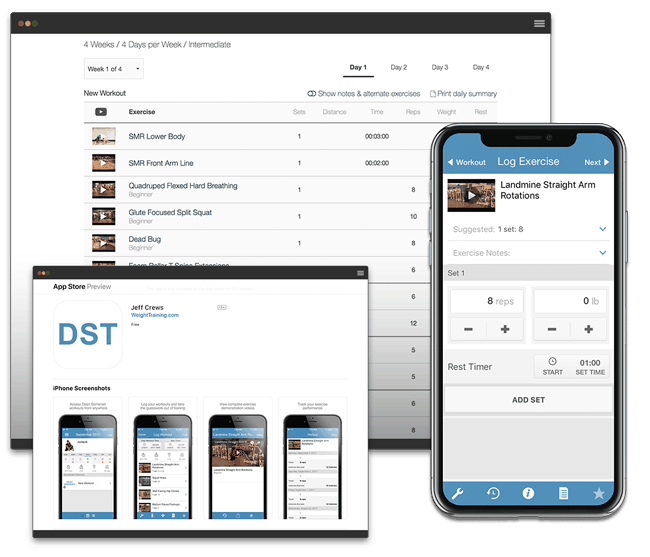 An upward trend in fitness centers is offering customized online memberships; clients will pay a premium price for customized workouts they can perform independently. While the premium price can be a nice boost to your revenue, the creation of personalized workouts can be time-consuming and cuts down on the overall profit from selling these plans.
But Exercise.com allows your trainer to create a client's entire plan in one sitting, schedule automatic delivery intervals, and then track client progress through their program. This keeps your trainers productive and your clients happy, all while allowing your business to gain the most profit from this service. Plus, it's another excellent way to utilize the Exercise.com platform's versatile software!
Sell Workout Challenges
Everyone enjoys a good challenge, and with Exercise.com, we make workout challenges a fun way for gym members to better engage with your fitness centers. Through workout challenges, participants can push themselves, have additional fitness accountability, channel a competitive spirit, and cheer on other gym members at the same time.
Managing a workout challenge couldn't be easier with Exercise.com software. Simply input the details and let the software run the challenge for you!
Fitness Assessment Software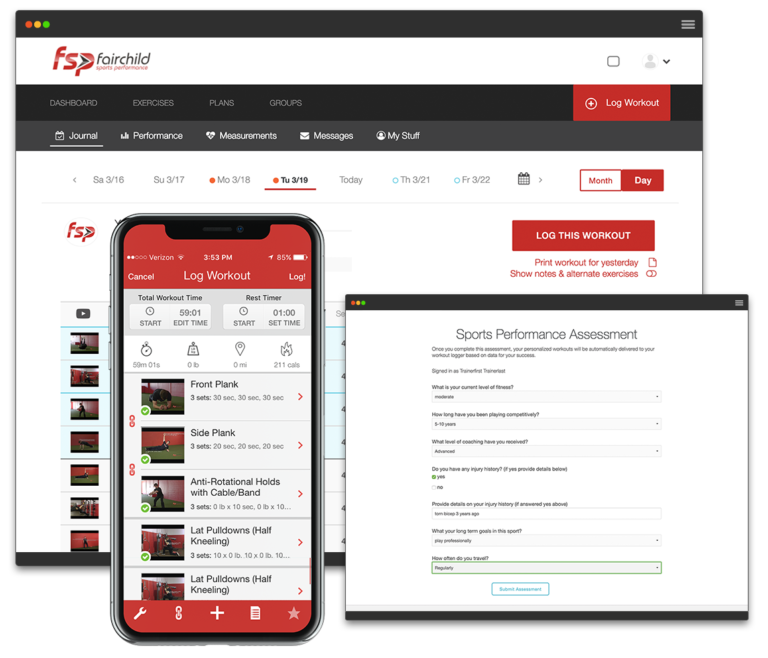 Assessments play an important role in your fitness business, especially for your personal trainers and their clients. Performance assessments keep the client and trainer safe and track the client's progress towards their goals.
Dash doesn't offer any performance assessments or evaluations. This is because Dash mostly emphasizes the scheduling of ice and multi-sports facilities or parks and rec, and doesn't focus on features for personal trainers or clients.
But Exercise.com knows that performance assessments are vital to fitness business management, so that's why we include fitness assessment software in our platform! Since Dash doesn't offer this feature, let's examine how Exercise.com streamlines your business with our assessment feature.
Assessments
Initial assessments establish a client baseline and guide a personal trainer's approach. Periodic re-assessments are often motivating for clients as they see their progress and allow personal trainers to tweak a client's plan.
While performance assessments are standard and necessary, you can set your business apart in how you record, track, and present performance assessments! Exercise.com has both standard and customizable assessments, which enhance a client's personalized fitness experience. Every assessment is easy to complete so trainers stay engaged with their clients. Assessments are automatically delivered to clients and stored in your app for instant accessibility.
Performance & Measurement Reports
In addition to customized performance assessments, Exercise.com also provides personalized interactions! Add a personal touch for better customer engagement by automatically delivering workout reminders, goal achievements, recurring assessments, progress photos, measurements, and more!
Nutrition
No fitness software is complete without addressing nutrition! Exercise.com software includes a nutrition tracker and logger where clients can easily log and track their daily dietary intake. This helps determine whether clients prioritize pre and/or post-workout meals. And because trainers can view a client's dietary log, it also helps keep clients accountable and focused to meet their fitness goals, which ultimately improves client satisfaction.
Dash Platform Software Pricing
Dash doesn't offer any pricing details on its website, and no pricing data could be found from outside sources. Dash has an inquiry-only policy for its prices.
Dash Platform Alternatives
Dash's competitors include:
Visio
EZOfficeInventory
Branch
FMX
Maintenance Connection
UpKeep
mHelpDesk
Sine
Fiix
eMaint
And of course, Exercise.com!
The Bottom Line: Pros and Cons
Your business management software is the key to having a thriving business. But it's more than simply finding a decent business software and adapting to its limitations–the best software is one that is designed for fitness centers and can be customized to fit your specific needs. Let's take a final look at Dash Platform and Exercise.com.
Dash Platform Cons
Dash provides scheduling for ice and multi-sport facilities, as well as non-profits and parks and rec. The platform may meet the needs of these niches, but it doesn't fulfill all the requirements to effectively run a fitness center. While it does a decent job at covering the basics, it doesn't have fitness-specific features that will help your business grow, such as:
Workout, nutrition, or performance assessment software or delivery
Software integrations
Marketing integrations
Custom branding
Website creation and maintenance
Ecommerce opportunities
All of these drawbacks make Dash a challenging software for fitness businesses to utilize. Instead of the software seamlessly supporting your business, managers using Dash will have to adapt to its limitations and find other software or apps to fill the gaps.
Exercise.com Pros
Exercise.com is a comprehensive platform designed for fitness businesses. Even better, it is custom-tailored to meet the needs of your business! We offer countless features that effectively support and efficiently manage your business. Just a few essential management features include custom-branded website and app, scheduling and booking system, marketing integrations, and ecommerce opportunities.
But we go beyond baseline management support and offer fitness-specific features such as an exercise library, performance assessments, workout creator/logger, and nutrition tracker. With Exercise.com, your business has everything it needs to succeed!
Exercise.com makes your business platform decision easy! We're here to help your business grow. Ready to get started? Book a demo today!