Exercise.com: Your Pitchero Alternative
| Features | | Pitchero |
| --- | --- | --- |
| Nutrition | | |
| Dedicated Account Manager | | |
| Dedicated Zapier Support | | |
| Client Automation | | |
| Performance & Measurement Reports | | |
| TV Workouts | | |
| Offer Online Workout Memberships | | |
| Run Workout Challenges | | |
| Sell Workout Plans | | |
| Group Training | | |
| 1-1 Training | | |
| Custom Exercises | | |
| Websites | | |
| Marketing Integrations | | |
| Custom Branded | | |
| iOS & Android Apps | | |
| Online Training | | |
| Sell Products | | |
| Payment Processing | | |
| Gym / Facility Management | | |
| Exercise Library | | |
| Assessments | | |
| Client / Class Scheduling | | |
| Workout Creator / Logger | | |
| Business Dashboard Reports | | |
Why Choose Exercise.com?
Here are five reasons why fitness professionals use Exercise.com vs. Pitchero.
Fitness Business Management Software to Run Your Business
Unlike Pitchero, Exercise.com software is designed to have all components needed to run a fitness business in one place – making it easy and efficient to organize and grow your fitness business with client and class scheduling, check-ins, and billing — all from your custom-branded apps.
Fitness Business Management Software to Run Your Business
Unlike Pitchero, Exercise.com software is designed to have all components needed to run a fitness business in one place – making it easy and efficient to organize and grow your fitness business with client and class scheduling, check-ins, and billing — all from your custom-branded apps.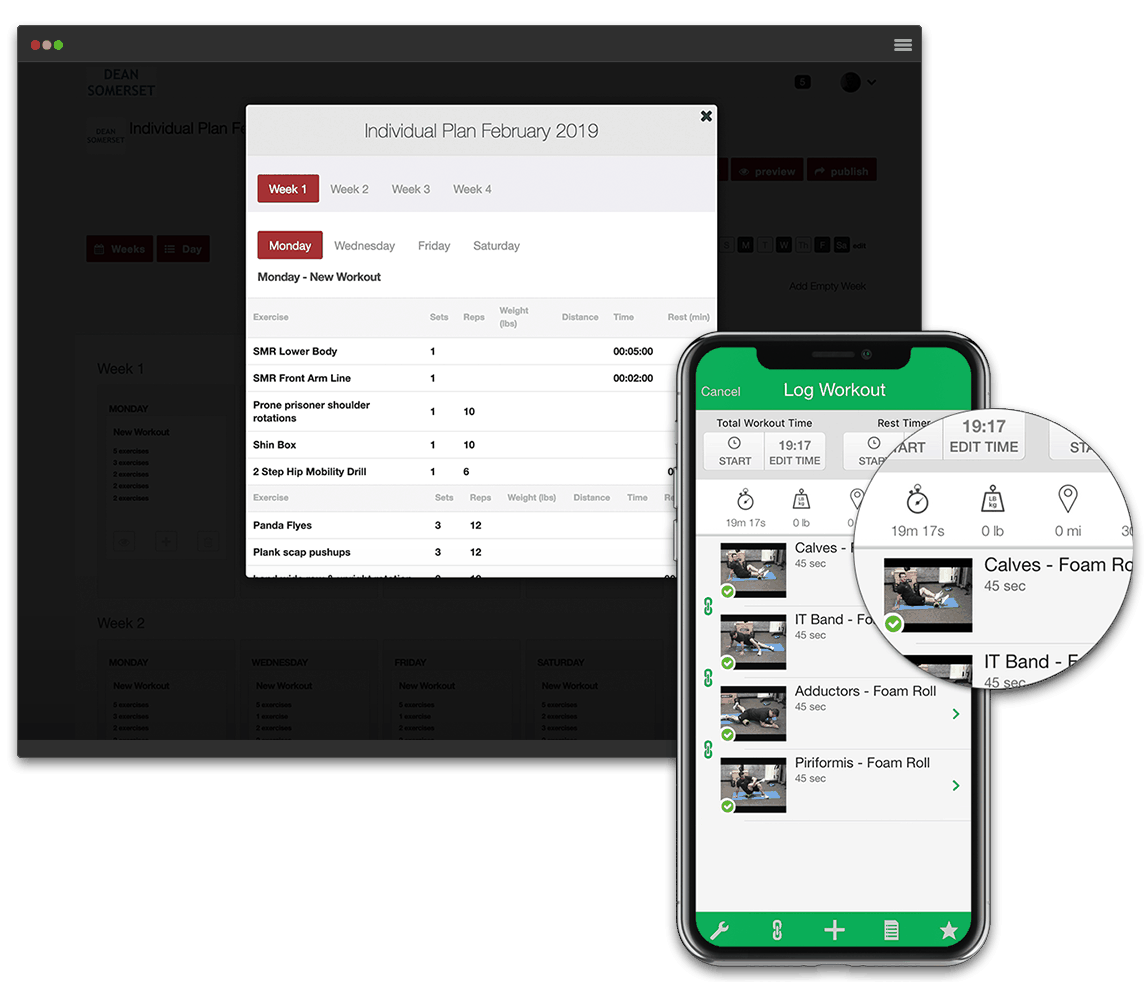 Workout Software to Power Your Training
Pitchero does not offer workout software – an essential component for running a fitness business. The Exercise.com workout plan creator and exercise manager provide flexible solutions to save you time creating workouts with built-in integrations, tools, and more.
Ecommerce Software to Increase Revenue
Pitchero only offers payment processing and basic product sales. Exercise.com, however, has full ecommerce capabilities allowing trainers to sell single workout plans, offer automated workout memberships, run workout challenges, and deliver individual training.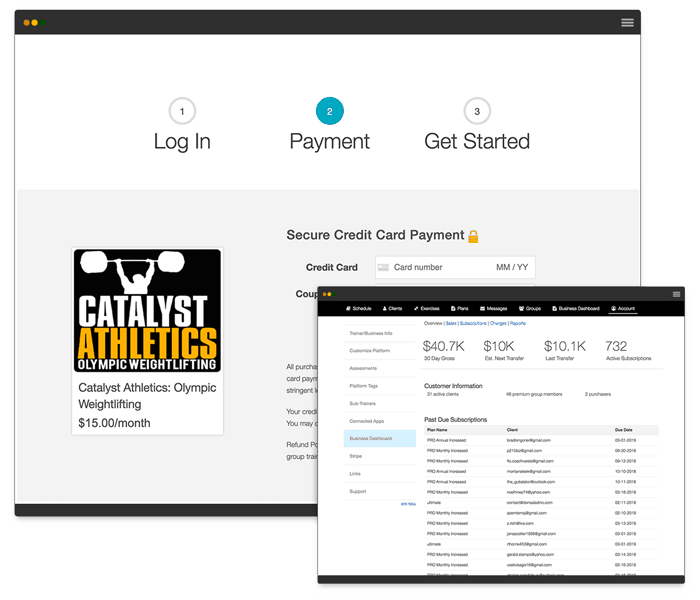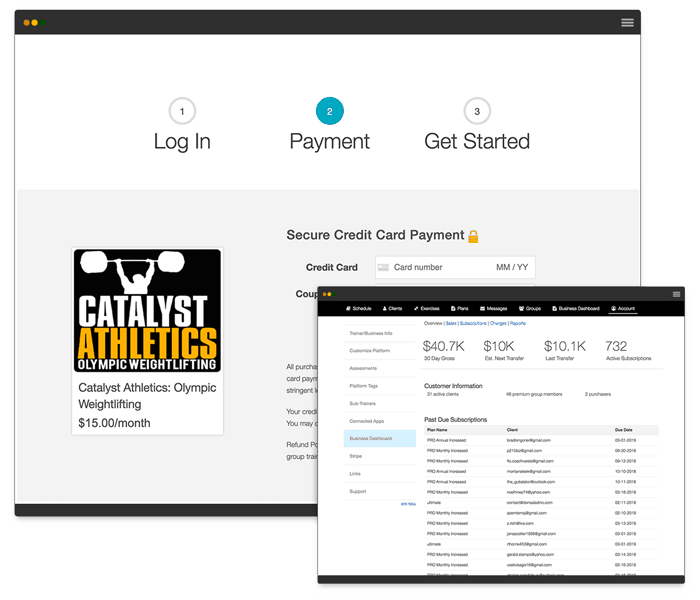 Ecommerce Software to Increase Revenue
Pitchero only offers payment processing and basic product sales. Exercise.com, however, has full ecommerce capabilities allowing trainers to sell single workout plans, offer automated workout memberships, run workout challenges, and deliver individual training.
Assessment Software to Improve Client Engagement and Retention
Pitchero provides a nutrition tracker but lacks other important assessment software elements. Take clients through personalized assessments to deliver custom workouts for their individual needs – providing massive growth potential and saved time.
Stand Out With Your Own Custom-branded Apps
Pitchero's apps provide no options for custom branding or to design custom exercises. Exercise.com, however, offers fully customized apps built to make your life easier by providing your clients with a unified scheduling and workout experience with your brand displayed front-and-center.
Stand Out With Your Own Custom-branded Apps
Pitchero's apps provide no options for custom branding or to design custom exercises. Exercise.com, however, offers fully customized apps built to make your life easier by providing your clients with a unified scheduling and workout experience with your brand displayed front-and-center.
If you're ready to get started with an easy-to-navigate, all-in-one fitness software, designed to fuel your business, request a demo with Exercise.com today.
And, if you want to see how Pitchero's additional features stack up to Exercise.com software features, check out our in-depth guide below.
What is Pitchero?
Pitchero is a global sports management software company that was founded in 2007. Its head office is in Leads, United Kingdom, and they also have additional offices in London and Sydney.
The company aims to provide each club, league, or organization with the tools they need to create a website, manage their membership, and collect payments online. Further, Pitchero's website lists four main goals:
To unite the world of semi-professional and amateur sports online.
To provide exceptional web and mobile products to all participants.
To support the work of national governing bodies to grow the game worldwide.
To find the stars of the future; the next Pitchero.
Pitchero offers a free version of the software to its customers, but that version contains very few features and is supported through outside advertising. We will get into more details on pricing later in this comparison but, in order to make use of any features of value for larger organizations, it should be noted that one of the two higher pricing structures would need to be purchased.
Unless otherwise stated, all images and reviews below are of/about the Exercise.com software platform.
Fitness Business Management Software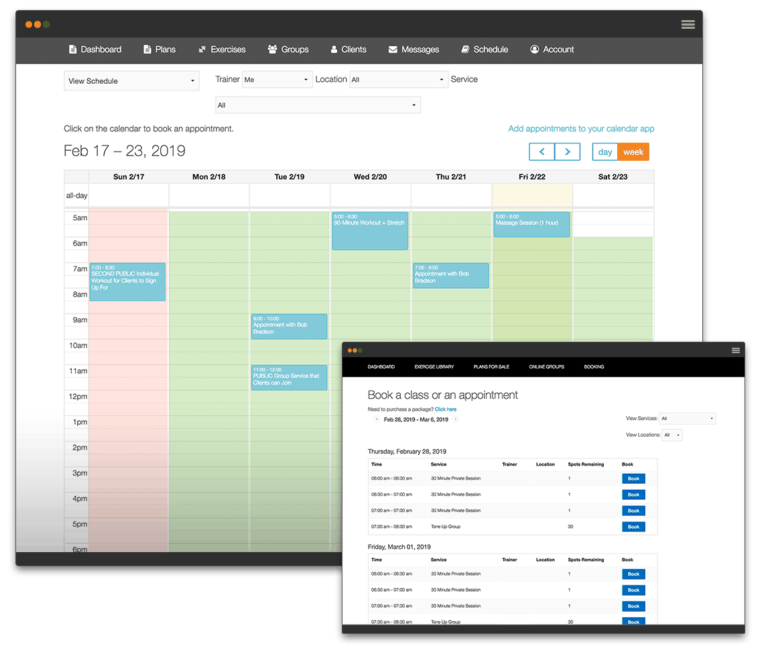 As we have already mentioned, one of the greatest benefits of Exercise.com
gym management software
is that you can manage all aspects of your fitness business from one place. There is no need for a third-party platform in order to properly run your business. Our software has everything you need to be successful, and our relationship with Zapier ensures that you can integrate platforms you are already using.
Pitchero certainly provides management elements in its software, but the elements are not built for fitness businesses. We will discuss the features that are included but, as a gym owner, be aware that they are not specific to your industry.
Client/Class Scheduling
Scheduling is a large part of business management for most gyms. Personal training and group fitness are two areas that likely provide a large portion of your income, so making sure these schedules run smoothly is important. With Exercise.com software, you can create and sort schedules by the trainer, instructor, day, time, modality, or any other category you'd like. Your members can view these schedules the same way either online or in your app.
Pitchero's software can contain game or match schedules but does not appear to provide an area to schedule personal coaching sessions or group workouts.
Gym/Facility Management
Part of successful gym management is analyzing the performance of your facility, across various spectrums, to ensure that your products, services, and systems are benefitting your business. With the Exercise.com software platform, you can run a wide variety of custom reports that give you all the information you need to know in order to make decisions about your business.
Whether you want to analyze monthly personal training sales, daily group fitness numbers, or yearly membership growth, you have access to a report that will give you the information you need. Some software companies have generic reporting features, but we allow you to customize your reports because no one knows what your business needs better than you.
With our software, you can also manage staff roles, track hours, and run payroll reports.
Business Dashboard Reports
Pitchero doesn't have a dashboard for viewing or organizing business reports. This means you must manually add business data into another software, which reduces your productivity and efficiency.
Exercise.com's business dashboard features standard and customizable reports which enable you to keep your finger on the pulse of your business. Our dashboard is easily customizable, giving you free-range to how you want to analyze your business or filter information.
Client Automation
There are many areas of your business that require your attention, so if you can save time in some areas, you have more time to dedicate to others. The Exercise.com software platform can help save you an abundance of time with our automated features. You no longer have to worry about individually contacting members or clients about various items; our software can automatically do it for you. Some of our features include:
Automatic Emails and Texts
Automate Workout Delivery
Automate Resource Delivery
Automate Assessment Delivery
Automate Reminders/Alerts via app, text, and email
Dedicated Zapier Support
One of our top priorities at Exercise.com is to make sure you can always manage every aspect of your business from one place. We do this by providing you with a plethora of integrations that are ready to use within our software. We realize, however, that you might have other tools that you find successful for business management, and, for these situations, we have partnered with Zapier.
Zapier has over 2,000 apps to choose from, so you can be sure that all your tools will still be at your disposal and from one place. Our partnership with Zapiers allows you to integrate your web apps with just a few clicks, automate the passing of information, and innovate faster processes.
Dedicated Account Manager
Exercise.com is big on customer service, which is why we provide you with a dedicated account manager that is with you throughout every step of the process, forever.
If you want to make a change on your website, your account manager will make it happen. If you want to set up an ecommerce store, your account manager will get it done. Our world-class development team will come through, for you, with whatever you need. We will find a solution for any problem, from the mundane to the complex.
Customized Software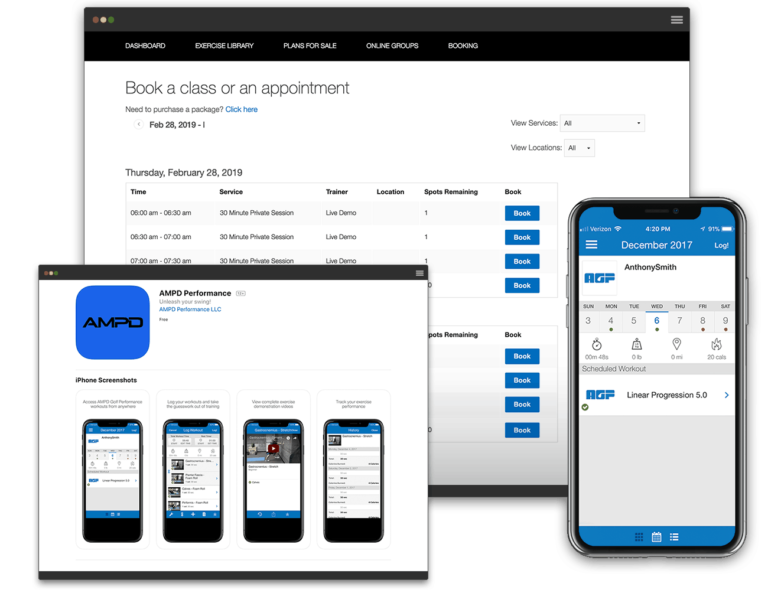 Customized software is certainly one of the highlights for Exercise.com. We aim to provide our customers with a high-quality product that is crafted specifically for your business so that you can be successful. In branding, apps, websites, and marketing, Exercise.com shines in making sure your business stands out.
Pitchero does not specifically customize its software; however, there are certain elements that can be branded, such as the app and website customers receive.
Custom-Branded
Your brand is what gives potential customers a first impression of your business from a visual standpoint. The right logo, color scheme, and pictures can all help in sending a message about your business to your target market. Exercise.com allows you to show off your brand in every aspect of your software, from staff views to your app and website.
Pitchero does not make a note about the custom-branding of the staff view of their software, but they do allow customers to upload a logo and colors to their app and website.
iOS & Android Apps
Both Pitchero and Exercise.com have an app for iOS and Android, but only Exericse.com's branded app for personal trainers is fully customizable in regard to function rather than just logo and colors. Users can track their workout, book a spot in a group fitness class, or communicate with their trainer all from the palm of their hand.
Websites
As with their apps, Pitcher and Exercise.com both offer websites for their customers. Like their apps, only Exercise.com is fully customizable. Exercise.com offers much more than just a plug-and-play website. Our world-class development team will design a custom-branded SEO-optimized fitness business website for your business that will function exactly how you need it to. Many of the features are the same as our apps, such as class booking and schedule viewing, but our websites can also handle ecommerce. Our websites are also:
Responsive
SEO optimized
Unlimited theme changes
Built to convert visitors to leads
Custom graphic work
Google Certified Partner
Security Features
Security is extremely important to us at Exercise.com. All of your information and your customer's information should be kept safe at all times and we strive to make that a priority. Some of our security features include:
SSL Secure
Privacy Shield Framework
Google Cloud
Marketing Integrations
Marketing is an important part of growth for most businesses, and gyms are no exception. There are so many options, in the fitness industry, that you need to find a way to reach potential customers in a better way than your competition.
While we already provide many integrations to help you market successfully, you can always rely on our partnership with Zapier to bridge the gap in any areas we do not currently integrate.
Some of our more popular integrations include:
MailChimp
ConstantContact
ConvertKit
Zapier
Google Analytics
Facebook Pixel
Learn more by clicking the button below.
Exercise.com is the best Pitchero alternative.
Workout Software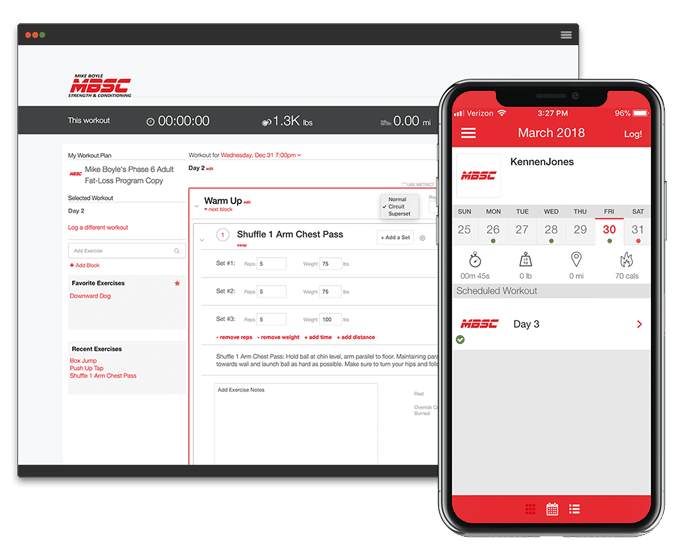 Pitchero does not include a workout platform in its software. Instead, it focuses on the management and administrative features that sports organizations need in order to run. While sports and fitness have some differences, there are certainly some similarities, and athletes absolutely benefit from working out. It seems an odd piece to leave out.
On the other side of the coin, workout software is a key contributor to what is offered by Exercise.com. The platform allows your trainers to add value for their clients, their clients to benefit from progress tracking, and your business to offer additional services that can help increase revenue.
As Pitchero does not include workout software, the following sections will focus only on Exercise.com until we reach the ecommerce portion of our comparison.
Workout Creator/Logger
Using our workout creator and logger, you can help strengthen the partnership between your trainers and their clients. Trainers have a place to develop and store their workouts so that everything is all in one convenient place, and their clients have a place where they can refer back to the workouts they've done and track their progress.
Clients are far more likely to continue using your services if they can see the progress they are making, so the logger portion of our workout software is especially valuable. Our workout creator/logger provides users with endless possibilities for delivering workouts, tips, and encouragement to clients in any scenario, including:
1-1 Training
Personal trainers can add an extra touch to their sessions by making workouts available to the client before the session starts. This can be motivational for the client and potentially help them get more out of the workout. The client can also go in and log his or her results, which makes them feel more connected to the program. The more connected they are and the more work they put in, the more successful they will be.
Group Training
Group training can provide an extra level of comfort and motivation for people who do not want to work one-on-one with a trainer. Exercise.com can easily accommodate group training without changing any of the features that make a regular training session so appealing. Everyone in the group can still preview their workout, track their results, and communicate with their trainer.
Online Training
Online training is here to stay, and your gym should be ready to have this service available if you have interest from members. The Exercise.com software's workout creator and logger are an essential part of offering online training, but the platform includes other useful tools. Clients can easily communicate with their trainers, look at progress reports, and see video demonstrations of the movements from our exercise library.
Exercise Library
In order to create the best experience for your clients, Exercise.com includes a library of pre-built exercises that trainers can use for building workouts. It is easy, on the trainer, to search for an exercise by name or muscle group and then add it into a workout template. When viewing the workout, clients are able to click on an exercise to see a video demonstration so they can be sure they are doing the exercise with proper form.
While a pre-built library is simple to use and makes life easy for the trainer, Exercise.com goes above and beyond by offering the ability to upload your own custom exercises as a supplement to the existing archive.
Custom Exercises
If you are a facility that focuses on a more specific type of fitness, like yoga or martial arts, it might be more difficult to find exercises in a pre-built library. This is why Exercise.com allows you to upload customized exercises and add them to your library. You can make sure the clients are getting exactly what you want them to. It also adds a nice personal touch for your clients to see a familiar face, whether you focus on general fitness or a more specific type.
TV Workouts
Video demonstrations are a great way for clients, who are working out on their own, to ensure proper technique, but your facility also can use our software to showcase these demonstrations in a different way. Your gym can use the Exercise.com software platform to cast the exercise demo onto a TV screen during a group class or training session. This is a great way to keep participants focuses on proper form and gives your trainers and instructors a point of reference when they are cueing.
Gym Ecommerce Software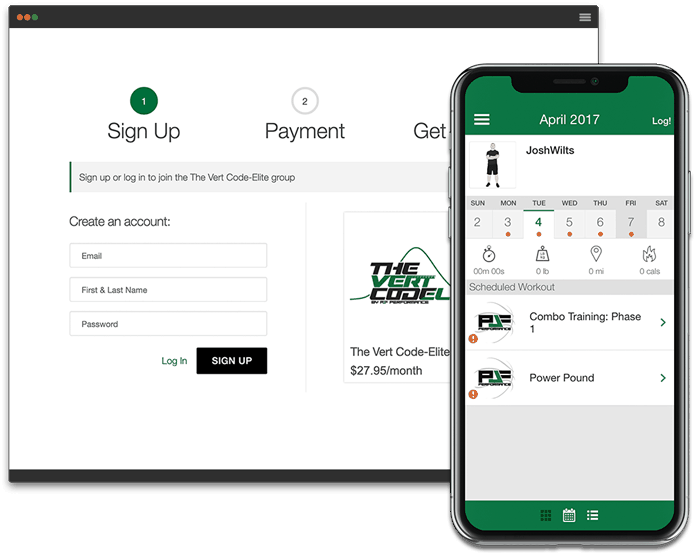 Selling products and services to your members, that they can purchase on their own, is a great way to increase your revenue while not adding much work for your staff. With Exercise.com
gym ecommerce software
, your members and customers can easily make purchases through your website or mobile app.
Pitchero does not exactly contain an ecommerce platform where products and services can be sold, but they are able to collect payments for various activities, so we will touch on that portion of their software.
Payment Processing
Most sports teams and organizations have some sort of registration fee, and this can be collected through Pitchero's software. They can also accept fees for tournaments, uniforms, or anything else that can be invoiced to team members. The software is just not able to set these up in an ecommerce store format, meaning that sending an invoice and collecting payment requires more work for administrators.
Exercise.com uses Stripe to collect payments, in a secure manner, for a variety of different items. Our ecommerce platform is capable of selling products, but you also have the option to utilize our workout platform, in collaboration, so you can sell workout based services.
Our software can collect payments for personal training, group fitness classes, membership fees, or compile everything into one bill that you collect at a regular interval.
Sell Products
Selling products is a great way to promote your brand, increase revenue, and provide valuable items for your members. Maybe a member wants a water bottle to keep in their locker or a shirt with your gym's logo on it to wear during a workout. You can make these items, and many more, available for purchase in your online store using our ecommerce platform.
Sell Workout Plans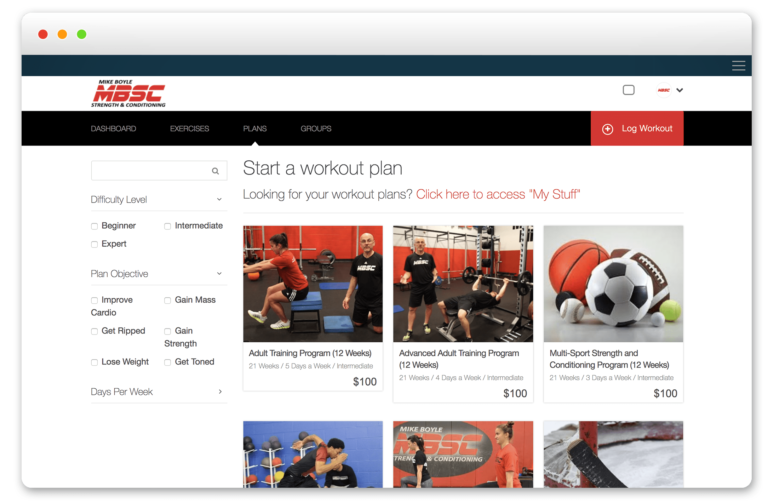 Some of your members will choose not to utilize personal training or group fitness, but that does not necessarily mean they aren't interested in guidance from a professional. You can market to this crowd by selling pre-built workout plans. The customer would receive a workout plan, designed by one of your staff members, in exchange for a one time fee. You can make these workouts generic or specific to a given area like running or strength training.
This can be very beneficial for your facility because all it costs you is the time it takes to create the workout once. After that, it can be purchased many times over without your staff having to put in any additional work. It may even motivate the customer to use other services.
Offer Online Workout Memberships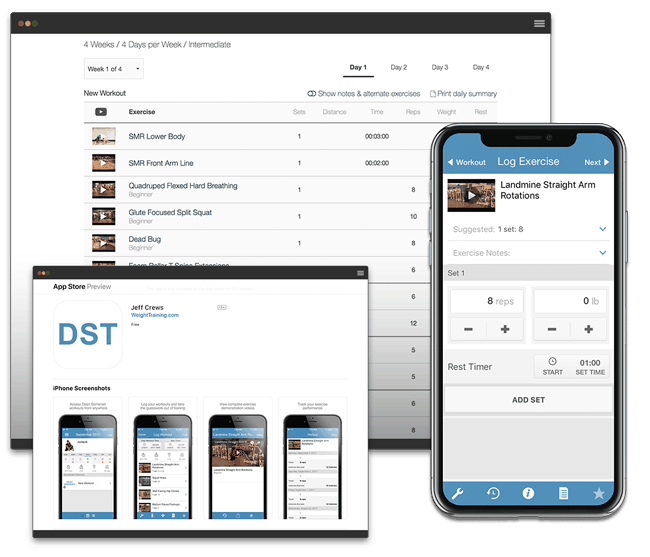 Once people find success with your pre-built workouts, they may want to continue purchasing them on a more regular basis. You can capitalize on this by offering an online workout membership using the Exercise.com software platform. People in the membership would still receive pre-built workouts, so your staff would not invest much additional time, but the workouts would be automatically delivered to the customer at regular intervals.
Sell Workout Challenges
You can bring your members together, as a community, by offering them a workout challenge. The community feel is good for the overall success of your membership base and you can also add to your revenue by charging for the challenges. You can even showcase your services to participants by offering them as prizes for the winners.
Fitness Assessment Software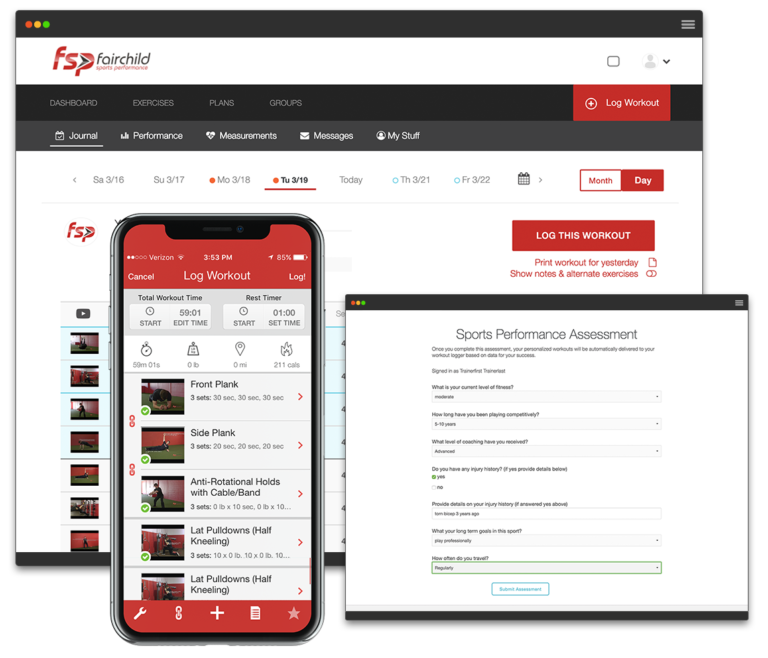 Successful clients often play a big part in your success as a gym owner. After all, we've established that clients are more likely to continue paying for services if they see progress. The ability to track this progress comes from establishing a performance baseline at the beginning of a training program and then testing against that baseline as the program continues
The Exercise.com fitness assessment software has everything you need to help your clients measure their performance and track their progress. Using our software, you can:
Turn leads into clients
Engage clients through assessments
Track measurement data, injuries, etc.
Optimize the delivery of personalized workouts and nutrition
Pitchero does not exactly offer assessment software, however, they do offer a place to track players' statistics, so we will briefly touch on that since it is the closest thing in comparison to Exercise.com.
Assessments
Establishing a performance baseline is done through an assessment at the beginning of a training program. You can offer this to all new members or to anyone who wants to begin a new program. With Exercise.com, these assessments can be customized to each specific member so that the metrics are more applicable. For example, there would be very little need to test a competitive cyclist on how many push-ups they can perform.
Making the assessment unique to every person allows you to showcase services that would be most beneficial to them and will help them more accurately measure their progress over time.
Performance & Measurement Reports
Once a baseline is established and you begin to re-test your clients, you want to have a way to showcase their results. The performance and measurement reports provided by the Exercise.com software platform can be automatically delivered in an easy-to-read format, so your clients can clearly see how they have been progressing. These reports can include measurements, statistics, progress photos, or anything else you feel is important.
Pitchero offers an area for organizations to post player statistics and an area for fans to view those statistics in real-time. This is not exactly a performance and measurement report in regard to fitness software, but it is a way to express statistical information so we've included it for the purposes of comparison.
Nutrition
Nutrition plays an important role in any fitness goal which is why the Exercise.com software platform includes a nutrition tracker. Clients can easily log their food and water intake so they can see how their diet affects their fitness goals.
Pitchero Pricing
The basic version of the Pitchero software is free to use but, as we mentioned at the very beginning of this comparison, there is very little included in that version. Listed below is a table including pricing and features information for each of the three pricing levels offered by Pitchero. Please note that prices have been converted from pounds to U.S. dollars.
| | Free $0.00/mon | Elite $24.74/mon | Ultimate $98.96/mon |
| --- | --- | --- | --- |
| Number of teams | 3 | Unlimited | Unlimited |
| Club logo | Yes | Yes | Yes |
| Club colors | No | Yes | Yes |
| Registration forms | Yes | Yes | Yes |
| Member database | Yes | Yes | Yes |
| Data import and export | Yes | Yes | Yes |
| Premium template | No | Yes | Yes |
| Free SSL certificate | No | Yes | Yes |
| Club email forwarding | 0 | 10 | 100 |
| Club email accounts | 0 | 5 | 40 |
| Free domain name | No | Yes | Yes |
| Account manager | No | Yes | Yes |
| Transaction fee | 2.9% | 1.9% | 0.9% |
| Tracking and reporting | Yes | Yes | Yes |
| Direct debit and credit cards | Yes | Yes | Yes |
| Sell products | Yes | Yes | Yes |
| Membership support | No | Yes | Yes |
Pitchero Alternatives
Listed below are some of Pitchero's main competitors and the pricing structures for each. The pricing for each company is accurate at the time of writing this article.
| Competitor | Minimum Starting Price | Maximum Price |
| --- | --- | --- |
| TeamSideline | $499.00/year | N/A |
| SportsEngine | $69.00/mon | N/A |
| SportsPlus | $39.95/mon | $159.95/mon |
| Jersey Watch | $29.00/mon | $59.00/mon |
The Bottom Line: Pros and Cons
By this point in our comparison, you've probably realized that a big difference between Pitchero and Exercise.com is the target market of the two companies. As a fitness business owner, utilizing software that is focused on sports management would leave you without some major functions you need to run your business. Let's recap.
Pitchero Cons
Since Pitchero is a sports management software, it is missing several elements that a fitness business would need to be successful. The lack of a workout creator and logger holds owners back from offering services like online training and from workout based products in an ecommerce store.
Pitchero also does not offer the type of performance measurements and reports that gyms will want to use to be successful. There is no area to record an initial assessment and then future progress checks. It also has no way to send reports to clients so they can see how they have been progressing. This is one area that could greatly impact revenue because clients are less likely to continue paying for a service if they can't see how it is helping them.
For fitness businesses, another big drawback of using Pitchero is the lack of customizable features. In an industry where options are abundant, you need to find a way to make your business stand out and that is difficult to do if the software you utilize does not give you the opportunity.
In the end, sports management software cannot work for a fitness business because it simply does not contain all the elements a gym needs to be successful.
Exercise.com Pros
The Exercise.com software platform is built with the fitness industry in mind and then shaped to your specific business and how it fits in the industry. Our fully customizable software allows you to brand your software, website, and app with your logo, colors, and pictures so that people start to form the right idea about your business from the start.
Our customized reporting features allow you to gather all of the information you need to know about your business in order to make decisions moving forward. These reports can help you decide on what products and services are most important to offer, and then you can use other areas of our software to create those services.
For example, by combining the workout and ecommerce platforms, you can sell pre-built workouts, online workout memberships, and even online workout challenges. All of these can be purchased by your customers through your website or app.
Our performance measurement software showcases progress to your clients so that they are motivated to continue using your services. As you have more and more people utilizing your services, your business can start to grow, which is another area in which we provide help.
Exercise.com gives all of our customers a dedicated account manager to help them through every step of growth from beginning to end. This allows you to focus on your members and employees without the headache of dealing with a software update.
All-in-all, Exercise.com is the right choice for your fitness business because we can make it into whatever you need it to be. We are interested in partnering with you for mutual success, and we believe we have all the elements in our software that are needed to do that.
What do you look for in management software to make your fitness business successful?
If you're ready to work with a fitness business management company that cares about the success of your business, request a demo today.