Exercise.com: Your SimplePractice Alternative
| Features | | SimplePractice |
| --- | --- | --- |
| Nutrition | | |
| Dedicated Account Manager | | |
| Dedicated Zapier Support | | |
| Client Automation | | |
| Performance & Measurement Reports | | |
| TV Workouts | | |
| Offer Online Workout Memberships | | |
| Run Workout Challenges | | |
| Sell Workout Plans | | |
| Group Training | | |
| 1-1 Training | | |
| Custom Exercises | | |
| Websites | | |
| Marketing Integrations | | |
| Custom Branded | | |
| iOS & Android Apps | | |
| Online Training | | |
| Sell Products | | |
| Payment Processing | | |
| Gym / Facility Management | | |
| Exercise Library | | |
| Assessments | | |
| Client / Class Scheduling | | |
| Workout Creator / Logger | | |
| Business Dashboard Reports | | |
Why Choose Exercise.com?
Here are five reasons why fitness professionals use Exercise.com vs. SimplePractice.
Fitness Business Management Software to Run Your Business
Unlike SimplePractice, Exercise.com software is designed to have all components needed to run a fitness business in one place – making it easy and efficient to organize and grow your fitness business with client and class scheduling, check-ins, and billing — all from your custom-branded apps.
Fitness Business Management Software to Run Your Business
Unlike SimplePractice, Exercise.com software is designed to have all components needed to run a fitness business in one place – making it easy and efficient to organize and grow your fitness business with client and class scheduling, check-ins, and billing — all from your custom-branded apps.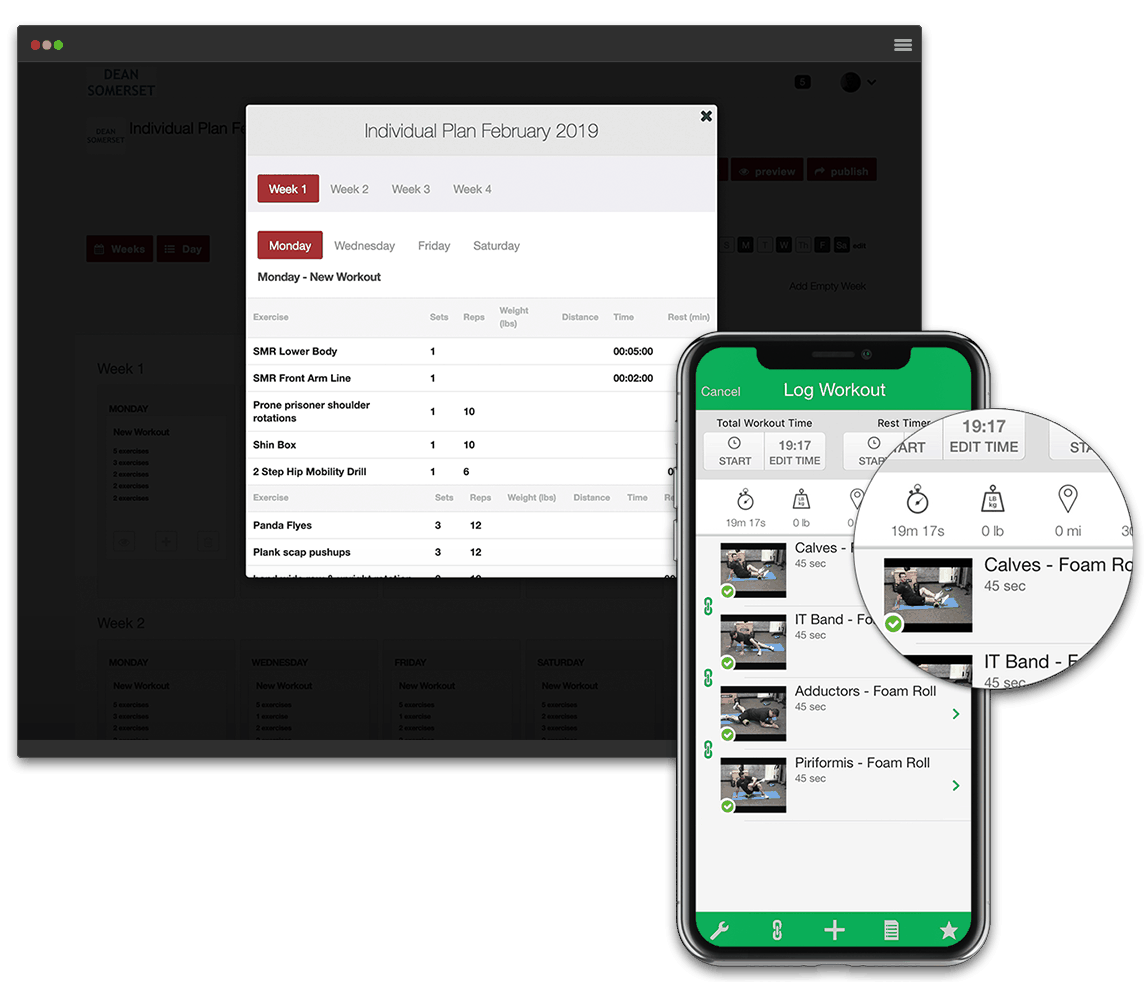 Workout Software to Power Your Training
SimplePractice does not offer workout software – an essential component for running a fitness business. The Exercise.com workout plan creator and exercise manager provide flexible solutions to save you time creating workouts with built-in integrations, tools, and more.
Ecommerce Software to Increase Revenue
SimplePractice has no viable ecommerce platform or capabilities to speak of. Exercise.com, however, has full ecommerce capabilities allowing trainers to sell single workout plans, offer automated workout memberships, run workout challenges, and deliver individual training.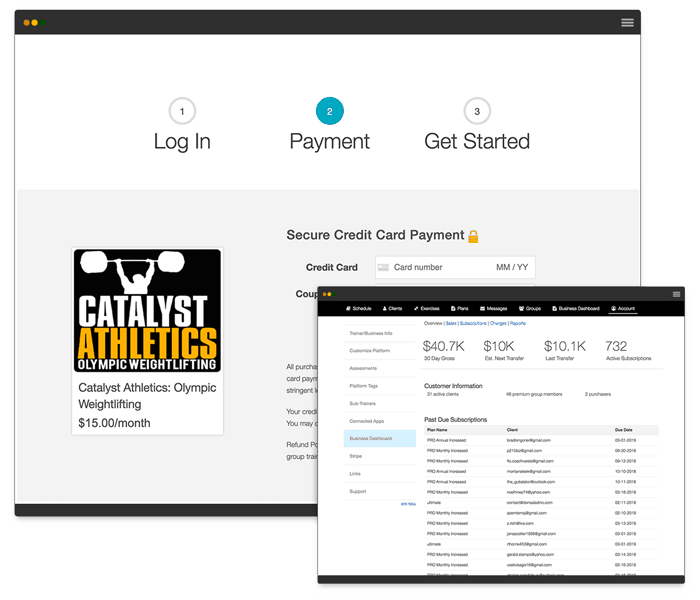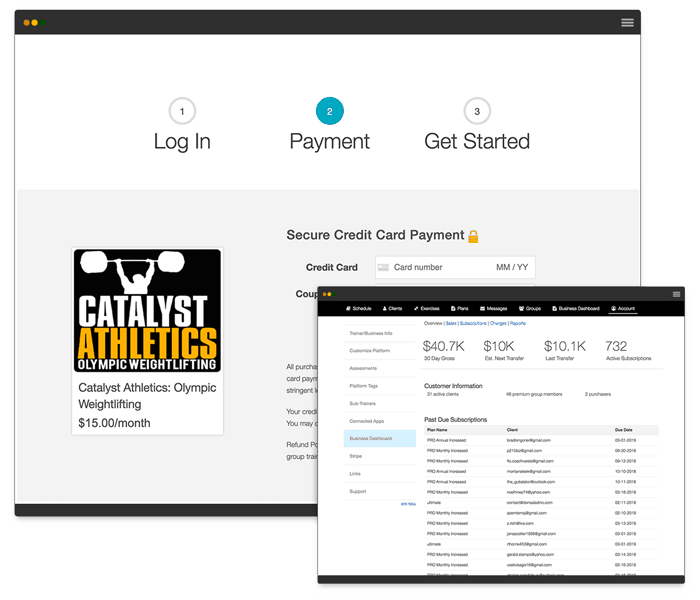 Ecommerce Software to Increase Revenue
SimplePractice has no viable ecommerce platform or capabilities to speak of. Exercise.com, however, has full ecommerce capabilities allowing trainers to sell single workout plans, offer automated workout memberships, run workout challenges, and deliver individual training.
Assessment Software to Improve Client Engagement and Retention
SimplePractice lacks assessment software, but that's not the case with Exercise.com. Your clients will receive personalized assessments that deliver custom workouts for their individual needs – providing massive growth potential and saved time. All for one price. All on one platform.
Stand Out With Your Own Custom-branded Apps
SimplePractice apps provide no options for custom websites or for designing custom exercises. Exercise.com, however, offers apps that are fully customized to make your life easier by providing your clients with a unified scheduling and workout experience with your brand displayed front-and-center.
Stand Out With Your Own Custom-branded Apps
SimplePractice apps provide no options for custom websites or for designing custom exercises. Exercise.com, however, offers apps that are fully customized to make your life easier by providing your clients with a unified scheduling and workout experience with your brand displayed front-and-center.
If you're ready to get started with an easy-to-navigate, all-in-one fitness software, designed to fuel your business, request a demo with Exercise.com today.
And, if you want to see how SimplePractice's additional features stack up to Exercise.com software features, check out our in-depth guide below.
What is SimplePractice?
What is SimplePractice? SimplePractice is a practice management software that is targeted for clinicians and health care professionals like therapists and counselors. Some of the professions that would find the features of SimplePractice useful include physical therapists, occupational therapists, behavior health specialists, registered dietician nutritionists, chiropractors, speech-language pathologists, and counselors.
SimplePractice was founded in 2012. SimplePractice has a 4.6 rating out of 5.0 on Capterra, based on 2,367 reviews. The positive comments focus on ease of use, user-friendly, and creating/editing form features. The negative reviews focus on menu settings options, calendar settings, and complexity to learn initially.
The main features of SimplePractice are illustrated in the table below.
| Feature | Description |
| --- | --- |
| Support | Phone, live chat, and video customer support with additional options for webinars and an online help center. |
| Telehealth | Video face-to-face appointments with clients with secure HIPAA features. |
| Mobile Apps | Daily tasks, payment processing, and access to progress notes with iPhone and Android mobile apps. |
| Insurance | File insurance claims, track insurance claims processing, and online claim payment reports. |
| Billing | Automatic payment processing and credit card payment processing. |
| Documentation | Library and templates for intake forms, assessments, progress notes, treatment plans, and more and the ability to build-in HIPAA compliant e-signatures. |
| Scheduling | Calendars to allow clients to book appointments and sessions, automatic reminders of appointments, and calendars for professionals to view their appointments. |
| Client portal | A secure location for client intake forms, HIPAA compliant messaging, and document upload. |
SimplePractice has a specific niche for clinicians and health care professionals that are in a solo or group practice with a need for diagnostic features, treatment plans, insurance billing, and SimplePractice TeleHealth features. This would not be software that fitness professionals or fitness businesses would find useful because of the many features that would go unused and the many features missing that would be used by fitness professionals or fitness businesses.
On the flip side, Exercise.com is a software with all of the features that a fitness business would need to manage and grow their fitness business. The benefits of Exercise.com are numerous; here's what Exercise.com users can expect with our software:
Schedule appointments and classes
Process payments securely and easily
Online booking
Staff roles and permissions
Automated email and text reminders
Endless integrations for your business
Easy to use workout plan creator
Deliver workouts for any scenario
Client and trainer workout logging via the app
Smart performance analysis made easy
Enhance client retention
Automated workout engagement
Sell plans anywhere in the world
Run workout challenges
Put recurring workouts on autopilot
Offer individual and custom workout programs
Capture smart performance data
Create custom client assessments
Unless otherwise stated, all images and reviews below are of/about the Exercise.com All-In-One Fitness Business Management software platform.
Fitness Business Management Software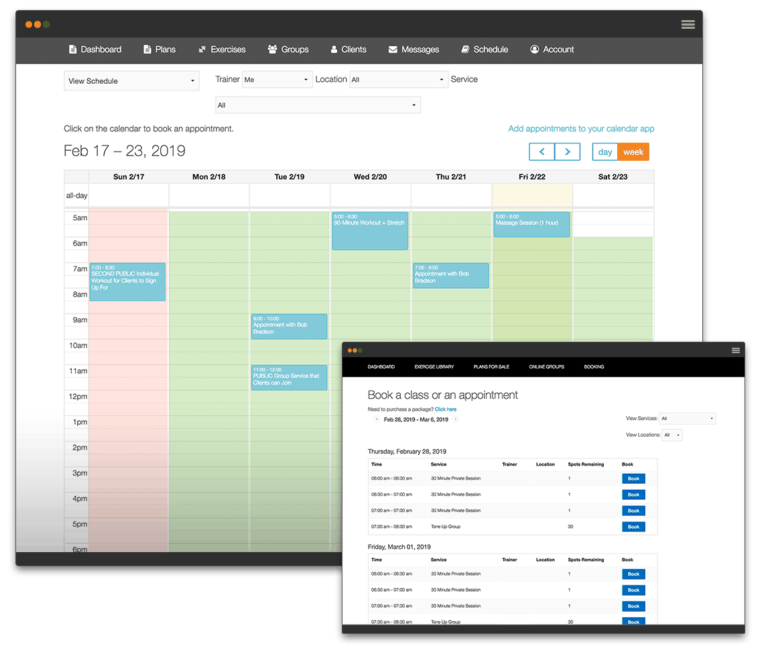 All-In-One Fitness Business Management (FBM) software should have key features that provide all the features you need to successfully run and manage a business from your fingertips 24/7. Important FBM features include scheduling features, payment processing features, reporting, and alternate revenue streams.
Even though SimplePractice focuses on a specific niche within healthcare, it does have calendars and client scheduling features, automatic reminders, and some management functions that would be appropriate for clinicians and practitioners.
With Exercise.com, you will find an all-in-one gym management software option that can be used by fitness managers, staff, employees, clients, and members. The features are endless to grow and manage your fitness business in a way that makes managing or running a successful business possible for anyone.
Client/Class Scheduling
Both SimplePractice and Exercise.com have client scheduling features. Clients can use their SimplePractice login or Exercise login for online booking to schedule appointments, send automated appointment reminders, and easily sync to Google, iCal or Outlook calendars. This can be done from the website or Android or Apple mobile apps.
With Exercise.com, clients and members can also sort calendars by trainer or location, as well as pay for classes or appointments directly from the mobile app or dashboard.
Gym/Facility Management
Your fitness business management software should make managing your business efficient and easy. Managers should be able to set up different levels of access to the software for employees, managers, or fitness professionals. You should be able to generate numerous reports that will give you all the data you need about your business.
SimplePractice misses the mark on these important options, but Exercise.com has you covered.
Business Dashboard Reports
With the business dashboard in the Exercise.com software, you are able to generate reports on more than a dozen different categories in whatever timeframe you choose. Not only are you able to view a report on your overall revenue, but you can also get reports on various types of client activities to get a better idea of what services are receiving a higher usage rate and can send performance assessment reports.
With Exercise.com, you get a fully customizable report dashboard where you can easily view all your most frequented reports. This keeps your finger to the pulse of your business at all times so you can make the best decisions for your business. SimplePractice doesn't have a business dashboard, so you are unable to see all your important business stats and reports.
Client Automation
Client automation makes your software work for you to send reminders and notifications via text, email, or through the mobile app. SimplePractice sends email, text, or voice reminders to clients for upcoming appointments.
Exercise.com includes email, text, and mobile app reminders, but also includes options to automate workout and assessment information. For example, Exercise.com allows trainers and fitness professionals to:
Automate Workout Delivery
Automate Resource Delivery
Automate Assessment Delivery
Dedicated Zapier Support
Exercise.com gives clients a plethora of integrations – but, sometimes, you need additional options to support your business. Our partnership with Zapier allows you to, in Zapier's words, "Integrate (link your web apps with a few clicks, so they can share data), Automate (pass info between your apps with workflows called Zaps), and Innovate (build processes faster and get more done – no code required).
Part of this partnership includes dedicated Zapier support to help you through every step of the process. With over 2,000 apps to choose from, you can rest assured that your company's website is as efficient and user-friendly as possible.
Dedicated Account Manager
Another feature that sets Exercise.com apart from many other fitness business management software companies is our dedication to customer service and support. This is why we provide our clients with a dedicated account manager to help them through every step of the process.
If you want to redesign your website, your account manager at Exercise.com will get it done. If you want to set up an ecommerce store, your account manager won't blink twice. Whatever you need, our world-class dev team will come through.
Customized Software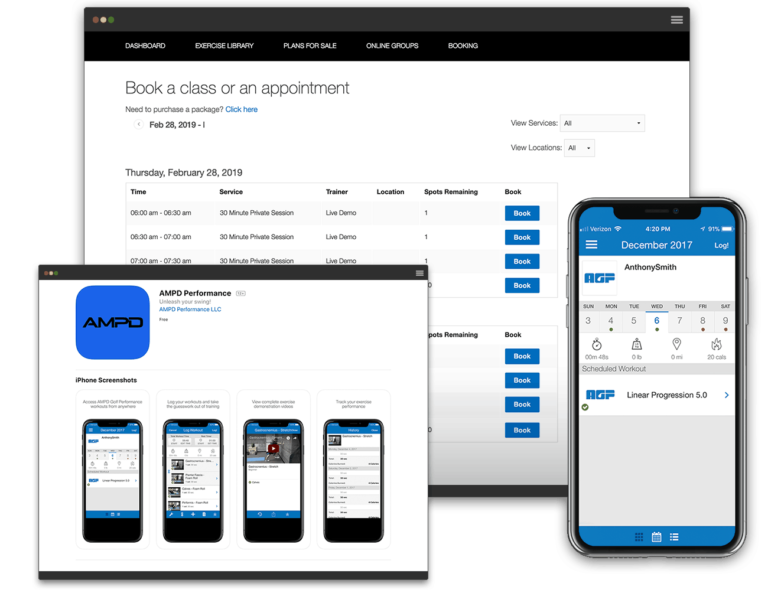 Your fitness business management software should be customized to your preferences to showcase your business. Your website and mobile apps may be the first look that a potential client or customer has of your business, so you want it to stand out. Customization allows consistency among your software online dashboard, mobile apps, website, social media, and any marketing efforts.
Custom-Branded
SimplePractice does not offer customization options such as logos, colors, or text with its software. Professionals can customize forms, like intake forms, assessment forms, or treatment plans but cannot customize the software itself.
Your software should match your branding, logo, colors, and verbiage. This consistency is what customers will recognize and will enable you to build brand loyalty. Exercise.com takes it a step further and offers full customization of mobile apps and websites. You will find the security features and marketing integrations to be helpful customizations to help you grow and manage your fitness business with Exercise.com.
iOS & Android Apps
Mobile apps are a vital component of any fitness business management software. Members and clients are always on the go, but we always have our mobile devices with us. These mobile apps allow exercisers and professionals to develop or access workout plans, the exercise library, workout logging, marketing, and communication among professionals and clients/members.
The SimplePractice app can be used on Apple and Android devices that allow professionals and clinicians to manage their daily tasks like appointments and payment processing. The Apple mobile app has a 4.7 rating out of a 5.0 rating based on 9,600+ reviews. The Android app has a 4.7 rating out of a 5.0 rating based on 1,000+ reviews.
One of the biggest differences between the SimplePractice and Exercise.com app is customization. There are no customization or custom-branding capabilities with the SimplePractice app. Your business, trainers, and customers must use the app as-is with no modifications. And considering SimplePractice isn't geared towards fitness, this means your staff and customers must do a lot of adapting to SimplePractice's limited app.
On the other hand, Exercise.com has branded apps for personal trainers on iOS and Android devices. You choose how you want your app to look and function! Our app includes all of their fitness business management features. Your clients and members can search for your business name in the iOS or Google Play store, not the name of a third-party app.
Websites
SimplePractice's websites give you the choice of pre-designed templates, colors, and stock photos. You can upload your custom business logo but otherwise has no customization or branding capabilities. SimplePractice is offering their websites for free until July 2021 when they will charge $15/month for the website; however, you must be subscribed under the Professional Plan in order to use the website feature.
Far from offering basic, cookie-cutter templates and colors, Exercise.com offers custom-branded, SEO-optimized fitness business websites. We don't charge for your website set-up, a monthly fee, or any changes to your website! Even better, your account manager will handle all website changes so you can stay engaged with your customers and staff. The best features that are offered for websites include:
Responsive
SEO optimized
Unlimited theme changes
Built to convert visitors to leads
Custom graphic work
Google Certified Partner
Security Features
In the days where we hear about data breaches and/or cases of compromised data almost daily, it's important to make sure your facility's data and your clients' data are safe and secure. Exercise.com ensures the safety of your data with these important features:
SSL Secure
Privacy Shield Framework
Google Cloud
Marketing Integrations
Marketing is an important component of any successful business. Social media, email, text messages, and notifications are great ways to stay in touch with your members and clients.
SimplePractice does not have any marketing integrations with its software. A clinician or professional would either need to do marketing on their own or hire someone to handle marketing efforts separately.
Exercise.com understands the important role of marketing and provides integrations that help amp up your marketing efforts. Some of our more popular integrations include:
MailChimp
ConstantContact
ConvertKit
Zapier
Google Analytics
Facebook Pixel
Learn more by clicking the button below.
Exercise.com is the best SimplePractice alternative.
Workout Software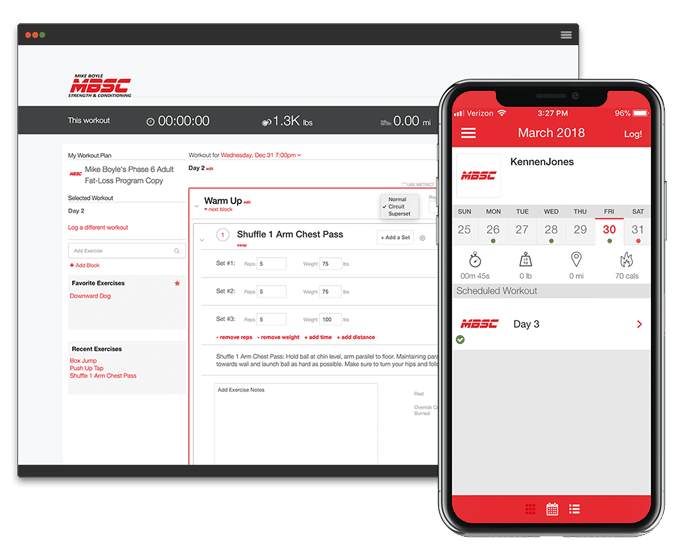 Every fitness business needs workout software that enables them to help clients meet their health and fitness goals, plus grow their business with additional revenue streams. This workout software should have all the options you need to create and share workouts, the ability to train any type of client, and extra options to make workouts fun and motivating.
Workout Creator/Logger
SimplePractice is not software designed for fitness businesses or fitness professionals, so there are no workout creation, delivery, or logging features.
Exercise.com has awesome workout software that makes fitness professionals more productive, workouts more effective, and clients more successful. Our workout creator/logger provides users with endless possibilities for delivering workouts, tips, and encouragement to clients in any scenario, including one-on-one training, group training, or online training.
1-1 Training
Many personal trainers depend on one-on-one training for the majority of their business and revenue. One-on-one training allows fitness professionals to develop a supportive and encouraging environment for their clients to meet their health and fitness goals. A workout software should make it easy for trainers to create and share any type of workout with their clients and Exercise.com does just that.
Group Training
If group training is your focus, you can use any mobile device to create or view workouts with Exercise.com. You can follow along to stay on track if you are leading the class or exercisers can view the workout plan if you are dividing the group into smaller groups or allowing them to take the lead for certain parts of the workout. If you also have access to a tv, you can show the workout plan broadcasted on the television.
For example, if you are leading an interval workout such as AMRAP (as many repetitions as possible) or EMOM (every minute on the minute), you could have a list of the exercises pulled up on a few mobile devices around the room for either you to view or for the clients to view during the workout. You can also broadcast the workout plan for everyone to see on the bigger television monitors.
Online Training
Online training is a great way to grow your business for a number of reasons. For one, you can train your current face-to-face clients if they are out of town on business or traveling on a vacation. Second, you can add new clients to your client base no matter where they are located. Third, it gives you more flexibility for training clients in a hybrid format, partially online and partially face-to-face.
Exercise.com works for you to allow you to train clients one-on-one, in groups, online, or hybrid. All of these options give you a ton of flexibility to maximize your time and revenue.
Exercise Library
SimplePractice does not have an exercise library because it does not have the target of fitness businesses or fitness professionals in mind.
Exercise.com includes an exercise library, which is an important component of any workout software. An exercise library includes instructions, descriptions, videos, photos, or tips that help exercisers understand how to complete an exercise or movement with good form and technique. This full exercise library includes options to build various workouts with intervals, sets, pyramids, supersets, or other functions.
Personal trainers and fitness professionals can use exercise libraries to design workouts and help their clients fully understand how to do an exercise correctly, what muscles are being worked, and tips to make the most of the exercise or movement.
Custom Exercises
Sometimes the exercises in the exercise library work great, but sometimes you need the option to customize exercises for your clients. Exercise.com allows you to add custom exercises so you have everything you need at your fingertips to design and deliver the most effective workouts for your clients to help them meet their health and fitness goals. You can add your own videos or photos featuring your staff and trainers.
TV Workouts
Exercise.com provides clients with the ability to watch demos of the exercises within their workout plans on television screens; gyms can also use the exercise library to cast exercise demos onto gym television screens during group classes or one-on-one training sessions. You can also stream the workout plan on a screen for group training sessions. This is a great way to provide that "personal touch" so many people look for when choosing a gym.
Gym Ecommerce Software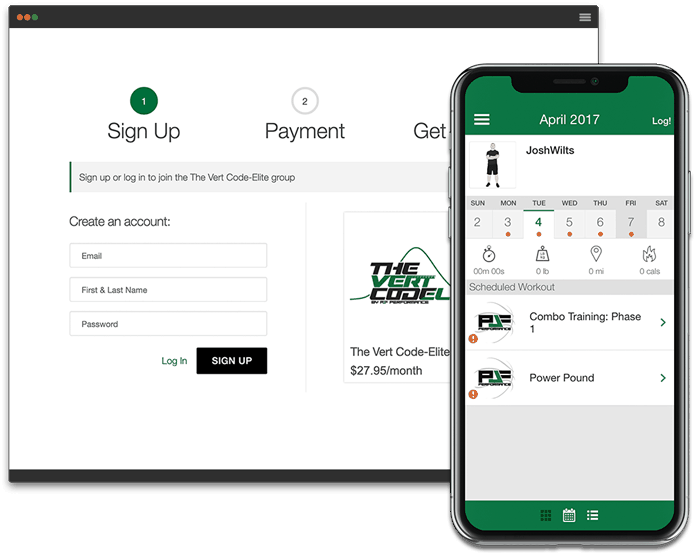 Ecommerce is a necessary feature of any fitness business software. SimplePractice offers payment processing options through an integration with Stripe. Clients can directly make payments or set up automatic payments. For insurance billing, claims can be submitted and tracked electronically.
Exercise.com provides gym ecommerce software to enhance or add additional revenue streams. Safe and secure payment processing, the ability to sell retail or other products, and options to sell memberships, packages, or sessions. You can also sell workout challenges, membership plans, or workouts online.
Payment Processing
The ability to accept and process payments via credit card is vital for any fitness business. Clients and members need an easy option to book and pay for classes and appointments via mobile apps or online dashboard.
SimplePractice allows payments and deposits through Stripe and provides clients and professionals with the ability to set up automatic payments or to send payments directly through the mobile app.
Exercise.com has similar features to allow clients to securely pay via the mobile app, dashboard, or in-person. Payment processing is safe and easy.
Sell Products
SimplePractice does not have any ecommerce options to sell additional products or retail items. Exercise.com allows for ecommerce and point-of-sale products, like retail items, online workout plans, online memberships, or online packages. Selling retail items is a great boost to your business that can also create brand loyalty.
Sell Workout Plans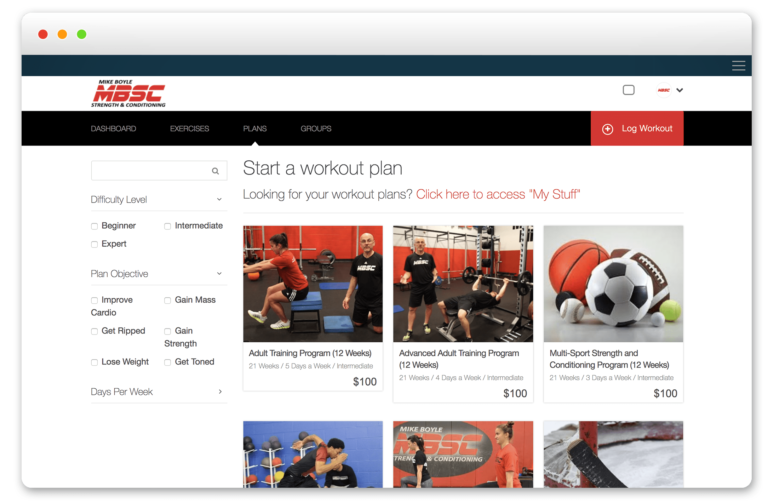 Personal trainers would have no options to design, deliver, or sell customized workout plans with SimplePractice. Exercise.com is clearly ahead in the game because it allows you to design and customize workout plans that you can then sell via the mobile app or website.
Personal trainers can take successful or customized workout plans they have developed and put them online to sell to new audiences anywhere in the world. It's the perfect opportunity to generate additional revenue, build your business, and help new clients reach their fitness goals.
Offer Online Workout Memberships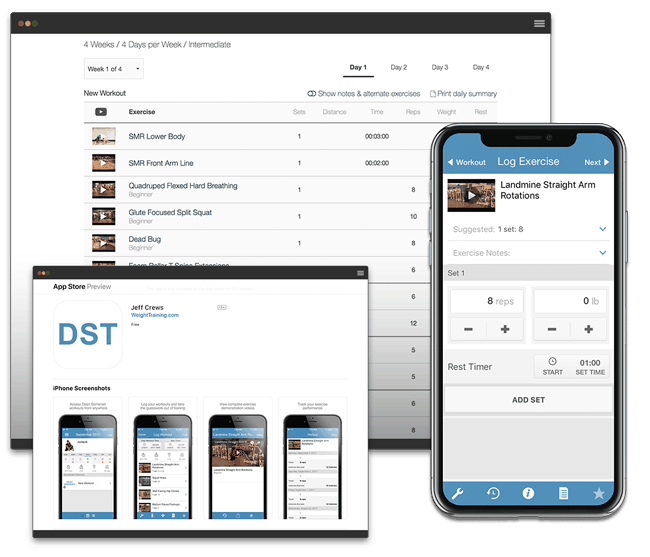 Online workout memberships are a great way to grow your business. Exercise enthusiasts may have access to a gym in their home or may travel for business with access to a hotel gym. If you have a great reputation in the fitness industry, you may want to take that to the next level by marketing yourself, your skills, and your knowledge online outside of your local area.
Exercise.com gives you the ability to grow your online clientele by giving you the option to offer online workout memberships. Any personal trainer can and should take advantage of this feature to try something new and build your business.
Sell Workout Challenges
Workout challenges are an excellent way to motivate members, enhance loyalty, and generate additional revenue for your business. Workout challenges among exercise enthusiasts create an environment of healthy competition and motivate exercisers to meet their individual fitness goals. Exercise.com provides the option of creating workout challenges for participants near and far.
Fitness Assessment Software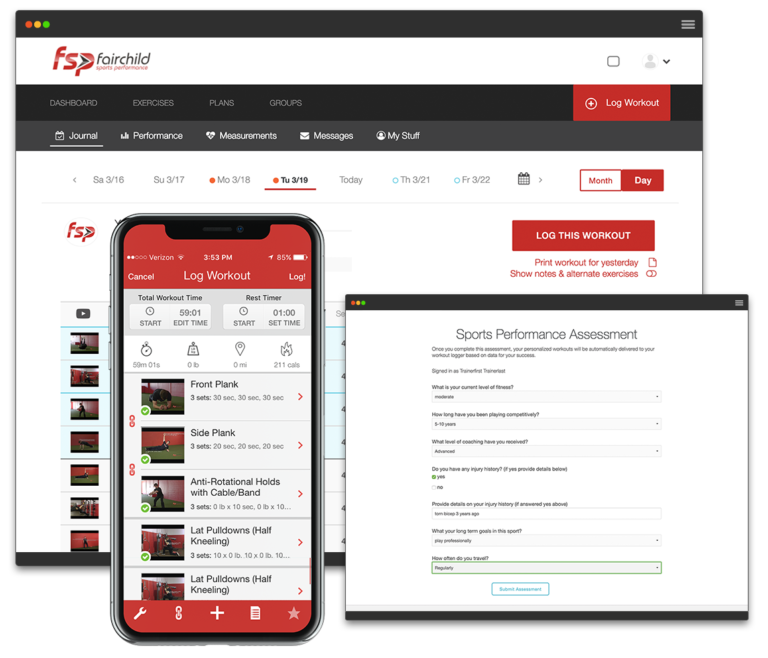 There are no features for conducting performance health or fitness assessments with SimplePractice. They do have forms and documents for patient assessments, but those are clinical assessments specific to their practice areas, not for health or fitness. Although SimplePractice has custom form creation, these are limited to questionnaires, which isn't always applicable in fitness settings.
For best results, personal trainers and fitness professionals would need other software to be able to fully utilize that software to conduct assessments for clients. There are online tools to help you with conducting and using assessments, but who has time to use different websites to keep track of all of that information for your clients?
Exercise.com has innovative assessment features. Our fitness assessment software allows you to:
Turn leads into clients
Engage clients through assessments
Gather baseline data about clients
Plan effective fitness programs to help clients meet their health and fitness goals
Track measurement data, injuries, etc.
Optimize the delivery of personalized workouts and nutrition
Use to compare to normative data of similar age and sex
Assessments
SimplePractice allows for client assessments and progress related to specific clinical health issues. This could be a mental health assessment and progress notes related to counseling sessions or other treatments recommended by the clinician. There are no options for fitness or health performance assessments within the software.
Fitness and health assessments can be used for a variety of reasons to help determine a baseline, to increase motivation, as a comparison to fitness norms, and to enhance loyalty. Assessments are used to test various fitness aspects, like cardiorespiratory endurance, muscular strength and endurance, flexibility, balance, and body composition.
You can use the results of those assessments to get a baseline measurement of your client's current level of fitness, which can be used to plan an appropriate exercise program that also uses progressive overload to see results from their hard work. The assessment results can be compared to normative values that represent different levels of fitness for a comparable age and sex.
Performance & Measurement Reports
As mentioned, SimplePractice has progress notes built into the software program for clinicians to track a client's progress toward goals or treatment plans.
Assessment reports for exercisers and active individuals are important to determine if there has been any progress over time toward goals. Exercise.com allows you to set up delivery of these reports to share information with your clients either manually or automatically.
Let's say you conducted a push-up assessment with your client when they started their workout program with you and they were able to do 10 push-ups in one minute. After working out consistently for six months, you do the push-up assessment with them again. This time, they are able to do 20 push-ups. Both you and your client can see the improvement in their muscular endurance within the six-month time frame.
Nutrition
Nutrition and healthy eating is a key component of any health and fitness program. If a client is working hard during their personal training sessions but does not have good eating habits, it will slow their progress. By using a diet tracker like MyFitnessPal, personal trainers using Exercise.com can view their client's nutrition and can make basic recommendations for them to improve their eating habits.
SimplePractice Pricing
All pricing plans include a 30-day free trial.
So, how much does SimplePractice cost? For those with a solo practice, there are two pricing options. The Essential Plan is $39 monthly and the Professional Plan is $59 monthly. For those with a group practice, the cost is $59 for the first professional and $39 for each additional professional. Websites are an additional $15/month, and the add-ons (Telehealth and Wiley Planners) have an undisclosed price.
The table below lists the plan options, features, and pricing. You cannot call a SimplePractice phone number for more details as the company does not offer phone support; however they do offer email support.
| | Essential Plan | Professional Plan (solo practice) | Professional Plan (group practice) |
| --- | --- | --- | --- |
| Cost | $39 monthly | $59 monthly | $59 monthly for first professional; $39 monthly for each additional professional |
| TeleHealth | No (can add on for $10/month) | Yes | Yes |
| Free Billers and Schedulers | No | Yes | Yes |
| Claim Filing and Payment Reports | No | Yes ($.25 per claim or monthly packages available) | Yes ($.25 per claim or monthly packages available) |
| Administrative Note Templates | No | Yes | Yes |
| Custom Note Templates | No | Yes | Yes |
| Secure Messaging | No | Yes | Yes |
| Booking Widget for Website | No | Yes | Yes |
| Online Appointment Booking | No | Yes | Yes |
| HIPAA-compliant | Yes | Yes | Yes |
| Live Support | Yes | Yes | Yes |
| Unlimited Document Storage | Yes | Yes | Yes |
| Mobile apps | Yes | Yes | Yes |
| Online Payments | Yes | Yes | Yes |
| Appointment Reminders | Yes | Yes | Yes |
| Diagnosis and Treatment Plans | Yes | Yes | Yes |
| Paperless Intakes | Yes | Yes | Yes |
| Unlimited clients and client portal | Yes | Yes | Yes |
SimplePractice Alternatives
A common question amongst potential clients is, "What is better, SimplePractice or Therapy Notes?" SimplePractice definitely wins out slightly against Therapy Notes, but the differences are in the details. Additional competitors of SimplePractice include TheraNest, NextGen Healthcare, CounSol.com, AdvancedMD for mental health, and Kareo.
These software packages focus on a similar niche for healthcare professionals and clinicians as SimplePratice. For Theranest reviews, Therapy Notes reviews, and more, Capterra is a great resource.
The Bottom Line: Pros and Cons
SimplePractice is a useful software option for clinicians and health care professionals that need scheduling, payment processing, treatment plans, progress notes, insurance claims and billing, and TeleHealth. This software would be beneficial for mental health professionals, occupational therapists, counselors, chiropractors, and other similar professions.
The main issue is that SimplePractice is lacking many options for fitness business management. The good news is that Exercise.com offers all the features needed to help grow and manage a successful fitness business.
SimplePractice Cons
SimplePractice has a specific niche in health care professionals and clinicians that have a solo or group practice. A fitness business would not find this software useful to manage their business because it is missing too many vital features like workout creation and delivery, ecommerce, performance health assessments, and gym management features. However, it appears to be a useful option for the health care professionals and clinicians for whom the software is targeted for.
Exercise.com Pros
Exercise.com truly is all-in-one fitness business management software that will help you manage and grow every aspect of your business. Investing in reputable and effective fitness business management software is an investment in your business.
You can build your client base locally, nationally, or even internationally with the ecommerce and workout creation/delivery features. You can enhance client loyalty with performance assessments, mobile apps, workout creation/delivery, and ecommerce features. Exercise.com makes your life and your clients' lives happier and healthier.
This comparison has described the all-in-one software features of Exercise.com. Which features would be most helpful to you?
Ready to schedule a demo to get a visual picture of all the features of Exercise.com? Click here to get started!