Exercise.com: Your Timely Alternative
| Features | | Timely |
| --- | --- | --- |
| Nutrition | | |
| Dedicated Account Manager | | |
| Dedicated Zapier Support | | |
| Client Automation | | |
| Performance & Measurement Reports | | |
| TV Workouts | | |
| Offer Online Workout Memberships | | |
| Run Workout Challenges | | |
| Sell Workout Plans | | |
| Group Training | | |
| 1-1 Training | | |
| Custom Exercises | | |
| Websites | | |
| Marketing Integrations | | |
| Custom Branded | | |
| iOS & Android Apps | | |
| Online Training | | |
| Sell Products | | |
| Payment Processing | | |
| Gym / Facility Management | | |
| Exercise Library | | |
| Assessments | | |
| Client / Class Scheduling | | |
| Workout Creator / Logger | | |
| Business Dashboard Reports | | |
Why Choose Exercise.com?
Here are five reasons why fitness professionals use Exercise.com vs. Timely.
Fitness Business Management Software to Run Your Business
Unlike Timely, Exercise.com software is designed to have all components needed to run a fitness business in one place – making it easy and efficient to organize and grow your fitness business with client and class scheduling, check-ins, and billing — all from your custom-branded apps.
Fitness Business Management Software to Run Your Business
Unlike Timely, Exercise.com software is designed to have all components needed to run a fitness business in one place – making it easy and efficient to organize and grow your fitness business with client and class scheduling, check-ins, and billing — all from your custom-branded apps.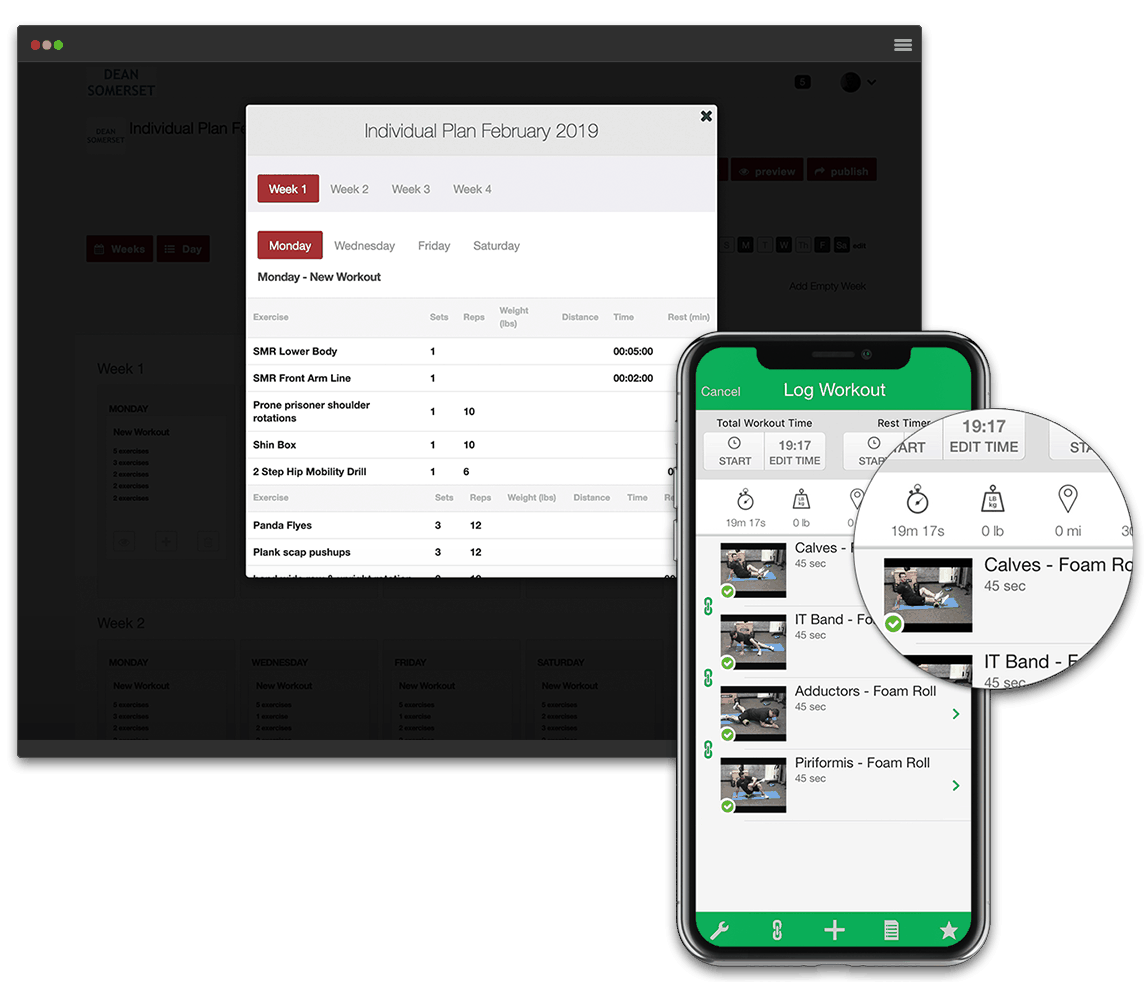 Workout Software to Power Your Training
Timely does not offer workout software; Exercise.com, however, does. The Exercise.com workout plan creator and exercise manager provide flexible solutions to save you time creating workouts with built-in integrations, tools, and more.
Ecommerce Software to Increase Revenue
Timely has limited ecommerce features only allowing for in-person POS and selling gift vouchers online. Exercise.com, however, has full ecommerce capabilities allowing trainers to sell merchandise and single workout plans, offer automated workout memberships, run workout challenges, and deliver individual training.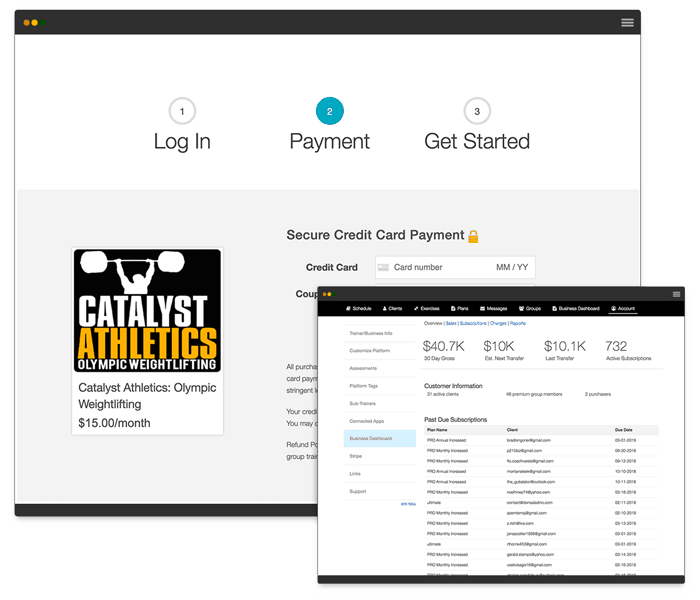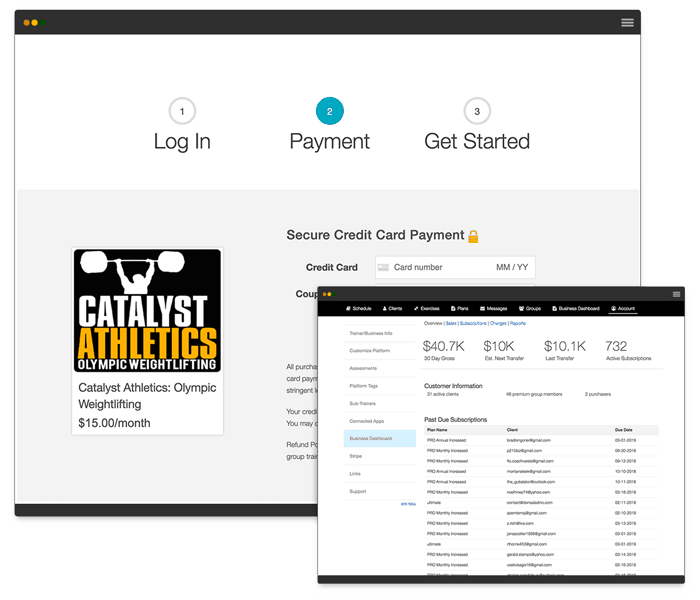 Ecommerce Software to Increase Revenue
Timely has limited ecommerce features only allowing for in-person POS and selling gift vouchers online. Exercise.com, however, has full ecommerce capabilities allowing trainers to sell merchandise and single workout plans, offer automated workout memberships, run workout challenges, and deliver individual training.
Assessment Software to Improve Client Engagement and Retention
Timely does not offer assessment software. With Exercise.com, however, your clients will receive personalized assessments that deliver custom workouts for their individual needs – providing massive growth potential and saved time. All for one price. All on one platform.
Stand Out With Your Own Custom-branded Apps
Timely does not offer custom apps or websites. Exercise.com, however, offers apps that are fully customized to make your life easier by providing your clients with a unified scheduling and workout experience with your brand displayed front-and-center.
Stand Out With Your Own Custom-branded Apps
Timely does not offer custom apps or websites. Exercise.com, however, offers apps that are fully customized to make your life easier by providing your clients with a unified scheduling and workout experience with your brand displayed front-and-center.
If you're ready to get started with an easy-to-navigate, all-in-one fitness software, designed to fuel your business, request a demo with Exercise.com today.
And, if you want to see how Timely's additional features stack up to Exercise.com software features, check out our in-depth guide below.
What is Timely?
Founded in 2012 and based in the United Kingdom, Timely is a booking software for studios and salons. Managers can easily track clients, appointments, sales, staff, reporting, and more. Timely provides features such as online bookings, online deposits and payments, gift vouchers, and SMS and email messages.
Many customers are pleased with Timely, but Timely isn't geared towards fitness centers and therefore doesn't have the features a fitness center needs. Timely's targeted customers include:
Hair salons
Barbershops
Beauty salons
Medi-aesthetics
Spas
Wellness salons
Massage parlors
Tattoo studios
These industries are mostly appointment-based businesses, but fitness centers provide a variety of scheduling services, such as group classes, 1-1 training, online training, and memberships. Additionally, fitness centers need workout and assessment software. Since Timely is primarily a booking software, there are many necessary functions your business needs that are lacking by using the Timely software.
Let's jump into the comparison to see how Exercise.com is your best gym management software.
Unless otherwise stated, all images and reviews below are of/about the Exercise.com All-In-One Fitness Business Management software platform.
Fitness Business Management Software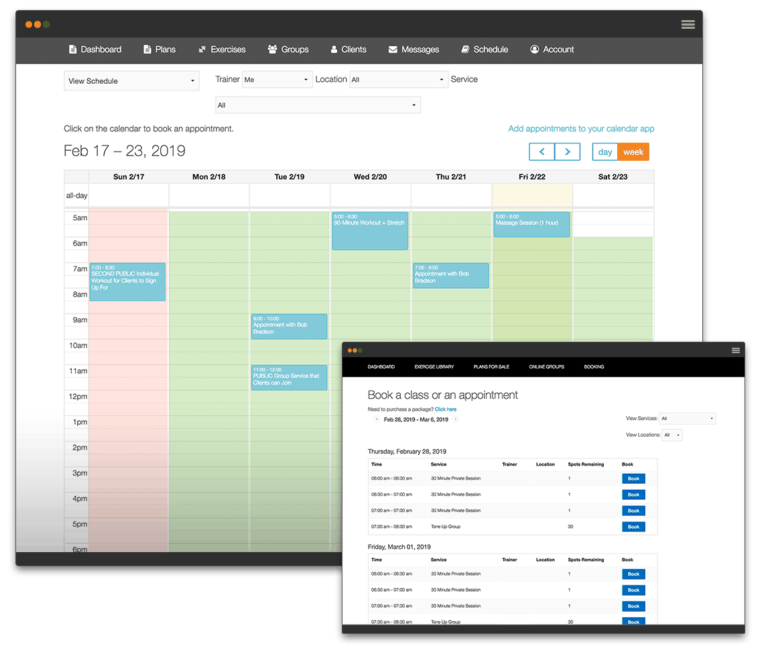 In the fast-paced world of the fitness industry, you need reliable, efficient, robust software that has all the tools you need to run your business. At Exercise.com, we created our Fitness Business Management Software (FBM) to merge with workout and assessment software. Our software includes features such as schedule management for classes, members, and employees, as well as billing, notifications, reporting, and more.
Client/Class Scheduling
Timely has many useful booking features, such as online booking, appointment reminders, automatic confirmations, follow-up emails, and rebooking reminders. The calendar is color-coded for easy viewing, and staff members get automatic updates on their appointments and can manage a waitlist.
However, as of September 1, 2020, Timely no longer allows you to schedule classes; it is strictly limited to appointments only. This places many barriers to your business growth as you cannot schedule group classes, online training, events, or workshops.
On the other hand, Exercise.com has the same booking and calendar features as Timely but allows you to schedule more than appointments. Schedule and track attendance for group classes, events, online Zoom classes, and workshops (plus utilize the RSVP feature!). Our scheduler is completely customized to your needs. Appointments sync with Google Calendar and Apple Calendar.
Gym/Facility Management
Timely and Exercise.com have compatible facility management features that enable you to do tasks such as track business expenses, communicate with clients, track members and staff members, and more.
Business Dashboard Reports
Both Timely and Exercise.com have a variety of standard and customizable business reports that can be displayed in a dashboard. However, only Exercise.com allows you to customize your dashboard layout and which reports are displayed. This improves your productivity and efficiency!
Client Automation
Timely has a number of automated features, such as automatic SMS messages and emails, reminders, and more. Each targeted SMS message costs 5 cents per message.
Exercise.com includes automatic communication and payment features (with no fees!), but we also have fitness-specific automation. For example, personal trainers can send workouts and performance assessment data to clients automatically. The Exercise.com software platform's capabilities in automation include:
Workout Delivery
Resource Delivery
Assessment Delivery
Reminders/Alerts via app, text, and email
These save you and your trainers valuable time!
Dedicated Zapier Support
Both Exercise.com and Timely integrate with Zapier, but Timely charges an unknown add-on fee. With Exercise.com, you get Zapier included with your software–no added fees! The partnership between Exercise.com and Zapier ensures that your business runs at peak productivity and efficiency, and is user-friendly for staff and clients.
Dedicated Account Manager
Timely has standard customer service: email, live chat, in-app support, and phone calls. However, Timely is based in the United Kingdom, which adds an extra hurdle to using this form of customer service if you're located in the United States.
At Exercise.com, we take customer service very seriously, so we give you a dedicated account manager to handle your account. From software set-up and training, website and app creation, adding ecommerce features, or any changes you need in the future, your account manager takes care of it all.
Customized Software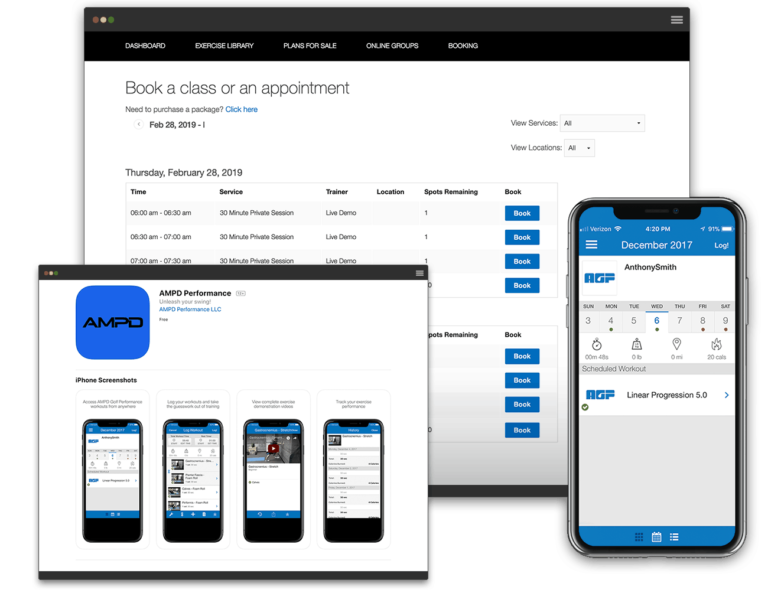 Most customers expect a high level of personalization when it comes to the services a business provides. Fitness businesses are no exception, and with the right software, your business can deliver the personalized experience customers desire.
Custom-Branded
Timely allows you to upload custom colors to the calendar but otherwise doesn't promote your brand in the same ways as Exercise.com. We're proud to feature and celebrate your brand in as many ways as possible. That's why with our software, your brand logo, colors, font, and more, are displayed on your custom website, app, scheduler, and software. This keeps customers engaged with your brand instead of seeing another brand for their scheduling and fitness needs.
iOS & Android Apps
Timely has an app for Android and iOS, but Timely makes it clear that iOS is the preferred software. However, it can't be helped that many customers use Android or other devices. Timely Google Play reviews reveal that Timely's Android app is indeed poor. Users report a variety of glitches with booking (either double booking or not showing appointments that had been booked), instances of double-charging customers, and a slow interface.
Additionally, there is no customization or custom branding of the Timely app. Customers will search for, download, and log in to the Timely app for all their bookings. This is a missed opportunity for your business!
With Exercise.com, you get a completely customized and branded app for personal trainers! You can perform any desktop task on your app, such as managing your calendar, viewing and tracking reports, creating workouts, managing ecommerce, communicating with customers, and so much more.
Trainers can easily create workouts, assessments, and nutrition plans. Clients can view these, perform their workouts at their desired location, and log their nutrition intake.
Websites
Timely offers two options for websites. First, you can embed Timely into your existing website, which leaves you with the task of creating and managing your business website.
Or, you can use Timely's mini-website, which is exactly what it sounds like. Timely describes their mini-website as the minimalist approach to websites: you can enter your custom information (business name, address, contact, staff, images, etc.) and the services you provide. While this may be better than nothing, all of Timely's mini-websites look the same; without custom dev work, there's nothing that makes your business stand out.
But Exercise.com provides your business with an SEO-optimized and fully customized fitness business website! Choose from unlimited themes and colors, custom dev, and more. Our top-rated custom dev team creates your website for you, and your dedicated account manager runs your website and can make any change to your website in the future. Our websites are SEO-optimized and are built to convert leads to customers. This takes a huge task off your plate so you can stay engaged with your customers.
Security Features
Both Timely and Exercise.com take the security and protection of membership data very seriously. At Exercise.com, our websites and apps are SSL Secure, client information is protected with the internationally-secure Privacy Shield Framework, and we utilize Google Cloud for storing and transferring data. Payments are made and processed through Stripe.
Marketing Integrations
Timely integrates with MailChimp and Zapier, but these both come at an unknown add-on fee.
This is not the case with Exercise.com. We include countless integrations so your business runs efficiently and stands out amongst the competition. Some popular integrations include:
MailChimp
ConstantContact
ConvertKit
Google Analytics
Facebook Pixel
Zapier
And more!
Learn more by clicking the button below.
Exercise.com is the best Timely alternative.
Workout Software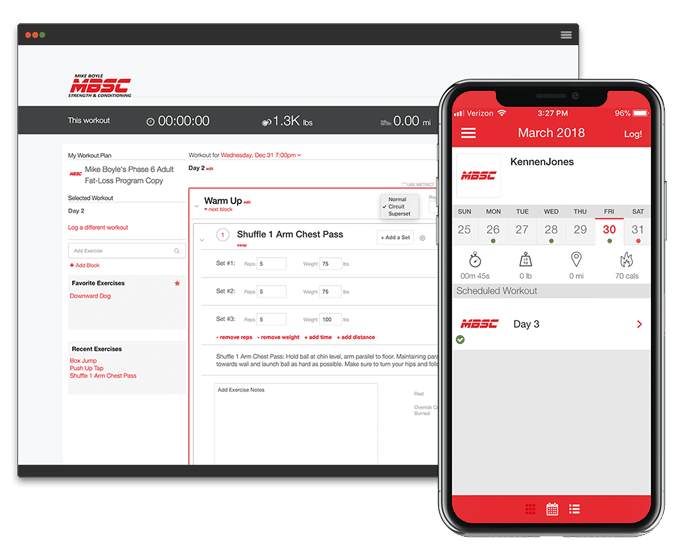 The most important difference between Timely and Exercise.com is that Timely isn't intended for fitness businesses.
As such, Timely doesn't include workout software with its platform. However, workout software is vital to fitness businesses–if it doesn't come with a comprehensive platform, you must spend more time and money investing in workout software. This can be an inefficient use of resources and can impact your staff's productivity.
Additionally, it's important to note that depending on which package you purchase, Timely only allows 200-300 texts per staff member per month. While this might seem like an adequate number, it is an insufficient amount for trainers.
Timely's app doesn't have in-app messaging, which means all communication (appointment reminders, follow-up texts, etc.) are sent via SMS messaging. For trainers who need to stay in contact with their clients throughout the week, every text message is counted from the 300 max limit. Every excess text message is 5 cents per text. If trainers go over their limit, this can be very costly to your business in more ways than one.
If trainers go over their limit, it could impact your budget. But avoiding this costly excess can have a domino effect on your trainers: they may not take on as many clients so they can stay within their text limit, or be forced to not fully engage with their clients so they can maintain a higher client load.
Because Timely doesn't have workout software, let's examine how Exercise.com's comprehensive workout software boosts your business!
Workout Creator/Logger
The Exercise.com workout creator and logger is a powerful and effective way to keep clients engaged and motivated in meeting their fitness goals. It also keeps trainers productive and efficient by allowing trainers to quickly assign pre-designed workouts or create personalized workout plans for the specific needs of their clients.
Inside your custom-branded app, clients can view and log their workout anytime, anywhere, as well as communicate with their trainer. This gives clients the personalized fitness experience they desire.
At Exercise.com, we know that every trainer-client relationship is different, so our workout creator/logger has endless possibilities for delivering workouts, tips, and encouragement to clients in any scenario, including:
1-1 Training
This traditional means of training is still popular in many gyms. Our software encourages your clients to stay focused on their fitness success with customizable workout and nutrition plans, goals and progress reports, performance and fitness assessments, and resources automatically delivered to your app. Clients can communicate with their trainers at any time, and trainers can track progress along the way.
Group Training
Trainers can easily use the same resources and support as 1-1 training and apply them to group training. Manage all the moving parts of group training with ease using the Exercise.com software. Create and schedule as many classes as you'd like, track payments and attendants, and view all the stats in our reporting feature.
Online Training
Online training is becoming an increasingly popular training method in today's busy society. The software from Exercise.com allows you to capitalize on this trend by providing online training services to any customer! Trainers simply create custom workouts with our extensive video and exercise library, track progress, and stay in communication with clients via the app.
Exercise Library
Exercise.com workout software comes with a video exercise library. Our workout videos are professionally made with demonstrations on proper form and technique. Trainers can easily add these videos to custom workout routines so clients always have quick access to a reminder of the exercise. Our library also saves your trainers the time of finding and linking videos from YouTube–just use the library search bar!
Custom Exercises
In addition to Exercise.com's extensive exercise video library, we also enable you to merge with your YouTube and/or Vimeo accounts. This is beneficial in promoting your unique brand as clients watch your trainers perform exercises. It also allows you to further personalize your clients' fitness experience by using custom exercises.
TV Workouts
Finally, Exercise.com's videos can be cast onto a TV screen during 1-1 or group training sessions. This adds an extra personalization element to your business, changes the presentation style, and keeps members engaged with their workouts!
Gym Ecommerce Software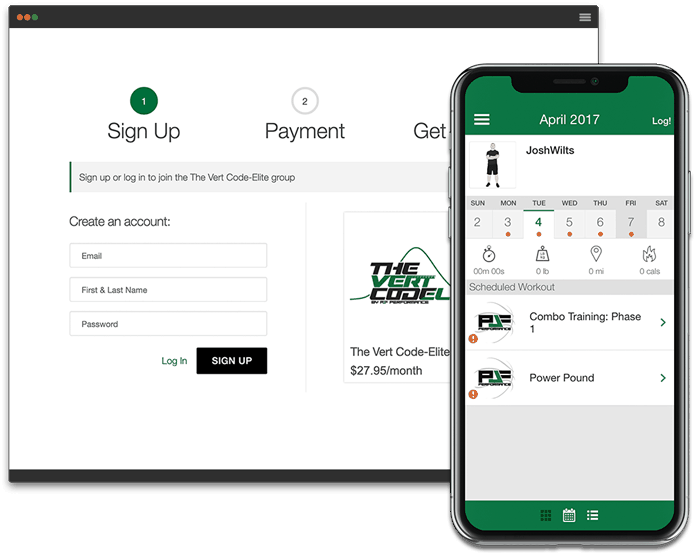 In the rising age of ecommerce services, it's crucial for your business to have several ecommerce outlets. With the right ecommerce options targeted for your clientele, your business has the potential to grow exponentially.
Timely has very limited ecommerce software: customers can purchase gift vouchers online and in-person point-of-sale purchases. These options restrict your business's growth! Timely doesn't offer many of the creative ecommerce options that Exercise.com's gym ecommerce software supports, so let's look at how each of these ventures promotes your brand and grows your revenue.
Payment Processing
Timely has several payment processing options. Timely users can pay an add-on fee to use Stripe, Square, and PayPal. Windcave, Pin Payments, and Authorize.NET are available without fees. Timely also has TimelyPay, a payment system that is managed from your Timely account, but this is only available in the United Kingdom, New Zealand, and Australia.
Exercise.com keeps things simple by integrating with the reliability of Stripe for all your payment processing needs.
Sell Products
Every customer loves an online store, and with the Exercise.com software platform, you can sell just about anything in your personalized ecommerce store. This boosts your revenue and promotes your business. Get creative with product listings, such as custom-branded workout gear and paraphernalia, supplements, nutrition bars, bumper stickers, and more.
Sell Workout Plans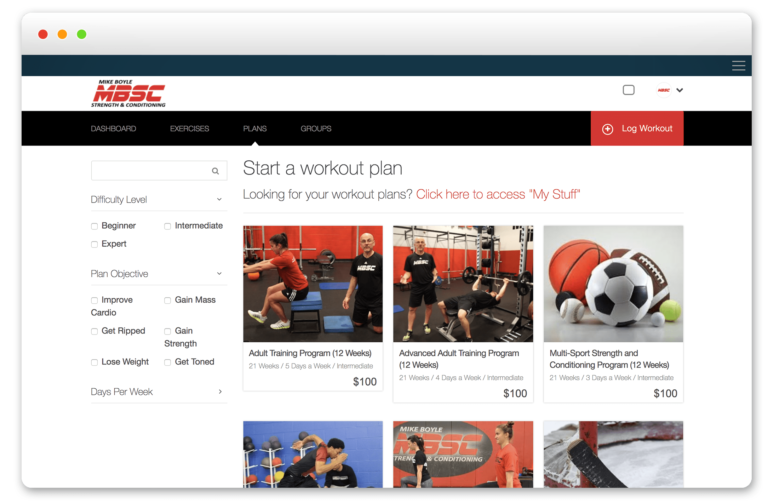 Engage your members by selling pre-built custom workout plans. Since these uniquely meet the needs of your clientele, your business has an advantage over generic workout videos. Exercise.com doesn't put a cap on how many plans you can sell, so the more plans you offer, the more your potential profit. Offer a variety of plan lengths, difficulties, fitness focuses, and more to meet the needs of every client and keep them fully engaged in your brand.
Offer Online Workout Memberships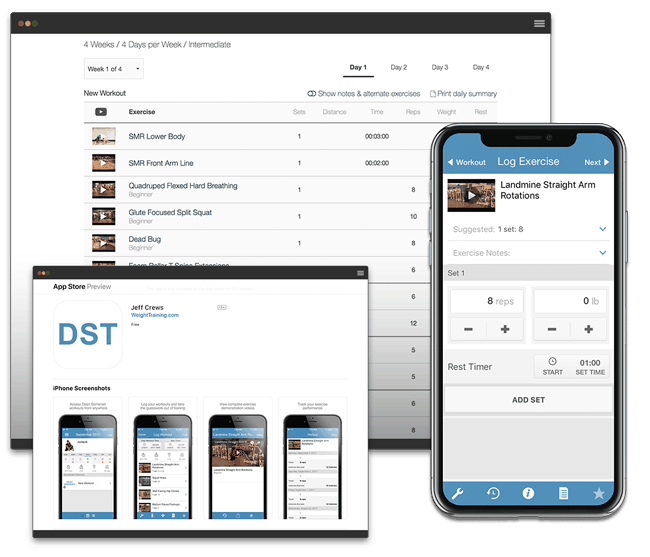 More and more customers and demanding customized online workouts. Although fitness centers can charge a premium price for this service, these are often challenging to make a profit on because of the additional time to create, deliver, and manage each client's workouts.
Exercise.com makes it easy to turn a profit on online workout memberships! Trainers create a client's entire plan in one sitting, schedule automatic delivery intervals, and then track client progress through their program.
Sell Workout Challenges
If you're looking for a way to add variety to what your gym offers, try one of our many workout challenges. These motivate members to push themselves for optimal performance while having fun and building a positive gym community.
Running a workout challenge with the Exercise.com software couldn't be easier: simply input the details and the software runs the challenge automatically. This is an effortless way to boost revenue without increasing your workload.
Health and Fitness Assessment Software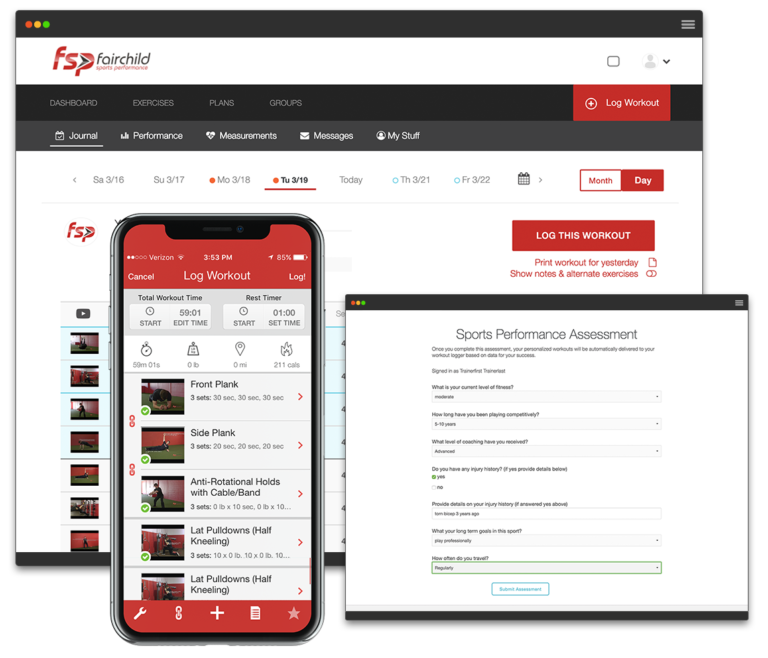 Health and fitness assessments are essential when offering personal training services. Not only do they keep the client and trainer safe, but they track a client's progress towards their goals and provide a boost of motivation.
Timely doesn't have a way to send, track, or manage performance assessments, which means your trainers must use another software or paper assessments.
Exercise.com, on the other hand, knows the value of performance assessments, which is why we include them in our comprehensive software. Since Timely doesn't offer this feature, let's examine how advantageous Exercise.com's fitness assessment software is for your fitness business.
Assessments
Assessments are used for a variety of reasons, namely to guide personal trainers and motivate clients. Personal trainers use initial assessments to find a client's baseline and develop an appropriate training program. Periodic re-assessments motivate clients in their fitness journey and help trainers know where to tweak their program for optimal results.
Exercise.com provides standard clinical assessments and completely customizable assessments to fit the exact needs of the client. All of our assessments are simple to complete so trainers stay engaged with their clients instead of filling out complicated data boxes. Finally, assessments are automatically delivered to clients and stored in your app for instant accessibility.
Performance & Measurement Reports
Exercise.com personalizes the fitness experience in our assessment software, too, through personalized interactions. Our software automatically delivers workout reminders, goal achievements, recurring assessments, progress photos, measurements, and more. This increases customer engagement but doesn't add extra tasks to your managerial load.
Nutrition
Finally, our all-inclusive software also includes a powerful nutrition tracker. This is where clients can easily log and track their dietary intake. Trainer accountability also keeps clients on track to meet their fitness goals, which ultimately improves client satisfaction.
Timely Pricing
Timely has two packages: Elevate for $200/month and Innovate for $250/month. There are minimal differences between the two packages; Elevate and Innovate have the same features, but Innovate also includes:
Advanced form sending
Staff targets
Google Tag Manager
Zapier
Rebooking/reconnect reminders
Elevate only allows 200 texts per month per employee, and Innovate allows 300 texts per month per employee. Every additional text costs 5 cents per text. If you'd like to send a targeted marketing text message, those cost 5 cents per text, as well.
Many of Timely's biggest assets come at an undisclosed add-on fee:
Vend
Square
PayPal
Stripe
Xero
QuickBooks
MYOB
Squarespace
Wix
WordPress
MailChimp
Depending on how many of these integrations your business needs, you could be paying much more than the standard package fee!
Timely Alternatives
Timely alternatives include:
The Studio Director
PerfectMind
Fresha
But the best Timely alternative is Exercise.com!
The Bottom Line: Pros and Cons
Your business management software has a major impact on the success or struggle of your business. With the right software, everything falls into place–this can't be said of software that doesn't fit the needs of your fitness business! Let's take a final look at the software offered by Timely and Exercise.com.
Timely Cons
Timely has many positive reviews, but it must be noted that these reviews come from Timely's intended customer base: salons, spas, and small studios. Timely is not designed to be used by fitness businesses, and as such, there are many vital fitness features that Timely lacks.
There isn't a way to schedule classes and ecommerce opportunities are very limited. Timely doesn't have workout or assessment software, which means trainers and clients must use multiple software programs. Texts are capped at 300 per trainer per month, which pressures trainers to be less engaged with their clients. Finally, Timely fails to promote your brand by restricting customization options.
Exercise.com Pros
Instead of having holes in your software, Exercise.com is a comprehensive platform for fitness businesses. With features like a custom-branded website and app, a user-friendly scheduling and booking system, countless marketing integrations, automated services, and ecommerce opportunities, only our platform is custom-tailored to meet the needs of your business!
We take fitness software one step further by offering fitness-specific features such as an exercise library, performance assessments, workout creator/logger, and nutrition tracker. With Exercise.com, your business has everything it needs to succeed.
If you're looking for an alternative to Timely and are ready to grow and manage your business with fully customizable software, book a demo with Exercise.com.