Exercise.com: Your TrackVia Alternative
| Fitness Software | | TrackVia |
| --- | --- | --- |
| Nutrition | | |
| Dedicated Account Manager | | |
| Dedicated Zapier Support | | |
| Client Automation | | |
| Performance & Measurement Reports | | |
| TV Workouts | | |
| Offer Online Workout Memberships | | |
| Run Workout Challenges | | |
| Sell Workout Plans | | |
| Group Training | | |
| 1-1 Training | | |
| Custom Exercises | | |
| Websites | | |
| Marketing Integrations | | |
| Custom Branded | | |
| iOS & Android Apps | | |
| Online Training | | |
| Sell Products | | |
| Payment Processing | | |
| Gym / Facility Management | | |
| Exercise Library | | |
| Assessments | | |
| Client / Class Scheduling | | |
| Workout Creator / Logger | | |
| Business Dashboard Reports | | |
Why Choose Exercise.com?
Here are five reasons why fitness professionals use Exercise.com vs. TrackVia.
Fitness Business Management Software to Run Your Business
Unlike TrackVia, Exercise.com software is designed to have all components needed to run a fitness business in one place – making it easy and efficient to organize and grow your fitness business with client and class scheduling, check-ins, and billing — all from your custom-branded apps.
Fitness Business Management Software to Run Your Business
Unlike TrackVia, Exercise.com software is designed to have all components needed to run a fitness business in one place – making it easy and efficient to organize and grow your fitness business with client and class scheduling, check-ins, and billing — all from your custom-branded apps.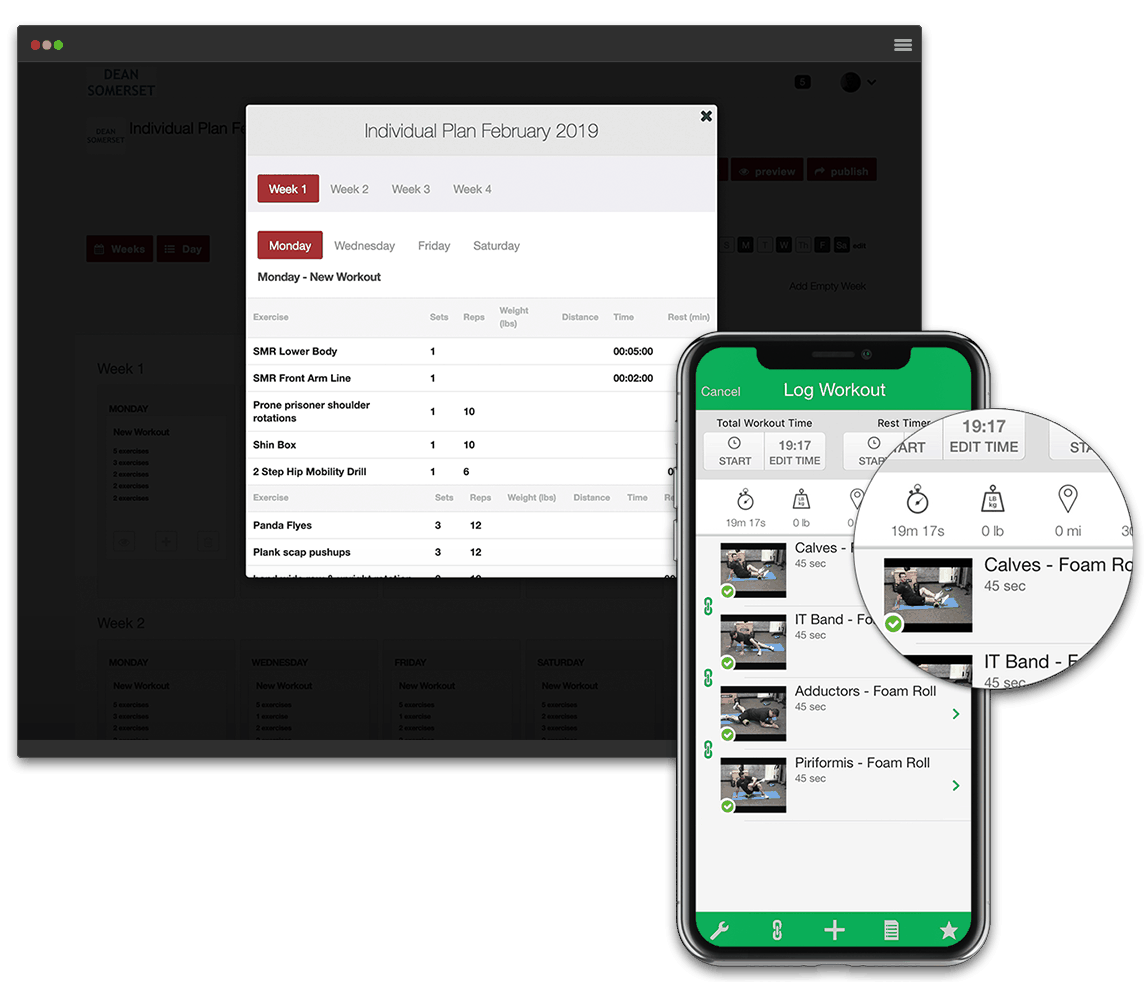 Workout Software to Power Your Training
TrackVia does not offer workout software – an essential component when running a fitness business. The Exercise.com workout plan creator and exercise manager provide flexible solutions to save you time creating workouts with built-in integrations, tools, and more.
Ecommerce Software to Increase Revenue
TrackVia has no viable ecommerce platform or capabilities to speak of. Exercise.com, however, has full ecommerce capabilities allowing trainers to sell single workout plans, offer automated workout memberships, run workout challenges, and deliver individual training.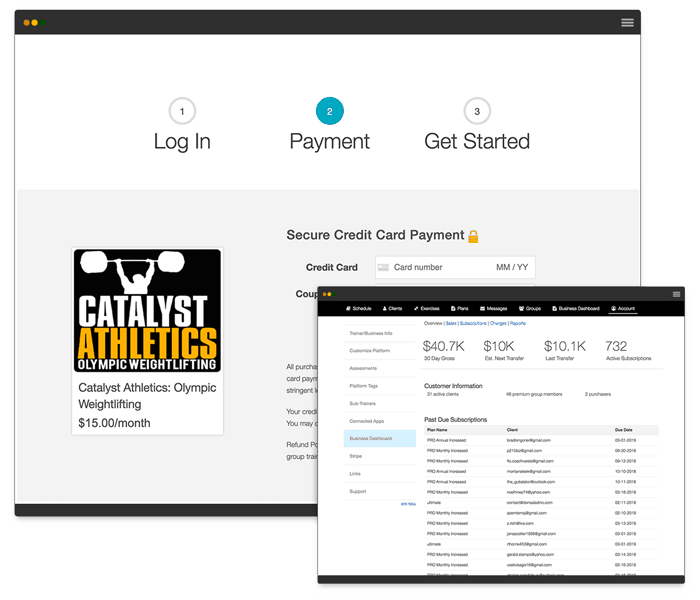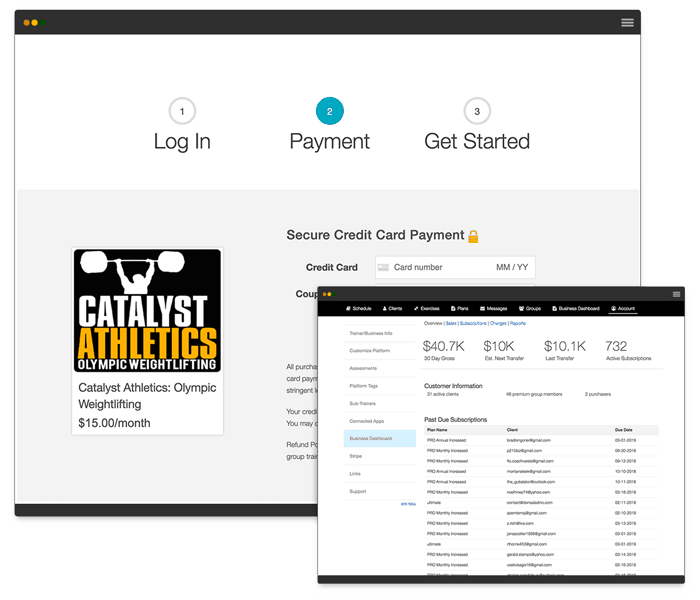 Ecommerce Software to Increase Revenue
TrackVia has no viable ecommerce platform or capabilities to speak of. Exercise.com, however, has full ecommerce capabilities allowing trainers to sell single workout plans, offer automated workout memberships, run workout challenges, and deliver individual training.
Assessment Software to Improve Client Engagement and Retention
TrackVia lacks assessment software, but that's not the case with Exercise.com. Take your clients through personalized assessments to deliver custom workouts for their individual needs – providing massive growth potential and saved time.
Stand Out With Your Own Custom-branded Apps
TrackVia's app does not offer fitness professionals a way to provide value to their clients. Exercise.com, however, offers apps that are fully customized to make your life easier by providing your clients with a unified scheduling and workout experience with your brand displayed front-and-center.
Stand Out With Your Own Custom-branded Apps
TrackVia's app does not offer fitness professionals a way to provide value to their clients. Exercise.com, however, offers apps that are fully customized to make your life easier by providing your clients with a unified scheduling and workout experience with your brand displayed front-and-center.
If you're ready to get started with an easy-to-navigate, all-in-one fitness software, designed to fuel your business, request a demo with Exercise.com today.
And, if you want to see how TrackVia's additional features stack up to Exercise.com software features, check out our in-depth guide below.
What is TrackVia?
Founded in 2007, TrackVia is a workflow and app development platform. It has hundreds of integrations with which you create your own customized platform. TrackVia is "low" code software, which means you don't need any programming experience to streamline your business through TrackVia.
TrackVia is targeted towards large enterprises and mid-size companies in the following industries: financial, manufacturing, healthcare, cannabis, utilities and energy, and construction. TrackVia has some big-name companies as customers, such as DirecTV, Land O' Lakes, NBC Universal, AT&T, and more.
If TrackVia manages big successful companies, then it must be the best option for your fitness business, right? Keep reading to find out!
Unless otherwise stated, all images and reviews below are of/about the Exercise.com software platform.
There are a few key differences between TrackVia and Exercise.com. First, TrackVia is a conglomeration of apps and integrations. This means if you experience any glitches with your integrations, you need to contact the individual software company or wait for TrackVia to contact them for you. This hinders your business from running smoothly!
Exercise.com, though, has powerful features built into our software with the added benefit of thousands of apps through our Zapier integration. Our customer service is prompt and repairs any malfunctions directly so your business doesn't miss a beat.
Second, although TrackVia is used by many different industries, fitness is not listed as an industry TrackVia caters to. This is important–because while TrackVia may have management apps, they may not have the fitness-specific apps that will help your business thrive!
Exercise.com is tailored for fitness, so we have all the tools your fitness business needs! Instead of picking and choosing from integrations to build your own platform, our fine-tuned platform revolves around fitness so you have a firm foundation to start with. Then we layer customized features suited to your business so it runs efficiently and stands out in a competitive market.
Finally, TrackVia is designed to improve workflow in large companies. The needs (and the budget) of these companies are vast and diverse. But for a relatively smaller operation like a fitness business, you don't have the same needs or resources as a big-name company like, for example, AT&T. Ultimately, you'll end up paying for integrations available through TrackVia you never use.
But with Exercise.com, we build platforms for businesses of all sizes, from the small studio to multi-site gyms. Since your platform is customized to your needs, you'll never pay for features you're not using!
All in all, TrackVia has a lot to offer–just not for the fitness industry. Instead, the Exercise.com software platform maximizes your success because it's designed for fitness! Let's further examine how TrackVia compares with the Exercise.com platform.
Fitness Business Management Software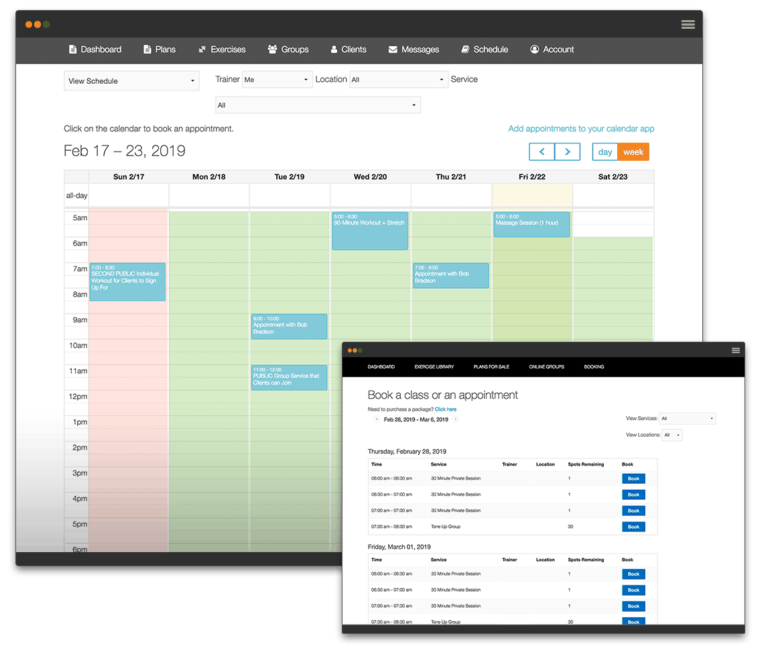 Fitness business managers need software that automates tasks and has on-the-go capabilities so they can build relationships with customers and staff.
As stated above, TrackVia has many management options through integrations. It's impossible to list out the comparisons between Exercise.com and numerous apps, so instead, we will show how the fitness focus of Exercise.com gym management software will help your business succeed.
Let's get started.
Client/Class Scheduling
Your booking and scheduling feature is a major source of revenue. It should be simple and understandable so customers can easily find what they're looking for and are encouraged to book a class or appointment. If your scheduler has a challenging format or booking instructions aren't clear, your customers become frustrated and your revenue decreases from fewer bookings.
With Exercise.com software, the calendar layout and features are personalized to your style and preferences so you manage your business the most efficiently and effectively. Staff can add any class, event, appointment, session, or other time blocks you'd like and they are clearly presented on a professional calendar layout so it's easy for customers to find their favorite class. Customers can also use a search filter to refine their results and find classes by day, time, trainer, class, or custom search terms.
Exercise.com software improves the booking experience by giving customers clear next-step prompts, which guides them through the registration process. Bookings can also be done anywhere, on any device. This results in more bookings and boosted revenue.
Staff can quickly view participants and payments, and stats are automatically recorded in our reporting feature. And finally, since our software is customized to your needs, you can add any other scheduling feature you need.
Gym/Facility Management
The Exercise.com software offers a host of powerful reports so you can easily track everything in your business. Choose from standard reports such as:
Memberships
Revenue
Subscriptions
Taxes
E-Commerce commission
And so much more.
We know every business is different, so we also provide customized reports. With the plethora of information gathered from these reports, you can examine your business from all angles so you can make data-based decisions to help your business succeed.
Business Dashboard Reports
Both Exercise.com and TrackVia have a dashboard for viewing business reports. Exercise.com's business dashboard features standard and customizable reports which enable you to keep your finger on the pulse of your business. Our dashboard is easily customizable, giving you free-range to how you want to analyze your business or filter information.
Client Automation
Exercise.com software makes it easy to stay in control of scheduling and membership renewals with our automatic notification settings. Push notifications can be sent through the app, text, and/or email, or a customizable combination. Our software includes email and SMS messaging but also automatically delivers fitness-specific notifications such as:
Workout plans, videos, and more
Resources and files for easy client access
Performance assessments
Charges and payment receipts
Reminders and alerts for appointments or classes via app, text, and email
Dedicated Zapier Support
Integrations are one of the best ways to make your business unique, efficient, and stand out in a sea of fitness centers. TrackVia is built on integrations; however, not all integrations are helpful to fitness businesses. Ultimately, you'll be paying for integrations you'll never use.
But with Exercise.com, you'll never pay for more integrations than you need. We partner with Zapier, which has over 2,000 apps (that are actually helpful to fitness businesses) that you can incorporate into your custom website and platform. This is the perfect balance of offering a variety of targeted, helpful integrations without wasting money.
Dedicated Account Manager
Like many companies, TrackVia offers customer service by phone and email. However, since TrackVia is an assembly of apps and integrations, customer service may take longer than average because they must contact the individual software companies directly.
Exercise.com goes above and beyond with our customer service. When you partner with us, you'll receive a dedicated account manager who is your personal contact for all your software-related needs–indefinitely. Your account manager creates your app and software precisely to your specifications and provides training for you and your staff. If you have questions or problems later, reach out to your account manager for prompt assistance.
Adjustments to your website, app, and software are beneficial as your business grows. Simply let your account manager know of alterations and they work behind the scenes to see your vision come to fruition. This saves you countless admin hours and maximizes your brand's full potential.
Customized Software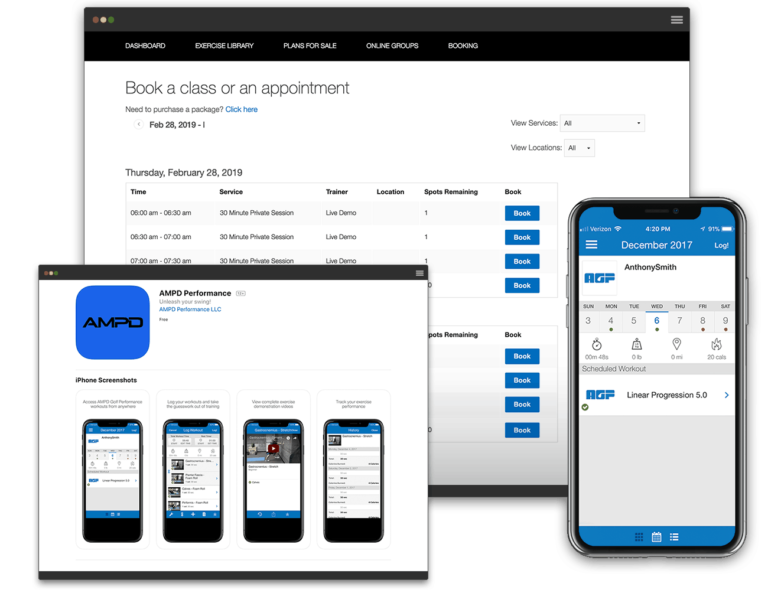 Customized software improves your business's profit because it supports the personalized services customers desire from fitness centers. Customized software ultimately promotes better marketing and higher new member rates, retention, and revenue.
TrackVia is highly customized because it integrates with hundreds of apps. However, most of the apps TrackVia offers do not apply to fitness. For example, TrackVia advertises construction and manufacturing as industries that benefit most from their platform. The apps needed in construction and manufacturing won't give any benefit to your business–but you pay for them anyway. This is your hard-earned money down the drain.
Exercise.com offers countless apps and integrations that help your business succeed but never charges you for ones you won't use. Keep reading to learn the fitness-specific ways Exercise.com grows your business.
Custom-Branded
Exercise.com promotes your brand from start to finish, which keeps customers strongly connected and engaged with your business. You can easily fine-tune details with custom colors, language, integrations, features, custom dev, and so much more, so your website and app feel authentically yours.
iOS & Android Apps
Your custom-branded app for personal trainers lets you take your desktop work with you; everything that can be done on a computer can also be done on your app!
View everything from the schedule to reports, assessments, revenue, member management, and more. Trainers can track their clients' workout progress, assign and make new workout plans, message their clients, and perform other trainer tasks. This accessibility keeps your whole staff productive and in sync.
Customers and clients likewise benefit from the app. They can view your schedule and book classes and appointments, log their workouts, purchase from your online store, view their assessments, log nutritional intake, and so much more. Our app keeps customers engaged with your brand and business for boosted customer loyalty.
With TrackVia, it is to be assumed that fitness centers could acquire enough apps and integrations to perform the same functions as the Exercise.com app, but our powerful, reliable app is already assembled and ready to be customized to your brand. There's no need to sift through hundreds of integrations, and your dedicated account manager does all the work of customizing and managing your app.
Websites
TrackVia allows you to integrate with apps like WordPress to build your own website. However, that means you must know how (or learn) to use website creator apps. This is a much more daunting and time-consuming task than it appears (we have all experienced the technology-related frustration of a simple task sucking away hours of our day). With TrackVia, you're on your own to build and manage your website, which can take valuable manager hours away from your customers and staff.
But the skilled custom dev team at Exercise.com builds you an SEO-optimized and fully customized fitness business website that converts visitors to leads and keeps members engaged with your brand. Choose from unlimited theme changes, custom graphic work, colors, features, custom dev, and more. You'll have a professional website without the hassle and frustration of building it yourself.
After set-up, your dedicated account manager manages and alters your website according to your specifications. This is time saved that can be used for other necessary managerial tasks.
Security Features
Exercise.com uses the highest standards of security for payment processing and storage of clients' health information and assessments. Our websites and apps are SSL Secure, client information is protected with the internationally-secure Privacy Shield Framework, and we utilize Google Cloud for storing and transferring data. We also use Stripe for secure online and in-app purchases and transactions.
Marketing Integrations
Marketing integrations not only allow you to seamlessly market across all media platforms, but it keeps your marketing consistent so that your target audience will take action in the way you intend. With Exercise.com, we have countless marketing integrations so your business stays profitable. Some popular integrations Exercise.com provides include:
ConstantContact
ConvertKit
Google Analytics
Facebook Pixel
And more!
With our Zapier partnership, you have access to thousands of integrations to help your business succeed.
Learn more by clicking the button below.
Exercise.com is the best TrackVia alternative.
Workout Software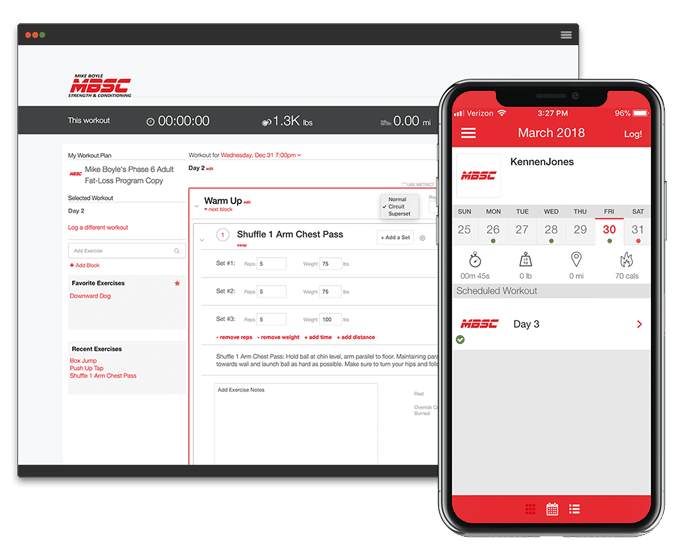 Although TrackVia integrates with hundreds of apps, no information could be found about workout software integration. This is understandable because TrackVia never claims to be beneficial for fitness businesses; they are primarily used by large multi-department corporations. While it's possible that TrackVia includes a workout software app–or at least an app that can be adapted to be used for workout software–it's also very likely that TrackVia doesn't offer such integration.
This is yet another way in which Exercise.com offers superior software–ours is designed specifically for fitness centers. We know how workout software incorporates and promotes personalized fitness services so your customers are better satisfied. This aids in retention and increased profit.
Let's check out the exciting features of Exercise.com's workout software.
Workout Creator/Logger
Workout creators allow trainers to assign pre-designed workouts or create individualized workouts for each specific client. Workouts are sent automatically to the client's app so they can perform and record their workout in the setting of their choosing. Clients can also communicate with their trainers to receive extra clarity and motivation.
Our workout creator/logger adapts to the needs of every trainer-client relationship. Easily deliver workouts, tips, and encouragement to clients in any scenario, including:
1-1 Training
Trainers can customize their clients' next set of workouts by choosing various instructional methods, such as videos, pictures, intervals, alternates, blocks, modifications, descriptions, individualized instructions and reminders, and notes. These plans are automatically sent to the clients' apps for easy accessibility to be performed and recorded at any time, anywhere.
Inside the client app, everything is organized and accessible, which boosts program adherence and fitness results for better client satisfaction!
Group Training
Trainers can use the same resources and support as 1-1 training for group training. Our platform allows you to easily create, schedule, and track attendance, so you experience the benefits of group classes without the headache of managing all the moving pieces.
Online Training
The workout creator is especially helpful for training traveling or online-only clients. Just like 1-1 training, trainers provide a variety of workouts to keep clients engaged and motivated no matter their location or access to a gym. Trainers manage clients' progress entirely through the app.
Exercise Library
Exercise libraries are essential to the workout creator because they make workouts come alive, clarify proper form, and add a personalized touch. Exercise.com offers an extensive library of educational and instructional exercise videos. These can be used for a variety of purposes, such as custom workout creation to suit the specific needs of clients.
Custom Exercises
Not only does Exercise.com give you dozens of professional videos, but we also allow you to merge your YouTube or Vimeo accounts to create a one-of-a-kind exercise library. These can be used in your workout creator, which builds trainer familiarity and credibility. Clients also appreciate learning from trainers they know and respect. This is an excellent way to promote your brand and customer loyalty.
TV Workouts
Switch up your presentation style by casting an Exercise.com or custom video onto a TV screen during a personal or group training session. This adds extra engagement and a personal touch that will thrill your customers.
Gym Ecommerce Software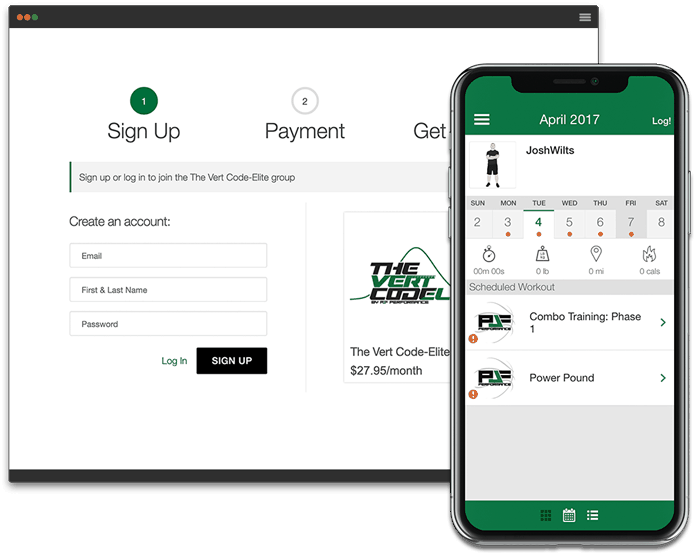 Ecommerce is a tremendous opportunity for fitness businesses because you can substantially grow your revenue without expanding the walls of your business. However, you must have software that supports ecommerce options.
Exercise.com provides an array of creative ecommerce options that engage your customers and grow your revenue. Check out some of the most popular ways our customers use Exercise.com's gym ecommerce software.
Payment Processing
Exercise.com uses the ease and security of Stripe for all payment processing. There are no hidden fees and all transactions are conveniently tracked in reporting.
Sell Products
An excellent way to significantly boost your revenue and brand is by running an ecommerce store. You can sell just about anything–such as custom-branded apparel and gym merchandise, bumper stickers, water bottles, supplements, and energy bars. The options are endless, so let your creativity shine!
Sell Workout Plans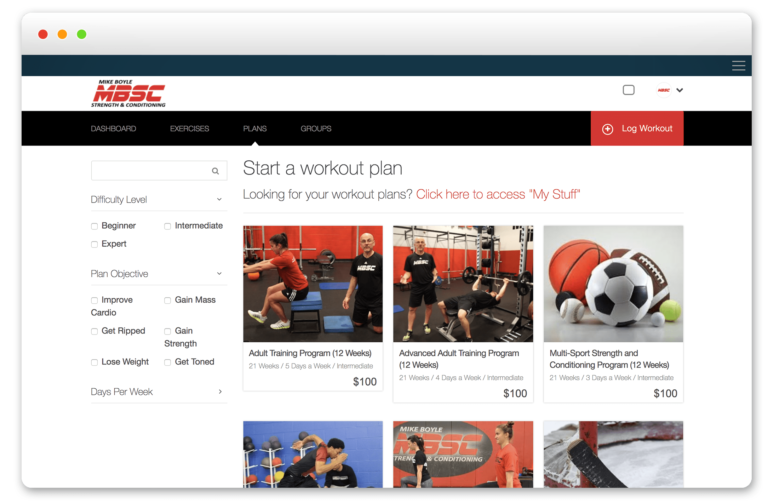 Keep your members engaged in your brand by building and selling your own customized workout plans. Offer a variety of levels, styles, and lengths so customers keep coming back for more. Best yet, Exercise.com doesn't restrict how many plans you can sell, so the more plans you sell, the more your potential profit.
Offer Online Workout Memberships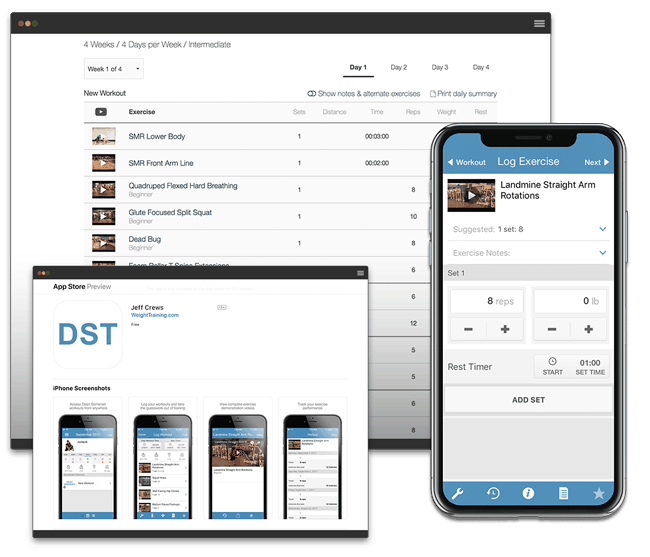 Many online clients are seeking customized workouts that they can perform independently. You can charge a premium price for this service, but the cost is often offset due to the time-consuming nature of custom workout creation.
But the efficiency of Exercise.com software keeps your trainers productive so you earn more money. Trainers create a client's entire plan in one sitting, schedule automatic delivery intervals, and track client progress through their program.
Sell Workout Challenges
Workout challenges are a fun way to engage your customers and promote a positive gym culture. By participating in workout challenges, participants push themselves, have additional fitness accountability, channel a competitive spirit, and cheer on other gym members at the same time.
With the Exercise.com software platform, it couldn't be simpler to run workout challenges. Just input the custom details and the software will run the challenge automatically. This is an easy way to build revenue without adding to your workload.
Fitness Assessment Software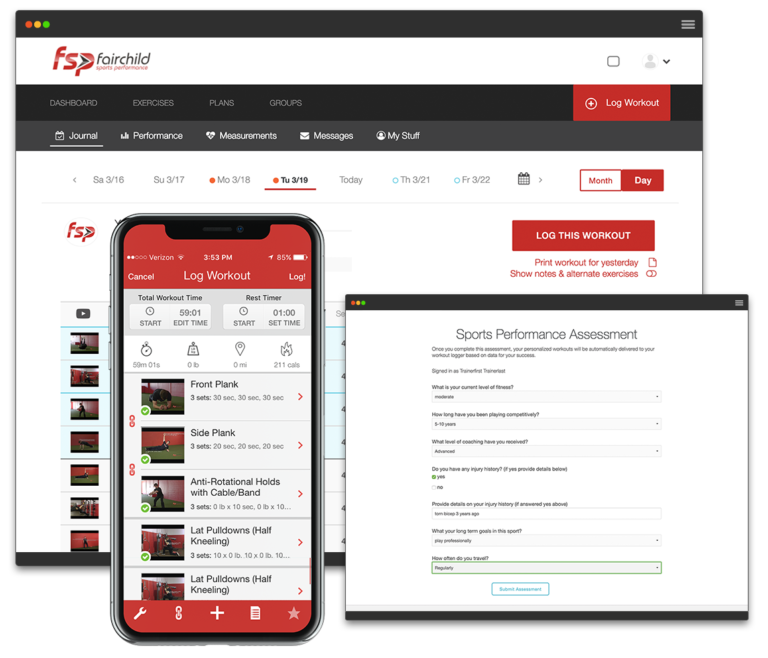 As stated earlier, TrackVia doesn't specifically market to fitness centers, so TrackVia may not offer a performance assessment integrations. This means your business will be without a crucial piece of personal training evaluation.
Exercise.com offers powerful assessments so your trainers can help clients make the most progress. Check out our fitness assessment software below:
Assessments
Assessments are beneficial for trainers and clients alike: when trainers have precise data, they can provide the most effective workouts so clients can make the most progress. Performance assessments also help track client progress.
The Exercise.com software platform allows trainers to easily record standard measurements and customized assessment data. Customized assessments focus on the client's specific needs, which not only adds a personalized touch to a client's program, but it will also yield tailored results so clients can make the most progress.
Our assessments are simple to fill out so trainers spend less time inputting data and more time with their clients. Once completed, these assessments are automatically delivered to the client's app for easy viewing and accessibility.
Performance & Measurement Reports
Another area where Exercise.com promotes personalized fitness experiences is through personalized interactions. Automatically deliver workout reminders, PDFs, resources, goal achievements, recurring assessments, progress photos, measurements, and more, to give an extra personalized touch.
Nutrition
Fitness experts know how important diet, nutrition, education, and incorporating consistent healthy habits are in a client's overall fitness success. With Exercise.com, your clients get a powerful nutrition tracker to record and analyze their dietary intake. This helps clients stay accountable and trainers determine if the client prioritizes pre and/or post-workout meals.
TrackVia Software Pricing
TrackVia is a quote-based pricing system. However, several reviews list TrackVia's base price at around $6000 a month. This may be a drop in the bucket for large corporations, but for most fitness centers, this price point is completely unfeasible.
TrackVia Alternatives
Alternatives to TrackVia include:
Trello
JIRA
Asana
monday.com
Google Cloud Platform
ClickUp
Visio
Wrike
Smartsheet
And of course, Exercise.com.
The Bottom Line: Pros and Cons
The right management software is the foundation of a thriving, growing business. While TrackVia's innovative niche of app integration is appealing, in the end, the comprehensive package of Exercise.com will help your business flourish. Let's take a final look at the software.
TrackVia Cons
Upfront, TrackVia may seem like the best software because of its plethora of apps and integrations. However, there are a few drawbacks:
TrackVia requires you to find your own apps. This necessitates advanced knowledge of apps to know which are most beneficial to your business. (And if you're not app-aware, you'll spend a lot of time researching which app fits your business best)
Although TrackVia is "low" code, it still requires you to assemble your own software. This can take a lot of time and cause frustration, even with the help of customer service.
TrackVia is meant for large multi-department corporations, especially those in the financial, manufacturing, healthcare, cannabis, utilities and energy, and construction industries. The needs of these large corporations don't fit the needs of most fitness centers, which means you may not find the fitness-specific apps your business needs to thrive.
Although TrackVia integrates with website creation apps, you must still create and manage your website, which can be very time-consuming to maintain and keep professional!
TrackVia has a staggering price point of $6000 a month, which is simply impossible for most fitness centers.
TrackVia isn't bad software–in fact, it can be very beneficial for large multi-department companies. However, it's not meant for fitness businesses.
Exercise.com Pros
The Exercise.com software platform strikes the perfect balance between variety and specificity. Our software is tailored for fitness industries, so your staff and customers benefit from features such as workout software and assessments. But we also offer thousands of integrations through our Zapier partnership so your business stands out and runs at peak efficiency. (Plus, we never charge you for apps you won't use!)
Additionally, you receive a dedicated account manager who sets up your platform, website, and app, provides staff training so everyone is proficient using the software, makes adjustments at any time, and is your to contact whenever you need assistance! This kind of outstanding customer service will save you countless admin hours and frustration.
Exercise.com helps grow your business for years to come. Streamline your business with the convenience of one software that delivers a professional, personalized customer experience every time. Interested in learning more? Book a demo today!