Get the Basics...
When learning how to train older clients, you'll need to find modifications to common exercises that could create too much stress on bones or joints.
Older adults can have drastically different abilities which can be determined using Exercise.com's fitness assessment software.
Creating workouts for senior clients can be more effective with workout software that allows you to program and display exercises with corresponding modifications.
Breaking into training special populations, like training older clients, can be a rewarding way for personal trainers to add a new stream of revenue to their fitness businesses.
To train older clients, it's important that you're not only well-versed in geriatrics, but that you have the tools in place to make your training as effective as possible; that's where personal training software comes into play.
By taking advantage of the features that personal training software has to offer, you can train older clients in a way that works for them, not against them.
To learn more about the Exercise.com personal training software platform, book a demo today.
How to Train Older Clients
To learn how to train older clients, it's imperative that you have a thorough understanding of what an older client is and why it's important to offer specific training practices with them.
What is an older client?
According to the American Heart Association (AHA), an older client is an adult over the age of 65. Many sources, including the American College of Sports Medicine (ACSM) provide separate exercise and physical activity guidelines for older clients.
In short, older clients tend to be at an increased risk for chronic diseases, conditions, or other ailments that could be considered contraindications to specific training modalities.
Do you need to be certified to train older clients?
Training senior citizens comes with greater risk and thus greater responsibility for trainers. Trainers should be certified when working with any client but especially older clients. A basic Certified Personal Trainer (CPT) credential can help trainers establish safe workout regimens while reducing liability if something goes wrong.
There is a handful of certifications that could enhance your understanding and preparedness when learning how to train older clients. Some examples include:
ACSM Clinical Exercise Physiologist (EP-C)
ACE Medical Exercise Specialist
NASM Senior Fitness Specialization (SFS)
Overall, the above certifications will help trainers learn the appropriate training intensities and exercises to accommodate a variety of conditions common to older clients. What are the considerations for fitness testing and programming for older clients?
There are many considerations when working with older adults. For example, one of the primary concerns for training older adults is decreased bone mineral density which could eventually become osteoporosis.
Due to this decrease in bone mineral density, older adults typically can't handle the same loads on their bones or joints. Examples of excessive stressors include high impact (jumping) and heavy resistance training. Heavy is a relative term, but usually, anything over 80% of a client's one-repetition maximum is considered heavy.
In this case, some exercises to avoid could be box jumps, power cleans, or other ballistic exercises. Although it is important for older adults to maintain power, there might be better alternatives that could reduce the impact on their joints.
For starters, it helps to understand that training senior clients require more planning and consideration. Normal exercises often require modifications, depending on how able a senior client is. Some seniors can run marathons while others struggle to roll out of bed.
A common exercise like the squat can be exceedingly difficult for some older clients, so offering modifications is paramount to a client's success if they can't adequately perform the exercise. No success leads to diminishing motivation. Thankfully, there are plenty of resources to help trainers prepare to coach cardio or strength exercises for older adults.
Book a demo to learn more.
Train older clients using Exercise.com.
Software Tools for Training Older Clients
There aren't any rigid rules for training older clients, but there are some suggestions. With so much variance from client to client, it's important to accommodate each client individually rather than having a generic routine. This is why your initial fitness assessment is pivotal.
Fitness Assessments for Older Clients
Fitness assessments are crucial to creating an appropriate program for your clients. You'll want to create an assessment that addresses several fitness-related components to find your client's strengths and weaknesses.
A good assessment will cover balance, flexibility, muscular strength, muscular endurance, cardiorespiratory endurance, and body composition. When working with older adults, you might want to have progressive assessments to get a better idea of each client's movement capacity.
Unilateral (single arm/leg) movements can challenge a client's balance and strength, however, not every client will be able to perform a lunge. You'll have to use the appropriate judgment when assessing each client.
With Exercise.com, you can capitalize on health and fitness assessment software by generating customizable assessments catered to each of your clients' needs. You can include the necessary modifications to promote your clients' safety.
Using this software, you'll be able to conduct and track assessment results to monitor the progress of any parameter you choose. From there, you'll be able to start building exercise programs for older adults.
Customizable Exercise Library for Older Clients
Offering exercise modifications for senior clients is important for their safety and satisfaction. For older adults who haven't performed resistance training in many years, they may be lacking some neuromuscular skills and ultimately, coordination.
One of the most important basics of training older adults is being prepared with exercise modifications. This is increasingly important when creating strength workouts for older adults. Exercise.com's customizable exercise library can help you build a strong visual for your older clients.
When creating workouts for older clients, you'll be able to provide them with a visual aid that shows them exactly how to perform an exercise the way you would want it done. You can also include any special cues or notes that might help complete the exercise safely.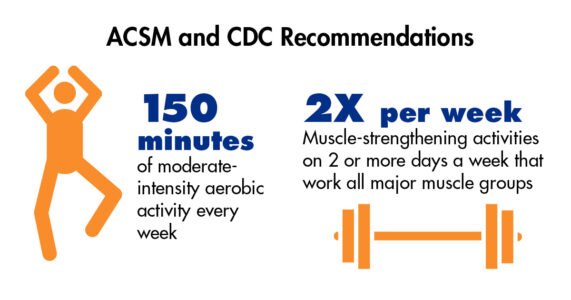 In addition, your exercise library will be custom-designed with your brand, colors, and even your employees. You can feature your company employees throughout your library videos to provide your clients with a familiar face while directing their movement. This is an optional feature if you don't find it necessary.
Your customizable exercise library is convenient since you can add NASM exercises for seniors, TRX senior exercises, or anything else you find appropriate. This exercise library is always accessible to your older clients, so they'll be able to refer back to it if they decide to train without you.
Workout Software for Senior Clients
Older adults often need additional guidance when starting a new fitness program. During this time, it's important that you emphasize your specific training protocols when training older clients. Once your clients have been familiarized with your exercises, training parameters, and expectations, you can be more flexible with training.
As your clients become more adept, you'll be able to let them work more independently. Exercise.com's workout software can help you and your clients by offering them increased freedom while maintaining high-quality programming and accountability.
This software will allow you to send your clients workouts that they can log on the go. They'll be able to contact you with any necessary questions about the workouts as well as access the exercise library you've created.
By logging their workouts, your clients will also have access to workout analytics to ensure that they are progressing with different exercises. As a trainer, you'll be able to automate workouts so you can create them any time of day while delivering them at a convenient time for your clients.
Training Older Clients: The Bottom Line
Training older clients requires a lot more than just general knowledge. It requires education, empathy, and a host of software tools built with customization and adaptation in mind.
To learn more about how Exercise.com can help you train senior clients, book a demo today.