Exercise.com: Your ACTIVE Net Alternative
| Features | | ACTIVE Net |
| --- | --- | --- |
| Nutrition | | |
| Dedicated Account Manager | | |
| Dedicated Zapier Support | | |
| Client Automation | | |
| Performance & Measurement Reports | | |
| TV Workouts | | |
| Offer Online Workout Memberships | | |
| Run Workout Challenges | | |
| Sell Workout Plans | | |
| Group Training | | |
| 1-1 Training | | |
| Custom Exercises | | |
| Websites | | |
| Marketing Integrations | | |
| Custom Branded | | |
| iOS & Android Apps | | |
| Online Training | | |
| Sell Products | | |
| Payment Processing | | |
| Gym / Facility Management | | |
| Exercise Library | | |
| Assessments | | |
| Client / Class Scheduling | | |
| Workout Creator / Logger | | |
| Business Dashboard Reports | | |
Why Choose Exercise.com?
Here are five reasons why fitness professionals use Exercise.com vs. ACTIVE Net.
Fitness Business Management Software to Run Your Business
Unlike ACTIVE Net, Exercise.com software is designed to have all components needed to run a fitness business in one place – making it easy and efficient to organize and grow your fitness business with client and class scheduling, check-ins, and billing — all from your custom-branded apps. 
Fitness Business Management Software to Run Your Business
Unlike ACTIVE Net, Exercise.com software is designed to have all components needed to run a fitness business in one place – making it easy and efficient to organize and grow your fitness business with client and class scheduling, check-ins, and billing — all from your custom-branded apps.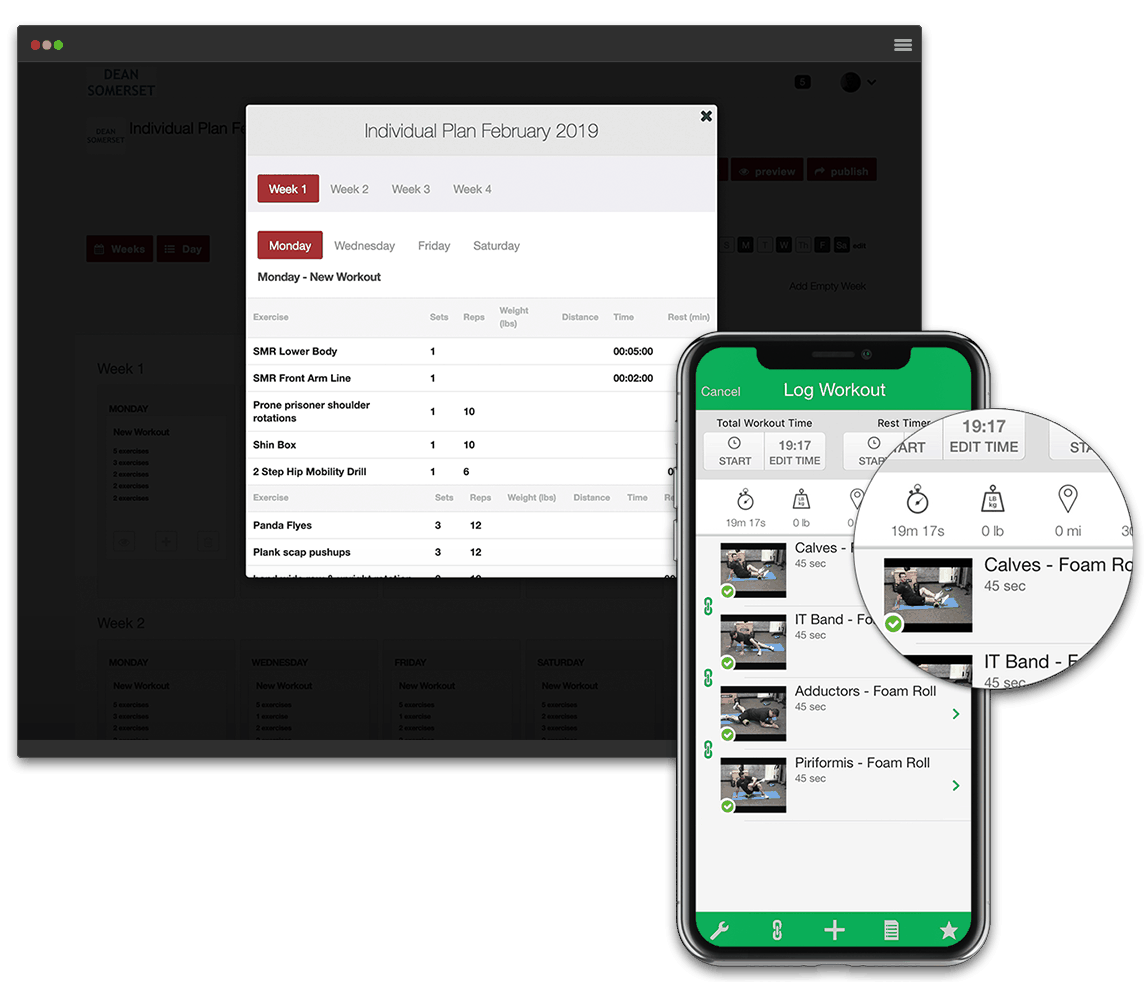 Workout Software to Power Your Training
ACTIVE Net does not offer workout software – a crucial feature when running a fitness business. The Exercise.com workout plan creator and exercise manager provide flexible solutions to save you time creating workouts with built-in integrations, tools, and more.
Ecommerce Software to Increase Revenue
Fitness professionals cannot use ACTIVE Net's limited ecommerce features to sell online training, workout challenges, workout plans, or online workout memberships. Exercise.com, however, has full ecommerce capabilities allowing trainers to sell single workout plans, offer automated workout memberships, run workout challenges, and deliver individual training.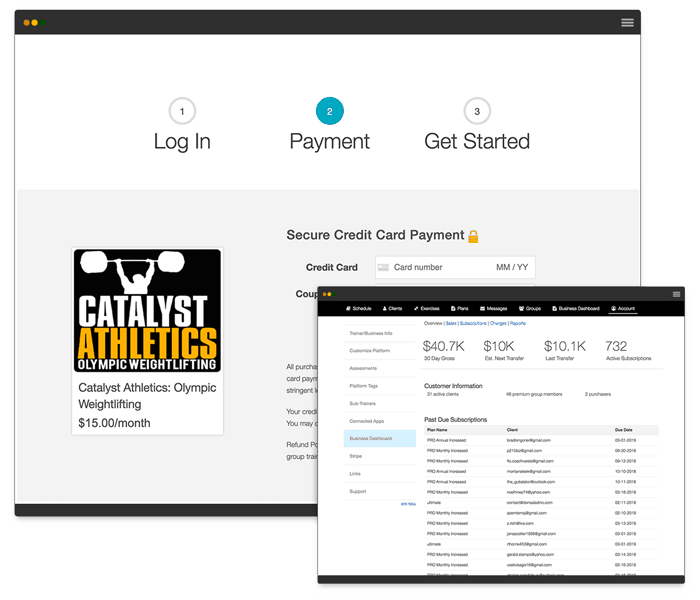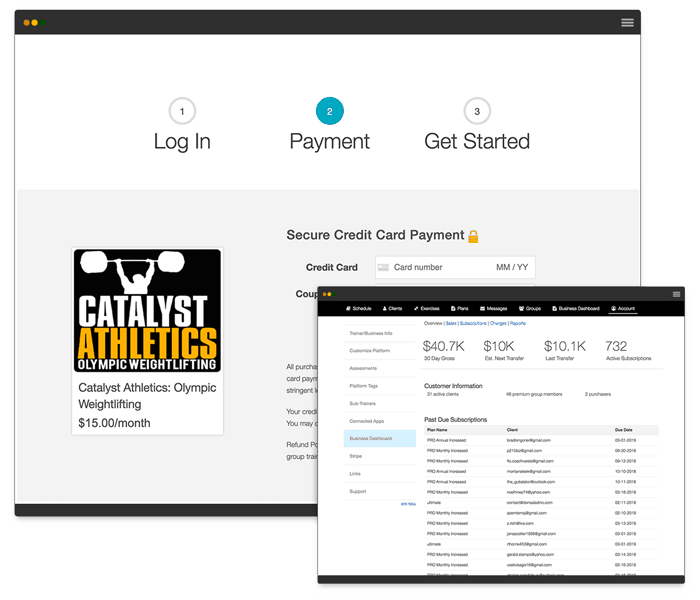 Ecommerce Software to Increase Revenue
Fitness professionals cannot use ACTIVE Net's limited ecommerce features to sell online training, workout challenges, workout plans, or online workout memberships. Exercise.com, however, has full ecommerce capabilities allowing trainers to sell single workout plans, offer automated workout memberships, run workout challenges, and deliver individual training.
Assessment Software to Improve Client Engagement and Retention
ACTIVE Net's performance health software lacks the ability to conduct assessments and track nutrition, but that's not the case with Exercise.com. Take clients through personalized assessments to deliver custom workouts and nutrition notes for their individual needs – providing massive growth potential and saved time.
Stand Out With Your Own Custom-branded Apps
ACTIVE Net apps provide no options for designing custom exercises. Exercise.com, however, offers fully-customized apps and websites built to make your life easier by providing your clients with a unified scheduling and workout experience with your brand displayed front-and-center.
Stand Out With Your Own Custom-branded Apps
ACTIVE Net apps provide no options for designing custom exercises. Exercise.com, however, offers fully-customized apps and websites built to make your life easier by providing your clients with a unified scheduling and workout experience with your brand displayed front-and-center.
If you're ready to get started with an easy-to-navigate, all-in-one fitness software, designed to fuel your business, request a demo with Exercise.com today.
And, if you want to see how ACTIVE Net's additional features stack up to Exercise.com software features, check out our in-depth guide below.
What is ACTIVE Net?
ACTIVE Net was founded in 1999 and has millions of users across dozens of industries. ACTIVE Net caters to several markets, including camps, classes, education, endurance sports, parks & recreation, aquatics, team sports, universities, and YMCAs.
ACTIVE Net offers a variety of services, including but not limited to registration, membership management, reporting, point-of-sale, marketing and social media integrations, websites, payment processing, and more.
ACTIVE Net and Exercise.com are similar products but with different focuses. ACTIVE Net is a broad software meant to encompass several specific sports industries, such as running, swimming, parks and rec, and camps. While this might be a good business plan for ACTIVE Net, the generalized software doesn't meet their users' specific needs. As previously mentioned, ACTIVE Net's software has even been used by industries far-removed from fitness, which points to the software's lack of fitness specificity.
However, Exercise.com is laser-focused on fitness centers. We have a carefully crafted software that is designed to be custom-tailored for the unique needs of each fitness business. Our software includes business management tools such as facility management, thousands of integrations, and ecommerce, a custom website and app, and fitness-specific functions such as performance assessments, workout creator/logger, and nutrition trackers.
As we will see in the review below, ACTIVE Net may have features that manage a business, but Exercise.com offers these same features in a fitness-specific, customized way. With the power of a customized platform, your fitness business is set up to succeed!
Let's dive into the review!
Unless otherwise stated, all images and reviews below are of/about the Exercise.com All-In-One Fitness Business Management software platform.
Fitness Business Management Software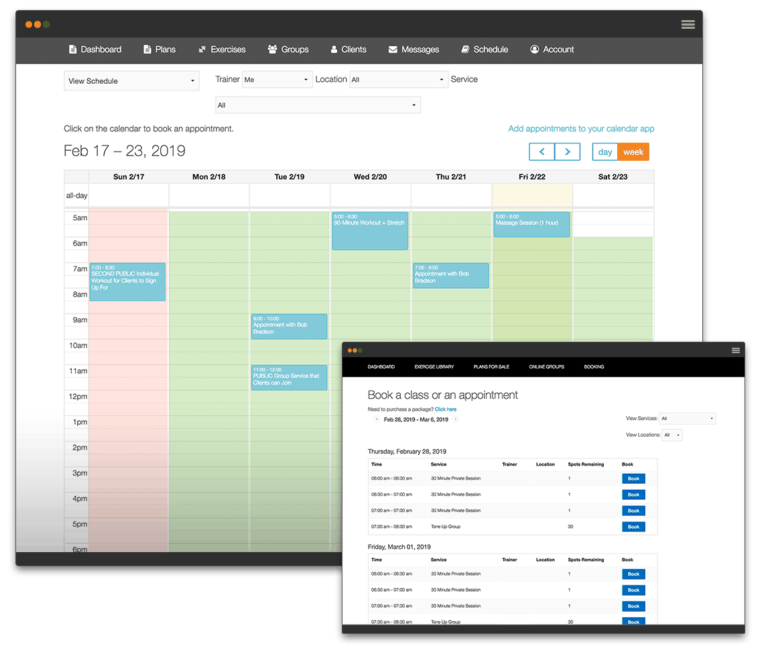 You need business management software that keeps up with your fast-paced environment, runs efficiently, and performs tasks automatically so you can stay engaged with your staff and customers.
ACTIVE Net has some features for business management, but as you'll see below, Exercise.com's gym management software provides a fitness-specific, comprehensive approach to business management.
Client/Class Scheduling
Very little information could be found about the specifics of ACTIVE Net's booking and scheduling features. According to brief website descriptions, ACTIVE Net focuses on facility scheduling to prevent double-bookings with features like quick reservations and automated workflows. You can upload an interactive map of your multiple locations and where rental equipment is available. Customers can also sign up for classes online or on the mobile app.
There are no details or descriptions of how ACTIVE Net's scheduler functions or its capabilities. For instance, must you manually input information for every class, or are there capabilities to duplicate events? Does it allow for personal training sessions and bookings? Is the layout professional and user-friendly? ACTIVE Net's ambiguity should give pause to managers considering using this software.
You may not know what you're getting with ACTIVE Net's scheduler, but Exercise.com has everything a busy fitness center needs! Our layouts are easy to view and use and has simple prompts for a user-friendly booking process. Customers can also use our search filter to fine-tune their search results by location, trainer, day, time, and more, to find the class that fits their schedule. This results in more bookings and greater profit!
Additionally, clients can view and book individual appointments with their trainers. This is an essential function of a fitness center's scheduling that ACTIVE Net remains vague about supporting.
Gym/Facility Management
ACTIVE Net has some reporting features but once again remains vague about the details. Their website states they offer "standard reports designed for parks & rec" but doesn't list what these reports are, so it's impossible to know if these pre-made reports would be helpful for your business. ACTIVE Net also includes a custom ad hoc editor for customized reports, but users must spend time creating the reports themselves.
At Exercise.com, we give you all the details upfront! We have dozens of targeted reports (and report analyses) to examine your business from all angles. These powerful insights help streamline your business to increase your profits. Save yourself the time of creating customized reports–we can do that for you! A few of Exercise.com's tailored reports include:
Revenue
Taxes
Commission and ecommerce
Client and group reports
Customized reports
Business Reports Dashboard
With Exercise.com, you have a fully customizable business report dashboard to display all your most frequented reports. This enables you to keep your finger on the pulse of your business.
ACTIVE Net doesn't have a business dashboard, which means you must search for all your reports.
Client Automation
ACTIVE Net offers some automation features but remains nebulous in this area, as well. Some of the automatic features their website lists include targeted emails, texts, online donations and fundraising, and social media integrations. While some of these may be helpful, they are certainly not comprehensive. Further, they are not specific to fitness.
But with the Exercise.com software platform, you have all the features ACTIVE Net offers and more, such as class, appointment, or event reminders through email, text, and push notifications in your custom-branded app. Membership renewal and payments can be accepted automatically, as well. Additionally, we provide you with fitness-specific automation, like workout deliveries, nutrition plans, and resources sent automatically to clients. These not only save you and your customers time but also engage customers with timely, customized notifications.
Dedicated Zapier Support
ACTIVE Net states they have API, social media, and digital marketing integrations but are unspecific about which apps are supported in their system. Once again, ACTIVE Net's lack of information should give pause to managers exploring this software because integrations are key in running a successful, profitable business.
Exercise.com has dozens of popular integrations already embedded in our software, but we don't stop there! We also have a partnership with Zapier which allows integration with over 2,000 apps! With so many integrations to choose from, your business will run at its peak efficiency and keep customers satisfied with a personalized experience.
Dedicated Account Manager
Exercise.com and ACTIVE Net both give you an account manager. With Exercise.com, your account manager sets up your customized platform, website, and app, and is yours to contact at any time throughout your partnership with us.
Your Exercise.com account manager can quickly adjust your platform, website, and app to meet the needs of your growing business. You'll never have to do your own troubleshooting, as your account manager fixes every problem, makes every alteration, and guides you and your staff through any changes. This will save you countless admin hours.
Customized Software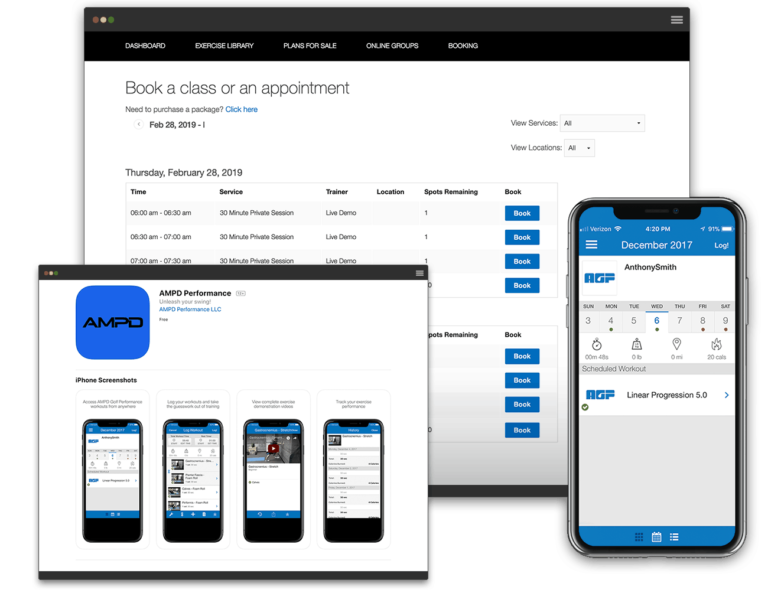 More and more customers are expecting a personalized experience in all industries, from food and retail to vacations and social media. Fitness is no exception, and one of the best ways to remain competitive is by providing personalized fitness experiences for your members.
But your ability to provide personalized services is only as good as your software's capability to do so. This means your software must be customized to support the personalized services you wish to provide.
Let's take a look at how ACTIVE Net and Exercise.com take on the challenge of customized software!
Custom-Branded
ACTIVE Net briefly mentions they have custom-branding capabilities for specific business areas like fundraising and merchandising, but otherwise doesn't provide any details.
But Exercise.com is proud to promote your brand! Your custom app, website, ecommerce opportunities, workout software, and performance software all celebrate your unique brand, which keeps your customers strongly connected and engaged with your business.
iOS & Android Apps
ACTIVE offers ten different apps. Most are for specific sports, such as running or swimming. The ACTIVE On-Site app helps with registration and check-in, but is designed for races and can only be accessed on business premises. There is an ACTIVENet Connect app, but this is mostly used for childcare check-in. ACTIVE's general (and most popular) app is ACTIVE.com, where users can find and register for activities, find health articles and tips, and share on social media. But since this is run by ACTIVE, it has no managerial capabilities.
In fact, none of ACTIVE's ten apps are designed for your business. They each have snippets of helpful features but scattered between the ten apps, and there is no way for customers to view your schedule, book classes or appointments, or view their workouts and other personalized resources.
Exercise.com has a custom-branded app for personal trainers that is customized to your needs! Our professional apps keep everything organized in one place and customers engaged with your brand. Easily send automatic email and/or text reminders and alerts, plus deliver workouts, resources, nutrition plans, and assessments straight to clients.
Websites
A professional, informative, eye-catching website is a must for every business. ACTIVE Net once again briefly states that they offer custom websites but doesn't give any details, such as included features, if templates or features can be customized, upfront and maintenance prices, and more.
The Exercise.com software platform includes a custom, SEO-optimized fitness business website for you! Choose from unlimited theme changes, custom graphic work, colors, features, custom dev, and more. After set up, your dedicated account manager manages your website according to your specifications. This saves you hours of valuable admin time! (Plus, we're a Google Certified Partner.)
Security Features
ACTIVE Net and Exercise.com are compatible with regard to security features.
Exercise.com takes the security and protection of membership data very seriously, so our websites and apps are SSL Secure, client information is protected with the internationally-secure Privacy Shield Framework, and we utilize Google Cloud for storing and transferring data. Payments are made and processed through Stripe.
Marketing Integrations
ACTIVE Net remains mysterious about integrations, as well. Their website simply lists "Digital Marketing Services" as a possibility and provides no greater details.
Exercise.com knows the importance of marketing integrations for your business; they give your business a competitive advantage by maintaining customer relationships, boosting profits and sales, and saving time, money, and stress. We offer dozens of integrations to help your business succeed! Some popular integrations include:
MailChimp
ConstantContact
ConvertKit
Zapier
Google Analytics
Facebook Pixel
And thousands more with our Zapier partnership!
Learn more by clicking the button below.
Exercise.com is the best ACTIVE Net alternative.
Workout Software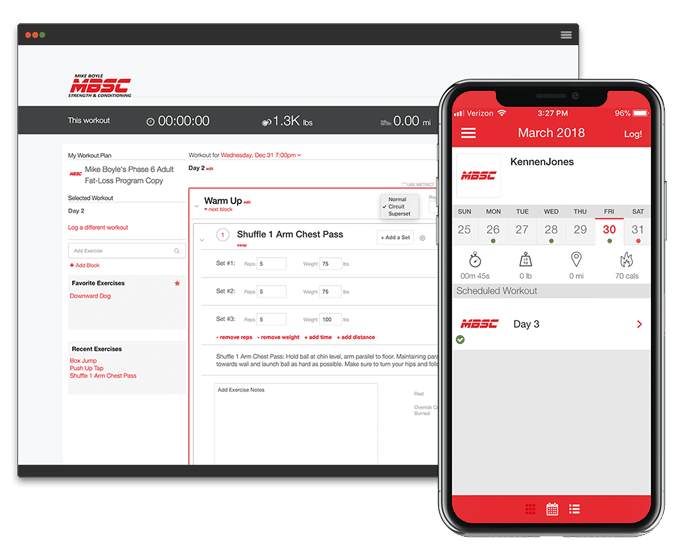 A primary way fitness businesses can provide personalized fitness experiences is by personalizing their workouts through a workout creator and logger. When a customer has workouts tailored to their needs and goals, they are more likely to be satisfied with their experience, which aids in retention and increased profit.
Although ACTIVE Net has been utilized by big-name fitness centers like the YMCA, they don't offer any workout software. But Exercise.com has exceptional workout software that aids in customer retention and boosts revenue. Since ACTIVE Net doesn't provide workout software, let's take a look at what Exercise.com workout software provides your business!
Workout Creator/Logger
The Exercise.com workout creator allows trainers to create and assign pre-designed or personalized workouts for each client. These plans are delivered automatically to the client via your custom-branded app, which clients can view and log at any time, anywhere. Client communication with trainers couldn't be simpler and keeps clients motivated! This system highly personalizes a client's fitness experience and improves client satisfaction.
Exercise.com knows that every trainer-client relationship is different, so our workout creator/logger has countless possibilities to deliver workouts, tips, and encouragement to clients in any scenario, including:
1-1 Training
With our, unlike ACTIVE Net, training clients is easy. The Exercise.com custom-branded app keeps all your clients' workouts, nutrition plans, resources, goals and progress reports, and performance assessments easily accessible for improved program adherence and results! Clients can communicate with their trainers at any time, and trainers can track client progress and workout completion.
Group Training
Capitalize on Exercise.com's versatility by using the same 1-1 training resources for group training. Group exercise boosts customer satisfaction, fosters a tight-knit gym community, and ultimately increases your profits by providing more exercise options to stay engaged with your business.
With our platform, you can easily create, schedule, and track attendance, so you experience the benefits of group classes without the headache of managing all the moving pieces.
Online Training
Online training is in high demand, and our platform allows you to provide online training services to any client! Trainers simply customize workouts by using our extensive video and exercise library, then track client progress and stay in communication via the app.
Exercise Library
Exercise.com offers an exclusive library of educational and instructional exercise videos to be used for a variety of purposes, such as pre-designed or custom workout creation. Our professional videos have everything your clients need: clear, easy-to-understand instructions on proper form and modifications for injuries and difficulty levels.
This feature is not included with ACTIVE Net's software. Trainers using ACTIVE Net must provide their own videos or pay for an additional exercise logger and library. Instead of impressing clients with a professional service, this disorganization leaves clients and trainers frustrated toggling between multiple apps and resources. Far better, Exercise.com keeps everything–including workouts– organized in your custom-branded app!
Custom Exercises
While Exercise.com offers dozens of professional videos demonstrating standard and modified exercises, we also offer a unique opportunity for you to further promote your brand. We enable your business to merge your YouTube or Vimeo accounts with our exercise library. Incorporating your own videos into client workouts is an excellent way to build trainer familiarity and promote your brand!
TV Workouts
Trainers can easily cast Exercise.com videos, or your own custom videos, onto a gym television screen during 1-1 or group training sessions. This a yet another personalized touch Exercise.com offers that promotes your brand!
Gym Ecommerce Software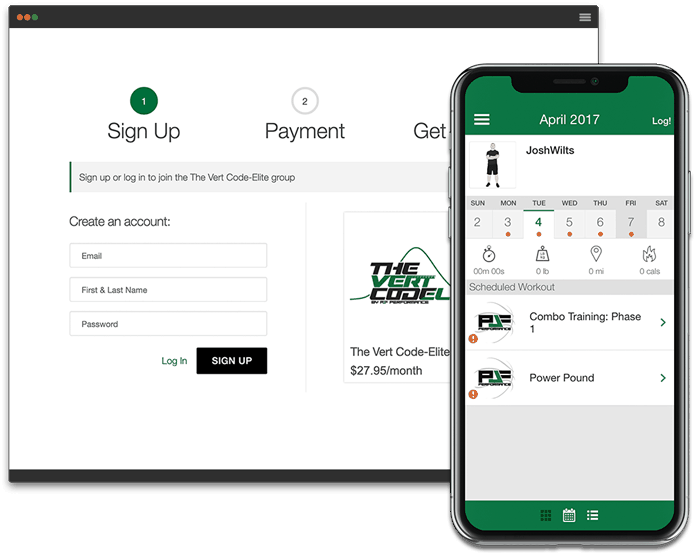 Ecommerce is essential to fitness businesses because customers are accustomed to (and have even come to expect!) making mobile purchases. Whether it is physical products, memberships, or virtual videos, ecommerce is an excellent way to boost your profit and customer engagement!
Fitness businesses can provide endless ecommerce options–but only if you have software that supports ecommerce. And unfortunately for ACTIVE Net, their ecommerce capabilities aren't extensive or clear. Their website lists Point-of-Sale (POS) and a virtual store as ecommerce opportunities but doesn't give any details.
But the comprehensive Exercise.com platform is here to support all your ecommerce needs with our gym ecommerce software. Check out just a few popular ways Exercise.com grows your business through ecommerce:
Payment Processing
ACTIVE Net takes cash, credit, and check but is unspecific about the processing details or security. This is potentially a big risk for your business, especially regarding security!
Exercise.com uses the ease, security, and accessibility of Stripe for all payments. You and your customers can be confident with the reliability of our platform's payment processor.
Sell Products
With your personalized ecommerce store, you can sell just about anything to boost your profit and promote your business. Sell custom-branded workout gear and paraphernalia, supplements, nutrition bars, beverages, and more. As an added bonus, your business gains creative advertising and strengthens customer loyalty when members use or wear your custom-branded apparel in the community.
Sell Workout Plans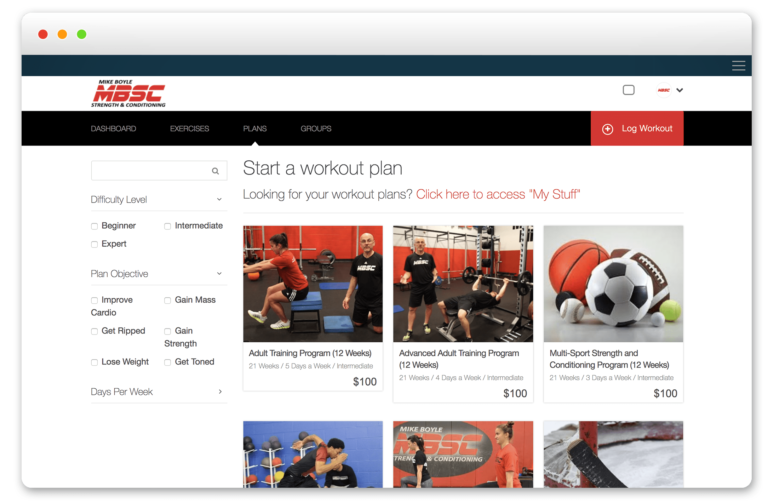 Better engage your members, keep retention high, and boost your revenue by creating and selling your own pre-built workout plans. Since you know your clientele, your plans can be completely customized to meet the needs of your customers, giving you an advantage over generic workout videos. This is another excellent way to give members personalized fitness experience, even in the comfort of their own home.
Exercise.com software enables you to sell unlimited plans, so you can continue to grow your workout plan library over time with a variety of plan lengths, difficulties, and fitness focuses to make an even greater profit!
Offer Online Workout Memberships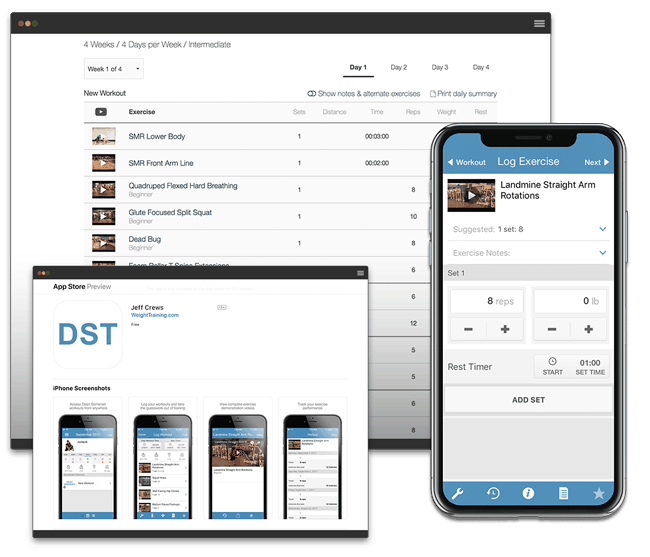 As previously mentioned, online training is a growing fitness trend. While you can charge a premium price for customized online memberships, creating customized plans is a time-consuming process that reduces the profit made from such services.
But Exercise.com software maximizes your trainers' productivity by allowing trainers to create a client's entire plan in one sitting, schedule automatic delivery intervals, and then track client progress through their program. This provides the personalized fitness experience that keeps your clients happy, grows your business, and allows your business to gain the most profit from this service.
Sell Workout Challenges
Workout challenges can bring out the best in your gym members: it's a fun way to interact with other members, build a positive gym culture, push yourself in workouts, and stay motivated and accountable. With Exercise.com software, managing a workout challenge couldn't be easier. Simply input the details and let the software run the challenge for you!
Fitness Assessment Software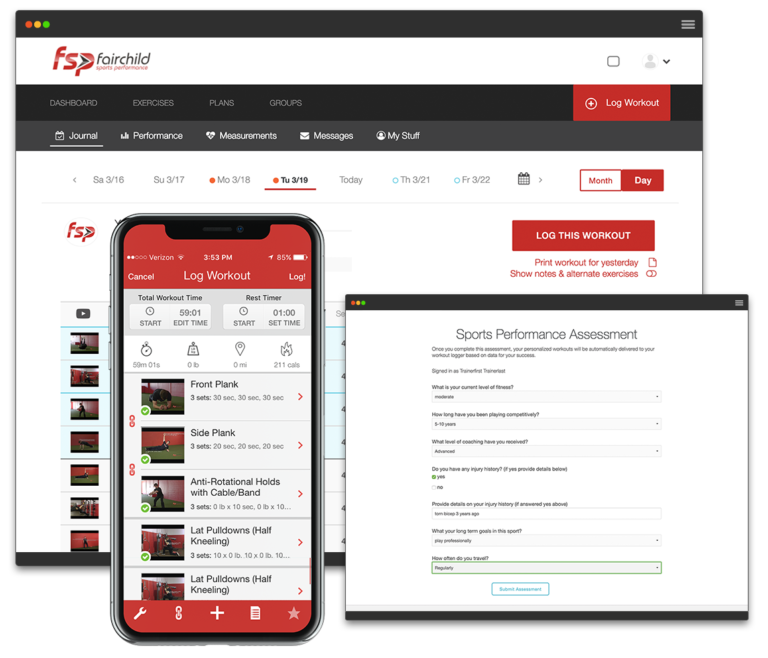 Assessments are a distinguishing practice for the personal training profession and are, therefore, crucial for fitness centers to provide. Performance assessments help trainers obtain a client's baseline, gain direction for achieving the client's goals, and also keep the client and trainer safe.
ACTIVE Net doesn't list performance assessments as one of their features. This means your trainers must use another method (paper or another app) to keep track of each client's assessments, which can result in inefficiency and frustration.
Exercise.com knows the importance of performance assessments to fitness business management, so these are included in our software. Since ACTIVE Net doesn't offer this feature, let's examine the Exercise.com fitness assessment software.
Assessments
Trainers perform both initial and re-assessments with their clients. Initial assessments help establish a client baseline so personal trainers can create an appropriate training plan. Periodic re-assessments help gage client progress, which is often motivating for clients and allow personal trainers to tweak a client's plan.
Take advantage of impressing your customers in how you record, track, and present performance assessments! We offer standard and customizable assessments, which enhance a client's personalized fitness experience. Our assessments are easy to fill out so trainers stay engaged with their clients. Finally, assessments are delivered automatically to the client's app where they are stored for instant accessibility.
Performance & Measurement Reports
Further engage your customers with personalized interactions using the Exercise.com software platform. This is easily done with the automatic delivery of workout reminders, goal achievements, recurring assessments, progress photos, measurements, and more!
Nutrition
Fitness software isn't complete if it doesn't address nutrition! Exercise.com software includes a nutrition tracker and logger so clients can easily log and track their daily dietary intake. This helps determine client dietary habits, such as prioritizing pre and/or post-workout meals. Our tracker/logger also boosts client accountability so they stay focused on their fitness goals, which ultimately improves client satisfaction.
ACTIVE Net Platform Software Pricing
ACTIVE Net doesn't provide any pricing details on its website for packages, add-ons, custom work, or customized services. Any pricing inquiries must be made by requesting a demo and speaking with a sales representative about acquiring an ACTIVE Net membership.
ACTIVE Net Alternatives
ACTIVE Net's competitors include:
CampDoc
GovPilot
ePACT
Gym Assistant
PerfectMind
CivicRep
ProClass
And of course, Exercise.com!
The Bottom Line: Pros and Cons
Business management software is one of the biggest factors in having a thriving business. The best software is one that is custom-tailored for all your needs! Let's take a final look at ACTIVE Net and Exercise.com.
ACTIVE Net Cons
The biggest drawback to ACTIVE Net is its ambiguity. Time and again, very little information is given about crucial topics, like scheduling, reports, automation, integrations, websites, payment processing, and more. This should give pause to any manager considering ACTIVE Net's software.
Although ACTIVE Net knows its way around the fitness world, the platform surprisingly doesn't offer solutions that meet the needs of a fitness facility, such as workout software, performance assessments, and a variety of ecommerce opportunities. Even if ACTIVE Net delivers on the basics of business management, you'll still be missing out on the fitness-specific benefits of Exercise.com.
Exercise.com Pros
The Exercise.com comprehensive platform fits the needs of fitness businesses and is customized to meet the needs of your business! Not only do we offer the standard business management tools that ACTIVE Net does, but we give you fitness-specific features and tools that retain satisfied customers and grow your business. With Exercise.com, your business has everything it needs to succeed,
Exercise.com makes your business platform decision easy! We're here to help your business grow. Ready to get started? Book a demo today!