Exercise.com: Your Bobclass Alternative
| Features | | BobClass |
| --- | --- | --- |
| Nutrition | | |
| Dedicated Account Manager | | |
| Dedicated Zapier Support | | |
| Client Automation | | |
| Performance & Measurement Reports | | |
| TV Workouts | | |
| Offer Online Workout Memberships | | |
| Run Workout Challenges | | |
| Sell Workout Plans | | |
| Group Training | | |
| 1-1 Training | | |
| Custom Exercises | | |
| Websites | | |
| Marketing Integrations | | |
| Custom Branded | | |
| iOS & Android Apps | | |
| Online Training | | |
| Sell Products | | |
| Payment Processing | | |
| Gym / Facility Management | | |
| Exercise Library | | |
| Assessments | | |
| Client / Class Scheduling | | |
| Workout Creator / Logger | | |
| Business Dashboard Reports | | |
Why Choose Exercise.com?
Here are five reasons why fitness professionals use Exercise.com vs. Bobclass.
Fitness Business Management Software to Run Your Business
Unlike Bobclass, Exercise.com software is designed to have all components needed to run a fitness business in one place – making it easy and efficient to organize and grow your fitness business with client and class scheduling, check-ins, and billing — all from your custom-branded apps. 
Fitness Business Management Software to Run Your Business
Unlike Bobclass, Exercise.com software is designed to have all components needed to run a fitness business in one place – making it easy and efficient to organize and grow your fitness business with client and class scheduling, check-ins, and billing — all from your custom-branded apps.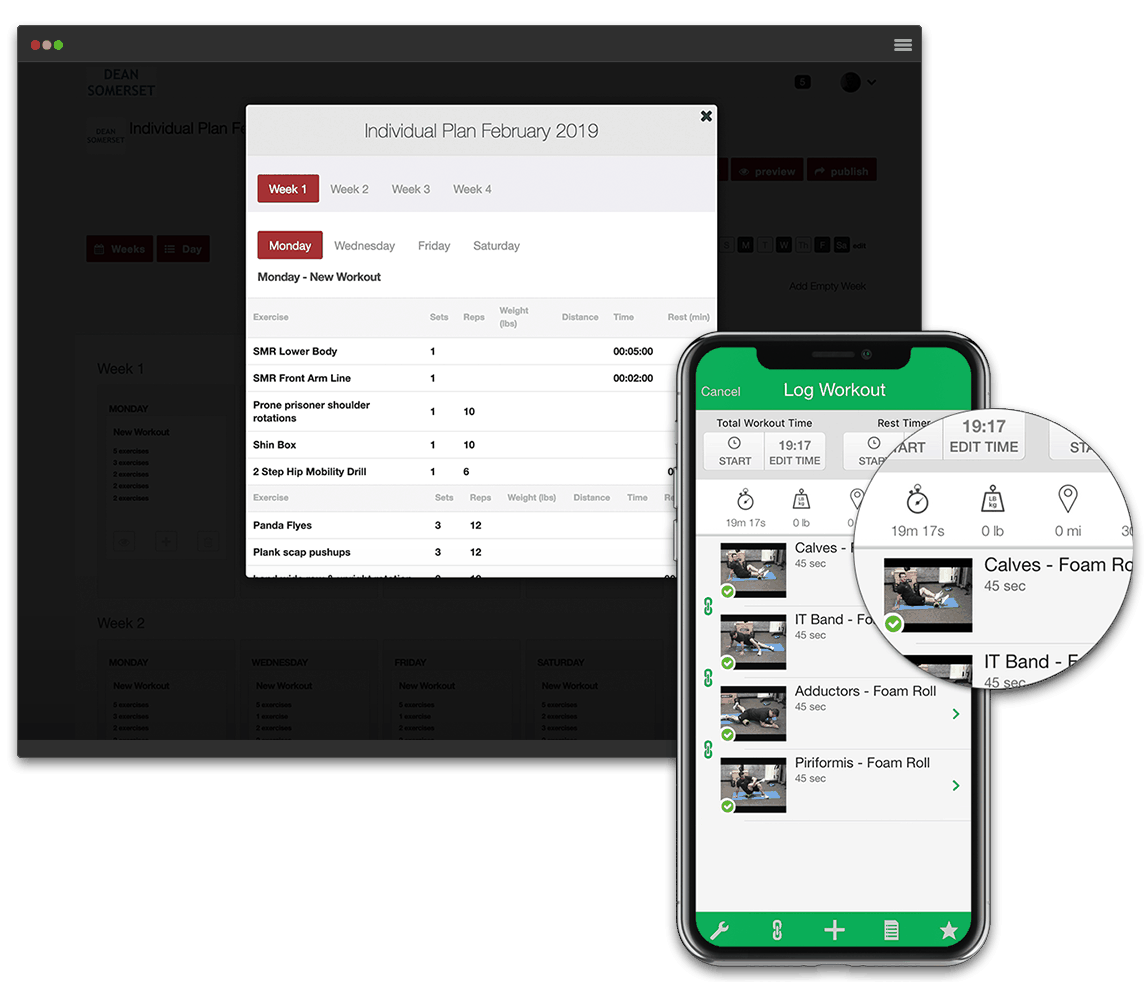 Workout Software to Power Your Training
Bobclass has limited workout software that doesn't allow for clients to participate in any workout challenges you create. The Exercise.com workout plan creator and exercise manager provide flexible solutions to save you time creating workouts with built-in integrations, tools, and more.
Ecommerce Software to Increase Revenue
Fitness professionals cannot use Bobclass's limited ecommerce features to sell online training or online memberships. Exercise.com, however, has full ecommerce capabilities allowing trainers to sell single workout plans, offer automated workout memberships, run workout challenges, and deliver individual training.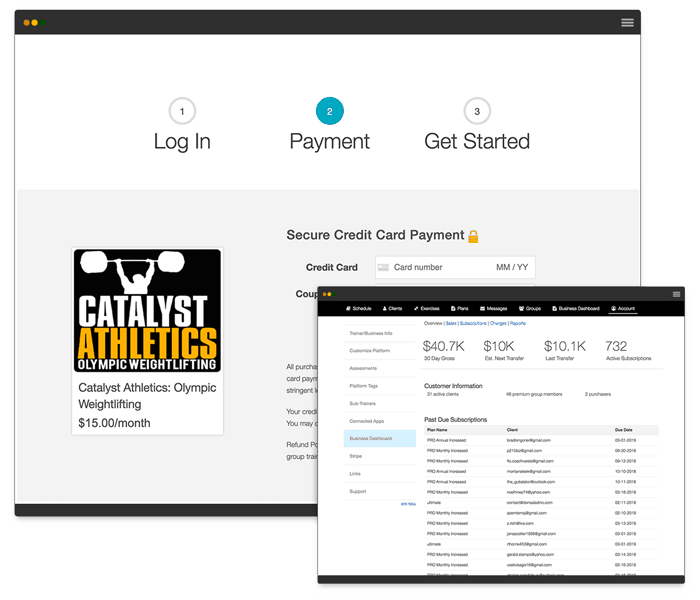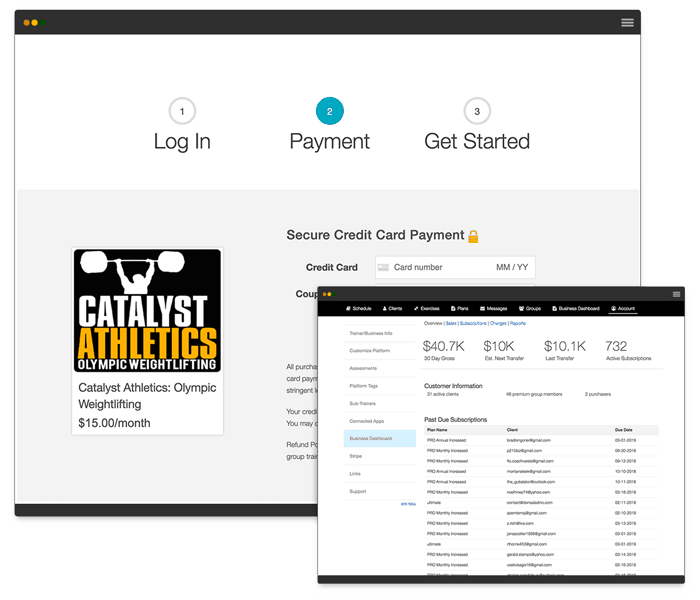 Ecommerce Software to Increase Revenue
Fitness professionals cannot use Bobclass's limited ecommerce features to sell online training or online memberships. Exercise.com, however, has full ecommerce capabilities allowing trainers to sell single workout plans, offer automated workout memberships, run workout challenges, and deliver individual training.
Assessment Software to Improve Client Engagement and Retention
Bobclass lacks assessment software, but that's not the case with Exercise.com. Take clients through personalized assessments to deliver custom workouts and nutrition notes for their individual needs – providing massive growth potential and saved time.
Stand Out With Your Own Custom-branded Apps
Bobclass's apps provide no options for custom websites or custom exercises. Exercise.com, however, offers fully-customized apps and websites built to make your life easier by providing your clients with a unified scheduling and workout experience with your brand displayed front-and-center.
Stand Out With Your Own Custom-branded Apps
Bobclass's apps provide no options for custom websites or custom exercises. Exercise.com, however, offers fully-customized apps and websites built to make your life easier by providing your clients with a unified scheduling and workout experience with your brand displayed front-and-center.
If you're ready to get started with an easy-to-navigate, all-in-one fitness software, designed to fuel your business, request a demo with Exercise.com today.
And, if you want to see how Bobclass's additional features stack up to Exercise.com software features, check out our in-depth guide below.
What is Bobclass?
Founded in 2014, Bobclass is a personal or small business class and appointment scheduling software. It also has features for member profiles, progress notes, photos, and videos, and payment processing that aid with business management and organization. Bobclass promotes ecommerce by offering an in-app store and accepting mobile payments.
Although Bobclass is used in the fitness field, it can also be used in many other occupations. Bobclass's website states it can be used for yoga instructors and boutiques, independent personal trainers, music teachers, dance studios, equestrianism, tennis instructors, therapists, and tutors. Many of Bobclass's positive reviews come from music instructors and tutors.
This broad scope of application should be a red flag to a fitness business manager! Bobclass isn't niched to fitness, and this can create gaps where essential services and features are missing to effectively run your fitness business. Let's examine these closer in the review below.
Unless otherwise stated, all images and reviews below are of/about the Exercise.com All-In-One Fitness Business Management software platform. All information about Bobclass's software was pulled directly from the company's website.
Bobclass has an eye-catching, open-book website. It offers screenshots and explanations for almost every feature and highlights their packages:
| Base - Free | PRO - $21.10/month | Studio - $42.21/month |
| --- | --- | --- |
| Class scheduling | Attendance tracking | All of PRO |
| Appointment scheduling | Punchpasses | Multi-instructor, up to 10 |
| Sales & payment registration | Online client booking | 1 hour onboarding session |
| Reminder emails + texts | Credit card processing | Premium support |
| Progress notes | Invoicing | |
| | One instructor | |
| | Premium support | |
As seen in the table above, Bobclass offers a free version of its app that includes basic scheduling, payments, and manually-operated client reminders. Although free apps are always nice, this teaser isn't worth much consideration as a personal trainer. (Although it would probably work well for a music instructor or tutor!) There are many other necessary fitness-niched management functions–like performance assessments, workout and nutrition creation, and reporting–that you need to be an effective trainer and easily manage your business.
The PRO package is a step in the right direction. Users get more options for payment processing (it's unclear in the Base package if mobile payments are accepted), customer service support, and the ecommerce store. Punchpasses, which are pre-purchased credits that can be applied to classes or appointments for quick booking, are also accepted.
But there are two things to note about the PRO package. First, it only allows for one instructor. This automatically disqualifies the package for businesses with more than one instructor; essentially it's only for an independent contractor. Second, even for an independent personal trainer, there are still no assessments, workout plans, or reporting features. Everything must be manually created, sent, and tracked. Independent personal trainers know they have to work tirelessly to compete with other personal trainers, and this manual labor eats away at the valuable time that could be spent with clients or promoting their skills.
The Studio package includes all possible Bobclass features. It isn't much of a step up, as client reports are the only new feature added, but it does allow up to 10 trainers per account. For more than 10 trainers, Bobclass requests to be contacted for clarification before setting up an account.
The Studio package is the only feasible package for a business simply because businesses typically have more than one instructor. However, it's also very limiting because Bobclass accounts can't have more than 10 instructors. This means Bobclass essentially stifles your business growth instead of encouraging it by not allowing you to have more than 10 instructors. Your business might grow, but it will outgrow Bobclass's software.
On the other hand, Exercise.com software is built to see your business grow and thrive! There's no limit to staff accounts so you can hire as your business grows. We are proud to customize a personalized website and app for your needs, preferences, and style, plus offer everything your trainers need to safely and effectively work with their clients. Let's check out these features below!
Fitness Business Management Software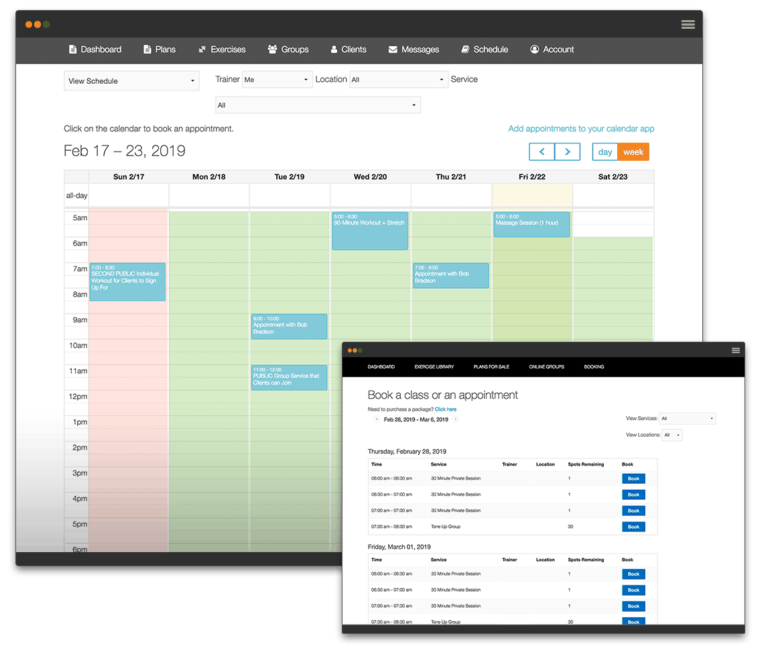 How effectively Bobclass might manage your business depends on what package you choose. As outlined above, the Base package does little to support a fitness business. While the PRO package is a better option, it's only for independent personal trainers or instructors. This puts the Studio package as Bobclass's best–or only–option. So how does the Studio package compare with the Exercise.com all-inclusive gym management software?
Client/Class Scheduling
Bobclass's calendar and booking features are very similar to most competitors. Customers can see available classes and time slots; they click the one they want and book it with a Punchpass or credit card purchase. But Bobclass has two ways to book an appointment: a customer self-service app and a shareable web calendar URL.
With the customer self-service app, clients can book services in the app as long as they have an active paid package. If they don't, the trainer must confirm the booking in their admin app. The URL must be manually sent to a customer in order for them to view the calendar. Once a booking is made, the trainer is sent an email and must confirm the booking in the Bobclass app.
This creates a dilemma for the trainer: they must quickly confirm appointments so the calendar can be most accurate, but staying pinned to a mobile device to confirm appointments hampers customer engagement. Both situations reduce customer satisfaction.
But with the Exercise.com calendar and booking system, both the staff and customers can easily view the calendar and book available appointments all in your custom-branded app or website on their own time. With the Exercise.com customizable platform, you can choose the scheduling features and layout you want to help effectively manage your business!
No need to manually share a web link or confirm appointments through several apps; our platform does these tasks automatically! This saves you time, money, and stress so you can stay fully engaged with building relationships with your customers.
Exercise.com also sends automatic reminders via email, text, your app, or a customizable combination. This feature is not available with Bobclass. While you can send email and text reminders to clients in Bobclass, it must all be done manually. This mundane task can eat away at your valuable time by using Bobclass, but it's time saved with Exercise.com software!
Gym/Facility Management
Bobclass doesn't have features to manage a fitness facility.
Exercise.com gym/facility management software, however, gives you the tools you need to manage your facility effectively; no package upgrades needed. From staff roles and permissions to processing billing to offering more than a dozen reports to help you analyze your business, Exercise.com has a clear advantage in giving you detailed reports on all aspects of your business.
Business Dashboard Reports
With Exercise.com software, you can generate reports to see anything from total purchases to gross revenue. Having this information at your fingertips can help you decide whether your business is on the right track, or if you need to make changes going forward.
For example, you might want to analyze your small group training schedule. After generating a report, you notice more revenue coming from morning and evening classes than lunchtime. Using this information, you could experiment with adding training to the more profitable times of the day and save costs by eliminating the midday offerings.
Exercise.com has a fully customizable business dashboard to display all your frequented reports. This helps keep your finger on the pulse of your business. Bobclass doesn't have a dashboard feature.
Client Automation
PunchPass and Exercise.com both provide users with the ability to automate communication with customers. Exercise.com, however, goes a step further and provides automations for a wide range of features including workout plan delivery.
Once you have used the Exercise.com software to create plans and programs that will help your clients succeed, you want to make it easy for them to have access. Our software allows for automated delivery of any number of plans, to your clients, to keep them on the right track. This helps hold them accountable all while making it easier on you. No more leaving yourself reminders to send updates to your client. Let our software do the work for you and set up automation.
Dedicated Zapier Support
Exercise.com has a partnership with Zapier that includes dedicated Zapier support. With over 2,000 apps to choose from, your company's website will be as efficient and user-friendly as possible.
Dedicated Account Manager
Every Exercise.com client works with a dedicated account manager. This point of contact is there to address any and all software-related needs. From website redesigns to setting up ecommerce stores, your Exercise.com account manager will help you every step of the way.
Customized Software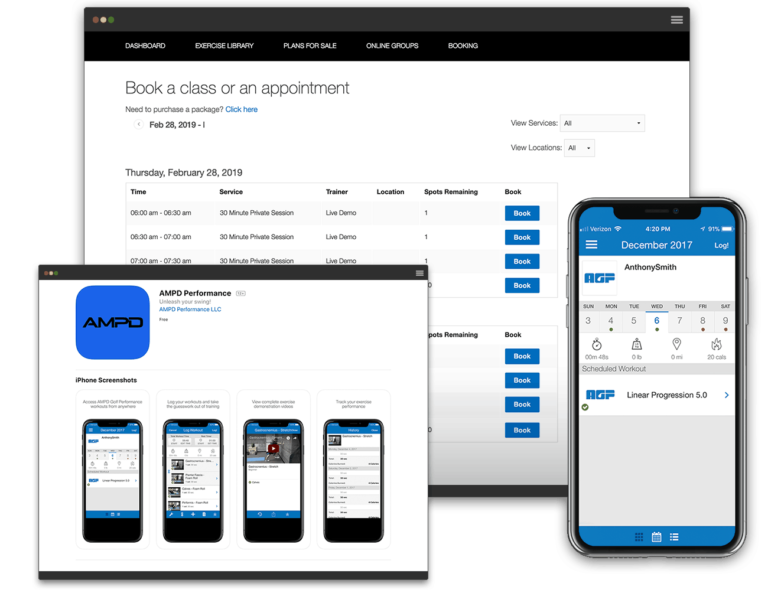 The Bobclass software doesn't offer any personalized apps or websites. It does offer a Bobclass-branded admin and customer self-service app, but Exercise.com celebrates your brand by customizing an app and website to your preferences and style. Keeping your customers engaged with your individual brand is key to growing your business!
Custom-Branded
Bobclass doesn't provide any brand customization; staff and customers must use Bobclass's apps in order to book and manage appointments and stay in communication with their trainer. Since booking, ecommerce, and communication happen inside the Bobclass app, customers have little reason to log into your app or website. Your unique fitness brand is lost, second to Bobclass.
This is not the case with Exercise.com software! We work with you to completely personalize your business platform, highlighting your business to keep it front and center. Instead of downloading Bobclass's app, members will download an app with your gym's name and logo and will have access to all of your resources, promotions, and policies. Because your platform is customized for your business, you decide what gets featured!
iOS & Android Apps
As stated above, Bobclass does offer a mobile app but offers no brand customization. Additionally, Bobclass lacks in automated features from their apps. While this might be manageable with a few clients, as your business grows, this task becomes burdensome and it can be overwhelming to send out dozens of reminders, promotions, and follow-up workouts every day. This is another way in which Bobclass doesn't assist with business growth.
For iOS, Bobclass has three tiers for its app: base, pro, and studio. Base is free, but Pro is $15.99/month and Studio is $31.99/month. It's unclear if these charges are per staff user or per business.
After choosing which custom features you want your app to include, the Exercise.com platform allows you to effortlessly stay on top of notifications, reminders, and workout delivery through our automated services feature! Completely customize your notifications with custom text, time of delivery, frequency, and mode of delivery. You stay in control of customer engagement! Our automated service feature saves you time by:
Sending automatic emails and texts
Sending automatic workout delivery
Sending automatic resource delivery
Sending automatic assessment delivery
Sending automatic reminder and alerts via your custom-branded app, text, and/or email
What would you do with extra time in your managerial schedule? Our automatic notification feature frees you from mundane tasks so you have more time to offer to your staff and customers! All these features make the Exercise.com branded app for personal trainers one of the best in the business.
Websites
Bobclass does nothing to support your brand's website. In fact, using Bobclass may detract from your website, since members must use Bobclass's URL and app in order to access your calendar and pay for services. With little reason to log into your app or visit your website, you'll have to work harder to promote your business. Additionally, you must outsource to a website developer (or use your valuable time!) to manage your gym's website.
With Exercise.com software, we help you build custom, SEO-optimized fitness business websites that convert visitors to leads. We promote your business by keeping members engaged with your brand instead of using another website or app. Instead of website creation and management being a headache, you can enjoy creating and personalizing your website! We offer unlimited theme changes, custom graphic work, colors, features, custom dev, and more. We're also a Google Certified Partner!
Security Features
Bobclass processes payments through Stripe, a reliable and secure third-party payment processor. Bobclass doesn't specifically highlight any security features on their platform, but it's likely that scheduling and client information is kept private.
However, Exercise.com emphasizes providing the highest standard of security for payment processing and storing clients' health information. Our websites and apps are SSL Secure, client information is protected with the internationally-secure Privacy Shield Framework, and we utilize Google Cloud for storing and transferring data.
Marketing Integrations
Bobclass only integrates with Stripe; it does not integrate with social media, your business website, or business marketing software. This means you must do all the legwork to manually post on social media, respond to emails, and find another program, professional, or time in your own schedule to analyze the efficacy of marketing integrations. This adds a lot of responsibilities to a manager's load!
There's a better way than piecing together various management tactics or using your own time! Exercise.com software handles all of your marketing integrations so that you can make wise decisions to grow your business! We effectively integrate:
MailChimp
ConstantContact
ConvertKit
Zapier
Google Analytics
Facebook Pixel
And more!
Not only does our software integrate these programs, but Exercise.com prioritizes your brand's personalization. Unlike pre-packaged software, Exercise.com allows you to set up as many integrations as you need and avoid paying for features you won't use! Easily adjust your marketing integrations as needed. Plus, Exercise.com online support is always ready to assist you!
Ready to see our software in action? Fill out the form below for a demo.
Learn more by clicking the button below.
Exercise.com is the best Bobclass alternative.
Workout Software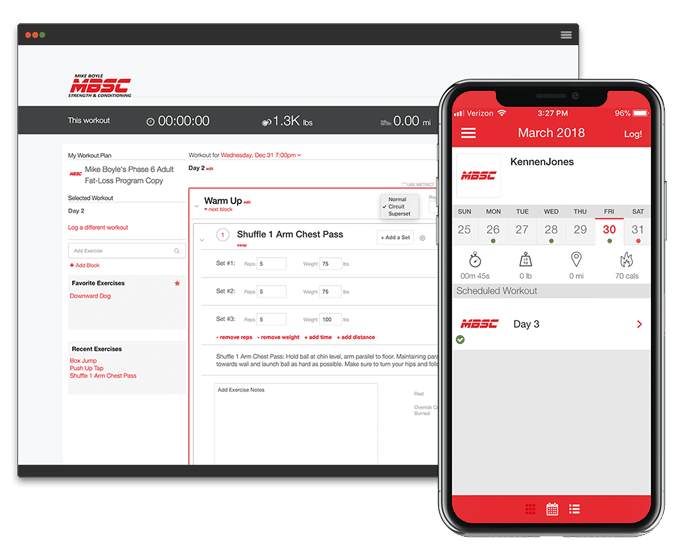 Another major difference between Bobclass and Exercise.com software is workout creation and delivery. Instead of workout and nutritional planning, Bobclass offers a Progress Note feature. This essentially operates like a cloud-based document that both trainer and client can edit. Trainers document in-person training sessions, update client progress, give exercises for upcoming workouts, and embed videos and pictures into the Progress Note. Document files, such as nutritional plans and resources, can also be attached. Clients can view the note and respond inside the document.
While this is better than nothing, it's very labor-intensive, difficult to track progress, and not client-friendly.
This feature is inconvenient and inefficient for trainers because everything must be manually typed, uploaded, and delivered. That's a lot of time spent on a mobile device performing manual documentation! Even if you create your own document templates (like workout or nutritional plans), that's hours of editing, saving, and manually sending documents each week.
Additionally, the Progress Note does not allow for tracking progress in reporting. Trainers must scroll through the Progress Note in order to see client progress or keep track as they go in a different software. This inefficient process adds more manual labor time and kills trainer productivity.
Progress Notes are also inconvenient and frustrating for clients. As sessions continue and the Progress Note gets updated and longer, it begins to resemble a forever-long email chain. Scrolling through the Progress Note makes it difficult to find the files, videos, and pictures their trainer carefully attached.
When a workout or nutritional plan isn't easily accessible, program adherence is poor. While files can be saved, everything is in a different spot on a client's mobile device: photos and videos are saved into a media library, documents are saved in a cloud drive, and the Progress Note itself is in the Bobclass app. This scattered information can be very frustrating for clients!
Instead, Exercise.com workout software keeps everything in one place: your custom-branded app! Clients can easily view, perform, and document their workouts, access their nutrition plan and other resources, see their progress, and communicate with their trainer without switching between multiple apps. Trainers are more efficient and productive by using your customized templates for workout creation and nutritional plans.
Workout Creator/Logger
Set your business apart from competitors with your own customized workout designs, extensive exercise videos selection, and instructional libraries. Integrate with your YouTube or Vimeo account for a personalized touch! Easily instruct and challenge clients by creating your own exercise descriptions and instructions; pictures can be added to ensure proper form. These files are saved in your software database for easy client assignments, saving you valuable time!
Using the Exercise.com workout plan creator, trainers customize their clients' next set of workouts to best fit the client's needs and goals. No need to manually type out instructions! Choose from your library of instructional methods, such as videos, pictures, intervals, alternates, blocks, modifications, descriptions, individualized instructions and reminders, and notes.
Not only are these plans easy for trainers to create, but they're also easy for clients to follow! Automatically deliver workout plans to clients in your custom-branded app for clients to access, perform, and log their workouts anywhere! This improves program adherence and client results. Trainers can easily track a client's progress so clients reach their maximum potential.
The workout creator helps every client stay on track, but it's particularly helpful for traveling and online clients. With just a few clicks in the app, trainers efficiently manage and send workouts and updates to clients, providing a variety of engaging and motivating workouts that can be performed anywhere. Clients can use the messaging feature to ask trainers questions, and trainers can moderate the logged workouts.
Again, this customized workout design and library is not supported by Bobclass. It's a feature you only get with Exercise.com!
This provides flexible solutions that allow the delivery of custom workouts for any scenario such as:
1-1 Training
The versatile Exercise.com software platform encourages all clients to reach their maximum potential by meeting their unique needs. With communication in your custom-branded app, all clients–in-person, online, traveling athletes, busy professionals, and hybrid clients (in-person/online)–all receive the highest standard of personalized care. Trainers can automatically send workout and nutrition plans and updates, videos, resources, and more!
Group Training
The Exercise.com workout delivery software platform allows for group training sessions that clients can access online in addition to in-person.
Online Training
Exercise.com allows users to send workouts to any client, at any time, anywhere. You can also sell online workout plans for added profit! This feature is especially helpful for retaining traveling clients or busy professionals.
Exercise Library
The Exercise.com exercise library is not only full of workout demos but it can be customized to include your own custom exercise videos as well!
Custom Exercises
Upload your own videos of exercises you want your clients to perform. This puts your brand on the workouts and gives your app and website an added personal touch.
TV Workouts
With your Exercise.com workout software, you can cast videos onto gym television screens during group classes or one-on-one training sessions.
Gym Ecommerce Software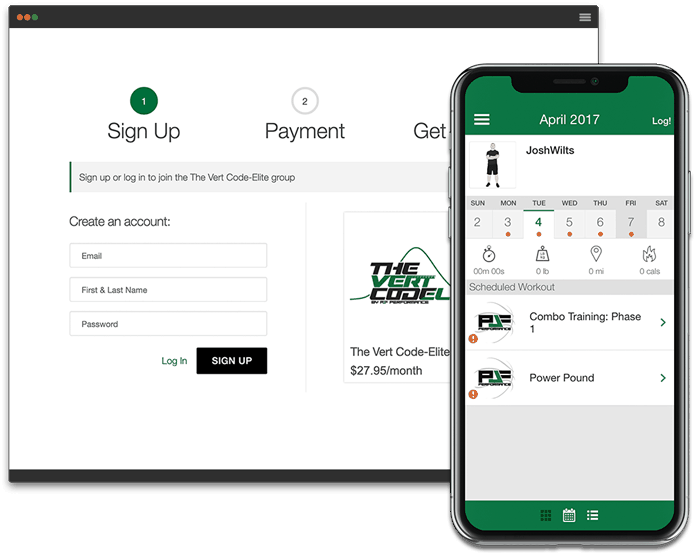 Ecommerce is full of exciting potential through innovative ideas. Capitalizing on ecommerce opportunities grows your businesses without having to expand the walls of your gym!
Bobclass allows customers to make payments for memberships, appointments, or classes, and purchase physical items through a store feature. Bobclass users are pleased with the functionality of the online store, but the store can only offer so many options.
Exercise.com accepts online and mobile payments and grows your business with sustainable profit and customer engagement! How is this accomplished? Keep reading to see some of the most popular ways our customers use the Exercise.com gym ecommerce software.
Payment Processing
Both Bobclass and Exercise.com use Stripe, a secure and reliable third-party payment processor, to accept payments and ecommerce purchases. But only Exercise.com has an automated payment feature!
With Bobclass, admin users can see when a client's punchpass or membership is about to expire, but they have to manually send a reminder email. This time-consuming mundane task is critical to your business; if you don't remind customers to renew their Punchpass or membership, you lose profit! But with Exercise.com software, you can rest easy knowing that payments will be automatically charged and received. Not to mention, it saves your customers a logistical step, too!
Sell Products
Bobclass and Exercise.com both provide users with the ability to sell products online; another great way to stir up revenue for your fitness business.
Sell Workout Plans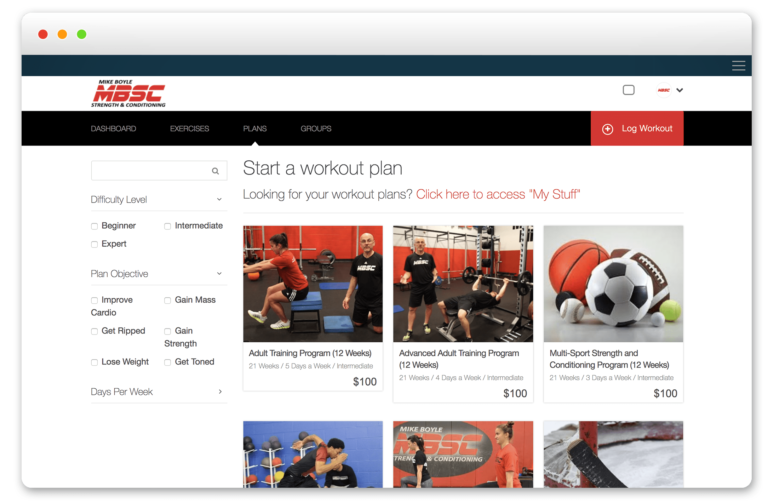 Are you losing customers because they're trying the next trending at-home workout program? With the Exercise.com platform, you can prevent attrition and keep your members engaged in your brand by building and selling your own customized workout programs and plans! These can be in direct competition to popular programs or be something of your own invention. Our customizable platform lets you decide–and then sell unlimited workout plans!
Workout plans are also an excellent alternative for members who can't afford a personal trainer but could benefit from extra guidance, accountability, or motivation. Offering a variety of levels, styles, and lengths keeps customers interested and coming back for more! The more options you offer, the greater your customer engagement, and the lower your rate of attrition. Not to mention, it boosts your business revenue!
Offer Online Workout Memberships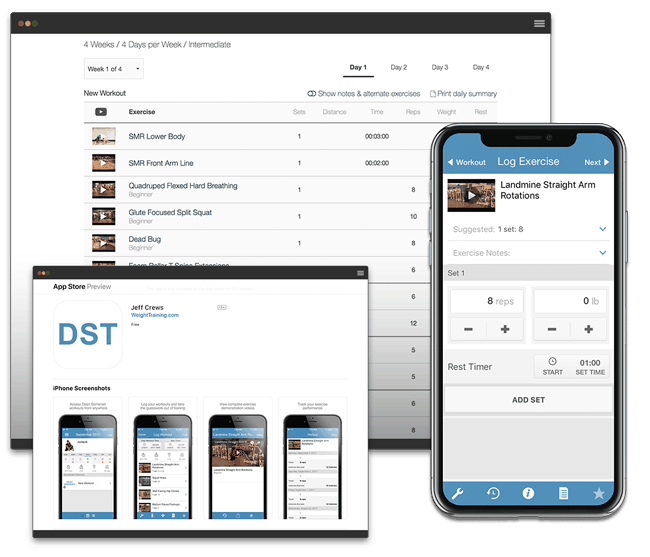 As outlined above, Exercise.com software enables you to personalize programming for each individual client. Workouts or nutritional plans can be automatically delivered to clients on a daily, weekly, monthly, or annual basis, which further frees up your schedule!
Sell Workout Challenges
In order to be profitable, gyms have to retain their members. But with so many options for where and when to work out, customers tend to bounce between gyms, fitness centers, and community classes. Membership retention is often frustratingly elusive! Creating a positive gym culture is the secret to retaining members and growing your fitness center, and Exercise.com is here to help with this critical venture!
Build customer loyalty through a positive gym culture by running frequent workout challenges. These are a fun way for gym members to push themselves, harness their competitive spirit, and cheer for other gym members at the same time. The customization and automation of Exercise.com software make workout challenges easy so all you have to do is award the winner!
Fitness Assessment Software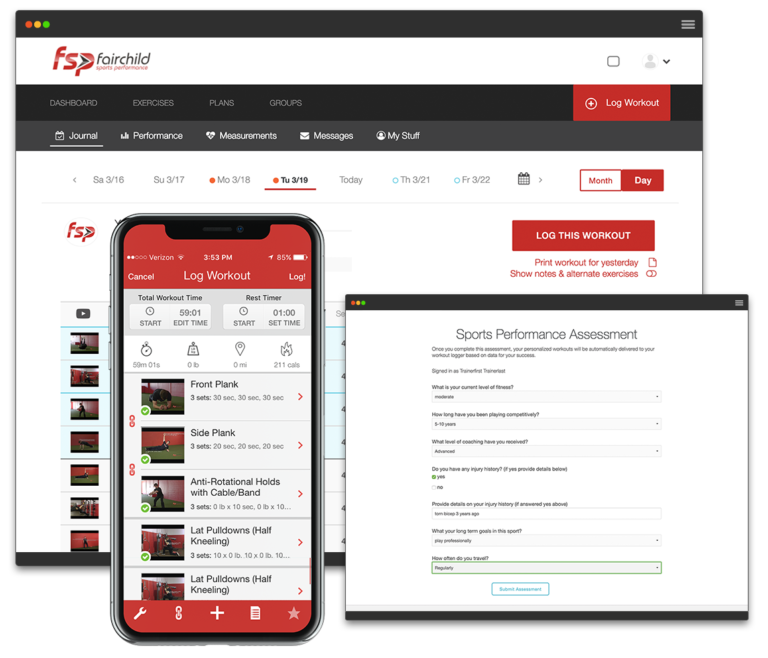 Assessments are a huge part of a personal trainer's job by ensuring safety, formulating effective workouts, and tracking progress. Without performance assessments, both trainers and clients can feel lost in evaluating progress. But when used correctly, performance assessments help clients see the progress that brings them closer to achieving their goals. This boosts program adherence and membership retention.
Performance assessments are taken at evaluation and periodically throughout a client's training because they are the objective data that motivate your clients! Clients can see their baseline, areas of needed improvement, and goals that have been and have yet to be achieved.
Bobclass allows performance assessments to be uploaded as a file in their Progress Note, but it doesn't track progress as a report. Trainers and clients must dig through their Progress Notes in order to find their performance assessments. And once again, this manual data entry is a time-consuming process.
When it comes to fitness tracking software that tracks progress with regular assessments, the Exercise.com fitness assessment software takes the cake and allows you to customize and have easily-accessible assessments that help your business grow! Both trainers and clients can quickly see progress in a report. This is another way Exercise.com supports business growth where Bobclass does not.
Assessments
Exercise.com software's simple layout enables trainers to easily record standard or customized performance assessments, allowing trainers to spend less time inputting data and more time with their clients. Once completed, trainers can use the collected data to increase the effectiveness of their clients' workout and nutritional plans. Automated delivery sends updated performance assessments to their clients for easy access and progress tracking!
Performance & Measurement Reports
Exercise.com software supports all aspects of improving client health by enabling trainers to automate and send performance and measurement reports, PDFs, resources, nutrition plans, and more to their clients!
Bobclass does allow files to be shared in email or app form, but again this is an inefficient process. Manually editing, saving, and sending files is a mundane task that can be easily automated through Exercise.com software!
Nutrition
Fitness experts know that in order to achieve holistic health results, clients must adjust more than just their workouts. Incorporating or improving healthy habits like a balanced diet, nutrition, and health education are essential to transforming a client's life and having lasting results – which is why Exercise.com software also includes nutrition tracking.
Bobclass Pricing
As shown in the chart above, Bobclass has three packages:
Base: Free
PRO: $12.99/month; sold as an in-app purchase
Studio: $28.58/month; sold as an in-app purchase
This might seem like a steal if you're searching for free personal trainer software, and while Bobclass does offer more than other business management software, it's not a comprehensive program for fitness businesses. Bobclass doesn't offer things like website design and management, workout creation and delivery, performance assessments, additional ecommerce opportunities, advertising and marketing, reporting, and managing all of the nitty-gritty details. Your business won't operate successfully without these features, and using Bobclass means you'll need to piece together multiple programs.
But with Exercise.com, our comprehensive program sets your business up for success! With dozens of automated and customized features and services, our comprehensive program includes everything you need to grow your business!
Bobclass Alternatives
Besides Exercise.com, Bobclass has the following software competitors:
Housecall Pro
Shedul.com
SimplyBook.me
Visibook
Booker
Timely
Peek PRO Tour Operator Software
It's worth noting that Bobclass's competitors are general booking software programs. But Exercise.com is niched to fitness, making it the superior product for a fitness business!
The Bottom Line: Pros and Cons
Everyone wants their business to grow and thrive! Choosing the right business management software is one of the most important decisions you can make towards achieving that goal. Every management software has a trickle-down effect: it will either restrict or grow your business!
While Bobclass offers more management features than some software, it's still not the comprehensive package of Exercise.com. This means you'll need to fill in the gaps with other software and programs. This inefficiency can cost you a lot of time and money.
But our platform is here to help your business flourish! Customers enjoy the easy-to-use features, helping boost customer satisfaction and retention rates. Managers and trainers have everything they need to evaluate and manage their business to provide superior customer service.
Bobclass Cons
While Bobclass is a surprisingly good software for the price, it has several major issues:
Even the most comprehensive package doesn't allow for more than 10 trainers, which can restrict business growth.
Almost every task must be done manually: appointment and payment reminders, workout creation and nutrition plans, emails and texts, media, files, and assessments.
Minimal reports that don't evaluate all aspects of your business. Client progress is not tracked in reporting.
Ecommerce is limited to selling Punchpasses and physical items with its Store feature.
The Progress Note feature for files, media, and documentation is a labor-intensive, inefficient process. Clients and trainers must scroll through dozens of notes to find assessments, files, and workouts.
But most importantly, Bobclass does not offer the two things known to grow your business: marketing management and integrations and a customized website and app. These two features help customers stay engaged with your brand and help you evaluate the effectiveness of your advertising. Without these features, you're making marketing stabs in the dark!
Exercise.com Pros
The Exercise.com All-In-One software platform performs all the functions you need to grow your business. It takes the brunt of mundane managerial duties through automatic tracking and delivery, encourages staff and trainer productivity, and keeps everything in one spot to avoid client frustration. Additionally, Exercise.com software aids your business by:
Increasing your business's efficiency and revenue through easy-access reporting and unlimited marketing integrations.
Engaging customers with your custom-branded website and app.
Customizing workout and nutritional plans for every client to maximize their fitness potential.
Capitalizing on every ecommerce opportunity to better engage members.
Providing an easily-accessible scheduling and booking experience for your staff and customers.
Exercise.com is the platform that helps you manage and grow your business for years to come. Streamline your business with the convenience of one software that delivers a professional, personalized customer experience every time. Interested in learning more? Book a demo today!