Exercise.com: Your Bookwhen Alternative
| Features | | Bookwhen |
| --- | --- | --- |
| TV Workouts | | |
| Offer Online Workout Memberships | | |
| Run Workout Challenges | | |
| Sell Workout Plans | | |
| Group Training | | |
| 1-1 Training | | |
| Custom Exercises | | |
| Websites | | |
| Marketing Integrations | | |
| Custom Branded | | |
| iOS & Android Apps | | |
| Online Training | | |
| Sell Products | | |
| Payment Processing | | |
| Gym / Facility Management | | |
| Exercise Library | | |
| Assessments | | |
| Client / Class Scheduling | | |
| Workout Creator / Logger | | |
| Nutrition | | |
| Dedicated Account Manager | | |
| Dedicated Zapier Support | | |
| Client Automation | | |
| Performance & Measurement Reports | | |
| Business Dashboard Reports | | |
Why Choose Exercise.com?
Here are five reasons why fitness professionals use Exercise.com vs. Bookwhen.
Fitness Business Management Software to Run Your Business
Unlike Bookwhen, Exercise.com software is designed to have all components needed to run a fitness business in one place – making it easy and efficient to organize and grow your fitness business with client and class scheduling, check-ins, and billing — all from your custom-branded apps. 
Fitness Business Management Software to Run Your Business
Unlike Bookwhen, Exercise.com software is designed to have all components needed to run a fitness business in one place – making it easy and efficient to organize and grow your fitness business with client and class scheduling, check-ins, and billing — all from your custom-branded apps.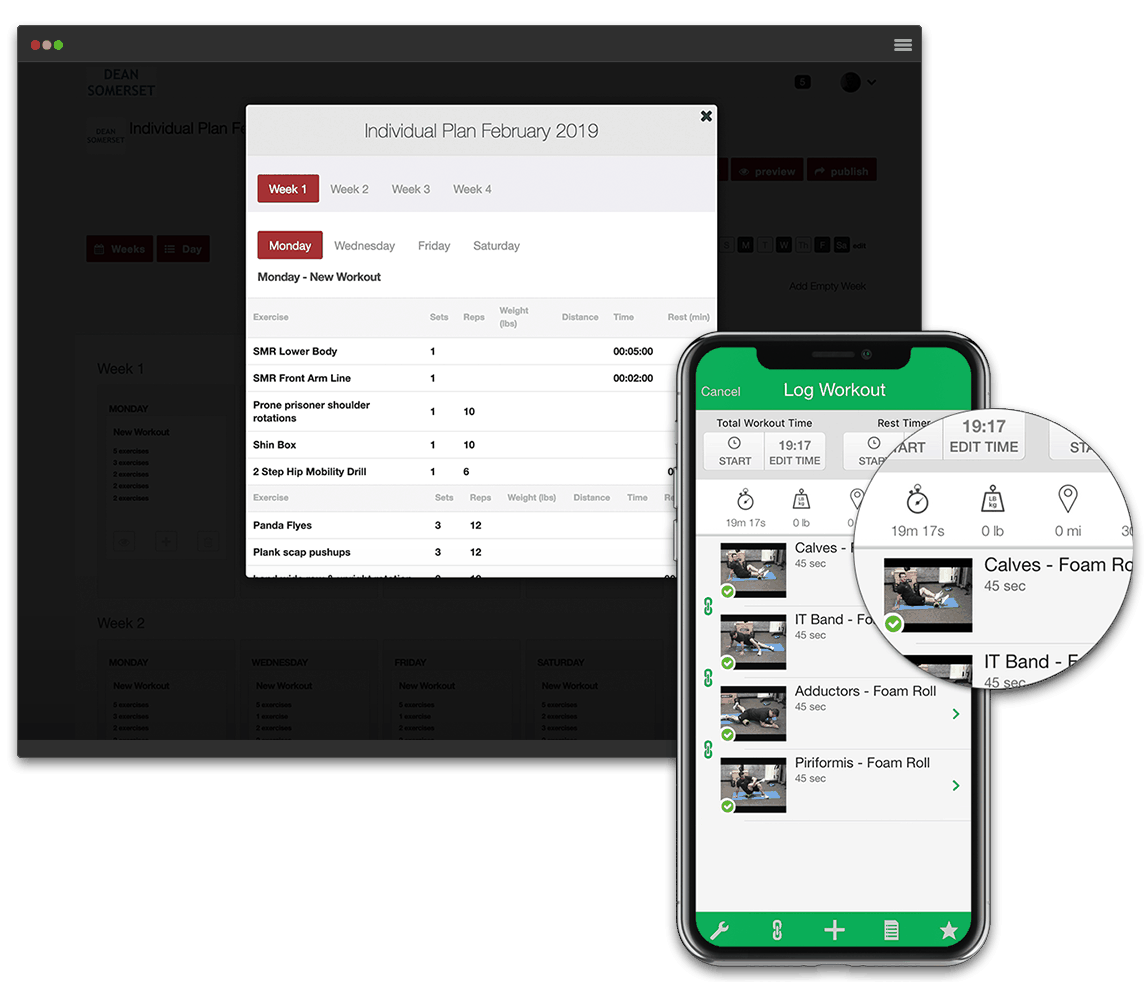 Workout Software to Power Your Training
Bookwhen does not offer workout software – an essential component for running a fitness business. The Exercise.com workout plan creator and exercise manager provide flexible solutions to save you time creating workouts with built-in integrations, tools, and more.
Ecommerce Software to Increase Revenue
Bookwhen has no viable ecommerce platform to sell products, workout plans, online workout memberships, or to run workout challenges. Exercise.com, however, has full ecommerce capabilities allowing trainers to sell single workout plans, offer automated workout memberships, run workout challenges, and deliver individual training.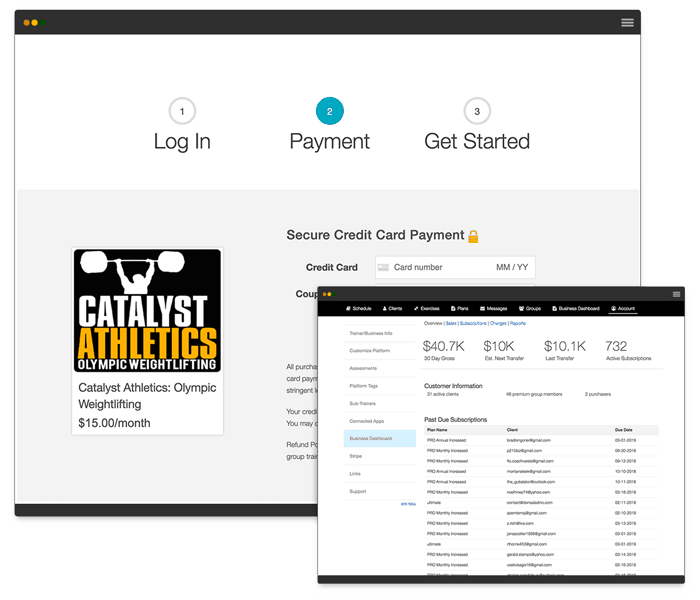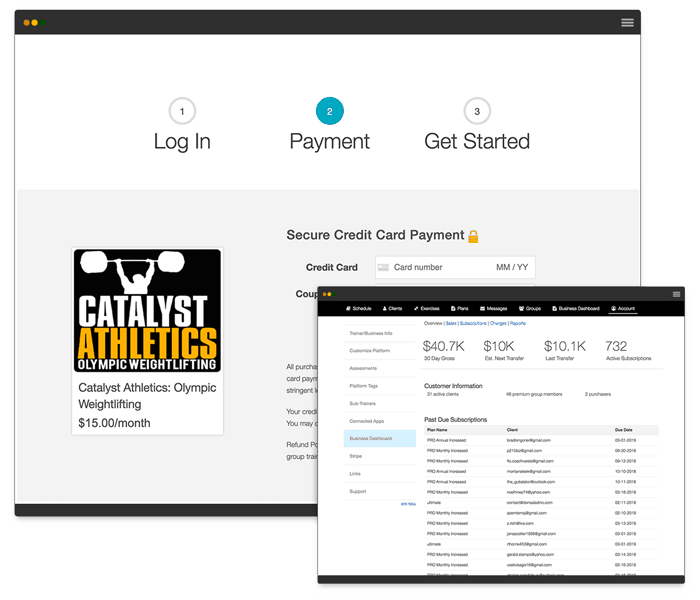 Ecommerce Software to Increase Revenue
Bookwhen has no viable ecommerce platform to sell products, workout plans, online workout memberships, or to run workout challenges. Exercise.com, however, has full ecommerce capabilities allowing trainers to sell single workout plans, offer automated workout memberships, run workout challenges, and deliver individual training.
Assessment Software to Improve Client Engagement and Retention
Bookwhen lacks assessment software, but that's not the case with Exercise.com. Take clients through personalized assessments to deliver custom workouts and nutrition notes for their individual needs – providing massive growth potential and saved time.
Stand Out With Your Own Custom-branded Apps
Bookwhen's apps provide no options for custom websites or to create custom exercises. Exercise.com, however, offers fully-customized apps and websites built to make your life easier by providing your clients with a unified scheduling and workout experience with your brand displayed front-and-center.
Stand Out With Your Own Custom-branded Apps
Bookwhen's apps provide no options for custom websites or to create custom exercises. Exercise.com, however, offers fully-customized apps and websites built to make your life easier by providing your clients with a unified scheduling and workout experience with your brand displayed front-and-center.
If you're ready to get started with an easy-to-navigate, all-in-one fitness software, designed to fuel your business, request a demo with Exercise.com today.
And, if you want to see how Bookwhen's additional features stack up to Exercise.com software features, check out our in-depth guide below.
What is Bookwhen?
Founded in 2007, Bookwhen is an organizational tool for small businesses. It schedules classes, courses, events, and activities. From kids after-school programs to pottery classes or fitness classes, Bookwhen can help keep your schedule organized and allow easy customer bookings.
Bookwhen is a highly-rated software and customers are pleased with their low-priced packages, customer service, and features. It can be used by just about any small business, club, program, or contractor–and that is the biggest difference between Bookwhen and Exercise.com. While Bookwhen has a broad scope of tools that accommodate many business needs, Exercise.com is designed for fitness businesses–and custom-tailored for your business's success.
Not only do we give you key features to manage your business, such as scheduling and booking, reports, and automated customer engagements, but we also give you a customized platform, website, and app, to run your business just the way you prefer.
But perhaps the most important distinction between the software is that ours is targeted for fitness centers; we include fitness-specific functions such as performance assessments, workout creator/logger, nutrition trackers, and specialized fitness ecommerce opportunities.
As we will see in the review below, Bookwhen may have some helpful features, but it lacks comprehensiveness and specificity to fitness businesses. The Exercise.com software includes everything your fitness business needs to succeed!
Let's dive into the review.
Unless otherwise stated, all images and reviews below are of/about the Exercise.com All-In-One Fitness Business Management software platform.
Fitness Business Management Software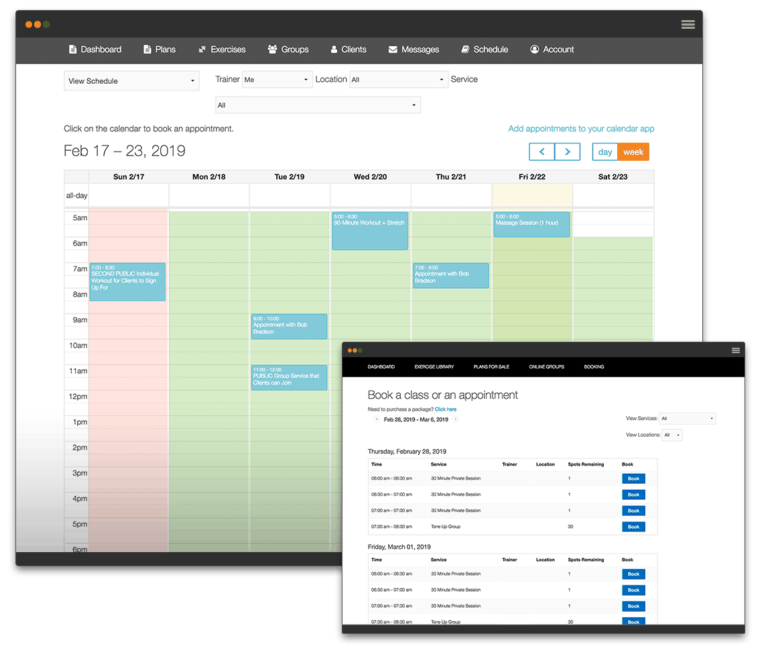 Business management software is especially beneficial for the fast-paced environment of fitness businesses. Software that automatically performs time-consuming tasks free up managers to perform skilled managerial tasks and stay engaged with their staff and customers.
Bookwhen has a few features that may meet the basic needs of business management, but as you'll see below, Exercise.com's gym management software meets and exceeds these needs with a fitness-specific, comprehensive approach.
Client/Class Scheduling
Perhaps Bookwhen's biggest asset is their scheduling feature. Appointments, classes, and events are easy to set up and alter. Customers are able to book and pay both online and offline. The feature is also flexible by allowing class passes, family and group tickets, and waiting lists that help personalize customer experiences and cut back on admin tasks. Overall, the scheduler is a solid feature for many small businesses, but it has a few drawbacks for fitness centers.
The schedule is formatted in what Bookwhen calls "booking pages." These are essentially like sheets in an Excel document to promote schedule organization. For example, a fitness center might structure their online class booking system as one for group classes, one for 1-1 appointments, and one for events. This is not a bad organizational tool, but Bookwhen doesn't have any other calendar presentation, such as an overall calendar view. This hinders your software customization and locks you into a certain scheduling style.
Not only can this cause problems for staff, but several Bookwhen reviews on Capterra note that customers are confused by the pages and are unaware that there are more booking options besides the first booking page (so they may miss an opportunity to book classes online). This calendar presentation can actually decrease bookings.
But Exercise.com is designed for fitness centers, so it supports all your calendar, booking, and scheduling needs. Better yet, it's customized for your fitness center, so you can choose how to organize and present your calendar. The Exercise.com software also has a search filter to help customers find exactly the class they're looking for. The calendar can be filtered by location, trainer, day, time, and customizable search terms. This results in more bookings and greater profit. Clients can also go mobile and sign in to your facility using their customized fitness class booking app features.
Our software improves your customer's booking experience with clear next-step prompts, which guides them through the registration process and boosts bookings. Bookings can also be done anywhere, on any device. Staff can quickly view participants, track payments, and stats are automatically recorded in our reporting feature. And finally, since our software is customized to your needs, you can add any other scheduling feature you need.
Gym/Facility Management
Bookwhen offers a few very basic reports, such as bookings, most valuable customers, invalid emails, purchased class passes, and more. Although Bookwhen is supposed to help manage small businesses, Bookwhen's reports are mostly focused on dissecting the numbers and types of bookings rather than financial reports. While analyzing booking trends and specific customer data are important, you must track finances in order to run a successful business.
Exercise.com uses a spectrum of reports to examine your business from all angles. These are not only reports about customer preferences and booking trends, but also examining the finances of your business. Additionally, we offer customized reports so you can fine-tune your results. Our reports give invaluable insight so you can streamline your business and increase your profit!
Business Dashboard Reports
With Exercise.com, all of your reports can be run in a single software. No more safaris for which software has which reports. The Exercise.com Fitness Business Management (FBM) software platform makes reports easy — sales, business, appointments, class, and payroll reports all in one place. Plus you can also sort reports by:
These reports empower you to have your finger on the pulse of your business and if you're bringing on new trainers you'll know how much to pay staff based on commissions. Exercise.com organizes your most frequented reports on a customizable dashboard for easy access. Bookwhen doesn't offer a dashboard, so you must search for your reports individually.
Client Automation
Bookwhen allows you to send automatic emails to clients for confirmations, waitlists, cancellations, and reminders. It does not have other forms of automation, such as SMS messages or app alerts.
Exercise.com, however, has automatic emails, SMS messages, and push notifications for increased customer engagement. But we take it one step further and automate other fitness-related features, such as automatic delivery of workouts, nutrition plans, and resources. These automatic features personalize your customer's fitness experience (which often results in customer loyalty) without increasing your workload.
Dedicated Zapier Support
Bookwhen doesn't offer any integrations. This is problematic for your business. Integrations seamlessly transfer data between management apps, and without any integrations, you must manually transfer data to and from Bookwhen. This inefficient process adds countless hours to your already-busy schedule.
Exercise.com has dozens of helpful integrations already embedded in our software. But we know that sometimes your business needs something extra, so we partner with Zapier so your business can run at its peak efficiency. Zapier has over 2,000 apps to choose from so you have everything you need to deliver a positive, personalized experience to every customer.
Dedicated Account Manager
Bookwhen doesn't assist you during set up or have an onboarding service. Instead, they have an online FAQ and self-help directory for you to reference as you set up your software. Bookwhen can also be reached via email for more complicated questions.
Exercise.com takes customer service very seriously. When you partner with us, you receive a dedicated account manager who assists with all your software needs–indefinitely. Your account manager not only sets up your perfectly personalized website and app but also gives informative training on your new software and is yours to contact at any time.
As your business grows, your account manager is happy to adjust your platform to your new needs. From small modifications to your logo, adding an online fitness store, or completely revamping your website, your account manager makes every alteration, which saves you hours of admin time and frustration.
Customized Software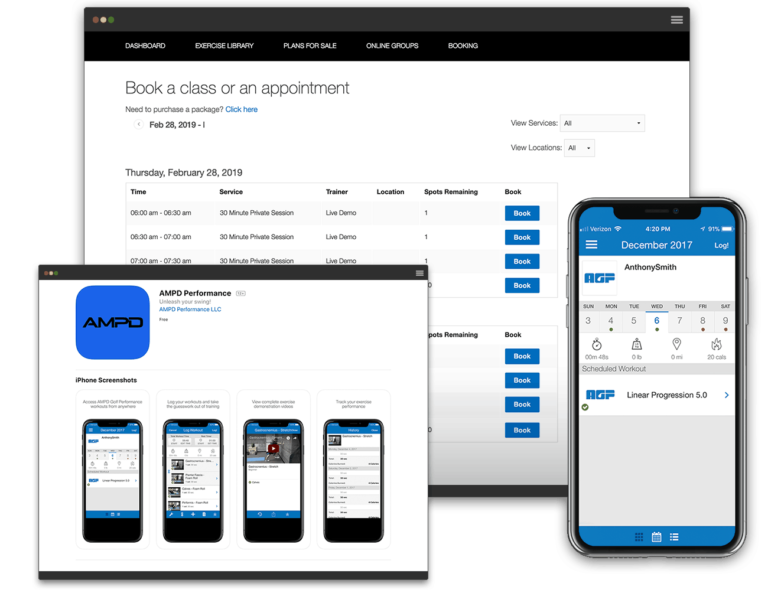 Most customers expect personalized services from companies, no matter the industry. For fitness centers, this means the gyms that provide personalized services are likely to be more successful than those that don't. However, you must have customized software to support the personalized services you want to provide.
Bookwhen is severely lacking in customization, which we will review in greater detail below. Without the ability to promote your brand and personalized services, your business won't stand out in a sea of competition.
Exercise.com is completely customizable, user-friendly, and designed to help your fitness business succeed. Let's examine these ways below.
Custom-Branded
Bookwhen doesn't have any custom branding options. In fact, your company's schedule is a Bookwhen URL, which means customers are always engaging with Bookwhen's brand instead of yours.
Exercise.com promotes your brand from start to finish. Your custom app, website, ecommerce opportunities, workout software, and performance software all celebrate your unique brand, which keeps your customers strongly connected and engaged and boosts customer loyalty.
iOS & Android Apps
Bookwhen has a web-based app. Even though Bookwhen advertises this as mobile-optimized, typing in a URL is simply not the same as a custom-branded app. A downloadable app speaks volumes about your business's professionalism, is user-friendly, and keeps everything accessible.
Further, Bookwhen's app is mostly for scheduling purposes; there are no features specific to fitness. This especially impacts personal training because Bookwhen won't deliver or track workouts, performance assessments, or nutrition plans. Instead, trainers must manually create and deliver every plan and their clients must keep track of these plans in print form or another app.
But Exercise.com's professional, organized, and branded app for personal trainers is designed for your fitness business. Not only can customers book from your schedule, but you can also send automatic emails, text, reminders, and alerts. Fitness-specific functions such as workouts, resources, nutrition, and assessments are all automatically sent to clients for them to conveniently access. Staff can perform any management tasks on the app, trainers can track their clients' progress, create new workout or nutrition plans, and privately message with clients.
Websites
Having a professional, eye-catching, informative website is vital in today's media age. Unfortunately, Bookwhen doesn't offer any website creation. This means you must invest more time and money into running your own website or outsourcing to a website developer.
However, Exercise.com software is comprehensive, so we include website creation and management. Our fitness business website designs are completely customizable, secure, and SEO-optimized to convert visitors to leads and keep members engaged with your brand. Choose from unlimited theme changes, custom graphic work, colors, features, custom dev, and more, and your dedicated account manager sets up and manages your website. This saves you hours of invaluable admin time. (Plus, we're a Google Certified Partner.)
Security Features
Both Bookwhen and Exercise.com take security and protection of membership data very seriously. At Exercise.com, our websites and apps are SSL Secure, client information is protected with the internationally-secure Privacy Shield Framework, and we utilize Google Cloud for storing and transferring data. Payments are made and processed through Stripe.
Marketing Integrations
As stated before, Bookwhen doesn't have any marketing integrations. This is a huge setback for your business; you must either pay for separate integrations or take the blow of inefficiency and perform tasks manually.
Exercise.com offers countless integrations so your business runs efficiently and stands out amongst the competition. Some popular integrations include:
MailChimp
ConstantContact
ConvertKit
Google Analytics
Facebook Pixel
And more!
With our Zapier partnership, you have thousands of integrations at your fingertips to boost the success of your business.
Learn more by clicking the button below.
Exercise.com is the best Bookwhen alternative.
Workout Software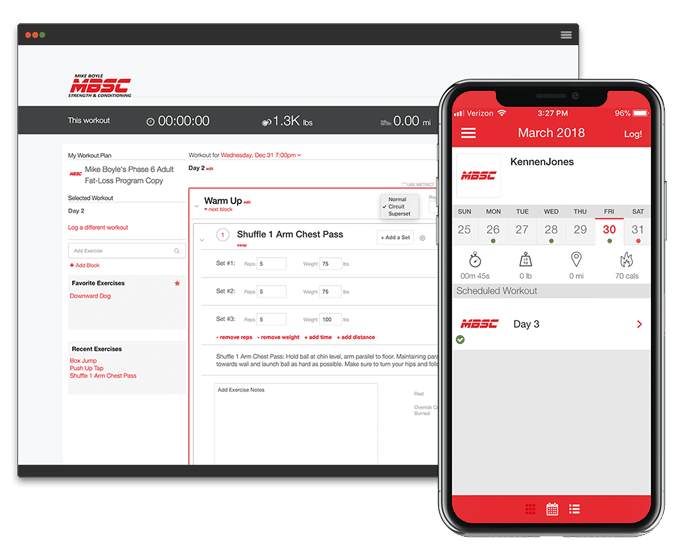 Workout software is an excellent way to engage customers, personalize their fitness experience, boost your revenue, and bring value to your brand.
Workout software is not a feature Bookwhen provides–and that's because it's not designed for fitness businesses. But Exercise.com knows how crucial workout software is to customer satisfaction, so we include exceptional workout software that aids in customer retention and increases your revenue. Since Bookwhen doesn't provide workout software, let's take a look at this huge asset provided by Exercise.com.
Workout Creator/Logger
The workout creator and logger from Exercise.com is a powerful and effective way to keep clients engaged and motivated in meeting their fitness goals. Trainers can quickly assign pre-designed workouts or create personalized workout plans for the specific needs of their clients.
Inside your custom-branded app, clients can view and log their workout anytime, anywhere, as well as communicate with their trainer. This keeps trainers productive and gives clients the personalized fitness experience they desire.
At Exercise.com, we know that every trainer-client relationship is different, so our workout creator/logger has endless possibilities for delivering workouts, tips, and encouragement to clients in any scenario, including:
1-1 Training
Our software helps keep your clients laser-focused on their fitness success with customizable workout and nutrition plans, goals and progress reports, performance and fitness assessments, and resources automatically delivered to your app. Clients can communicate with their trainers at any time, and trainers can track progress along the way.
Group Training
Use the same resources and support as 1-1 training and apply them to group training. Manage all the moving parts of group training with ease with the Exercise.com software. Create and schedule as many classes as you'd like, track payments and attendants, and view all the stats in our reporting feature.
Online Training
In today's busy society, many customers are demanding online training. The Exercise.com software allows you to capitalize on this trend by providing online training services to any customer! Trainers simply create custom workouts with our extensive video and exercise library, track progress, and stay in communication with clients via the app.
Exercise Library
Bookwhen integrates with Zoom, YouTube, and Vimeo. Trainers can use Zoom to run online classes, and they can use YouTube and/or Vimeo to send workout examples to clients. These integrations offer more to fitness centers than most booking software, but Exercise.com has a more comprehensive approach.
Exercise.com includes an extensive library of educational and instructional exercise videos that trainers can use to create pre-designed and custom workouts. Our professional videos give clear instructions on proper form and modifications for injuries or difficulty levels.
With Bookwhen, trainers can send videos to clients, but this information becomes jumbled without a workout creator/logger. Having a list of video links is challenging for clients to follow or trainers to track progress. Instead, with Exercise.com, our videos are embedded with our workout creator/logger so the workout is cohesive and clear. This aids in program adherence and improved client results.
Custom Exercises
Although the videos in Exercise.com's exercise library satisfy any trainer's needs for the workout creator, it's Exercise.com's mission to promote your brand. Another way we encourage custom branding is by incorporating your own videos. Exercise.com allows you to easily merge with your YouTube or Vimeo accounts and save these videos into your exercise library. These videos can be used in the workout creator, which builds trainer familiarity, promotes your business, and adds value to your brand.
TV Workouts
Add a personal touch to group classes or 1-1 training sessions by casting an Exercise.com or your own custom video onto a TV screen. This changes the presentation style and keeps customers engaged with your brand.
Gym Ecommerce Software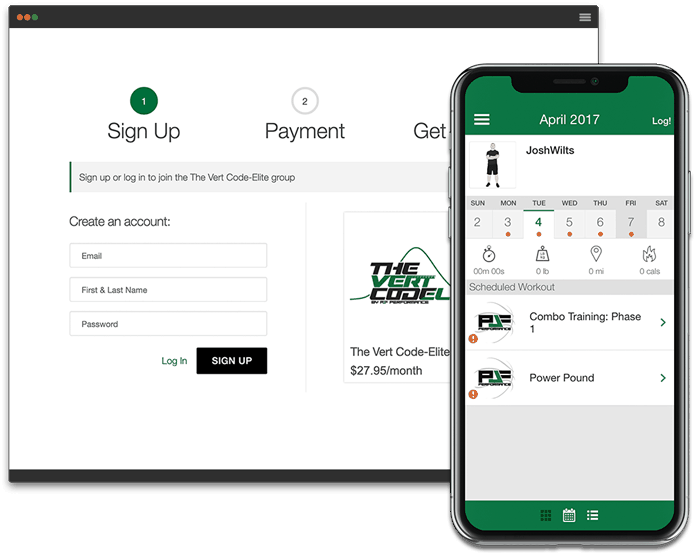 Ecommerce is crucial to the growth of your business. There are so many creative ways to boost your business's outreach in the community and around the world–but you must have the right software to support such endeavors.
Bookwhen doesn't have any ecommerce opportunities except mobile payment processing. This means your business is restricted to profit only from memberships, classes, and appointments, or you expend extra time and money into incorporating an additional ecommerce software.
Instead, the Exercise.com gym ecommerce software has endless ecommerce capabilities that are specific to fitness, promote your business, and boost your revenue.
Check out just a few popular ways Exercise.com grows your business through ecommerce.
Payment Processing
Bookwhen accepts payments through PayPal and Stripe. 
With Exercise.com, we keep things simple and use the ease, security, and accessibility of Stripe for all payments. We don't charge additional fees to process payments and everything is tracked in reports.
Sell Products
Everyone loves an online store. And with Exercise.com you can sell just about anything in your personalized ecommerce store. This not only boosts your revenue but also promotes your business. Get creative with product listings, such as custom-branded workout gear and paraphernalia, supplements, nutrition bars, bumper stickers, and more.
Sell Workout Plans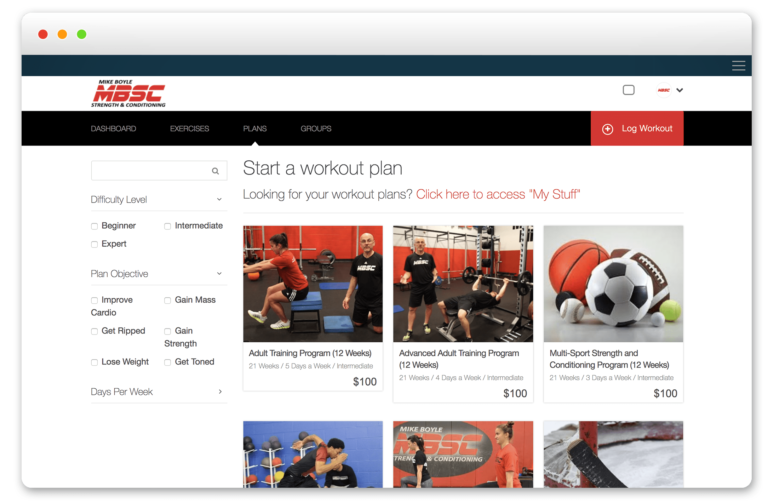 Further engage your members by selling pre-built workout plans. These are completely customized and uniquely meet the needs of your clientele, which gives you an advantage over generic workout videos. Exercise.com doesn't put a cap on how many plans you can sell, so the more plans you offer, the more your potential profit. Offer a variety of plan lengths, difficulties, fitness focuses, and more meets the needs of every client and keeps them fully engaged in your brand.
Offer Online Workout Memberships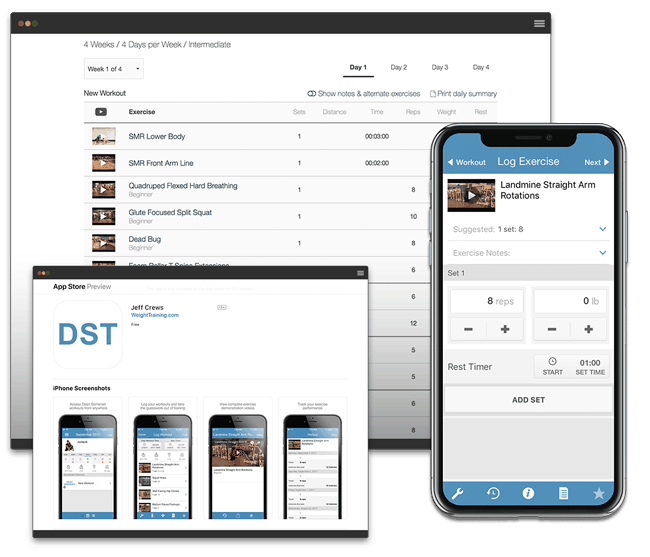 A rising trend in the fitness industry is customized online workouts. These require additional time to create, deliver, and manage, so businesses are able to charge a premium price. However, this service isn't as profitable as it promises because your trainers must spend additional time creating personalized plans and are unable to take on in-person clients.
But with Exercise.com software, trainers create a client's entire plan in one sitting, schedule automatic delivery intervals, and then track client progress through their program. This keeps your trainers productive and your business can accrue a lot of revenue from this service.
Sell Workout Challenges
Looking for a way to add variety to what your gym offers? Try one of our many workout challenges. Workout challenges motivate gym members to push themselves for optimal performance, give additional fitness accountability, channel a competitive spirit, and have fun at the same time.
Running a workout challenge with the Exercise.com software couldn't be easier. Simply input the details and the software runs the workout challenge automatically. This is an effortless way to boost revenue without increasing your workload.
Fitness Assessment Software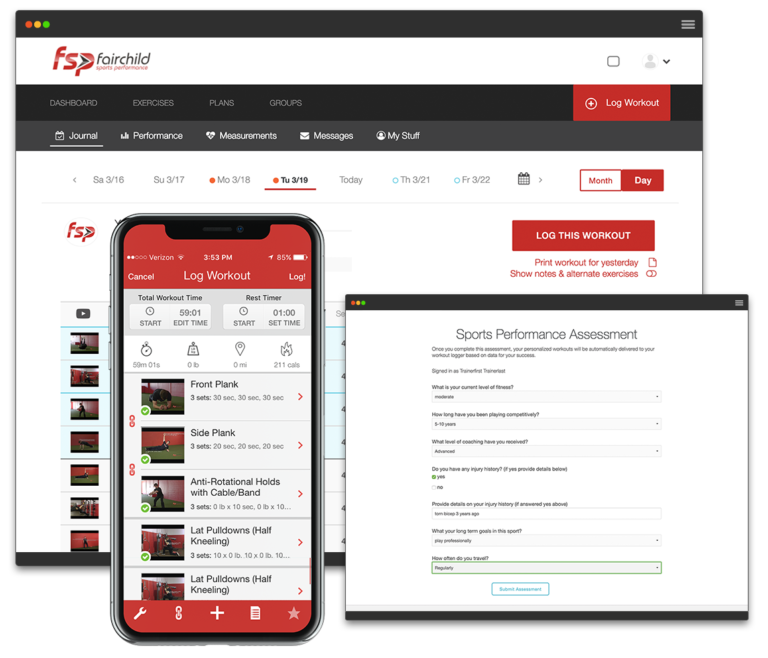 Performance assessments are essential if your business offers personal training services because they keep the client and trainer safe and track a client's progress towards their goals.
Bookwhen doesn't have a way to track or manage performance assessments, which is understandable given that Bookwhen isn't tailored for fitness.
But Exercise.com knows the value of performance assessments, and that's why we include fitness assessment software. Since Bookwhen doesn't offer this feature, let's examine how advantageous this feature is for your fitness business.
Assessments
Assessments are the black-and-white data that guide personal trainers and motivate clients. Initial assessments show clients their baseline and help personal trainers develop an appropriate exercise approach. Periodic re-assessments motivate clients in their fitness journey and guide trainers on how to tweak their program for optimal results.
Exercise.com provides standard clinical assessments and completely customizable assessments to fit the exact needs of the client. All of our assessments are simple to complete so trainers stay engaged with their clients instead of filling out complicated data boxes. Finally, assessments are automatically delivered to clients and stored in your app for instant accessibility.
Performance & Measurement Reports
Another customer personalization feature of the Exercise.com software is personalized interactions. Automatically deliver workout reminders, goal achievements, recurring assessments, progress photos, measurements, and more. This increases customer engagement but doesn't add extra tasks to your managerial load.
Nutrition
Rounding out our all-inclusive software is a powerful nutrition tracker. Clients can easily log and track their dietary intake to determine whether they prioritize pre and/or post-workout meals. Trainer accountability also keeps clients on track to meet their fitness goals, which ultimately improves client satisfaction.
Bookwhen Pricing
There are five Bookwhen pricing packages available:
| Free | Lite | Standard | Plus | Enterprise |
| --- | --- | --- | --- | --- |
| $0 | $15/month | $29/month | $59/month | Custom Quote |
| 50 spaces booked / month | 300 spaces booked / month | Lite, PLUS: | Standard, PLUS: | Bespoke plans |
| 1 admin user | 2 admin users | 800 spaces booked / month | 1800 spaces booked / month | Franchisor system |
| 1 booking page | 1 booking page | 5 admin users | 10 admin users | Re-seller accounts |
| Free events only | Unlimited locations & classes | 3 booking pages | 6 booking pages | Class search portals |
| | Payments & Discounts | Reminder emails | Online & phone support | |
| | Ticket transfers | Waiting list | | |
| | Zoom integration | Class passes | | |
| | Online support | Zoom integration | | |
| | | YouTube & Vimeo integration | | |
[Information is taken from Bookwhen's website]
It's clear to see that the Free and Lite packages would not support the needs of a fitness center. That leaves the Standard, Plus, and Enterprise packages. But the Standard and Plus packages are potentially limiting to your business growth by placing a cap on bookings and staff users.
Between contracting trainers, part-time, and full-time staff members, many facilities would need at least 10 accounts to access the software, which means you must restrict staff who has access to the software or pay a custom quote for additional staff accounts. Plus, capping how many bookings you can have per month stifles your business growth.
Exercise.com doesn't penalize you for growing your business. There are no restrictions on bookings or admin accounts. Under one flat rate, you can add as many staff and members as you need!
Bookwhen Alternatives
Bookwhen competitors include:
TSheets
Wrike
UpKeep
Booker
UltiPro
Doodle
Float
And of course, Exercise.com!
The Bottom Line: Pros and Cons
Effective business management software is key to running a thriving, successful business. But it's not as simple as finding a highly-rated business software and adapting to its limitations–the best software is one that is designed for fitness centers and can be customized to fit your specific needs. Let's take a final look at Bookwhen and Exercise.com.
Bookwhen Cons
Bookwhen could be very helpful software to a small or independently-owned business, but it lacks many key business management features. Further, it isn't tailored to fitness businesses, which means your business lacks the opportunities to celebrate your niche, such as:
No workout, nutrition, or performance assessment software or delivery
No marketing integrations
No customized software
No website
No app
The reports are not beneficial to analyzing your business
No ecommerce opportunities aside from payment processing
All of these drawbacks make Bookwhen challenging software for fitness businesses to adapt to, and managers using Bookwhen will have to find other software or apps to fill the gaps.
Exercise.com Pros
Exercise.com is a comprehensive platform for fitness businesses, and it is custom-tailored to meet the needs of your business. Our software takes the brunt of your managerial load with features such as a custom-branded website and app, a user-friendly scheduling and booking system, countless marketing integrations, automated services, and ecommerce opportunities.
But we take your business growth one step further by offering fitness-specific features such as an exercise library, performance assessments, workout creator/logger, and nutrition tracker. With Exercise.com, your business has everything it needs to succeed.
Exercise.com makes your business platform decision easy! We're here to help your business grow. Ready to get started? Book a demo today!