Exercise.com: Your Playpass Alternative
| Fitness Software | | Playpass |
| --- | --- | --- |
| Nutrition | | |
| Dedicated Account Manager | | |
| Dedicated Zapier Support | | |
| Client Automation | | |
| Performance & Measurement Reports | | |
| TV Workouts | | |
| Offer Online Workout Memberships | | |
| Run Workout Challenges | | |
| Sell Workout Plans | | |
| Group Training | | |
| 1-1 Training | | |
| Custom Exercises | | |
| Websites | | |
| Marketing Integrations | | |
| Custom Branded | | |
| iOS & Android Apps | | |
| Online Training | | |
| Sell Products | | |
| Payment Processing | | |
| Gym / Facility Management | | |
| Exercise Library | | |
| Assessments | | |
| Client / Class Scheduling | | |
| Workout Creator / Logger | | |
| Business Dashboard Reports | | |
Why Choose Exercise.com?
Here are five reasons why fitness professionals use Exercise.com vs. Playpass.
Fitness Business Management Software to Run Your Business
Unlike Playpass, Exercise.com software is designed to have all components needed to run a fitness business in one place – making it easy and efficient to organize and grow your fitness business with client and class scheduling, check-ins, and billing — all from your custom-branded apps.
Fitness Business Management Software to Run Your Business
Unlike Playpass, Exercise.com software is designed to have all components needed to run a fitness business in one place – making it easy and efficient to organize and grow your fitness business with client and class scheduling, check-ins, and billing — all from your custom-branded apps.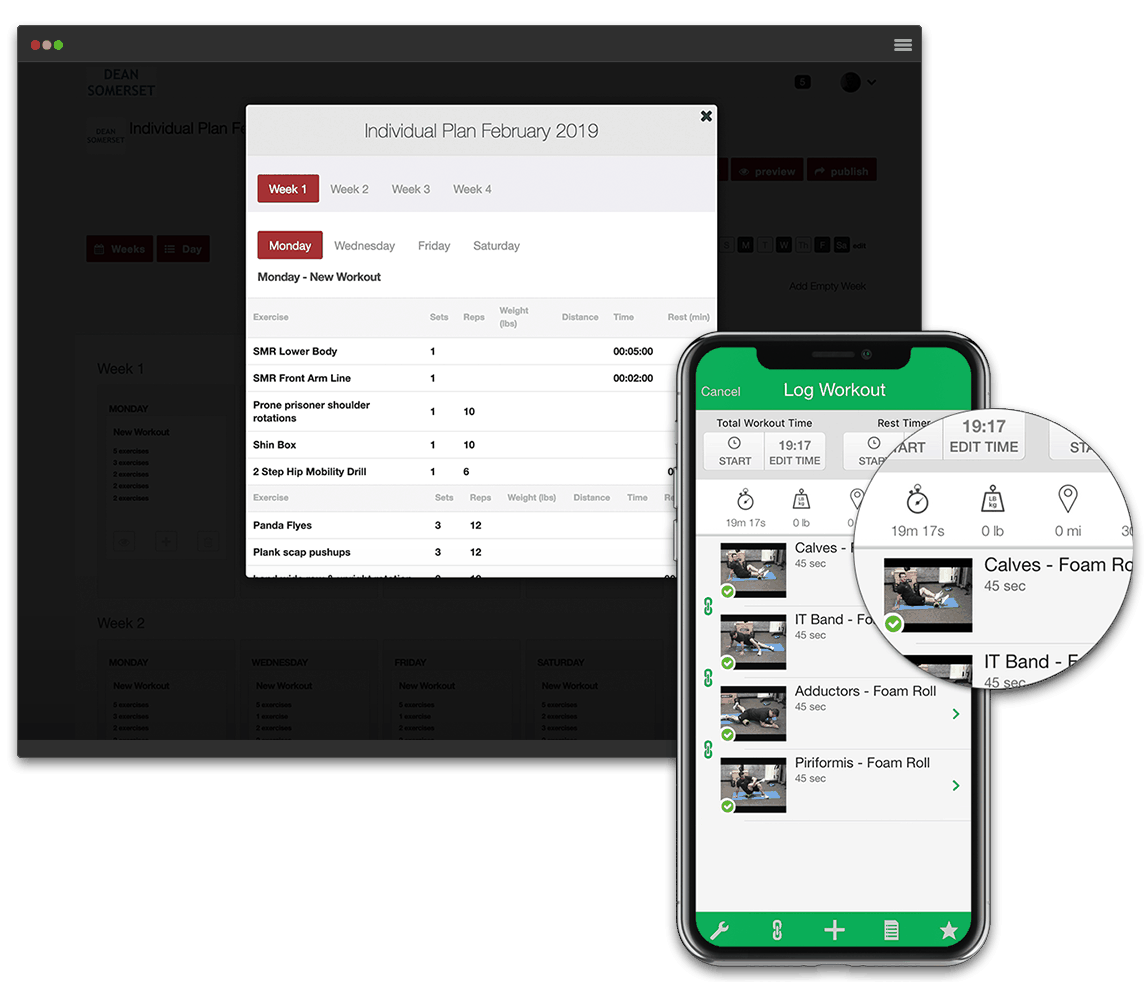 Workout Software to Power Your Training
Playpass does not offer workout software – an essential component for running a fitness business. The Exercise.com workout plan creator and exercise manager provide flexible solutions to save you time creating workouts with built-in integrations, tools, and more.
Ecommerce Software to Increase Revenue
Playpass has no viable ecommerce platform or capabilities to speak of. Exercise.com, however, has full ecommerce capabilities allowing trainers to sell single workout plans, offer automated workout memberships, run workout challenges, and deliver individual training.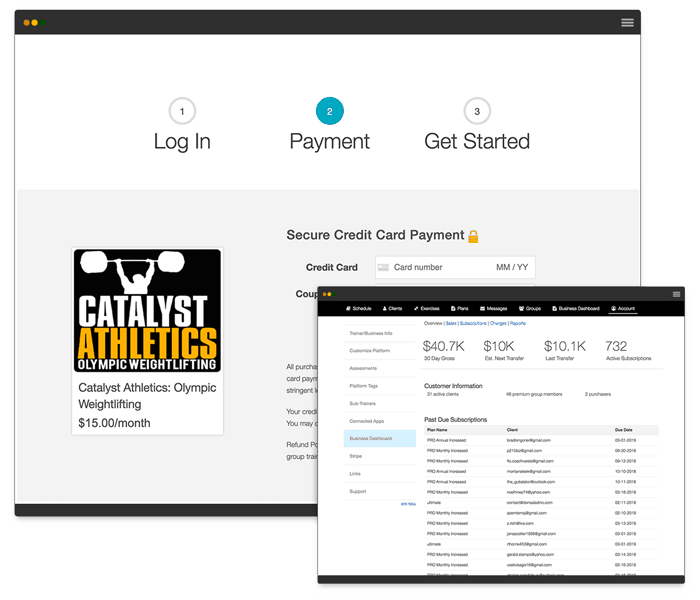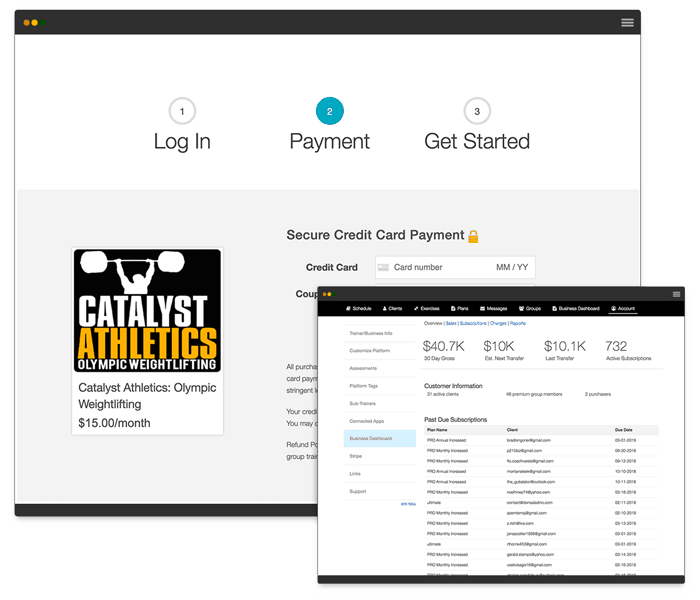 Ecommerce Software to Increase Revenue
Playpass has no viable ecommerce platform or capabilities to speak of. Exercise.com, however, has full ecommerce capabilities allowing trainers to sell single workout plans, offer automated workout memberships, run workout challenges, and deliver individual training.
Assessment Software to Improve Client Engagement and Retention
Playpass lacks assessment software, but that's not the case with Exercise.com. Take clients through personalized assessments to deliver custom workouts for their individual needs – providing massive growth potential and saved time.
Stand Out With Your Own Custom-branded Apps
Playpass does not offer any commercial apps for fitness professionals. On the other hand, Exercise.com offers fully customized apps built to make your life easier by providing your clients with a unified scheduling and workout experience with your brand displayed front-and-center.
Stand Out With Your Own Custom-branded Apps
Playpass does not offer any commercial apps for fitness professionals. On the other hand, Exercise.com offers fully customized apps built to make your life easier by providing your clients with a unified scheduling and workout experience with your brand displayed front-and-center.
If you're ready to get started with an easy-to-navigate, all-in-one fitness software, designed to fuel your business, request a demo with Exercise.com today.
And, if you want to see how Playpass's additional features stack up to Exercise.com software features, check out our in-depth guide below.
What is Playpass?
Founded in 2014, Playpass is an online sports league and sports registration software that manages scheduling, referrals, registration, waivers, and website building of sports events. Although it can be used for managing a sports team, Playpass focuses mostly on the organization of the registration process and scheduling of leagues, tournaments, camps, classes, and more.
One of Playpass's biggest assets is that it offers a free sports league website plan that includes almost all of its available features. For a lot of managers, the free plan sufficiently meets their needs. If not, Playpass offers other plans with additional features at a very reasonable price. Either way, it's tempting to adapt to Playpass to save money on management software. However, as we will see below, this would significantly hinder your business growth in the long run.
The biggest difference between Playpass and the Exercise.com software platform is its target audience. Playpass is for sports managers and league organizers to improve registration and scheduling of their events, while the Exercise.com software is designed to increase the efficiency and effectiveness of fitness centers through customization and versatility.
Using Playpass as your fitness business management software leaves your fitness business without the necessary management functions crucial to the success of your business, such as reports and facility management, marketing tools, workout software, and ecommerce.
But Exercise.com software helps grow your business by offering every feature to meet the unique needs of your fitness center. Keep reading to learn all the ways Exercise.com can grow your business.
Unless otherwise stated, all images and reviews below are of/about the Exercise.com All-In-One Fitness Business Management software platform.
Fitness Business Management Software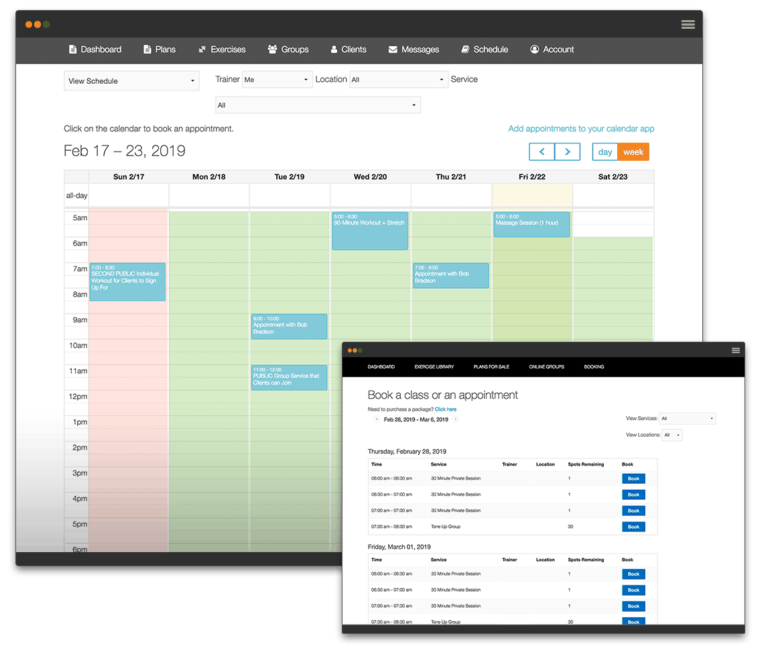 Business management software is vital to the successful running of your business. But not all software is created equal. While some generic software can be beneficial, software that is specific to fitness will enable you to provide better services to your customers. And even better than fitness-specific software is fitness software that is customized to meet the exact needs of your business.
Playpass software is neither geared towards fitness nor is it customizable. It's not designed to manage a fitness business, so you will be restricting your growth and creating greater hurdles to managing a business. The Exercise.com gym management software, however, is designed for fitness centers and provides every feature you need for your business to succeed.
Let's take a look at the restrictions of Playpass and the flexibility of Exercise.com.
Client/Class Scheduling
Playpass allows admins to add games, events, tournaments, and informative details into a master schedule that participants can view. Schedules, scores, and tournament results can be shared publically. Tournament playoffs can be elimination or double elimination. While these features might be beneficial for sports leagues, they are not helpful for a fitness center schedule.
Playpass's scheduler has a number of drawbacks for fitness businesses. Events are available for registration on your website but not in a calendar view; customers must scroll through a long list of classes to find the one they want. This is an inefficient system for a busy fitness center. For example, a customer looking for spinning classes must scroll through all other classes and manually compare times and days to see what's best for their schedule. This frustrating process can lead to fewer bookings and less revenue.
But perhaps the most problematic for fitness centers is that Playpass doesn't offer appointments for personal training sessions. Since customers expect to book appointments with a personal trainer, not offering this on the schedule is confusing and frustrating. This is a huge hurdle for your business. All in all, Playpass's scheduler does not meet the needs of fitness businesses.
Exercise.com knows all of the needs of a busy fitness center. Easily add any class, event, appointment, session, or other time blocks you'd like and they are clearly presented on a professional calendar layout that is easy for customers to view and find their favorite classes. Customers can also use our search filter to view the calendar by day, time, trainer, class, and more, to improve search results and bookings.
With the Exercise.com software platform, our hassle-free booking and payment system guides customers through the registration process, which results in more bookings. Staff can track participants and payments, and stats are easily tracked in our reporting feature. And finally, since our software is customized to your needs, you can add any other scheduling feature you'd like!
Gym/Facility Management
Playpass does not offer any business-related reports. The only report that Playpass offers is one that shows which participants have started, but have not completed, their registration application and a timeline of registration and payments. While this might be beneficial for acquiring registrations for a tournament, it is not a helpful report for fitness businesses.
There are countless other reports that are not only crucial to the maintenance of your business but also beneficial to its growth. Using Playpass as your business management software means you'll have to find another management software to track and analyze reports.
But the Exercise.com platform is comprehensive, so there's no need to find additional software. Our software allows you to easily track everything in your business, from memberships and revenue to workout challenges and subscriptions. Not only do we offer a host of standard, powerful reports, but we also provide customized reports so you can find exactly the information you want.
Business Dashboard Reports
Playpass doesn't have a dashboard for viewing or organizing business reports. Exercise.com's business dashboard features standard and customizable reports which enable you to keep your finger on the pulse of your business. Our dashboard is easily customizable, giving you free-range to how you want to analyze your business or filter information.
Client Automation
Playpass does not provide automatic email or text reminders to members of upcoming games, events, or classes. This is a huge drawback to Playpass. Most customers expect to be reminded of their appointments, classes, and events. Additionally, it's a missed opportunity to engage customers with your brand and build customer loyalty.
The Exercise.com dev team knows how targeted, customized, perfectly-timed notifications engage customers and grow your business. Some of our automated notifications include:
Send automatic emails for recurring appointments, classes, or customized messages
Automatically charge and receive payments
Deliver workouts and resources automatically
Customize and automate reminders, alerts, and notifications to be sent through your app, text, or email
Dedicated Zapier Support
Another huge drawback to Playpass is that it doesn't offer any integrations. Without integrations between management apps, you must work harder to incorporate Playpass into your management system by manually transferring data to and from Playpass.
Instead of making managment easier, Playpass actually reduces your business's efficiency.
The Exercise.com software platform is here to make your life easier. Our software comes embedded with dozens of popular integrations that automatically boost your business's efficiency. But we know every business is different, so we partner with Zapier, which provides over 2,000 apps that take your business to the next level. Best of all, Zapier guides you through every step of the process.
Dedicated Account Manager
Like many companies, Playpass offers customer and technical support through email and a chat room; but Exercise.com is committed to providing you with exceptional customer service.
Instead of having your requests and questions be one of many, we provide you with a dedicated account manager who personally knows your platform, preferences, and personalizations. Your account manager creates, manages, and updates your website, app, and platform as needed, saving you countless admin hours so you can stay focused on engaging your customers.
Customized Software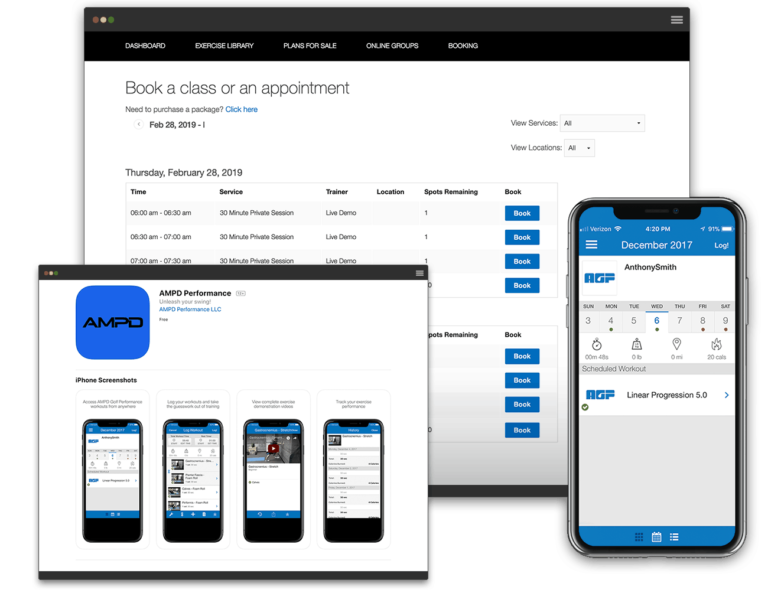 Providing a personalized fitness experience for your customers is key to customer satisfaction, loyalty, and retention. In order to provide personalized services, you must have software that is customized to your business so it supports the services your business provides.
Overall, Playpass is poor in providing customized software: besides a minimally-customized website creator, there are no other customizable features. This means your gym has to adapt to the restrictions of Playpass instead of the software fitting your specific needs.
The Exercise.com platform is completely customizable, which gives you extensive opportunities to promote your business, engage customers, and retain members. Let's look at some of these unique ways below.
Custom-Branded
Playpass allows you to update your website's favicon with a custom logo, but otherwise, there is no custom branding. Members must log in to Playpass's website to register or view your schedule, which means customers are more engaged in Playpass's brand than yours.
Exercise.com supports all aspects of your unique business by keeping your business front and center. Everything in our platform is customized specifically to your brand: your custom-branded app, website, ecommerce opportunities, workout software, and performance software. This keeps customers engaged with your brand for increased loyalty and retention.
iOS & Android Apps
Playpass does not offer an app. Instead, members must log in to your website to view the schedule or register for a class. This is not only inconvenient for customers who want the ease of an app, but there are many missed opportunities for a more complete fitness experience. Without an app, customers and clients don't have access to their workout or nutrition plans,  assessments, resources, and more.
With Exercise.com, you have a reliable, professional, branded app for personal trainers! Customers can easily view the schedule, book, and pay for a class, plus have access to all of their workout and nutrition plans, assessments, resources, notifications, and messaging with their trainer. Staff can perform any management tasks on the app, trainers can track their clients' progress, create new workout or nutrition plans, and privately message with clients.
Websites
Playpass has a website creator, but it only offers limited features. There is no customization of colors or templates beyond uploading a banner and custom logo. On a Playpass website, you can list past and current events, the team schedule, registration, waivers, and sportsmanship conduct. Your business's basic contact information is featured in a small sidebar box.
Exercise.com wants your fitness website design to be authentically yours, so we have no limit on customizations. Choose from unlimited themes, custom graphic work, colors, features, custom dev, integrations, and more. Our custom dev team creates custom-branded SEO-optimized fitness business websites that convert visitors to leads and engage your customers.
Additionally, Exercise.com is always available for tech support. Your dedicated account manager gladly takes care of every alteration or overhaul so that your business stays professional and profitable.
Security Features
Playpass is cloud-based software but otherwise doesn't make any specifications of security. Exercise.com takes the security of customer health and payment information very seriously. Every website and app created by Exercise.com is SSL Secure. We protect your clients' information with the internationally-secure Privacy Shield Framework, and we utilize Google Cloud for storing and transferring data. Payments are made and processed through Stripe.
Marketing Integrations
Playpass doesn't offer any marketing integrations. Instead, it has a referral program so your members essentially become your marketing team. After a manager creates the referral program (for example, $10 off a new membership and $10 given to the friend who recruited the new member), Playpass sends you a personalized link to pass on to your members. They share it with their friends in hopes of bringing in new recruits.
While a referral program might be somewhat successful, it shouldn't be your only marketing strategy. Even more problematic, Playpass charges a 2%-15% referral fee and a 1%-3% new member registration fee. Not only does Playpass not include marketing integrations, but you're losing more money on the only "marketing" option offered!
Not having marketing integrations is a significant hurdle for fitness businesses. All emails, notifications, social media updates, and advertisements must be done manually, which adds dozens of desk hours to your workweek or forces you to pay for other marketing software.
But Exercise.com's software integrates with an abundance of popular integrations such as:
MailChimp
ConstantContact
ConvertKit
Zapier
Google Analytics
Facebook Pixel
And more!
Through Zapier, we can integrate with just about every program, so you can be sure to find the right marketing integrations that help your business grow.
Learn more by clicking the button below.
Exercise.com is the best Playpass alternative.
Workout Software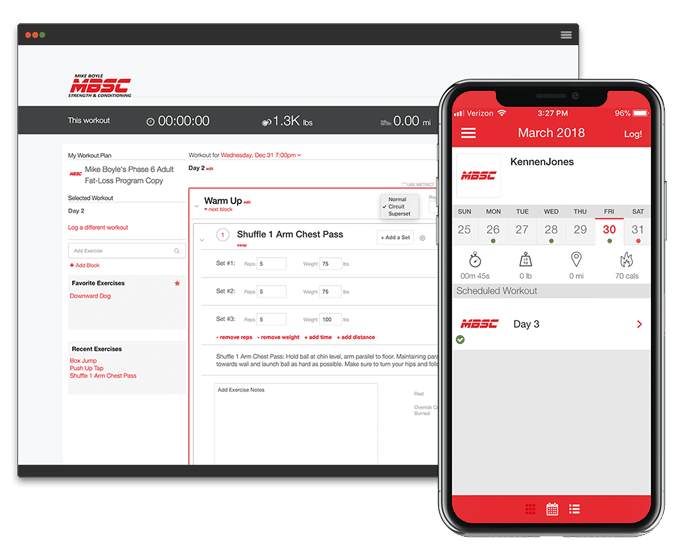 Workout software is a powerful way to engage customers with personalized fitness experiences. The Exercise.com workout software enables trainers to develop specific workout plans for their clients. These plans are delivered to the app so clients can perform and log their workouts from anywhere. We also include a messaging feature so clients can stay in communication with their trainers. This increases customer engagement and satisfaction, which results in customer retention and business growth.
Playpass, however, doesn't offer workout software because it is a sports management program. This means you'll have to pay for workout software in order to provide personalized services.
Since Playpass doesn't offer a workout feature, let's examine the features Exercise.com provides.
Workout Creator/Logger
The Exercise.com software includes a premium workout creator and logger that is easy for both trainers and clients to use. The accessibility and flexibility of our workout logger improve program adherence, customer engagement, motivation, and client results.
Trainers can assign clients a pre-designed workout or create personalized workouts using the workout plan creator. Workouts are automatically delivered to clients in your custom-branded app for clients to perform and log their workouts anytime, anywhere. Trainers follow their clients' progress and clients can communicate with trainers using our messaging feature. Our highly-personalized workout creator/logger improves customer satisfaction for better customer loyalty.
No two trainer-client relationships are the same. Exercise.com's workout creator/logger gives you the tools to effectively engage every client with endless possibilities for delivering workouts, tips, and encouragement to every client, including:
1-1 Training
The Exercise.com workout creator/logger helps trainers stay productive and clients stay accountable. Trainers can easily create and track workouts, and clients are able to perform their workouts at their desired location and time. Plus, our app keeps all resources, nutrition plans, and assessments in one convenient location. With everything in one place, clients have all they need to stay on track and motivated in their fitness journeys.
Group Training
Customers expect to see not only private personal training sessions on your schedule but group training, as well. With Exercise.com software, you don't have to learn more functions and features–simply apply the same resources trainers use for their 1-1 sessions to group training. With Exercise.com software, it couldn't be easier to create, schedule, and track group classes.
Online Training
Go beyond the walls on your gym and deliver customized online training workouts to any client. Trainers follow the same workout creation process as with their 1-1 training clients, but trainers communicate with clients completely through the app messaging feature instead of having regular in-person training sessions. It's an easy way to utilize the capabilities of our software to boost your revenue.
Exercise Library
Exercise.com offers an extensive library of educational and instructional exercise videos for trainers to build custom workouts in our workout creator to suit the specific needs of their clients.
This feature is not included with Playpass–it's exclusive to Exercise.com. Only with Exercise.com can your trainers have all of the tools they need to create effective workouts so their clients experience the greatest fitness results.
Custom Exercises
Not only do you have access to numerous videos through the exclusive Exercise.com library, but you can integrate your YouTube or Vimeo accounts for an exercise library customized to your brand. When trainers use your own videos in the workout creator, your clients become familiar with your trainers, which builds gym loyalty and adds that personal touch customers are looking for.
TV Workouts
Change up your presentation style by casting any video from your exercise library onto a TV screen during a group or 1-1 training session. This sets you apart from other fitness studios and adds another personalized touch.
Gym Ecommerce Software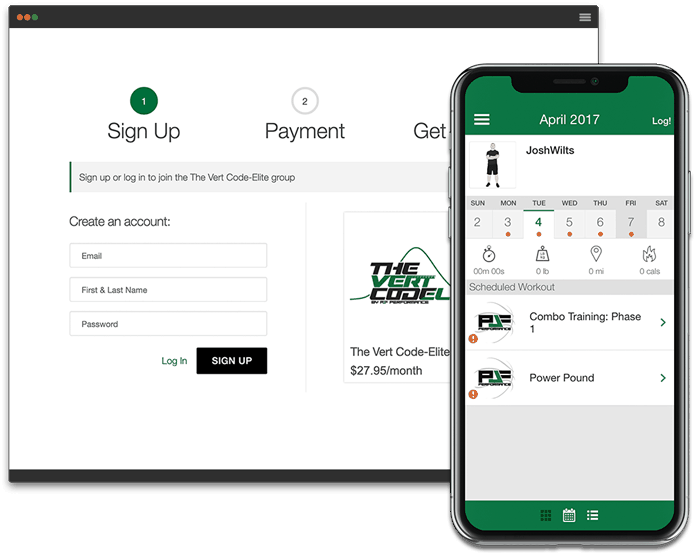 Playpass doesn't offer any ecommerce opportunities aside from online payment processing. Exercise.com offers a host of unique ecommerce opportunities that engage your customers and boost revenue. Check out just a few popular ways Exercise.com grows your business through gym ecommerce software:
Payment Processing
Both Playpass and Exercise.com use the ease and security of Stripe to process payments. However, as mentioned earlier, Playpass charges additional fees for registration and referral programs. Exercise.com doesn't have any hidden fees, which is more money in your pocket.
Sell Products
An ecommerce store is a fun way to bring in significant additional revenue. You can sell just about any product, such as custom-branded apparel or water bottles, supplements, energy bars, and more. Customers love the convenience of pre- and post-workout nutrition and are regularly engaged with your brand by using custom-branded products.
Sell Workout Plans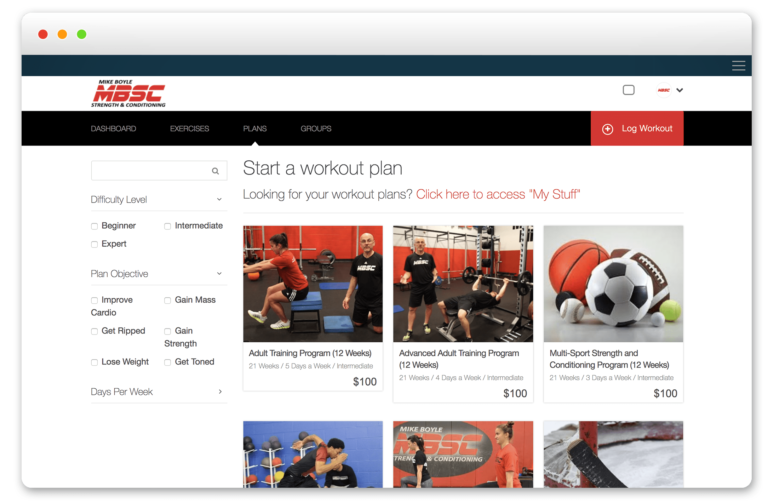 Bolster your brand and avoid losing customers to trending workout videos by selling your own pre-built workout plans. Since you know your clientele best, offering a variety of plan lengths, difficulties, fitness focuses, or other specifications will meet their needs and keep customers engaged with your brand. Best yet, Exercise.com allows you to sell unlimited plans, so there's no cap on your potential profit.
Offer Online Workout Memberships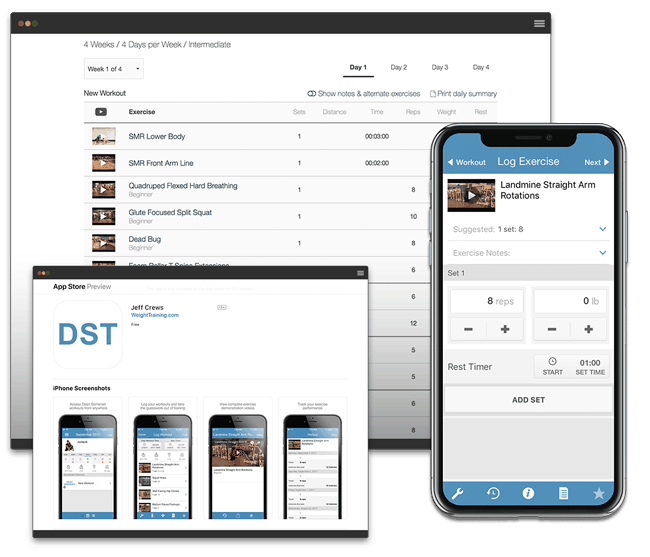 In today's busy society, more and more customers are demanding customized online workouts. While you can charge a premium price for this service, the cost is often offset by the time invested in creating and delivering personalized workouts.
But with powerful and versatile software like Exercise.com, we maximize your profit from online workout memberships. Trainers create customized workout plans in one sitting and schedule the workouts to be delivered at automatic intervals. As clients complete the program, trainers can track client progress. This allows trainers to take on more clients at a premium price and keep clients happy with a personalized workout experience.
Sell Workout Challenges
Change things up in your gym and try one or more of Exercise.com's workout challenges. These encourage a competitive spirit, accountability, and gym member bonding around the common goal of better fitness.
Exercise.com's workout challenges effortlessly boost your revenue without increasing your workload. Simply input your custom information into the challenge and it runs automatically.
Fitness Assessment Software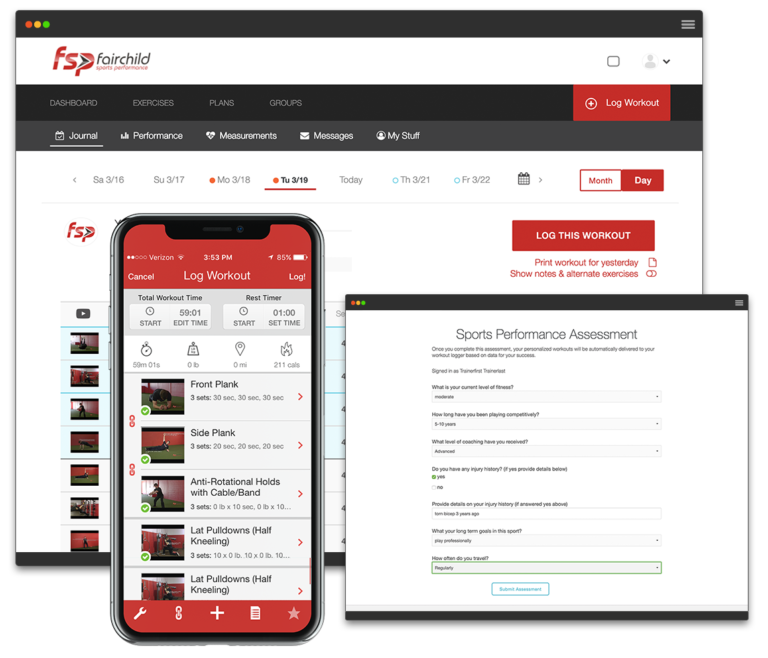 The metrics derived from assessments are fundamental to safe and effective personal training. Every fitness center must offer performance assessments for personal training sessions, but you can impress your clients with how data is gathered, inputted, shared.
Playpass doesn't offer any assessments because it is a sports management software and this feature would be useless to its intended audience. So, while this isn't a knock against Playpass, not having integrated performance assessments will hurt your fitness business.
But the comprehensive Exercise.com platform includes fitness assessment software. Let's examine this feature below.
Assessments
The Exercise.com software includes a full range of assessments, both standard clinical assessments or customizable assessments. With customized assessments, you can tailor data to the client's specific needs, which not only adds a personalized touch to a client's program, but it will also yield tailored results so clients can make the most progress.
Our assessments are in a simple, hassle-free layout so trainers spend less time inputting data and more time with their clients. After the assessment is completed, trainers can automatically deliver them to the client's app for easy access and progress tracking.
Performance & Measurement Reports
Exercise.com also offers personalized interactions to further enhance a customer's personalized fitness experience. These keep your customers engaged and motivated on their fitness journey by automatically delivering:
Workout reminders
Goal achievements
Recurring assessments
Progress photos
Measurements
and more!
Nutrition
No fitness software would be complete without addressing nutrition. With Exercise.com, your clients get a user-friendly nutrition tracker to log and track their daily dietary intake. This accountability keeps clients focused on meeting their short and long-term fitness goals.
Playpass Pricing
Playpass offers four packages:
| Free - $0/month | Lite - $10/month | Standard - $30/month | Pro - $90/month |
| --- | --- | --- | --- |
| Create unlimited private schedules for 24 teams | Public schedules + online scoring and standings for 100 teams | Schedules with up to 1,000 teams and up to 10,000 games | Best for organizations with over $60,000/year in online registrations |
| Accept registrations, payments, and referrals | Download and print your schedules | Unlimited staff members to help manage it all | Priority support and setup coach |
| 3% registration fee and 15% referral fee | 2.5% registration fee and 12.5% referral fee | 1% registration fee and 5% referral fee | 0% registration fee |
| 5 signed waivers /month | 50 signed waivers /mo | 500 signed waivers /mo | 2% referral fee |
| Unlimited uploads, pages and discount coupons | Schedule advanced date editing, and add playoffs to leagues | Registration messages | Unlimited signed waivers |
| Custom registration questions | Add photos and team logos to schedules | | |
| Favicon logo | | | |
| Custom homepage link | | | |
| Reviews and ratings | | | |
| Post-registration link | | | |
[Information from the Playpass website]
Although Playpass is reasonably priced, it's clear to see that Playpass doesn't offer the features a fitness business needs. The focus of Playpass is to provide hassle-free scheduling for sports games and leagues; this is not something your fitness center needs, and Playpass's limitations will hinder your business growth.
Playpass Alternatives
Playpass's competitors are listed below:
Wooter Sports Platform
Upper Hand
Jersey Watch
And of course, Exercise.com.
The Bottom Line: Pros and Cons
Choosing the right business software is a lofty decision. Which software you choose can significantly alter the trajectory of your business's success. Let's take a final look at Playpass and Exercise.com.
Playpass Cons
Playpass is designed for sports team and league management. While it may meet the needs of sports managers and league directors, it simply doesn't have the capabilities to successfully manage a fitness business. Consider the necessary fitness-specific features that Playpass does not offer:
Class or appointment scheduling
Class or appointment booking
Business-related reports
Automated client communication such as email, text, and notifications
Management or marketing integrations
Neither a Playpass or custom-branded app
Workout software
Performance assessments
A variety of ecommerce opportunities
These and other inadequacies box in your growth and ineffectively manage your business. Instead of easing your managerial burden, Playpass adds time-consuming tasks to your to-do list. Playpass should not be considered to manage a fitness business.
Exercise.com Pros
Exercise.com is customized to fit the specific needs of your fitness businesses, so it eases your managerial load through:
Unlimited integrations that automatically perform mundane tasks
Providing a dedicated account manager who makes every alteration to your website, app, and platform
A clear and user-friendly scheduling and booking feature so customers can easily book classes and appointments
Targeted reports give invaluable business insights that support growth
Workout software and performance assessments that set up your trainers and clients for success
Endless ecommerce possibilities that boost your profit
And more!
Exercise.com makes your business platform decision easy! We're here to help your business grow. Are you ready to get started? Book a demo today!