Exercise.com: Your Thryv Alternative
| Features | | Thryv |
| --- | --- | --- |
| Nutrition | | |
| Dedicated Account Manager | | |
| Dedicated Zapier Support | | |
| Client Automation | | |
| Performance & Measurement Reports | | |
| TV Workouts | | |
| Offer Online Workout Memberships | | |
| Run Workout Challenges | | |
| Sell Workout Plans | | |
| Group Training | | |
| 1-1 Training | | |
| Custom Exercises | | |
| Websites | | |
| Marketing Integrations | | |
| Custom Branded | | |
| iOS & Android Apps | | |
| Online Training | | |
| Sell Products | | |
| Payment Processing | | |
| Gym / Facility Management | | |
| Exercise Library | | |
| Assessments | | |
| Client / Class Scheduling | | |
| Workout Creator / Logger | | |
| Business Dashboard Reports | | |
Why Choose Exercise.com?
Here are five reasons why fitness professionals use Exercise.com vs. Thryv.
Fitness Business Management Software to Run Your Business
Unlike Thryv, Exercise.com software is designed to have all components needed to run a fitness business in one place – making it easy and efficient to organize and grow your fitness business with client and class scheduling, check-ins, and billing — all from your custom-branded apps.
Fitness Business Management Software to Run Your Business
Unlike Thryv, Exercise.com software is designed to have all components needed to run a fitness business in one place – making it easy and efficient to organize and grow your fitness business with client and class scheduling, check-ins, and billing — all from your custom-branded apps.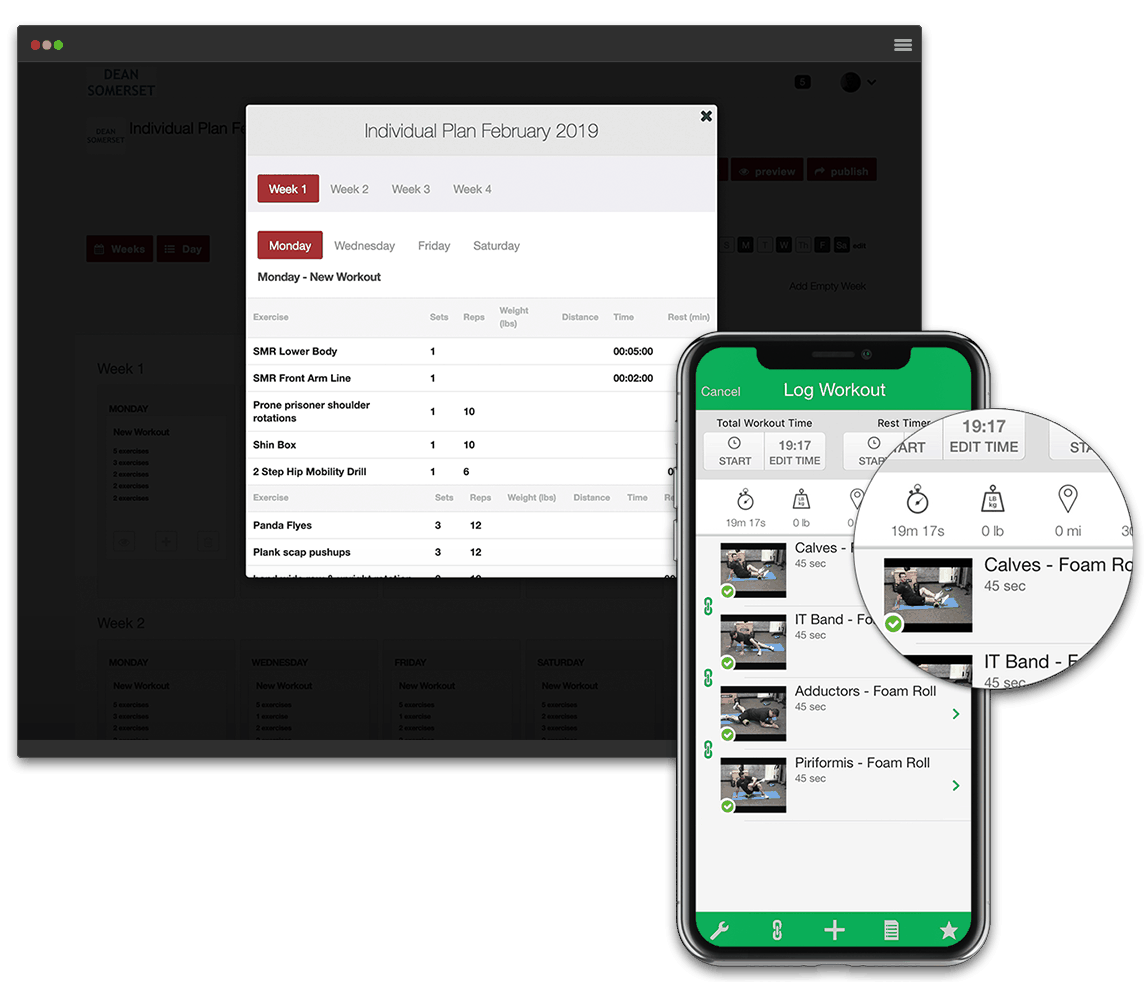 Workout Software to Power Your Training
Thryv does not offer workout software – an essential component for running a fitness business. The Exercise.com workout plan creator and exercise manager provide flexible solutions to save you time creating workouts with built-in integrations, tools, and more.
Ecommerce Software to Increase Revenue
Fitness professionals cannot use the limited ecommerce features of Thryv to sell training packages, workout challenges, or group training plans. Exercise.com, however, has full ecommerce capabilities allowing trainers to sell single workout plans, offer automated workout memberships, run workout challenges, and deliver individual training.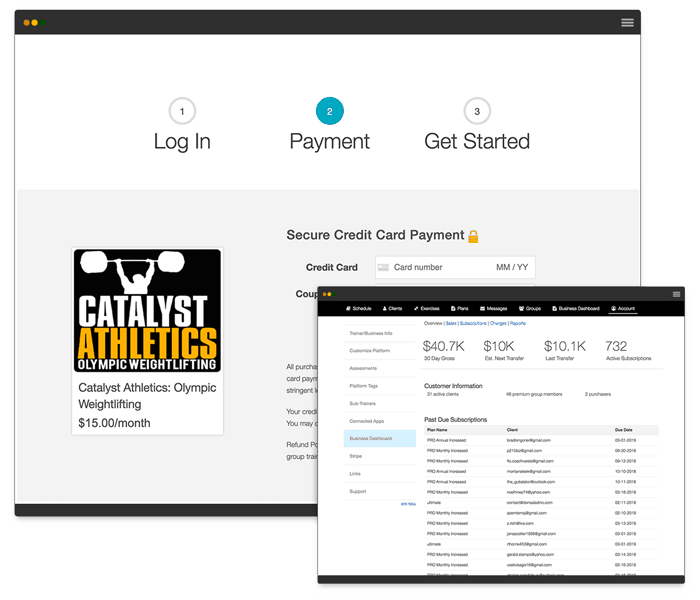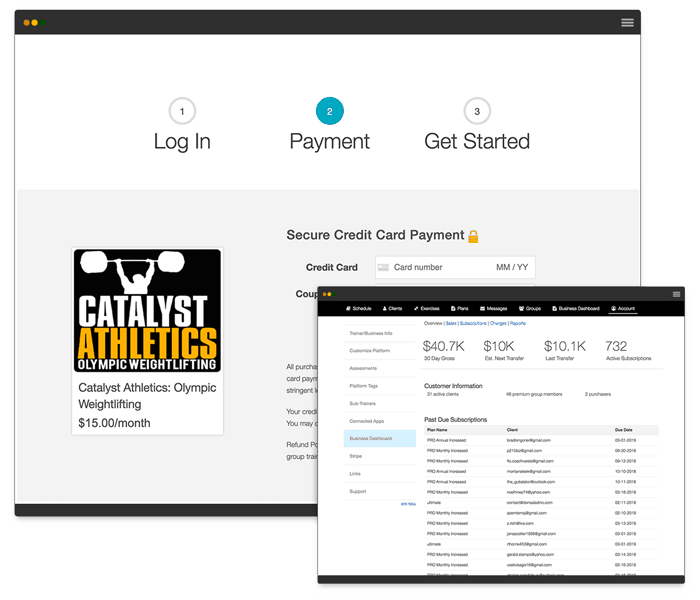 Ecommerce Software to Increase Revenue
Fitness professionals cannot use the limited ecommerce features of Thryv to sell training packages, workout challenges, or group training plans. Exercise.com, however, has full ecommerce capabilities allowing trainers to sell single workout plans, offer automated workout memberships, run workout challenges, and deliver individual training.
Assessment Software to Improve Client Engagement and Retention
Thryv lacks assessment software, but that's not the case with Exercise.com. Take your clients through personalized assessments to deliver custom workouts for their individual needs – providing massive growth potential and saved time.
Stand Out With Your Own Custom-branded Apps
Thryv does not offer any commercial apps for fitness professionals. Exercise.com, however, offers apps that are fully customized to make your life easier by providing your clients with a unified scheduling and workout experience with your brand displayed front-and-center.
Stand Out With Your Own Custom-branded Apps
Thryv does not offer any commercial apps for fitness professionals. Exercise.com, however, offers apps that are fully customized to make your life easier by providing your clients with a unified scheduling and workout experience with your brand displayed front-and-center.
If you're ready to get started with an easy-to-navigate, all-in-one fitness software, designed to fuel your business, request a demo with Exercise.com today.
And, if you want to see how Thryv's additional features stack up to Exercise.com software features, check out our in-depth guide below.
What is Thryv?
Thryv is a software and marketing company whose focus is on the success of small businesses. Through the use of technology, software, and marketing they aim to provide small business owners with all the tools they need to grow and be successful. Thryv careers receive a 3.2 out of 5 stars on Glassdoor from hundreds of Thryv employee reviews.
The company caters to over 20 different industries with health and wellness making up only one of the categories. Having software that is usable by such a wide variety of industries is beneficial for Thryv, but it can be a hindrance to your business. It means that the software is not specifically built for your industry, which some users feel is a problem.
"There is so much that the software can do that it is almost overwhelming. And there are some features that we just won't ever use." (Capterra)
Even in its feature descriptions of the health and wellness category, Thryv is not overly specific to exercise. The website discusses how that portion of the software can be used for medical purposes as well, meaning that even within a single industry, there are multiple focuses.
The software does provide scheduling, client management, and communication features but they are available for broad use across multiple industries rather than focusing on fitness businesses.
Unless otherwise stated, all images and reviews below are of/about the Exercise.com All-In-One Fitness Business Management software platform.
Fitness Business Management Software
As we have touched on a number of times, Thryv is not specifically a fitness management software. They focus on small businesses in all different types of fields. If you are reading this comparison, you are probably a fitness business owner trying to find the best way to manage your business. Since Exercise.com is built for fitness, we are your solution.
Our gym management software is truly all-in-one, meaning you can do everything you need to from one place instead of using third-party platforms to perform certain functions. If you are used to a certain application to manage a specific part of your business, we can make sure it is integrated with our software so you can continue to do everything within our software.
Your employees will have no trouble learning how to use Exercise.com software, which ultimately saves your business time and money in training. Let's take a more in-depth look at some of our features:
Client/Class Scheduling
Thryv offers a client scheduling feature in its software but it is not specific to the health and wellness field. Essentially, you can simply match a name to a timeslot without having much additional information available in the booking. The company does not appear to offer an area for class schedules.
Exercise.com has everything your gym needs to schedule clients and view their information all in one place. You can see their trainer, workout program, billing information, and progress all from one area. We also provide class schedules, for multiple studios, that can be sorted by instructors, class types, date, time, day of the week, or any other category you choose.
Gym/Facility Management
An important part of gym management is making the tough decisions needed for growth. These decisions can only be made if you are provided with the right information, which is why the reporting features from Exercise.com are so helpful. You can run reports on revenue, class attendance, membership growth by month, yearly personal training sales, or whatever other customized reports you find useful.
Exercise.com also allows you to manage your staff within our software by creating schedules and tracking payroll. We will work with you to provide the features you feel are most beneficial in managing your fitness business.
Business Dashboard Reports
Thryv doesn't have a dashboard for conveniently displaying your business data and reports. This means you must pull up separate reports to view your business data.
Exercise.com's business dashboard features standard and customizable reports which enable you to keep your finger on the pulse of your business. Our dashboard is easily customizable, giving you free-range to how you want to analyze your business or filter information.
Client Automation
Both Thryv and Exercise.com offer automation to help with client communication, however, Thryv delivers more basic messages like "happy birthday" or "we miss you." Exercise.com offers a much more broad range of automated features that can be customized as you see fit. Some of our more popular examples are:
Automatic Emails and Texts
Automate Workout Delivery
Automate Resource Delivery
Automate Assessment Delivery
Automate Reminders/Alerts via app, text, and email
Dedicated Zapier Support
Exercise.com already offers an ample number of integrations within our software, but we realize that you may have existing tools that you feel help make you successful. If these platforms are not already integrated within our software, our partnership with Zapier ensures that you can continue using everything you are used to.
Zapier has over 2,000 apps to choose from so that you can be certain that the function of your business will remain smooth. Our partnership with Zapier allows you to integrate your web apps so they can share data, automate information passing between your apps, and innovate faster processes that help you get more done.
Dedicated Account Manager
At Exercise.com, we place a high priority on customer service. For this reason, we provide all of our clients with a dedicated account manager to help them through every step of the process for as long as they are with us. Many companies will set their customers up with someone to help get them started, but we want someone to be there with you for the entirety of your relationship with Exercise.com
If your website needs to be redesigned, your account manager can get it done. Maybe your business has grown in a way that dictates you setting up an e-commerce store. Your manager won't hesitate to help you navigate the process. Alongside our world-class development team, your account manager is there to help you succeed whether the task is simple or complex.
Customized Software
As a business owner, especially in the fitness industry, you need your business to stand out among your competitors. This is accomplished through customization which means making your software look and function in a way that is unique to your business. Exercise.com software is completely customized to fit your needs to that it contains the exact features you need for your business to stand out.
Thryv does not offer these customized features for its clients.
Custom-Branded
Your brand is a visual representation of everything you want potential customers to know about your business. This includes a logo, colors, and photos that send a message to your target market. Exercise.com helps you send this message by customizing your software to include your brand.
iOS & Android Apps
Both Thryv and Exercise.com provide iOS and Android apps for their customers, but unlike the Thryv app, Exercise.com's branded app for personal trainers gives you full customization. This means that your brand will be the focal point of your apps so that your members connect to your business every time they use the app. They are not just using an exercise app, they are using your business's app.
Websites
Much like apps, both companies provide their customers with a website, but only Exercise.com offers fully-customized fitness business website designs. A website is a place that your current and potential members will go for information, so you want to make sure your business stands out from the start. Your website will feature your logo and color schedule, as well as provide pictures or other elements you feel will help tell the story of your business from a visual perspective.
Here are a few of our key features:
Responsive
SEO optimized
Unlimited theme changes
Built to convert visitors to leads
Custom graphic work
Google Certified Partner
Security Features
Thryv is HIPAA compliant for an added monthly fee.
Exercise.com realizes how important it is for your customers to trust you with their information. Our goal is to provide you with the same level of comfort that you want to give to your members. Some of our security features include:
SSL Secure
Privacy Shield Framework
Google Cloud
Marketing Integrations
Your ultimate business goal is to grow, and marketing is an important part of that. Exericse.com provides you with a large number of built-in marketing integration so you can reach a more broad audience. For those tools that do not organically integrate, however, we do still have our partnership with Zapier to keep everything manageable from one place.
Some of our more popular integrations include:
MailChimp
ConstantContact
ConvertKit
Zapier
Google Analytics
Facebook Pixel
Learn more by clicking the button below.
Exercise.com is the best Thryv alternative.
Workout Software
When it comes to workout software, there is no comparison between Thryv and Exercise.com. Only Exercise.com features this capability. This also means that Exercise.com gives your fitness business a higher potential for growth because our workout software can be utilized to help you offer more products and services or add value to existing ones.
Since Thryv does not include a workout platform in its software, the following related sections will focus on the Exercise.com software platform's features.
Workout Creator/Logger
Many gyms can be successful by simply opening their doors and letting members or personal training clients complete a workout. To drive growth, however, you want to do something to set yourself apart from your competitors and show extra value to your members.
The Exercise.com workout creator/logger helps your members and clients have a more interactive fitness experience at your facility. Instead of completing a workout or training session and then just leaving, your clients have the option to track their workouts within our software. This helps them to see progress, over time, which helps keep them more motivated to reach their goals.
The workout creator gives your business the opportunity to connect better with your clients, in different areas of training, and also opens up the possibility for selling workout-related products as part of your ecommerce platform. We will discuss that further, shortly.
Our workout creator/logger provides users with endless possibilities for delivering workouts, tips, and encouragement to clients in any scenario, including:
1-1 Training
Personal training, in a one-on-one format, is common to most gyms. This is likely a key area of revenue for your business, so you want to figure out how to capitalize on it and bring in new clients. One way you can accomplish this is by using Exercise.com workout software to add to your client's experience.
Instead of completing their workout and then forgetting about it until next time, your clients can have an interactive experience by viewing their workout before they start and after they've completed. They can also log results themselves, or have their trainer do it, so they can compare results in future workouts.
Group Training
Group training is another popular feature of many facilities because it normally cuts down on the cost to your clients, provides them with extra motivation, and potentially increases your revenue by training more people in the same time frame.
Exercise.com software can easily accommodate groups of various sizes. They can all still view and track their workouts, whether they are with a trainer or just following a workout plan together.
Online Training
As our world moves to an increasingly digital platform, the fitness industry is following suit. Online training is gaining popularity and your gym should have the option to provide this service. The Exercise.com workout creator and logger is a perfect fit for facilities that want to offer online training.
It is easy to communicate with your clients by using our platform and you can automate the delivery of the workouts you create so that you are saving time. These features allow you to work with a higher number of clients, because of the time you save, which will lead to an increase in revenue. Best of all, our exercise library makes it super easy to create workouts.
Exercise Library
Having a pre-built exercise library can be a huge bonus for fitness businesses that choose to create workouts within the software they use. It certainly saves time by allowing a drag and drop method of workout creation from a list of exercises that are ready to be used.
While having a pre-built library certainly has its benefits, and should be available as an option, Exercise.com wants to give you more flexibility, which is why we provide a way to upload custom exercises.
Custom Exercises
When your clients see video demonstrations that feature a staff member they are familiar with, it makes it easier to feel the connection to your facility. This connection is important because it places a higher value on the product you are putting out there. It shows your clients why they should pick your workout as opposed to one they could find off of YouTube or another on-demand platform.
TV Workouts
Your clients already will have the ability to watch video demonstrations of exercises in the workouts you've created for them, but you can take it further and add extra value in other areas. Exercise.com software allows you to cast videos onto a TV screen so that your clients and class participants can continuously see proper form while they are performing a given exercise.
Gym Ecommerce Software
Exercise.com and Thryv are both set up to be able to accept payment, however, Thryv is not necessarily set up for ecommerce. What we mean is that there are no online stores from which clients can select a product or service and then make a payment. Instead, businesses using Thryv send invoices or accept payments for services manually.
Exercise.com wants to make your life easier than that. With our gym ecommerce software, you can set up an ecommerce platform so that your customers can select and pay for items themselves. As an added bonus, you can use our software to sell workout-based products and services as well.
Payment Processing
Thryv partners with Paypal, Square, and Stripe in order to accept credit card payments. Again, however, these payments come from manual invoices that are created by your staff rather than from your customers purchasing from an ecommerce platform.
Exercise.com also uses Stripe for safe and secure payment acceptance from the products and services sold via your ecommerce platform. You can accept payments from members for a single product, their personal training sessions, group fitness fees, or their entire accrued monthly bill.
Sell Products
While Thryv does not provide you the opportunity to sell products in an ecommerce format, Exercise.com wants to give you every opportunity for additional revenue. Selling products can bring in more income and can also help promote your business. You can put your brand on shirts, hats, water bottles, or even sweat towels and make everything available for purchase within your store.
Sell Workout Plans
In most gyms, there is a large number of people who are not necessarily interested in working with a personal trainer but would like some guidance in the form of a workout. These people usually have a goal in mind, whether it is to build upper body strength or run a faster mile, and you can use Exercise.com software to develop pre-made workouts that are available for purchase.
By creating workout plans that can be sold many times over, you are investing a relatively small amount of time for a much larger return.
Offer Online Workout Memberships
There are also people who frequently want to change their workout routine but do not want to have to select their own plan for your list of pre-built products every time. For customers like this, you can use Exercise.com software to create online workout memberships.
The workouts you create would be delivered to membership customers on a recurring basis at the frequency of your choice. Since the workouts are pre-made and delivery is automated, your trainers will only have to invest initial time. After that, your revenue stream will continue to grow without you needing to add more time to the project.
Sell Workout Challenges
People tend to get excited about the chance to overcome an obstacle, whether it is individually or as a team. As a business owner, you can capitalize on this by selling workout challenges to your members. For example, you could issue a challenge to run 50 miles in a month. Members would pay a small fee to join, log their progress in your software, and you could reward a lucky winner with a prize such as another service at your facility.
Not only are you making money via the sign-ups, but you are getting people excited about your facility and exposing the winners to other services you offer. The more excited you can get people about what you offer, the more they will talk to their friends who may end up becoming members as well.
Fitness Assessment Software
Keeping a member or client is easier than recruiting a new one and the best way to accomplish this is by showing them the value of what you are offering. Many times, you can display the value of your gym by showing your clients exactly how you can help them reach their goals. This can be done using Exercise.com fitness assessment software.
You start by establishing a baseline of data, that is applicable to the member's goal, and then re-testing in the future and comparing the results to the baseline. As you do this, your clients will see what they are accomplishing with their membership and are likely to be open to hearing about other services you offer.
Assessments
When you give an assessment to a member, client, or potential client, the tests should be applicable to his or her goals. For instance, there would be no reason to issue a one-rep max bench press test for a runner who wants to decrease his or her mile time. That is one of the great things about Exercise.com; you can customize your assessments so that they are unique to any client with any type of goal.
Performance & Measurement Reports
Once you have given an initial assessment and recorded the relevant data, you can show your clients how they have progressed by re-assessing them, after a given period of time, and comparing their results. With Exercise.com, you can automate the delivery of these results, progress photos, and even reminders for setting up the next assessment.
Nutrition
Even though we are a fitness software management company, Exercise.com realizes that proper nutrition is a large part of accomplishing any fitness-related goal. That is why we have created a nutrition tracker in our software. We want your clients to be able to log their food and your trainers to be able to give feedback if it is within their scope of practice.
Thryv Software Pricing
How much does Thryv cost? On its website, Thryv does not provide any information in regards to its pricing. It also does not make any suggestion as to whether or not pricing changes based on the industry you want your software to work within. To cancel your Thryv membership, you'll have to contact the company directly.
Thryv Alternatives
Below is a list of four of Thryv's top competitors and the pricing levels associated with each. We realize that, because Thyrv does not make pricing available, it is difficult to compare it against its competitors. Regardless, we felt it was important to give the information. Please note that prices for Thryv competitors are accurate at the time this comparison was written.
| Competitor | Minimum Starting Price | Maximum Price |
| --- | --- | --- |
| Infusionsoft | $79.00/mon | $199.00/mon |
| Bitrix24 | $19.00/mon | $151.24/mon |
| vCita | $19.00/mon | $75.00/mon |
| SutiCRM | $5.95/mon | N/A |
The Bottom Line: Pros and Cons
We hope that we have shown you why Exercise.com is the right choice for your business. We focus on being the right fit for your business in your industry, rather than trying to fit with your business in one of many industries.
We have covered a lot of information in our review, and we want you to be sure of your decision. Let's look back at some of the key takeaways from our comparison.
Thryv Cons
Thryv seems to have a difficult time adapting to the specific needs of individual businesses. This is partly because they try to dabble in so many different industries and partly because their software is not customizable. One user says:
"It's a 'one size fits all program.' If you want something that is specifically for your type of business, you need to jerryrig the program yourself and to do that, you need an IT person." (Capterra)
When you are trying to make a type of software fit into your business, rather than working with one that is the right fit, you are limiting your potential for grown. As a fitness business owner, your industry has a lot of competitors in a lot of different realms. There are other areas that require your attention more than your software.
Your potential to grow with Thryv is also limited by their lack of workout software. This can, again, be traced back to the fact that their software is not specifically for the fitness industry. Lack of workout software means you are limiting the interactions you can have with your members and you are limited in the products and services you can offer.
The software you choose to run your business should empower it to grow rather than limiting its potential.
Exercise.com Pros
Exercise.com is built specifically for the fitness industry and, because of this, we can design specific functions that will make your business successful. Our workout software allows you to add value to your client's workouts by giving them the opportunity to log their workout and track their progress. The workout software also gives your business growth potential by providing a means to sell pre-built workouts, workout memberships, and workout challenges to increase your revenue.
Our performance health software is also helpful in showing your clients how they are progressing and it is a useful tool in introducing other services to your clients. They can see the results of their assessments by using the iOS or Android apps that come with your software, and you can automatically remind them about upcoming assessments or automatically share progress information.
Exercise.com is customized to whatever you need so that we are the perfect fit for you. Tell us what your business needs, and we will tailor our product to set you up for success. Your dedicated account manager will work alongside our highly-skilled development team to bring your vision to life.
At Exercise.com, we believe that the combination of our overall product, our customization, and our exceptional customer service make us an ideal choice for your business.
What factors do you feel are most important to the success of your business.
If you want to work with a fitness software management company that makes you a priority, request a demo today!