Exercise.com: Your WebPT Alternative
| Features | | WebPT |
| --- | --- | --- |
| Websites | | |
| Marketing Automation | | |
| Custom Branded | | |
| iOS & Android Apps | | |
| Online Training | | |
| Sell Products | | |
| Payment Processing | | |
| Gym / Facility Management | | |
| Exercise Library | | |
| Assessments | | |
| Client / Class Scheduling | | |
| Workout Creator / Logger | | |
| Business Dashboard Reports | | |
| Custom Exercises | | |
| 1-1 Training | | |
| Group Training | | |
| Sell Workout Plans | | |
| Run Workout Challenges | | |
| Offer Online Workout Memberships | | |
| TV Workouts | | |
| Performance & Measurement Reports | | |
| Client Automation | | |
| Dedicated Zapier Support | | |
| Dedicated Account Manager | | |
| Nutrition | | |
Why Choose Exercise.com?
Here are five reasons why health and fitness professionals use Exercise.com vs. WebPT.
Fitness Business Management Software to Run Your Business
Unlike WebPT, Exercise.com software is designed to have all components needed to run a fitness business in one place – making it easy and efficient to organize and grow your fitness business with client and class scheduling, check-ins, and billing — all from your custom-branded apps.
Fitness Business Management Software to Run Your Business
Unlike WebPT, Exercise.com software is designed to have all components needed to run a fitness business in one place – making it easy and efficient to organize and grow your fitness business with client and class scheduling, check-ins, and billing — all from your custom-branded apps.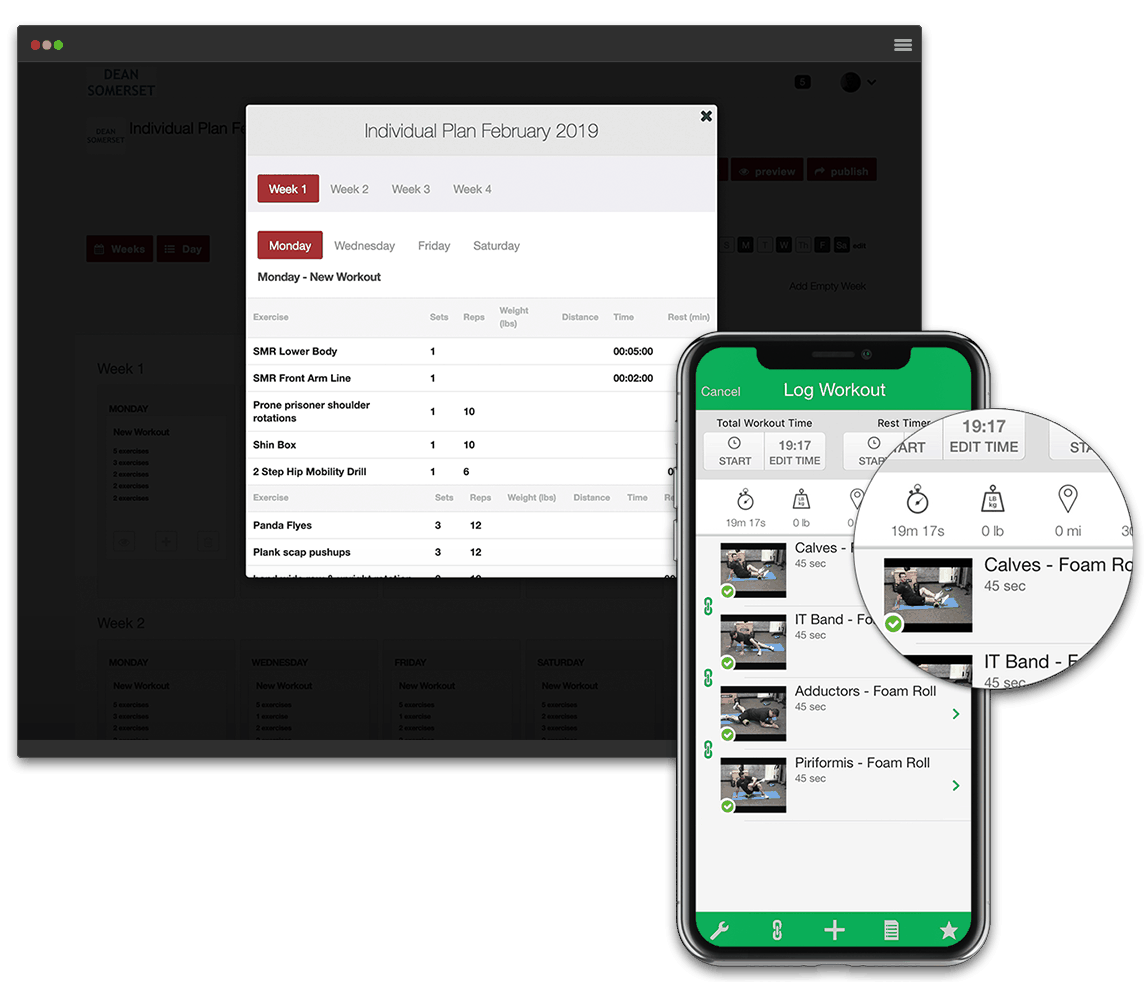 Workout Software to Power Your Training
WebPT has limited workout software that doesn't allow for clients to participate in any workout challenges you create. The Exercise.com workout plan creator and exercise manager provide flexible solutions to save you time creating workouts with built-in integrations, tools, and more.
Ecommerce Software to Increase Revenue
Fitness professionals cannot use the limited ecommerce features of WebPT to sell training packages, merchandise, or online workout memberships. Exercise.com, however, has full ecommerce capabilities allowing trainers to sell single workout plans, offer automated workout memberships, run workout challenges, and deliver individual training.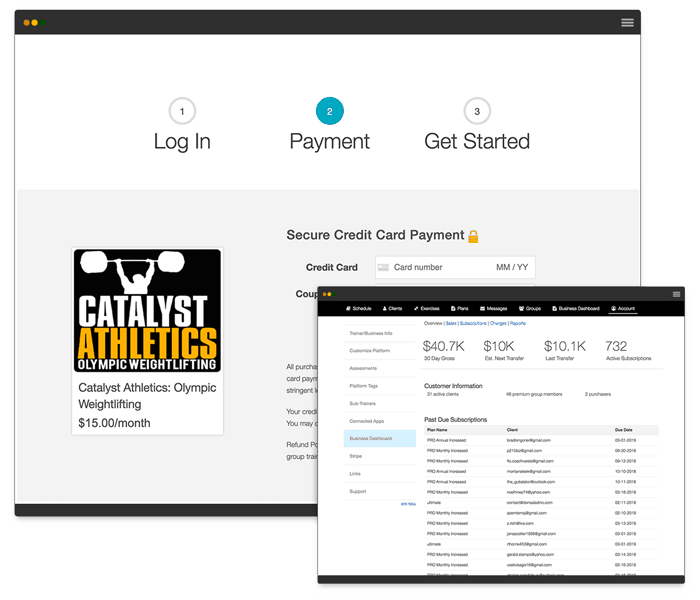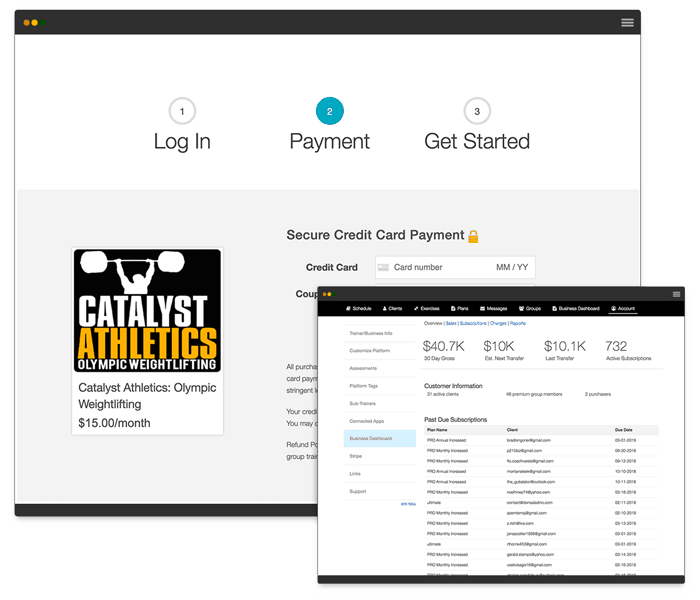 Ecommerce Software to Increase Revenue
Fitness professionals cannot use the limited ecommerce features of WebPT to sell training packages, merchandise, or online workout memberships. Exercise.com, however, has full ecommerce capabilities allowing trainers to sell single workout plans, offer automated workout memberships, run workout challenges, and deliver individual training.
Assessment Software to Improve Client Engagement and Retention
WebPT's assessment software is primarily geared toward injury prevention and pain management. Exercise.com software is much more versatile than that. Take your clients through personalized assessments to deliver custom workouts for their individual needs – providing massive growth potential and saved time.
Stand Out With Your Own Custom-branded Apps
WebPT's apps provide no options for custom websites or to design custom exercises. Exercise.com, however, offers apps that are fully customized to make your life easier by providing your clients with a unified scheduling and workout experience with your brand displayed front-and-center.
Stand Out With Your Own Custom-branded Apps
WebPT's apps provide no options for custom websites or to design custom exercises. Exercise.com, however, offers apps that are fully customized to make your life easier by providing your clients with a unified scheduling and workout experience with your brand displayed front-and-center.
If you're ready to get started with an easy-to-navigate, all-in-one health and fitness software, designed to fuel your business, request a demo with Exercise.com today.
And, if you want to see how WebPT's additional features stack up to Exercise.com software features, check out our in-depth guide below.
What is WebPT?
Founded in 2008, WebPT is a cloud-based Electronic Medical Records (EMR) software for outpatient occupational, physical, and speech therapy clinics. WebPT has consistently ranked the #1 therapy software on the market, and that's because it offers almost every feature a therapy clinic needs, such as scheduling, billing, documentation, outcomes tracking, business reporting, patient engagement tools, and medical integrations.
Additionally, patients can access their Home Exercise Program (HEP) on their mobile device, which increases HEP adherence for improved therapy outcomes. WebPT careers get good reviews online and the company also offers WebPT University where people can learn how to use the software, like WebPT documentation. There is also WebPT support in case you find that WebPT is down and WebPT local that connects local clients to your clinic.
Let's get started on our in-depth comparison review.
To learn how to use WebPT, refer to our article, "How do I use WebPT?"
Unless otherwise stated, all images and reviews below are of/about the Exercise.com All-In-One Fitness Business Management software platform. 
Fitness Business Management Software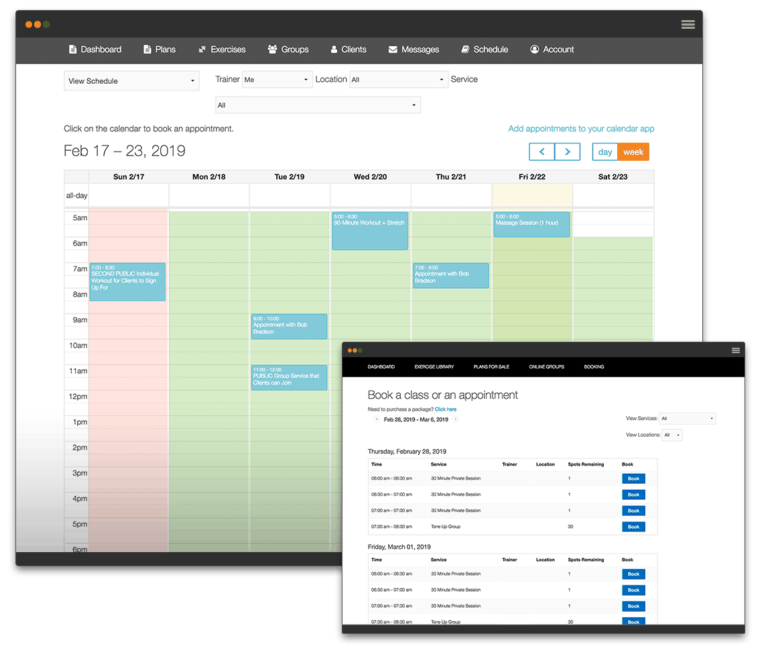 Every fitness facility management software should make your life easier with features like performing mundane tasks automatically, ease of use, run efficiently, and encourage business growth through targeted reports, e-commerce, marketing integrations, and more.
WebPT is excellent software, however, because it is designed for outpatient therapy clinics, some of its features are unnecessary for a fitness business. This means you would be wasting money on features your business won't use.
But Exercise.com is designed to manage a fitness business–and it's customized to manage your fitness business and help it succeed! Let's take a closer look at what WebPT offers and how Exercise.com better manages a fitness business.
Client/Class Scheduling
WebPT has a neat, standard scheduling and booking calendar that's easy to view and edit from anywhere. Appointments can be easily color-coded, include custom information, and be recurring with a drag-and-drop feature. Appointment reminders can be sent automatically via phone, text, and email to avoid cancellations. Medical records are kept in the same system, which spares staff from toggling between programs.
While these features work well for an outpatient clinic, this format isn't ideal for fitness centers. In today's tech-forward world, clients and customers have come to expect independence in viewing and booking their own appointments on your website or app. Using WebPT would require clients to call your facility to book an appointment, which can be a hindrance to filling your schedule.
Further, WebPT is designed for scheduling one-on-one sessions with a therapist. This design would limit your ability to schedule and track participants of group classes or group training sessions.
In many ways, WebPT's scheduling layout is more of a hurdle than a help.
But Exercise.com booking and scheduling services are designed for fitness businesses:
Layout: our professional and user-friendly layout grabs your customers' attention while easily guiding them through booking appointments and making payments.
Search Filters: clients can view the schedule by location, trainer, day, time, and more, which helps clients find the class that fits their schedule!
Organization: From multiple one-on-one sessions, group sessions, and events, keep everything organized for your staff!
Gym/Facility Management
Running a fitness business is time-consuming, but managerial tasks can be streamlined through insightful reports and management tools.
WebPT advertises a number of targeted reports to help business owners analyze their bottom line. However, recent WebPT user reviews on Capterra reveal managers aren't pleased with WebPT's reports. Many are frustrated with a lack of customization, details, and analytics, calling the reports mediocre at best.
Additionally, WebPT doesn't have helpful management tools like staff permissions and responsibilities. But Exercise.com allows you to manage your business facility with dozens of standard and customizable reports, plus features like inventory tracking and staff permissions.
Business Dashboard Reports
While WebPT's mediocre reports may leave out valuable information, Exercise.com streamlines your business with targeted reports so you know exactly how your business is doing at all times. For example, tracking class participation might reveal that your cycling classes are the most-demanded sessions and your business would profit from adding another class. This information wouldn't be found in using WebPT's basic reports and your businesses would miss a growth opportunity.
Exercise.com's tailored reports track and analyze revenue, taxes, commission and e-commerce, client and group reports, and so much more. We can even provide your business with customized reports! The data from these reports help you make the most informed, profitable decisions for your business.
These reports can be displayed in a fully customizable business report dashboard so your frequented reports are always easily accessible. You decide the featured reports, layout, and more! WebPT also has a reporting dashboard but it isn't customizable.
Client Automation
WebPT and Exercise.com are very compatible with client automation. Both software platforms send automatic emails for appointments and workouts (or HEPs). But Exercise.com nudges to the lead for two primary reasons:
First, Exercise.com automatically charges and receives payments. Medical services must be paid for at each appointment, so WebPT does not have this feature. But for fitness businesses, manually taking payments for every appointment or class is time-consuming and inconvenient for clients. Instead, Exercise.com allows automatic charges and payments that are easy for managers and clients alike.
Second, Exercise.com can deliver more than just workouts. We deliver assessments, nutrition plans, customized messages and reminders, and more! This adds a personalized touch for your clients.
Dedicated Zapier Support
WebPT offers a number of integrations, but as software designed for the medical field, it's primary integrations are with insurance billing, electronic health record software, worker's comp, and other such integrations. These integrations do little for you as a fitness business, and furthermore, leave you without the integrations you need to succeed!
With Exercise.com software, you get dozens of popular business management integrations already built into our software.  But there's more! We also partner with Zapier and its 2,000+ apps so your software is completely customized and efficient, with everything you need for success. Best of all, Zapier guides you through every step of the process!
Dedicated Account Manager
More than a handful of Capterra reviews reveal that WebPT is prone to glitches, such as randomly deleting or changing appointment times, progress notes and evaluations occasionally won't save, completed notes won't load, and the system will crash or be offline for maintenance during the workday. These are major glitches that are not only an inconvenience but can cost you hundreds of dollars and create some unhappy clients!
To compound the problem of glitches, other reviews state that WebPT doesn't have the best customer service. Phone wait times can take hours, and days go by before receiving an email response to a tech question. This poor customer service can quickly make even a minor glitch a serious headache!
But at Exercise.com, we are serious about providing you–as our customer–with exceptional customer service. Our software is not only free from glitches, but you'll never get lost in a sea of needy customers. With Exercise.com, you receive a dedicated account manager who assists with all your software needs–indefinitely!
This is especially beneficial as your business grows! From the smallest of modifications on your logo, adding an online fitness store, or completely revamping your website, your account manager is happy to not only make every alteration but also guide you and your staff through changes.
Customized Software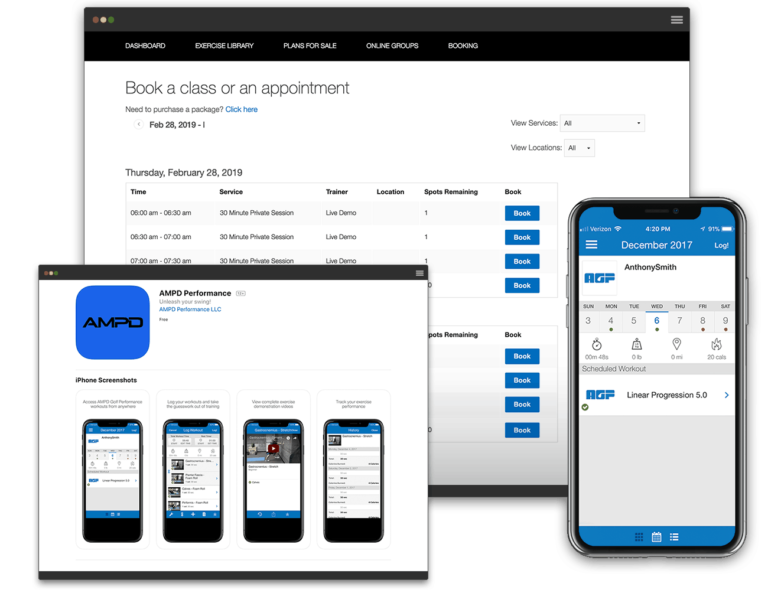 WebPT knows customization is important to outpatient clinics, so it offers a host of customizable features such as evaluations, progress notes, patient forms, pricing, HEPs, and more. While these are excellent features, they are targeted towards outpatient clinics.
Exercise.com software is superior to WebPT because it is already set up for fitness businesses–and offers completely customized fitness trainer apps! This customization prioritizes your customers' personalized experience, aiding in retention.
Let's look at some of these personalization features below.
Custom-Branded
WebPT doesn't offer many custom-branding options; users can place their logo on WebPT's mobile app and on patient forms. But these don't keep customers engaged with your brand.
But Exercise.com is intentional about promoting your brand from start to finish. Your custom app, website, e-commerce opportunities, workout software, and performance software all celebrate your unique brand, which keeps your customers strongly connected and engaged.
iOS & Android Apps
WebPT doesn't offer a mobile app for staff members. This is intentional on WebPT's part because it protects patients' private health information. Medical information shouldn't be easily accessible on a mobile device! Clinicians are also required to complete paperwork during specified hours, and not providing a staff app prevents unethical documentation after clinic hours.
WebPT does offer a mobile app through StriveHub so patients can access and perform their HEPs on-the-go.
Again, while WebPT's app decisions are appropriate for the medical field, the restrictions on accessibility create unnecessary hurdles for your fitness business. In order to be competitive in the fitness market, trainers and staff need access to their schedules, messages, and resources at any time. Using WebPT will create inconveniences for your staff and clients and possibly result in attrition.
Exercise.com knows how important mobile accessibility is to the success of your business. Our software delivers a convenient and professional customer experience through your own custom-branded app! From viewing the schedule to tracking workouts and nutrient intake, everything that can be done on a computer can be done on your app! This boosts client satisfaction for improved retention.
Websites
Where is the first place potential customers go to look at your business? Your company website! Having an engaging, professional, eye-catching website is vital in today's media age.
Although WebPT can be integrated with a current business website, WebPT doesn't include website building or customization in its software.
Exercise.com knows how crucial websites are to converting visitors to leads, so we create a completely customized website that helps your brand stand out! Choose from unlimited theme changes, custom graphic work, colors, features, custom dev, and let our exceptional dev team get to work creating an engaging, professional, custom-branded, SEO-optimized health and fitness website! We're also a Google Certified Partner for added website security.
And don't forget, we're always here for tech support for as long as you partner with us! Your dedicated account manager can save you valuable admin hours by making every website or app alteration, no matter how big or small.
Security Features
WebPT is a highly secure software, as it should be in order to protect private health information! One accidental release of HIPAA information can cost a business thousands of dollars, so WebPT has taken extra measures to ensure the security of private patient data. WebPT also uses secure credit card processing integrations so payments can be recorded straight into the system.
This level of security is necessary for medical businesses because private information is constantly being exchanged between insurance companies, doctors' offices, specialists, and patients, as well as payment processing. Many clinics are willing to pay a premium price to have security assurance.
Fitness businesses should take the privacy of valuable health and private customer information seriously, but it's rarely necessary to pay a premium price for security measures that won't be used.
The security of the Exercise.com system is the perfect balance of upholding the highest security standards without charging a premium price. Exercise.com is also HIPAA-certified and every website and app created by Exercise.com is SSL Secure. We protect your clients' information with the internationally-secure Privacy Shield Framework, and we utilize Google Cloud for storing and transferring data. Payments are made and processed through Stripe.
Marketing Integrations
WebPT offers a marketing integration add-on called Reach to boost a business's online presence to increase retention, referrals, and new patients. Reach comes in three package options (Standard, Plus, and Premium) but WebPT doesn't list any prices.
Like many of WebPT's features, Reach is an add-on to the base WebPT price. But Exercise.com software includes marketing integrations! We offer an abundance of popular integrations such as:
MailChimp
ConstantContact
ConvertKit
Zapier
Google Analytics
Facebook Pixel
And more!
We can integrate with just about every program, which makes Exercise.com one of the most versatile and valuable fitness management platforms around!
Learn more by clicking the button below.
Exercise.com is the best WebPT alternative.
Workout Software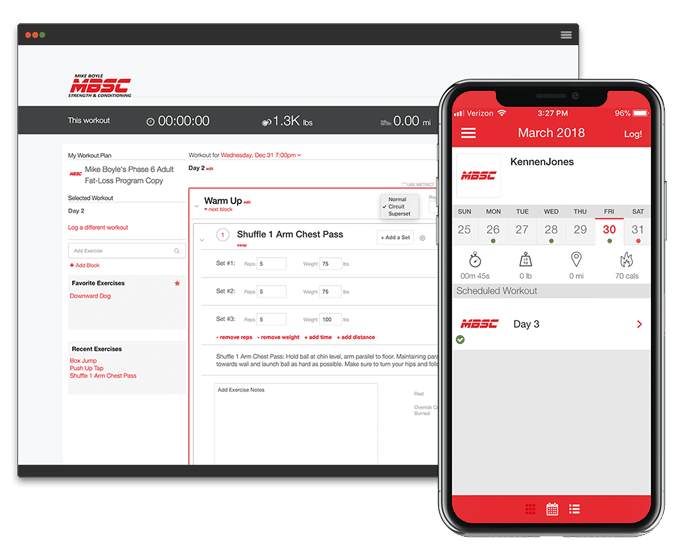 Workout software is a versatile and creative way to engage clients, see accelerated results, foster accountability, encourage independent exercise routines, and more. WebPT and Exercise.com both offer versions of workout software, so let's take a closer look below.
Workout Creator/Logger
WebPT offers an exercise creator/logger through the StriveHub app where therapists can customize a HEP for their patients to perform anywhere they'd like. (HEPs function similarly to workout plans: therapists give patients specific exercises and repetitions to perform daily between therapy sessions for improved outcomes) WebPT has an ever-increasing video library for therapists to choose from and patients can communicate with their therapists inside the app.
Again, this feature works well for WebPT's intended customers–outpatient therapy clinics. But exercise videos for outpatient therapy have a very different focus than fitness centers. Therapy exercise videos focus on slow, controlled movement to help build muscle for injury recovery and pain reduction or to help retrain the body in proper movement techniques. While there might be some overlap with the fitness world, especially if you have a client working through an injury, WebPT's exercise videos won't be motivating to your personal training clients or achieve fitness-related goals.
Additionally, WebPT's HEP logger is designed for individual HEPs. Therapists would never need a group or solely-online HEP feature, so WebPT doesn't have this feature. But in fitness, there is a growing trend of group training and online-only personal training. Using WebPT's system would restrict you from gaining business from these opportunities!
Exercise.com software is intended for fitness centers so you can capitalize on every opportunity to grow your business! Our premium workout creator built for personal trainers allows easy creation of custom-designed workouts that keep clients engaged and motivated on their journey towards meeting their fitness goals.
Trainers can pre-design workouts for quick assignments, or craft individual exercises for each client from your exercise library. Workouts are delivered automatically to your clients via your app where they can view and log their workout anytime, anywhere! Clients and trainers can also easily communicate between sessions in your app for improved client satisfaction.
Unlike WebPT's app that only offers individual workouts, Exercise.com adapts to every trainer-client relationship, such as:
1-on-1 Training
This traditional method of personal training is still in high demand at most fitness centers. The Exercise.com system supports your trainers by organizing, communicating, and creatively managing multiple clients so they can deliver a quality training experience for every client.
Trainers can use customized workout and nutrition plans, goals and progress reports, performance and fitness assessments, and more, to set a personalized client plan and measure results! With a workout and nutrition logger and convenient messaging system inside the app, clients have all the tools they need to stay on track and motivated!
Group Training
The Exercise.com versatile platform allows trainers to use the same resources and support as 1-1 training and apply them to group training. Create, schedule, and track group classes effortlessly with our group training feature! Members benefit from the social connections and accountability of the group setting, which boosts customer satisfaction and fosters a tight-knit gym community.
Online Training
Another way to reach customers and build revenue is to use our premium video and exercise libraries to deliver custom online training workouts to any client! These workouts give greater flexibility for clients to perform their workouts whenever and wherever they choose, and our app allows easy communication between trainer and client for added client satisfaction and accountability. Online training grows your business by increasing your virtual client pool!
Exercise Library
While WebPT does have an extensive, professional exercise library, their exercises are specific to outpatient therapy HEPs. Many of the exercises won't be appropriate for the majority of personal training clients, and therefore you'll be paying for a minimally-useful exercise library.
But with Exercise.com, trainers can use our fitness-focused educational and instructional exercise videos to create pre-designed and custom workouts. Our videos give clear instructions on proper form and modifications for injuries or difficulty levels. Custom workouts boost client satisfaction and program adherence because their specific needs and preferences are met.
Custom Exercises
WebPT only allows therapists to build HEPs using their professional videos. But in addition to our exercise library, Exercise.com allows you to link to your YouTube or Vimeo accounts to incorporate your own videos into the workout creator! This is an excellent way to build trainer familiarity, which promotes your business and adds value to your brand.
TV Workouts
Trainers and instructors can also cast our exercise videos onto a TV screen during a group training session. This switches up the presentation style and adds a personal touch to a group workout.
Gym Ecommerce Software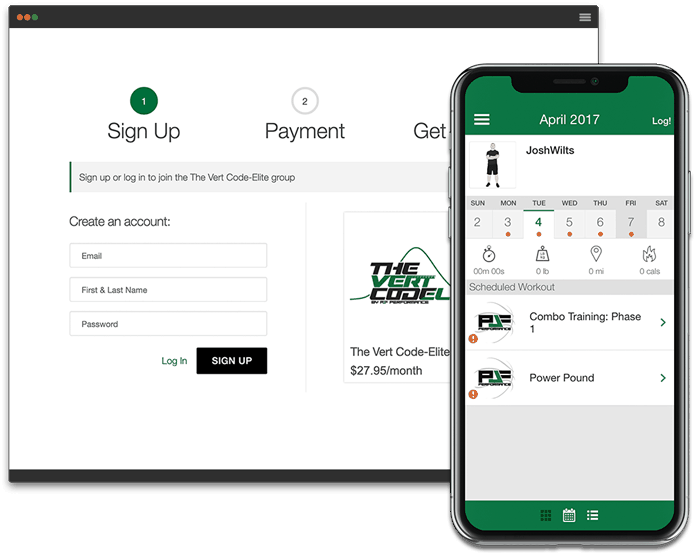 Besides payment processing, the only ecommerce integration WebPT offers is WebPT Marketplace, a one-stop-shop for all things therapy. WebPT members can order rehab and exercise equipment, electrodes and taping, treatment and HEP products, continuing education courses, and more, at discounted prices. While Marketplace is another perk for outpatient clinics, it's really not useful to fitness businesses.
This means using WebPT's software causes your fitness center to miss out on a whole sphere of business opportunities and revenue gain!
However, Exercise.com has countless ways to promote your business through gym ecommerce software! Our customized software offers unique e-commerce opportunities that engage your customers and boost revenue. Since WebPT doesn't offer any e-commerce opportunities that are beneficial to a fitness business, let's check out just a few popular ways Exercise.com grows your business through e-commerce!
Payment Processing
WebPT has a very robust system for payment processing. They integrate with ClubAutomation, NPS.com, and WorldPay for payment processing, as well as several popular medical billing integrations.
All these features and options are a priority for outpatient clinics because reimbursement comes from efficient and correct communication with dozens of insurance companies. But fitness businesses don't need all these medical integrations to receive payments; managers would be overpaying for WebPT's payment processing because these integrations are useless to fitness businesses.
Instead, Exercise.com uses the simplicity and security of Stripe for all payments, which is all your fitness business needs to charge and track payments!
Sell Products
A fun way to advertise your brand and boost your revenue is through an e-commerce store from Exercise.com! Sell just about anything you'd like, from personalized apparel, bumper stickers, and water bottles, to headbands, exercise gear, and more! Your business gets free and creative advertising as customers use these products in their community. Plus, using custom-branded products reinforces customer commitment to your fitness center!
Sell Workout Plans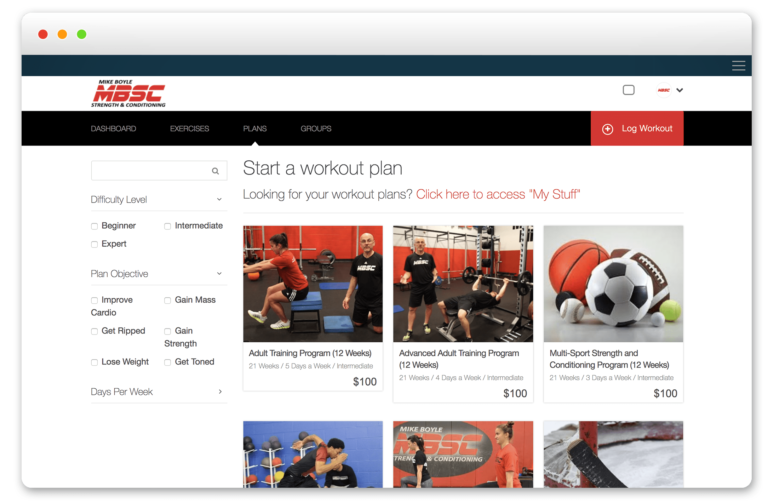 Selling pre-built workout plans is an excellent perk to retain members or give members the experience of a personalized trainer in the comfort of their own homes. Unlike trendy workout plans that are overly generalized to apply to as many customers as possible, your workouts can be completely customized and unique to fit the needs of your clientele.
With Exercise.com, there's no limit to how many plans you can sell, so there's no cap on your potential profit! By offering a variety of plan lengths, difficulties, fitness focuses, or other specifications, you can meet the needs of any customer while fully engaging them in your brand!
Offer Online Workout Memberships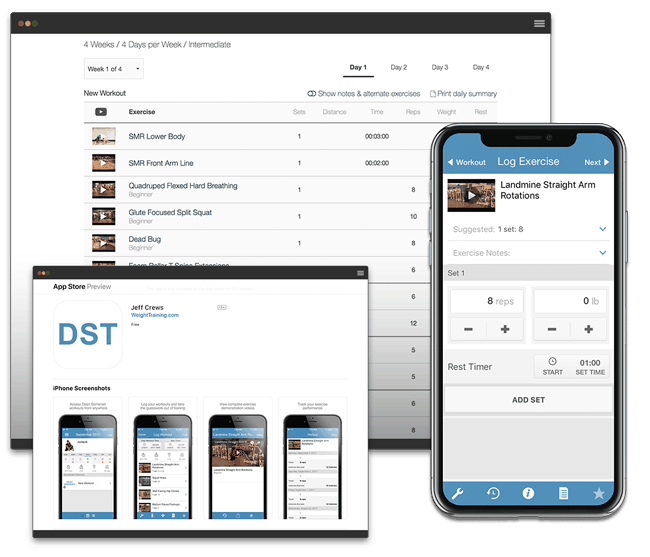 In our fast-paced society that prioritizes personalization, an increasing percentage of customers are willing to pay a premium price for customized workout plans they can do independently. This can be a huge boost to your revenue, but the profit is often offset by the extensive time needed to create personalized plans.
Let Exercise.com software help you capitalize on this trend without killing your trainers' productivity! In our simple system, trainers create the client's entire plan in one sitting, program the workouts to be delivered at automatic intervals, and then track client progress through their program. It's a win-win situation, and an excellent way to utilize versatile Exercise.com software!
Sell Workout Challenges
Promote your brand and positive gym community by providing fun and engaging workout challenges! Exercise.com software effortlessly runs and manages workout challenges so they increase your revenue without increasing your workload. Customize your own challenges to fit the needs and preferences of your participants and let it run automatically!
Fitness Assessments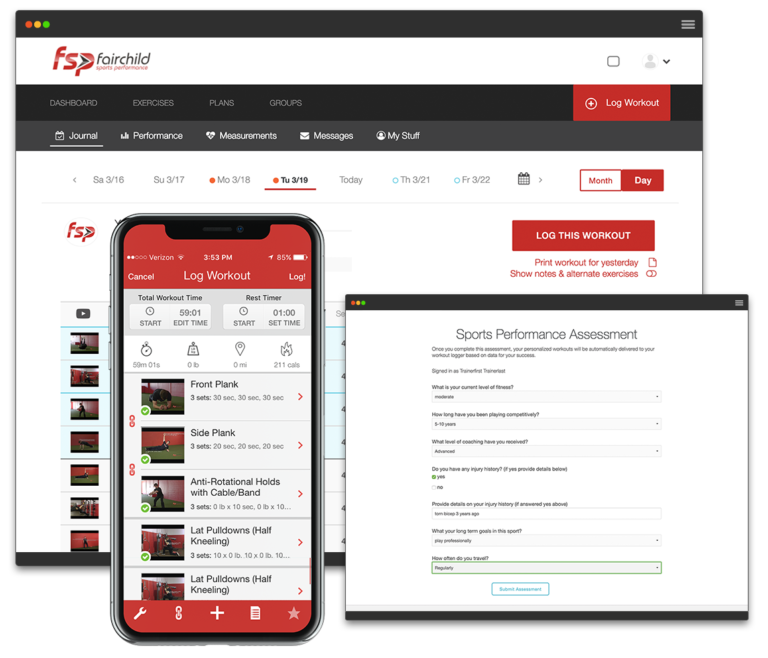 Initial and periodic assessments are not only essential to ensure a client's safety during training, but they help trainers know appropriate fitness approaches and goals and are an excellent motivator for clients as they continue training.
WebPT is designed for outpatient therapy clinics, where therapists will perform an initial evaluation on a patient, make a diagnosis and treatment plan, and then document patient progress at regular intervals. WebPT has customizable evaluation and progress note features to suit the needs of each clinic.
Although WebPT offers customizable forms, user reviews report that WebPT's forms are redundant. For instance, measurements and outcomes on an assessment don't carry over to other forms and must be manually added. When inputting new patient information, WebPT requires all information to be completed at one time; there's no option to save and return to the profile later. Both of these requirements can be inconvenient, take a lot of time, and reduce trainer productivity and client engagement.
But the Exercise.com fitness assessment software is easy to operate so that trainers stay productive and engaged with their clients. Keep reading to find out more about how our completely customizable forms and assessments help boost your trainers' productivity and client engagement!
Assessments
Every client has their own distinct reason for hiring a personal trainer and a unique motivation driving their training commitment. Exercise.com enables trainers to customize targeted assessments for every client so they can achieve their specific goals.
Performance & Measurement Reports
In addition to personalized assessments, Exercise.com includes personalized interactions! Further engage your customers through our automatic delivery of workout reminders, goal achievements, recurring assessments, progress photos, measurements, and more! These automatic interactions add a personal touch without adding managerial tasks.
Nutrition
WebPT doesn't offer any nutritional features, but monitoring dietary intake is key to transformative, lasting change. The Exercise.com nutrition tracker has custom-tailored training to meet the client's specific needs and goals. Clients can easily log and track their daily dietary intake, keeping clients focused on their goals through accountability.
WebPT Pricing
So, how much does WebPT cost? WebPT has three packages: a Lite package designed for startups and single providers, a Standard package that includes baseline services and a selection of add-ons for additional prices, and the Enterprise package which is for a large or specialty business that needs creative solutions. The Lite package starts at $3/day and the Standard package starts at $6/day. WebPT does not state a price for the Enterprise package.
WebPT Alternatives
Alternatives to WebPT include:
athenaClinicals
AdvancedEHR
NueMD
NextGen Healthcare
TheraNest
TherapyNotes
CareCloud
WebPT's alternatives are also geared towards medical documentation and not towards fitness businesses. Exercise.com is the clear choice for fitness business management software!
The Bottom Line: Pros and Cons
Choosing the right business software is a big decision! Let's take a final look at WebPT and Exercise.com:
WebPT Cons
WebPT is a highly-rated EMR software. It has many features that make it a stand-out in its niche, like customization, dozens of add-ons and medical integrations, a HEP app, and more.
However, WebPT is not designed for fitness businesses. Although it has dozens of features that are beneficial for outpatient clinics, these would be wasted in fitness businesses. This means you would be paying for software that you can't use.
Additionally, WebPT doesn't offer several key features for fitness business growth, such as a mobile app, websites, marketing integrations, or fitness-focused e-commerce, leaving you to pay for more software to fill the gaps left by WebPT. The software itself can be prone to glitches and tech support is often delayed. It's clear that WebPT is not a strong option for fitness businesses.
Exercise.com Pros
Exercise.com is custom-designed to fit the needs of your fitness business, so you're never paying for a feature you don't use! A dedicated account manager completely customizes and updates your branded website and app to fully engage your customers. We aim to make everything easy and personalized for your staff and customers, such as booking and scheduling, workout software and performance assessments, e-commerce, and more!
Exercise.com makes your business platform decision easy! We're here to help your business grow. Are you ready to get started? Book a demo today!