Personal Trainer Organizer: How to Get Organized as a Personal Trainer
As a personal trainer, organization is a vital aspect of your profession. The ability to effectively manage and organize personal training clients and organize a personal training business can make a significant difference in your success and the success of your clients.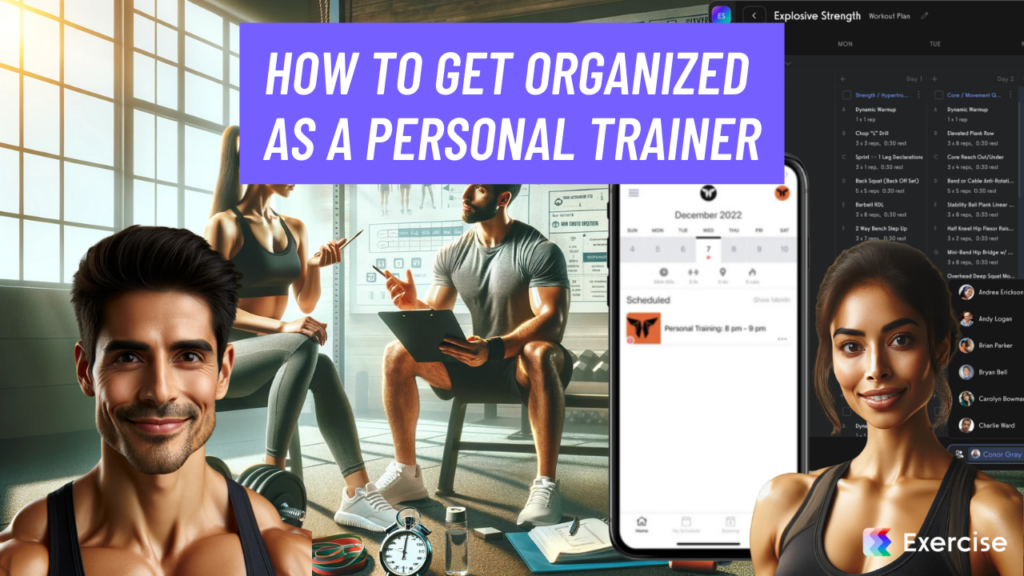 In this article, we will explore the importance of client organization in personal training and provide you with comprehensive strategies and tips on how to efficiently organize and manage your clients.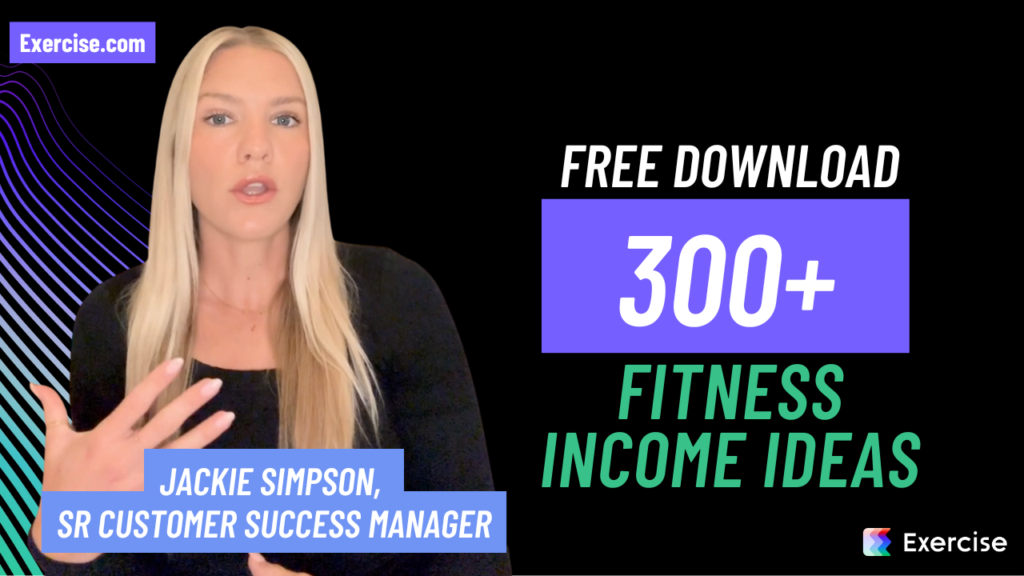 Discover effective strategies and tips on how to efficiently organize and manage your personal training clients and get organized as a personal trainer and organize your personal training business. Then be sure and use the best software for personal trainers and the best apps for personal trainers who want to run their entire business on one platform. Learn how you can use the best personal trainer app builder software to make a fitness app that is custom branded to your personal training business and get organized.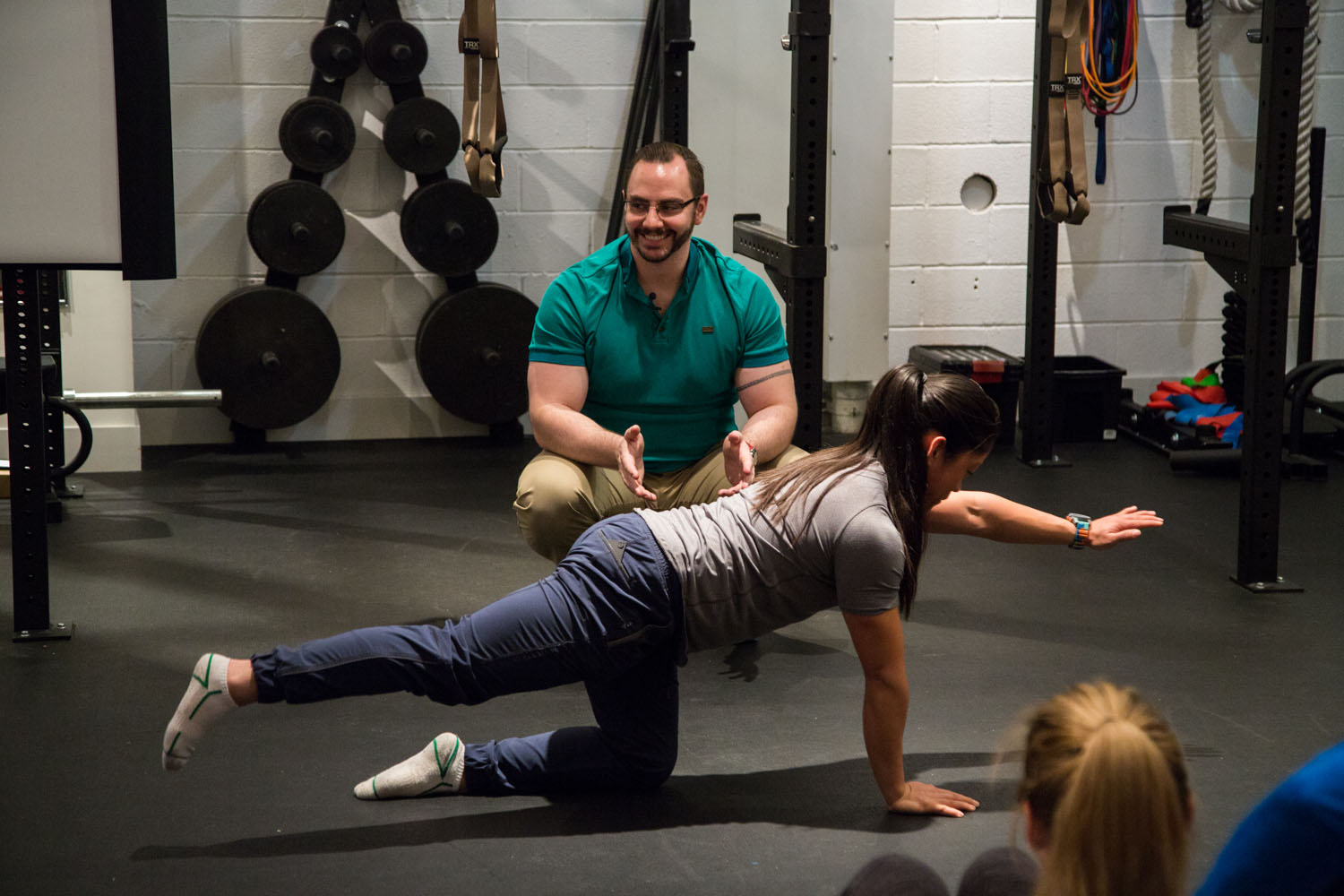 "Developing an easy intake system with my apps and ways to scale the delivery of workouts has been huge. Working with 20-30 individuals who each have specific goals and restrictions can be challenging, but your platform makes it easy to organize everyone's programs and put a plan together that will get them the best results possible. The simple, effective tools help expand and simplify my coaching process."
Dean Somerset
Owner, Somerset Fitness
Getting Organized as a Personal Trainer
Personal trainer organization systems will help you get organized as a personal trainer and will maximize your business success.
Track prospective clients in a detailed list so no one slips through the cracks in your follow-ups.
Get useful data from a client's initial fitness assessment and put future assessments on autopilot.
Manage your personal trainer certifications wisely and don't let renewal requirements sneak up on you.
Use the Exercise.com personal training software to manage your fitness business, whether you are a solo trainer, a large gym with many locations, or a social fitness influencer
Learning how to get organized as a personal trainer is an age-old conundrum for trainers:
There are only so many hours in the day. How do I maximize my effectiveness and grow my business when I already feel busy?
The answer is getting organized and optimizing how you operate.
But how do you get organized as a personal trainer? And how do personal trainers organize their clients in a way that doesn't lead to burnout?
When working as a personal trainer, developing methods for organizing your fitness job and your life are key to both business success and personal satisfaction. Follow this personal trainer organization guide to help you identify the leaks in your system and fix them with new, efficient methods that unlock your growth potential.
One option to help you stay organized is the Fitness Business Management Software Platform from Exercise.com. Request a demo today to learn more.
Using Software to Get Organized
With its customizable PT fitness apps and web portals, automated workout tracking, flexible workout programming, detailed fitness business reporting, and top-notch customer support, Exercise.com is a top choice for personal trainers and fitness businesses to get organized.
Payments
Process payments for open gym, classes, and personal training.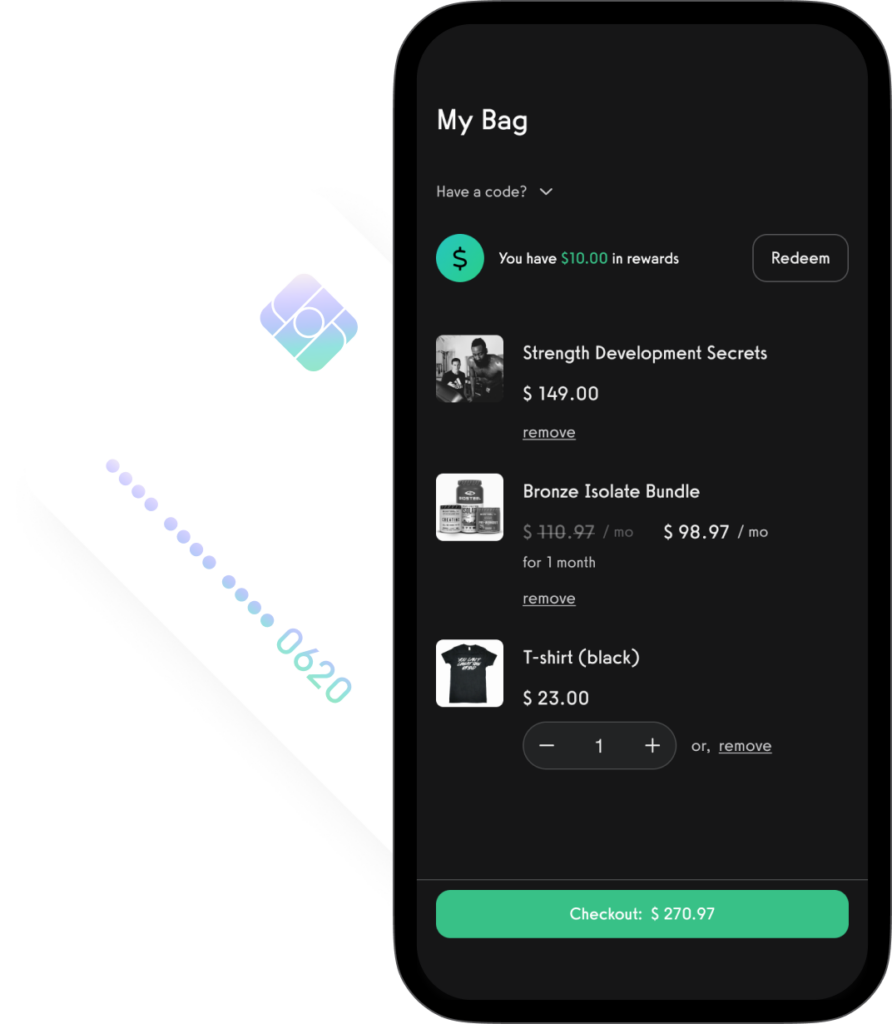 Landing Pages
Create gym landing pages easily.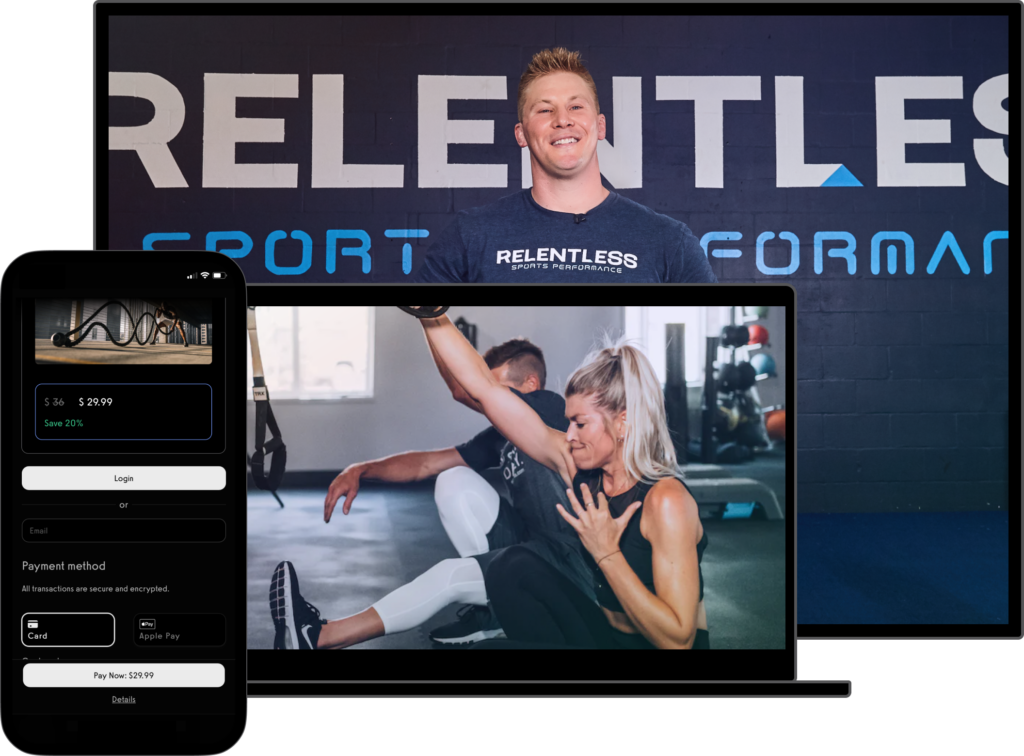 Fitness Challenges
Manage fitness challenges (Read More: 100+ Fitness Challenge Ideas)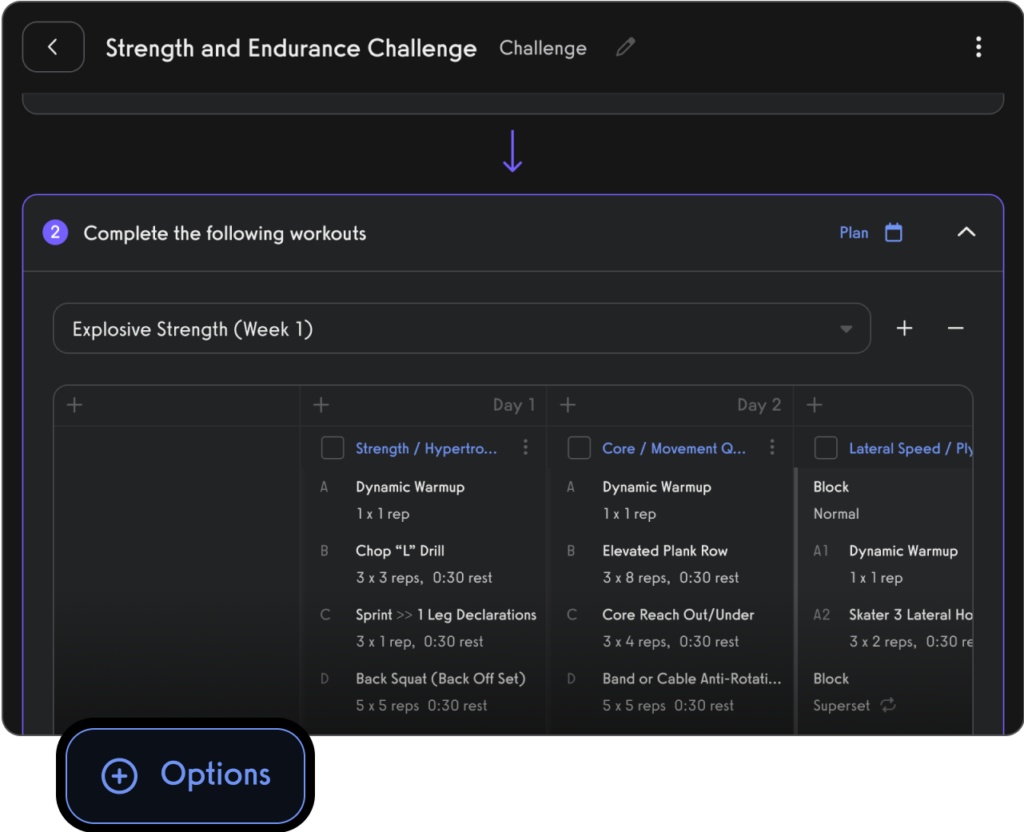 On-Demand Fitness Content
Offer on-demand fitness content.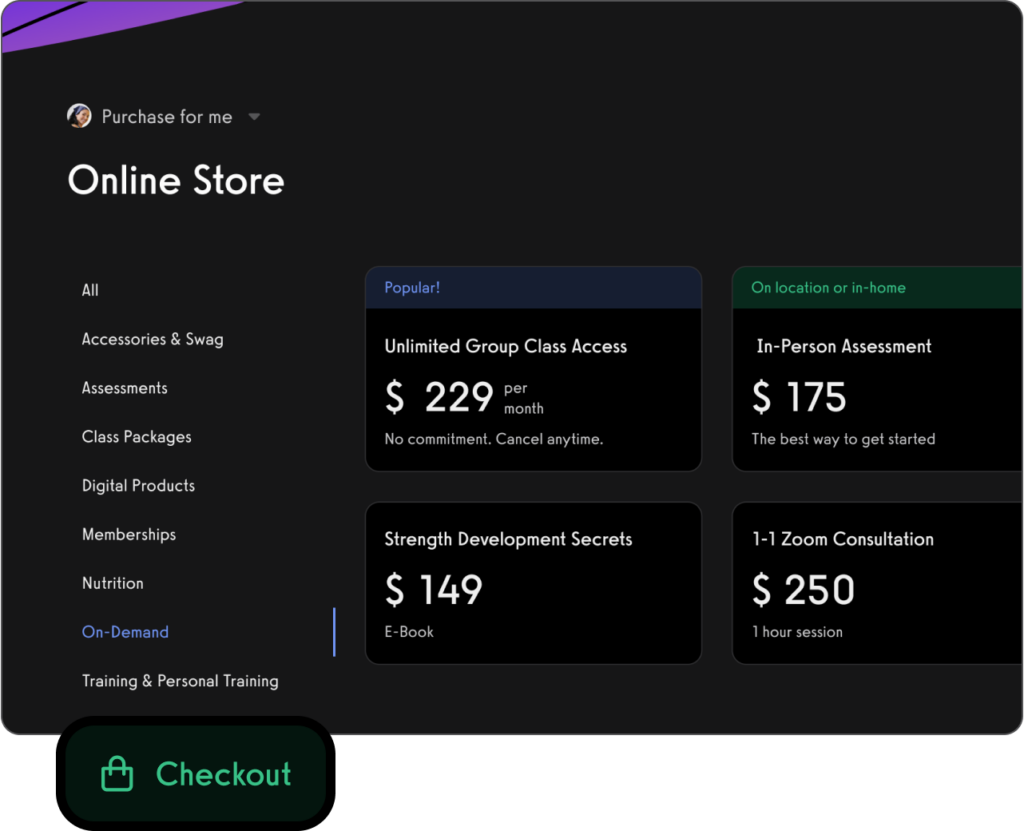 Fitness Classes and Groups
Create classes and fitness groups.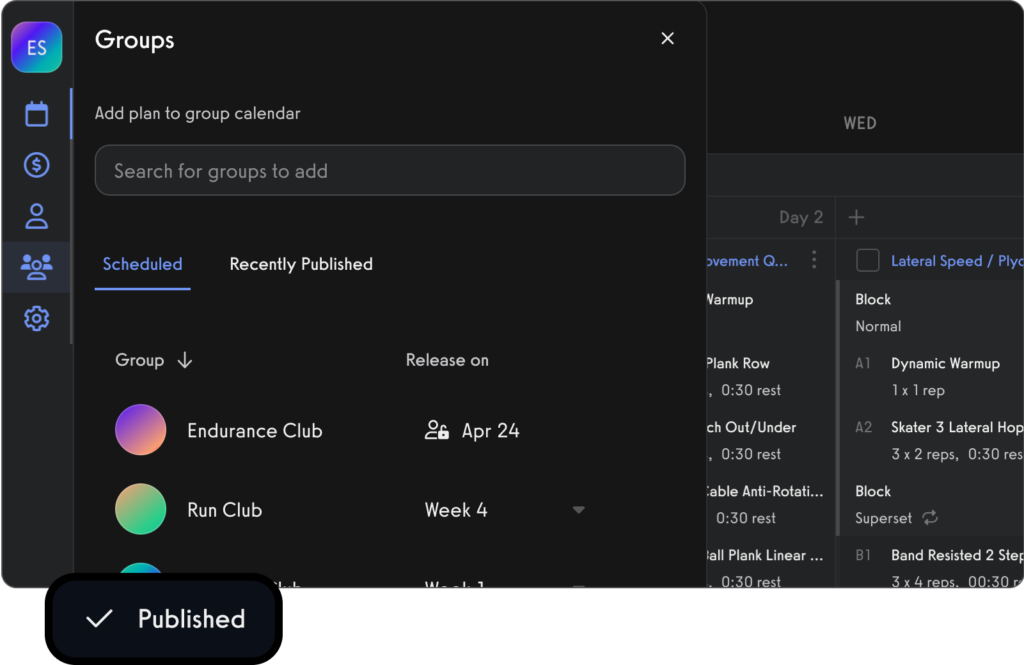 Fitness Livestreaming
Conduct gym livestreaming easily.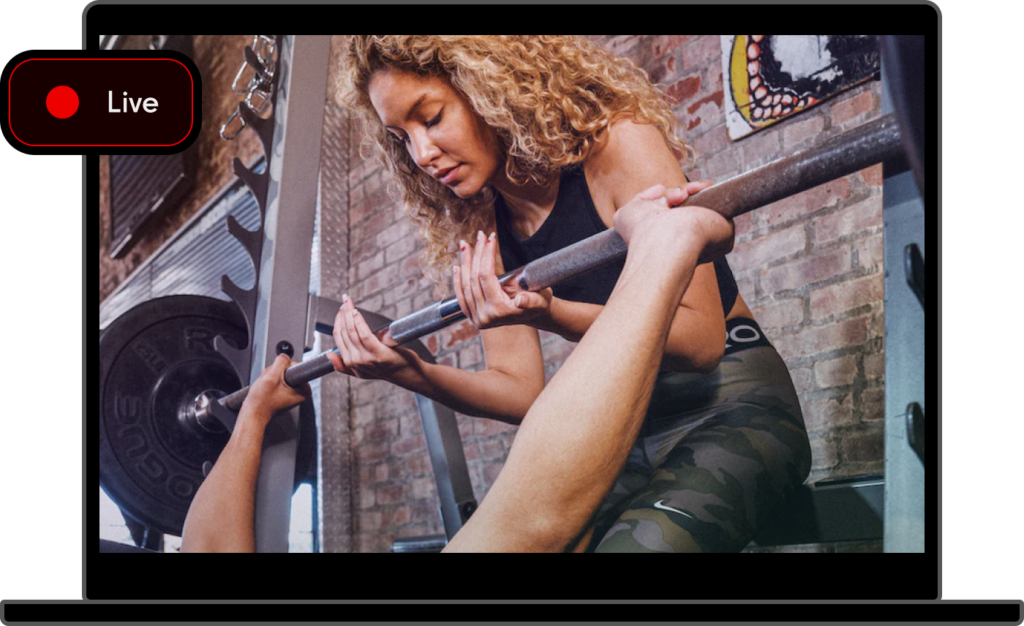 Automations
Engage with clients via automations.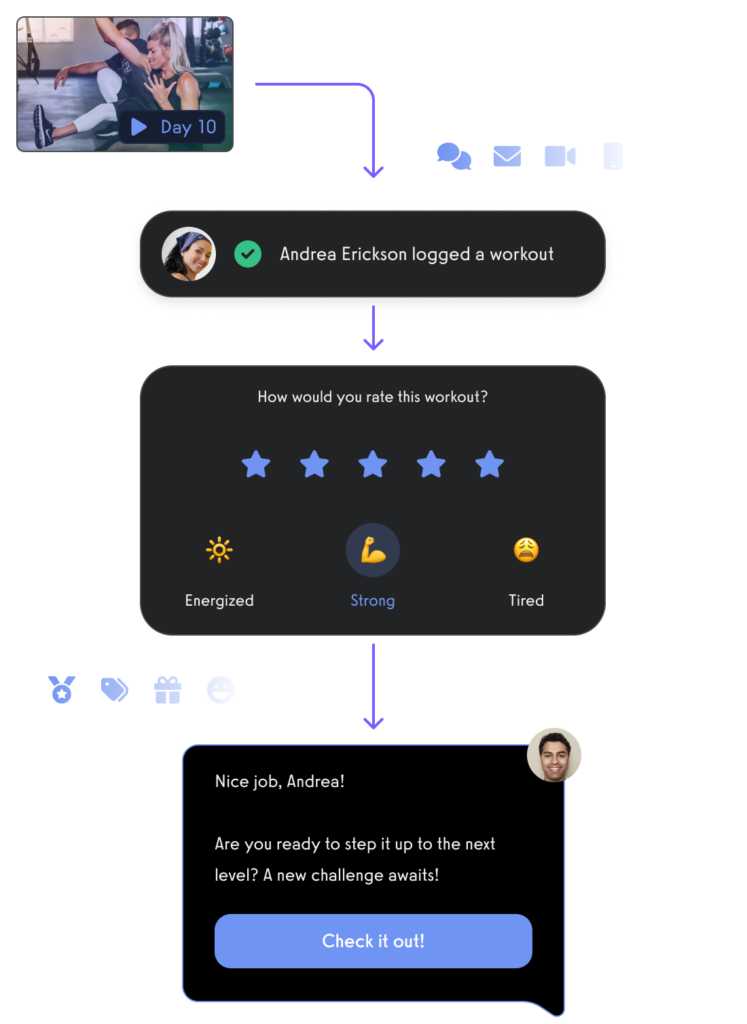 CRM
Manage leads with a gym CRM.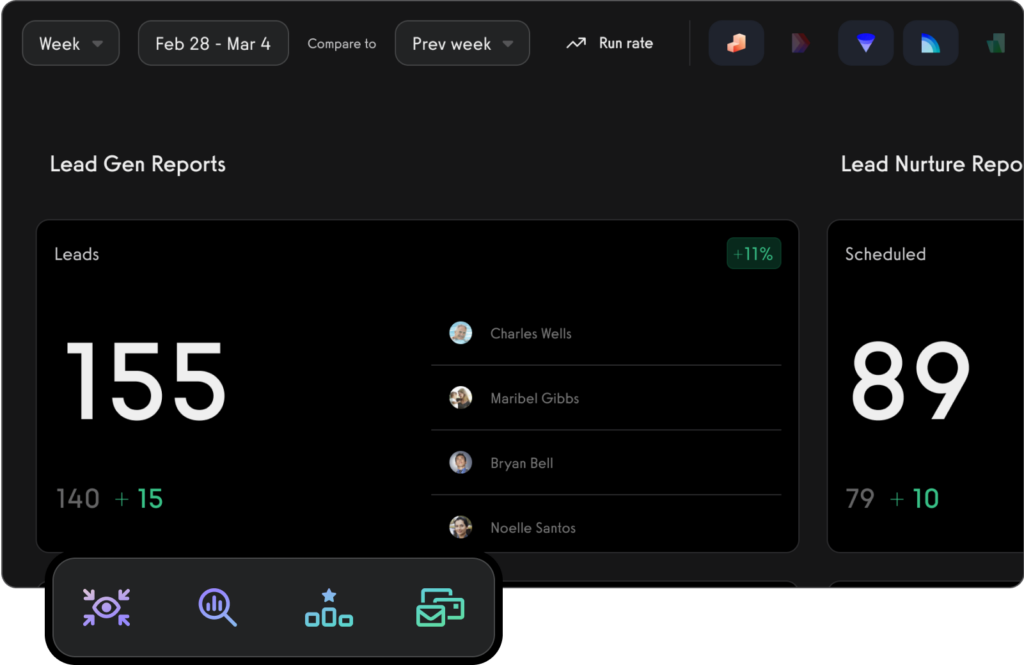 Fitness Assessments
Create and send fitness assessments with ease.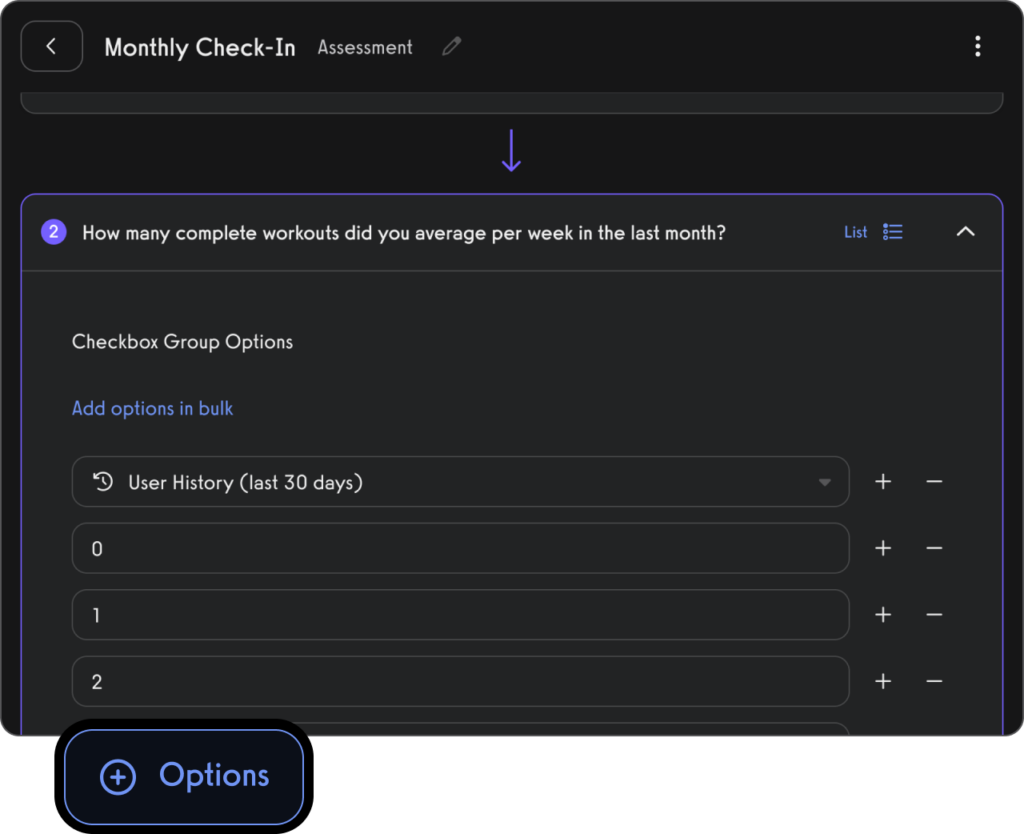 Habit Tracking
Use fitness habit tracking to inspire and motivate gym members and clients.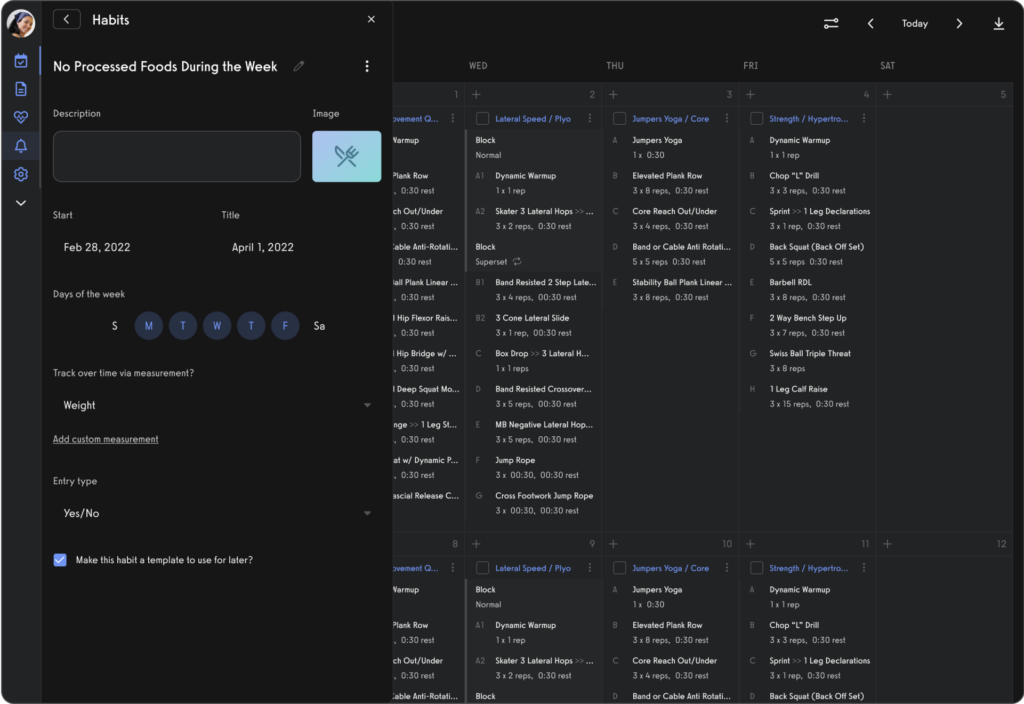 Progress Photos
Use fitness progress photos to engage with members.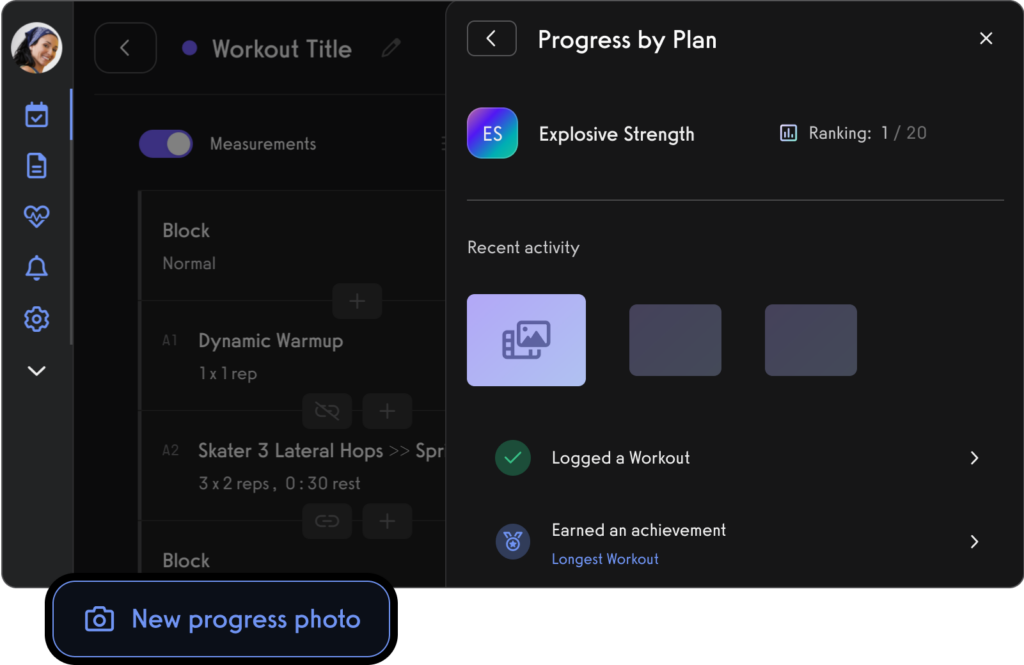 Leaderboards
Use fitness leaderboards to track event performance and inspire healthy competition.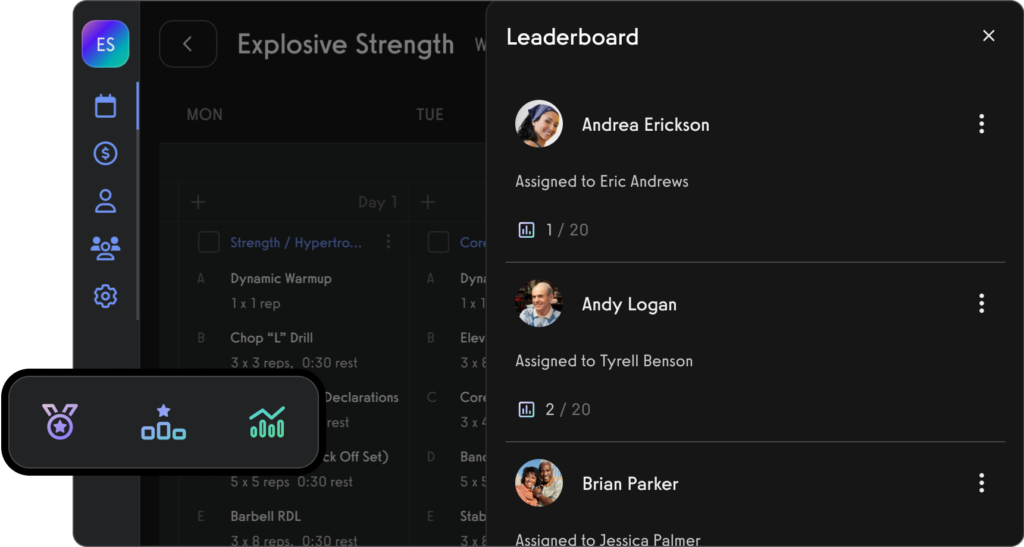 Supersets
Create exercise supersets in a snap.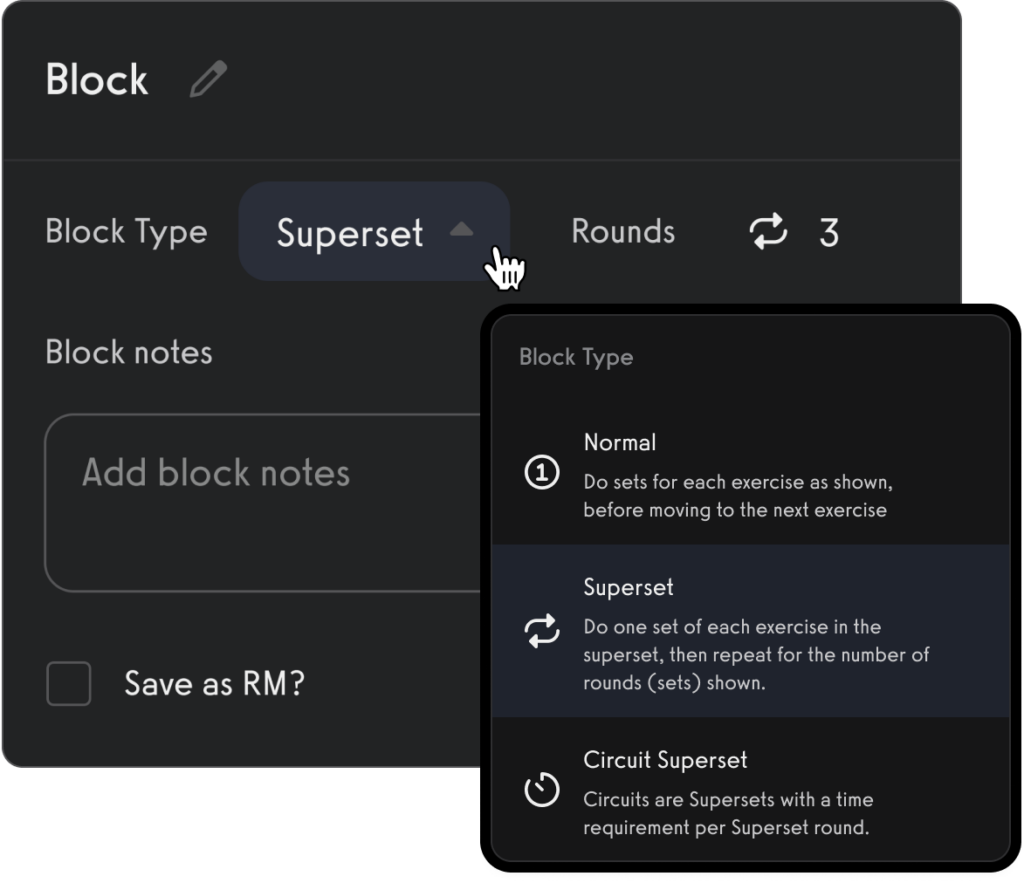 Rep Max Progressions
Program exercise rep max progressions with ease.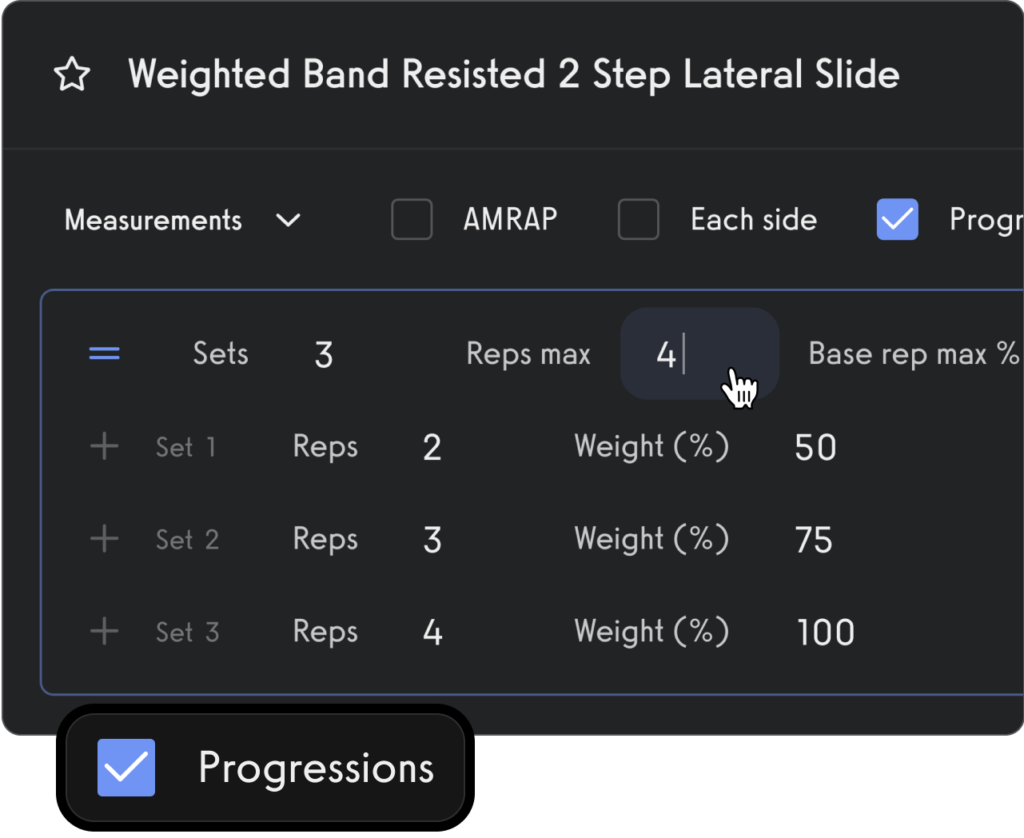 Exercise Library
Use the exercise demonstration video library or create your own custom exercise demonstration videos.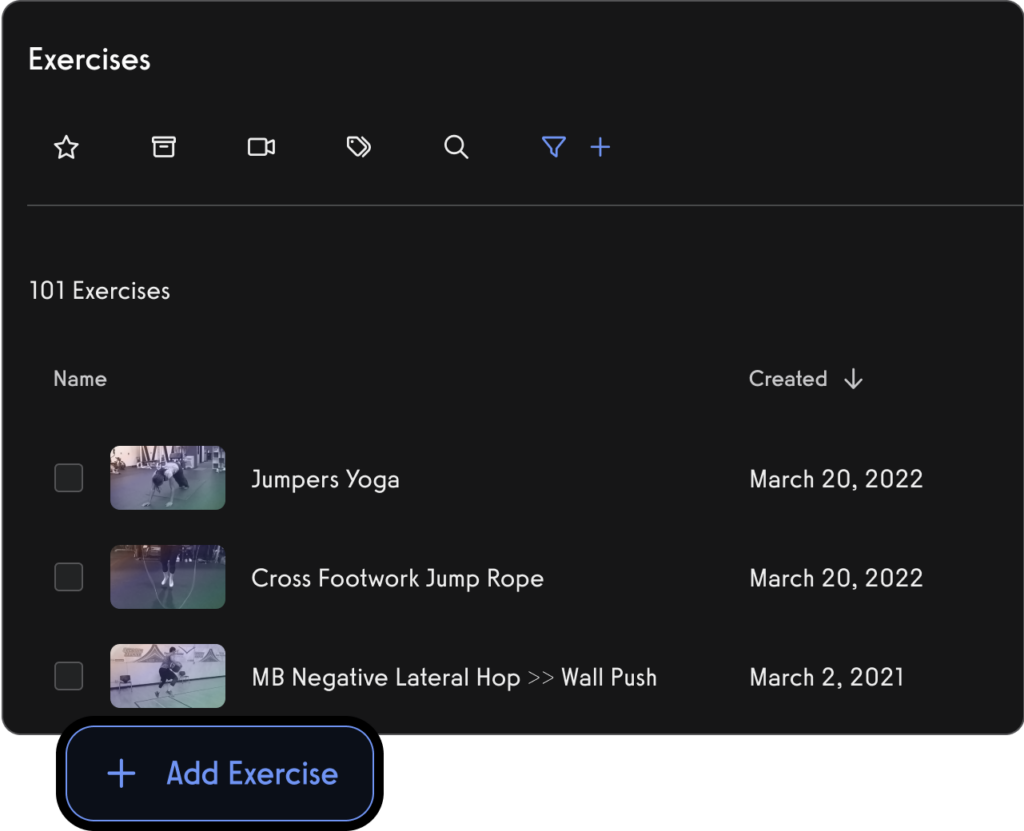 Workout Plan Creator
Create workout plans for parents and dependents, teams and more.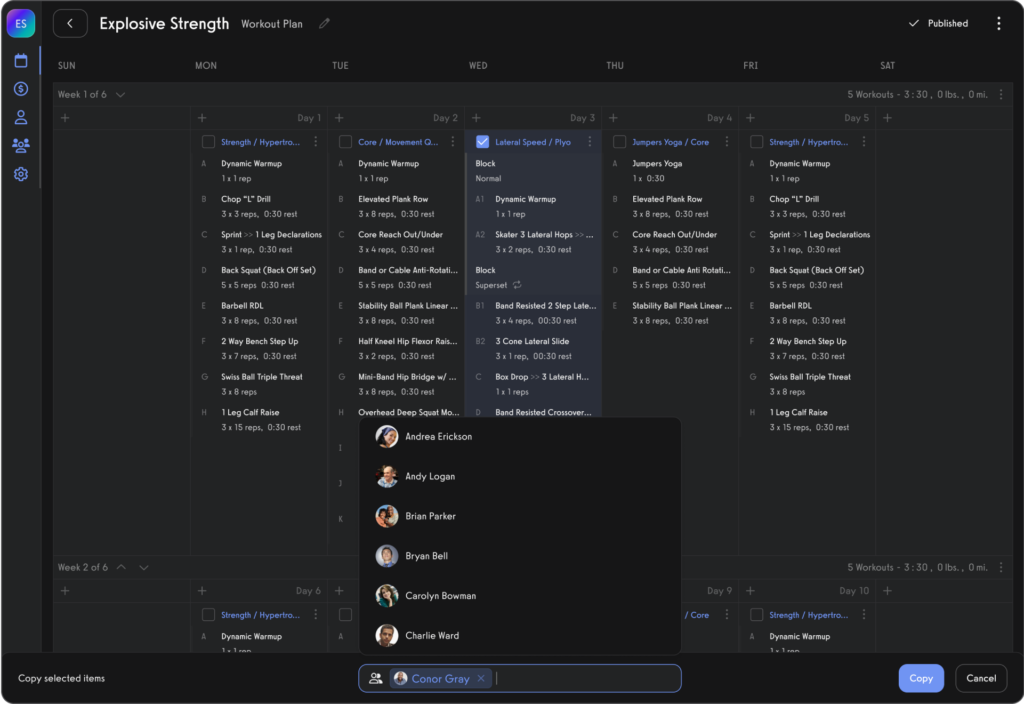 TV Workouts
Cast gym TV workouts to in-gym TV screens quickly and efficiently.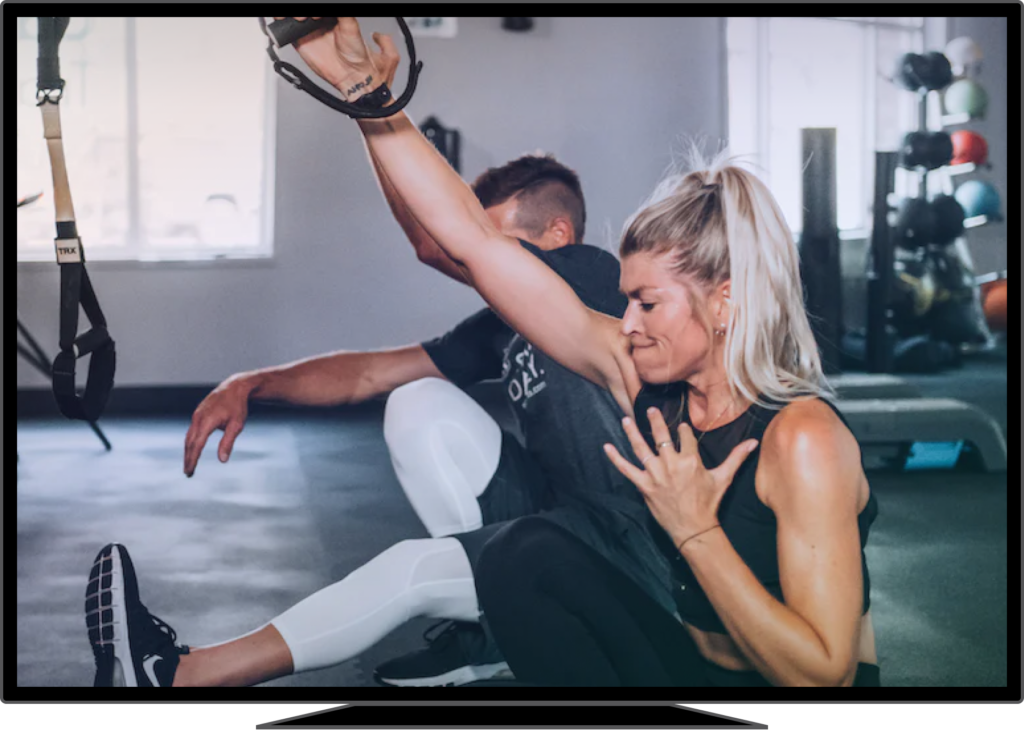 Group and Location Management
Manage multiple groups and locations with ease.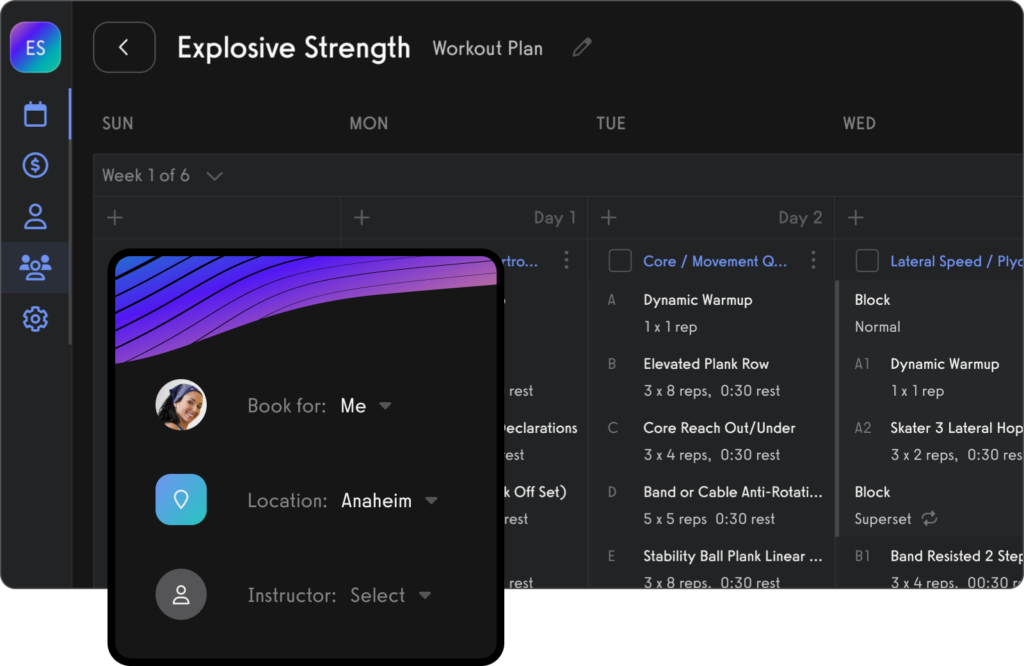 Client Management
Manage clients and gym members with ease. An online training software comparison for personal trainers makes it easy to see why Exercise.com offers the best client management functionality for in-person and online personal training. The best personal fitness trainer software should work for you on the go, just like in the gym.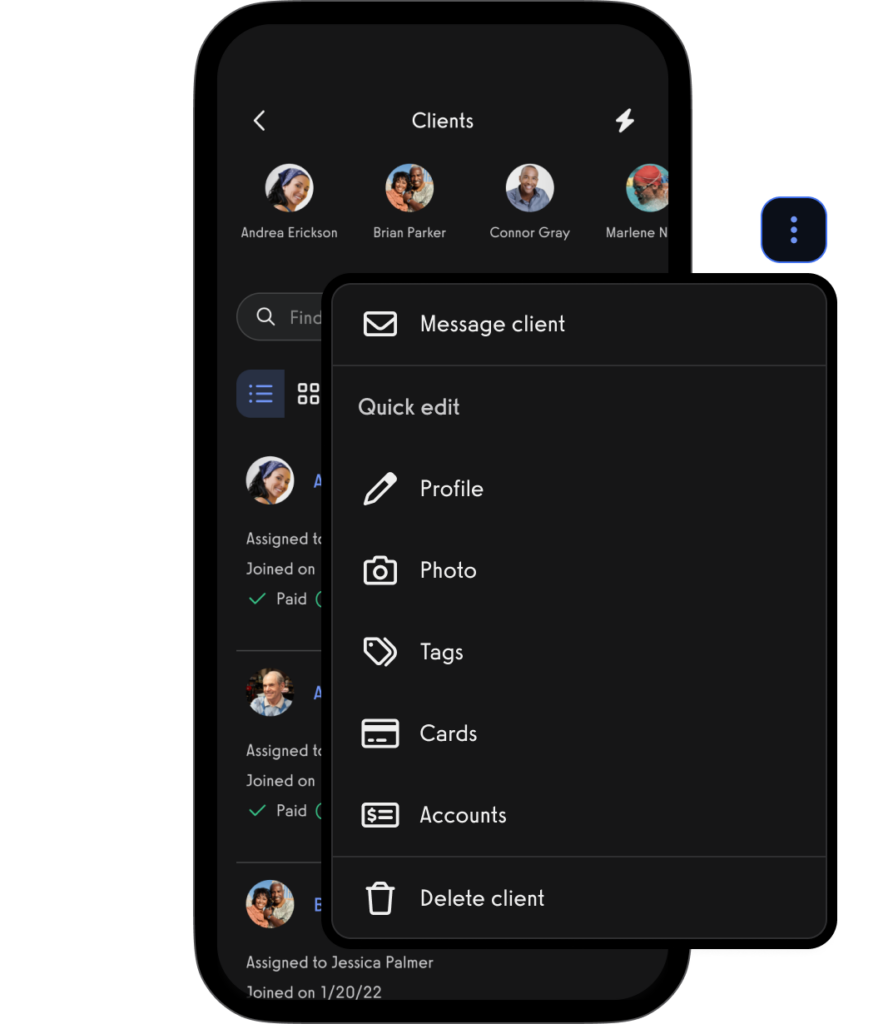 Appointment Booking
Book appointments for parents and dependents with ease. (Read More: Best Gym Booking Software)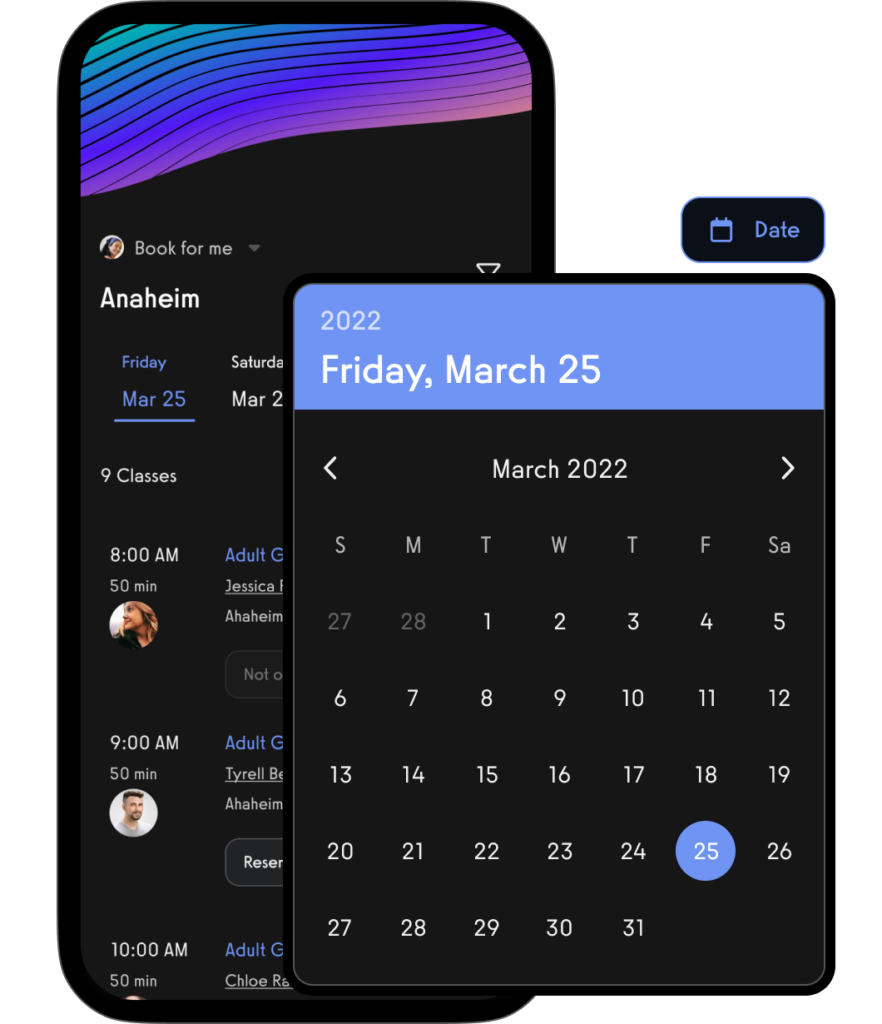 Gym Check-In
Gym check-in software that makes your life easy. (Read More: Best Gym Check-In Software)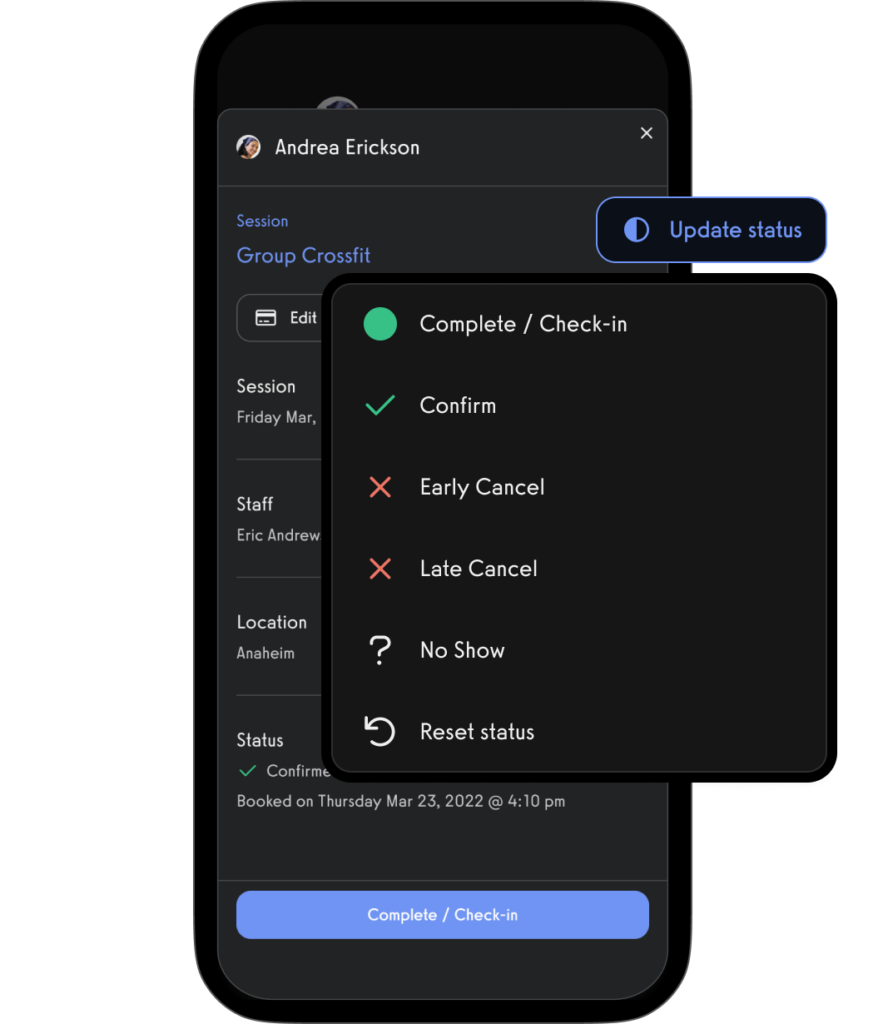 Messaging
Communicate with gym members, athletes, team members, personal training clients, class members, parents, and dependents via SMS, email, and in-app push notification.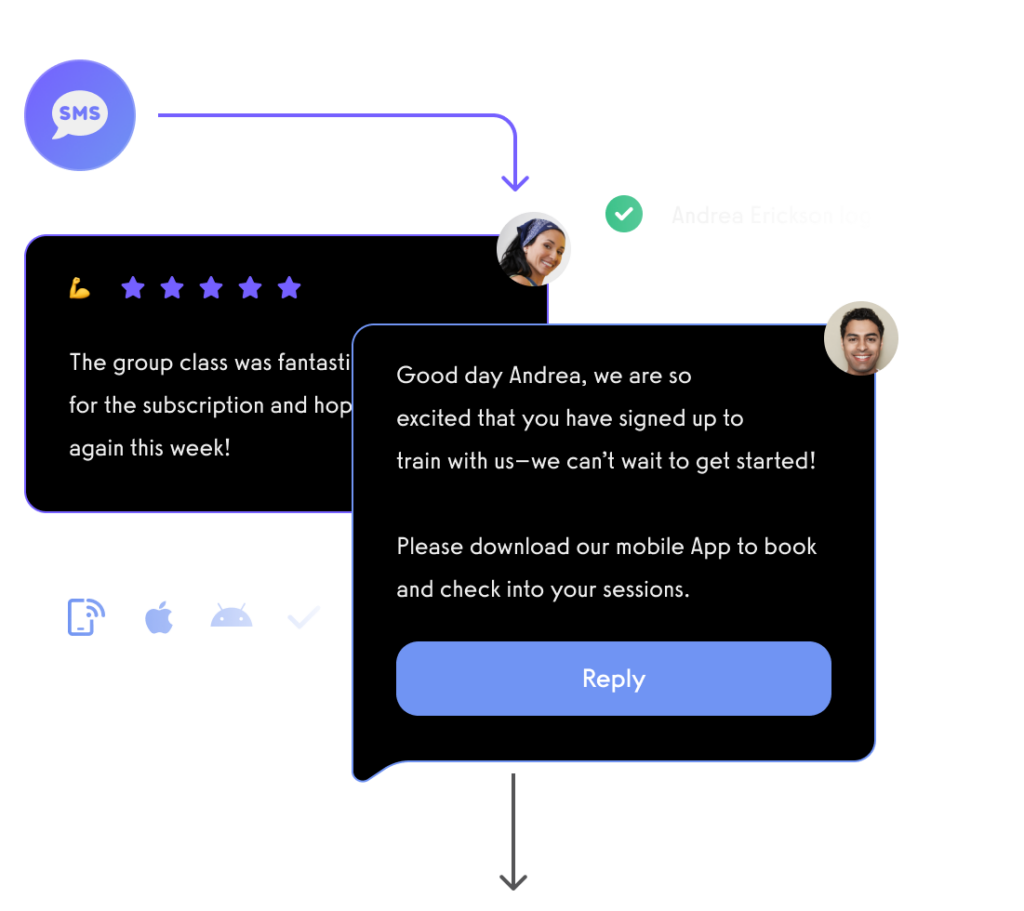 Performance Tracking
View performance over time, track personal records, and other fitness stats with performance reporting dashboards. The best fitness software for personal trainers offers exercise tracking, habit tracking, workout tracking, and more.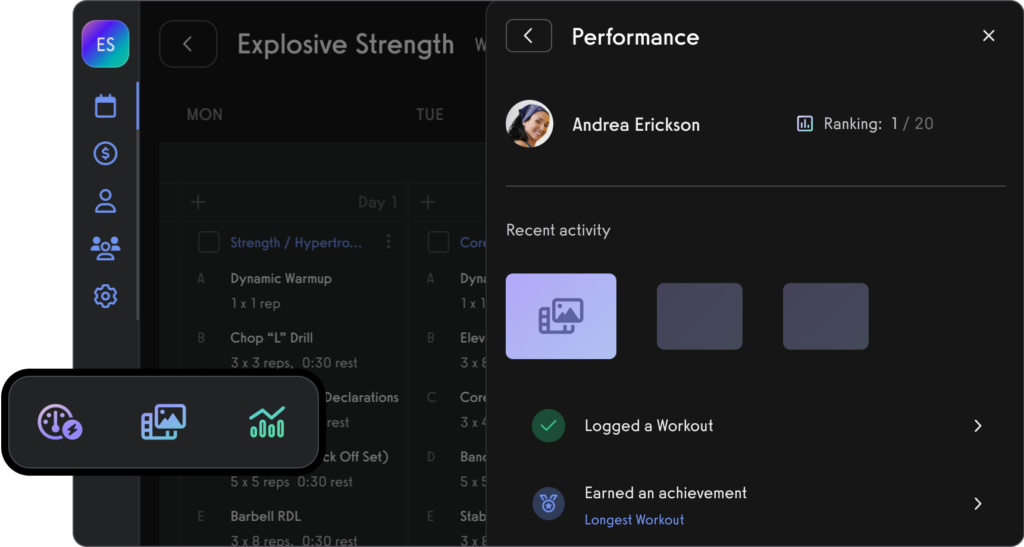 Business Dashboards
And of course, view all of your gym business reports easily too.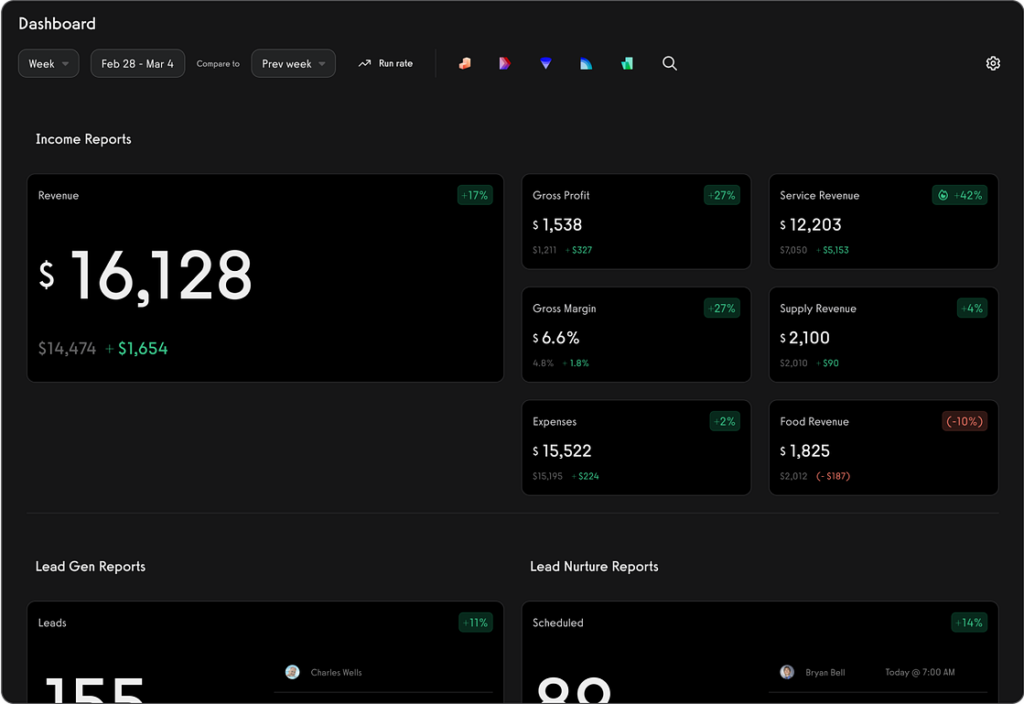 Custom Branded Fitness Apps
All from your custom-branded fitness apps (Read More: Best Gym Mobile Fitness Apps Software)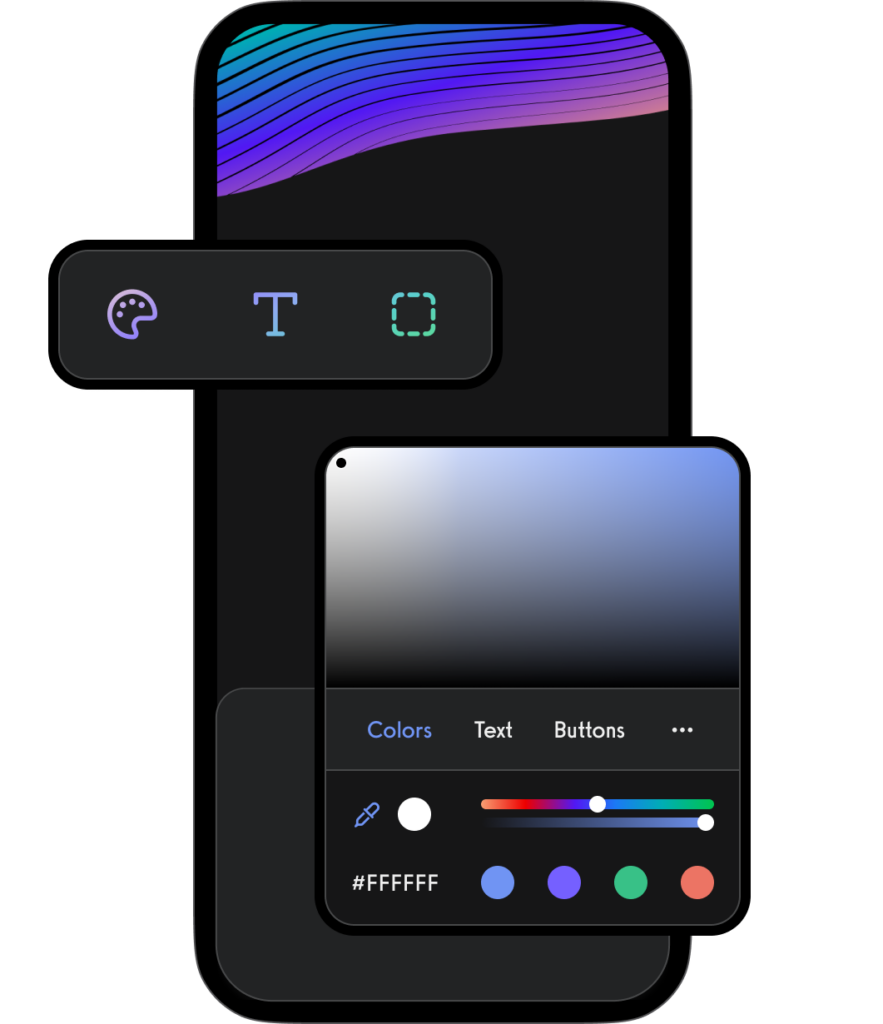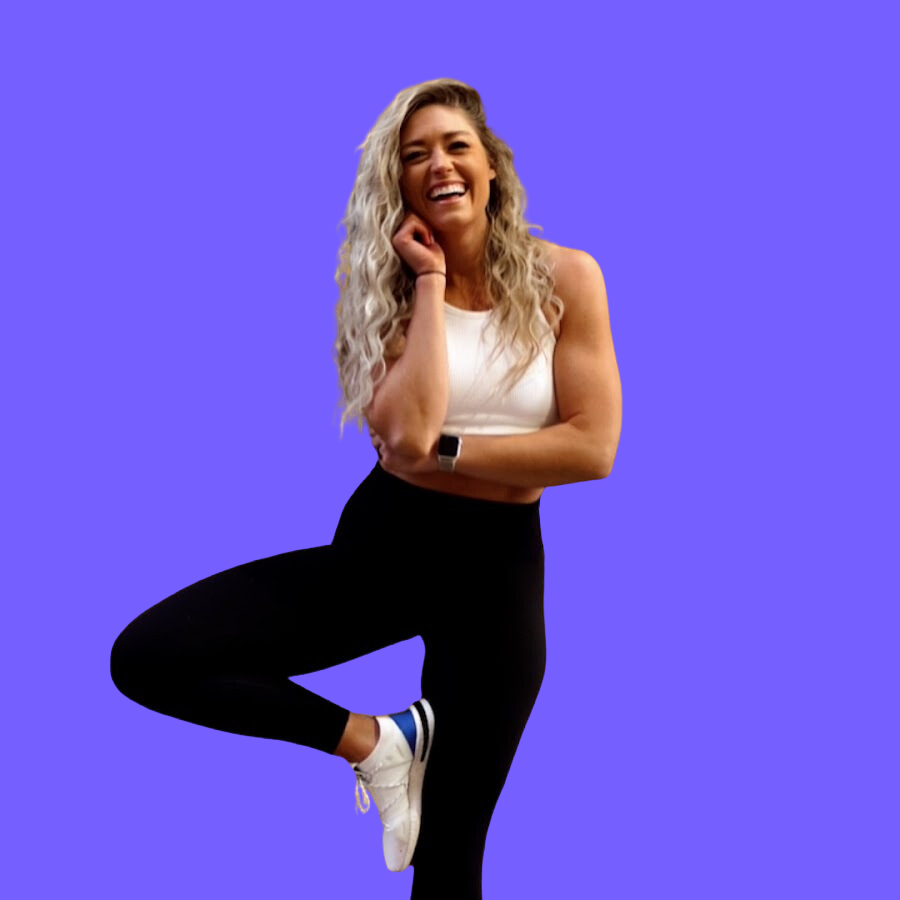 Our overall experience with Exercise.com is a breeze. We love how easy it is to integrate this app with our current workflow while providing great fitness programs for our customers and save us time in the process.
Julie Ledbetter
Owner, Ledbetter Fitness
Want to learn how your fitness business can grow to the next level with the best online software for personal trainers and fitness businesses?
Read More:
Streamline Sales and Marketing
#1 – Create a prospect tracking system
Stop letting prospects slip through the cracks! Just because they didn't sign up right away doesn't mean they never will. In fact, it's quite common to have 2-3 non-sale contacts with a prospect before they'll commit to a high-value training program.
Of course, you can't simply rely on memory for the prospect's details and timeline; trainers and gym managers who try to do so will often miss their window for signing the hot lead. Here's what you should do instead:
Create a system for tracking the status of each prospect in your pipeline using a simple spreadsheet. Use this to save all information that could be pertinent to acquiring the customer or observing trends. This should include the prospect's name, source, basic contact information, date of your last contact, and the result of that contact.
In this sample from my gym's real prospect tracking sheet, color-coding indicates when a prospect has signed up or said no. For the successful sign-ups (green), note the number of contacts made before closing. Only one was immediately signed, the rest were due to follow-ups!
In addition to preventing anyone from being forgotten, another strength of this system is that you can account for individual personality of each person and follow up with the appropriate tone. For example, rather than sending a single, generic message to everyone, you should use the last contact result to configure a personalized message that they are more likely to respond to.
Even if it takes a bit of leg work, the person you already have on the hook is easier and cheaper to sign than the one you've never met. When it comes to the various organizational personal training systems you'll use, this system is a must.
#2 – Separate business and personal contact info
Many trainers who work independently, or gym owners just getting their start, will be tempted to save money and keep things simple by using their personal phone, email, and social media accounts to run their business, but its much better to compartmentalize your business life from your personal.
Having distinct accounts will give your business a much more professional appearance and will help you maintain work-life balance. What's more, you can accomplish this with very inexpensive or free services.
Phone
You can get a new phone and business phone line from any wireless company and, without a lot of frills, pay less than $75/ month; or, even better, you can use Google Voice to get a distinct business phone number but still receive calls to your personal device.
You'll be able to give that line its own voicemail message and, because you'll know calls are coming to your business line, you can answer professionally with more than just "hello?" Google Voice starts at only $10/ month for basic business service.
E-mail
Sign up for services and contact clients using an email account that's just for business. As easy as it can be for emails to get backed up and important communication to get lost in the mix, you'll be glad you prevented business messages from falling through the cracks.
Email is another major point of professionalism. If you have a website, an email with that domain name is ideal but even a separate address from a typical domain like Gmail or Yahoo is better than your personal account.
Social Media
Rather than your personal Facebook or Instagram, create a page/profile for your business. Here, you'll put most of the focus of your posts on clients, content, and promotions. It's fine for you to be seen and let followers get to know you, but do so on your terms while keeping a veil around personal information, political stances, and non-work activities.
#3 – Implement a testimonial collection process
Testimonials should be a major part of your marketing, because what clients say about you is often trusted more by prospective customers than what you say in your pitch. As such, you'll want as much control as possible over the message they send and a steady stream of new ones that show consistency and keep things fresh. Check out the video below for some tips on how to get the best testimonials for your gym's marketing efforts:
For efficiency, you should have a pre-planned schedule for when to request a testimonial or review from a client and set up an automatic reminder for when to ask. A good window for checking in with the client and making your request is 60-90 days into their training. This timeframe is quick enough that they're excited about the novelty of training but long enough that they should be seeing measurable progress as well.
When it comes to implementing a process for collecting testimonials, your goal should be to have a systematic method without your clients realizing it. Here is what that method entails:
A set schedule for check-up conversations makes it almost automatic on your end, but don't reveal this schedule to members. From a member's perspective, it should be a casual, organic moment when you ask them, "Hey Ryan, I want to sit down with you soon and hear how things are going. Do you have 15 minutes after your workout on Thursday?"
The check-up process naturally flows into a process for receiving testimonials and online reviews, which are crucial for attracting new members. During your check-up with a member, if they are enthusiastic and report being very satisfied with the gym, ask them in a natural way if they'd leave you a review on Google, Facebook, etc.
You may say, for example, "That's awesome! I'm glad things are going well for you. Would you be willing to share that story as a review online? When people see a 5-star review it goes a long way in attracting them to working with me."
The client who's excited about the gym and grateful for your help will be more than willing to return the favor by taking a few minutes to give you a good rating. Also, note the mention of 5 stars, you've implied that's what you need without awkwardly asking, "Will you give us 5 stars?"
In the event that the member you see for a check-up isn't very happy with their progress or excited about the experience so far, of course, you will not yet ask them for a review. Instead, take their feedback and try to improve their experience between now and the next conversation so that you can get the great review then. By simply taking the time to ask and paying attention to how they feel, you will already put them on the road to a better experience at your gym.
Read More: How to Get More Gym Testimonials
Systemize Training
#4 – Perform initial and recurring fitness assessments
Knowing what you're training, why you're training it, and having a measurable gauge of success are the hallmarks of a professional coach. This is done by conducting assessments of your clients' performance both initially and on an ongoing basis.
With Exercise.com's customized health and fitness assessments, you can more easily collect data that helps you build the most effective initial training program for a new client and retain current clients with progress tracking that proves results.
Here's how online and in-person trainers utilize our software to enhance their results and their business:
First, take potential clients through a baseline assessment to show how you can help them achieve their goals. You can show them your success record by leveraging existing customer data.
Second, people often have short memories, so a client assessment in tandem with our powerful smart performance tracking empowers you to show clients where they have improved.
Third, the Exercise.com Assessment Software Platform allows you to deliver recurring assessments to re-engage clients and also provides progress photos, measurements like weight along their journey. Happy clients who can see their successes are clients that stick with you for the long haul.
#5 – Replace your old notebook with workout tracking software
When it comes to training, the old school methods like basic barbell training and bodyweight exercises are tough to beat, but that doesn't apply to your system for planning and tracking workouts.
These days, trainers can do much better than the collection of worn-out notebooks you'd have to rummage through to find previous stats or worry about losing. New, cutting-edge software like Exercise.com's business management platform is a trainer's best friend. You can build and deliver workouts through a custom web and mobile app designed to meet your unique needs.
Use our workout creation system to organize programs made up of movements from our extensive exercise library or upload your own. Within a simple interface, our powerful creation software lets you design each session exactly as you want it and deliver the workout to your clients remotely or use it to track your in-person training.
Within your custom mobile app, you'll be able to easily access performance history, make adjustments on the fly, and capture progress photos. All your training data is at your fingertips any time on any device.
Speaking of devices, a common question among those who are starting out in the industry is, "What's the best tablet for personal trainers?" Simply put: the best tablet is the one that has the best software installed. Don't waste your time looking for free personal trainer software downloads. Invest in a good, high-quality fitness business management software platform that grows with you.
Read More: Best Workout Creator Software
#6 – Make meticulous notes of every session
Figuring out how to organize personal training clients can overwhelm even the most seasoned professional; that's why the personal training client file is a must. In any given training session there are many points of information outside the obvious sets, reps, and weight. As a trainer, you should also be saving notes on your client's form issues, injury concerns, new cues, and extra information that could affect training such as lack of sleep, etc.
Particularly for trainers with a high client volume, memory can't be relied upon for these small but important details; make sure you save them securely for future reference.
Trainers using Exercise.com to create and track workouts will have the benefit of adding notes quickly while in session with a client. Your future sessions will be more effective and your clients will appreciate your attention to detail.
Organize Operations
#7 – Implement a consistent new client onboarding process
Given a choice between something that's complex and confusing or something easy to understand, which do you think clients will choose? Obviously, the latter; with everything else being equal, prospective clients will choose the gym/trainer who has a clear procedure for getting started.
Additionally, you're saving yourself a great deal of uncertainty by deciding upon the best practices and sticking to them. When you do so, you're much less likely to get stumped by questions or appear unprofessional in the eyes of your new client.
There's no one size fits all when it comes to onboarding as it will depend on what you offer and who you're marketing to, but here are the universal rules:
Keep it simple -Make it such that after a new client joins, they can confidently tell a friend exactly what to do. This is your best test of simplicity and will help gain referrals.
Spell it out – Don't give the client a chance to get mixed up or make them ask, "How do I get started?" Put it out there on your website or in a phone conversation so there's no doubt that you have a way of doing things and will guide them through the process:
Your journey with us begins with your Goal Consultation where we'll learn your history and motivation and will match you to the right training program for your needs. Then comes your Initial Fitness Assessment… it's as simple as that!
Apply it consistently – Whether the prospective client is a walk-in, a referral, or someone you meet at the grocery store, keep your onboarding recipe the same. Workouts are the place for customization; your operations should be universal.
#8 – Create business and training SOPs
As with the onboarding process above, think of how you can systemize or even automate what goes on in your business, these will be your standard operating procedures or SOPs.
SOPs give you a playbook for both typical daily tasks and, when planned ahead, the irregular issues that are unavoidable in a person-to-person business. For example, set a standard way of dealing with no-shows and rescheduled appointments (common occurrences) as well as a procedure for how to fire or kick out a client (a rare necessity, thankfully).
Some examples of where you can apply SOPs are:
Membership cancellation policy
Session cancellation policy
Gym cleaning priorities
Consultation appointments
Onboarding method
Client assessments
Training program updates
See the video below for additional information on how to establish SOPs within your business:
#9 – Set boundaries in your schedule
Personal training is one of the toughest careers for maintaining a work-life balance. Rather than a standard 9 to 5 workday, you may have a 5 to 8, 10 to 12, 4 to 7 workday! On top of that, there are a host of other responsibilities, like sales and business management, if you are an independent trainer or own a facility.
There will always be pressure to take on that one more client or move an appointment and extend your already long workday. To improve your own fitness, avoid burnout, and maintain the value of your time, you have to draw the line somewhere and set some boundaries.
Here are some examples of boundaries that keep your life organized and contribute to job longevity:
Set a maximum limit for back-to-back sessions without a break
Set an overall start time and end time for your workday at the gym
Designate at least one hour as your personal fitness time
Stop checking client emails and texts after a certain time of night
Carve out time for yourself to recover from the hustle and grind of a PT career. Just like in training, it can't be all stress and strain; you build in rest time and deload periods knowing that you can be more effective during work time if you have complementary recovery time.
#10 – Plan ahead for recertifications and continuing education
When you hold an accredited certification, as is expected in the fitness industry, tasks like recertifying and getting continuing education credits are part of the game and, unfortunately, can get rather expensive. You can, however, lessen the impact of these expenses on your bank account and your psyche by planning ahead and keeping a calendar of the required activities.
Research what you need in advance and space those tasks out evenly between recertification periods and you'll never get overwhelmed or risk missing your deadline.
Let's say, for example, you hold the CSCS credential from NSCA. The organization uses a universal recertification period in which every CSCS holder must recertify by the same date. If you require 4 Continuing Education Units (CEUs), you could be looking at a significant time commitment to attend a conference, clinics, or obtaining another certification to accumulate what you need.
If you wait until August to begin this process, the attention required to cram in those activities could detract significantly from your business and cost a considerable amount of money all at once. Instead, get started at least a year ahead; attend a conference a year prior, study and test for the Tactical Strength and Conditioning certification (for example) in the spring, and in December, simply pay your recertification fee and you're good to go!
Getting Organized as a Personal Training Business
So, how do personal trainers stay organized? As you can see, it's not a simple answer, and you shouldn't expect it to be. The above top ten ways to get more organized as a personal trainer are just the tip of the iceberg when it comes to running a fitness business, but they're a great start for setting yourself up to grow your business and feel more satisfied in your career.
What methods are you ready to implement and use to accelerate your success?
As outlined above, the industry-leading software platform from Exercise.com can be the key to optimizing your current operations and it can open up brand new pathways to growth through online training, e-commerce, and workout challenges.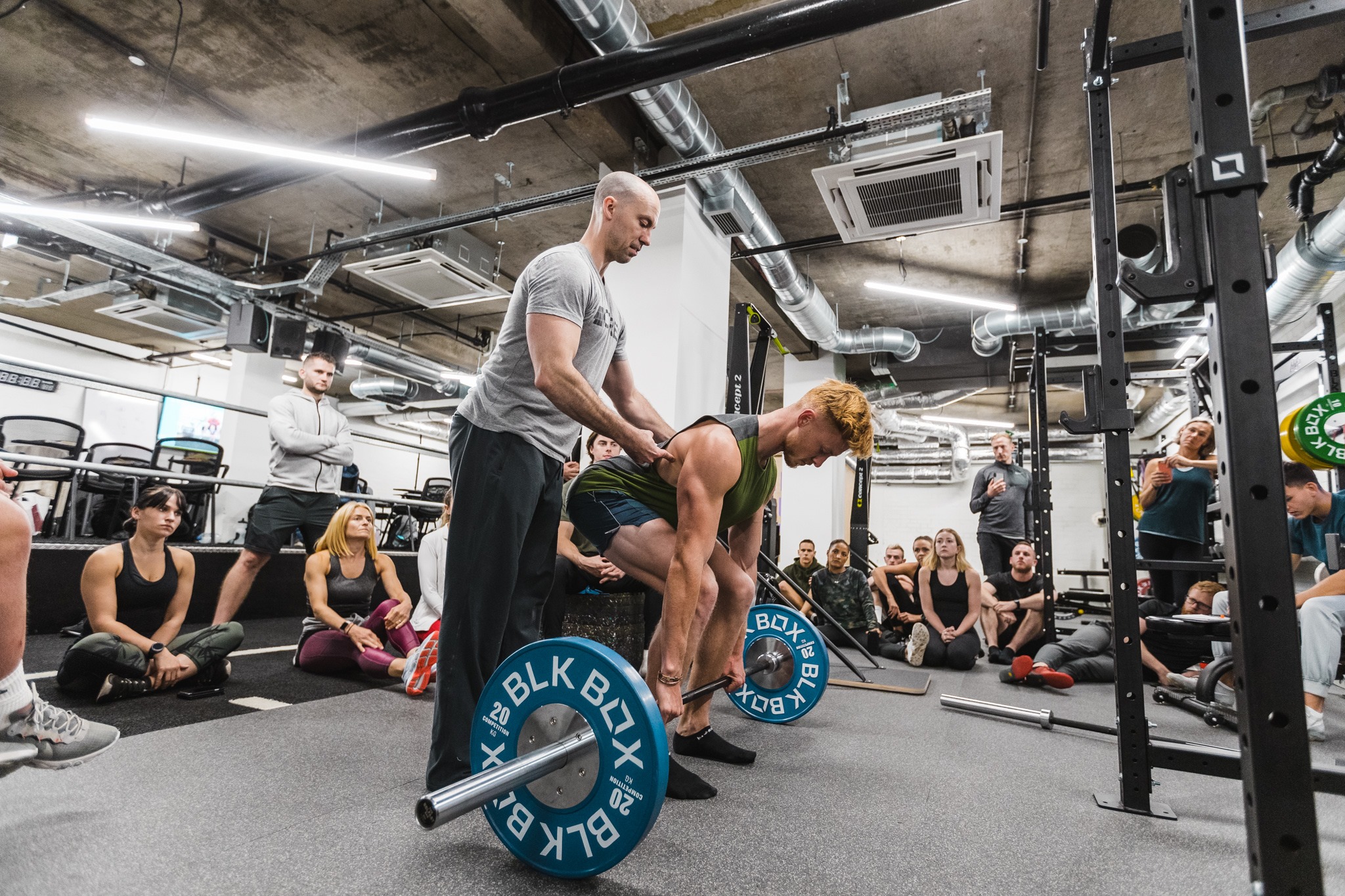 Exercise.com makes my life easier by providing an all-in-one solution and the opportunity to help those who otherwise would never have access to my programming!
Tony Gentilcore
Founder, Core Online
If you're ready to grow and manage your business better with a software that can be customized to your needs, book a demo with Exercise.com.
How to Organize Personal Training Clients
Organizing personal training clients is crucial for ensuring that each client gets the attention they need and that the personal trainer remains productive and efficient. An organized approach aids in time management, client progress tracking, and overall service quality. Here's a step-by-step guide to help you keep your clients well-organized:
1. Initial Assessment and Documentation
Start with a comprehensive assessment. Document each client's:
Fitness goals
Current fitness level
Health history
Dietary habits
Any other pertinent information
Using a software solution like Exercise.com can be invaluable for storing and managing these details.
2. Scheduling
Establish a consistent schedule:
Use scheduling software or apps tailored for personal trainers. Many of these tools send reminders to both the trainer and the client.
Schedule regular check-ins or assessments every few weeks to monitor progress.
Avoid overbooking to ensure each client receives adequate attention.
3. Individualized Training Plans
After the assessment:
Design a tailored training plan for each client.
Ensure easy access to these plans, whether digitally or in a physical binder.
Update plans as necessary based on the client's progress and feedback.
4. Digital Management
Leverage technology:
Use client management software to store client details, workout plans, progress reports, and notes.
Digital platforms often provide features like in-app messaging, which facilitates communication between sessions.
5. Payment Tracking
Stay on top of finances:
Use financial software or apps that allow you to track payments, send invoices, and offer various payment options.
Set up regular billing cycles if clients are on recurring payment plans.
6. Progress Tracking
Regularly monitor and document client progress:
Use apps or software that allows clients to log their workouts, nutrition, and other relevant metrics.
Conduct regular assessment sessions to update measurements, fitness levels, and any other relevant data.
7. Communication
Maintain regular communication:
Check in with clients outside of training sessions via email, messaging apps, or phone calls.
Provide a platform where clients can ask questions, share feedback, or express concerns.
8. Feedback and Adjustments
Stay adaptable:
Encourage clients to provide feedback about their training program.
Be willing to make necessary adjustments based on client comfort, progress, and goals.
9. Organization of Physical Space
If you have a dedicated space for training:
Ensure equipment is organized and easy to access.
Keep the area clean and safe, removing any potential hazards.
Have a dedicated space for client files and resources if you maintain physical records.
10. Continued Education and Resource Organization
Stay updated:
Regularly update your knowledge about fitness, nutrition, and other relevant topics.
Organize resources, articles, or tools that you find useful so you can easily share them with clients.
Incorporating software platforms like Exercise.com can greatly aid in organizing personal training clients by providing tools for scheduling, progress tracking, payment management, and more. Keeping your clients organized will not only lead to better results for them but also to smoother operations and increased satisfaction for both parties.
Why Is Client Organization Important for Personal Trainers?
Client organization plays a crucial role in the success of any personal trainer. By effectively organizing your clients, you can ensure that each individual receives the attention and support they need to achieve their fitness goals. Organized client management allows you to track their progress accurately, communicate with them efficiently, and provide personalized workout plans tailored to their specific needs.
Furthermore, client organization helps personal trainers optimize their time and resources. With a well-organized client list, trainers can schedule appointments and sessions more efficiently, minimizing downtime and maximizing productivity. This not only benefits the trainer but also enhances the overall experience for clients, as they can rely on consistent and timely sessions.
In addition, client organization fosters better client relationships. By keeping detailed records of each client's preferences, goals, and progress, trainers can provide a more personalized and tailored experience. This level of attention and customization not only helps clients feel valued and motivated but also allows trainers to adapt their approach and strategies as needed, ensuring continuous progress and satisfaction.
Key Benefits of Efficient Client Organization in Personal Training
An efficient client organization system can bring numerous benefits to your personal training business. Firstly, it enables you to provide exceptional customer service by staying organized and responsive to your clients' needs. Secondly, it helps you build stronger relationships with your clients, leading to increased client retention and referrals. Lastly, organized client management allows you to streamline administrative tasks, saving you time and effort.
Additionally, an efficient client organization system can also improve the overall efficiency of your personal training business. By having a structured system in place, you can easily track and monitor client progress, set goals, and create personalized workout plans. This not only enhances the effectiveness of your training sessions but also allows you to track the success of your clients and make necessary adjustments to their programs.
Understanding the Importance of Client Profiles in Personal Training
A crucial component of client organization is creating detailed client profiles. These profiles serve as comprehensive records of your clients, including their contact information, medical history, fitness goals, and any specific considerations or precautions. By maintaining updated client profiles, you can ensure that each client receives personalized attention and appropriate recommendations based on their unique circumstances.
One of the key benefits of client profiles is that they allow personal trainers to track the progress of their clients over time. By recording initial fitness assessments, measurements, and goals, trainers can monitor the effectiveness of their training programs and make necessary adjustments. This data-driven approach helps trainers tailor their workouts and ensure that clients are making consistent progress towards their desired outcomes.
In addition to tracking progress, client profiles also enable personal trainers to provide a safe and effective training experience. By documenting any medical conditions, injuries, or limitations, trainers can design workouts that accommodate these factors and minimize the risk of injury. This level of customization ensures that clients can safely engage in physical activity and achieve their fitness goals without compromising their health.
Step-by-Step Guide to Creating Client Profiles for Personal Trainers
When creating client profiles, there are several key steps to follow. Firstly, gather essential information such as personal details, medical history, and fitness goals. Secondly, conduct an initial assessment to determine baseline measurements and evaluate physical capabilities. Based on this assessment, you can create a customized workout plan. Lastly, regularly update the client profiles with progress photos, updated measurements, and any relevant notes or comments.
Additionally, it is important to establish open lines of communication with clients to ensure their needs and preferences are being met. This can include regular check-ins, feedback sessions, and addressing any concerns or questions they may have. By maintaining a strong client-trainer relationship, personal trainers can better understand their clients' progress and make necessary adjustments to their workout plans. Furthermore, regularly reviewing and updating client profiles allows trainers to track progress over time and make informed decisions about future training sessions.
Effective Strategies for Managing and Tracking Client Progress
To effectively manage and track client progress, personal trainers can utilize various strategies. One such strategy is maintaining a detailed log of each client's workouts and progress. This log can include information such as exercise routines, sets, reps, and weights used, allowing for easy monitoring. Additionally, regular progress assessments, including measurements and fitness tests, will help you track their development over time.
Another effective strategy for managing and tracking client progress is implementing goal-setting techniques. By working with clients to establish specific, measurable, attainable, relevant, and time-bound (SMART) goals, personal trainers can provide a clear direction for their clients' fitness journeys. These goals can be broken down into smaller milestones, allowing for regular check-ins and adjustments to the training program as needed. Regular communication and feedback sessions with clients are also crucial in ensuring that progress is being made and any challenges or obstacles are addressed promptly.
The Role of Technology in Organizing Personal Training Clients
Technology plays a significant role in modern client organization for personal trainers. Software solutions designed specifically for personal trainers can simplify and streamline the process of managing client profiles, scheduling appointments, and tracking progress. These tools provide a centralized database for all client-related information, offering convenient access and efficient management.
In addition to managing client profiles, scheduling appointments, and tracking progress, technology also enables personal trainers to communicate with their clients more effectively. With the use of messaging platforms and video conferencing tools, trainers can provide real-time support and guidance to their clients, even when they are not physically present. This level of connectivity enhances the client-trainer relationship and allows for more personalized and tailored training programs.
Top Software Solutions for Streamlining Client Organization in Personal Training
When it comes to software solutions for client organization in personal training, several options stand out. Some of the top software solutions include online platforms such as Trainerize, My PT Hub, and MindBody. These platforms offer functionalities such as client profile management, appointment scheduling, progress tracking, and communication channels, all in one convenient interface.
Trainerize is a popular software solution that allows personal trainers to create customized workout plans for their clients. With features like exercise libraries, progress tracking, and client messaging, trainers can easily manage and monitor their clients' fitness journeys. The platform also offers integration with wearable devices, making it easy to track and analyze clients' activity levels.
My PT Hub is another software solution that offers a comprehensive set of tools for personal trainers. In addition to client profile management and appointment scheduling, My PT Hub also provides nutrition tracking and meal planning features. Trainers can create meal plans for their clients, track their food intake, and provide guidance on healthy eating habits.
How to Set Up an Effective Appointment and Scheduling System for Clients
Efficient appointment and scheduling systems are essential for personal trainers to manage their clients effectively. Firstly, determine the scheduling parameters for your business, including available hours and session durations. Then, utilize scheduling software or online platforms to allow clients to book sessions based on your availability. Additionally, sending automated reminders can minimize no-shows and improve overall client punctuality.
Tips for Efficiently Managing Client Communication and Follow-ups
Clear and efficient communication is key to successful client management. Utilize various communication channels such as email, phone calls, and messaging apps to stay in touch with your clients. Develop a system for regular follow-ups to check on their progress, answer any questions, and provide ongoing motivation and support. Timely and effective communication will help build trust and keep your clients engaged.
Best Practices for Creating and Maintaining a Client Database in Personal Training
A well-organized and maintained client database is essential for personal trainers. Start by ensuring that all client information is accurately recorded, including contact details, medical history, and fitness goals. Regularly update the database with any changes and notes from each session. Implement backup procedures to safeguard client data, and comply with privacy regulations to maintain confidentiality and provide peace of mind to your clients.
Strategies for Maintaining Confidentiality and Privacy of Client Information
Confidentiality and privacy are paramount when it comes to client information in personal training. Protecting your clients' data is not only a legal responsibility but also an ethical obligation. Ensure that your client database is securely stored, and invest in encryption and access control measures to prevent unauthorized access. Implement strict internal policies and procedures to ensure confidentiality and educate your staff on the importance of maintaining privacy.
How to Develop and Implement Customized Workout Plans for Individual Clients
Customized workout plans are the cornerstone of effective personal training. Developing these plans requires a thorough understanding of your clients' goals, capabilities, and preferences. Consider factors such as their fitness level, desired outcomes, time availability, and any specific limitations. By tailoring each workout plan to the individual, you can ensure that your clients are motivated, challenged, and on the path to achieving their desired results.
The Importance of Goal Setting and Tracking in Organizing Personal Training Clients
Goal setting and tracking are essential components of personal training. Work with your clients to establish clear and realistic goals based on their aspirations and capabilities. Regularly review and adjust these goals as necessary. Track progress objectively through measurements, fitness tests, and client feedback. By emphasizing goal setting and tracking, you can keep clients motivated, engaged, and focused on their desired outcomes.
Effective Strategies for Grouping and Segmenting Clients Based on Similar Goals or Needs
In some cases, personal trainers may work with multiple clients who share similar goals or needs. To effectively manage and organize these clients, consider grouping or segmenting them based on these similarities. This approach allows you to develop tailored programming for each group, saving time in session planning and enhancing overall efficiency. Group workouts and shared milestones can also foster a sense of camaraderie and motivation among clients.
Tips for Prioritizing and Managing Multiple Clients with Different Fitness Levels and Objectives
Managing multiple clients with varying fitness levels and objectives can be challenging, but with the right strategies, it can also be highly rewarding. Firstly, prioritize client needs by assessing their goals, deadlines, and individual requirements. Create a schedule that ensures fairness and flexibility while still meeting each client's expectations. Utilize efficient client management systems to track progress and personalize workouts, ensuring each client receives appropriate attention.
Essential Tools and Resources to Help Personal Trainers Stay Organized with Their Clients
To stay organized with your clients, personal trainers can benefit from utilizing various tools and resources. Scheduling software and online platforms can simplify appointment booking and management. Fitness tracking apps can help monitor and analyze clients' progress. Additionally, exercise libraries and workout planning tools provide a wealth of resources for creating diverse and engaging workouts. Investing in these tools can enhance your organizational skills and improve client management.
How to Maintain Long-Term Relationships with Clients through Effective Organization Methods
Maintaining long-term relationships with clients is crucial for personal trainers. By implementing effective organization methods, you can establish trust, deliver consistent results, and provide exceptional service—factors that contribute to client loyalty. Regularly reassess clients' goals and milestones, provide tailored programming and ongoing support, and prioritize their needs. By demonstrating your commitment to their success, you can foster long-lasting relationships that benefit both you and your clients.
Common Challenges Faced by Personal Trainers in Client Organization and How to Overcome Them
Personal trainers often face challenges when it comes to client organization. One common challenge is managing a large client base and maintaining accurate records. Implementing client management software can help streamline these processes. Another challenge is ensuring consistent and accurate data entry. Encourage clients to provide constant updates and verify information during each session. By proactively addressing and overcoming these challenges, you can maintain a highly organized client management system.
Case Studies: Real-Life Examples of Successful Client Organization Techniques in Personal Training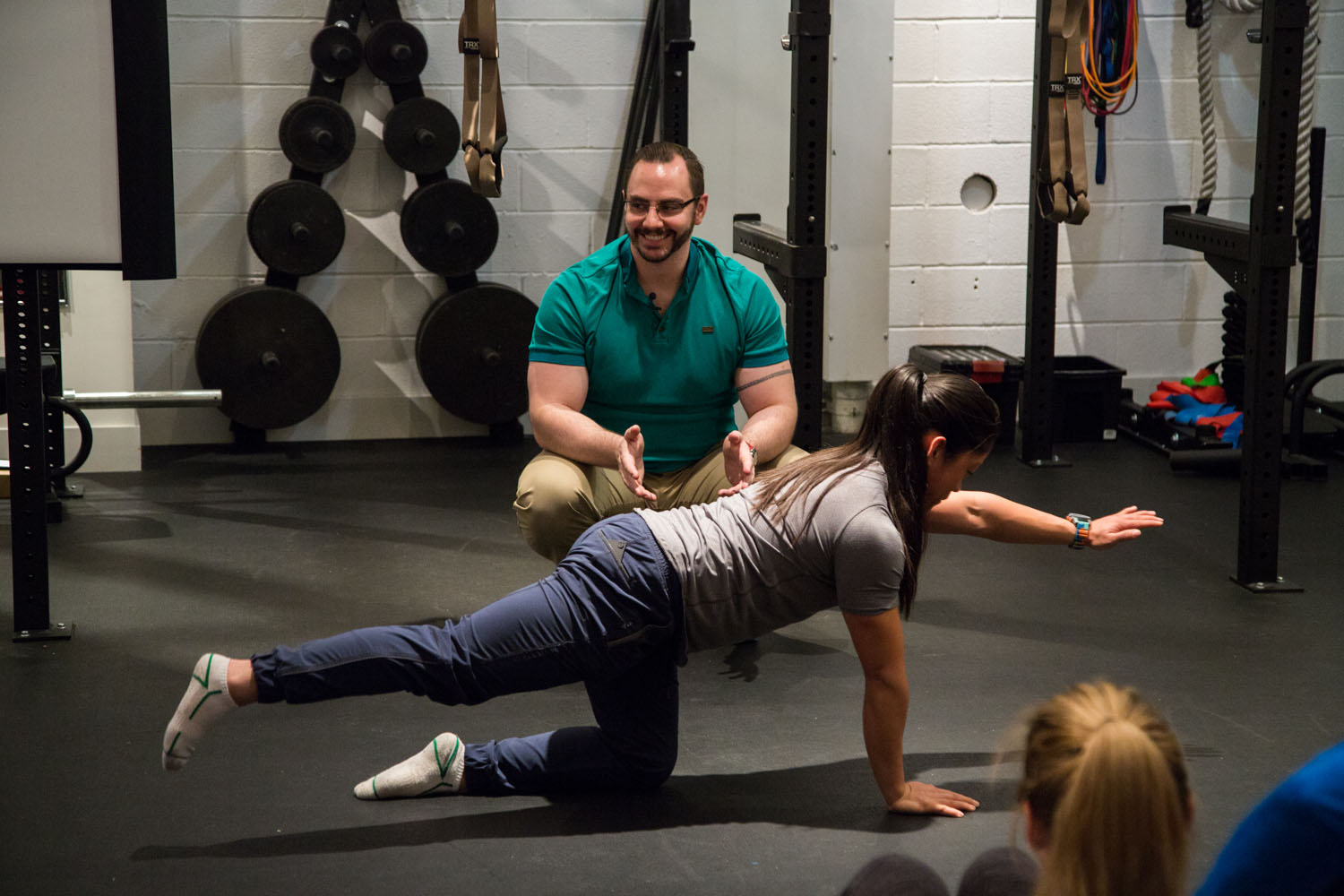 "Developing an easy intake system with my apps and ways to scale the delivery of workouts has been huge. Working with 20-30 individuals who each have specific goals and restrictions can be challenging, but your platform makes it easy to organize everyone's programs and put a plan together that will get them the best results possible. The simple, effective tools help expand and simplify my coaching process."
Dean Somerset
Owner, Somerset Fitness
Examining real-life examples can provide insightful lessons on successful client organization techniques. Case studies highlight industry-leading personal trainers who have implemented effective strategies in managing their clients. By studying these examples, you can gain valuable insights and practical tips on how to organize and manage your own personal training clients more efficiently and effectively.
Crganizing personal training clients is a crucial aspect of running a successful personal training business. By recognizing the importance of client organization, implementing efficient strategies, and utilizing technology and resources, you can enhance your client management skills, build stronger relationships, and achieve exceptional results with your clients.
How do personal trainers stay organized?
Personal trainers stay organized by using comprehensive fitness software like Exercise.com. Such platforms offer tools to manage scheduling, client progress tracking, billing, and workout plan creation, all in one place. Having a centralized system allows trainers to streamline their tasks, reduce administrative time, and focus more on their clients.
How do you structure a personal training session?
A typical personal training session is structured with a warm-up, the main workout, and a cool-down. The warm-up involves light exercises to increase heart rate and prepare the body. The main workout focuses on specific goals, be it strength, endurance, or flexibility. The cool-down includes stretching and relaxation exercises to aid recovery.
Why does a personal trainer need to be Organised?
Being organized allows a personal trainer to offer a more effective and tailored service to their clients. It ensures timely and systematic tracking of client progress, reduces scheduling conflicts, and enhances overall client experience, leading to better client retention and referrals.
How many clients should a beginner personal trainer have?
A beginner personal trainer should start with a manageable number of clients, perhaps 3-5, to ensure they provide individual attention, refine their training techniques, and build confidence without feeling overwhelmed.
Why do most personal trainers quit?
Many personal trainers quit due to reasons like inconsistent income, challenging work hours, the demand for continuous education, or not having adequate tools to manage the administrative side of the business. Using platforms like Exercise.com can help alleviate some of these challenges by streamlining business management tasks.
Why do personal trainers lose clients?
Personal trainers might lose clients due to various reasons: not showing measurable progress, lack of personal connection, inflexibility in scheduling, or not varying workouts to keep them engaging. It's crucial for trainers to continuously assess and adapt their methods based on client feedback.
How long should a PT session be?
Most personal training sessions last between 30 minutes to an hour, depending on the client's goals, fitness level, and the type of training.
How do you structure a 30 minute personal training session?
For a 30-minute session, a trainer might spend 5 minutes warming up, 20 minutes on a high-intensity main workout focusing on targeted exercises, and 5 minutes cooling down with stretches.
What are the 4 key elements in a training session structure?
The four key elements in a training session are: a warm-up, the main workout, a cool-down, and a feedback/discussion period to reflect on the session and set goals for the next one.
How do personal trainers keep track of clients?
Personal trainers can keep track of clients using dedicated fitness software platforms like Exercise.com. These platforms offer features like progress tracking, session scheduling, and communication tools, making it easier for trainers to monitor and interact with their clients.
What strategies do personal trainers use?
Personal trainers use various strategies, including goal setting, tailored workout plans, nutrition advice, continuous education to stay updated with industry trends, and leveraging technology platforms like Exercise.com to manage and grow their clientele.
How do personal trainers break up with clients?
If a personal trainer feels the need to end the trainer-client relationship, they do so professionally. This involves a face-to-face conversation, explaining the reasons (be it scheduling conflicts, differing fitness philosophies, or other issues), and offering to recommend another trainer if needed.
How do I keep track of my PT clients?
Keeping track of PT clients is made simpler with platforms like Exercise.com. The software provides tools for scheduling, progress tracking, communication, and more, allowing trainers to efficiently monitor and manage their clientele in one centralized platform.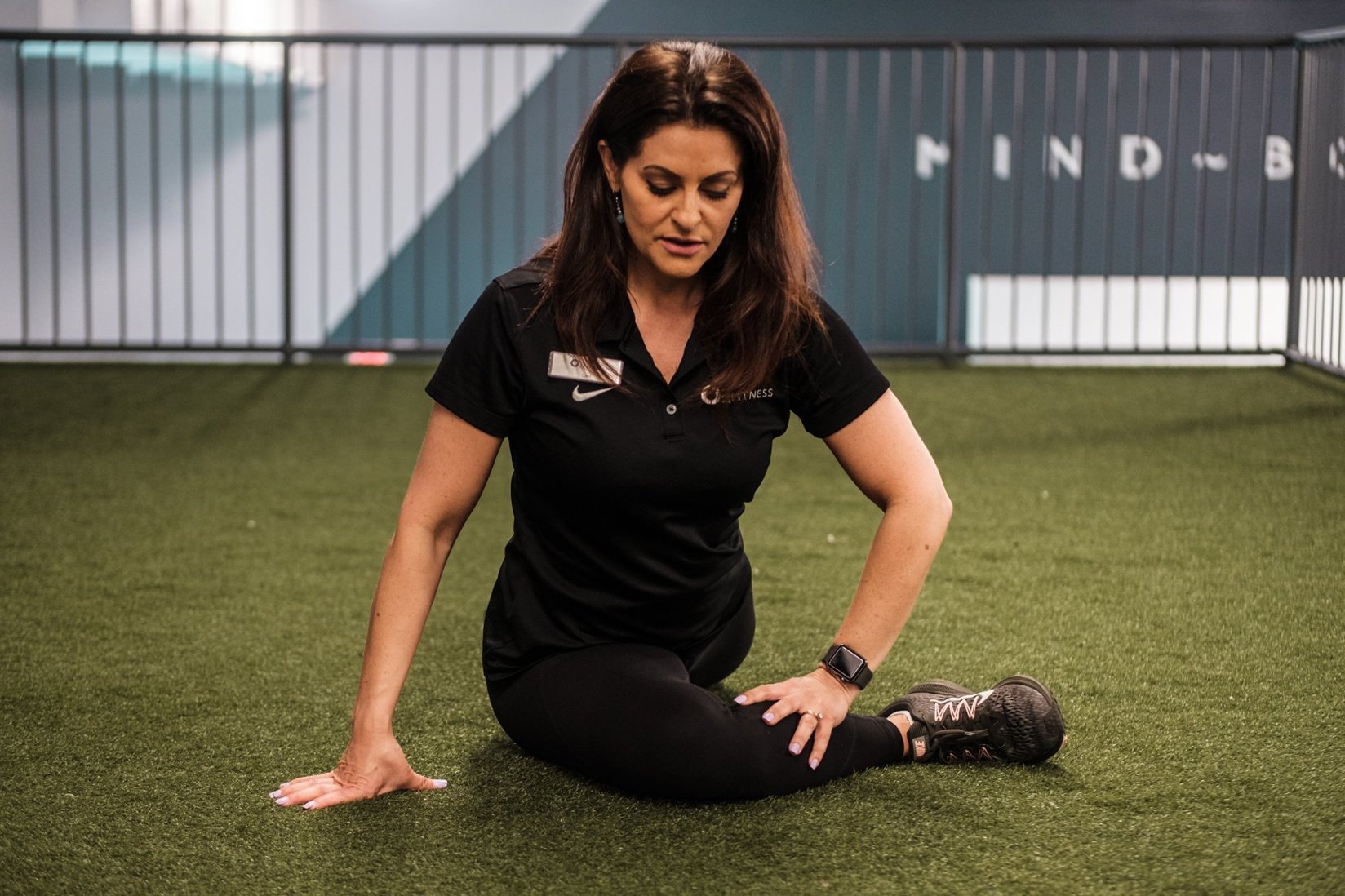 Excellent choice for my business! I tried nearly all the "major" platforms and found Exercise.com to be the most intuitive.
Lani Hudgins
Certified Personal Trainer & Nutrition Coach
References:
Colton Tessener
is a Strength &amp; Conditioning Coach and gym owner from North Carolina. He has a Bachelor's degree in Exercise Science from UNC-Wilmington and has 10 years of hands-on experience in coaching clients of all types on improving physical performance. His gym, <a href="https://www.ariseathleticsnc.com">Arise Athletics</a>, has been recognized locally as Small Business of the Year and named one of the Best Gyms in Wake County (Raleigh, NC).