100+ Fitness Challenge Ideas for Your Gym
Our big list of fitness challenge ideas for your gym will help you motivate, engage, and retain your gym members. Many of these gym fitness challenge ideas are also great for recruiting new gym members, which means fitness challenges can result in revenue for your gym. Here's everything you need to know about coming up with ideas for fitness challenges, and hey, you don't have time to come up with all the fitness challenge ideas yourself so we've come up with over 100 for you!
Read on to get your creative juices flowing and then be sure to check out the world's best gym management software, Exercise.com, to run your entire business on one platform. And, did you know that you can run gym challenges with fitness challenge software incorporated right into our gym management software platform? This means you can run online fitness challenges, motivate your gym members to invite other guests, run competitions using leaderboards, and much more. We even make it easy and semi-automated so that you can create marketing/messaging sequences to interact with members.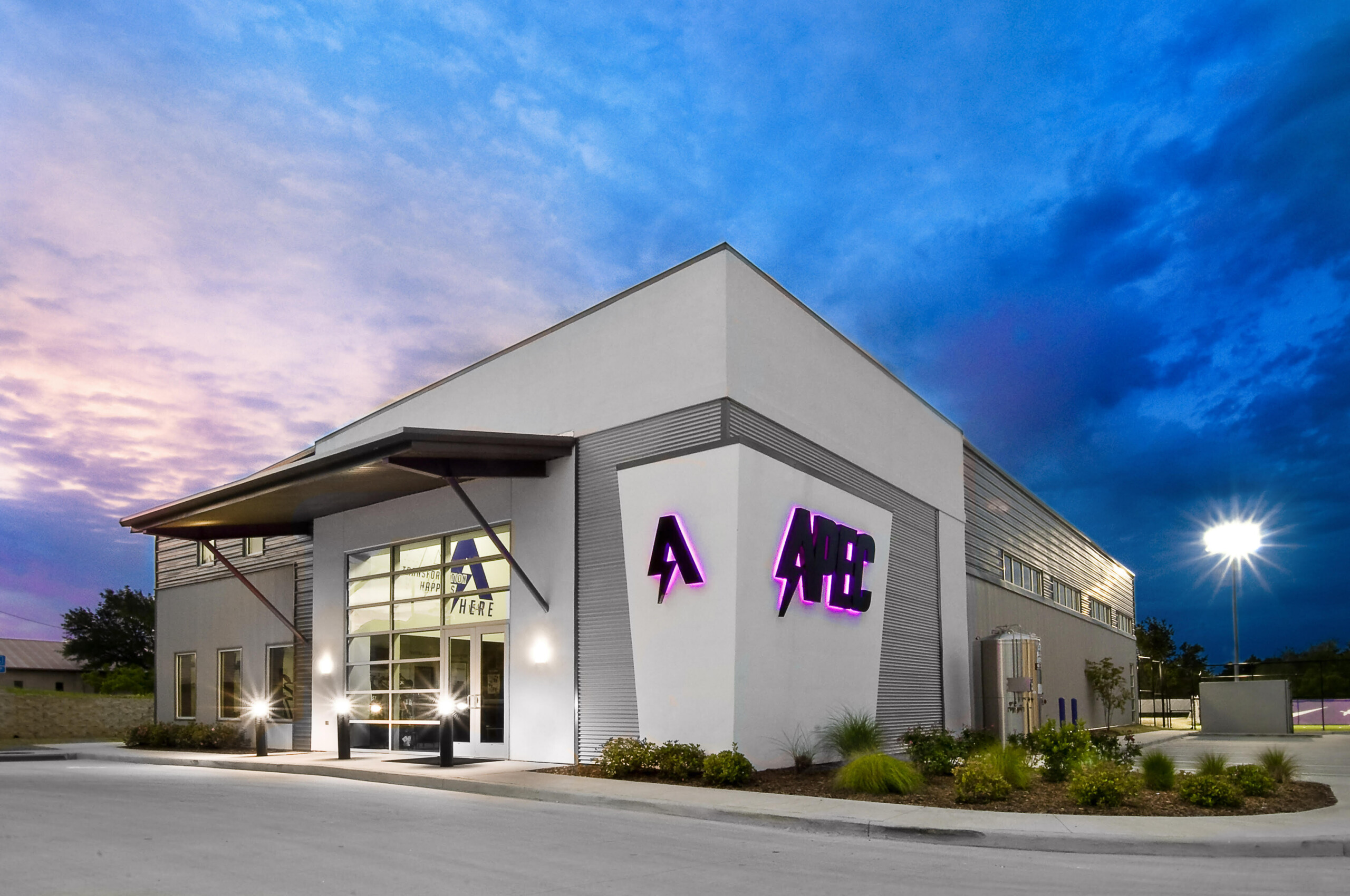 Exercise.com is simply the best. We were using three or four different apps or softwares to do what we can now do all in one with the Exercise.com platform.
Brandon Stroupe
Founder and President, APEC Sports Performance
Want to talk to us and see how we can help your gym run fitness challenges and grow and manage your gym better? Get a demo!
Read More:
Best Gym Fitness Challenge Ideas
Sure, we have some guidance about different fitness challenge ideas down below, but you just want to dive into a big list of fitness challenge ideas, right? Read through this list of 100+ ideas for fitness challenges, and then feel free to improvise! Mix and match the parts that work for your fitness facility and start that fitness challenge!
30-Day Plank Challenge
100 Push-ups Challenge
30-Day Burpee Challenge
10,000 Steps Daily Challenge
30-Day Squat Challenge
2-Week Cardio Challenge
5K Running Challenge
30-Day Yoga Challenge
30-Day Abs Challenge
1-Minute Wall Sit Challenge
30-Day Flexibility Challenge
30-Day Pull-up Challenge
2-Week High-Intensity Interval Training (HIIT) Challenge
30-Day Meditation Challenge
30-Day No Sugar Challenge
50-Mile Cycling Challenge
30-Day Full Body Challenge
10-Minute Jump Rope Challenge
30-Day Healthy Eating Challenge
100,000 Pound Lifting Challenge
30-Day Weight Loss Challenge
1-Month Triathlon Training Challenge
30-Day Box Jump Challenge
2-Week Kettlebell Challenge
30-Day Bodyweight Challenge
30-Day Mountain Climber Challenge
100 Sit-ups Challenge
30-Day Clean Eating Challenge
30-Day Arm Toning Challenge
7-Day Sleep Challenge
30-Day Step-Up Challenge
30-Day No Alcohol Challenge
1-Month Swimming Challenge
30-Day Deadlift Challenge
2-Week Jumping Jacks Challenge
30-Day Hydration Challenge
30-Day Stairs Challenge
30-Day Dance Challenge
7-Day Meal Prep Challenge
30-Day Rowing Challenge
30-Day Glute Bridge Challenge
5-Minute Daily Stretching Challenge
30-Day Treadmill Challenge
2-Week Outdoor Workout Challenge
30-Day Handstand Challenge
30-Day Bicycle Crunch Challenge
100 Tricep Dips Challenge
30-Day No Junk Food Challenge
30-Day Walking Challenge
1-Month Pilates Challenge
30-Day Stability Ball Challenge
30-Day Leg Raise Challenge
2-Week Speed Ladder Challenge
30-Day Mindfulness Challenge
30-Day Battle Ropes Challenge
7-Day Green Smoothie Challenge
30-Day Russian Twist Challenge
30-Day Farmer's Walk Challenge
100 Double Unders Challenge
30-Day Mobility Challenge
30-Day Obstacle Course Training Challenge
7-Day Core Challenge
30-Day Lunge Challenge
2-Week Indoor Cycling Challenge
30-Day Fruit and Veggie Challenge
30-Day Hiking Challenge
100-Meter Sprint Challenge
30-Day Dumbbell Challenge
30-Day Partner Workout Challenge
30-Day Superfood Challenge
30-Day Ski or Snowboard Challenge
2-Week Animal Flow Challenge
30-Day Resistance Band Challenge
30-Day Active Recovery Challenge
1-Month Kickboxing Challenge
30-Day Barbell Challenge
7-Day Metabolic Conditioning Challenge
30-Day No Coffee Challenge
30-Day Inversion Challenge
100-Mile Run Challenge
30-Day Tabata Challenge
30-Day Foam Rolling Challenge
7-Day Calf Raise Challenge
30-Day Mindful Eating Challenge
2-Week Sandbag Training Challenge
30-Day Sled Push Challenge
30-Day Skipping Challenge
100 Chin-ups Challenge
30-Day Stairmaster Challenge
7-Day Gratitude Challenge
30-Day Hip Thrust Challenge
1-Month Sports Challenge (e.g., basketball, soccer, tennis)
30-Day No Soda Challenge
2-Week Plyometric Workout Challenge
30-Day Tire Flip Challenge
30-Day Skating Challenge
1-Minute L-Sit Challenge
30-Day Clean and Jerk Challenge
100 Turkish Get-ups Challenge
30-Day Active Commuting Challenge (e.g., biking, walking, or running to work)
Benefits of Fitness Challenges
Let's dive into some of the benefits of gym fitness challenges, and then go into detail on some of the various types of fitness challenges so you can decide which one might be best for your gym. Reading through all the gym competition ideas on this page can breathe new life, energy, and excitement into your club.
Gym member workout challenges can be beneficial to your club.
There are many different types of challenges worth trying.
Challenges can benefit beginners, intermediate lifters, and advanced athletes.
Looking for a comprehensive list of some of the top gym fitness challenges?
At Exercise.com, we know that as a fitness professional, you have to constantly be delivering a winning product or solution to your clients and gym-goers, not only to help them with their goals but to also keep everyone motivated. One of the best ways to get members involved is with fitness challenges.
You can use challenges to…
Generate new leads
Motivate people
Encourage referrals
Drive sales
Educate participants
Maximize loyalty
Read More: Best Gym Lead Management Software
We've scoured the internet for some of the best fitness challenges that you can use in your gym or on your own and have broken down the challenges into a few categories:
Collective – challenges for your whole gym
Beginner – simple movements that most gym-goers can accomplish
Intermediate – harder movements that most fit individuals can handle
Advanced – workouts for those that have been around the block when it comes to fitness
By pairing these challenges with the Exercise.com app (which can be fully custom-branded to your business), you can bring your fitness community together with leaderboards, your own unique created workouts which you can deliver to clients, a fully customized workout library to show members each exercise, and workout tracking so that members can see where they started, how far they've come, and how much further they have to go.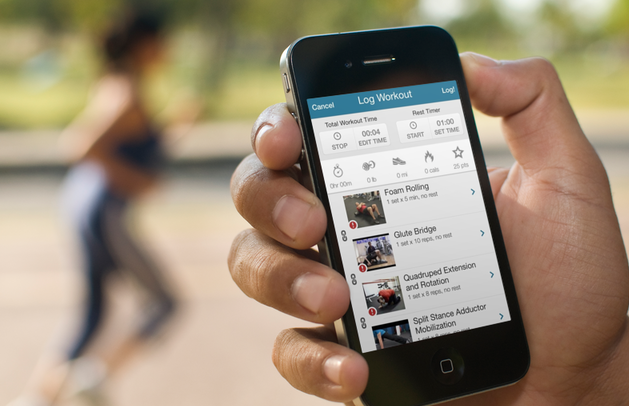 "My custom-branded apps have made my life easier and helped streamline my online training, which in turn has transformed into a pretty awesome additional revenue stream for me and my family."
Tony Gentilcore
Founder, Core Online
Request a demo today to learn more.
Collective Gym Member Challenges
These gym challenges fit into most categories that members fall into when they choose their gym goals. From burning calories to knowing how to do the challenge, members want to spend their energy just doing the work. Keeping challenges simple and straightforward can help gym members of any fitness level reach various goals. The nice thing about gym challenges for members is that they function as great excuses for your gym members to invite their friends and family to participate—which means more people in your gym!
#1 – Running Challenges
Running challenges are great for gym members because each member can go at his or her pace. Set realistic goals like having members run 30 miles within one month — how they choose to collect those miles it up to them!
#2 – Cycling Challenges
Similar to a running challenge, set up a challenge that involves cycling. This works especially well for gym members who may not be able to run due to weight or joint problems. Monitoring their status via your Exercise.com software is easy with leaderboards that come with the custom app, allowing members to see their personal and overall progress versus everyone else in this challenge.
#3 – Rowing Challenges
If you have rowing machines at your gym, don't be afraid to add a rowing challenge to your repertoire of gym member challenges. With Crossfit being a big reason these rowing workouts are so popular due to its aerobic intensity and full-body training, gym members of all types will look to test their mettle on a rowing challenge.
Using the digital dashboards on the rowing machines, you can put together time, distance and speed challenges that vary in difficulty according to the clientele at your business. Using performance health assessments that come with Exercise.com's custom business software you'll be able to find out exactly what challenges your members would be interested in before you even begin!
#4 – Most Calories Burned Challenge
What most gym members want to get out of a workout is pretty straightforward: they want to burn calories.
With this gym member challenge, you can give the reins to your members as you watch from the leaderboards and track the progress of the fitness challenge. With so many apps and systems to track the heart rate of participants, integrating into your Exercise.com app makes tracking progress easy.
Using photos and a timestamp will keep everyone accountable during the participation in a mostly self-propelled challenge like calories burned.
There are a ton of apps out there that count calories burned for specific exercises and lengths of time, so you can simply have your members submit photos of their results with timestamps to participate.
#5 – Total Weight Lost Challenge
Physically noticeable progress is a monumental factor in why The Biggest Loser was so popular on television. Only having to show proof of their weight before and after via photo makes this an easy to complete gym member challenge that requires no additional equipment or apps.
#6 – Healthy Eating Challenge
Whether using an app or nutrition log to track food choices made, you can have members follow along by submitting pictures of recipes made from a list you've created or track points for food choices.
From drinking certain amounts of water during the day to tracking fruits and vegetables eaten, there are plenty of ways to get your members involved when it comes to eating the part of a healthy lifestyle in tandem with a workout challenge.
Some examples of a healthy eating challenge are:
Drinking a gallon of water daily
Eating a set serving amount of fruit or veggies over the course of each day
Participating in healthy eating cookoffs (just set your healthy recipe list and set a time frame)
#7 – Most Club Visits Challenge
One of the easiest ways to get members involved in a workout challenge is with club visits. This challenge is one of the easiest to set up and run:
Set your time frame for when you want members checking in; it can be a week, two weeks, a month, or can run as long as 90 days!
Check your business dashboard on your fitness business management app to find out who had the most check-ins
Name your winner!
There's almost no easier way to give your members incentive to get into the gym than with a total check-ins gym member challenge.
Monitor to make sure members are checking in properly and reward based on the logistics you set for the challenge.
#8 – Improve Your Personal Best by 10%
Hold a day at your gym before you start this challenge and have everyone who wants to participate in this challenge get their best number, whether it's:
Walking
Running
Rowing
Any type of lift(Squats, Deadlifts, Bench, etc.)
Most gym members enjoy certain activities, so letting them aim to improve on their favorite activities in the gym is a fantastic way to push them to do more or be a little more focused when they are in the gym. Pairing this gym member challenge with another, like a healthy eating challenge, is a great one-two combo.
Just make sure you have their previous personal bests documented close enough to the time period of the start of the challenge to be positive they're not using personal bests from a year ago.
Beginner Gym Fitness Challenges
The following table includes some of the easiest ways to get members involved, even if only for a few minutes. From 60 seconds up to fifteen minutes, this table of assorted basic workouts will have members committed to doing just a little bit extra daily:
| EXERCISE | HOW TO |
| --- | --- |
| Burpee | Do as many Burpees as you can in 1 minute |
| Daily 30 | Exercise for 30 minutes every day |
| Double Duty Move Your Booty | Do as many push-ups as you can and then go for a 15 minute walk every day |
| Lunge | Carefully do as many lunges as you can in 1 minute |
| Plank It | Do a plank exercise for at least 1 minute |
| Push Up | Do as many push ups as you can in 1 minute each day |
| Sit Up | Do as many sit-ups as you can comfortably do in one set each day |
| Squat | Do as many squats as you can in 1 minute |
| Stretch It Out | Stretch every day for at least 10 minutes |
| Walk It Out | Take a 15 minute walk every day |
For accountability and keeping track to make sure members are doing the exact same workouts, plug in the challenge to your Exercise.com custom-branded fitness app for fitness community building.
For other challenges, try the following:
#1 – 30-Day Walking Challenge
| | Day 1 | Day 2 | Day 3 | Day 4 | Day 5 | Day 6 | Day 7 |
| --- | --- | --- | --- | --- | --- | --- | --- |
| Week 1 | Walk 1 Mile | Walk 1 Mile | Walk 1 Mile | Off | Walk 1 Mile | Walk 1 Mile | Walk 1 Mile |
| Week 2 | Off | Walk 1.5 Miles | Walk 1.5 Miles | Walk 1.5 Miles | Off | Walk 1.5 Miles | Walk 1.5 Miles |
| Week 3 | Walk 2 Miles | Off | Walk 2 Miles | Walk 2 Miles | Walk 2 Miles | Off | Walk 2 Miles |
| Week 4 | Walk 2.5 Miles | Walk 2 Miles | Off | Walk 2 Miles | Walk 2 Miles | Walk 2 Miles | Off |
| Week 5 | Walk 3 Miles | Walk 3 Miles | | | | | |
This walking challenge is all about the gym member and their own fitness level. For this challenge, you can set a general distance or general time, and then choose winners based on the miles walked in that time or the time it took to go the distance.
TIPS FOR A SUCCESSFUL WALKING CHALLENGE
Try to beat your fastest time if you are keeping track of time and mileage to increase the difficulty of this challenge.
If you get bored with walking try adding in walking and running intervals and sprints or add in some uphill work while on your walk.
Try walks in the grass or on uneven surfaces. This will help give your stabilizer muscles some work too, which adds to joint stability and overall strength.
Listening to podcasts, uplifting music, motivational speeches, or meditating while you walk will help you focus and calm your mind.
Walks can be tough if you challenge yourself, make sure to keep a clear head, smell the roses on the sidewalk, check out the sunshine, and bring some water!
PROPER WALKING FORM
Heel to toe, meaning your heel touches the ground first
Stand tall and look about 10 feet in front of you
Engage your core
#2 – 30-Day Chair Fitness Challenge
Want to work out but struggle a bit with body weight and/or balance? This gym workout challenge that we found on The Refinery is built around using the assistance of an item that most likely everyone has at their home: a chair.
By incorporating exercises like bridges, knee lifts, incline push-ups, and lunges, challengers will be able to get a workout in without having to leave their homes.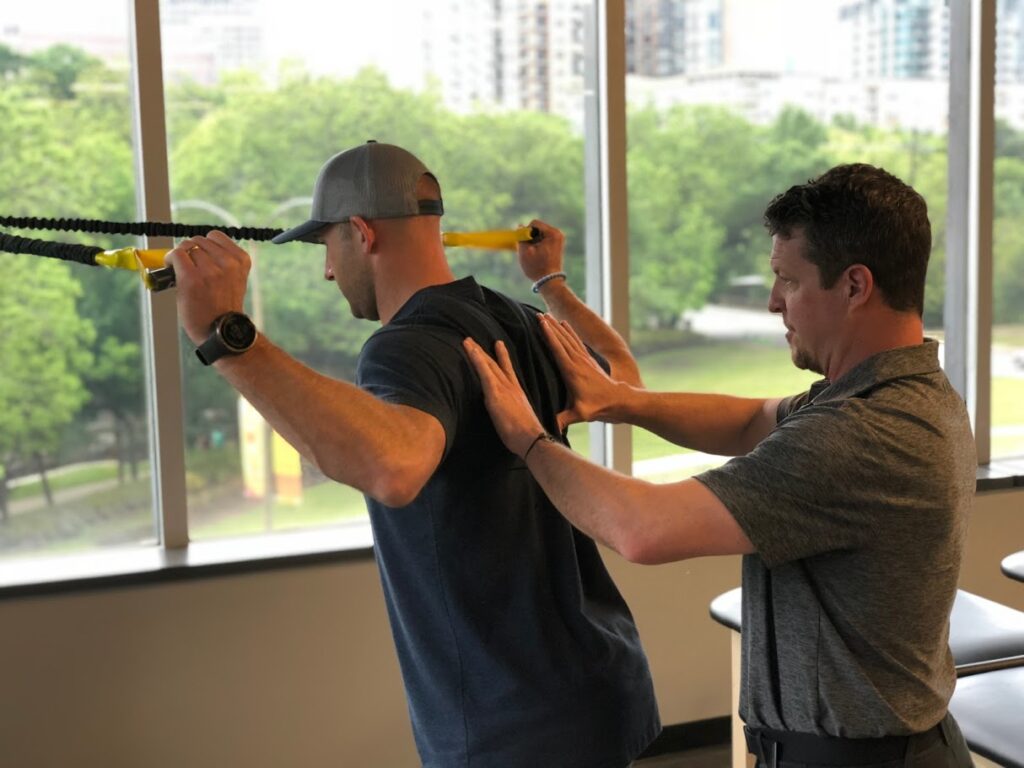 "Working with Exercise.com and their team has been an amazing experience and a dream come true in terms of accomplishing a vision! Their workout technology has helped us effectively engage our community, and I highly recommend Exercise.com to grow your business!"
Andrew Banner
Co-Founder, AMPD Golf Performance
Intermediate Gym Fitness Challenges
Here are eight challenges that may require a little explanation for your members, and while most of these may not be intermediate, 30 days of any of the following will almost be guaranteed help your members see results over the course of the challenge:
Squat challenge
Pull-up challenge
Core strength challenge
Holiday challenge
Active aging challenge
Flexibility challenge
Landmark challenge
Social accountability challenge
#1 – Squat Challenge
These days in the fitness industry, the squat is more of a beloved exercise and less of a hated one.
Running a squat challenge will not only appeal to a wide range of participants but it will deliver quick results, too. With so many different types of squat variations available, you can teach a different type either daily or weekly and have members follow along and figure out which ones not only work the best for each individual but which ones appeal to each the most.
Various Squat Types:
With legs being the largest muscles in the body, a squat challenge is sure to appeal to most gym members as this challenge will likely tone and sculpt most bodies due to the sheer workload members are putting on their legs.
Teach a basic technique for a few different squat variations and have people add resistance if they need. Use the following weeks to amp up resistance and difficulty levels.
Have members take pictures or videos and use them on your gym social media feed and tag members to give them a boost of confidence.
#2 – Pull-Up Challenge
The pull-up, a classic calisthenics movement, is one that most people either A) struggle with and never do, or B) struggle with and try to get better at.
Because most people LOVE to see progress, their own personal transformation in the form of pictures or videos from a full month of pull-up challenges is sure to be motivation to re-engage themselves in the gym. Participating in a tough group workout challenge that everyone else in your fitness community is participating in is also individually empowering.
Teach this challenge in parts and have gym members work on specific parts of the movements for a week after finding out their starting amount number, then have the participating gym members progress forward from there.
Members should understand the muscles trained, benefits of the movement, how to engage the core, and lastly, the pull-up movement itself from beginning to end.
#3 – Core Strength Challenge
If the pull-up challenge is a little too much for most of your gym members, start with a core strength workout challenge. Examples of core exercises are the following (which you can demonstrate to participants with your custom Exercise.com video library):
Planks
Crunches and sit-ups
Hip flexor and lower back engaging movements like leg raises or flutter kicks
Side plank holds
Pikes and V-ups
This type of challenge appeals to most gym members because having a great-looking core is a goal for many exercise enthusiasts. Write down a daily list of various workouts for the core and have members upload and tag your gym on social media for a marketing boost as well as being accountable to the challenge!
#4 – Holiday Challenges
Set up a year challenge and have the participating gym challenge member win 6-months to a year free with your business for completing tough holiday challenges. This is a way to get every single member involved AND staying active on holidays when most people over-indulge.
Pair this challenge with a healthy eating challenge and keep participants in your fitness community accountable throughout the year, with top participants receiving a big grand prize at the end of the year.
#5 – Active Aging Challenge
Have an older crowd at your gym or fitness facility?
Use an improvement-based theme for a member challenge and design a challenge that's aimed specifically towards older adults. Through the use of performance health assessments, tailor the movements and programming towards their needs and then offer an appealing prize. Create a level playing field by judging winners based on improvement rather than speed or strength.
#6 – Flexibility Challenge
Flexibility is something we all know we should work on — but is something that many of us neglect.
This is a great opportunity for social media marketing, great prizes, and even better, engaging your community with a beneficial gym challenge that will have participants happy they entered.
For this type of challenge, have members themselves vote, using social media and pictures to gather a consensus. Use before and after photos with timestamps so that the different flexibility variations you choose over the course of the month can show the physical progression of each participant.
#7 – World Landmark Challenge
Chart the distance from landmarks in your country, state, province, or city and use various methods for participants in this challenge to get there. Use an ultramarathon-based theme like the following:
Take the distance between one of the many landmarks in Washington, D.C., and the Liberty Bell in Philadelphia, P.A. Use rowing, running, walking, and biking and have participating members take photos of completion times for the distances you set for each bracket and send them in so you can post them to the leaderboard.
Each member will no doubt have strengths and weaknesses, so having each do different exercises to reach a huge goal over a week or two may just have your members wanting to try an actual ultramarathon!
#8 – Social Accountability Fitness Challenge
Set your goals for this challenge from one of the following for participating gym members:
Post a workout video every day to social media for a certain period of time
Have them do certain workouts every day with each post
Make sure they tag your social media page and add in extra perks for added member engagement
With social media being all about engagement, make sure you are also reposting members as well to build your community further with this gym member challenge.
Read More: Best Gym Habit Tracking Software
Advanced Gym Member Fitness Challenges
These six gym-based fitness challenges are for those who either need a little stimulation with some tougher work, or those who want to complete a difficult challenge. Participants in this gym member challenge will see significant developments in their fitness physique and will have a motivating goal to not only accomplish, but compete with others for prizes over as well.
#1 – Skip a jump rope 200 times in two minutes
Jumping rope on average burns about 15 to 20 calories per minute. Obviously at the speed of 200 skips in two minutes you'll burn a few more than that, but this exercise alone is one to get any skilled challenge fanatic excited.
Since many have difficulty jumping rope, this challenge can be either a progressive one that completes over the course of a month OR give members a week to one-off the challenge. Because this is such a tiring exercise, make sure you let the challengers know what they are getting into by first completing it yourself!
#2 – Total handstand push-ups
Give members a month to complete this challenge and have them again blast social media as the easiest way to attain accountability with this challenge. Make the prizes significant enough that gym members will want to give this tough challenge a try. For a demonstration on how to do handstand push-ups, check out the video above.
#3 – Bench press your own bodyweight
If participating gym challengers already have this goal met, place them in a category for benching their bodyweight the maximum amount of times.
Categories can be:
Max amount of bodyweight presses
First to reach bodyweight on the bench
If there's more of the first, separate them into 5 rep increments or bodyweight classes
#4 – Front raise a 10kg plate for two minutes
F1 drivers, some of the highest-paid race car drivers in the industry, have this minimum requirement. If most of your gym members can already complete this challenge, try turning up the weight or time requirement.
#5 – Do 20 pull-ups in a row
One of the most popular ways to reach this goal is to start with a single set in the morning with fresh muscles and to do another in the evening. Resting every other day, this grueling challenge can be set for any number after using performance health assessments to find out if members can do pull-ups and if so, how many?
Gift members something that's helpful for challenges like this, like callus shavers, and keep these challenges coming.
#6 – Do ten one-arm press-ups
For this challenge, the base stance is feet apart with lat muscles locked in place. If no members can do this, who can be the first to ten?
This is also a great challenge to try for yourself as a fitness community leader. Give members praise on social media for added motivation, along with prizes for end results.
Top Tips For Running Successful Fitness Challenges
Align your challenge topic with your business goal and target audience.
Promote the exclusivity aspect by positioning the challenge as an exclusive perk of being part of your crew – this helps people see it as a valued benefit.
Use catchy fitness challenge names like 'HIIT & Run' or '7-Day Strength Summit'
Send the daily activities by email so that participants need to sign up to your list and you can market to them afterward.
If you're in an environment with people who live busy day-to-day lives, an activity challenge is a good compromise that asks people to record the time spent performing their daily physical activities. The time is then submitted to the challenge administrator at regular intervals. It is generally a good idea to set guidelines and examples of activities such as time spent in the gym, performing housework, gardening, or actively playing with kids. Yes, people are on the honor system here but trust is a big part of any challenge regardless of mode.
Remember, most people joining your gym member challenges will be looking to do one of two things:
Get started and progress to win
Compete over something challenging and win
Most people will want to know something simple they can do daily, so try a daily checklist type of challenge that includes a list of the following that you can use with your trainer app and leaderboard from Exercise.com and have members check-in like it's an individual workout:
Drinking 32 to 64 oz. of water before consuming any other beverage
Opening up the morning with two pieces of fruit and a whole grain before any other food
Saying ten positive affirmations
Sets of pushups and situps before leaving for work and returning home
Adding the above list as just a daily challenge is an extra incentive for members who don't always have time to get to the gym and helps with their overall health mindset. Along with winning prizes, they will develop healthy habits that will keep them participating.
Use your performance health assessment software, individual workouts, community forum and challenges to the fullest to not only increase retention but to help increase revenue for your gym and member's engagement through any of these workout challenges. Being able to track data and send progress results to members not only will help them see physical progress but will help them meet other members and have more fun!
Fitness Challenge Goals
Even after you select the mode for your fitness challenge, you need to decide whether you want to run an individual or competitive challenge. An individual challenge has members working toward reaching a set goal while a competitive challenge pits gym members against one another for awards. Each type of goal has its benefits and shortfalls.
A typical individual challenge will require that each participant reach a certain goal to receive an award, such as losing ten pounds or logging 50 hours of physical activity. Since every participant can be a winner, awards are generally smaller than with a competitive challenge. However, effort is more likely to remain constant since high-performing members cannot run away with the challenge making it impossible for others to win.
Since tiered awards are given based on the order in which participants finish, competitive challenges allow administrators to offer larger prizes to the winners thereby generating more interest among participants. Another benefit is that competitive challenges are not self-limiting meaning that participants do not stop participating after a set goal is reached. They can also be used effectively with teams which can enhance participation and promote camaraderie.
Even though challenges can be a great way to grow your business or social media, challenges help us have fun and enjoy doing something we know we need to do on a daily basis: exercise. There are tons of fun gym challenge ideas you can implement right on this page.
How can I implement fitness challenges at my gym?
To implement fitness challenges at your gym, start by selecting a suitable challenge based on your members' interests and fitness levels. Promote the challenge through various channels, such as posters, newsletters, social media, or email campaigns. Provide clear instructions, resources, and support to help members successfully participate and complete the challenge.
What types of fitness challenges can I introduce at my gym?
You can introduce a wide range of fitness challenges at your gym, such as weight loss challenges, workout-specific challenges, endurance challenges, or nutrition-focused challenges. Choose challenges that cater to your gym's demographics, equipment availability, and members' interests to maximize participation and engagement. You can base your types of gym challenges on frequency too: weekly gym challenges, monthly gym challenges, quarterly gym challenges, annual gym challenges, etc.
How do I motivate gym members to participate in fitness challenges?
To motivate gym members to participate in fitness challenges, create a sense of excitement and anticipation around the challenge. Highlight the potential benefits, offer incentives such as prizes or recognition, and create a supportive environment that encourages members to join and complete the challenge.
Can I use fitness challenges to attract new members to my gym?
Yes, fitness challenges can be an effective way to attract new members to your gym. By promoting the challenges through social media, community events, or advertising campaigns, you can showcase your gym's unique offerings and create a sense of excitement that can draw in potential members.
How can I use gym leaderboard software to enhance the fitness challenge experience?
Gym leaderboard software can enhance the fitness challenge experience by creating a platform for friendly competition and progress tracking. Members can log their workout results, track their progress, and compare their performance with others participating in the challenge. This fosters a sense of camaraderie and motivation, making the challenge more engaging and enjoyable. Additionally, incorporating progress photo tracking software is a great way to increase member engagement.
Read More:
How can I make fitness challenges accessible to different fitness levels?
To make fitness challenges accessible to different fitness levels, consider offering modifications, scaling options, or alternative exercises for each challenge. This ensures that everyone can participate, regardless of their current fitness level, and creates an inclusive and supportive environment at your gym.
How often should I introduce new fitness challenges at my gym?
The frequency of introducing new fitness challenges depends on your gym's specific goals and members' preferences. However, it's generally a good idea to introduce new challenges every month or every few months to maintain interest and engagement. This allows members to focus on one challenge at a time and see their progress over the course of the challenge.
Can I collaborate with other local businesses to enhance my gym's fitness challenges?
Collaborating with other local businesses can help enhance your gym's fitness challenges by offering additional incentives, resources, or support. For example, you could partner with a nutritionist to provide meal plans for a healthy eating challenge or work with a sports equipment store to offer discounts on gear for challenge participants. This collaboration can help create a more comprehensive and engaging experience for your gym members.
Find out why Exercise.com has the best options for your own branded workout challenges today!
Our overall experience with Exercise.com is a breeze. We love how easy it is to integrate this app with our current workflow while providing great fitness programs for our customers and save us time in the process.
Julie Ledbetter
Owner, Ledbetter Fitness