Exercise.com: Your PT Distinction Alternative
| Features | | PT Distinction |
| --- | --- | --- |
| Nutrition | | |
| Dedicated Account Manager | | |
| Dedicated Zapier Support | | |
| Client Automation | | |
| Performance & Measurement Reports | | |
| TV Workouts | | |
| Offer Online Workout Memberships | | |
| Run Workout Challenges | | |
| Sell Workout Plans | | |
| Group Training | | |
| 1-1 Training | | |
| Custom Exercises | | |
| Websites | | |
| Marketing Integrations | | |
| Custom Branded | | |
| iOS & Android Apps | | |
| Online Training | | |
| Sell Products | | |
| Payment Processing | | |
| Gym / Facility Management | | |
| Exercise Library | | |
| Assessments | | |
| Client / Class Scheduling | | |
| Workout Creator / Logger | | |
| Business Dashboard Reports | | |
Why Choose Exercise.com?
Here are five reasons why fitness professionals use Exercise.com vs. PT Distinction.
Fitness Business Management Software to Run Your Business
Unlike PT Distinction, Exercise.com software is designed to have all components needed to run a fitness business in one place – making it easy and efficient to organize and grow your fitness business with client and class scheduling, check-ins, and billing — all from your custom-branded apps.
Fitness Business Management Software to Run Your Business
Unlike PT Distinction, Exercise.com software is designed to have all components needed to run a fitness business in one place – making it easy and efficient to organize and grow your fitness business with client and class scheduling, check-ins, and billing — all from your custom-branded apps.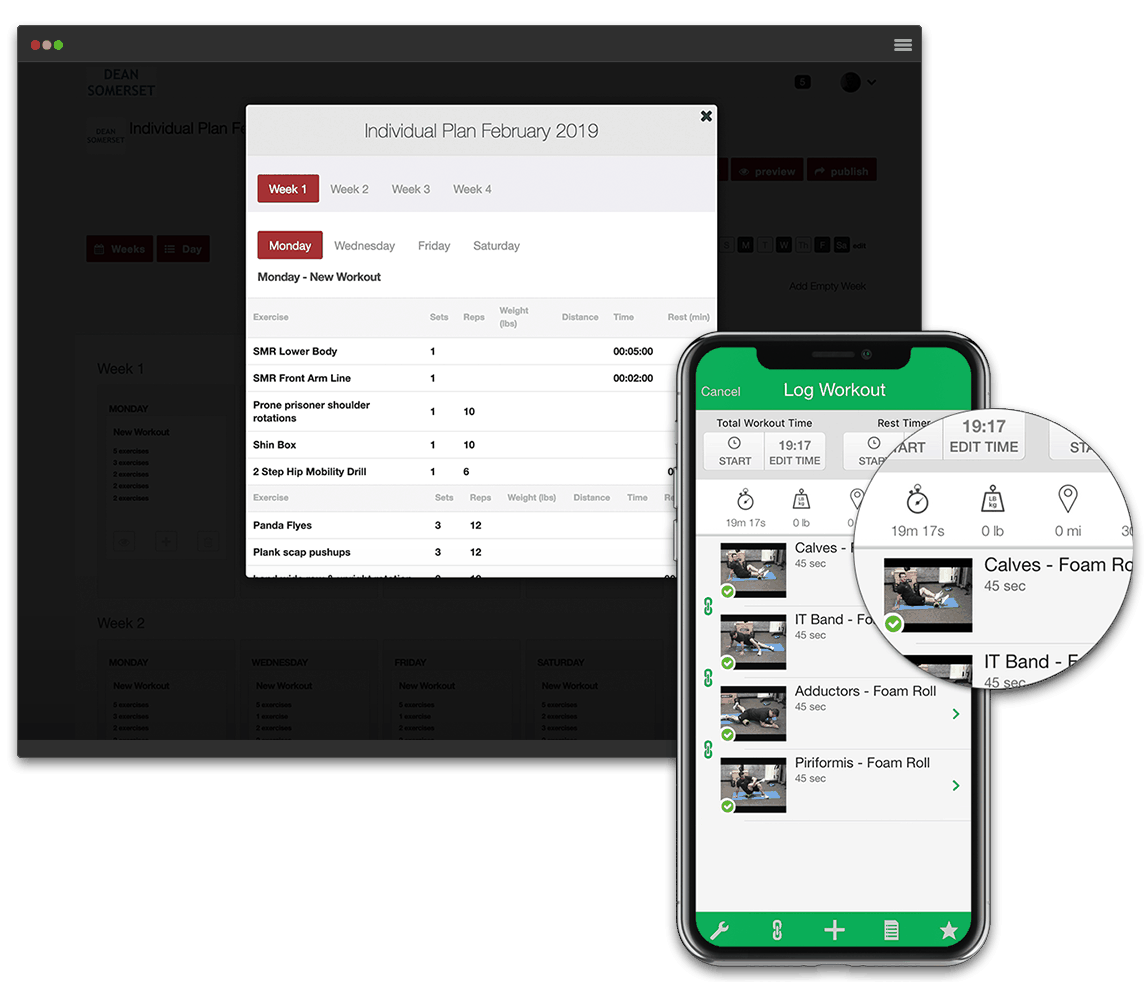 Workout Software to Power Your Training
PT Distinction offers workout software; however, it is notably difficult to use. The intuitive and easy-to-use Exercise.com workout plan creator and exercise manager provide flexible solutions to save you time creating workouts with built-in integrations, tools, and more.
Ecommerce Software to Increase Revenue
Fitness professionals cannot use PT Distinction to sell online workout programs or merchandise. Exercise.com, however, has full ecommerce capabilities allowing trainers to sell merchandise and single workout plans, offer automated workout memberships, run workout challenges, and deliver individual training.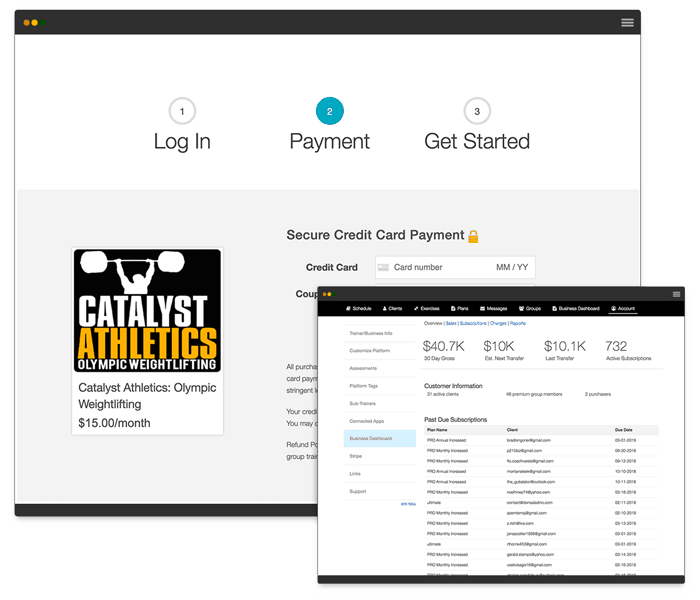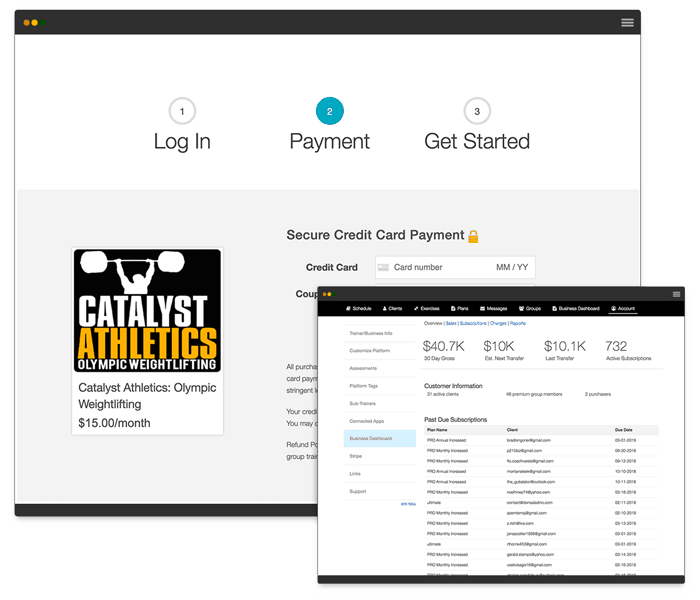 Ecommerce Software to Increase Revenue
Fitness professionals cannot use PT Distinction to sell online workout programs or merchandise. Exercise.com, however, has full ecommerce capabilities allowing trainers to sell merchandise and single workout plans, offer automated workout memberships, run workout challenges, and deliver individual training.
Assessment Software to Improve Client Engagement and Retention
PT Distinction offers assessment software. However, unlike Exercise.com, it does not provide automated workout recommendations based on assessment data. With Exercise.com, take clients through your personalized assessment to deliver custom workouts for their individual needs – providing massive growth potential and saved time.
Stand Out With Your Own Custom-branded Apps
PT Distinction only provides basic app customization. On the other hand, Exercise.com offers fully customized apps built to make your life easier by providing your clients with a unified scheduling and workout experience with your brand displayed front-and-center.
Stand Out With Your Own Custom-branded Apps
PT Distinction only provides basic app customization. On the other hand, Exercise.com offers fully customized apps built to make your life easier by providing your clients with a unified scheduling and workout experience with your brand displayed front-and-center.
If you're ready to get started with an easy-to-navigate, all-in-one fitness software, designed to fuel your business, request a demo with Exercise.com today.
And, if you want to see how PT Distinction's additional features stack up to Exercise.com software features, check out our in-depth guide below.
What is PT Distinction?
PT Distinction was founded in 2013 and is based in the town of Devizes in Wiltshire, England.
It is a web-based platform designed primarily for small businesses with a low volume of customers and provides workout design and delivery, assessments, and online payments.
PT Distinction has earned positive reviews in most outlets, however, with a limited scope compared to true all-in-one platforms like the Exercise.com platform, many business owners may find it lacks some of the key tools needed to operate their gym or training practice. This is because PT Distinction is for independent personal trainers and not for managing a fitness center.
After being behind the times for several years, PT Distinction revamped its appearance and functionality in 2018 in order to keep pace with cutting edge platforms like Exercise.com. Our clients get the benefits of precisely executed features and top of the line visual design. Let's see how PT Distinction stacks up!
Unless otherwise stated, all images and reviews below are of/about the Exercise.com All-In-One Fitness Business Management software platform.
Fitness Business Management Software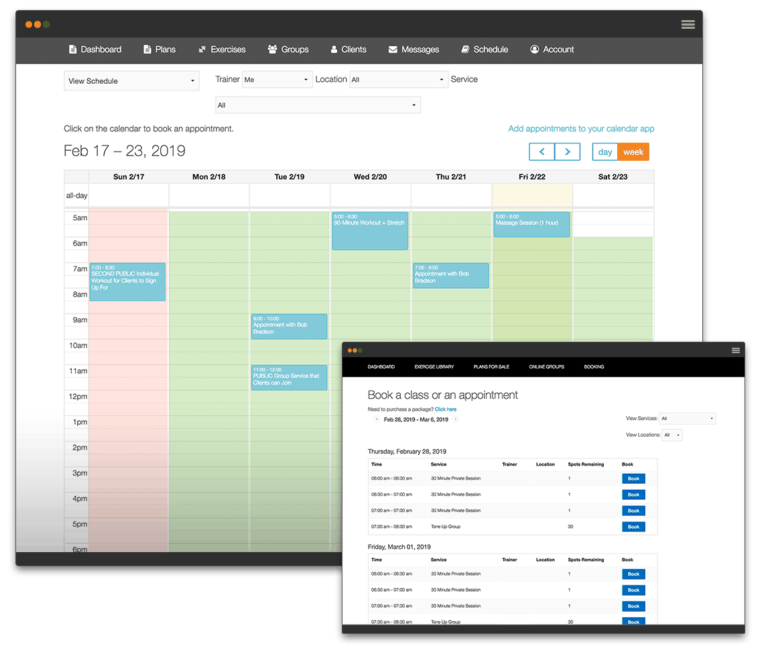 Fitness Business Management software (FBM) is the total package platform that helps you with business operations as well as the training functions of building workouts and delivering assessments. The advantage of FBM software like Exercise.com is that users have everything they need in one convenient, unified package.
No more learning multiple inefficient systems that each do only part of the job.
No more confusion and fractured experiences for your clients.
No more wasted time entering the same client data into numerous programs.
Our FBM software adds professionalism to your business and gives you, and your client, fewer hoops to jump through. That means more time and energy to spend on providing effective training and growing your business.
Client/Class Scheduling
PT Distinction features lack the full-service booking ability that gyms need to schedule client sessions and classes. Because PT Distinction is for single personal trainer use, there is only one schedule for client booking; there is no master schedule for customers to view or book from multiple trainers. Additionally, there is no function for event or class scheduling, which is very problematic for fitness centers!
The FBM platform from Exercise.com will empower you to track visits, book classes and sessions, engage your clients with recurring appointment reminders via email and text, and provide calendar integration with Google and Apple for easy management.
Our booking platform is ideal for companies with multiple trainers as each can have an independent schedule but viewing and sorting options let you, the boss, see everything going on in the facility. Unlike many schedulers, you can even keep trainer availability in addition to sessions. Our booking platform also allows you to schedule events, classes, and more!
Gym/Facility Management
Another key function PT Distinction lacks is facility management. There are no management tools or features for sales, staff, clients, or logged data.
But with FBM, you don't have to worry about these falling between the cracks! Our software has countless standard and customizable reports in your custom web and mobile apps so all your business data is right at your fingertips. FBM saves you time with assignable staff roles so you can put staff management on autopilot.
Business Dashboard Reports
With Exercise.com, all your reports can be run in a single software. No more safaris for which software has which reports. Exercise.com Fitness Business Management (FBM) software makes reports easy — sales, business, appointments, class, and payroll reports all in one place. Plus you can also sort reports by:
These reports are organized in a fully customizable business report dashboard, which empowers you to have your finger on the pulse of your business. You decide which reports you want to feature, the layout, and more! This is an exclusive feature to Exercise.com, as PT Distinction doesn't offer a fully customizable dashboard.
You got into the business because of a love for fitness, not complicated logistical tasks, so it's crucial to set up efficient processes that run reliably and don't need your constant attention. Let Exercise.com handle it!
Client Automation
Both PT Distinction and Exercise.com have robust client automation services. The automation features of Exercise.com include:
Automatic Emails and Texts/Other Automatic Features
Automate Workout Delivery
Automate Resource Delivery
Automate Assessment Delivery
Automate Reminders/Alerts via app, text, and email
Automate billing and payment processing
Dedicated Zapier Support
Both Exercise.com and PT Distinction integrate with Zapier for added integrations and support.
Dedicated Account Manager
PT Distinction only offers customer support through email. But Exercise.com takes customer service very seriously, so Exercise.com clients are provided with a dedicated account manager for all of their software-related needs. From adding an online store to full website redesigns, your account manager is there to help you and your business succeed.
Customized Software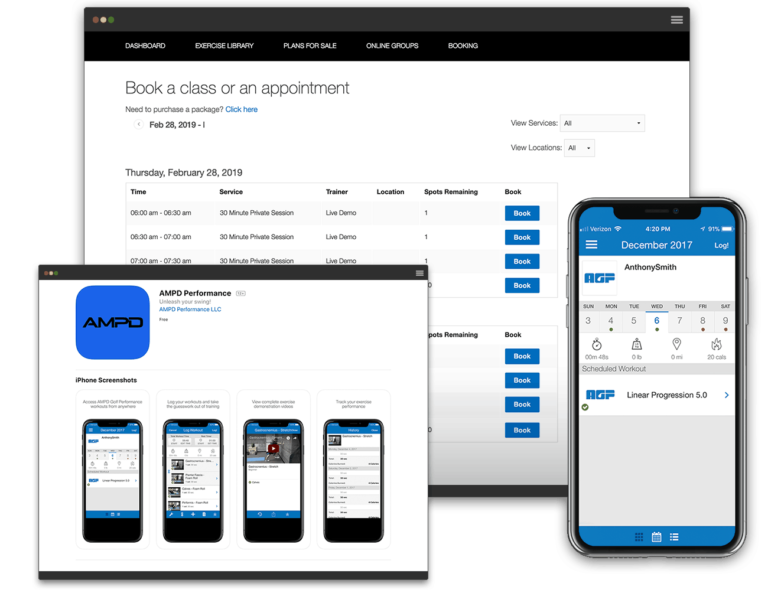 PT Distinction only provides basic customization. Exercise.com, on the other hand, offers complete custom-branding which far exceeds simple color changes. We give you a fully customized fitness trainer app to meet your appearance and functionality needs
Custom-Branded
For subscribers to the Pro and Master versions of its software, PT Distinction will provide some basic customization options commonly referred to as skinning; the company takes their default PT Distinction app and places your logo and color on it.
Android users would be able to find the app with your company skin in Google Play, however, your customers using Apple devices will only find "an unbranded container app which then becomes custom branded as soon as logged into for the first time" according to company's website.
Exercise.com offers a fully customized app, along with options for web customization and additional dev work. The exercise library is customizable as well; personal trainers can also embed their own videos into their platform, add training blocks, and customize performance assessment features that work best for them and their clients.
iOS & Android Apps
PT Distinction has an app for iOS and Android, but many users voice complaints about glitches. Particularly for Android users, the app has major issues, such as lacking a user-friendly interface, omitting training information, difficulty logging workouts, and an inability to create accounts, just to name a few.
As stated above, we truly personalize the function of your app beyond just appearance. While most companies, including PT Distinction, have an inflexible platform you have to mold your business to, Exercise.com molds our platform to the unique needs of your business.
With Exercise.com, your company's app displays with your own branding in the App Store and Google Play. No matter where your clients download the app, they will find it and download it under your company's name adding greatly to the perception of quality they're getting with your service. From their perspective, it's just like you went to the time and expense of hiring a development team and built your app from the ground up. They'll never see Exercise.com or know we did the heavy lifting.
Websites
PT Distinction doesn't include custom website creation with its software, so you must invest additional time and money into creating and managing your company website.
In addition to custom apps, Exercise.com users receive custom-branded, SEO-optimized fitness websites as well. No cookie-cutter templates that merely plug in your brand's colors and logo. Some features that our custom websites include are:
Responsive
Built to convert visitors to leads
Google Certified Partner
Additionally, you can rest easy knowing that your custom website and app are protected with various security features like SSL Secure, Privacy Shield Framework, and Google Cloud.
Security Features
Exercise.com offers a secure platform with software that is SSL Secure, a Privacy Shield Framework, and access using Google Cloud.
Marketing Integrations
PT Distinction integrates with several marketing services, but Exercise.com offers a greater variety of marketing integrations to keep your business at the front of the pack. For your business's marketing, automate your efforts by connecting to a number of integrations provided by Exercise.com like:
MailChimp
ConstantContact
ConvertKit
Zapier
Google Analytics
Facebook Pixel
Learn more by clicking the button below.
Exercise.com is the best PT Distinction alternative.
Workout Software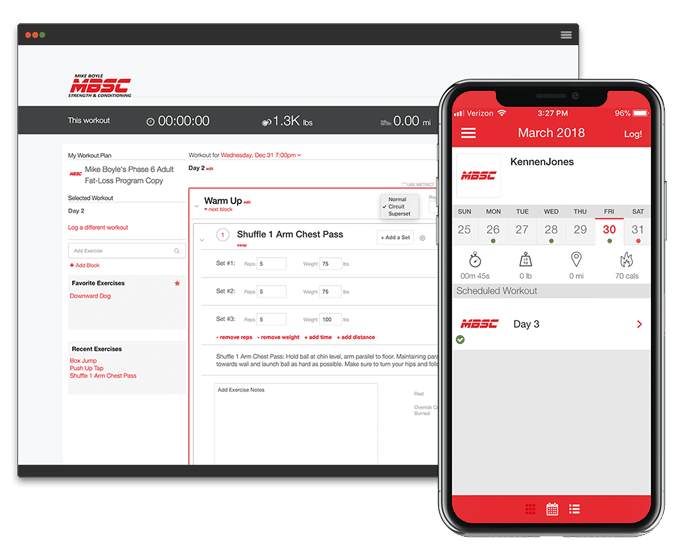 Exercise.com's workout software built for fitness professionals provides everything you need whether you train clients online-only, in-person, or both. Clients and trainers can easily log workouts, view exercise history, see notes directly from your custom-branded web and smartphone apps, and deliver workouts for any scenario like:
Workout Planning-Personal Training
Nutrition Assistance
Goal Setting
Traveling Athletes
In-Person Clients
Trainer Logging
Online Clients
Hybrid Clients (in-person/online)
Busy Professionals
Want to really take your brand reputation to the next level? Use our software to build a custom exercise library featuring your own video demonstrations and technique tips. Get clients to identify with your company like never before by maintaining continuity in their user experience and keeping your brand front and center.
Workout Creator/Logger
With training online PT Distinction capabilities, workouts are created in their Program Builder. There is a three-level hierarchy for organizing what you create:
Program- the overview of the training plan; made up of individual workouts.

Workout- the collection of exercises done in a single given training session.

Section- a subset of exercises in a workout that is similar in purpose or complementary to each other.
Each thing you save at any of these levels as a template can be used in the future when you want to duplicate it or add to a future workout. Because designing workouts in PT Distinction feels a bit tedious, they encourage users to invest a lot of time upfront to create and save templates for later use rather than build new programs for each client.
The Exercise.com workout creator is the most advanced in terms of capability, yet it is intuitive and easy-to-use. Our simple workout plan creator and exercise manager provide flexible solutions to save you time creating workouts. You'll be able to create highly personalized individual programs as well as general-purpose programs you can sell online and run on autopilot.
1-on-1 Training
Exercise.com software provides trainers and fitness facilities with the software needed to make one-on-one training as simple and as personal as possible.
Group Training
The Exercise.com group training feature provides the same resources and support as it does for one-on-one training but members benefit from the community and accountability of the group setting.
Online Training
Let's say you have a client that travels for work but enjoys working out three times a week in his/her hotel gym. With Exercise.com, you can create a workout plan and set up automatic delivery on Mondays, Wednesdays, and Fridays for the client to access from their cell phone.
Exercise Library
The PT Distinction exercise library is included in its software. Exercise.com has an exercise library as well.
Custom Exercises
The Exercise.com exercise library provides users with the ability to add their own custom exercises, exercise demos, and workout videos to the library. Some workout customization options include:
Workout Plan Creator
Intervals
Alternate
Block
Smart Delivery
Custom Exercise Library
Easily Embed Your Videos into Your Platform
Your Descriptions, Workouts, etc
TV Workouts
Clients in busy group sessions can see you performing the movements along with them by casting your custom exercise videos directly onto gym television screens.
Gym Ecommerce Software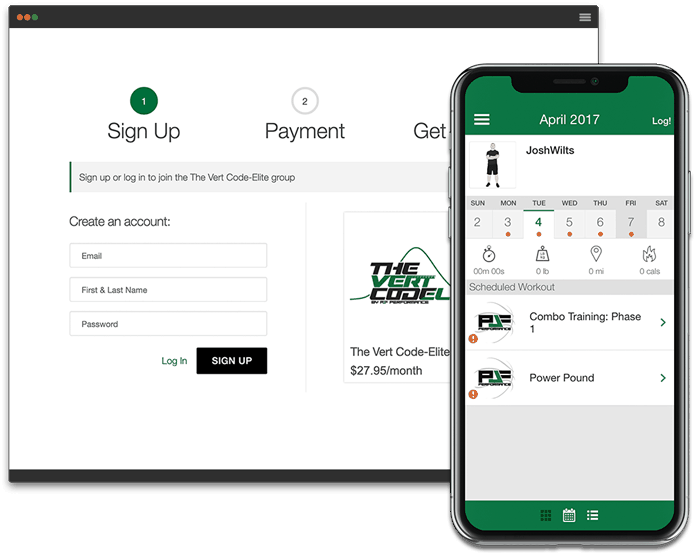 PT Distinction software is primarily a workout delivery platform. Its limited capabilities for billing and sales, the things that actually keep your business going, give the impression that ecommerce is an afterthought in its design.
The two major restrictions on PT Distinction users are:
Limitations on the products and services you can sell online. Only your template programs are available for sale on your site, no personal program design or digital products like Ebooks can be sold.
There are no financial reports or payment records available within the PT Distinction platform. It may not be the fun side of business management, but legitimate companies with growth in mind always have this data to analyze trends and keep finances above board.
Exercise.com opens up all the options for increasing your revenue with multiple streams. Our gym ecommerce software offers simple and secure payment processing for one-time transactions, recurring memberships, and your digital products like Ebooks. You can set your service to push out new workouts and plans automatically when clients make a purchase so you can make money without lifting a finger.
Payment Processing
PT Distinction integrates with Stripe and PayPal.
Exercise.com Fitness Business Management software lets you access all of your payment tools in the same custom-branded web and mobile apps, so you can spend less time tracking down failed charges, taking payments, and managing payment details and have more time for growing your business.
FBM makes it easy to set up packages for your training where clients can pay a one-time or recurring price with cash, check, or credit card. Plus accept direct deposits and allow online purchasing of packages. Plus, access all the financial stats and reports you need to run your business right and stay in the know on the vital signs of your company.
Sell Products
Increase revenue by selling products like branded apparel, water bottles, gear, and supplements. Unlike PT Distinction, Exercise.com provides complete gym ecommerce software capabilities so that you can increase merchandise sales.
Sell Workout Plans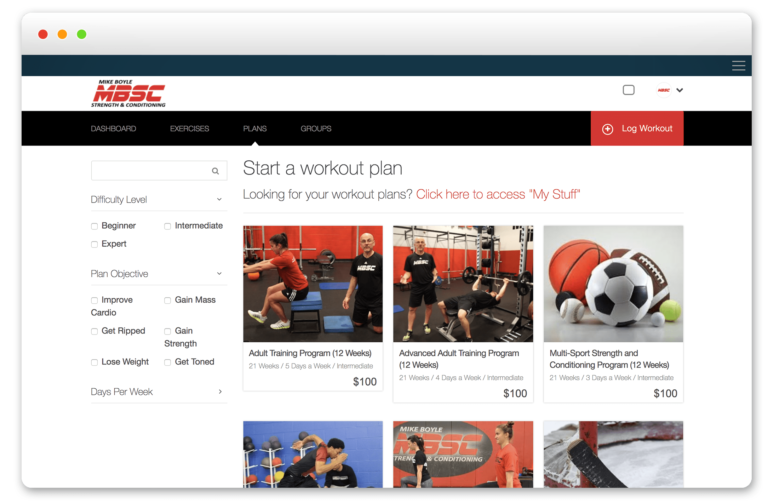 PT Distinction allows you to sell pre-made packages on your website.
With Exercise.com, you can keep new and existing customers engaged with your brand by selling as many workout plans as you'd like. Exercise.com client Mike Boyle, of Mike Boyle Strength & Conditioning (MBSC), had over 700 clients within 12 months of releasing programming online using our software!
Offer Online Workout Memberships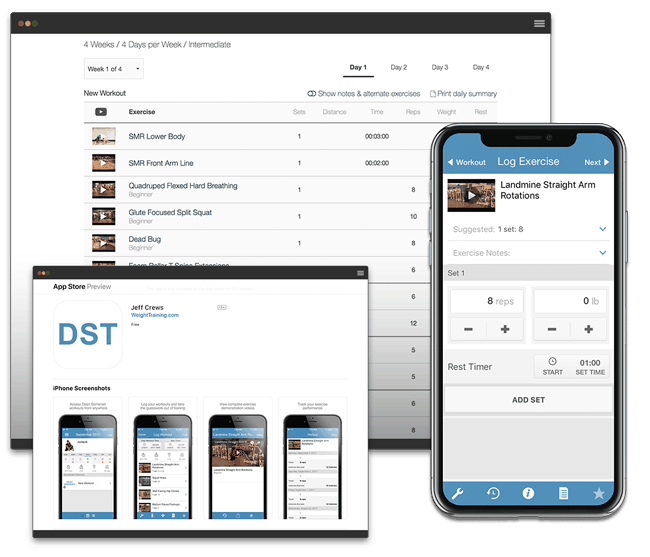 Cater to traveling clients, stay-at-home moms, and any other target demographic that cannot find time to go to the gym by offering online workout memberships; this way, you can attract and retain more clients and you free up space in your facility as these clients will be working out at home, in a hotel gym, or elsewhere.
Sell Workout Challenges
Workout challenges are a great way to keep clients engaged and motivated! Challenges are also a great way to attract potential gym members or clients who may be on the fence about signing up for a membership. If they are able to participate in a challenge with their friends or loved ones, they will stick to the challenge and this will give you time to sell them on a potential membership.
Both Exercise.com and PT Distinction allow workout challenges.
Fitness Assessments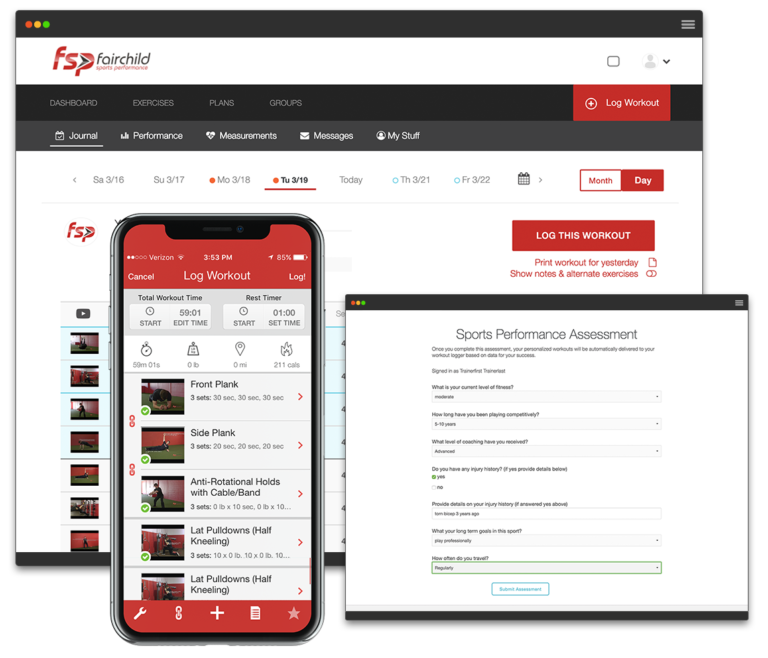 PT Distinction features several built-in movement screenings, endurance tests, and strength tests. Additionally, you can create custom assessments more specific to your specialty or your clientele. Each assessment can be added manually to a client's calendar or set to occur automatically on a future date.
Likewise, Exercise.com fitness assessment software includes preset assessments as well as the ability to customize them and deliver them automatically.
Assessments
So, what's the difference between PT Distinction and Exercise.com Assessment Software? With Exercise.com you can:
Provide automated workout recommendations- our software can use your clients' questionnaire responses and performance data to automatically pair them with the right program for their needs. Even clients you never meet can have a custom experience that moves them toward their specific goals.
Improve client engagement and retention- People often have short memories, so a client assessment in tandem with our powerful smart performance tracking empowers you to show clients where they have improved. Happy clients who can see their successes are clients that stick with you for the long haul.
Ensure clients' long-term progress with actionable data- Performance and measurement data is only as good as your ability to put it into action in training. Our software lets you assign future recurring assessments to stay on top of client progress and make smart adjustments to programming.
Performance & Measurement Reports
PT Distinction and Exercise.com both provide their clients with performance and measurement reports.
Exercise.com Performance Health Software allows you to deliver automated assessments to re-engage clients while also providing progress photos and measurements. That assessment can provide history, measurement data, injuries, photos/videos, and goals. You can also use the assessment to trigger a workout specifically developed for that client's success based on smart data from their onboarding. You can put together a custom way of re-engaging clients how you deem fit.
Nutrition
There are PT Distinction nutrition-tracking capabilities. There are also PT Distinction meal plans available. Exercise.com has nutrition-tracking as well.
PT Distinction Pricing
Like most training software platforms, PT Distinction works on a tiered pricing model where cost increases based on your number of clients and offers certain features exclusively to its higher-paying users.
There is a one-month PT Discintion free trial at any level but be careful: unlike most other software trials that come with no strings attached, PT Distinction will require you to actually sign up and submit payment information for automatic billing on the trial end date. For clients that no longer wish to use PT Distinction, to cancel a subscription, they will have to contact the company.
| | NOVICE | PRO | MASTER |
| --- | --- | --- | --- |
| Cost per Client: | $6.63 / month | $2.40 / month | $1.60 / month |
| Client Limit: | 3 | 25 | 50 |
| Monthly Price: | $19.90 | $60 | $80 |
| App Branding: | No | Yes | Yes |
Novice tier- the barest form of the software, this only includes service for 3 clients and offers no app customization or website integration.
Pro tier- the company describes this as their most popular level. With Pro, users can manage up to 25 clients and get PT Distinction's basic customizations. Beginning at this level, users can also embed the sales platform into their own website to sell packages via Paypal.
Master tier- this level features the lowest cost-per-client but at only 50 clients included, does not provide the scalable solution that successful online training businesses need. Like the Pro tier, basic customization and integration are available.
What's missing?
Even at the highest price, PT Distinction does not support multiple trainers/staff members which can be a severe impediment for ambitious companies with a focus on growth.
Exercise.com never limits your access to features or charges you more each month as your business grows. When you use our FBM software, you get the full package of capabilities and no restrictions on number of clients or coaches. It painlessly scales up as you grow so you don't even have to think about which package you must purchase.
PT Distinction Alternatives
PT Distinction's closest competitors are TeamBuildr, TrainHeroic, and TrueCoach. They share most of the same functions and limitations. None offer all you need when it comes to billing, schedule management, or tracking company metrics.
To fulfill those needs in addition to creating and delivering workouts, consider the Exercise.com Fitness Business Management platform that integrates everything and saves you from the cost and inconvenience of using multiple products for the different operations you need.
The Bottom Line: Pros and Cons
Choosing the right software to run your business can mean the difference between success and failure, but it doesn't have to be a hard choice. Exercise.com is miles ahead of the competition when you consider everything it takes to optimize your business and run smoothly.
PT Distinction Cons
PT Distinction offers the basic features you expect and can find in most software on the market but nothing stands out to separate it from the pack.
With certain key functions missing, like full customization, facility management, reports, and e-commerce, PT Distinction is not the tool for serious professionals who are ready to step up their business and make an impact on the industry.
PT Distinction's position is somewhere in the middle ground between the hobbyist or Insta-trainer and the real industry professional.
Exercise.com Pros
Our software is the all-in-one solution for your business management needs. From building web and smartphone apps with your brand in mind to seamless integrations, performance health assessments, nutrition tracking, workout creation, management, and delivery, and a world-class dev team at your disposal, Exercise.com has you covered.
Most software companies make you fit your business to what they offer but our development team works with you to create software centered around your business. If you need custom features, easy integration, and engaging performance health software, contact us today for a demo.