Exercise.com: Your TotalCoaching Alternative
| Fitness Software | | TotalCoaching |
| --- | --- | --- |
| Nutrition | | |
| Dedicated Account Manager | | |
| Dedicated Zapier Support | | |
| Client Automation | | |
| Performance & Measurement Reports | | |
| TV Workouts | | |
| Offer Online Workout Memberships | | |
| Run Workout Challenges | | |
| Sell Workout Plans | | |
| Group Training | | |
| 1-1 Training | | |
| Custom Exercises | | |
| Websites | | |
| Marketing Integrations | | |
| Custom Branded | | |
| iOS & Android Apps | | |
| Online Training | | |
| Sell Products | | |
| Payment Processing | | |
| Gym / Facility Management | | |
| Exercise Library | | |
| Assessments | | |
| Client / Class Scheduling | | |
| Workout Creator / Logger | | |
| Business Dashboard Reports | | |
Why Choose Exercise.com?
Here are five reasons why fitness professionals use Exercise.com vs. TotalCoaching.
Fitness Business Management Software to Run Your Business
Unlike TotalCoaching, Exercise.com software is designed to have all components needed to run a fitness business in one place – making it easy and efficient to organize and grow your fitness business with client and class scheduling, check-ins, and billing — all from your custom-branded apps.
Fitness Business Management Software to Run Your Business
Unlike TotalCoaching, Exercise.com software is designed to have all components needed to run a fitness business in one place – making it easy and efficient to organize and grow your fitness business with client and class scheduling, check-ins, and billing — all from your custom-branded apps.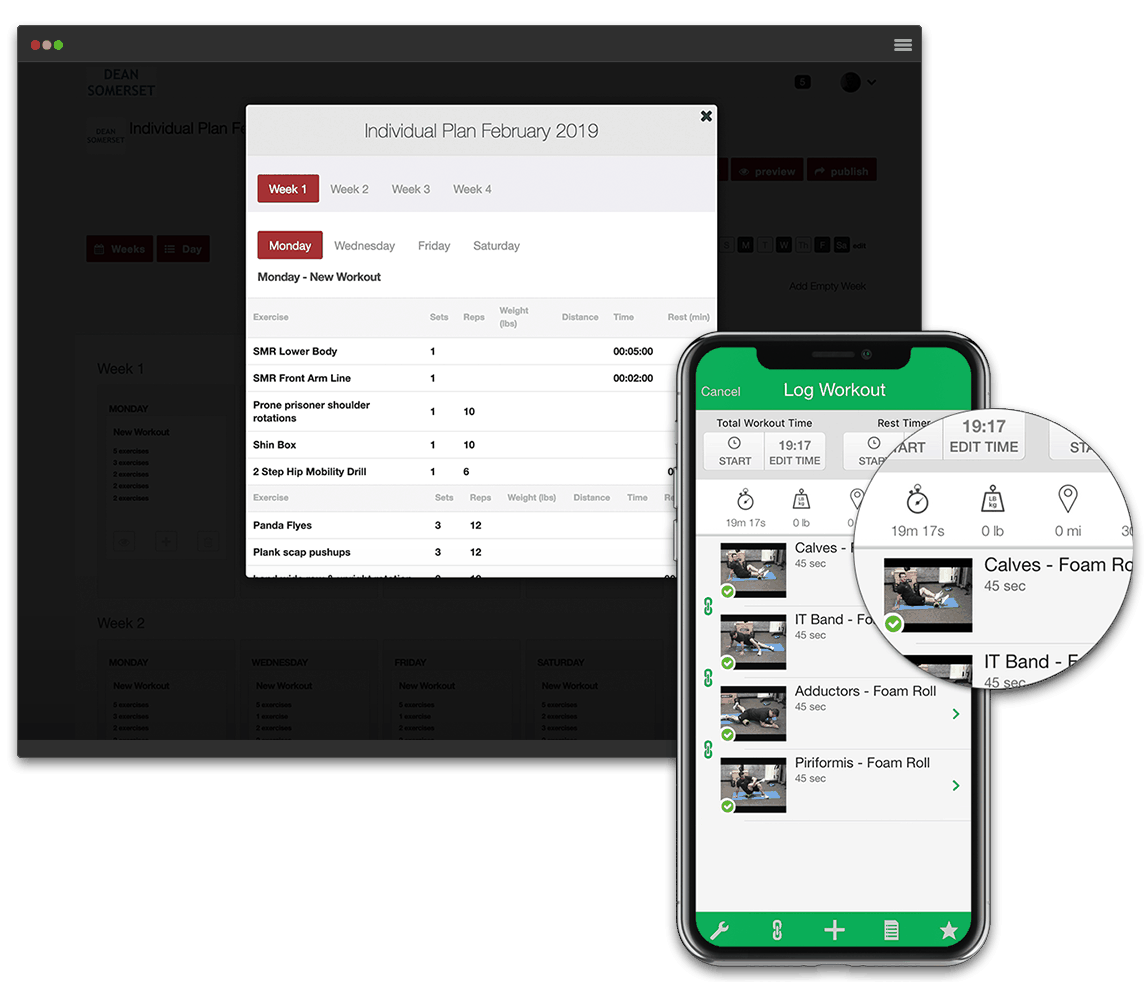 Workout Software to Power Your Training
TotalCoaching has limited workout software that doesn't allow for clients to participate in any workout challenges you create. The Exercise.com workout plan creator and exercise manager provide flexible solutions to save you time creating workouts with built-in integrations, tools, and more.
Ecommerce Software to Increase Revenue
Fitness professionals cannot use the limited ecommerce features of TotalCoaching to sell training packages, workout challenges, or group training plans. Exercise.com, however, has full ecommerce capabilities allowing trainers to sell single workout plans, offer automated workout memberships, run workout challenges, and deliver individual training.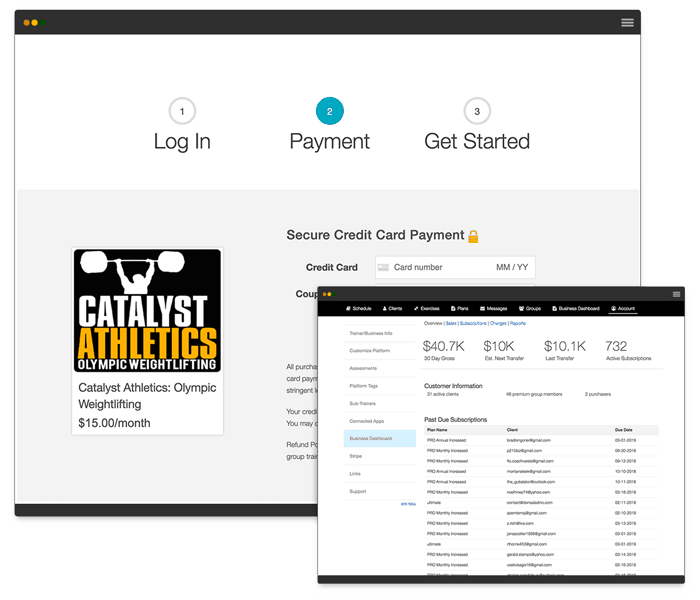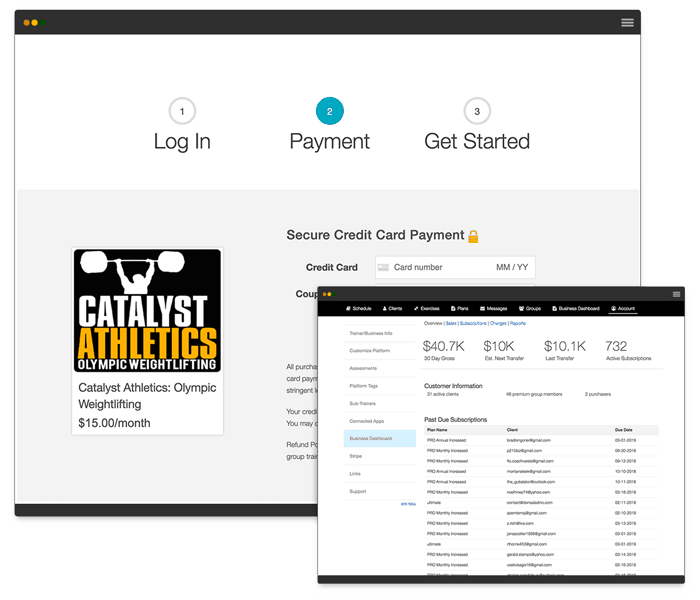 Ecommerce Software to Increase Revenue
Fitness professionals cannot use the limited ecommerce features of TotalCoaching to sell training packages, workout challenges, or group training plans. Exercise.com, however, has full ecommerce capabilities allowing trainers to sell single workout plans, offer automated workout memberships, run workout challenges, and deliver individual training.
Assessment Software to Improve Client Engagement and Retention
TotalCoaching lacks assessment software, but that's not the case with Exercise.com. Take your clients through personalized assessments to deliver custom workouts for their individual needs – providing massive growth potential and saved time.
Stand Out With Your Own Custom-branded Apps
TotalCoaching provides no option for a customized website design. Exercise.com, however, offers apps that are fully customized to make your life easier by providing your clients with a unified scheduling and workout experience with your brand displayed front-and-center.
Stand Out With Your Own Custom-branded Apps
TotalCoaching provides no option for a customized website design. Exercise.com, however, offers apps that are fully customized to make your life easier by providing your clients with a unified scheduling and workout experience with your brand displayed front-and-center.
If you're ready to get started with an easy-to-navigate, all-in-one fitness software, designed to fuel your business, request a demo with Exercise.com today.
And, if you want to see how TotalCoaching's additional features stack up to Exercise.com software features, check out our in-depth guide below.
What is Total Coaching?
A cloud-based solution suited to the needs of personal trainers creating workouts for clients, TotalCoaching is a software solution that enables gyms, fitness studios, and trainers to create workouts and plans for clients.  TotalCoaching's platform is available for mobile apps on iOS and Android devices.
This review will cover the biggest differences in TotalCoaching training software and our own Exercise.com app, because while TotalCoaching does make some training easy, some big pieces are missing, like marketing, lead generation, customizable options, and more.
Unless otherwise stated, all images and reviews below are of/about the Exercise.com All-In-One Fitness Business Management software platform.
Fitness Business Management Software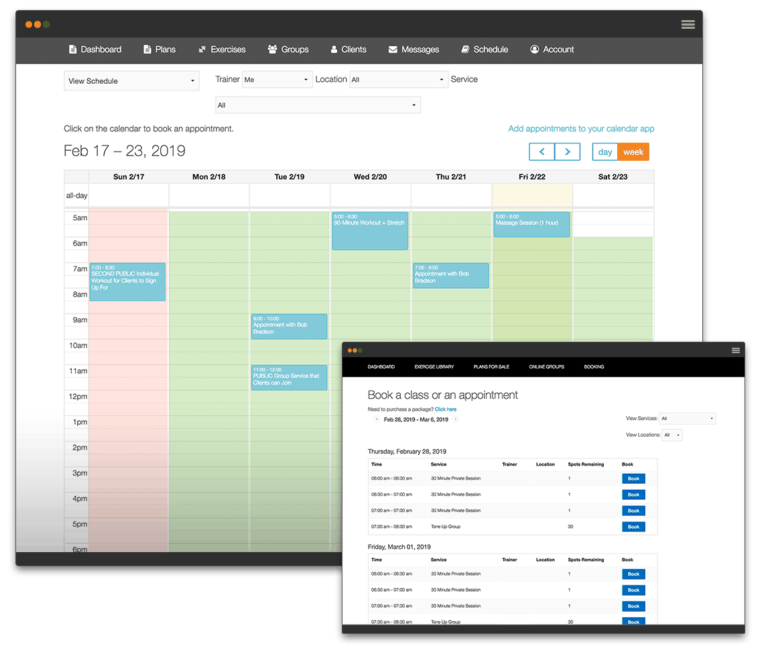 TotalCoaching does not have a system built to help you manage the business functions of your fitness operations the way Exercise.com does. From client scheduling and billing and membership management to our innovative performance health assessments, Exercise.com gym management software has you covered in the customization of your software application in ways that TotalCoaching does not.
The Exercise.com all-in-one platform has calendar options and reports that help you find out where to capitalize on your business: what's going well, what's not going so well, where revenue streams are coming from and more, along with complete custom branding that allows your business to be found in the app store as if you were the one developing it!
With a history of working with top fitness professionals and using their fitness backgrounds and knowledge to better the delivery of custom software, Exercise.com has a proven track record of producing quality apps that are 100% customized to client requests.
Client/Class Scheduling
With an easy-to-use calendar that also allows clients to schedule and book appointments on their own, Exercise.com also comes with the customization capability to turn off or on the features that are useful to yourself and your clients.
TotalCoaching comes with a simplified calendar, but turning off and on features is not a possibility.
Additionally, TotalCoaching does not provide a schedule or booking system for clients to access, which provides no accountability for those clients who have a hard time making it to the gym or just getting to a class that they may be interested in. There is also no notification for clients' skipped sessions.
Exercise.com business management software is built to help you:
Schedule appointments and classes, accept payments, and manage clients with individual and group calendars
Manage your entire fitness business in one place
Take your fitness business to the next level with Staff Management, allowing you to give staff permissions and add a better workflow to your fitness facility
Efficiently schedule, view, and manage all appointments and classes
Gym/Facility Management
TotalCoaching is a good choice for a fitness software app if you just want to create and deliver workouts to clients.
Increasing efficiency and revenue is all on you, though.
Exercise.com all-in-one fitness business management software has revenue creating options in place as well as custom measures to increase business efficiency.
Never worry about sales, staff, clients, or data logged falling between the cracks with reporting at your fingertips in your custom web and mobile apps.
Managing a staff of any size is time-consuming but FBM saves you time with assignable staff roles, so you can put staff management on autopilot.
Plus all your reports can be run in a single software. No more safaris for which software has which reports. Exercise.com Fitness Business Management (FBM) software makes reports easy — sales, business, appointments, class, and payroll reports all in one place. Plus you can also sort reports by:
These reports empower you to have your finger on the pulse of your business and if you're bringing on new trainers you'll know how much to pay staff based on commissions.
Business Dashboard Reports
TotalCoaching doesn't have a dashboard for viewing your business reports or data. This means that you must spend additional time manually inputting data into separate software for tracking and analyzing.
Exercise.com's business dashboard features standard and customizable reports which enable you to keep your finger on the pulse of your business. Our dashboard is easily customizable, giving you free-range to how you want to analyze your business or filter information.
Client Automation
Exercise.com software offers automation everywhere that you need it. There isn't an automation feature with TotalCoaching or the ability to set up various automatic services like Exercise.com. TotalCoaching is also not scalable with your business like Exercise.com is.
For emphasis: TotalCoaching is an app to help you create and send workouts to clients while getting client feedback.  However, the fact that there are very few automation features available is a bit of a headscratcher, although their platform is built to charge your use of its platform based on the number of clients you have with your business.
TotalCoaching does not offer automatic reminders or notifications, while the following automatic features are included with your Exercise.com customized software, and if there's a feature not listed, our development team is in place to make sure we can get you the tools necessary for the success of your business:
Automatic Emails and Texts/Other Automatic Features
Automate Workout Delivery
Automate Resource Delivery
Automate Assessment Delivery
Automate Reminders/Alerts via app, text, and email
You just won't find these features on other fully-customized software platforms or even the software platforms that pride themselves on being an all-in-one software system.
Dedicated Zapier Support
Exercise.com has many business management integrations already built into our software, but we didn't stop there. We partner with Zapier so that your business can have access to any tool it needs for a fully customizable, immersive, user-friendly experience.
Dedicated Account Manager
Providing our clients with exceptional customer service is very important to us, which is why every Exercise.com client receives a dedicated account manager for all of their software-related needs.
If you want to add an online store for increased revenue, or if you want to rebuild your website to attract more customers, your account manager will get the job done.
Customized Software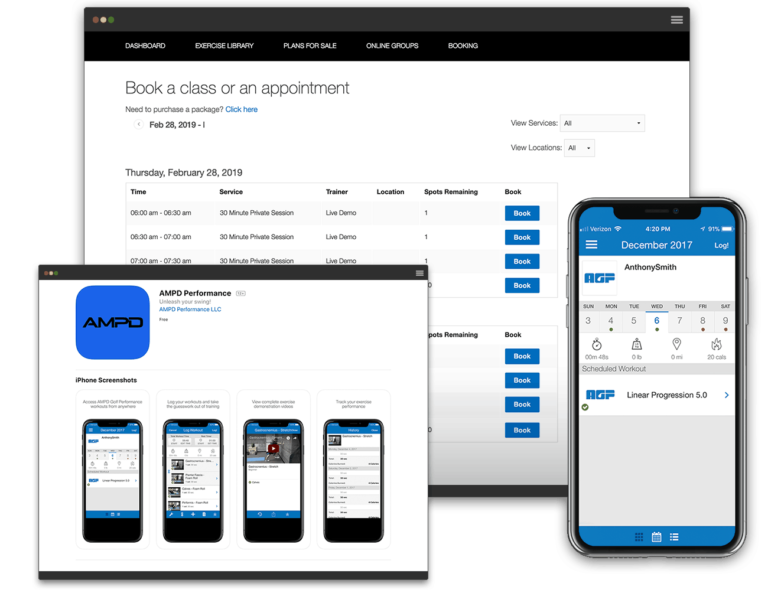 Customized software is important to the success of your brand. Clients and potential clients want to feel that personal touch; they want to feel like they are working with a trainer or fitness facility that truly cares. Let's look at how Exercise.com excels in app and web customization.
Custom-Branded
TotalCoaching does not provide the level of custom-branding required to manage a business.
Exercise.com fitness business management software, on the other hand, will deliver complete and total customization for your software application:
Customized Web and Smartphone Apps
Custom Website
Custom Dev Work
Custom Integration Built-In
Custom Integrations Built with Zapier
Custom Performance Health Assessment Software to Collect Smart Data
Custom Exercise Library
Easily Embed Your Videos into Your Platform
Your business is listed as the app owner and developer when you customize your fitness business software through Exercise.com!
iOS & Android Apps
TotalCoaching is available on Android and iOS, but only offers these two customization options:
Adding a logo
Choosing colors for your base
Exercise.com offers branded apps for personal trainers on iOS and Android. We go beyond cookie-cutter customization and work with you to design an app that features your brand in the way that you see fit.
Websites
TotalCoaching does not offer websites.
Exercise.com offers clients an SEO-optimized and fully customized fitness business website built to convert visitors to leads. There is an array of customizable features like inputting a blog for posts, inputting sections for ecommerce, unlimited theme changes, and custom graphic work. If there's something that you want to be added to your website, our world-class dev team will make it happen.
Security Features
TotalCoaching's security policy is vague, however, it is likely they provide their clients with basic security features. Exercise.com websites and apps are:
SSL Secure
Protected with the Privacy Shield Framework
Google Cloud optimized for storing and transferring data
Marketing Integrations
For your business's marketing, automate your efforts with Exercise.com by connecting to a number of integrations like:
MailChimp
ConstantContact
ConvertKit
Zapier
Google Analytics
Facebook Pixel
Learn more by clicking the button below.
Exercise.com is the best TotalCoaching alternative.
Workout Software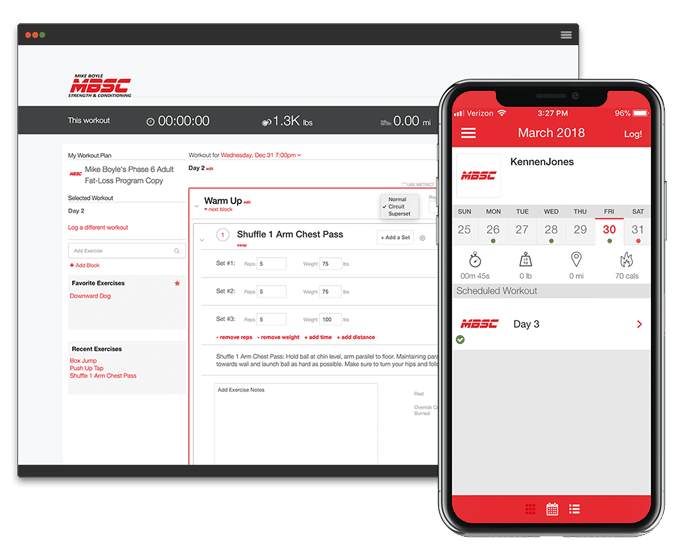 TotalCoaching does a respectable job of stepping up to compete against Exercise.com when it comes to workout creation and delivery, but when that's the niche that the software is in, TotalCoaching absolutely should deliver a solid workout creation and delivery system between clients and trainers.
However, this fact remains: While TotalCoaching performs well in this feature category, Exercise.com workout software does too.
Workout Creator/Logger
Exercise.com makes workout creation and delivery easy via the following:
Workout Planning
Nutrition Assistance
Goal Setting
Custom Exercise Library
Embed workout videos onto your website
Deliver PDF's, nutrition plans and more to clients
Our workout plan creator saves you time, which is money back in your pocket as a business owner. No more building workout plans with spreadsheets or PDFs.
You'll be able to create the workout once and schedule the workout to clients, groups, or classes for easy logging. With workout creation and delivery on autopilot, you'll get the extra time needed to customize your exercise library with videos, tips, steps, and notes because your workout library reflects your brand.
Workout progress data is stored automatically with activity, performance records, workout snapshots, summaries, and leaderboards. This means that with your entire community of people, especially those enrolled in community workouts you build, you'll be able to get more client engagement and properly engage your client community base.
The custom Exercise.com platform has key features embedded that function to help increase revenue automatically for your business, whereas with TotalCoaching you'll have to do it all yourself, along with the extra marketing to reach new clients.
1-1 Training
One-on-one training is meant to be personalized and a client should feel like they are receiving top-of-the-line service. Exercise.com software provides trainers and fitness facilities with the software needed to make one-on-one training as simple and as personal as possible.
Group Training
The Exercise.com group training feature provides the same resources and support as it does for one-on-one training but members benefit from the community and accountability of the group setting.
Online Training
Just like one-on-one and group training, you're able to use Exercise.com workout creation and delivery features for online training as well with our online coaching application. You can market this feature on your online coach website. This helps you expand your target market to potential clients across the globe. As an online training coach, the possibilities are endless.
Exercise Library
TotalCoaching does have an exercise workout library available. You can also track client progress with an in-app tracking log, but Exercise.com offers the same capability.
You also have access to an exercise library with Exercise.com that isn't a gray 3D model, and you can put your own version of each exercise you create into your library.
The way that TotalCoaching cannot match Exercise.com is how the exercises are linked to health assessments and automatically populate for clients based on answers to assessments. With the Exercise.com automation system, you'll also be able to automate self-populating workout systems based on client progression.
Custom Exercises
The Exercise.com exercise library also provides users with the ability to add their own custom exercises, exercise demos, and workout videos to the library. Some workout customization options include:
Workout Plan Creator
Intervals
Alternate
Block
Smart Delivery
Custom Exercise Library
Easily Embed Your Videos into Your Platform
Your Descriptions, Workouts, etc
TV Workouts
Clients in busy group sessions can see you performing the movements along with them by casting your custom exercise videos directly onto gym television screens.
Gym Ecommerce Software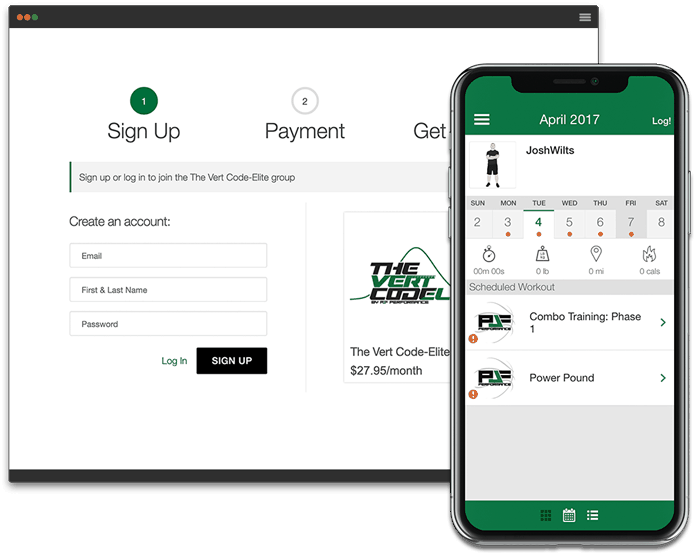 As previously mentioned, TotalCoaching needs outside assistance for processing payments, meaning that you'll have to use another app to process payments. This means that instead of being able to just use your TotalCoaching app to process transactions, you'll have to open up another app or tab on your web browser to process payments, which can be time-consuming and annoying.
Exercise.com uses secure third-party processing software integrated into your Exercise.com custom software, meaning all of your transactions can take place in one singular location. You'll never have to use another app with our customized software.
With the Exercise.com all-in-one software, you'll be using a tailored solution that's built to help you deliver workouts to clients in-house, in your general community, and connect with clients across the world.  Your custom Exercise.com app is a revenue-increasing gym ecommerce software built to help drive business to your business.
Payment Processing
Because TotalCoaching is a trainer app, you will need an outside third party for processing transactions.
With Exercise.com, you'll be able to conveniently accept payments through your app and will have peace of mind knowing that all transactions undergo the strictest of security measures.
Sell Products
Increase revenue by selling products like branded apparel, water bottles, gear, and supplements. Exercise.com software provides complete ecommerce capabilities so that you can increase merchandise sales. A big benefit of being able to sell branded merchandise is that your clients will become walking advertisements for your fitness facility or training program.
Sell Workout Plans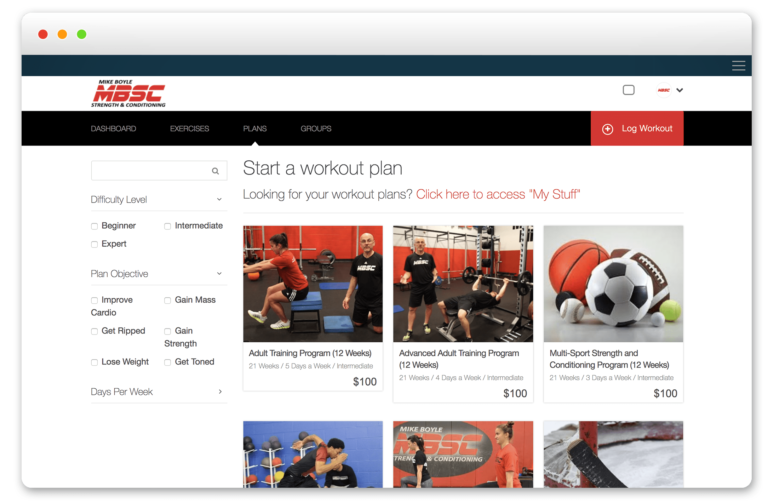 Exercise.com client Mike Boyle, of Mike Boyle Strength & Conditioning (MBSC), had over 700 clients within 12 months of releasing programming online using our software!
Offer Online Workout Memberships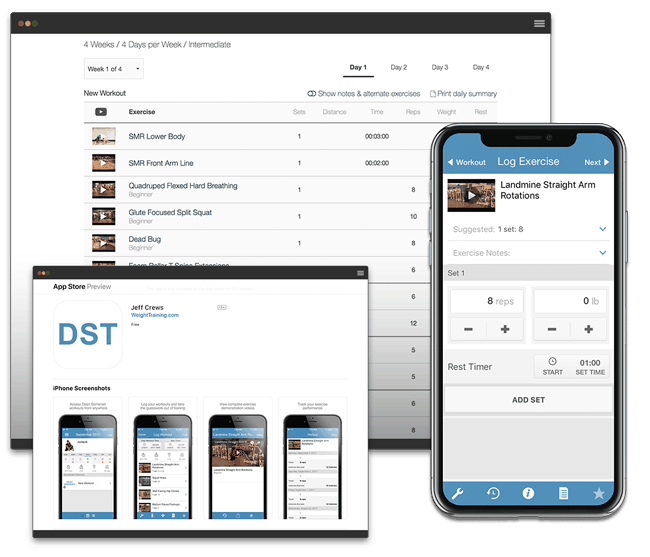 The TotalCoaching system will allow you to connect with clients all over the world, provided you have a system in place with your own business to reach clients who are not members of your facility. Because its main function is to help you build workout templates for your clients when they aren't with you, you don't have access to the virtual fitness community that the Exercise.com software provides.
Sell Workout Challenges
Workout challenges are a great way to keep clients engaged and motivated!
Fitness Assessment Software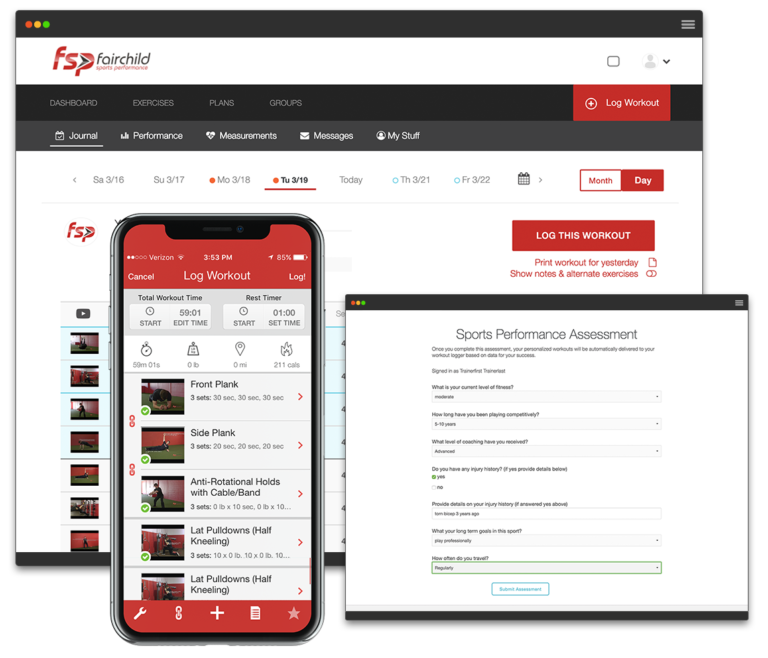 Assessments are important. Clients need to see they are improving and will be happy to continue to use your services when they see results. GymMaster's lack of capability for performance assessments can potentially hinder your business from reaching new heights.
Exercise.com's fitness assessment software is dedicated to helping your business run smoothly while increasing revenue easily.
Assessments
You'll be able to do the following with Exercise.com fitness assessment software:
Take clients through your custom assessment to automatically create personalized workouts based on the data important to their success.
Implement scalable processes that will sustain the progress of your business, so you don't lose ground.
Easily show clients areas they can improve on from their assessment and turn them into leads
Performance & Measurement Reports
Our Performance Health Software allows you to deliver automated assessments to re-engage clients while also providing progress photos and measurements. That assessment can provide history, measurement data, injuries, photos/videos, and goals. You can also use the assessment to trigger a workout specifically developed for that client's success based on smart data from their onboarding. You can put together a custom way of re-engaging clients how you deem fit.
Nutrition
At Exercise.com, we know that nutrition software for personal trainers is an important piece of the overall health puzzle and that online nutrition coaching software can help clients meet their goals. Trainers can also set macronutrient goals with their clients and can view clients' daily intake in order to provide assistance to help clients meet their health and fitness goals.
TotalCoaching Software Pricing
TotalCoaching has a tier list offering for its pricing scale. Based on the number of trainers with your business or the number of clients, TotalCoaching will scale its pricing up to accommodate the number of people engaged with your business.
Exercise.com does not require that you pay-per-user, which makes it more affordable as you'll have a flat rate for your custom software and support team.
With each TotalCoaching price tier, you won't get extra functions, you're strictly paying a rate for the use of their software based on the number of active participants accessing your fitness business, whether client or trainer.
TotalCoaching Alternatives
Additional alternatives of TotalCoaching are:
And, of course, Exercise.com
The Bottom Line: Pros and Cons
Most reviews online speak highly of TotalCoaching's software, mainly because it's a template for creating workouts and sending them to your clients.
But that's it. The most you'll get with customization is adding your business logo and color to your app.
TotalCoaching Cons
These are features you will not see with TotalCoaching system's fitness software that are included with the Exercise.com all-in-one fitness business management system:
Automatic features like custom workouts populated from performance assessments
Scalability of automation features
Getting your individual workout plans and workout memberships to clients around the world
Revenue-driving features like workout challenges and workout memberships which help build your personal fitness community
Lead-to-client driving features like automated suggestions and workout information logging data, which help you see, discuss, analyze, and properly assess client problem areas
Exercise.com wants to help your business success, not just give you an app to use based on features we designed.
Our back office of fitness professionals makes sure the all-in-one Exercise.com platform stays up-to-date with suggestions based on what is functioning well and not so well with their own individual businesses.
Exercise.com Pros
Proven track record of success with several top-rated apps in the Android and iOS play stores
Exceptional automation features that put time and money back into your business
Revenue driving features with a success support team backing your business software
Complete customization capabilities that enhance everything down to the verbiage on your app, making it personalized to your business
Deliver automatic recurring assessments to clients to keep them engaged and on track with progress, as well as revamping their workouts automatically
No tiered pricing, meaning that the rate you get will never increase depending on the number of clients your business has
In conclusion, though TotalCoaching does allow for you to create workouts, get a little bit of feedback from clients, and use a 3D exercise library, Exercise.com features far outweigh the benefits of a smaller app like TotalCoaching.
Don't wait to get started taking your fitness business to the next level by paying for an app that won't help you drive revenue. Exercise.com fitness business management software is the only-all-in-one solution that is built fully customized for your business. Request a demo today.