Exercise.com: Your Fitli Alternative
| Features | | Fitli |
| --- | --- | --- |
| Nutrition | | |
| Dedicated Account Manager | | |
| Dedicated Zapier Support | | |
| Client Automation | | |
| Performance & Measurement Reports | | |
| TV Workouts | | |
| Offer Online Workout Memberships | | |
| Run Workout Challenges | | |
| Sell Workout Plans | | |
| Group Training | | |
| 1-1 Training | | |
| Custom Exercises | | |
| Websites | | |
| Marketing Integrations | | |
| Custom Branded | | |
| iOS & Android Apps | | |
| Online Training | | |
| Sell Products | | |
| Payment Processing | | |
| Gym / Facility Management | | |
| Exercise Library | | |
| Assessments | | |
| Client / Class Scheduling | | |
| Workout Creator / Logger | | |
| Business Dashboard Reports | | |
Why Choose Exercise.com?
Here are five reasons why fitness professionals use Exercise.com vs. Fitli.
Fitness Business Management Software to Run Your Business
Unlike Fitli, Exercise.com software is designed to have all components needed to run a fitness business, big or small, in one place – making it easy and efficient to organize and grow your fitness business with client and class scheduling, check-ins, and billing — all from your custom-branded app and website.
Fitness Business Management Software to Run Your Business
Unlike Fitli, Exercise.com software is designed to have all components needed to run a fitness business, big or small, in one place – making it easy and efficient to organize and grow your fitness business with client and class scheduling, check-ins, and billing — all from your custom-branded app and website.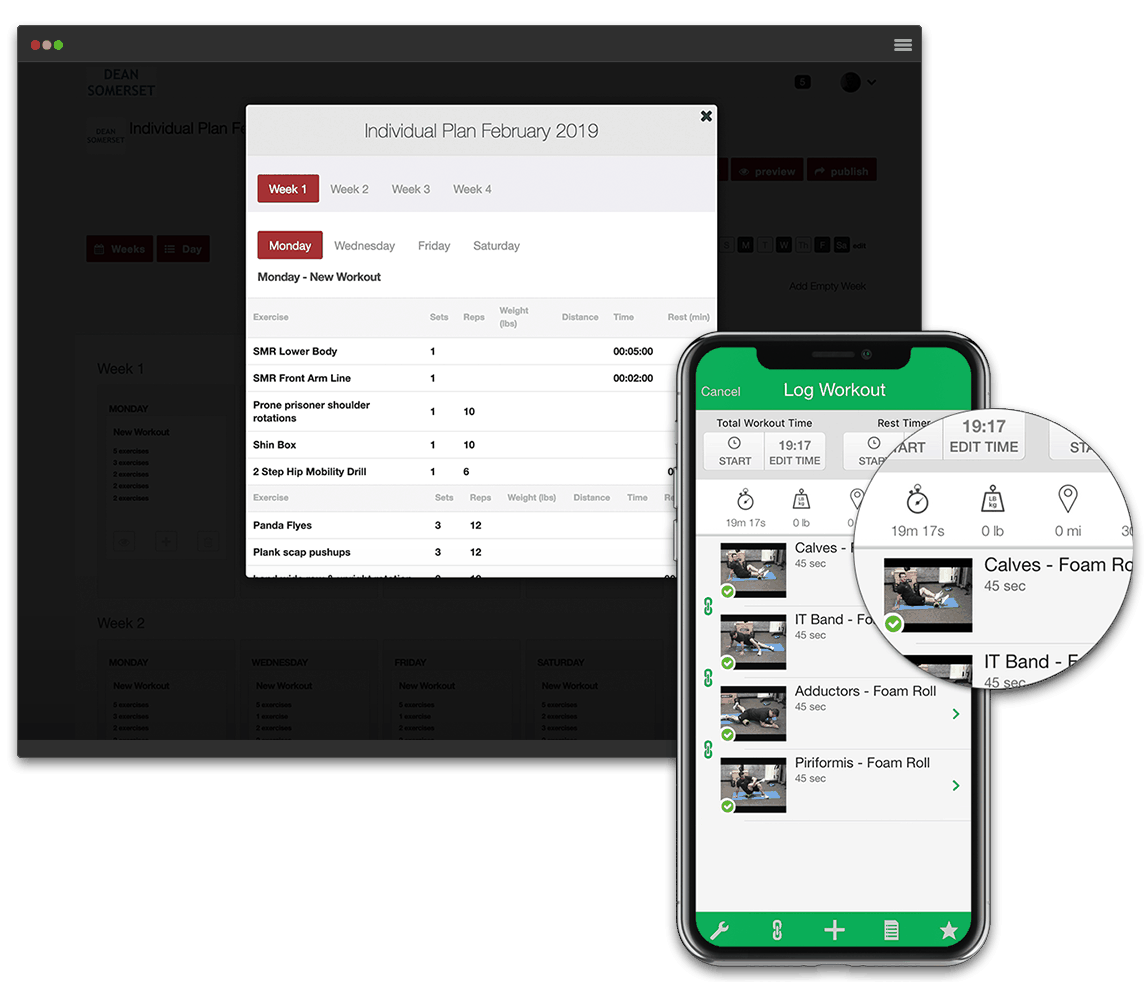 Workout Software to Power Your Training
Fitli does not offer workout software. The Exercise.com workout plan creator and exercise manager provide flexible solutions to save you time creating workouts with built-in integrations, tools, and more.
Ecommerce Software to Increase Revenue
Fitli does not offer the extensive ecommerce options that Exercise.com provides. Exercise.com offers the gamut of ecommerce features, including product sales, payment processing, and selling online training, online memberships, and workout challenges.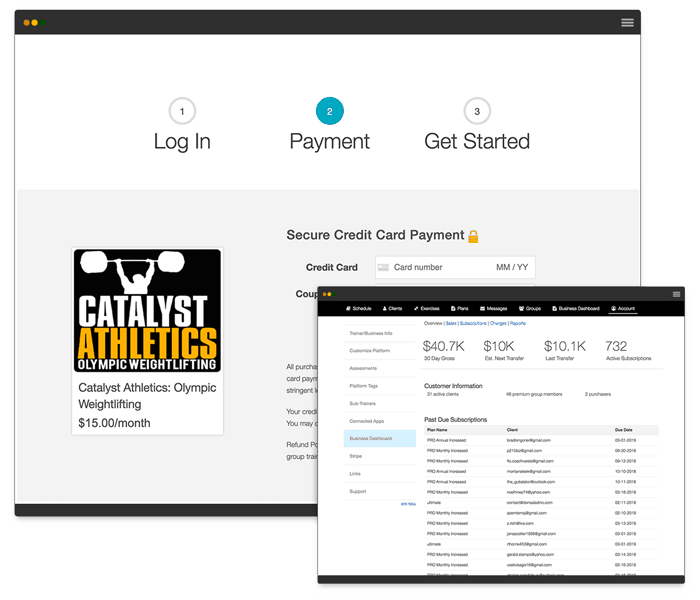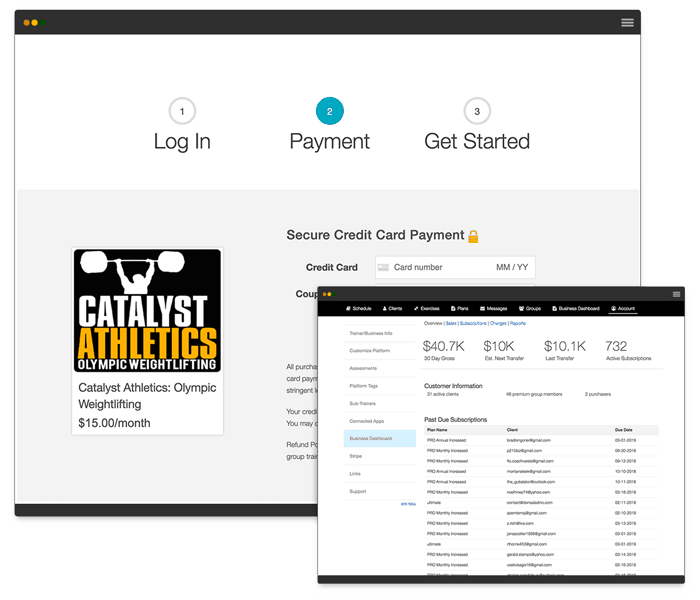 Ecommerce Software to Increase Revenue
Fitli does not offer the extensive ecommerce options that Exercise.com provides. Exercise.com offers the gamut of ecommerce features, including product sales, payment processing, and selling online training, online memberships, and workout challenges.
Assessment Software to Improve Client Engagement and Retention
Fitli does not offer fitness assessment features. With Exercise.com, your clients will receive personalized assessments that deliver custom workouts for their individual needs – providing massive growth potential and saved time. All for one price. All on one platform.
Stand Out With Your Own Custom-branded Apps
Fitli does not offer custom-branded apps and websites. Exercise.com, however, offers apps and websites that are fully customized to make your life easier by providing your clients with a unified scheduling and workout experience with your brand displayed front and center.
Stand Out With Your Own Custom-branded Apps
Fitli does not offer custom-branded apps and websites. Exercise.com, however, offers apps and websites that are fully customized to make your life easier by providing your clients with a unified scheduling and workout experience with your brand displayed front and center.
If you're ready to get started with an easy-to-navigate, all-in-one fitness software, designed to fuel your business, request a demo with Exercise.com today.
And, if you want to see how Fitli's additional features stack up to Exercise.com software features, check out our in-depth guide below.
What is Fitli?
Fitli is an accounting software company founded by John and Van Cline and headquartered in Savannah, TX. A relative newcomer to the online and mobile booking space, Fitli claims to be the best yoga studio software and seeks to provide small and medium-sized businesses online and mobile scheduling solutions focusing on simplicity, service, and affordability.
To learn more on how well Fitli comes to delivering on its client commitments, continue reading further.
Unless otherwise stated, all images and reviews below are of/about the Exercise.com All-In-One Fitness Business Management software platform.
Fitness Business Management Software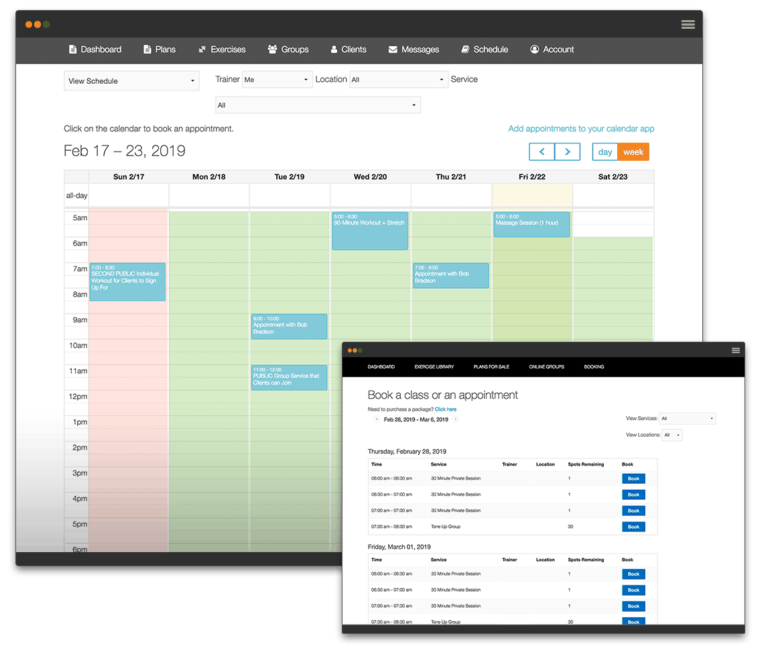 With Exercise.com, the robust gym management software is a one-stop shop where you can build workouts and run your business on the very same platform. Exercise.com is capable of handling membership, class scheduling, billing, notifications and reporting, and personal training.
The software is easy to use for both your employees and your customers. There are areas to monitor progress, make payments, generate reports, and integrate with other programs. Let's take a deeper dive into all that is being offered.
Client/Class Scheduling
Scheduling is a prominent feature of the Fitli platform of which they are very proud, highlighted by the unlimited limited classes, appointments, and workshops. Fitli also allows for mobile and online booking for clients.
With the Exercise.com Fitness Business Management software (FBM), clients can also book classes online or via mobile. The FBM also allows you to track visits, book classes and sessions, engage your clients with recurring appointment reminders via email and text, and integrate with Google and Apple calendars.
With FBM's calendar, you can also sort by:
Trainer
Location
Service
Recurring
Time
Availability
Exercise.com also provides calendars for whatever platform your fitness business needs. The software accommodates multiple trainers, multiple class studios, and can be easily sorted for customers to view. They can make appointments and pay for services they've booked, all within the software.
Gym/Facility Management
Both Fitli and Exercise.com have software that helps keep your staff roles, inventory, memberships, and business details organized, but only Exercise.com enables you to take it to another level by allowing you to customize your facility management to best fit your business.
Business Dashboard Reports
Fitli allows for business dashboard reports that allow you to analyze your business stats, attendance, and sales figures. Exercise.com allows for a customizable dashboard with various reporting options. You are able to run custom reports on different areas of your business, such as your revenue, staff, or clients.
Exercise.com's FBM can generate reports to see anything from total purchases to gross revenue. Having this information at your fingertips can help you decide whether your business is on the right track, or if you need to make changes going forward.
For example, you might want to analyze your High Intensity Interval Training (HIIT) schedule. After evaluating a generated report, you notice more college-aged clients are attending than any other demographic. Using this information, you could plan to offer more HIIT classes in the Spring and Fall when the local colleges and universities are at their highest enrollment periods and fewer over the summer and winter breaks.
Client Automation
Fitli offers automation options namely in notifications, emails, and payments.
In contrast, Exercise.com's automation options are not only in communication and payments but in other areas as well. Exercise.com offers automated features to keep your clients engaged with their workouts and your facility in general. For example, here are a few of the features offered in the FBM:
Automatic Emails and Texts/Other Automatic Features
Highlight 

Exercise.com

Automate Workout Delivery
Automate Resource Delivery
Automate Assessment Delivery
Automate Reminders/Alerts via app, text, and email
Dedicated Zapier Support
Fitli does not offer any Zapier integrations or support.
Meanwhile, Exercise.com provides clients with a cornucopia of Zapier integrations. The partnership between Exercise.com and Zapier enables clients to fully integrate with over 2,000 applications using Zapier. Part of this partnership includes dedicated Zapier support to help you through every step of the process, affording the comfort and peace of mind that your company's website is as efficient and user-friendly as possible.
Dedicated Account Manager
With Exercise.com you will have a dedicated account manager to assist you with any help or change needed. However, Fitli does not offer a dedicated account manager to its clients.
At Exercise.com, customer service is a priority; which is why clients are assigned a dedicated account manager to help them through every step of the process – indefinitely.
If you want to redesign your website, your account manager will get it done. If you want to set up an ecommerce store, your account manager won't hesitate to fulfill that request. Whatever you need, the world-class dev team will come rise to the occasion. Whether the task is simple or complex, the dedicated account manager is there for you.
Customized Software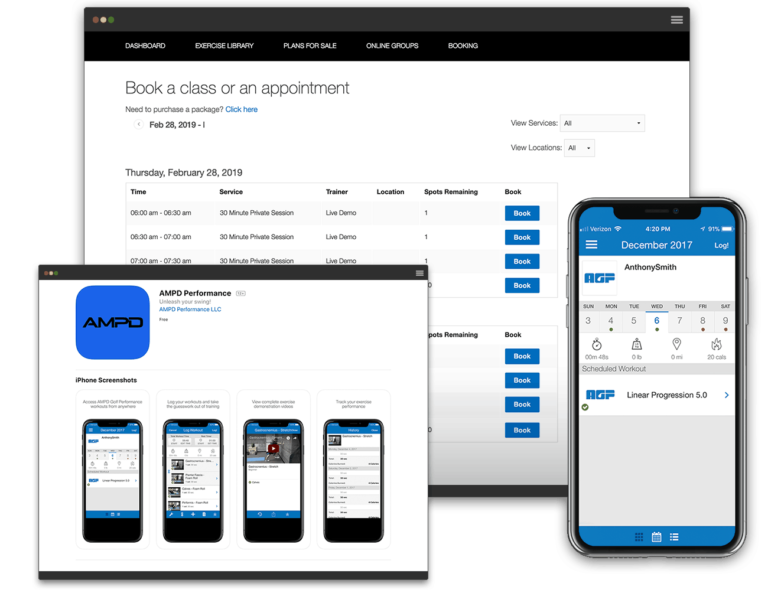 This is the part of our comparison in which Exercise.com outshines its competitors. The entirety of its software can be customized to create exactly what your business needs in order to run most efficiently. You are able to show off your brand through a custom app and website while also having integrational capabilities with other marketing tools. Most of its competition cannot boast the same level of customization and functionality with apps and/or website creation.
Custom-Branded Fitness Apps
Fitli offers no customization options for websites or apps. With Exercise.com you can fully customize and brand your websites and apps so that your company ALWAYS stays front and center. The customization is not just colors and logos. You are able to customize verbiage, integrations, custom dev work for your health performance assessment, and more.
iOS & Android Apps
As previously stated, Fitli has no apps available for iOS or Android to offer clients. Exercise.com, on the other hand, offers you your own fully custom-built gym app available for Android and Apple devices. Your brand will be featured in the Apple or Google Store and your app allows for clients or class attendees to book classes or appointments.
Custom Fitness Websites
Fitli's customized website options are nonexistent.
The top-rated dev team at Exercise.com will create a one-of-a-kind website that reflects your wants and needs as a business owner.
Some of the features of our custom-branded, SEO-optimized fitness websites are:
Responsive
SEO optimized
Unlimited theme changes
Built to convert visitors to leads
Custom graphic work
Google Certified Partner
Security Features
Both Exercise.com and Fitli provide users with added security features so that their businesses and client private data remains private and secure.
Exercise.com security features include:
SSL Secure
Privacy Shield Framework
Google Cloud
Marketing Integrations
The Fitli marketing integration enables features such as automated marketing campaigns, Zoom integration, social media and email advertisements, and direct deposit payments.
Exercise.com has built-in integrations but the possibilities are endless with our focus on custom-built solutions for client retention, following up on leads, social media marketing campaigns, along with other features intended for faster, easier, and more automated business growth.
Some of the most-used integrations on Exercise.com's FBM include:
MailChimp
ConstantContact
ConvertKit
Google Analytics
Facebook Pixel
Zapier
Learn more by clicking the button below.
Exercise.com is the best Fitli alternative.
Workout Software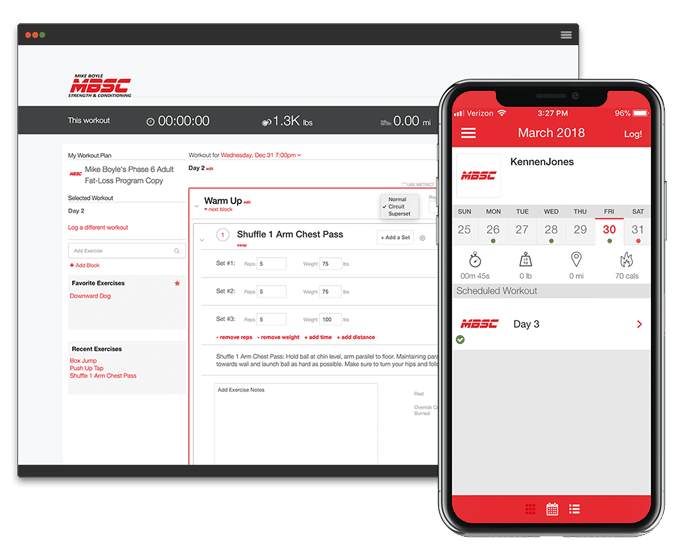 The ability to create, update, send, and monitor the progress of client workouts has become increasingly more important in the fitness business universe. Using Exercise.com software, trainers and coaches can design workouts specifically tailored to the individual's goals. Can Fitli's software make the same boast?
Let's find out if Fitli is up to the task to meet the needs of a 21st-century fitness business.
Workout Creator/Logger
Although Fitli promotes itself as the top yoga studio software, it does not have any workout creation and delivery options. There is no exercise library, workout creation features, workout delivery, workout logging, or any options to monitor workout progress.
This is where Exercise.com has a clear advantage with its workout software built for fitness professionals. There is a large exercise library with videos, instructions, and muscles worked, with the option to add additional exercises that may not be in the library.
Clients or trainers can view or log workouts from anywhere with the mobile app. They also have the option to track attendance and view workout progress 24/7. With the FBM, coaches have the ability to create workouts for all training scenarios, including:
1-1 Training
One of the most time-tested and tried and true workouts is the one-on-one training session with a personal trainer. With Exercise.com's robust software, you can get "back to the basics" with clients by personally designing workouts that help your client or athlete reach their maximum potential.
Group Training
Fitli offers zero group training options. Conversely, Exercise.com's FBM allows for seamless group training sessions and provides clients with the ability to build a community with like-minded, goal-oriented fitness enthusiasts. The community atmosphere of these exercise sessions can be motivating and can also promote healthy, friendly competition which often leads to better results.
Online Training
The future in the fitness industry has manifested itself by way of online training. While in-person, face-to-face training will never be completely eliminated, virtual options are plentiful, accessible, and efficient and there are people who want to take advantage of them.
Fitli does not yet have any features to offer online training. While Exercise.com allows you to provide online workouts, you're also able to create and deliver workouts and track your client's progress.
This portion of our platform could also be very useful for coaches. Sports teams can consist of dozens of different players, so giving individual attention can be difficult and time-consuming. With Exercise.com, coaches can make sure that the athletes get individualized training without having to commit to spending as much time in person.
Exercise Library
Exercise.com provides its users with a pre-built library of exercises and videos that can be used to create workouts for your clients. While this can be a great tool to save time and is certainly worth having as an option, there is something to be said for a more personal touch. As an added value to your business, Exercise.com provides the opportunity to create custom videos and exercises to add to your library.
At this time, Fitli has no exercise library to speak of.
Custom Exercises
Your clients are unique and so is your business. As such, you should give them the best experience possible by using videos filmed at your business, featuring your staff members with whom they are familiar.
Clients and athletes feel more of a connection when they see a familiar face in a video or picture of an exercise. It is more motivating because it is still their coach or trainer giving them instructions and it adds a certain level of believability to the training method.
By uploading your own videos, you are keeping the connection strong between you and your client or player. Motivating them, in this way, will help them to reach their goals faster.
TV Workouts
Exercise demos can be cast onto television screens. Whether during workouts or meetings you are able to showcase your demos for any situation. Aside from providing clients with the ability to watch demos of the exercises you've sent them within their workout plans, fitness professionals can use the exercise library as a great form of motivation to cast exercise demos onto gym television screens during group classes or one-on-one training sessions.
Gym Ecommerce Software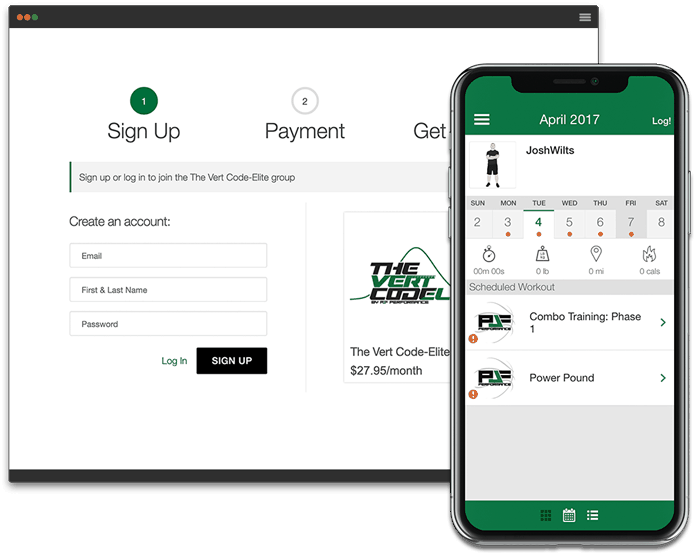 Selling online can be a great stream of revenue for your business. Fitli provides its clients with the ability to process payments and make purchases in person, but no option for e-commerce or merchandise sales online. In this way, Fitli does not have the capacity to offer a full ecommerce store.
Exercise.com, however, does. Let's read on to see how Exercise.com's gym ecommerce software features can help you grow your business.
Payment Processing
Fitli allows for payments via credit card, debit card, and wire transfers.
Exercise.com has numerous gym ecommerce software features. We utilize Stripe and you are able to access all of your payment tools in the same custom-branded web and mobile app. Clients can pay a one-time or recurring price with cash, check, or credit card or accept direct deposits and can pay in-person or online.
Sell Products
Fitli has some POS capabilities, but your product options are limited. With Exercise.com you have the ability to sell products online or in-store. There are no restrictions. You can sell your merchandise on your app, your website, or in-person. Exercise.com goes a step further and provides users with the ability to also sell training packages like the below examples:
Sell Workout Plans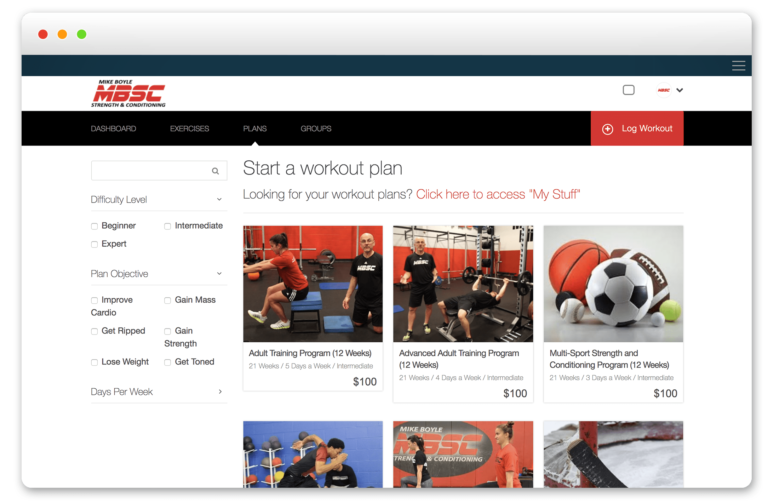 Fitli does not specifically state whether or not you can sell workout plans on its platform. With its software platform lacking custom workout creation and delivery, creating workout plans would require another platform.
Personal training or custom-designed workout plans offer many benefits, but they may not necessarily be for everyone. Some members might already have a good base of fitness knowledge and want a more generic plan that helps them generate ideas and gives them something to follow.
Exercise.com gives you the chance to sell pre-built workout plans for members who might fall into this scenario. They may not be comfortable paying for personal training or asking for a custom plan, but by having pre-built plans available, you are offering a tool that they can use to be successful while generating revenue for your business.
The great thing is that the same plan can be purchased by dozens of different people, meaning that it carries a high value for your business.
Offer Online Workout Memberships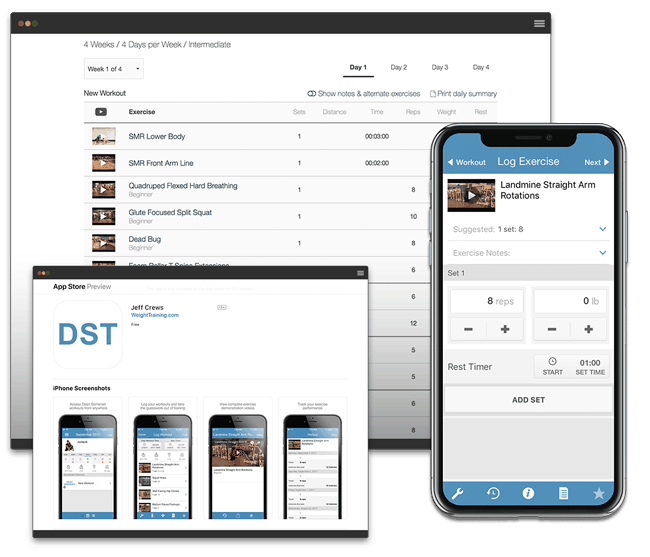 Fitli does not allow for online workout memberships. With Exercise.com you have the ability to offer and automate online workout memberships. Workouts can be sent automatically at the designated time/situation in which clients can perform these exercises at any location.
Rather than having to take the time to send a new workout at the end of each cycle, the workouts can all be created in advance and be set to be automatically delivered to the client when the right time comes up. Then, they are able to do these workouts in their own time at their location of choice.
Sell Workout Challenges
Both Fitli and Exercise.com offer their clients the opportunity to build culture and community through workout challenges.
Fitness businesses that promote a sense of community enable members to develop friendships and share in the success of one another. By running a workout challenge, you are providing an opportunity for members to engage with others as a team or in friendly competition. The more your business feels like a community, the more members will want to tell their friends about it. This is an amazing marketing opportunity for your fitness business.
Health and Fitness Assessment Software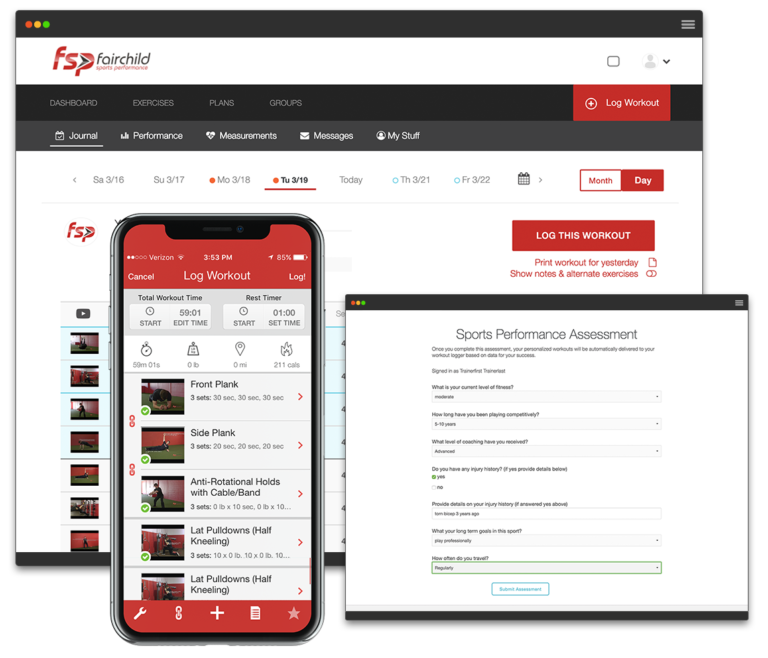 Another key to being a great fitness business owner and trainer is knowing that having a baseline for where you want to take your clients, along with constantly adjusting that baseline, optimizes your clients' health goals tremendously.
Fitness assessment software should allow you to:
Turn leads into clients
Engage clients through assessments
Track measurement data, injuries, etc.
Optimize the delivery of personalized workouts and nutrition
Assessments, reports, and nutrition are important factors when trying to improve clients' overall fitness level and health. Exercise.com's fitness assessment software allows you to manage these key areas easily and efficiently.
Fitness Assessments
Fitli has no fitness assessment features built into its software. If personal trainers or fitness professionals are using Fitli for scheduling, ecommerce, and sales, they would need a separate platform for fitness assessments. This is one of the limiting factors of Fitli for use in gyms and health clubs. However, Exercise.com has a multitude of health assessment options.
Performance & Measurement Reports
It's not good business to lose clients. Client retention is essential for any business, and fitness businesses are no exceptions. Exercise.com's performance health software allows you to deliver recurring assessments, progress photos, and measurements to promote client re-engagement and retention.
With Exercise.com, trainers can perform and record a number of performance assessments on their clients. These can include body metrics and measurements, power, strength, and endurance assessments. Trainers can then use the assessment information to plan appropriate workouts and nutrition recommendations for their clients so the entire training experience is customized to each individual.
Clients can track their assessment data over time to see progress toward their fitness goals. Clients can also write notes or information in a journal and the trainer can view and comment on their journal.
Users are also able to track assessments using graphs and charts. Trainers and health professionals can also add custom assessment information to the system, giving a tremendous amount of flexibility to meet the needs of all clients and athletes. The great news is that the performance health software is built into the all-in-one Exercise.com setup, so there is no need for additional systems or programs.
Nutrition
Fitli does not feature nutrition tracking features. As nutrition is an important component of one's fitness and overall health, it is important for nutritional tracking capability to be in the software you use. Exercise.com includes a nutrition tracking component that can be customized to your liking.
Trainers can monitor their clients' eating habits such as their daily intake and are able to upload meal plans, files, or pictures. With Exercise.com, your clients can track their daily intake and you can see what they're eating and whether they prioritize pre- and/or post-workout meals. This results in greater client success and satisfaction.
Fitli Pricing
So, how much does Fitli actually cost? Take a look for yourself at the table before.
| Billing Frequency | Solo (Just You) | Grow (Up to 5) | Expand (Up to 10) | Enterprise (11+) |
| --- | --- | --- | --- | --- |
| Monthly | $39 | $69 | $89 | $109 |
| Semi-Annual | $216 | $384 | $492 | $600 |
| Annual | $384 | $684 | $888 | $1080 |
Fitli Alternatives
The most notable alternatives to Fitli are Exercise.com, Mindbody, Vagaro, and Virtuagym.
Exercise.com, MindBody, and Vagaro are focused on fitness facilities and health clubs and they do include some of the workout creation, workout delivery, client engagement, and performance health assessment features that Fitli is lacking.
The Bottom Line: Pros and Cons
Making the decision on the proper software for your fitness business can ultimately be the difference between success and failure, but it doesn't have to be a stressful decision because Exercise.com alleviates you from that pressure.
Fitli Cons
When looking at Fitli reviews, Fitli lacks some major features necessary for any successful fitness business in the 21st-century: the ability to develop and deliver workout programs, fully custom-branded apps and websites, and the use of fitness assessments within the software.
For fitness professionals, fitness facilities, and health clubs, all-in-one software like the FBM of Exercise.com would be a better fit. It has all the features they need in one system, for one price. Exercise.com users get all the functions that Fitli offers. In addition, they receive workout creation and delivery options (even for virtual clients), client engagement features, performance health assessment options, and fully customized websites and smartphone apps.
Exercise.com Pros
If you're looking for an all-in-one fitness business management software that will allow you to grow and manage your business with ease Exercise.com should be your choice. Customization is incredibly important when you're looking to attract new clients and retain current clients.
The world-class dev team at Exercise.com has a proven track record of delivering software that just works. Also, they build your web and smartphone apps with your brand in mind. It's not just cookie-cutter software. It's your app, your software, and your brand front and center. So, if you need a feature, integration, and more engaging performance health software let us know.
Hopefully, you see the benefit of not waiting to have a system and software in place that allows you to manage and grow your business for years to come.
What features are most important for your business?
If you're looking for an alternative to Fitli and are ready to grow and manage your business with fully customizable software, book a demo with Exercise.com.