Exercise.com: Your My PT Hub Alternative
| Features | | My PT Hub |
| --- | --- | --- |
| Nutrition | | |
| Dedicated Account Manager | | |
| Dedicated Zapier Support | | |
| Client Automation | | |
| Performance & Measurement Reports | | |
| TV Workouts | | |
| Offer Online Workout Memberships | | |
| Run Workout Challenges | | |
| Sell Workout Plans | | |
| Group Training | | |
| 1-1 Training | | |
| Custom Exercises | | |
| Websites | | |
| Marketing Integrations | | |
| Custom Branded | | |
| iOS & Android Apps | | |
| Online Training | | |
| Sell Products | | |
| Payment Processing | | |
| Gym / Facility Management | | |
| Exercise Library | | |
| Assessments | | |
| Client / Class Scheduling | | |
| Workout Creator / Logger | | |
| Business Dashboard Reports | | |
Why Choose Exercise.com?
Here are five reasons why fitness professionals use Exercise.com vs. My PT Hub.
Fitness Business Management Software to Run Your Business
Unlike My PT Hub, Exercise.com software is designed to have all components needed to run a fitness business in one place – making it easy and efficient to organize and grow your fitness business with client and class scheduling, check-ins, and billing — all from your custom-branded apps.
Fitness Business Management Software to Run Your Business
Unlike My PT Hub, Exercise.com software is designed to have all components needed to run a fitness business in one place – making it easy and efficient to organize and grow your fitness business with client and class scheduling, check-ins, and billing — all from your custom-branded apps.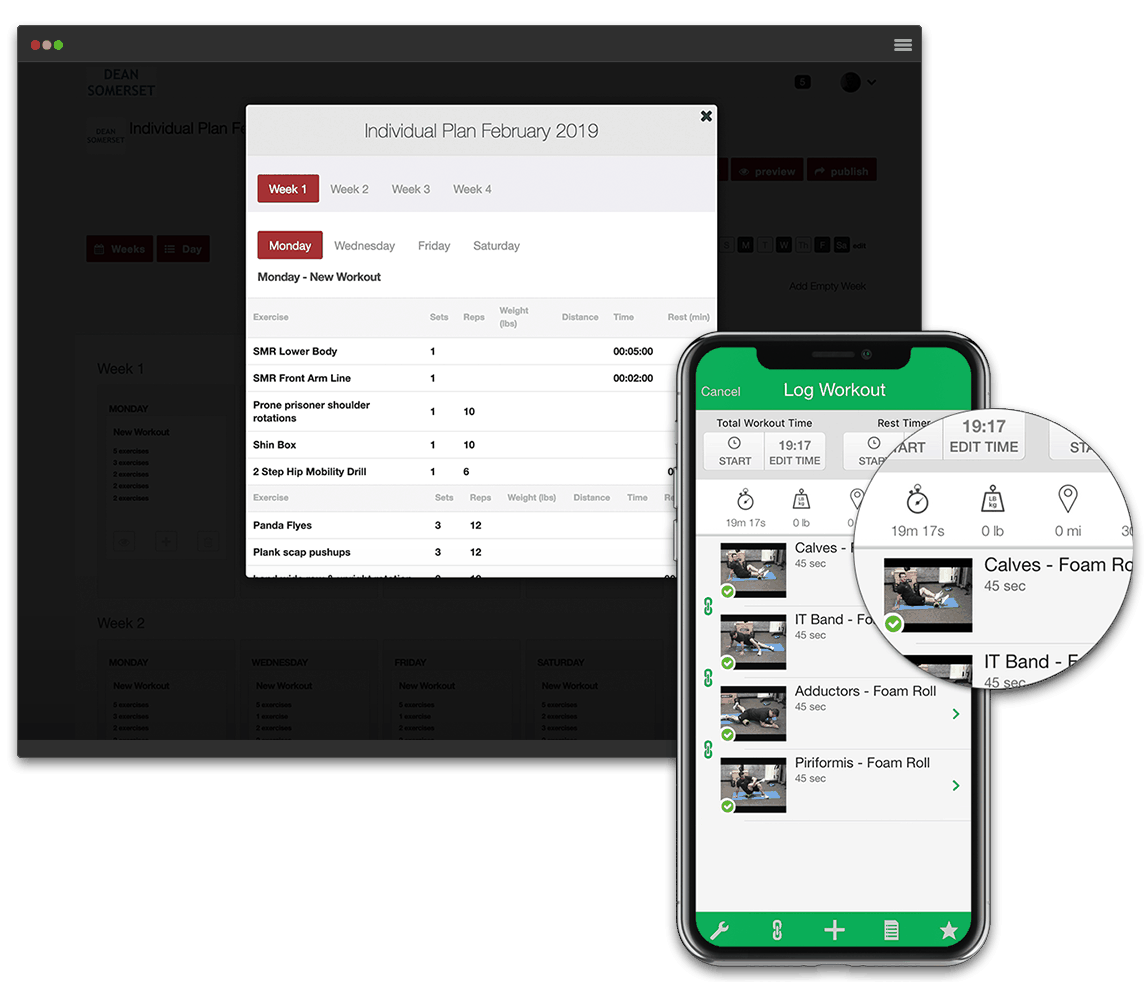 Workout Software to Power Your Training
My PT Hub's workout software does not allow professionals to run workout challenges or offer group training. The Exercise.com workout plan creator and exercise manager provide flexible solutions to save you time creating workouts with built-in integrations, tools, and more.
Ecommerce Software to Increase Revenue
Fitness professionals cannot use My PT Hub's ecommerce features to sell online workout memberships or offer workout challenges. Exercise.com, however, has full ecommerce capabilities allowing trainers to sell single workout plans, offer automated workout memberships, run workout challenges, and deliver individual training.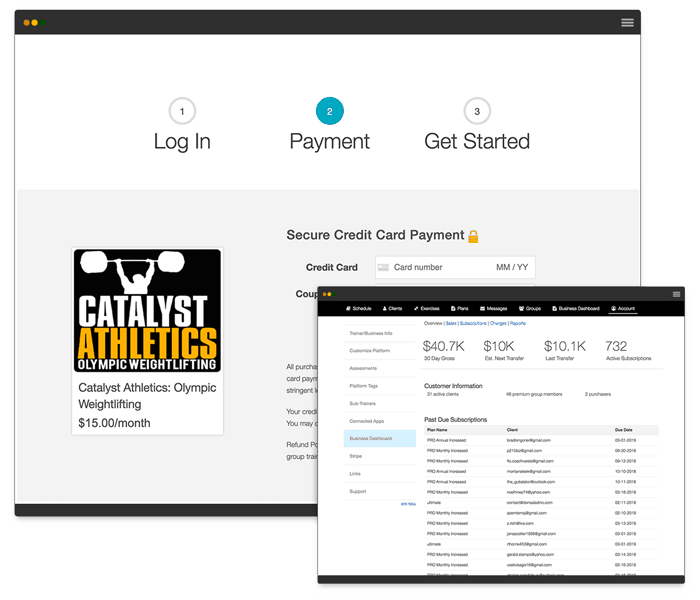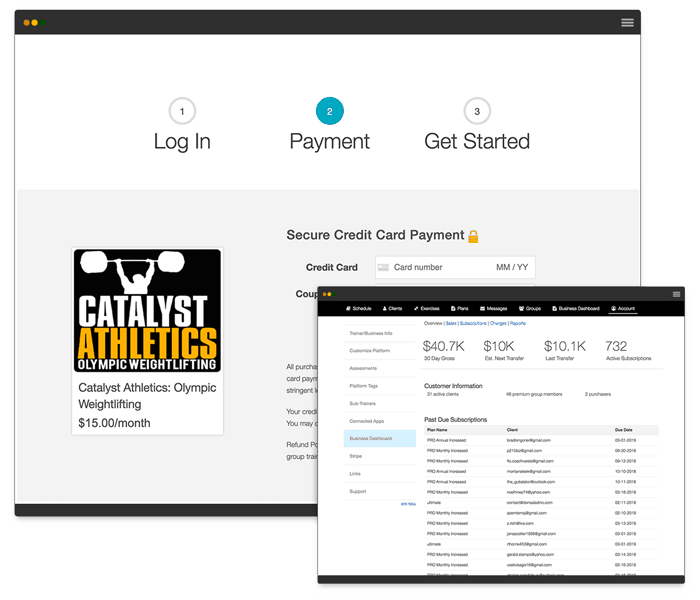 Ecommerce Software to Increase Revenue
Fitness professionals cannot use My PT Hub's ecommerce features to sell online workout memberships or offer workout challenges. Exercise.com, however, has full ecommerce capabilities allowing trainers to sell single workout plans, offer automated workout memberships, run workout challenges, and deliver individual training.
Assessment Software to Improve Client Engagement and Retention
My PT Hub's assessment software is primarily geared toward nutrition coaching. Exercise.com's software is much more versatile than that. You can take clients through personalized assessments to deliver custom workouts for their individual needs – providing massive growth potential and saved time.
Stand Out With Your Own Custom-branded Apps
My PT Hub's apps provide no options for custom websites. Exercise.com, however, offers fully-customized apps and websites built to make your life easier by providing your clients with a unified scheduling and workout experience with your brand displayed front-and-center.
Stand Out With Your Own Custom-branded Apps
My PT Hub's apps provide no options for custom websites. Exercise.com, however, offers fully-customized apps and websites built to make your life easier by providing your clients with a unified scheduling and workout experience with your brand displayed front-and-center.
If you're ready to get started with an easy-to-navigate, all-in-one fitness software, designed to fuel your business, request a demo with Exercise.com today.
And, if you want to see how My PT Hub's additional features stack up to Exercise.com software features, check out our in-depth guide below.
What is My PT Hub and how does My PT Hub work?
My PT Hub is a web-based platform for personal training and member management owned by FITII LTD in Brighton, UK.
The company was founded in January 2015 and, according to its LinkedIn page, is operated by twelve executives and employees. Further information on the company is a bit hard to come by, and no accurate figure of annual revenue seems to be available publicly.
According to their website, My PT Hub is used by upward of 70,000 trainers for managing face-to-face and online clientele.
My PT Hub has an attractive, well-designed sales webpage that boasts the software's many features, but it's the execution that counts! Professional trainers are looking for more than just a long list of features; you need a software solution that fulfills your unique needs and adds value to your services.
Exercise.com understands that the lives of fitness professionals are unique and that you deserve software that works with you. Our vision is simple:
To build all-in-one fitness business management software that inspires fitness professionals to think big when it comes to growing their businesses, and motivates exercise enthusiasts to pursue their fitness goals by logging one workout at a time.
A review of Exercise.com had this to say:
"For a while now, we have been looking for a great way to provide an all-encompassing experience for basketball players. The customization features of the web platform and custom-branded apps have allowed us to do that, creating the perfect marriage between our expert content and all of the really cool features that help separate us from the rest of the competition." – Kyle Ohman, Basketball HQ
By working with a seasoned advisory board of fitness experts, our world-class development team has built design features that businesses want and need the most.
It's time to see if My PT Hub is up to the task.
To learn how to use My PT Hub, refer to our article, "How do I use My PT Hub?"
Unless otherwise stated, all images and reviews below are of/about the Exercise.com All-In-One Fitness Business Management software platform.
Fitness Business Management (FBM)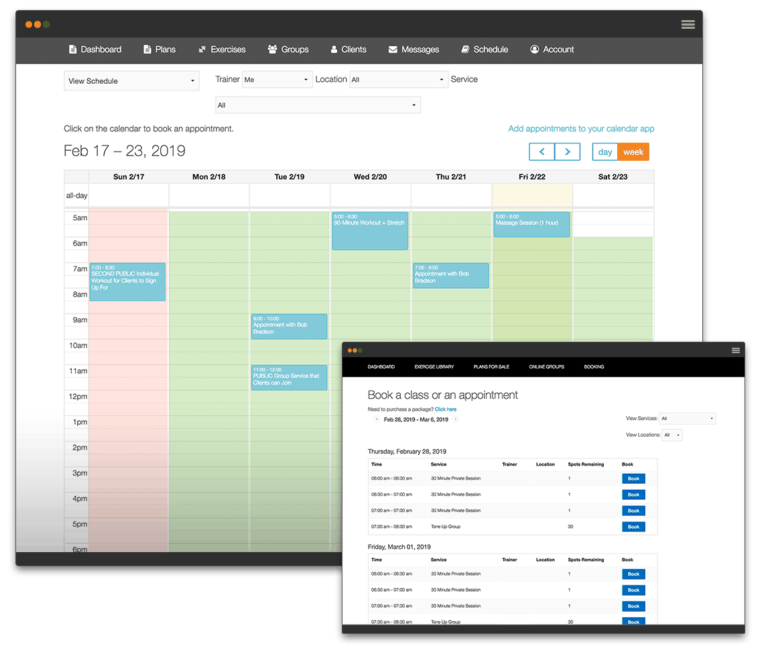 What if you are able to access all your tools such as payments, messaging, scheduling, and workout creation all in one place? That's why we here at Exercise.com created our all-in-one Fitness Business Management Software (FBM) to help manage and grow your business easily and efficiently. No more having to learn and teach different software which enables you to focus more on your business.
Client/Class Scheduling
Both Exercise.com and My PT Hub offer client/class scheduling capabilities as well as integration with Google and Apple calendars.
Gym/Facility Management
My PT Hub does not offer gym/facility management features. With Exercise.com, FBM saves you time with assignable staff roles so you can put staff management on autopilot. You'll be able to keep your business on track with sales and business reports for all your clients and never worry about sales, staff, clients, or data logged falling between the cracks.
You can also sort reports by:
These reports empower you to have your finger on the pulse of your business and if you're bringing on new trainers you'll know how much to pay staff based on commissions.
Business Dashboard Reports
My PT Hub does not mention any capability for business dashboard reports on their website. To truly assess how your business is operating, capabilities in this area are essential.
With Exercise.com, as soon as you enter your business dashboard, information such as your schedule for the day, recent clients, messages, and business reports are shown to you and can be customized to your preferred presentation.
Exercise.com's business dashboard reports are easily customizable, giving you free-range to how you want to analyze your business or filter information. Whether you want to run custom reports on your revenue, staff, or clients, Exercise.com gives you many options to analyze how your business is doing.
Client Automation
Automating parts of your service is a must if you are going to make online training viable and profitable. For all clients, My PT Hub sends automatic emails and push notifications to clients anytime their training is updated. Their software platform also allows for recurring bookings.
Want to get even more out of automation? With Exercise.com you can automatically send clients new workout plans, videos, and assessments as well as communications like workout and appointment reminders.
The ability in our software to automatically send assessments and have those assessments generate your client's workout plan means you can provide clients with training that evolves as they do. For example, Exercise.com sends your client their initial fitness assessment based on your specifications and sets them up with the best program for where they are now.
You can have another assessment sent automatically every two months which will test their progress and adapt their training program accordingly. Your client keeps making gains while you're free to keep advancing your business.
Here are some additional ways you can take advantage of Exercise.com automation features:
Automatic Emails and Texts/Other Automatic Features
Automate Workout Delivery
Automate Resource Delivery
Automate Assessment Delivery
Automate Reminders/Alerts via app, text, and email
Dedicated Zapier Support
Integrations with other platforms are important which is why we've partnered with Zapier. You will have options to integrate and automate with over 2,000 applications using our software.
Dedicated Account Manager
With Exercise.com you also will be assigned a dedicated account manager that will assist with any help you need. If you want to redesign your website, your account manager at Exercise.com will get it done. If you want to set up an e-commerce store, your account manager won't blink twice. Whatever you need, our world-class dev team is there to help!
Customized Software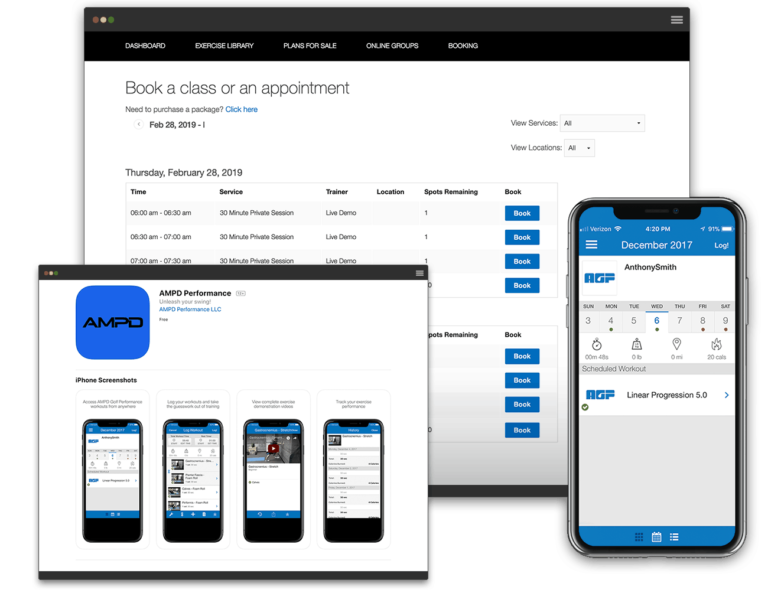 Your fitness business management software should be customized to your preferences to showcase your business. Your website and mobile apps may be the first look that a potential client or customer has of your business, so you want it to stand out. Customization allows consistency among your software online dashboard, mobile apps, website, social media, and any marketing efforts.
Custom-Branded
With a My PT Hub account, users are offered some very basic customization from the beginning with the option of receiving a higher level of personalization for an additional fee. Exercise.com, on the other hand, offers you full custom features with no additional costs.
iOs & Android Apps
With MY PT Hub, basic customization allows you to upload a company logo, change the mobile and web apps' header color, and add an accent color. For an additional customization set-up fee, the company provides a couple of upgraded features:
First, your mobile app will be given a custom app icon that appears on your client's home screen to replace the default My PT Hub logo. The second benefit is exclusive to Android users – for those clients, the app appears under your brand name in the Google Play store. From their perspective, they'll be downloading your app, but that will not be the case with iPhone owners.
According to the company, they are not able to extend this benefit to users downloading from the App Store on an Apple device because of some technical limitations.
By comparison, custom-branding available from Exercise.com goes much more in-depth. Whether on Android or iPhone, your clients will find it and download it under your company's name adding greatly to the perception of quality they're getting with your service. Additionally, we truly personalize the function of your app beyond just colors and logo.
Custom-branded fitness apps developed by Exercise.com have achieved an excellent reputation amongst our customers like renowned strength and conditioning coach Tony Gentilcore who said, "My custom-branded apps have made my life easier and helped streamline my online training, which in turn has transformed into a pretty awesome additional revenue stream for me and my family."
Websites
My PT Hub also does not offer you your own website. With Exercise.com you can showcase your brand fully with options to include integrations, verbiage, and other custom dev options. Our fully custom-branded, SEO-optimized fitness websites are responsive and built to convert visitors to leads.
Security Features
Both Exercise.com and MyPT Hub provides the necessary security measures for SSL (Secure Socket Layer) certification. With My PT Hub, your data is hosted in the United States on Amazon Web Services (AWS). With Exercise.com, we also provide the necessary security measures for Payment Card Industry (PCI) compliance and utilize Google Cloud.
Marketing Integrations
With My PT Hub, integration with other sites is limited. The main integration options they highlight are activity tracking apps like Apple Health and Fitbit, but more is needed to manage and grow your business.
Our marketing integrations at Exercise.com connect and automate you with well-known platforms like MailChimp, ConstantContact, ConvertKit, Zapier, Google Analytics, & Facebook Pixel. These integrations allow you to implement systems that save you time, have all your management tools in one software, and manage your business from anywhere.
Learn more by clicking the button below.
Exercise.com is the best My PT Hub alternative.
Workout Software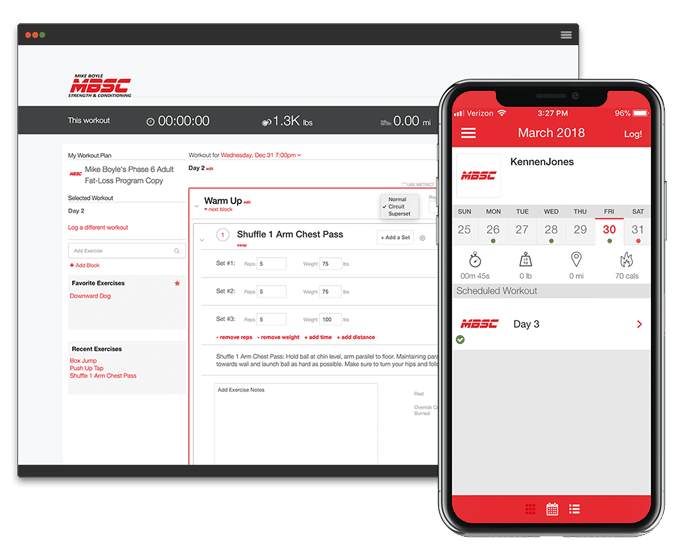 Being able to create, update, send, and track workouts and client progression can be fundamental in growing your business.
Workout Creator/Logger
When it comes to building workouts within My PT Hub, the poor interface and efficiency may leave many trainers longing for their trusty spiral-bound notebook, something that any online PT would frown at.
While a patient trainer can get the job done, the experience will feel clunky and unintuitive, far from the expectation of a time-saving, streamlined tool. The first thing one might notice is the sheer amount of on-screen space that is wasted with spread-out text and number entry points.
When viewed on a desktop computer, the interface used to input a single exercise in My PT Hub takes up nearly the entire screen. By contrast, the Exercise.com workout software built for personal trainers allows users to expand each exercise as necessary to edit the finer details of tempo, variation between sets, and additional notes.
With our workout creation features, you are able to build workouts for any scenario, including:
1-on-1 Training
One-on-one training sessions can be fully customized to align with the needs of an individual client. This setting allows trainers to create an effective workout plan, communicate with clients, and develop a positive environment that enables clients to reach their health and fitness goals.
Group Training
With Exercise.com group training sessions can be customized to your liking allowing for effective methods of engaging multiple clients. Trainers or group exercise instructors can follow along to stay on track when they are leading the class. Exercisers can view the workout plan if there are groups divided into smaller groups or taking the lead for certain parts of the workout. If you also have access to a television, Exercise.com users can show the workout plan broadcasted there.
Online Training
Online training is a great way to grow your business for a number of reasons. For one, you can train your current face-to-face clients if they are out of town on business or traveling on a vacation. Second, you can add new clients to your client base no matter where they are located. Third, it gives you more flexibility for training clients in a hybrid format, partially online and partially face-to-face.
Exercise.com works for you to allow you to train clients one-on-one, in groups, online, or hybrid. All of these options give you a ton of flexibility to maximize your time and revenue.
Exercise Library
Another key factor in any software's workout creation system is the exercise library. Most platforms these days come with a substantial collection of built-in exercise options complete with demo videos, categories, and descriptions.
In an effort to stand out, My PT Hub advertises a humongous library of over 7,500 exercises, a number which would blow away all competitors… if it were true.
The reality is that the My PT Hub exercise library is full of duplicate exercises which artificially inflate the number beyond reason. 
By taking advantage of slight changes to the wording, some as small as adding the letter S to pluralize a term, My PT Hub multiplies a single exercise into several. This is a pattern that is repeated throughout many searches for essentially any subject. In other examples, the exercises are exact duplicates letter-for-letter:
This not only debunks their claim to feature 7500+ exercises, it calls into question the company's transparency and ethics when they advertise what they know to be false.
The Exercise.com video library, however, is full of in-depth videos. No filler. No fluff. Plus, you can add your own custom videos into a custom library.
We take your business seriously which is why we want to enable you with features that will help you. We don't make false claims of our features to catch your attention. We know that our features can truly take your business to the next level.
Custom Exercises
Your custom exercises can be fully customized the way you want. Whether exercises are filmed at the gym, outside, or in the comfort of your home, you have the ability to create content that resonates with your clients.
TV Workouts
Exercise.com provides clients with the ability to watch demos of the exercises within their workout plans on television screens; gyms can also use the exercise library to cast exercise demos onto gym television screens during group classes or one-on-one training sessions. You can also stream the workout plan on a screen for group training sessions.
Gym Ecommerce Software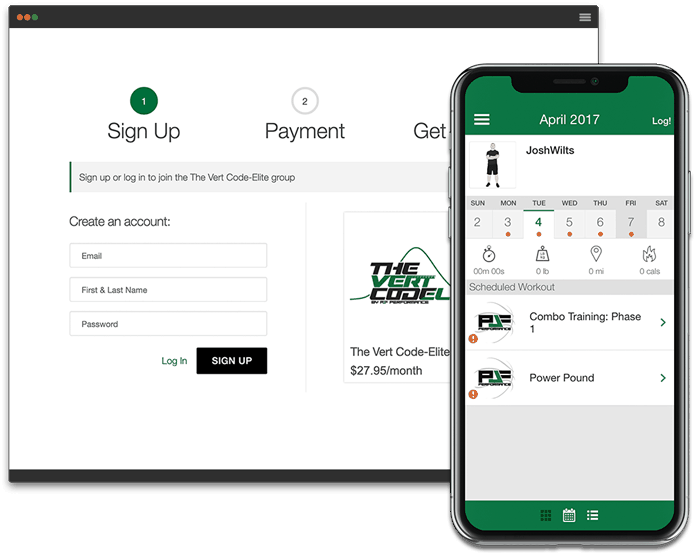 Ecommerce can be a staple for your business so it is important for the system you use to implement the necessary features for efficient operating. Exercise.com provides fitness businesses with gym ecommerce software options to enhance or add additional revenue streams. Safe and secure payment processing, the ability to sell your retail or other products, and options to sell memberships, packages, or sessions. You can also sell workout challenges, membership plans, or workouts online.
Payment Processing
Billing and payments in My PT Hub take place through a system they call Packages. After selecting this tab on the taskbar, users will be prompted to connect a Stripe account to begin the set-up process.
Our software at Exercise.com offers simple and secure payment processing for one-time transactions, recurring memberships, and your digital products like Ebooks. You can set your service to push out new workouts and plans automatically when clients make a purchase so you can make money without lifting a finger.
Accepting payments can take time, especially using one software for booking, another for workouts, and another for payments.
That's why we came up with a Fitness Business Management (FBM) software where you can access all of your payment tools in the same custom-branded web and mobile apps. Professionals like you can spend less time tracking down failed charges, taking payments, and managing payment details and have more time for growing your business.
Sell Products
Both Exercise.com and My PT Hub allow you to sell products online and in-store.
Sell Workout Plans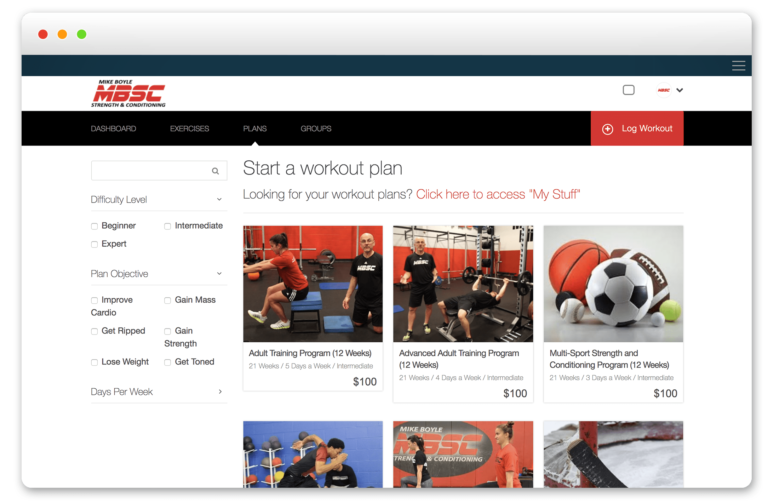 You are also able to sell customized workout plans with both software platforms.
Offer Online Workout Memberships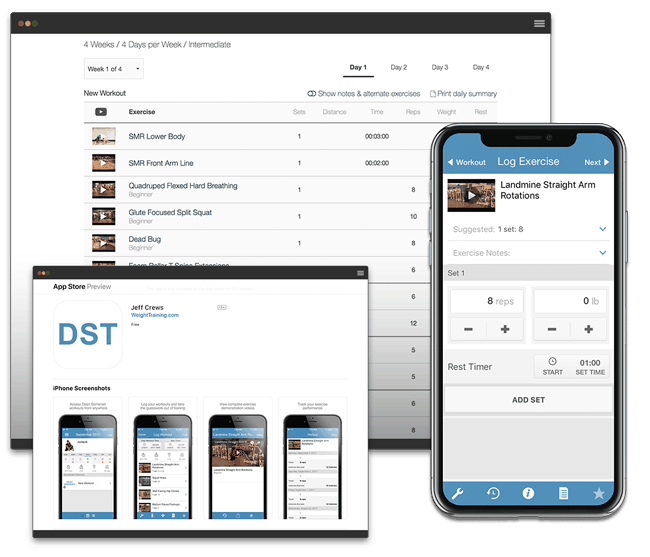 A unique advantage Exercise.com has is the ability for online workout memberships to be not only offered but automated. You have the ability to send workouts automatically at a designated time/situation.
Sell Workout Challenges
Both Exercise.com and My PT Hub allow for workout challenges. These types of challenges can not only catch the attention of potential customers but engage current ones as well.
Fitness Assessments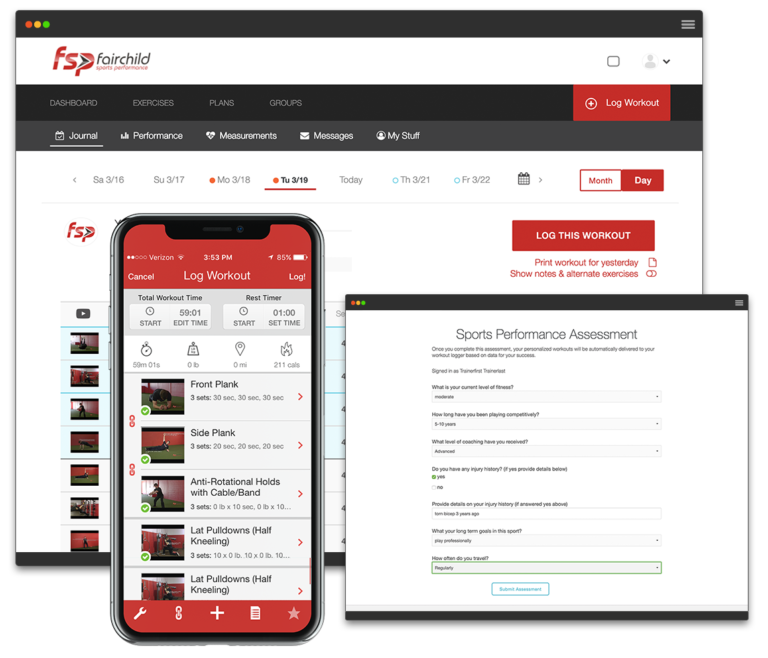 Our fitness assessment software allows you to manage key areas in assessments, reports, and nutrition.
Assessment software should allow you to:
Turn leads into clients
Engage clients through assessments
Gather baseline data about clients
Plan effective fitness programs to help clients meet their health and fitness goals
Track measurement data, injuries, etc.
Optimize the delivery of personalized workouts and nutrition
Use to compare to normative data of similar age and sex
Assessments
Assessments are one thing that My PT Hub gets right with some great features, but be prepared to fork over an additional cost to fully utilize them. This will require a subscription to the third-party platform, Archon Combine.
With Exercise.com customized client assessments, you can more easily collect data that helps you build the most effective initial training program for a new client and retain current clients with progress tracking that proves results. All assessment features will be available within our all-in-one software so there is no need to subscribe to other platforms.
Performance & Measurement Reports
With My PT Hub via Archon Combine, assessments start by measuring your client's height, weight, age, gender, and wingspan. Your clients are responsible for logging their results via Archon Combine in any of the five categories: anaerobic, fitness, power, agility, and strength with each category having an individual assessment with a specific movement pattern.
Exercise.com offers numerous assessment options such as tracking measurement data, injuries, and custom assessment notes. We provide a vast number of measurement options such as weight, height, activity level, distance runs, power output, range of motion measurements, and others.
You are also able to assign future assessments to engage and gauge client and athlete progress and make smart adjustments to the programming based on smart data. You can use an assessment to trigger a workout developed for that client's success also based on smart data from their onboarding.
Our Performance Health Assessments are built to save you time, increase revenue, and improve client engagement and retention.
Nutrition
Both Exercise.com and My PT Hub provide trainers with the ability to fully track the nutritional habits of their clients. You have options to set caloric and macronutrient goals with clients. Meal plans and other files can be uploaded as well to help clients reach their nutritional goals.
My PT Hub Software Pricing
So, how much does My PT Hub cost? My PT Hub utilizes price tiers where cost is dependent on the number of clients and what features you need.
| Standard Plan - $20/mo | Premium Plan - $49/mo |
| --- | --- |
| 5 Clients | Unlimited Clients |
| 50 Workouts | Unlimited Workouts |
| 50 Nutrition Plans | Unlimited Nutrition Plans |
| 1GB Document Storage | 10GB Document Storage |
| Calendar | Calendar |
| $5 Per Additional Trainer | $3 Per Additional Trainer |
| Forms | Forms |
| Custom Branding | Custom Branding |
| No Bootcamps, Classes, or Events | Bootcamps, Classes, Events |
Is My PT Hub Free?
The free version is the most limited and serves as an extended trial of sorts for those who are undecided about whether the software is right for them. My PT Hub may also be making use of this as a strategy to boost their user count:
When trainers sign up for the free 30-day trial, their account automatically downgrades to the bare-bones free version when the trial has ended. Because it is free, these users who have decided not to become paying customers do not go through the cancellation process which requires contacting customer service.
My PT Hub, therefore, can continue to count these among their active account holders. Thus, My PT Hub claims to be one of the most popular PT platforms with over 70,000 users. A similar strategy and outcome are used by the competing company, Trainerize.
How do I cancel My PT Hub subscription?
To cancel your PT hub subscription, you will have to contact the company directly.
My PT Hub Alternatives
My PT Hub's biggest competitors in web-based training and nutrition software are:
My PT Hub vs Exercise.com, offering the most complete customization of your smartphone and web-based apps. Our software is an all-in-one solution for online and in-person training and business management. Book a demo now.
My PT Hub vs Trainerize, a similar low-cost platform but with a wide array of integrations, as noted in our Trainerize alternative guide, with outside services to provide additional convenience. Costs vary and you must contact the company for pricing information.
My PT Hub vs TrueCoach, which features a great workout builder system but lacks payment processing and app customization. How much does True Coach cost? $19-$99/month depending on how many clients you have.
The Bottom Line: Pros and Cons
Choosing the right software to run your business can mean the difference between success and failure, but it doesn't have to be a hard choice because Exercise.com just makes everything easier.
My PT Hub Cons
Performance Assessments may be the best feature within My PT Hub but are provided by an outside company, Archon Combine, which users must pay an additional fee to integrate with. Trainers wishing to use Archon Combine can just subscribe to it on their own.
What's more, there are multiple causes for concern about the company's ethics stemming from their exaggerated claims about their exercise library and the number of users and the many complaints users have made about unapproved charges.
The price-point is the most attractive part of My PT Hub but it seems to be a classic case of "you get what you pay for." While the company has a nice-looking website boasting the software's many features, the facade falls apart when it comes to the actual execution and how the company operates from a customer service standpoint.
In terms of full customization, workout creation and delivery, a wide range of automation and integrations, My PT Hub simply does not stack up to the features offered by the Exercise.com all-in-one business management software platform.
Exercise.com Pros
Exercise.com is an all-in-one fitness business management software platform that actually delivers. We build your web and smartphone apps with your brand in mind. It's your app, your software, and your brand front and center.
The benefits of signing on with Exercise.com include:
Fully customizable management software
Always integrating and updating components from our advisory board of fitness professionals
Custom workout library, workouts, challenges
Plentiful automation features
Ecommerce system built to increase your revenue
Fully adaptable to your needs as a fitness professional
The Exercise.com all-in-one club management software platform handles everything you need to thrive as an industry professional with ease.  Fully customized to you and your brand, it's only fitting that your custom business software would be developed by the team at Exercise.com.
Hopefully, you see the benefit of not waiting to have a system and software in place that allows you to manage and grow your business for years to come.
What features are most important for your business?
If you're ready to grow and manage your business with software that can be customized to your business, book a demo with Exercise.com.