Exercise.com: Your PunchPass Alternative
| Fitness Software | | PunchPass |
| --- | --- | --- |
| Nutrition | | |
| Dedicated Account Manager | | |
| Dedicated Zapier Support | | |
| Client Automation | | |
| Performance & Measurement Reports | | |
| TV Workouts | | |
| Offer Online Workout Memberships | | |
| Run Workout Challenges | | |
| Sell Workout Plans | | |
| Group Training | | |
| 1-1 Training | | |
| Custom Exercises | | |
| Websites | | |
| Marketing Integrations | | |
| Custom Branded | | |
| iOS & Android Apps | | |
| Online Training | | |
| Sell Products | | |
| Payment Processing | | |
| Gym / Facility Management | | |
| Exercise Library | | |
| Assessments | | |
| Client / Class Scheduling | | |
| Workout Creator / Logger | | |
| Business Dashboard Reports | | |
Why Choose Exercise.com?
Here are five reasons why fitness professionals use Exercise.com vs. PunchPass.
Fitness Business Management Software to Run Your Business
Unlike PunchPass, Exercise.com software is designed to have all components needed to run a fitness business in one place – making it easy and efficient to organize and grow your fitness business with client and class scheduling, check-ins, and billing — all from your custom-branded apps.
Fitness Business Management Software to Run Your Business
Unlike PunchPass, Exercise.com software is designed to have all components needed to run a fitness business in one place – making it easy and efficient to organize and grow your fitness business with client and class scheduling, check-ins, and billing — all from your custom-branded apps.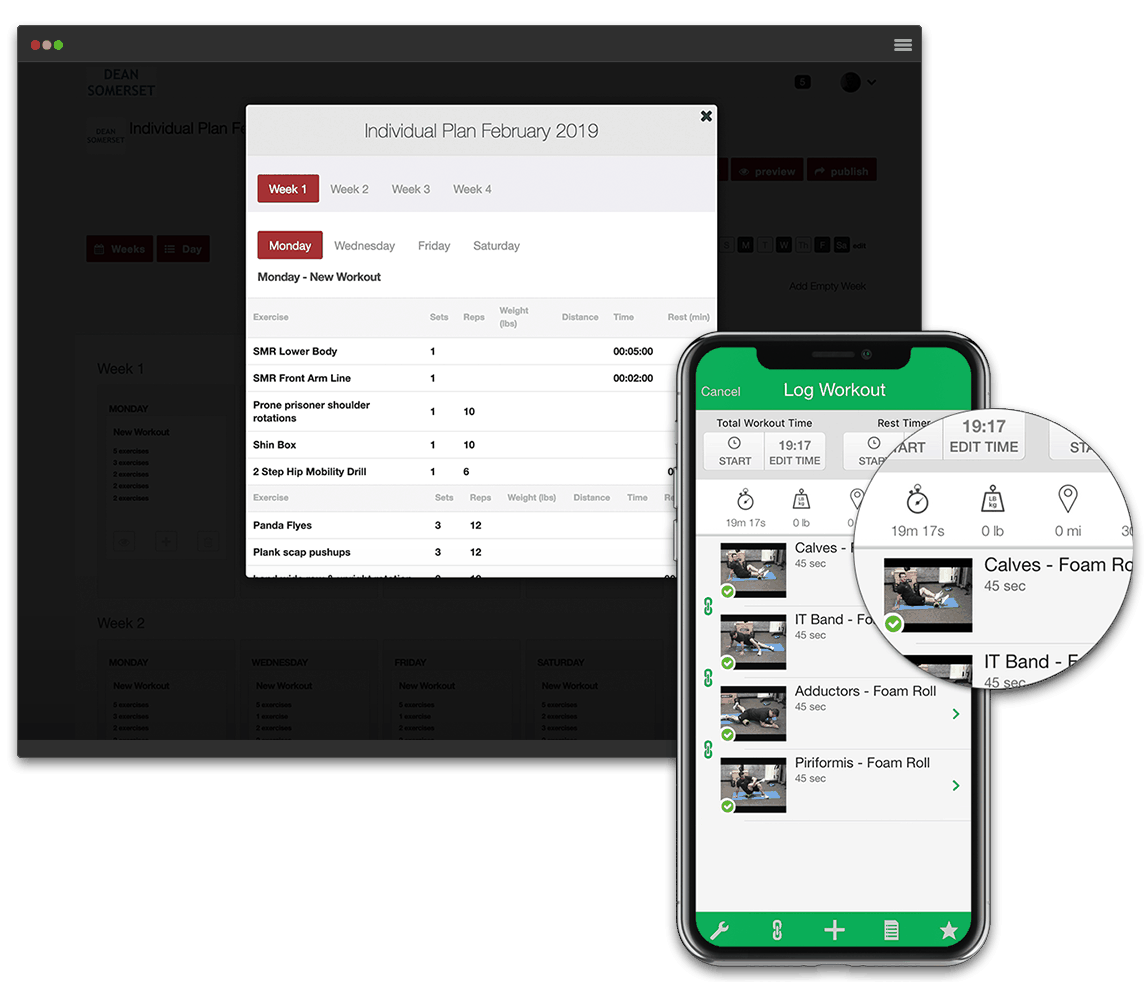 Workout Software to Power Your Training
PunchPass does not offer workout software – an essential component for running a fitness business. The Exercise.com workout plan creator and exercise manager provide flexible solutions to save you time creating workouts with built-in integrations, tools, and more.
Ecommerce Software to Increase Revenue
Fitness professionals cannot use the limited ecommerce features of PunchPass to sell workout challenges or offer online memberships. Exercise.com, however, has full ecommerce capabilities allowing trainers to sell single workout plans, offer automated workout memberships, run workout challenges, and deliver individual training.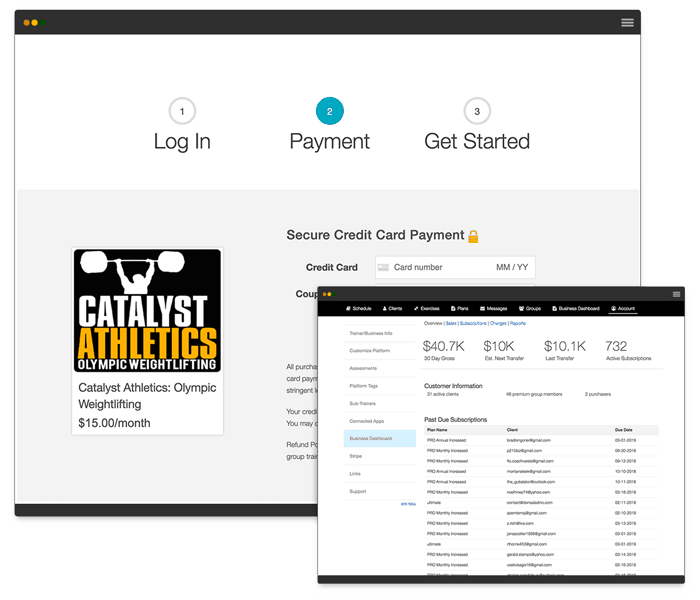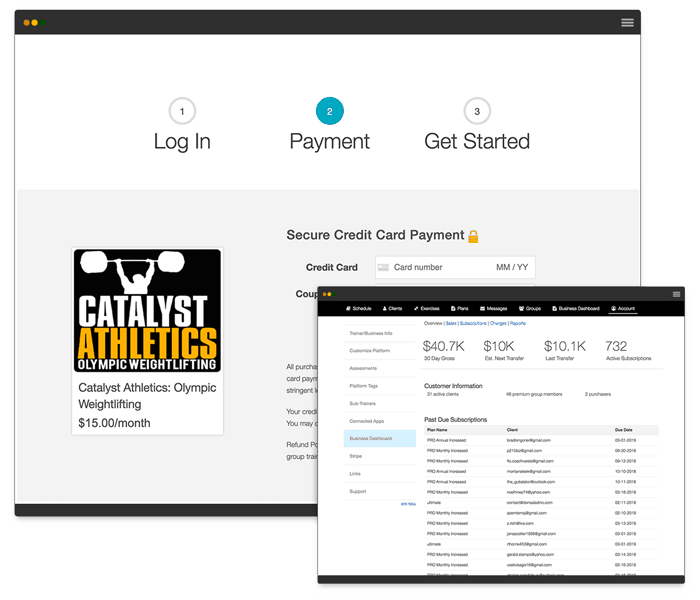 Ecommerce Software to Increase Revenue
Fitness professionals cannot use the limited ecommerce features of PunchPass to sell workout challenges or offer online memberships. Exercise.com, however, has full ecommerce capabilities allowing trainers to sell single workout plans, offer automated workout memberships, run workout challenges, and deliver individual training.
Assessment Software to Improve Client Engagement and Retention
PunchPass lacks assessment software, but that's not the case with Exercise.com. Take clients through personalized assessments to deliver custom workouts for their individual needs – providing massive growth potential and saved time.
Stand Out With Your Own Custom-branded Apps
PunchPass does not offer any commercial apps for fitness professionals. On the other hand, Exercise.com offers fully customized apps built to make your life easier by providing your clients with a unified scheduling and workout experience with your brand displayed front-and-center.
Stand Out With Your Own Custom-branded Apps
PunchPass does not offer any commercial apps for fitness professionals. On the other hand, Exercise.com offers fully customized apps built to make your life easier by providing your clients with a unified scheduling and workout experience with your brand displayed front-and-center.
If you're ready to get started with an easy-to-navigate, all-in-one fitness software, designed to fuel your business, request a demo with Exercise.com today.
And, if you want to see how PunchPass's additional features stack up to Exercise.com software features, check out our in-depth guide below.
What are the main features of PunchPass?
PunchPass originated in 2013 from a discussion that founder, Chris Patton, had with an owner of a small fitness business. This owner was trying to find a simpler way to run her business and was frustrated by the software options that she had been looking into.
From this conversation, PunchPass was created. Today, it aims to service the needs of small fitness businesses, specifically targeting group classes, that want a more streamlined way to sell packages and keep track of attendance. Think of it as a virtual fitness class punch card; but unlike typical punch cards for fitness classes, everything is booked online and clients can purchase a prepaid fitness card, one-time classes, 1-on-1 training sessions, and more. PunchPass also offers a PunchPass Zoom integration.
While the software may work well for smaller businesses, it does not encompass the needs of a larger gym or health club that may offer more services. For example, there is no mention of personal training on the PunchPass website. For many facilities, training is a main source of revenue and there needs to be a system in place that can help keep track of appointments.
A larger facility could still use PunchPass for its group exercise classes, however, it would mean that they would need additional software to accommodate the other areas of their business. With Exercise.com software, you are able to cover all aspects of your fitness business rather than only one specific department.
Exercise.com provides software that is entirely customizable to your business, created by a successful dev team with a proven track record. You will be able to interact with an advisory board and fitness professionals to develop a program that includes everything you need for your business.
The most glaring difference between PunchPass and Exercise.com is in the type of fitness business that will benefit most from their software. PunchPass is exclusively designed for group fitness and therefore lacks the capacity to assist in other areas of many facilities. Exercise.com, on the other hand, can be used for all areas in a fitness facility.
Exercise.com exists to help you succeed and will work for you to make it happen. Although we cater to a broader range of fitness businesses, we'd like to expand on the following areas and show you why we think we have an advantage, even in the group fitness realm.
Fitness Business Management Software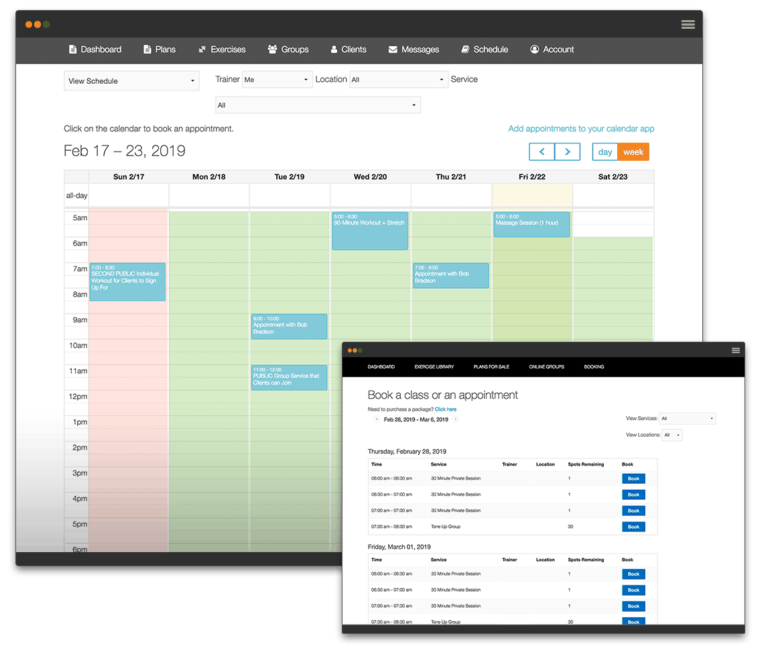 From memberships to personal training to group fitness, Exercise.com gym management software is capable of making things smoother for your fitness business. Rather than needing multiple software platforms to provide the tools needed for business success, you can find everything in one place. This saves time and money for you and your business since you do not need to train your employees on how to use more than one software.
The software is just as easy to use for customers as it is for your employees. They can sign-up for classes, view their personal training appointments, and track their progress all online or using your customized app.
Client/Class Scheduling
PunchPass is built for group fitness, and their calendar and booking methods are reflective of that. They have a schedule available for online viewing, as well as the ability to book a spot in a class via a one-time payment or from a package. These features may work well for a facility with fewer offerings or less growth potential, but for those with more offerings, there are limitations.
For larger businesses with more offerings, or those looking to grow, Exercise.com has a more user-friendly platform for both employees and clients. Our schedules can be sorted by time, day, location, or instructor and also offer the ability to sign-up in advance online. This sorting ability is especially useful for facilities that have multiple class studios and different classes that take place at the same time.
Our system also allows for clients to view personal training appointments, a feature that PunchPass does not have. There are so many facilities that offer personal training and, because of this, software companies that do not offer the ability to book and view these services are missing out on a large portion of the market. If your facility is exclusively group fitness, however, Exercise.com customized software will still work perfectly for your business.
Gym/Facility Management
PunchPass describes itself as "class management software." And, it does just that. It's a great tool for managing classes, taking attendance, and connecting with customers. However, it does not claim to have staff and payroll management capabilities. PunchPass highlights their ability to provide monthly summaries and breakdowns, but they are unclear about what exactly is being summarized or broken down beyond revenue.
Exercise.com gym/facility management software gives you the tools you need to manage your facility effectively. From staff roles and permissions to processing billing to offering more than a dozen reports to help you analyze your business, Exercise.com has the clear advantage in giving you detailed reports on all aspects of your business.
Business Dashboard Reports
PunchPass has basic business reports that can be viewed in a dashboard. Exercise.com's software is superior, however, because we offer a wide range of reports. We can even customize a report specifically for your business! Additionally, our dashboard is customizable so that you can easily view the reports most important to you.
Client Automation
PunchPass and Exercise.com both provide users with the ability to automate communication with customers. Exercise.com, however, goes a step further and provides automation for a wide range of features including workout plan delivery.
Once you have used the Exercise.com software to create plans and programs that will help your clients succeed, you want to make it easy for them to have access. Our software allows for automated delivery of any number of plans, to your clients, to keep them on the right track. This helps hold them accountable all while making it easier on you. No more leaving yourself reminders to send updates to your client. Let our software do the work for you and set up automation.
Dedicated Zapier Support
Exercise.com has a partnership with Zapier that includes dedicated Zapier support. With over 2,000 apps to choose from, your company's website will be as efficient and user-friendly as possible.
Dedicated Account Manager
Every Exercise.com client works with a dedicated account manager. This point of contact is there to address any and all software-related needs. From website redesigns to setting up ecommerce stores, your Exercise.com account manager will help you every step of the way.
Customized Software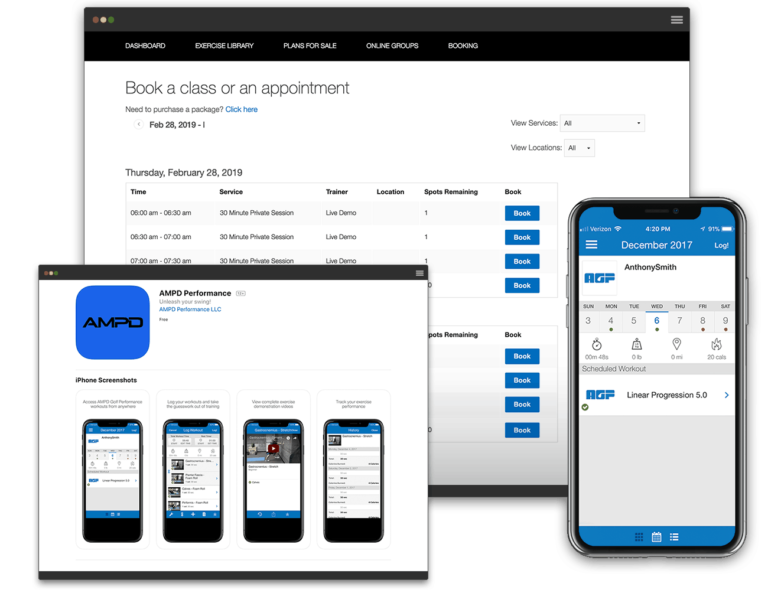 When potential customers are deciding where to take their business, their choice is made by seeing the unique features of their options. For a fitness business, this could include equipment or amenities, but these things are promoted through their brand.
Exercise.com offers customization for all apps and websites that your business uses. This shows both potential customers and current members that you are committed to providing services at a higher level than your competition. It shows that your business believes in providing tools that can be used for clients to become successful.
PunchPass offers a customizable website but, according to their own website, this is only for class schedules. PunchPass does not offer a mobile app, let alone one that is customizable.
Custom-Branded
Given that PunchPass does not offer the creation of a website (beyond for use of a class schedule) or mobile app, it would be impossible for them to offer customization of these features. Instead, let's focus on how Exercise.com can make your brand stand out.
People like to feel like they are a part of something, and providing customization promotes your brand as a community that people belong to. It makes them excited to tell others about their experience at your gym, rather than just about the workout they had at the gym. This is a form of marketing for your business.
When people track their progress on your custom software, they connect their results directly to your business. Sure, they could keep a log in a notebook, but giving them an online tracking platform ensures that they will think of your business each time they mark their progress.
iOS & Android Apps
As stated above, PunchPass does not offer a mobile app so clients will have to use another gym class booking app and fitness class attendance app software. Exercise.com, however, offers a branded app for personal trainers.
After choosing which features you want your app to include, Exercise.com offers you ways to use automation to simplify the way you run your business. A few of these options include:
Automatic Emails and Texts/Other Automatic Features
Highlight Exercise.com
Automate Workout Delivery
Automate Resource Delivery
Automate Assessment Delivery
Automate Reminders/Alerts via app, text, and email
Websites
Because PunchPass does not offer a customizable website, let's look at what Exercise.com offers.
The customization offered by Exercise.com gives you the chance to express everything you want people to know about your fitness business by offering custom-branded, SEO-optimized fitness business websites. Of course, business hours and services are listed, but it is done with custom colors, logos, and functionality to promote your brand. Additional custom features include:
Responsive
Built to convert visitors to leads
Google Certified Partner
Security Features
Exercise.com is committed to keeping your information, as well as your clients' information, safe and secure. Because of this, we provide the following security measures to our customers:
SSL Secure
Privacy Shield Framework
Google Cloud
Marketing Integrations
PunchPass makes claims in regard to businesses not having to pay for things they don't need, but they do this only by providing tiers of software rather than customizing the features a business needs for one price. PunchPass offers their Bedrock package for a fairly low price, but it does not include any of the features that they claim make their software better than the competition. Users have to upgrade to the highest tiers to even sell passes and memberships, which is one of their most touted features.
Exercise.com does not specifically offer add-ons because, well, everything you want or need is included from the start. We customize everything for your needs so you don't have to worry about choosing a package that is "closest" to what you need. You and your business deserve everything you need, and that's what Exercise.com provides.
In addition, Exercise.com provides customization to the integrations it offers.
Many businesses have success using outside tools for their business. Exercise.com makes it easy to integrate these tools and provide a seamless transition for your company. You can continue using the tools that have made you successful but do so in an integrated platform within our software. Here are a few examples of resources that can be integrated into our software to help you get the most out of your business:
MailChimp
ConstantContact
ConvertKit
Zapier
Google Analytics
Facebook Pixel
Ready to see our software in action? Fill out the form below for a demo.
Learn more by clicking the button below.
Exercise.com is the best PunchPass alternative.
Workout Software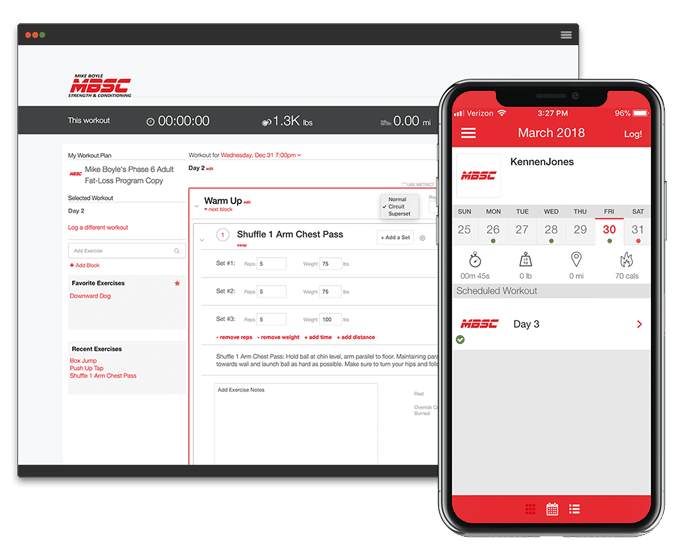 Many fitness businesses are seeing more revenue and better results for their clients using a hybrid system of in-person workouts, via classes or personal training, and customized workouts that clients perform on their own. Exercise.com wants you and your clients to succeed in this endeavor and, because of this, our workout software allows you to create workouts and send them to your clients.
The PunchPass software is limited to group fitness and does not include an option to create workouts at any of their pricing levels. This means they are not only missing out on a potential market for personal training use but also on making the most out of a hybrid system to help businesses grow.
Whereas PunchPass does not allow a business to create or design workouts in any scenario, Exercise.com allows you to deliver workouts for every scenario, including:
Workout Planning-Personal Training
Nutrition Assistance
Goal Setting
Traveling Athletes
In-Person Clients
Trainer Logging
Online Clients
Hybrid Clients (in-person/online)
Busy Professionals
Workout Creator/Logger
As stated above, PunchPass does not include an option to create workouts, so let's take a look at what the Exercise.com workout creator/logger can do!
Many fitness software companies offer pre-designed workouts or a library of exercises with videos of random people who are not employees of your business. With Exercise.com, workout designs and exercise libraries can be customized.
Your clients are as unique as your business and, therefore, you don't want to give them a generic workout designed by someone who has never even met them. Using Exercise.com software, you are able to listen to the needs of your clients and construct workout plans for them which will help them reach their individual goals.
Some of the software features include:
Workout Plan Creator
Intervals
Alternate
Block
Smart Delivery
Custom Exercise Library
Easily Embed Your Videos into Your Platform
Your Descriptions, Workouts, etc
This provides flexible solutions that allow the delivery of custom workouts for any scenario such as:
1-1 Training
Exercise.com workout software gives personal trainers the option to conduct one-on-one training sessions with clients that are looking for that personal touch.
Group Training
Group training sessions that clients can access online in addition to in-person are also available through Exercise.com workout delivery software.
Online Training
Online training is rising in popularity and Exercise.com was certainly ahead of the curve! Our software allows users to send workouts to any client, at any time, anywhere. You can also sell online workout plans for added profit!
Exercise Library
The Exercise.com exercise library is full of workout demos. Our software also gives trainers the option to upload their own custom exercises and videos to the library as well.
Custom Exercises
With Exercise.com, you also have the opportunity to upload your own videos of exercises you want your clients to perform. This puts your brand on the workouts and gets people excited to tell their friends and family about the success they are having because of your business.
TV Workouts
With your Exercise.com software, you can cast videos onto gym television screens during group classes or one-on-one training sessions.
Gym Ecommerce Software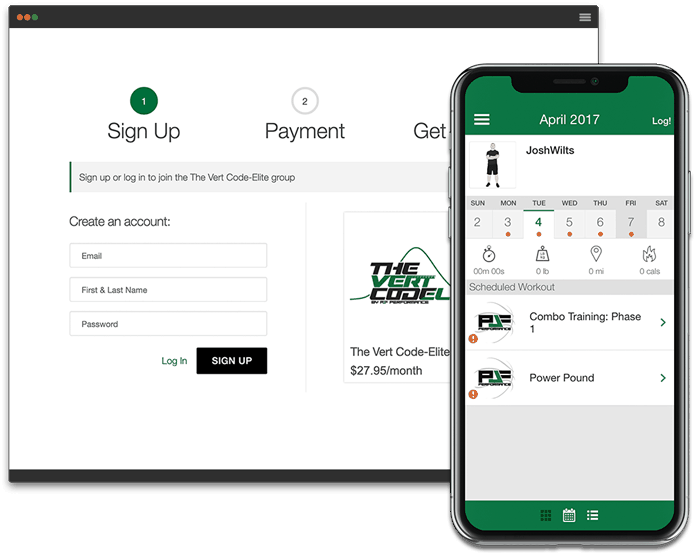 PunchPass allows for purchases to be made in person or online with the point of sale portion of their software. However, the software is designed for paying for classes, meaning that customers can use it for either a single purchase or purchasing a certain number of classes in a package. PunchPass's website fails to mention any ecommerce capabilities beyond the ability to sell passes for workout classes.
Exercise.com gym ecommerce software offers these same ecommerce features, but so much more. Below are some examples.
Payment Processing
Using Stripe, both PunchPass and Exercise.com have the ability to accept one-time payments or purchase of packages. For PunchPass, however, this is the extent of what the software can be used for. The limited functions do not work well for businesses with a wider variety of services.
Exercise.com, on the other hand, is able to do everything that PunchPass can and more. The software has the ability to bill recurring payments for memberships, handle personal training billing, and manage products or merchandise sales. It also has the ability to send a monthly invoice to customers for all services and bills accrued during the month.
PunchPass might be effective at accepting payments for the services they provide but, again, the number of services they provide is so limited that the software does not make sense for many businesses that need to accept payments for more than group fitness.
Sell Products
With the Exercise.com software platform's ecommerce capabilities you can sell products like gym merchandise. This allows you to build your business and utilize free advertising by selling shirts, hats, etc., with your brand's logo.
Sell Workout Plans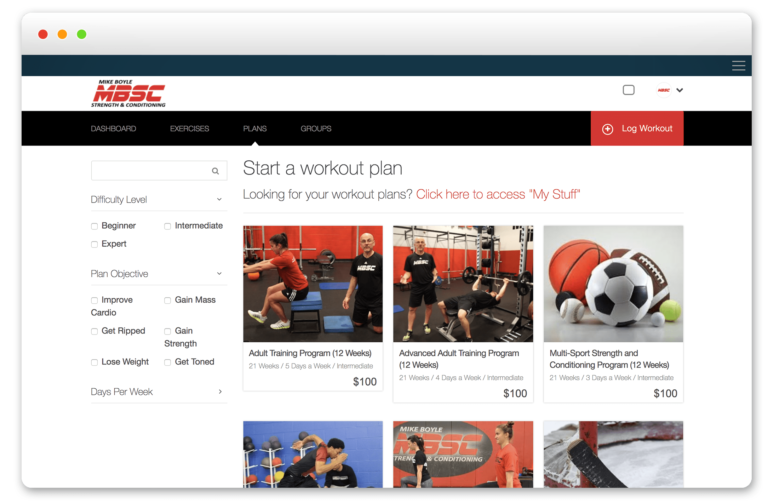 Even though Exercise.com offers you the option to create custom programs, some people are looking for a more generic plan. This is an area in which you, as a fitness business owner, can capitalize through the use of a pre-built workout. Some people just want new ideas for leg day, or maybe their core routine is getting old. Using our software, you can have workouts ready to purchase for anyone looking for a change of pace from their usual routine.
Not only is this a potential source of revenue, but it is also built-in marketing for your business. If customers have success with your pre-built workouts, they are likely to either purchase more or utilize the services of a personal trainer to take their fitness game to the next level
Offer Online Workout Memberships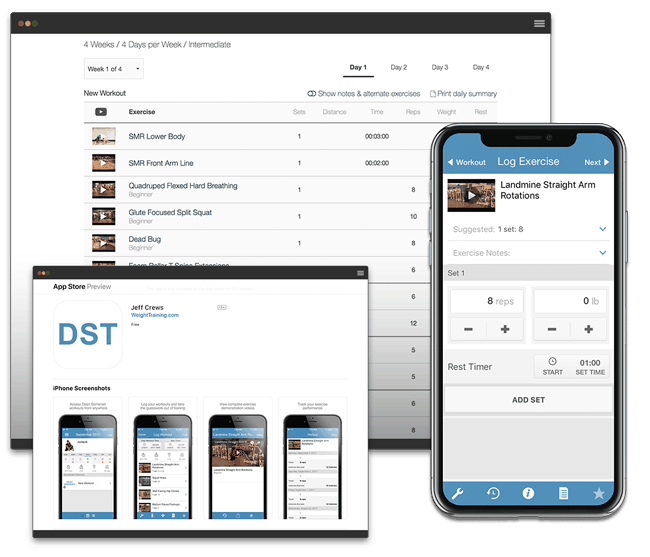 You and your clients both have busy schedules. With Exercise.com, there is no need to add to the craziness of your lives by playing phone or email tag to deliver the latest custom workout; or delivering workouts that require in-person training sessions. After you write the customized workout for the client, you can automate delivery to make life easier for you both.
Sell Workout Challenges
Today's world is big on the concept of having an experience. This is part of what makes many businesses successful. You can utilize this strategy by running workout challenges for members at your gym. By designing a challenge, you are bringing your members together for a common goal, which promotes a sense of community.
Community is what makes many fitness businesses successful. Members challenge each other, support each other, and develop new friendships. The energy in this community is contagious and you may soon be getting new members simply because their friends raved to them about the fun workout challenge at your gym.
Fitness Assessment Software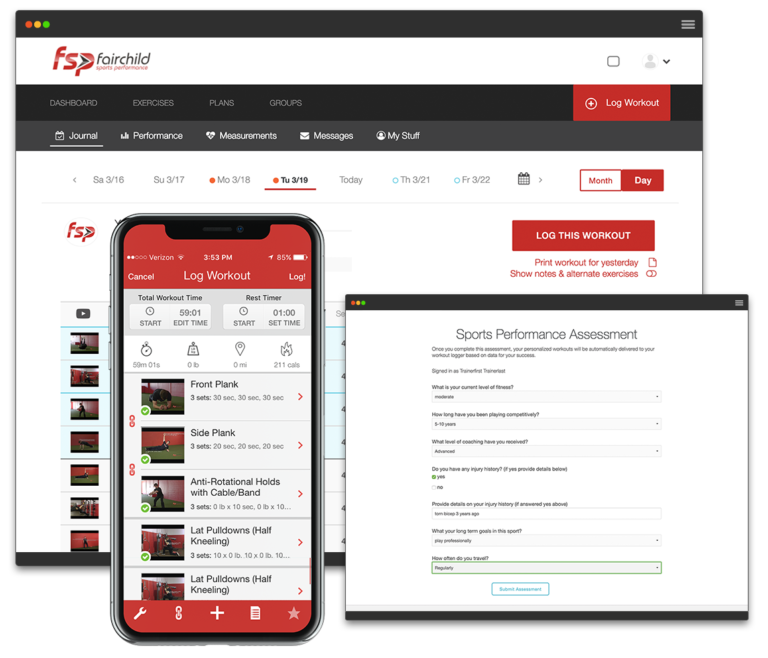 It is difficult to evaluate progress unless we have some kind of starting point to use as a comparison. This is where performance assessments can be so helpful. They give us a baseline to track our progress as we move forward in our goals.
PunchPass software does not have a portion that promotes or records performance assessments. It is a system used only for selling single classes and class packages, so it has limited capabilities for features that fitness businesses may find useful.
With Exercise.com fitness assessment software, you have a place to track baseline assessments, as well as progress along the way. This is also fully customizable to your business, meaning that you can choose what areas you assess and how you want to track progress.
Assessments
Assessments are mutually beneficial for clients and businesses. When a new member joins the gym, it is more than likely that they have a goal in mind. Without an assessment, they do not have an accurate idea of how far they need to go at the beginning or how far they've come after a few months of work.
From a business perspective, you have the opportunity to use the results of an assessment to show a member how your services can help them reach their goals. It could be how a personal trainer can help with weight loss or how one of your smoothies can aid in post-workout recovery. The information gained in an assessment is an invaluable way to market your business.
Performance & Measurement Reports
Once you have acquired new clients or members, you want to keep them. Sustaining your current base is easier than recruiting new customers, so it is important to keep them actively engaged with their goals and your business. By automating interactions with your clients, you can remind them of their goals and progress to make sure they continue walking in your door.
The Exercise.com performance health software platform allows you to deliver recurring assessments, progress photos, and measurements to promote client re-engagement and retention.
Nutrition
PunchPass does not offer nutrition tracking.
At Exercise.com, we understand that in order to reach their goals, your clients' nutrition matters, too; that's why we've made sure to include nutrition tracking within our software.
PunchPass Pricing
For many businesses, choosing software comes down to price. It is important to consider the features included and whether or not the price is reflective of how much or how little is offered.
PunchPass pricing comes in three different tiers. Below is a breakdown of these tiers based on price and offerings. You should note that the Balsam program includes everything in the Bedrock program, and the Banyan program includes everything in the Bedrock and Balsam programs.
| Package | Bedrock | Balsam | Banyan |
| --- | --- | --- | --- |
| Features | Unlimited classes, passes, & instructors Online class schedule Customer self check-in Custom email creation & delivery Automated email receipts & reminders Full reporting | Accept customer reservations Wait-list for full classes Create class series Memberships Collect Online Waivers Customer logins & accounts | Integration with Stripe to sell memberships & passes online Sell tickets to classes to collect payment ahead of time |
| Price | $39/mon | $64/mon | $89/mon |
PunchPass Alternatives
With the constant changes in the fitness industry, more and more competitors are entering the market to vie for your business. Featured below is a table showing a few of PunchPass's main competitors, who are reputable PunchPass alternatives, and their pricing options. Please note that all pricing is based on the information available at the time of writing.
| Competitor | Minimum Base Price | Maximum Base Price |
| --- | --- | --- |
| Mindbody | $129.00/mon | $349.00/mon |
| ClassBug | $79.00/mon | N/A |
| ClassJuggler | $44.95/mon | $104.95/mon |
| BookStream | $19.95/mon | $79.95/mon |
The Bottom Line: Pros and Cons
You want your fitness business to be successful and choosing the right software to fit your needs is a vital part. This is an important decision, but it does not necessarily have to be a difficult one.
Your choice should include everything your business needs to thrive. We believe that, based upon comparison, Exercise.com is the clear choice to take your fitness business to the top.
PunchPass Cons
PunchPass severely limits itself in the market because it pertains only to facilities whose only focus is group fitness. It would not make sense for a gym or health club to use PunchPass if it also offers personal training, merchandise sales, or spa services. The software simply does not have the capability to run all these aspects of your business without the help of another software.
It is hard to find a reason why a fitness business would choose to utilize more than one software to meet their needs when there are other options available that can perform all the needed functions within one program.
Exercise.com Pros
Exercise.com provides everything you need to run your fitness business within one software program. You can customize the software to work for the needs of your specific business, for one low price, so that you are only paying for what you need. This way, you don't pay for things you don't use and you don't miss out on things you think you may use down the line.
You can customize your app and website to promote your brand so that your business is present in every step of your client's progress. Using the same customization, you can create assessments, automate workout delivery and reminders, engage your clients, and generate reports to help your business grow.
You are also able to generate more revenue with ecommerce options and the ability to sell products using our point of sale software.
Your business, and its success, are important. You now have all the details you need to make an informed decision about the software you will use to reach your goals. Despite all of the options you have, we believe Exercise.com is the clear choice for you.
Can you see why Exercise.com software would be beneficial for your business?
If, after reading the details above, you feel Exercise.com could benefit your business, request a demo today.