Exercise.com: Your Perfect Gym Alternative
| Features | | Perfect Gym |
| --- | --- | --- |
| Exercise Library | | |
| Assessments | | |
| Client / Class Scheduling | | |
| Workout Creator / Logger | | |
| Nutrition | | |
| Dedicated Account Manager | | |
| Dedicated Zapier Support | | |
| Client Automation | | |
| Performance & Measurement Reports | | |
| TV Workouts | | |
| Offer Online Workout Memberships | | |
| Run Workout Challenges | | |
| Sell Workout Plans | | |
| Group Training | | |
| 1-1 Training | | |
| Custom Exercises | | |
| Websites | | |
| Marketing Integrations | | |
| Custom Branded | | |
| iOS & Android Apps | | |
| Online Training | | |
| Sell Products | | |
| Payment Processing | | |
| Gym / Facility Management | | |
| Business Dashboard Reports | | |
Why Choose Exercise.com?
Here are five reasons why fitness professionals use Exercise.com vs. Perfect Gym.
Fitness Business Management Software to Run Your Business
While Perfect Gym mainly caters to larger fitness businesses, Exercise.com software is designed to have all components needed to run a fitness business, big or small, in one place – making it easy and efficient to organize and grow your fitness business with client and class scheduling, check-ins, and billing — all from your custom-branded apps.
Fitness Business Management Software to Run Your Business
While Perfect Gym mainly caters to larger fitness businesses, Exercise.com software is designed to have all components needed to run a fitness business, big or small, in one place – making it easy and efficient to organize and grow your fitness business with client and class scheduling, check-ins, and billing — all from your custom-branded apps.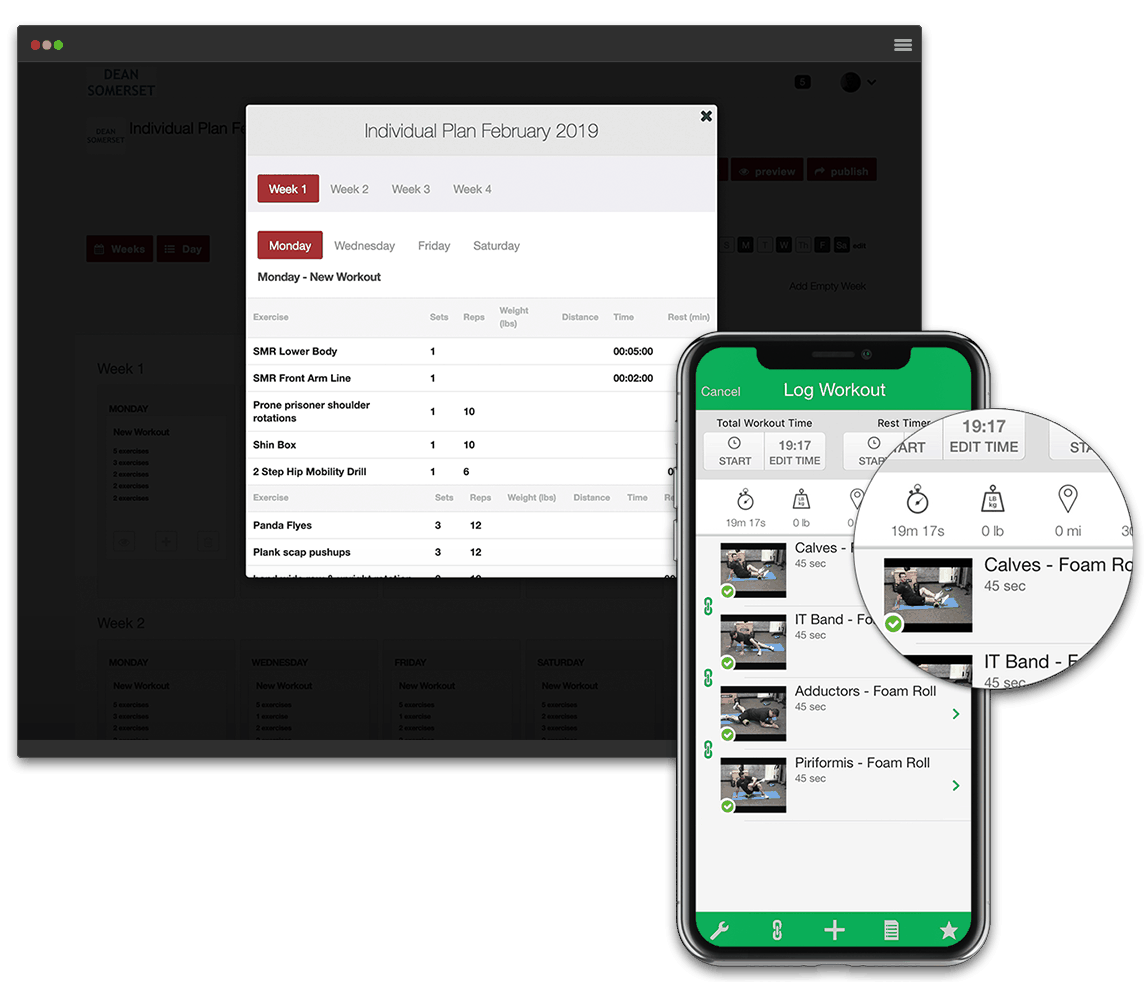 Workout Software to Power Your Training
Perfect Gym does not offer workout software; Exercise.com, however, does. The Exercise.com workout plan creator and exercise manager provide flexible solutions to save you time creating workouts with built-in integrations, tools, and more.
Ecommerce Software to Increase Revenue
With Perfect Gym's ecommerce software, there are no options for selling online personal training and fitness memberships. Exercise.com offers the gamut of ecommerce features, and in addition to the features offered by Perfect Gym, allows for selling online personal training and fitness memberships.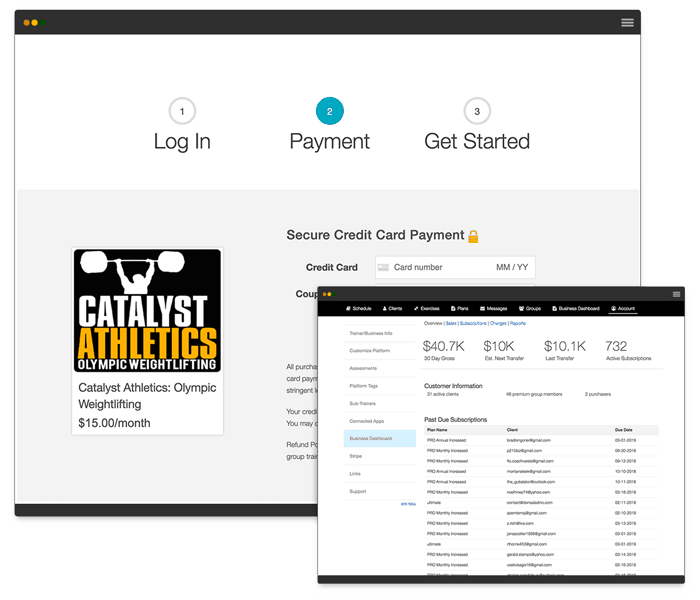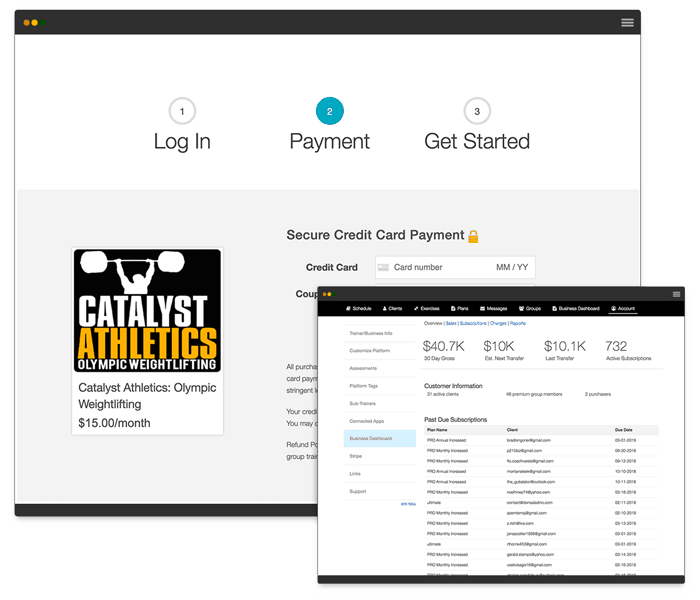 Ecommerce Software to Increase Revenue
With Perfect Gym's ecommerce software, there are no options for selling online personal training and fitness memberships. Exercise.com offers the gamut of ecommerce features, and in addition to the features offered by Perfect Gym, allows for selling online personal training and fitness memberships.
Assessment Software to Improve Client Engagement and Retention
Perfect Gym's software does not include health and fitness assessments. With Exercise.com, however, your clients will receive personalized assessments that deliver custom workouts for their individual needs – providing massive growth potential and saved time. All for one price. All on one platform.
Stand Out With Your Own Custom-branded Apps
Perfect Gym does not offer fully customizable apps. Exercise.com, however, offers apps that are fully customized to make your life easier by providing your clients with a unified scheduling and workout experience with your brand displayed front-and-center.
Stand Out With Your Own Custom-branded Apps
Perfect Gym does not offer fully customizable apps. Exercise.com, however, offers apps that are fully customized to make your life easier by providing your clients with a unified scheduling and workout experience with your brand displayed front-and-center.
If you're ready to get started with an easy-to-navigate, all-in-one fitness software, designed to fuel your business, request a demo with Exercise.com today.
And, if you want to see how Perfect Gym's additional features stack up to Exercise.com software features, check out our in-depth guide below.
What is Perfect Gym?
Perfect Gym is an online gym management system that was created specifically for gyms and health clubs. The gym management solution offers features including a client portal, marketing integrations, and point of sale. Perfect Gym includes a customer management solution (CRM) and club membership management.
The international company has headquarters around the world in Warsaw, Moscow, and Melbourne operating in more than 50 countries all over the world. They operate through machine learning algorithms to deliver advanced analytics and reporting. Perfect Gym software's pricing model is a per month per club subscription structure.
Perfect Gym comes with a multitude of features ranging from club management to facility booking. This large range can tend to cater more towards bigger gym or fitness facilities and leave smaller facilities lost in its features. The main features of this software are its biggest asset, while the customization process can very convoluted. But the software does offer customer support via phone and email.
Unless otherwise stated, all images and reviews below are of/about the Exercise.com All-In-One Fitness Business Management software platform.
Fitness Business Management Software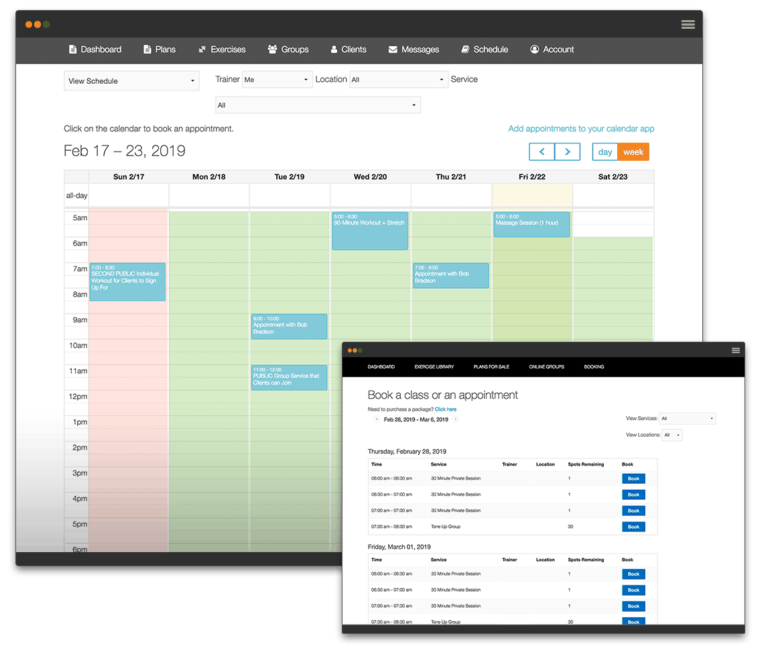 Both Perfect Gym and Exercise.com offer fitness business management software. However, Exercise.com gym management software was designed with the user in mind and features easy appointment and class scheduling and simple interfaces for both gym owners and clientele. Exercise.com is the best Perfect Gym alternative for business owners who are looking for an intuitive option that doesn't skimp on features.
Client/Class Scheduling
Bookings management is a feature offered by Perfect Gym. It allows customers to book their classes via a client portal or mobile app. This feature also has the option for owners and gym team members to set and manage time, facility, and trainer schedules in a back-end app.
Exercise.com offers this feature as well. Calendars are provided within the software that integrates with other platforms to meet your fitness business needs. The personal training aspect of the software accommodates multiple trainers and can be customized for customer use.
Gym/Facility Management
Exercise.com gym management software has the capacity to manage your fitness business with custom-branded apps and websites, appointment scheduling, gym membership management, and payment processing all within one software. The software can be accessed on a desktop or through custom-branded apps. Manage your staff, grow your business, track analytics, and reporting from exercise.com's online gym management system.
Business Dashboard Reports
Any business owner knows that keeping track of ROI and determining if your services and pricing are on track to making your business profitable is one of the most important aspects of running a business. Perfect Gym and Exercise.com both offer a business dashboard reporting feature within their respective software. Beyond running reports, however, an effective business dashboard like the one offered by Exercise.com collects all of that data in an intuitive and easy-to-understand fashion.
Exercise.com provides a feature that allows you to generate reports to see metrics around total purchases, gross revenue, and membership. Using these reports to review these metrics will help a fitness business to determine the track your business is on and if it's trending positively or if changes need to be made.
Perfect Gym offers a BI module to find correlations among members' behavior and data. This feature uses machine learning to provide smarter analytics to users. The dashboard shows member behavioral data to better predict membership retention. This feature really caters to bigger gyms and fitness facilities that don't necessarily have the time to review reports and digest the numbers — all of which can be customized through the Exercise.com gym management software. Below is a list of just some of the reports that are offered by Exercise.com:
Revenue reports
Business transactions
Canceled subscriptions
Subscriptions
Group reports
Aggregate revenue/statistics
Logged workouts
E-Commerce sommissions
Client assigned week plans
And more!
Client Automation
Perfect Gym, like Exercise.com, has a client automation feature that automates communication tasks for members and staff. Both Perfect Gym and Exercise.com can send emails, push notifications, and other alerts to keep members engaged. The two software systems are very similar when it comes to client automation. Below are a few client automation features offered by Exercise.com:
Automatic Emails and Texts/Other Automatic Features
Highlight Exercise.com
Automate Workout Delivery
Automate Resource Delivery
Automate Reminders/Alerts via app, text, and email
Dedicated Zapier Support
Zapier connects apps and automates workflows for easy automation. At Exercise.com, we have dedicated Zapier support for clients that allows for easy integration between web apps so data can be shared seamlessly. This partnership with Zapier allows for easy integrating, automating, and innovating with over 2,000 applications so your platform is uniquely yours and runs efficiently.
Dedicated Account Manager
Customer service is Exercise.com's bread and butter. We take customer service extremely seriously; after all, our customers are what keep us running as a business! For this reason, we provide each and every Exercise.com customer with a dedicated account manager.
Perfect Gym does not provide their customers with a dedicated account manager but they do offer customer service by phone or email. This makes Exercise.com the best alternative to Perfect Gym because customers should have easy and direct access to a customer service specialist to get them confident and on their way to using the software to its fullest capabilities. If you need an ecommerce store set up or even a redesign of your website, your dedicated account manager is happy to help.
Customized Software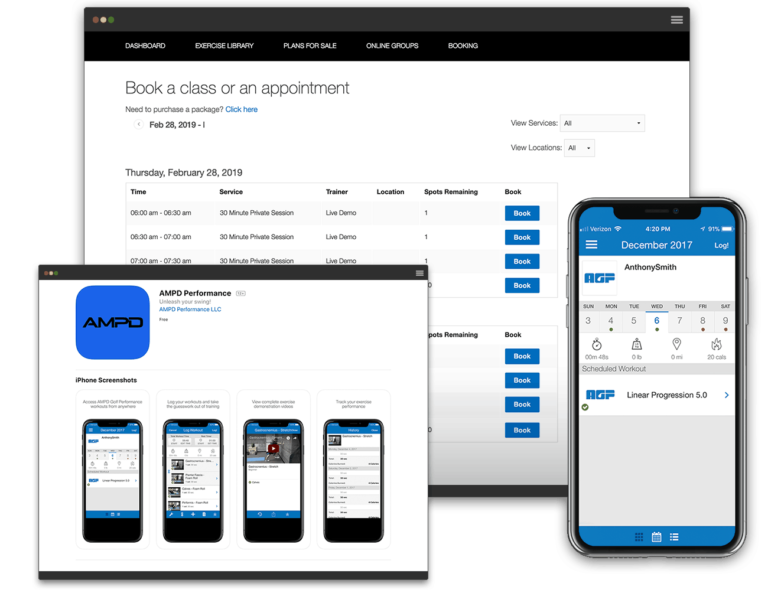 A fully-customizable software gives a gym or fitness facility the ability to fully brand their software so that it looks professional and customers get acquainted with their brand. Exercise.com software is fully-customizable so that your company and brand are fully visible.
Custom-Branded
Perfect Gym does not offer the ability to customize its software. This means that your customers will not have the experience of a fully-branded app or software when they login to their membership portal like they would with a Perfect Gym alternative like Exercise.com. Exercise.com's app can be fully custom-branded and can be used on iOS and Android. Any report generated with Exercise.com's software can also be fully-branded and customized.
iOS & Android Apps
Both Exercise.com and Perfect Gym's apps can be used with iOS and Android. However, Perfect Gym's app cannot be customized, which makes Exercise.com's customizable and branded apps for personal trainers more valuable to your business and customers.
Websites
Exercise.com provides the option to create a custom website for your fitness business, complete with our dedicated support to help at every step along the way. Our top-rated dev team will create a one-of-a-kind website that reflects your wants and needs as a business owner.
Our custom-built fitness business websites include but are not limited by the following features:
Responsive user-interface
Search Engine Optimized (SEO)
Option for unlimited theme changes
Built to convert visitors to leads
Custom graphic work
Google Certified Partner
Security Features
Perfect Gym offers a 100% secure payment system. They tout protected, encrypted, and securely stored financial data and transactions. Exercise.com also offers a secure payment processing and transactional system. Exercise.com utilizes a fully-integrated, SSL-secure platform that supports both in-person and online payments. Our security features are SSL-secure, offer a Privacy Shield Framework, and are secure through the Google Cloud. As an added bonus, Exercise.com is HIPAA-compliant!
Learn more by clicking the button below.
Exercise.com is the best Perfect Gym alternative.
Marketing Integrations
Perfect Gym and Exercise.com offer marketing integrations as part of their software. Perfect Gym offers easy integrations to ease day-to-day workflows. Exercise.com utilizes built-in integrations and a Zapier partnership. The opportunities are endless with our focus on custom-branded solutions for retention, client and lead follow-ups, marketing, advertising, along with other features intended for faster, easier, and more automated business growth.
Some of our most sought-after integrations include:
MailChimp
ConstantContact
ConvertKit
Zapier
Google Analytics
Facebook Pixel
Workout Software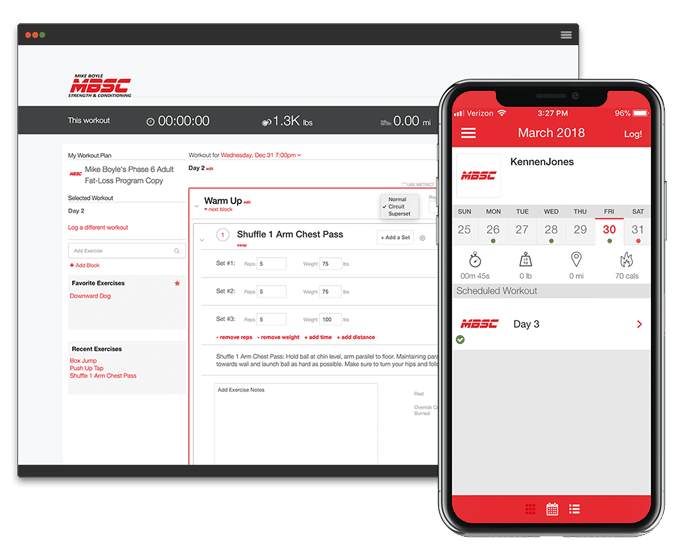 Being able to easily log and track workouts for those on a fitness journey is completely vital to their process. It can mean the difference between meeting or missing their goals. They are choosing to be a member of your gym or fitness facility and the expectation these days is that they'll be provided with technology that will properly track their progress and give them motivation!  Perfect Gym and Exercise.com offer a client portal that allows clients to look back at their workouts but only Exercise.com workout software offers the workout creator/logger.
Workout Creator/Logger
Exercise.com's workout creator/logger is a simple workout plan creator that provides flexible solutions that save time when creating workouts within the software. It also provides a workout logging system for clients and personal trainers alike.
1-1 Training
Exercise.com offers 1-1 training and personal training software that allows clients to easily log workouts, view exercise history, track nutrition, view progress notes, and see notes directly from an iOS or Android mobile phone.
Group Training
Exercise.com workout software provides group training sessions for all users. The software also provides clients with the ability to have a community of like-minded, goal-oriented fitness enthusiasts to share their journey and their successes!
Online Training
When comparing Perfect Gym with Exercise.com, only one has an online training feature, and that is Exercise.com. There is no argument that the world has gone virtual. This is certainly not limited to just working from home. Many people across the country and across the world are adopting an at-home workout routine as well. As such, online training is an essential offering. Exercise.com offers workout software that enables you to send workouts to anyone at any time, anywhere, with no additional fees.
Exercise Library
Exercise.com has customizable video libraries and exercises, a feature that Perfect Gym does not offer. This kind of exercise library that includes a variety of exercises with detailed instructions and visuals is incredibly useful for a fitness business.Exercise.com's exercise library has instructions and videos that make it easy for any exercise enthusiast to follow. There is also an option to add additional or customized exercises with videos showing your trainers doing the exercises.
Custom Exercises
The option for custom exercises is another feature that makes Exercise.com a great alternative to Perfect Gym. Exercise.com unlike Perfect Gym includes the option for custom exercises like videos that are pre-filmed and customized. This also gives trainers a full range of creativity by using their own custom videos.
TV Workouts
We've gone through Exercise.com's offering to give clients the ability to watch demos of custom exercises that match their workout plans, but gyms can also use the exercise library as a great way to cast exercise demos onto gym television screens during group classes or one-on-one training sessions. This is a great way for gyms to utilize personalization in their facilities.
Gym Ecommerce Software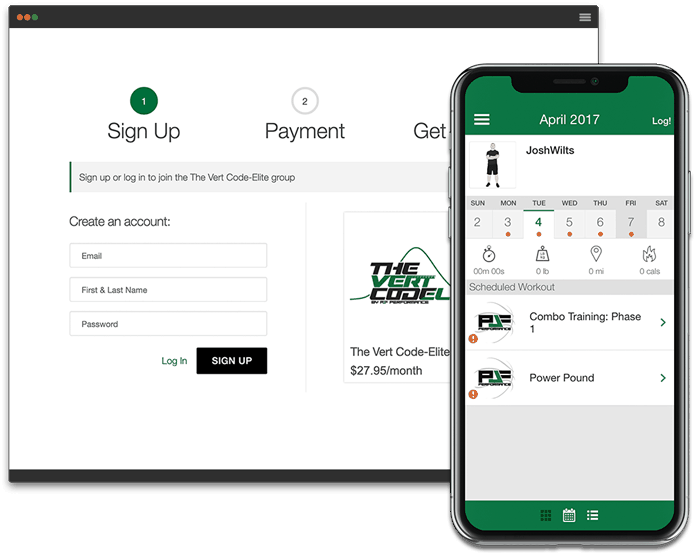 Both Exercise.com and Perfect Gym offer an ecommerce aspect of their software. You can sell your products in either of these fitness management systems, but only Exercise.com's gym ecommerce software can be customized. This makes it look like your store, complete with your branding.
Payment Processing
Because both Perfect Gym and Exercise.com offer an ecommerce online store, it goes without saying that both also offer payment processing within the software. Both are secure and place importance on the security of any transaction online.
Sell Products
Perfect Gym has a user-friendly point of sale system similar to Exercise.com's POS system not including the ability to customize the software. Both software offerings have an easily integrated system to sell products from the software itself.
Sell Workout Plans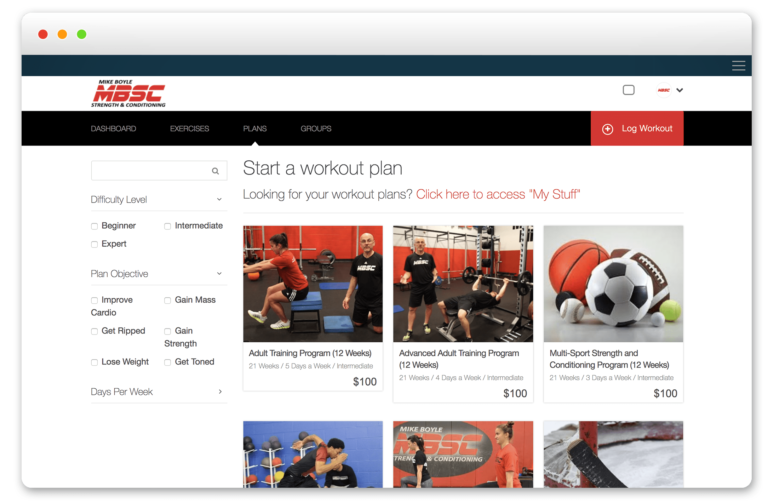 Where Perfect Gym falls short in comparison to Exercise.com is the ability to sell workout plans from the software. Oftentimes a gym member will want to go at their own pace and do some exercises at home or by themselves. Being able to sell workout plans to these members gives your gym a leg up because you it offers yet another way to bring revenue in for your bottom line.
Offer Online Workout Memberships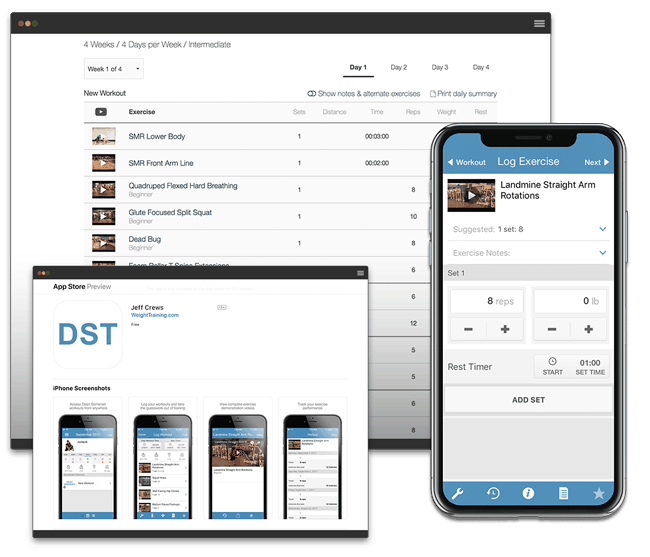 Exercise.com really outshines Perfect Gym in the feature of offering online workout memberships to customers. Having multiple offerings for customers is always a great leg-up. Exercise.com also has the option to automatically program the delivery of these workouts. So customers can determine their membership level and when they want to be sent each of their workouts whether it be daily, weekly, or monthly.
Sell Workout Challenges
Workout challenges are not available through Perfect Gym. But they are offered through Exercise.com's fitness management software. This is just another way to engage and connect with clients virtually. Exercise.com allows trainers to send workouts automatically or coach clients through a workout live with the online workout membership feature.
Health and Fitness Assessment Software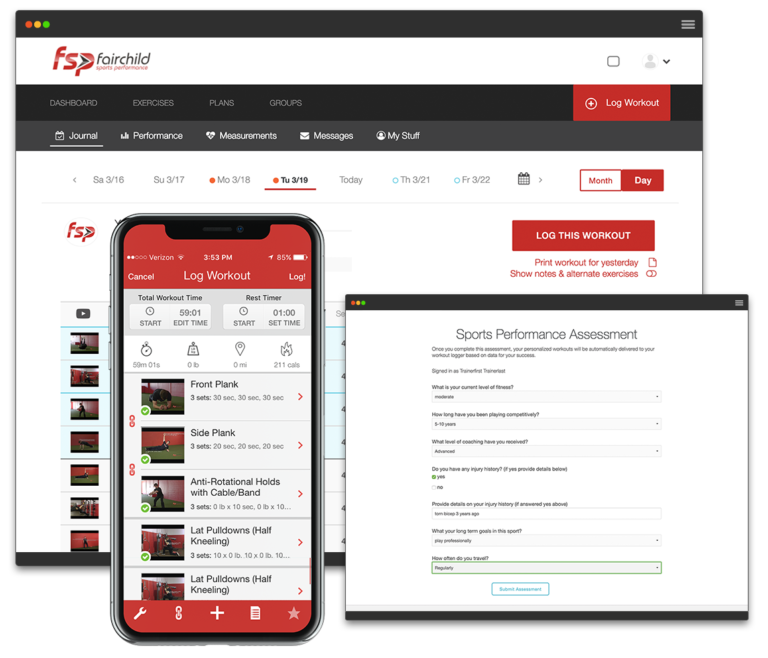 Speaking of engaging and connecting with clients, Exercise.com offers health and fitness assessment software, giving trainers additional opportunities to engage and connect with clients. This health and fitness assessment feature is not offered by Perfect Gym's software. Exercise.com includes everything you need in our fitness assessment software. Features include the ability to gather baseline assessments, share assessment results with clients, generate and share performance and measurement reports, and include nutrition tracking for clients.
Assessments
Assessments are essential when on a fitness journey. Being able to track progress and take assessments is something that a member of a fitness facility looks for. Exercise.com offers this feature and Perfect Gym does not. A fitness business can use these assessments as another way to bring in revenue and give clients a proper workout plan that meets their goals and where they are at the start of their journey.
Performance & Measurement Reports
Exercise.com's fitness software offers performance and measurement reports to keep clients engaged with your fitness business by automating your interactions with them. Our software allows you to deliver recurring assessments, progress photos, and measurements. Not only does this make life simpler for you but it also helps the retention of clients because you're giving them the visibility they need and want into their progress.
Nutrition
Health and fitness software would be obsolete without an offering that includes nutrition tracking and planning for clients. For performance to be at its peak, fitness clients should take stock of their daily dietary choices!  Exercise.com's nutrition tracking and logging allow them to go beyond just physical fitness training and takes a holistic approach to track one's health and fitness.
Perfect Gym Pricing
Perfect Gym's club management software operates on a subscription pricing model with four packages offered. Below is a table of the packages they offer and the features included in each.
| Basic (€149/month) | Standard (€299/month) | Advanced (€399/month) | Enterprise (ask for pricing) |
| --- | --- | --- | --- |
| Recurring Payments, Support, Reports, Performance Dashboards (KPIs), Personal Training Bookings, Class Bookings, Reception Application (POS), Inventory Management, Member Invoices, Notifications | Includes all the features in Basic package, plus: Client Segmentation (automatic tagging), Self-Service Access Control (Turnstiles, QR codes), Newsletter, Promotional Vouchers | Includes all the features in Standard package, plus: Employees Commission Management, Corporate Portal, API Access | Includes all the features in Advanced, plus: Custom Developments, Data Warehouse, Accounting Software, Custom Device Integrations |
Also, its good to note that Perfect Gym charges extra for some notable additional features:
Online Portal: €149/monthly
CRM: €99/monthly
Business Intelligence: €199 per club/monthly
Facility Booking: €99/monthly
Courses: €99/monthly
Universal App: €29 per club/monthly
White Label App: €99 per club/monthly
Perfect Gym Alternatives
When compared to Perfect Gym, Exercise.com's monthly pricing options are much more reasonable especially considering all of the additional features Exercise.com offers. Below is a list of other alternatives to Perfect Gym, excluding Exercise.com.
These are good alternatives to Perfect Gym, but Exercise.com continues to be the best alternative to Perfect Gym by offering top-of-the-line customization and more.
The Bottom Line: Pros and Cons
The bottom line of the comparison of Perfect Gym to Exercise.com is simple: Exercise.com has the additional features of online training, an extensive exercise library, nutritional guides, and more. Perfect Gym falls short when it comes to being used as a workout software. It is truly just a management software with some additional features that do cater well to the fitness industry. But the comparison speaks for itself when outlining the features of each software side-by-side.
Perfect Gym Cons
While Perfect Gym does have an extensive and robust club management system, it lacks the additional resources that members and gym owners look for in an app or software. The fitness management software does not offer the option for trainers to create their own workouts or nutrition plans for clients and they do not provide an exercise library for clients to select an online workout to do at their own convenience.
The software also lacks the ability to run workout challenges, sell workout plans within the software, or customize exercises. The software also doesn't offer website builds.
The biggest cons in our opinion are Perfect Gym's inability to customize their software with each fitness or gym's brands and the lack of direct customer service offered. We believe in the power of visibility, so being able to brand all online materials with your branding really adds a level of professionalism and will allow for clients to remember your brand. The importance of customer service is paramount to Exercise.com. We offer every client a dedicated account manager that is there to be helpful at any time to our clients.
Exercise.com Pros
Exercise.com goes above and beyond Perfect Gym by offering many of the same features and more. The software enables you with every single tool you could need to run a successful fitness facility, and all can be accomplished under one fully customizable app and software.
Exercise.com has been backed by some of the top names in the health, wellness, and fitness industries. Our ability to fully brand and customize your fitness facility or gym's website and its accompanying mobile app while giving you extra performance and revenue options help your business run smoothly on the back-end while you assist your clients at the front end.
Utilize our marketing integrations to increase your sales and revenue by offering a surplus of different services all fully accessible within Exercise.com's gym management software. Clients are thrilled with our level of customer service and having a dedicated account manager on their team to help with anything that comes up.
Running a fitness business is a full-time job, so let us take some tasks and stress off your plate by customizing, integrating, and automating with our robust software features. Create a user-friendly and fully branded experience for your clientele with Exercise.com gym management software.
If you're looking for an alternative to Perfect Gym and are ready to grow and manage your business with fully customizable software, book a demo with Exercise.com.