Get the Basics...
Innovation in gyms and fitness chains helps build clientele and enhances client loyalty
Gyms and fitness facilities can be innovative in various ways
There are a number of innovative gyms and fitness chains across America for all fitness enthusiasts
Some are local with one or two locations, while others are chains and located across the US
Using innovation to attract exercisers is important for gyms, health clubs, and fitness chains. In order to attract and retain clients, fitness professionals need to offer something unique or innovative to not only get clients in the door but to sign them on as members as well.
What makes a fitness facility or gym "innovative?"
When compiling the results for this guide, the following features were considered: technology, fitness wearables, equipment, member/user experience, fitness classes, workout design, environmental-friendliness, and programs and services offered by the facility.
If you're interested in learning how Exercise.com can help you grow and manage your business better, schedule a demo today.
The Most Innovative Gyms in America
Here is a list of the 20 most innovative health clubs, fitness facilities, gyms, and fitness chains in the US (in no particular order):
#1 – 9Round
9Round is focused on a full-body workout in just 30 minutes. Their class schedule is extremely flexible, so you can show up anytime and a new circuit starts every three minutes. The nine-station circuit is based on kickboxing, and workouts change daily. Trainers are there to guide the workout and motivate members.
Some 9Round locations also use heart rate monitoring during the workout that shows members their workout stats (calories burned, heart rate zone, and percent maximal heart rate). Their member portal includes nutrition information, videos, and meal planning to help fitness enthusiasts track their nutrition progress. 9Round has hundreds of locations across the US.
#2 – Barry's Bootcamp
Barry's Bootcamp focuses on high-intensity interval training and utilizes treadmills and strength training exercises in a red-toned workout room. Classes are 50-60 minutes and focus on various muscle groups. Instructors are there to motivate and encourage members during the workout.
There is a big focus on upbeat and motivating music and elevating heart rate during the workout. Barry's has studios across the US in certain states, with a bigger presence in California and New York.
#3 – Competitive Athlete's Training Zone
Competitive Athlete's Training Zone (CATZ) is the right fit for those striving for sports performance enhancement. CATZ coaches and professionals have worked with numerous professional and Olympic athletes. Fitness and athletic professionals can become CATZ certified coaches to use the program to teach safe and effective sports performance techniques and exercises.
CATZ has locations in eight states and is headquartered in Los Angeles, CA, and Boston, MA. In partnership with USC, CATZ has developed a Human Performance Laboratory at their Pasadena, CA location.
#4 – CycleBar
CycleBar focuses on indoor cycling and has locations across the US. Instructors at CycleBar are dubbed "CycleStars" and are the main leaders and motivators during classes. CycleBar also offers CycleBeats, their proprietary playlists, and CycleStats, which is a running list of six key performance metrics. CycleBeats results are emailed to cyclists after class.
CycleBar offers different variations of indoor cycling, plus private and themed classes. It provides members with complimentary indoor cycling shoes, filtered water, and snacks.
#5 – Equinox
Equinox takes fitness to the luxe level with their extravagant in-club amenities and spa. They offer a variety of fitness classes, like Pilates, high-intensity interval training (HIIT), dance-inspired cardio, cycling, and interval running, as well as personal training. Members do not need to worry about bringing their own towels or personal hygiene products, as both are provided.
Additionally, members have access to Equinox's sauna, unlimited classes, and receive occasional discounts to the spa (new member and birthday month discounts). Their mobile app is a smart app, meaning it makes suggestions based on your preferences and learns your habits; it can also track your progress. Equinox has locations across the US.
#6 – F45
F45 is another chain that focuses on high-intensity interval training in a 45-minute class. A functional full-body workout circuit focuses on cardio three days a week, strength three days a week, and a hybrid of both once a week. Exercisers can expect plyometrics, free weights, bikes, barbells, kettlebells, sleds, rowers, TRX training, BOSU balls, and med balls.
Trainers are there to motivate and demonstrate exercises, while TVs also provide demonstrations during the workout. Exercisers can use a chest-strap heart rate monitor during the workout. There are F45 locations across the US.
#7 – Fitness Quest 10
Fitness Quest 10 (FQ10) is located in San Diego, CA, and has a wide variety of classes and services that appeals to all ages. They offer personal training, group training, Pilates, yoga, sports performance, sport-specific training, summer camps, massage therapy, chiropractic care, physical therapy, fitness assessments, metabolic profiling, and nutritional services.
The mission of FQ10 is to transform the body, mind, and spirit to help members reach optimal performance and balance in life. FQ10 has state-of-the-art equipment, technology, and specialized equipment to help members and athletes meet their health and fitness goals. They have various membership levels for members to choose from.
#8 – Green Microgym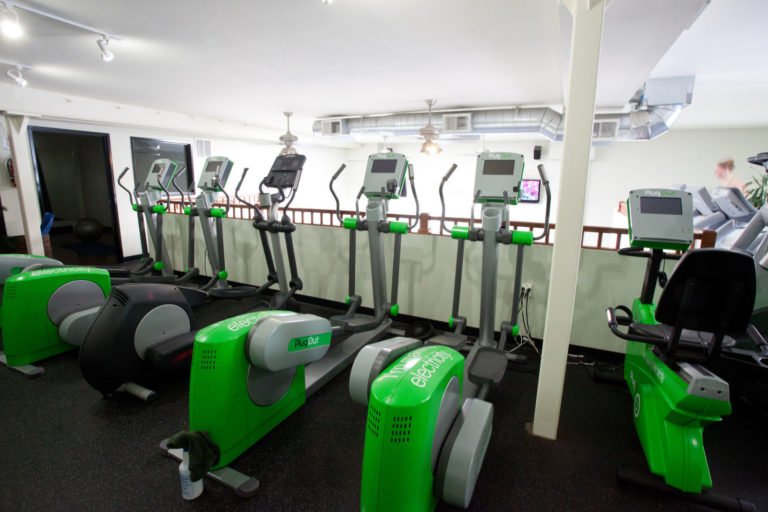 Green Microgym is located in Portland, OR, and generates electricity with its cardiovascular equipment. They use 85% less electricity and have a carbon footprint of 85% less than traditional gyms per square foot. The treadmills range in electricity usage: 30% use less electricity than their traditional counterparts, some use no electricity, and some make electricity. Additionally, the gym's ellipticals and bikes convert human work into energy for the building.
They focus on body-weight exercises and flexibility exercises in order to use expensive equipment less. There are no TVs or refrigerated vending machines. Members have options to control the climate in certain areas, which all cuts back on electricity and overall gym costs.
#9 – Green Fitness Studio
Green Fitness Studio in Brooklyn, NY, is an eco-friendly gym with a holistic approach to fitness and wellness. The flooring is made from sustainable or recycled materials, they have self-powered cardio equipment, and they use many water conservation and energy-saving techniques.
Members can grab a drink at the juice bar (the ingredients are from local producers) and relax on the rooftop green space. They have fitness classes, personal training, martial arts, boxing, and massage therapy to help their members meet a variety of fitness goals.
#10 – High Point Climbing and Fitness
High Point Climbing and Fitness is the perfect location for those who enjoy rock climbing. With 30,000 square feet of climbing inside and outside, even novice climbers and kids will find plenty of areas to climb. There are five High Point locations: two in Chattanooga, TN, and the others in Birmingham, AL, Huntsville, AL, and Memphis, TN.
High Point also offers climbing classes, spin classes, yoga classes, and a weight room. They offer day passes, packages, and full memberships. High Point also offers rentals on climbing gear.
See for yourself - Meet with the Exercise.com Team today
Grow and manage your fitness business better with Exercise.com
#11 – Indianapolis Fitness and Sports Training
Indianapolis Fitness and Sports Training (IFAST) offers customized and challenging fitness programs for all ages. They have personal training, physical therapy, and sport-specific training. IFAST focuses heavily on using fitness to elevate daily activities of living, like playing with grandchildren, working in your garden, or reaching your fullest potential in sports.
Sport-specific training is available for baseball, basketball, and soccer. Physical therapy is available for back pain, shoulder pain, knee pain, sciatica, and/or neck pain. Personal training is available in small groups of 2-4, which helps with affordability, but still has an individualized approach, because it is geared toward the member's goals.
#12 – Institute of Human Performance
Institute of Human Performance (IHP) is located in Boca Raton, FL, and features some of the most experienced and educated staff in the field of exercise science. IHP is known as the "Mecca of Functional Training" and features a variety of athletic camps, personal training, fitness classes, and online coaching.
IHP has numerous professional athletes, professional sports teams, and collegiate teams on its client roster. The Institute's main focus is creating a personalized and specialized workout for its clients with supportive trainers. Education, certifications, books, and mentorships are also offered by this facility.
#13 – Mike Boyle Strength and Conditioning
Mike Boyle Strength and Conditioning (MBSC) has been nationally recognized as one of the best gyms in the US. The co-founder, Mike Boyle, has a wealth of knowledge and experience in the strength and conditioning field. He has worked with a number of professional athletes, celebrities, Olympic athletes, and collegiate athletes.
MBSC has two locations in MA and numerous workout programs to meet anyone's fitness goals. Both locations offer athletic performance programs, adult performance programs, personal training, functional training, massage therapy, and physical therapy. Mike Boyle also offers BodyByBoyle online, an extensive online educational resource with videos, exercises, and programs that are used with his athletes.
#14 – Orangetheory Fitness
Orangetheory Fitness, a favorite among celebrities and professional athletes, utilizes technology to keep its members motivated.
Imagine walking in for your workout wearing your heart rate monitor. Your name comes up on the TV screen and the iPad attached to your treadmill so you can watch your stats (calories burned, heart rate zone, percent maximal heart rate, and current heart rate) during the entire workout. After the workout, you are emailed a workout summary, which also syncs to the mobile app where you can view your progress at any time.
This is the experience that Orangetheory offers its members.
OTF also uses a variety of equipment, including rowers, treadmills, TRX training, BOSU balls, ab dollies, and resistance bands in its orange-hued rooms. The workout is always different and there is at least one OTF coach trained to motivate and encourage, correct form, call out instructions, and provide demonstrations. There are locations across the US and members can take classes at any studio.
#15 – Parisi Speed School
Parisi Speed School focuses on youth sports training for athletes and youth total conditioning for non-athletes. It has won numerous franchisee awards and has a number of professional athletes that are proud alumni. Parisi Speed School offers something for all athletes, from novice to elite, including sports fundamentals, advanced performance training, strength training, and even combine training.
The corporate headquarters is located in Franklin Lakes, NJ. There are over 90 locations across the US that use trained and certified Parisi Performance Coaches to conduct the programs in their facilities.
#16 – Peak Performance
Peak Performance is located in Lynbrook, NY, and has a team of master's degree level exercise physiologists with nationally-recognized certifications. It offers personal training, sport-specific training, speed and agility training, a guaranteed weight loss program, and specialized fitness assessments, like VO2 max and resting metabolic rate analysis.
Peak Performance also has TRX training, indoor turf for sports training, cardio and weight equipment, a medicine ball wall, and a batting cage.
#17 – RallySport
RallySport is located in Boulder, CO, and has a number of unique offerings including, an extensive aquatics program (featuring private lessons for children and adults), a USA Swimming program called RACE, adult swim classes, and camps for children. They offer group fitness, personal training, functional movement, women's workout group, performance golfs, Pilates, youth sports, training, Nordic walking, group cycling, and yoga classes.
RallySport has a unique program called Biosignature, which is a health assessment and fat-loss program. Its FitWall class blends cardio, strength, and flexibility using a wall-based apparatus and floor work. For members who need a bite to eat, they can head to RallySport Cafe which boasts a variety of healthy eating options.
#18 – SEAL Team Physical Training
SEAL Team Physical Training, created by a Navy SEAL, offers mentally and physically challenging boot camps as part of its unconventional and rigorous fitness training. It has three locations in Virginia and one in Washington, DC, and focuses on personalized group training. SEAL Team Physical Training also offers athletic team building and corporate team building activities.
The two-week boot camp and fitness memberships are modeled after founder John McGuire's time as a Navy SEAL. Workouts might include push-ups in a foot of snow, paddling across a river, rope climbing, or running through a park. Classes are held outdoors at various locations.
#19 – Swerve Fitness
Swerve Fitness would be a great fit if team workouts motivate you. Swerve has two locations in New York City and offers competitive team-inspired indoor cycling. Each 45-minute class is split up into three separate groups (red, green, or blue) who are each competing for the highest calorie burn during the full-body workout.
Each cyclist can view their workout statistics on their bike and a workout summary is emailed after class. Swerve Fitness has various membership options, including monthly memberships and packages. It also hosts private, group, and charity events.
#20 – The Sports Center at Chelsea Piers
The Sports Center at Chelsea Piers is a 28-acre sports village in Manhattan with views of the Hudson River. Chelsea Piers has something for everyone – all ages, all athletic abilities, and all fitness levels. It has over 20 sport offerings, fitness programs, youth/adult camps, more than five event spaces, and numerous athletic facilities.
Chelsea Piers also has a driving range, two ice rinks, a bowling alley, a field house for indoor sports, dance studios, and a fitness facility with a six-lane indoor pool. There is also a Chelsea Piers fitness location in Brooklyn, and a Chelsea Piers location in Stamford, CT, with recreation sports and fitness offerings.
If you're interested in learning how Exercise.com can help you grow and manage your business better, schedule a demo today.