How to Market a New Gym in 2023 (Tips + Case Studies)
Learn how to market a new gym with this guide to driving leads, revenue, and new gym members to your new gym. Here's what you need to know to grow a new gym with marketing best practices that work in real life.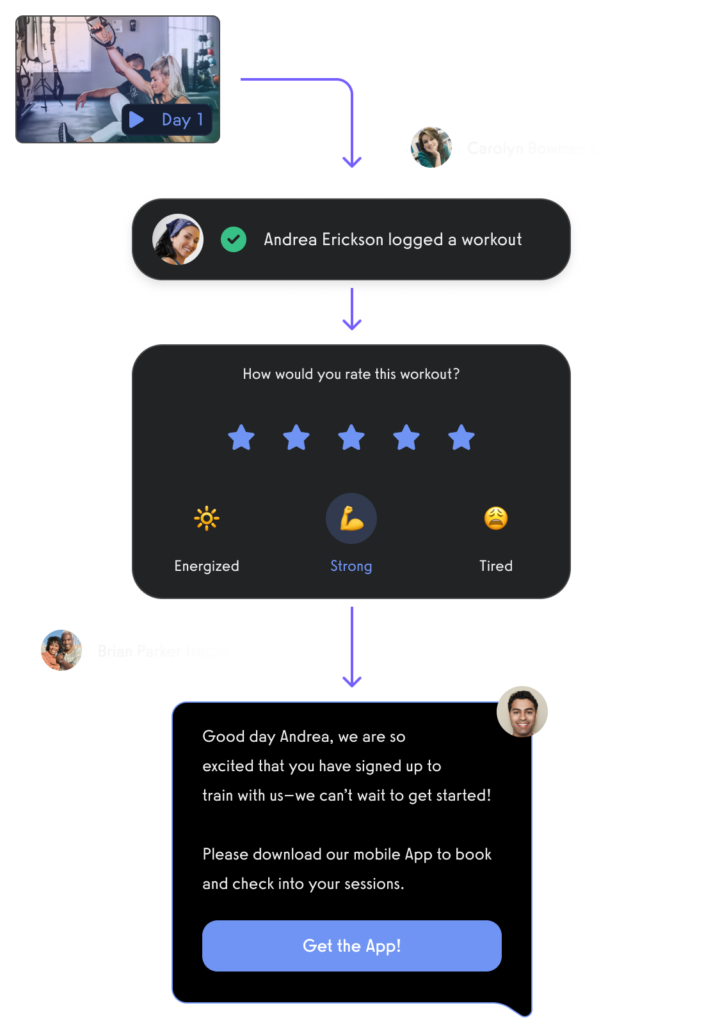 Learn how to successfully market a new gym with our detailed guide. From building an online presence to creating promotions, we cover it all! Then transform your gym's software experience to delight your members and your staff. See why Exercise.com is the best gym management software platform to grow and manage your gym.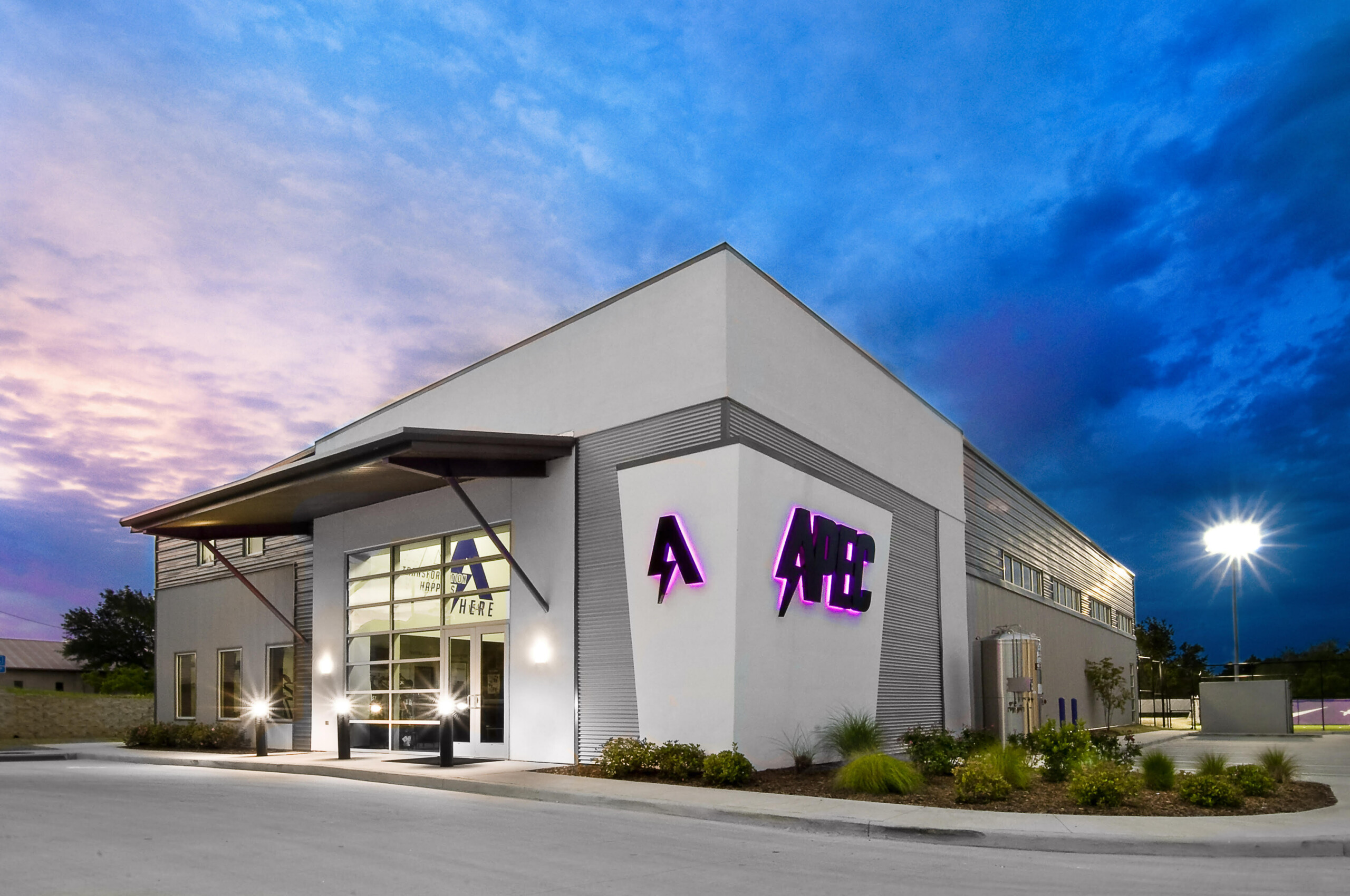 Exercise.com is simply the best. We were using three or four different apps or softwares to do what we can now do all in one with the Exercise.com platform.
Brandon Stroupe
Founder and President, APEC Sports Performance
Want to learn more? Get a demo now!
Ideas for Marketing a New Gym
Here's a list of 30+ ideas for marketing a new gym:
Offer a free trial period or a discounted introductory offer for new members.
Host an open house event to showcase the gym's facilities and services.
Collaborate with local businesses to offer joint promotions or cross-promotions.
Utilize social media platforms to create engaging content, share success stories, and offer special promotions.
Run targeted online advertising campaigns on platforms like Facebook, Instagram, and Google Ads.
Create a referral program where existing members receive incentives for referring new members.
Partner with local influencers or fitness bloggers to promote your gym through sponsored content or partnerships.
Organize fitness challenges or competitions to create a sense of community and engagement among members.
Offer specialized classes or training programs that cater to specific demographics or fitness goals.
Provide personalized training sessions or consultations to new members to help them set goals and create customized fitness plans.
Create a visually appealing and user-friendly website that highlights your gym's unique features, class schedules, and membership options.
Develop partnerships with corporate wellness programs or local employers to offer discounted membership rates for their employees.
Sponsor local athletic events or competitions to increase brand visibility and community involvement.
Offer exclusive promotions or discounts to members of community organizations or sports teams.
Create and distribute informative and visually appealing brochures or flyers to local businesses, schools, and community centers.
Collaborate with local health professionals, such as doctors, nutritionists, or physical therapists, to provide educational workshops or seminars.
Participate in local health and fitness expos or trade shows to showcase your gym and offer exclusive sign-up deals.
Host community events or workshops related to fitness, nutrition, or wellness.
Offer corporate team-building packages or group discounts for businesses looking to promote employee health and wellness.
Implement a loyalty program that rewards members for consistent attendance and engagement.
Run online contests or giveaways on social media platforms to generate excitement and increase brand awareness.
Offer free or discounted classes for local schools, colleges, or universities to encourage student participation.
Create partnerships with local sports teams or athletes to offer specialized training programs or sponsorship opportunities.
Utilize email marketing to keep members informed about new classes, promotions, and events.
Showcase testimonials and success stories from satisfied members on your website and social media platforms.
Offer special promotions or incentives during holidays or seasonal events.
Collaborate with local media outlets, such as radio stations or newspapers, to feature your gym in interviews or articles.
Implement a customer feedback system to gather reviews and testimonials, and showcase them on your website and social media.
Sponsor local charity events or fundraisers to demonstrate community involvement and support.
Create partnerships with local wellness influencers or fitness coaches to offer exclusive workshops or training sessions.
These new gym marketing ideas can help generate awareness, attract new members, and foster a strong sense of community for your new gym. Remember to tailor these ideas to your target audience and local market to maximize their effectiveness.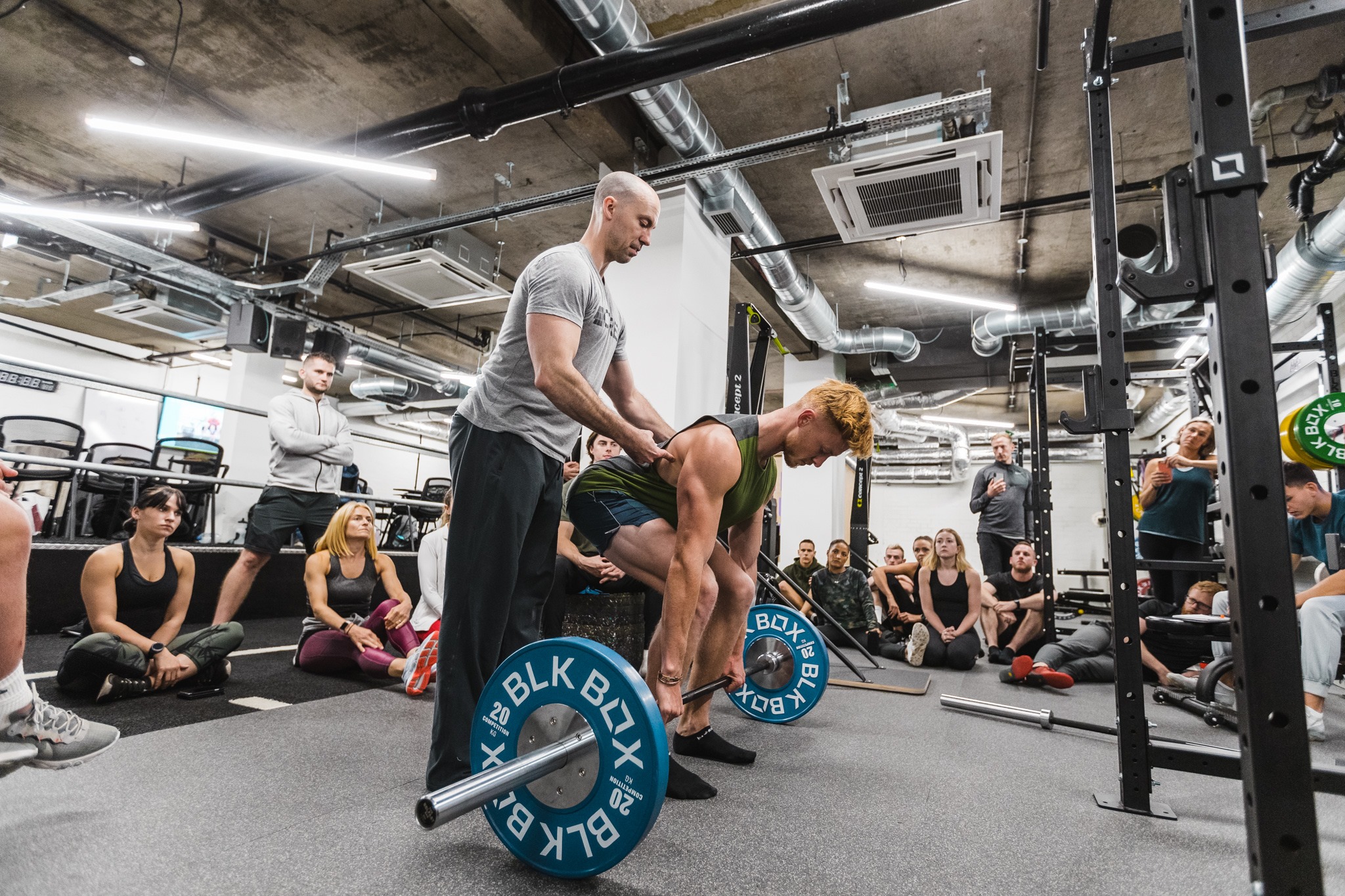 Exercise.com makes my life easier by providing an all-in-one solution and the opportunity to help those who otherwise would never have access to my programming!
Tony Gentilcore
Founder, Core Online
Want to learn more about the best gym management software?
Example New Gym Launch Marketing Case Studies
Please note that these case studies are composite examples based on the ways gym owners and fitness professionals can leverage the Exercise.com platform for marketing a new gym. The specific details and results may vary depending on individual circumstances and efforts.
Case Study 1: The Fit Zone
Client Name:
Sarah Thompson, Gym Owner
Background:
Sarah Thompson recently opened her new gym, The Fit Zone, and wanted to implement effective marketing strategies to attract and engage potential members. She turned to Exercise.com for its comprehensive platform that offered multiple marketing tools.
Goals:
Increase brand awareness and reach in the local community.
Generate leads and convert them into paying members.
Enhance member engagement and retention.
Strategies Implemented:
Fitness Challenge: Sarah organized a 30-day fitness challenge targeting local residents. Through the Exercise.com platform, she created a dedicated landing page with detailed challenge information, registration forms, and integrated payment options. Participants received daily workout plans, nutrition tips, and progress tracking tools. The challenge generated buzz, attracted new members, and fostered a sense of community.
Workout Plan Sales: To cater to members who preferred flexibility, Sarah developed and sold workout plans through the Exercise.com platform. She created a library of customizable plans targeting different fitness levels and goals. The platform allowed her to showcase plan details, offer previews, and securely sell plans, providing a seamless user experience for members.
Online Workout Groups: Recognizing the growing demand for virtual fitness, Sarah established online workout groups using the Exercise.com platform. She hosted live workouts, Q&A sessions, and encouraged group discussions. Members could easily access the virtual sessions, connect with trainers, and interact with fellow participants, resulting in increased engagement and member satisfaction.
Personal Training Sessions: Sarah leveraged the platform's booking feature to streamline her personal training services. Members could easily book one-on-one training sessions through the gym's website or mobile app. The platform's automated reminders and notifications ensured seamless scheduling, reducing administrative overhead and improving client satisfaction.
Gym Check-ins with Coupon Codes: Sarah utilized the Exercise.com platform's check-in feature to incentivize member referrals and reward loyalty. Each time a member checked in at the gym, they received a unique coupon code to share with friends and family. When the code was redeemed, both the referring member and the new member received exclusive discounts or perks, fostering word-of-mouth marketing and increasing member acquisition.
Results:
The Fit Zone saw a 20% increase in membership sign-ups within the first three months.
The fitness challenge attracted over 100 participants, with 40% converting into paying members.
Workout plan sales accounted for 15% of the gym's revenue within the first year.
Online workout groups increased member engagement by 30% and improved retention rates.
Personal training bookings saw a 25% increase, leading to additional revenue streams.
Case Study 2: Elite Fitness Club
Client Name:
Mark Johnson, Fitness Professional
Background:
Mark Johnson, a fitness professional, launched his online training business, Elite Fitness Club. He chose the Exercise.com platform to effectively market his services, connect with clients, and grow his online presence.
Goals:
Establish a reputable online training brand.
Reach and engage a wider audience beyond local limitations.
Provide a seamless and interactive training experience for clients.
Strategies Implemented:
Online Landing Page: Mark created a quick and high converting online landing page using the Exercise.com platform, showcasing his expertise, training philosophy, and success stories. The website offered easy navigation, clear service descriptions, and integrated booking and payment options for clients to sign up for his training programs.
Customized Workout Plans: Leveraging the platform's workout plan builder, Mark crafted personalized training programs tailored to each client's goals and abilities. The platform allowed him to easily create and deliver workout plans, track progress, and communicate with clients in real-time. Clients could access their plans, record results, and receive feedback through the user-friendly mobile app.
Online Coaching and Support: Mark offered online coaching services through the Exercise.com platform, providing clients with regular check-ins, nutrition guidance, and motivation. The platform's messaging and video chat features facilitated seamless communication, ensuring clients felt supported and engaged throughout their fitness journey.
Social Media Integration: To expand his online reach, Mark integrated his Exercise.com profile with his social media accounts, allowing him to share links to his online workout groups, workout plans for sale, and fitness challenges. He regularly shared informative and engaging content, success stories, and client testimonials, effectively promoting his services and attracting new clients.
Client Progress Showcases: Mark utilized the platform's progress tracking tools to highlight client achievements. With clients' permission, he shared before-and-after photos, testimonials, and success stories on his website and social media platforms. This helped build trust and credibility, attracting more potential clients to his online training programs.
Results:
Elite Fitness Club experienced a 50% increase in client sign-ups within the first six months.
The personalized workout plans and online coaching resulted in a 95% client satisfaction rate.
Mark's social media integration and client progress showcases led to a 30% increase in organic leads.
The Exercise.com platform enabled Mark to expand his client base beyond his local area, reaching clients from different regions and even internationally.
Note that these are just composite examples but based on the ways that REAL gym owners, fitness influencers, personal trainers, and other fitness professionals are using the Exercise.com platform TODAY to grow their businesses (and launch new fitness businesses) online and in-person.
I sold a workout program and matched my yearly salary of in-person training within two weeks of selling to my community!
Paul Fabritz
Founder and BS, CSCS, NSCA-CPT, ACE, FMS, PJF Performance
Want to learn more about the best gym management software?
Read More:
Using Exercise.com to Market a New Gym
With Exercise.com, you have the best gym software for managing and growing your new gym. Here are just a few things you can do:
Manage leads with a gym CRM.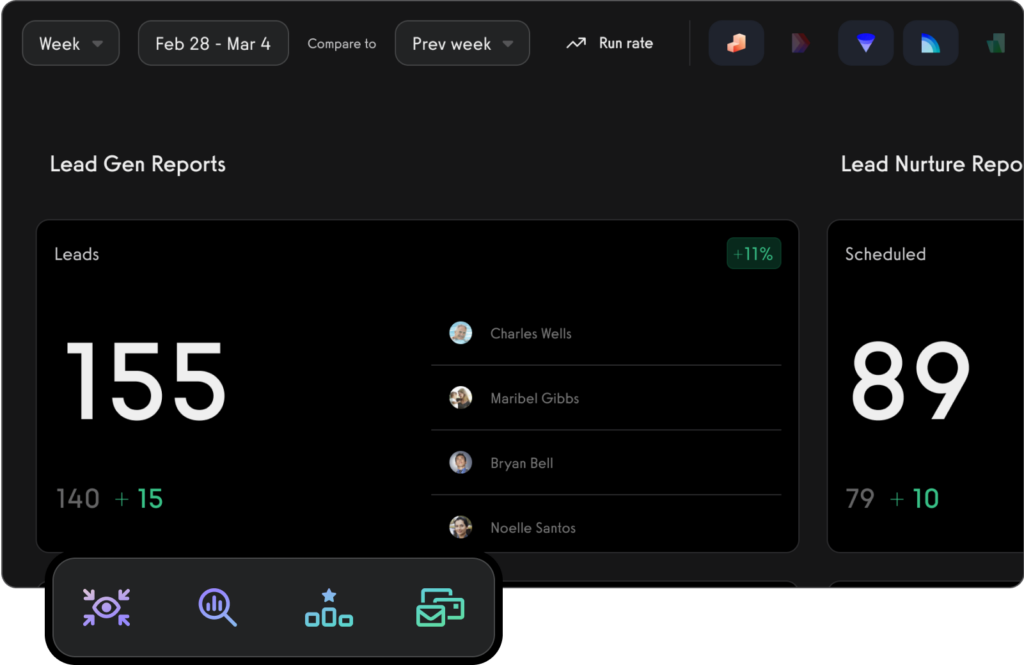 Engage with members via automations.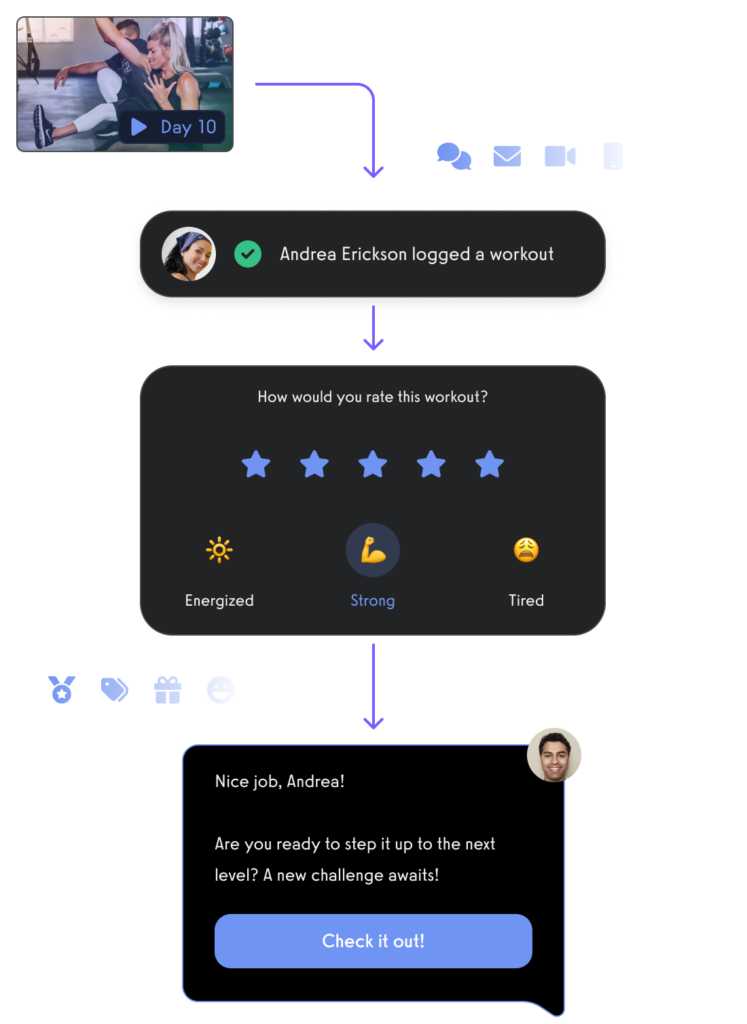 Create workout plans for parents and dependents, teams and more.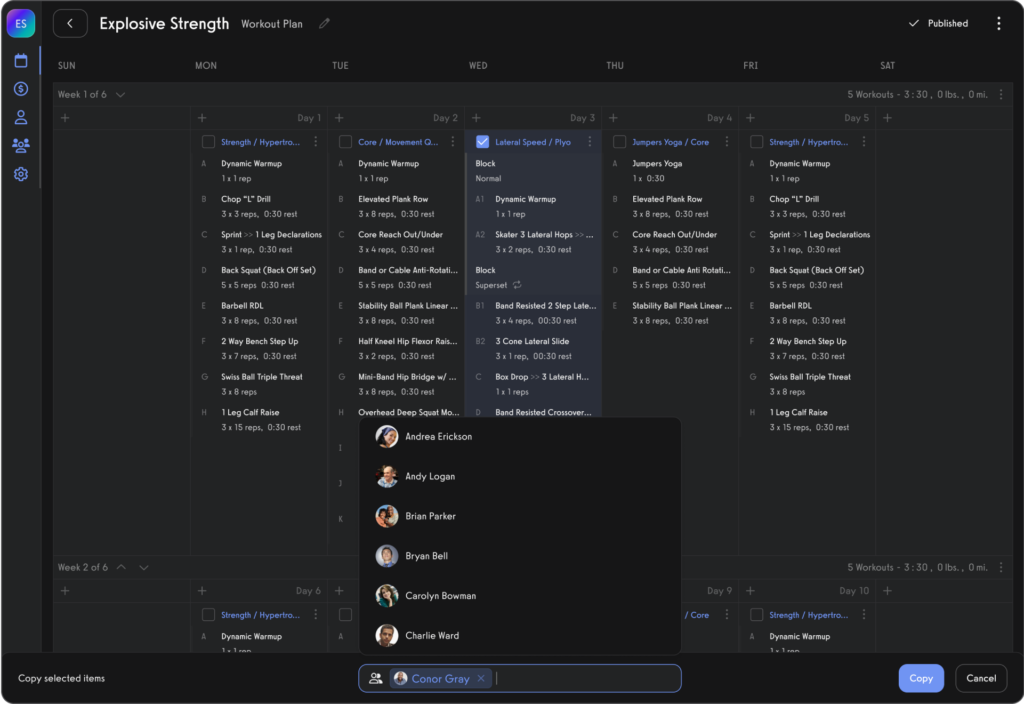 Book appointments for parents and dependents with ease. (Read More: Best Gym Booking Software)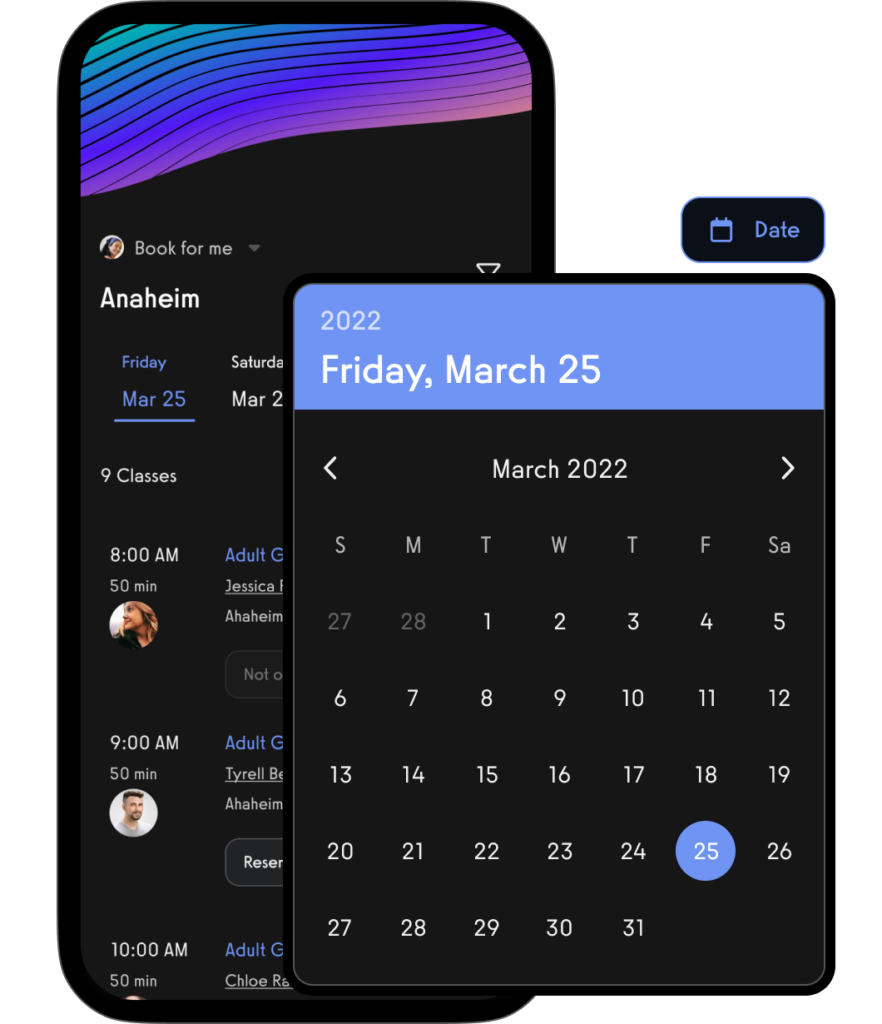 Offer on-demand fitness content.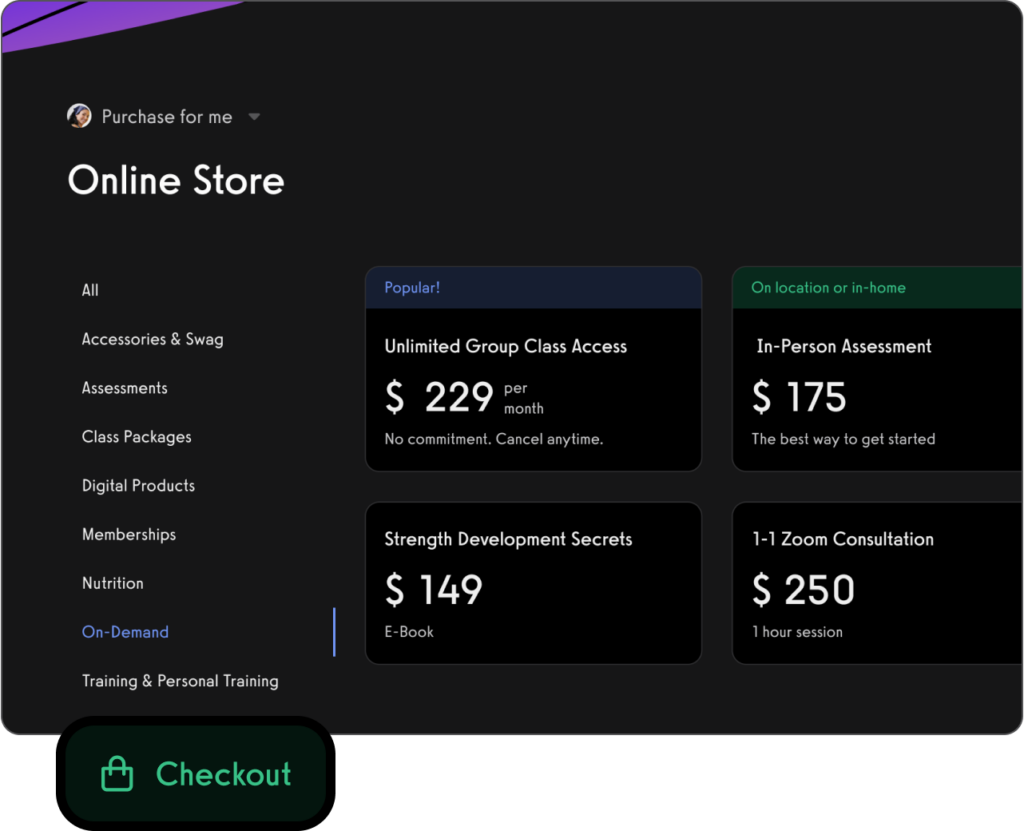 Create classes and fitness groups.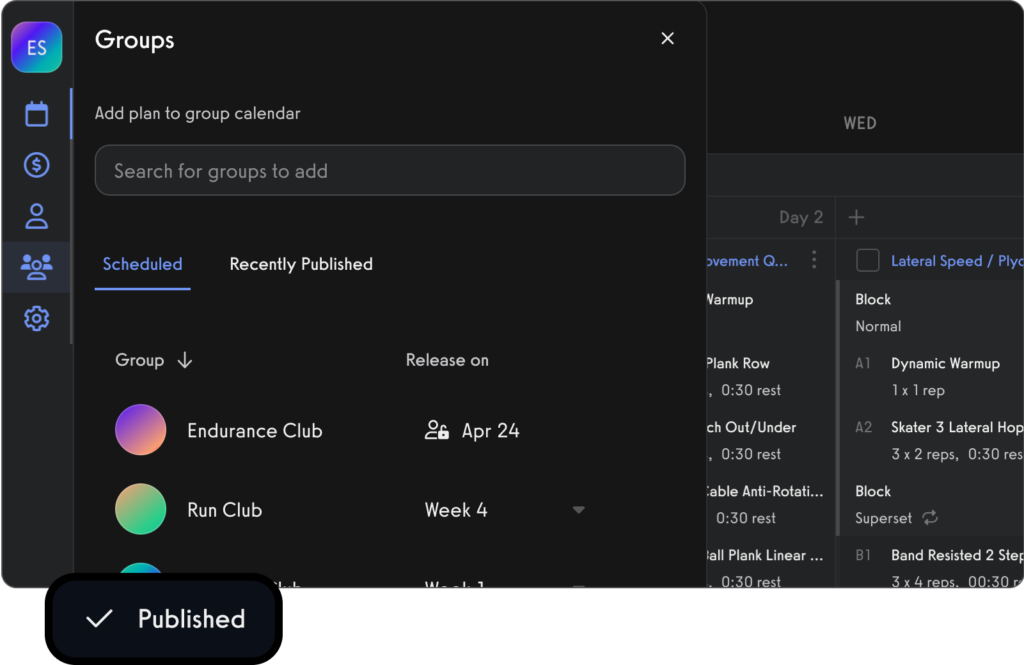 Create and send fitness assessments with ease.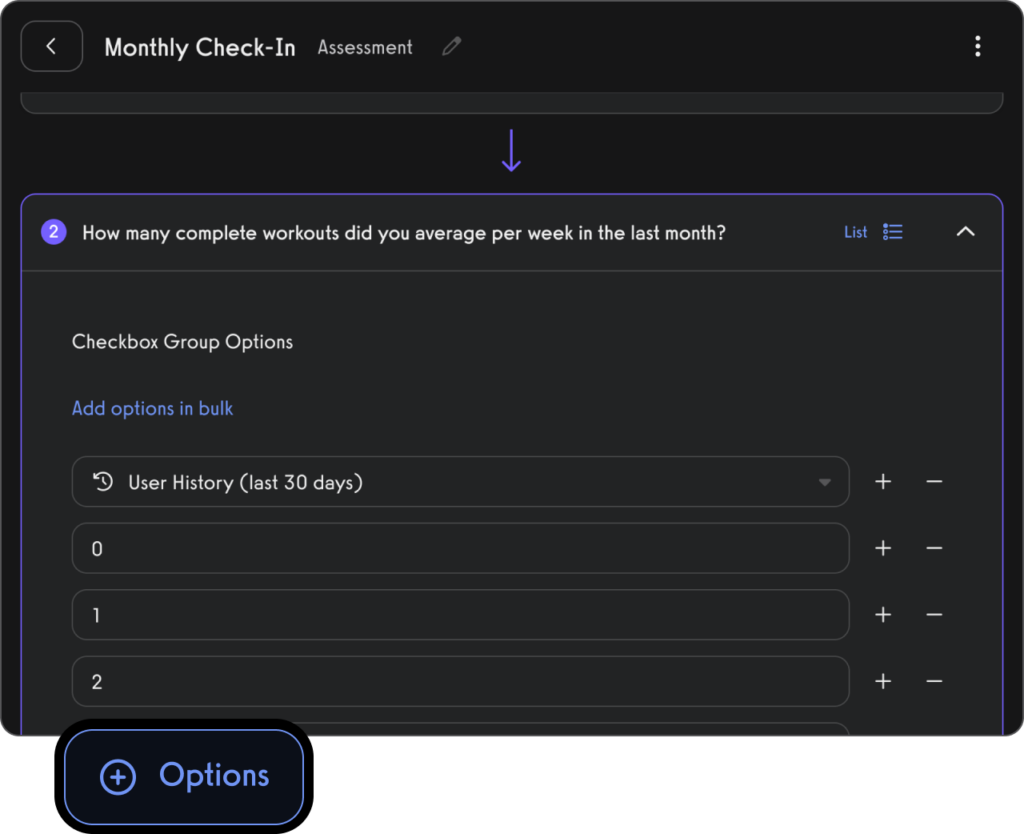 Manage multiple gym locations with ease.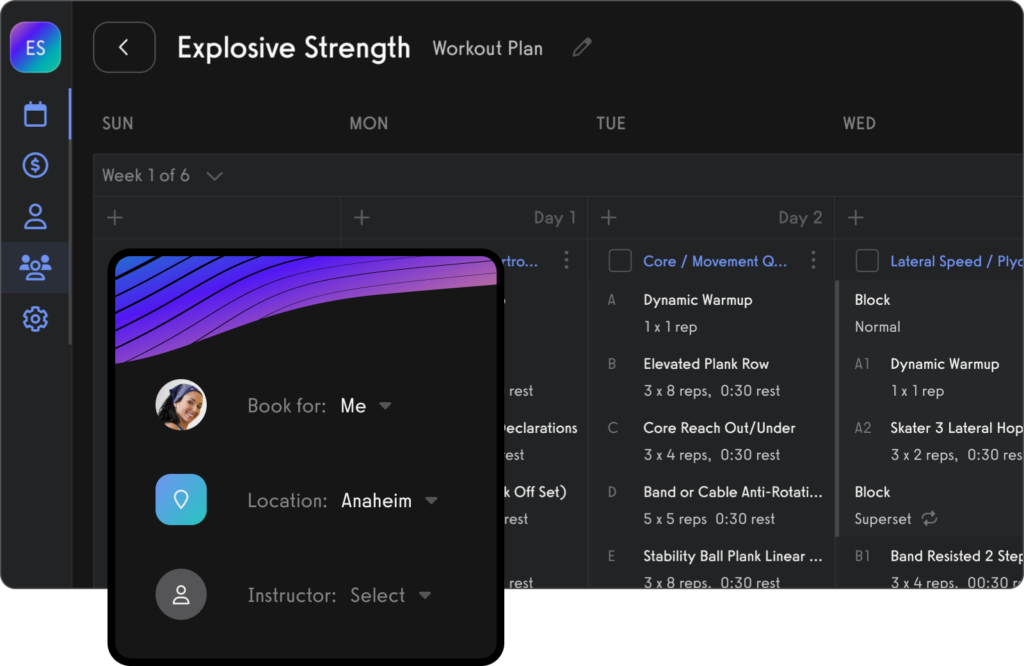 Gym check-in software that makes your life easy. (Read More: Best Gym Check-In Software)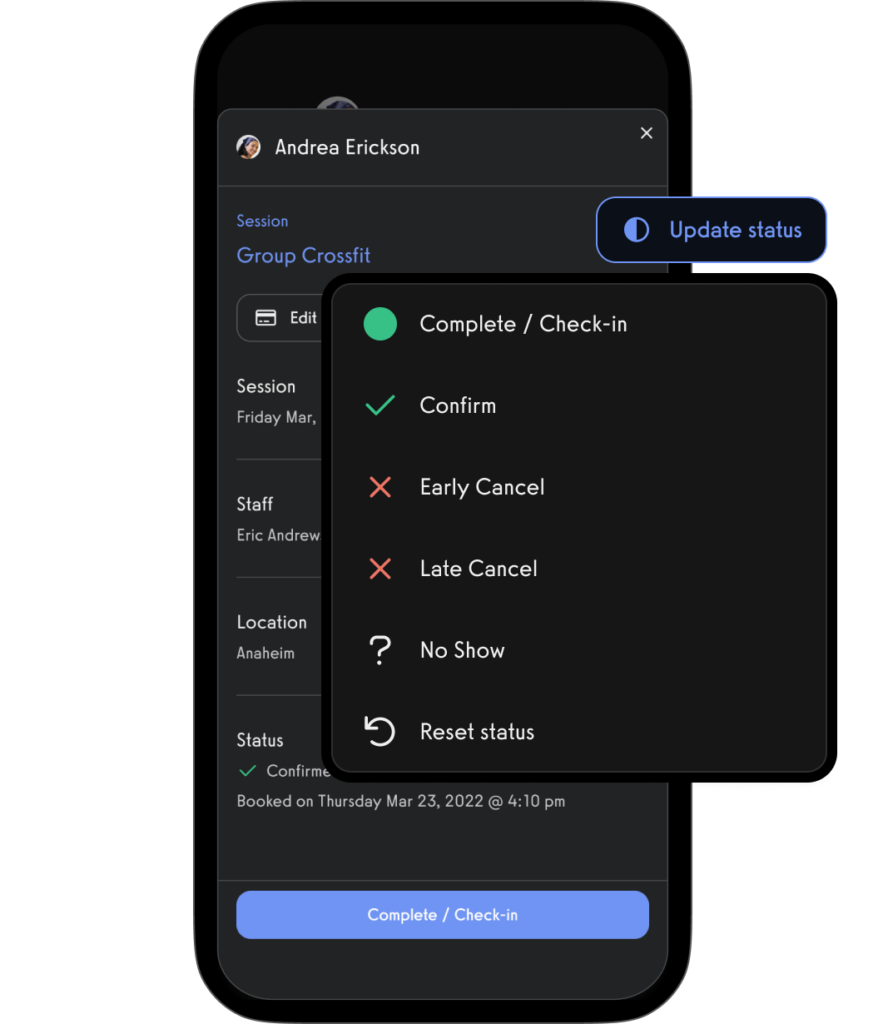 Process payments for open gym, classes, and personal training.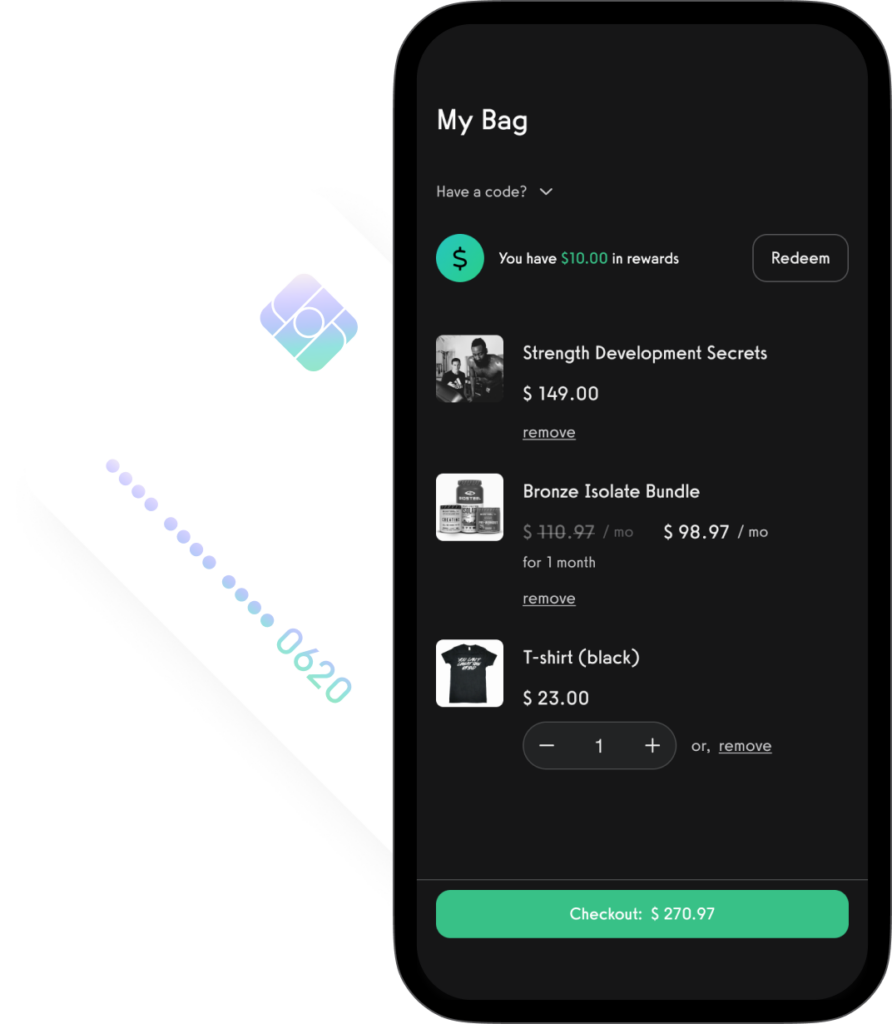 Communicate with gym members, athletes, team members, personal training clients, class members, parents, and dependents via SMS, email, and in-app push notification.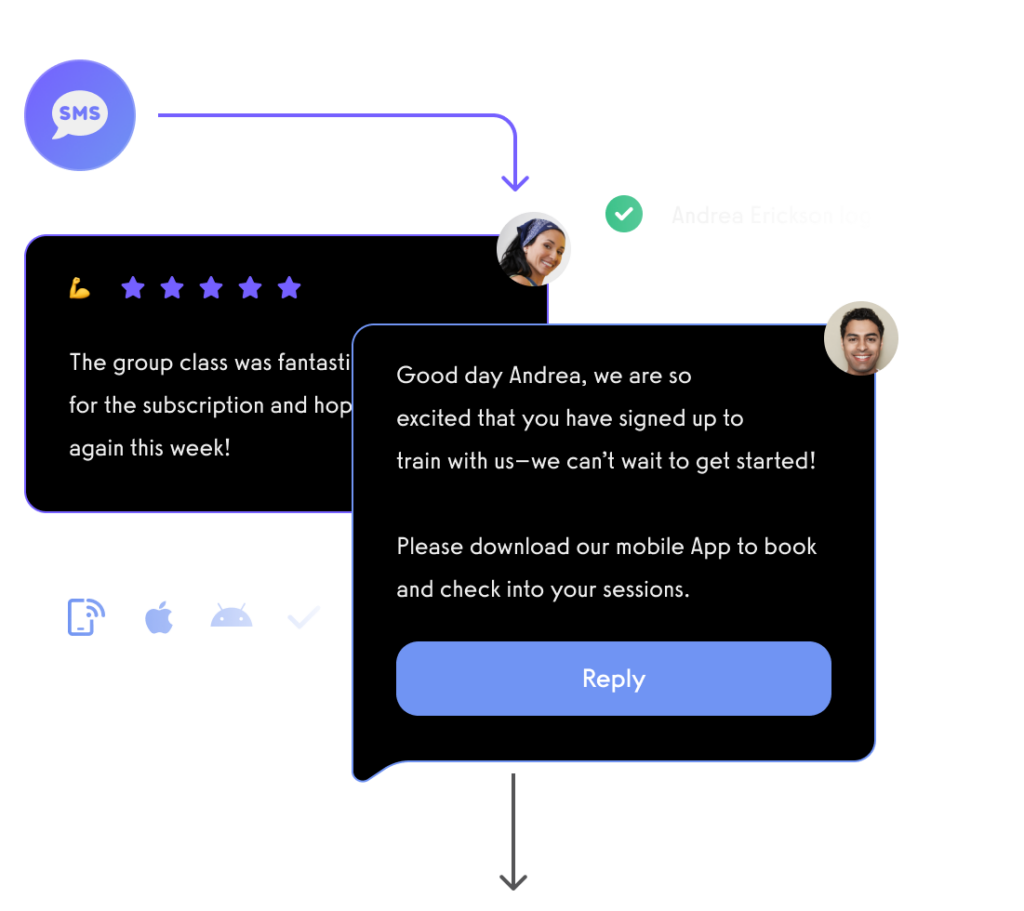 View all of your gym business reports.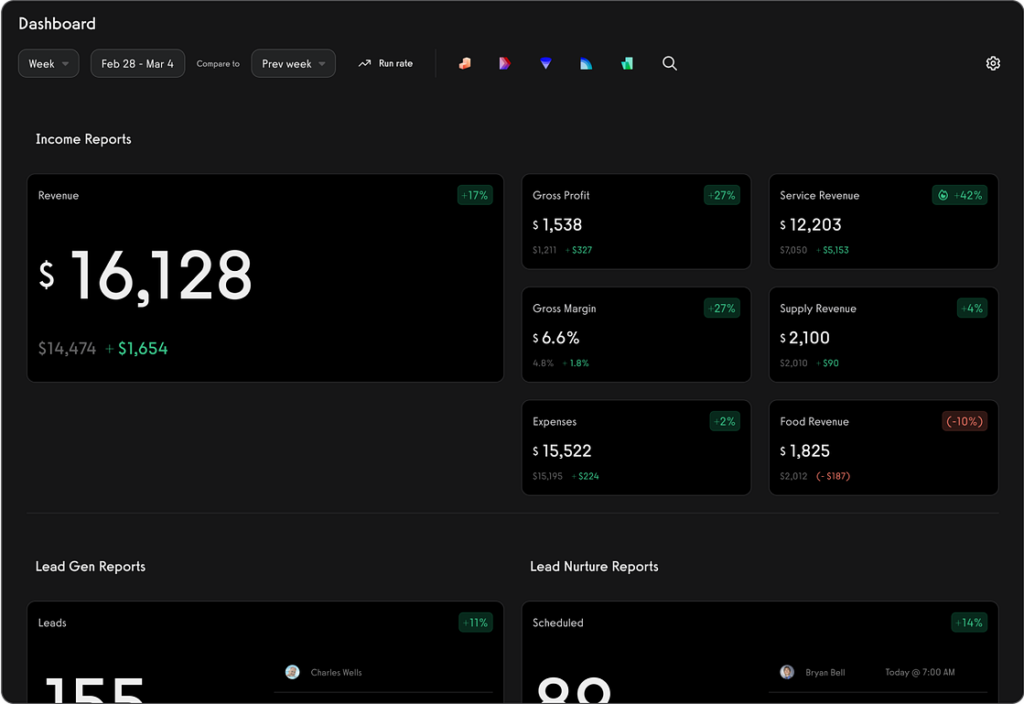 All from your custom-branded fitness apps (Read More: Best Gym Mobile Fitness Apps Software)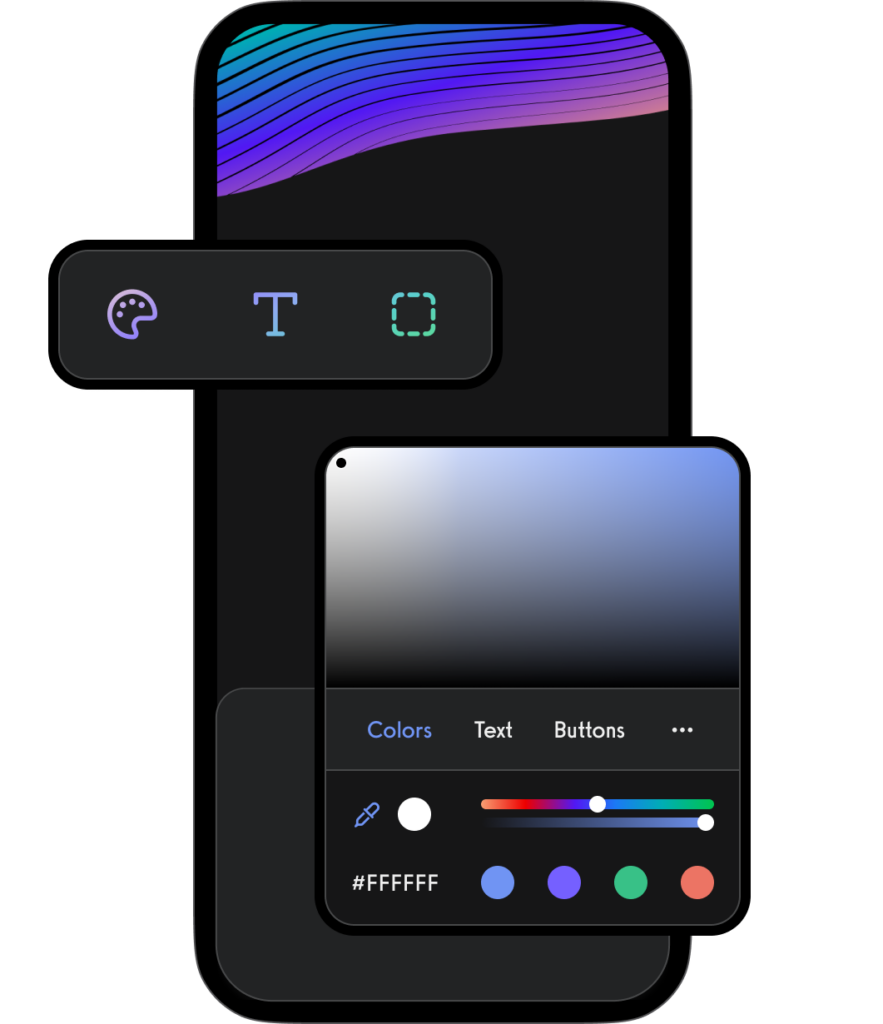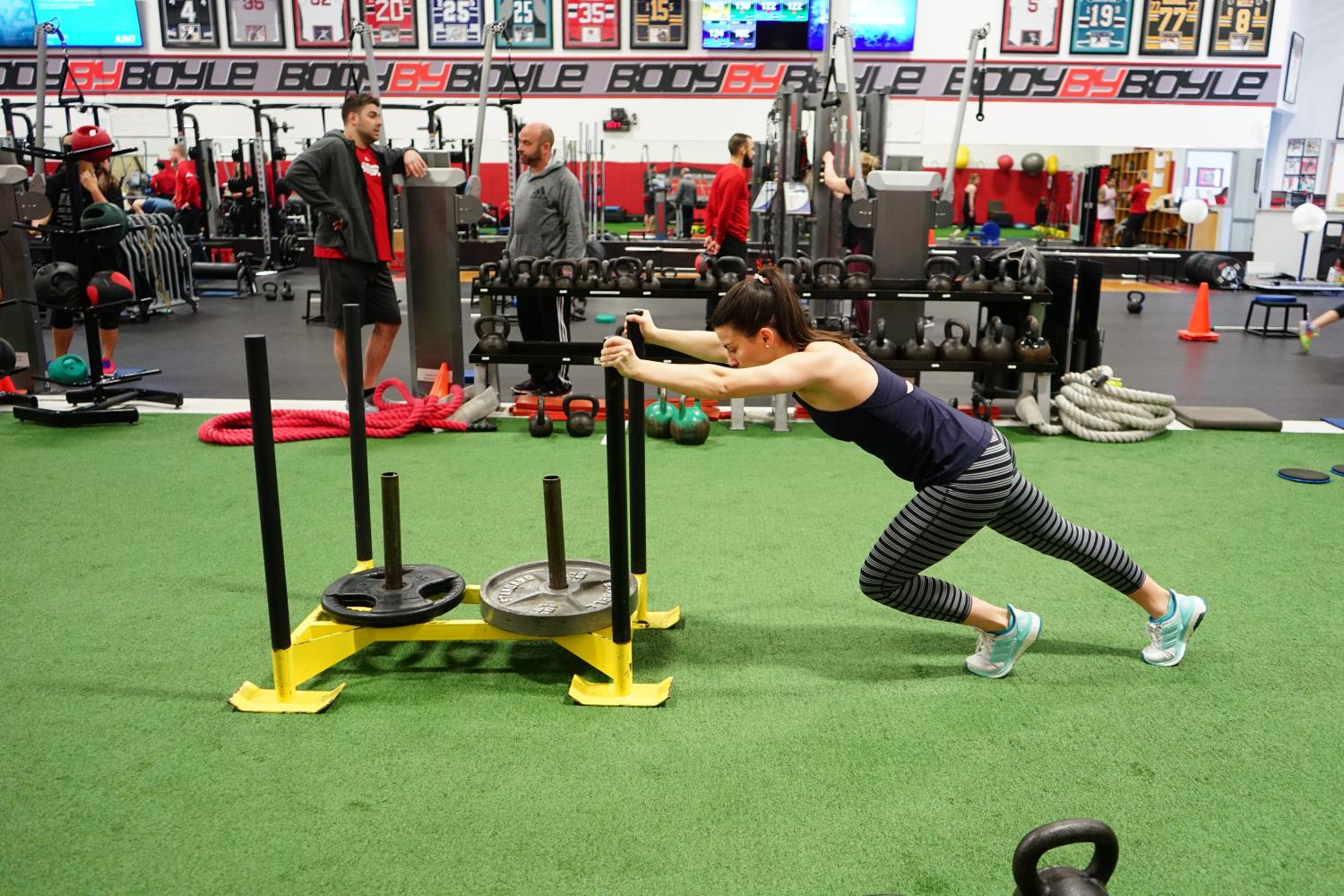 "The Exercise.com team is amazing, and their all-in-one software is more than we ever expected! All of this is made possible by a high-quality team."
Mike Boyle
Co-Founder, MBSC
Ready to learn more?
Unleashing the Power of Marketing: A Comprehensive Guide to Promoting Your New Gym
Introduction
Starting a new gym is an exciting venture, but it can also be challenging to learn how to market a new gym. One of the most important aspects of building a successful gym business is developing a marketing strategy that effectively promotes your facility and attracts potential members.
In today's highly competitive fitness industry, it's no longer enough to simply open your doors and hope people will come. Instead, you need to be proactive and creative in your approach, leveraging a variety of marketing tactics to get the word out about your brand.
Importance of Marketing a New Gym
Marketing is essential for any business, including new gyms. In fact, it could make or break the success of your gym.
The primary goal of marketing is to help you reach potential customers and convince them that they need what you offer – in this case fitness services. Whether you are opening a small boutique gym or large franchise location, marketing can help raise awareness about your brand and create buzz around your facility.
By implementing effective marketing strategies, you can attract potential members who are looking for an inclusive community where they can work towards their fitness goals with support from knowledgeable trainers or instructors. However great your facility may be on its own merit — without proper marketing, people may never know about all the amazing features and benefits that it offers.
Read More:
Steps to Marketing a New Gym
The process of developing an effective marketing strategy for a new gym involves several key steps:
Define Your Target Audience: Understanding who would benefit most from joining your gym will help ensure that all future marketing efforts are targeted effectively.
Develop A Strong Brand Identity: Creating an attractive brand image is important not only for standing out amid competition but also for conveying professionalism in the industry. 3.Build An Online Presence: Social media platforms like Instagram & Facebook along with other valuable tools like Google My Business & Yelp allow gyms to connect with members new and old, so it's important to create a strong online presence.
Create Promotions and Special Offers: To draw in new members, gyms can offer promotions such as discounts or free trials. Events like fitness classes are another way to get potential members excited about joining your gym.
Build Relationships with Local Business and Influencers: Partnering up with nearby businesses for cross-promotion opportunities is an effective way to reach more people in the area. Building relationships with social media influencers in the fitness industry is also a great way to further promote your gym or fitness program.
Track Your Progress & Adjust Your Strategy Accordingly: With data analytics tools, it has become easier than ever to track marketing efforts, measure their impact on member acquisition and adjust marketing strategies accordingly. In the following sections of this article, we'll delve into each of these steps in greater detail so that you can develop an effective marketing plan for your new gym business.
Define Your New Gym's Target Audience
Getting a clear understanding of your target audience is the first step in creating an effective marketing strategy for your gym. The more you know about the people who are likely to use your gym, the better you can tailor your marketing approach to their needs. To define your target audience, start by thinking about factors like age, gender, income level, and interests.
Identify potential customers
Start by gathering information on people who are likely to be interested in fitness and wellness. People who live nearby or work in the area where your gym is located may be ideal candidates.
You can also focus on specific groups like young professionals or seniors looking for ways to stay active and healthy. Another way to identify potential customers is to look at local gyms and fitness studios that have a similar demographic as yours.
Understand their needs and preferences
Once you've identified potential customers, it's important to understand what they're looking for in a gym. Some people may be interested in weightlifting or bodybuilding while others may prefer group fitness classes like yoga or Pilates. Consider surveying potential customers or asking them directly what types of amenities they're most interested in – this can include everything from cardio machines to swimming pools.
Create customer personas
Creating customer personas is an effective way of getting a more detailed understanding of your target market. Customer personas are fictional representations of different groups of people who might use your gym – they include information about demographics, lifestyle habits, motivations for working out, and more.
By creating detailed customer personas based on market research data, you can develop a much clearer picture of how best to reach each segment of your target audience with tailored marketing messages that resonate with them specifically. Defining the target audience involves identifying potential customers based on demographics such as age and gender; understanding these customer's needs and preferences; and creating personas that represent different segments of this audience.
Creating detailed customer personas based on market research data is effective in developing a much clearer understanding of the target audience. By following these steps, you'll be well on your way to creating an effective marketing strategy for your new gym.
Develop a Strong Gym Brand Identity
Choose a unique and memorable name for your gym
Your gym's name is one of the most important aspects of your brand identity. It should be unique, memorable, and reflective of the values and services that your gym offers. Consider brainstorming with friends or colleagues to come up with ideas that stand out from other gyms in your area.
When selecting a name, it's important to ensure that it's easy to pronounce and spell. This will make it easier for potential customers to remember and search for online.
Additionally, consider choosing a name that has a positive connotation associated with fitness or health. Research existing trademarks and business names in your area to ensure that you don't infringe on someone else's intellectual property rights.
Design an eye-catching new gym logo
A visually appealing logo is an essential part of creating a strong brand identity for your gym. The logo should be simple yet memorable, incorporating elements that reflect the values and services offered by your gym. Consider hiring a professional graphic designer to create a custom logo that represents the personality of your gym.
Alternatively, you can use free online tools such as Canva or Adobe Spark to design your own logo using pre-made templates. When designing your logo, keep in mind how it will look on different mediums including websites, social media profiles, business cards, uniforms, etc.
Develop a consistent brand message
Consistency is key when developing a brand message for your gym. Your messaging should align with the core values of the business while also resonating with potential customers.
Developing consistency includes using similar colors across all marketing materials (i.e., website design), having consistent messaging about what sets this particular gym apart from others in its area (i.e., 24-hour access), having consistent language around fitness goals (i.e., "building a stronger community"), and using videos and photos that align with the brand's overall message. To ensure that your message is consistent across all platforms, create a style guide or "brand bible" that outlines the tone, language, and key messaging for all marketing materials.
This will help to ensure consistency in all branding efforts. By having consistent messaging, potential customers will be more likely to remember your gym when comparing it to other competitors in the area.
Read More:
Build an Online Presence for Your New Gym
A strong online presence is critical for any new gym business. In today's digital age, potential customers are likely to conduct online research before deciding to visit a gym. Here are some key steps you can take to establish and strengthen your gym's online presence:
Create a website that showcases your gym's features and benefits
Your gym's website should be visually appealing, user-friendly, and informative. It should highlight the features that set your gym apart from competitors and emphasize the benefits of choosing your gym over others in the area.
The website should also include a call-to-action (CTA) button that encourages visitors to sign up for a membership or schedule a free tour of the facilities. You'll also want to make sure your website is mobile-friendly since many people use their smartphones to search for local businesses. Use the best gym website builder software to make your gym website quickly and easily.
Utilize social media platforms to engage with potential customers
Social media platforms such as Facebook, Instagram, Twitter, and LinkedIn are excellent tools for reaching potential customers and engaging with them on a more personal level. You can use social media to share updates on upcoming events or promotions at your gym, post photos or videos of members working out, or even provide fitness tips or nutritional advice.
It's important to interact with users who comment on your posts by responding promptly and professionally. You may also want to consider running contests or giveaways via social media as an incentive for users to follow you.
Read More:
Use search engine optimization (SEO) tactics to increase online visibility
Search engine optimization (SEO) involves using various tactics such as keyword research, meta descriptions, title tags, image optimization, and backlinks in order to improve your website's ranking in organic search results. By conducting thorough keyword research related to fitness topics or local searches within Google My Business listing you can optimize each page of your site for specific keywords. This will help your gym's website to rank higher in search engine results pages (SERPs) and increase your visibility to potential customers who are searching for gyms in your area.
Create Gym Promotions and Special Offers
Creating promotions and special offers is an effective way to attract new members to your gym. Offering discounts or free trials is a great way to entice potential customers who may be hesitant to commit to a membership. This allows them to experience what your gym has to offer without committing financially, which can lead to long-term memberships and loyal customers.
Offer Free Trials or Discounts to Attract New Members
A free trial can help potential members become familiar with the gym's facilities, equipment, and staff while giving them a chance to explore the services offered. A 1-week free trial period is often considered the industry standard.
Use this time as an opportunity to show off your gym's unique offerings, such as personal trainers or fitness classes. Another approach is offering discounts on memberships for a limited time period.
This creates urgency for potential customers who may have been considering joining but haven't committed yet. For example, offering a 20% discount on membership fees for the first three months of membership could entice prospective customers who are looking for a good deal.
Host Events such as Fitness Classes or Workshops to Showcase Your Gym's Offerings
If you want potential members to see what sets your gym apart from others in the area, hosting events like fitness classes or workshops that showcase your unique offerings can be quite effective. These events allow people in the community an opportunity not just to see all that you have available at your facility but also get their questions answered by staff who are knowledgeable about fitness and nutrition. You could also organize health fairs that promote healthy living, nutrition education classes featuring guest speakers, or even charity events where proceeds go towards helping local organizations within the community.
You could also use these events as an opportunity for attendees who are interested in signing up for a membership to get discounts or special promotions. In addition, creating a referral program that rewards current members for bringing in new members can also be an effective way of attracting potential new customers.
This can be as simple as offering a discount on monthly fees or providing rewards such as gift cards, gym gear, or free personal training sessions. By creating promotions and special offers that entice potential members to try your gym, hosting events and workshops to showcase what your facility has to offer, and organizing community events that promote healthy living and local charities, you'll create an environment that gives people all the reasons they need to choose your gym over competing facilities.
Read More:
Build Relationships with Local Businesses and Influencers
Partner up with local businesses for cross-promotion opportunities.
One of the most effective ways to market a new gym is to partner with local businesses for cross-promotion opportunities. This strategy involves collaborating with other local businesses that share similar clientele or interests to create mutually beneficial promotions. For example, a gym may partner with a healthy meal delivery service or a sports apparel store to offer their customers discounts or exclusive deals.
This can help attract potential customers from the partner business, while also providing added value for current customers. When selecting potential partners, it's important to consider how their business aligns with your gym's values and target audience.
Look for businesses that complement your offerings and that have an existing customer base that would be interested in what your gym has to offer. Reach out to these businesses through email or by phone, proposing mutually beneficial promotions that can help both companies grow.
Build relationships with social media influencers in the fitness industry.
Social media influencers in the fitness industry can be valuable partners when it comes to marketing a new gym. These influencers have built large followings of people who are interested in fitness and wellness, making them ideal advocates for promoting your gym's offerings.
When selecting social media influencers to work with, it's important to look for individuals who have an engaged following within your target audience. To build relationships with these influencers, start by conducting research on potential candidates and reaching out via email or direct message on social media platforms like Instagram or Twitter.
Offer them incentives such as free memberships or exclusive access in exchange for promotion of your gym on their social media channels. By building strong relationships with social media influencers within the fitness industry, you can expand your reach and attract new members interested in pursuing an active lifestyle.
The Importance of Building Relationships
Building strong relationships is key to the success of any marketing strategy, especially when it comes to marketing a new gym. By partnering with local businesses and social media influencers in the fitness industry, you can expand your reach and attract new members interested in pursuing an active lifestyle.
Remember, building relationships takes time and effort, but the results are well worth it. By creating a network of like-minded individuals and businesses, you can establish yourself as an authority within your community and grow your gym's reputation over time.
Track Your Progress and Adjust Your Gym Marketing Strategy Accordingly
The Importance of Analytics in Gym Marketing
In the world of marketing, data is king. Without proper measurements and tracking, it is impossible to know whether your efforts are actually working or not.
The same goes for gym marketing. It's crucial to track your progress so you can adjust your strategy accordingly and maximize your ROI (Return on Investment).
Analytics can provide valuable insights into the behavior of your customers, where they're coming from, and what's driving them away. By tracking these metrics consistently over time, you can identify patterns and trends that will enable you to make informed decisions about how to improve your gym's marketing performance.
Measure the Effectiveness of Your Marketing Efforts Using Analytics Tools
There are many tools available for measuring the effectiveness of your marketing campaigns. Google Analytics is one such tool that provides a wealth of information about website traffic, user behavior, and conversion rates. By setting up goals within Google Analytics, you can track specific actions taken by visitors on your website such as signing up for a trial membership or making a purchase.
You should also consider using social media analytics tools such as Hootsuite or Sprout Social to gain insights into how users are interacting with your brand across different platforms. These tools allow you to track engagement metrics like likes, shares, comments and more.
Adjust Your Strategy Based on the Data You Collect
Once you've collected enough data through various analytics tools, it's time to analyze it and make necessary adjustments in order to improve the performance of your marketing campaigns. For example, if you notice that most of your website visitors are dropping off on one particular page rather than converting into leads or customers then it might be time to revisit that page's content or layout.
Similarly, if a particular social media platform is generating more engagement than others, you can allocate more resources towards developing content for that specific platform. By analyzing the data regularly and making informed decisions based on it, you can optimize your marketing campaigns over time and achieve better results.
Read More:
How do I attract people to my new gym?
To attract people to your new gym, it's crucial to utilize a combination of digital and traditional marketing strategies. Start by creating a visually appealing website that highlights your gym's unique features, services, and membership options. Utilize social media platforms to engage with your target audience, share valuable content, and run targeted advertising campaigns. Consider hosting events or fitness challenges to generate buzz and attract potential members. Collaborate with local businesses or influencers for cross-promotions and partnerships. Implement referral programs to incentivize your existing members to bring in new ones. Additionally, prioritize customer satisfaction and encourage positive online reviews to build trust and credibility in your community.
What are some effective ways to promote my new gym within the local community?
Promoting your new gym within the local community is essential for generating awareness and attracting members. Start by distributing flyers or brochures in high-traffic areas such as local businesses, schools, and community centers. Partner with local events, charity organizations, or sports teams to sponsor or participate in community activities. Offer special discounts or partnerships to local employers or corporate wellness programs to encourage their employees to join your gym. Utilize local directories and online platforms to ensure your gym's presence in local search results. Actively engage with local residents through social media, attending community events, and leveraging word-of-mouth marketing.
How can I leverage social media to market my new gym effectively?
Social media can be a powerful tool for marketing your new gym. Start by identifying the social media platforms that are popular among your target audience and create compelling profiles for your gym. Share engaging content such as workout tips, success stories, and behind-the-scenes glimpses of your gym. Run targeted advertising campaigns to reach potential members in your local area. Encourage user-generated content by creating hashtags or hosting challenges that members can participate in and share on social media. Engage with your audience by responding to comments, messages, and reviews promptly. Utilize social media analytics to track the performance of your posts and campaigns and make data-driven adjustments to optimize your social media marketing strategy.
How important is online reputation management for marketing a new gym?
Online reputation management is crucial for marketing a new gym as it directly impacts your brand image and the perception potential members have about your business. Actively monitor and respond to online reviews and comments, both positive and negative, to show that you value member feedback. Encourage satisfied members to leave positive reviews on platforms like Google, Yelp, and Facebook. Address any negative feedback or concerns promptly and professionally, seeking resolutions whenever possible. By actively managing your online reputation, you can build trust, credibility, and a positive perception of your gym among potential members.
What role does content marketing play in marketing a new gym?
Content marketing plays a significant role in marketing a new gym by providing valuable and engaging information to your target audience. Create a blog on your website where you can share fitness tips, nutrition advice, workout routines, and success stories. Develop content that addresses common fitness challenges or goals your potential members may have. Optimize your content for search engines to improve your website's visibility in organic search results. Share your content on social media platforms, email newsletters, and relevant online communities to expand your reach and attract potential members. By consistently delivering high-quality content, you establish yourself as an industry expert and build trust with your audience.
How can I use influencer marketing to promote my new gym?
Influencer marketing can be an effective strategy to promote your new gym, especially if you can partner with influencers who have a relevant fitness or wellness-focused audience. Identify local fitness influencers or micro-influencers with an engaged following and a genuine interest in your gym's offerings. Collaborate with them to create sponsored content, such as workout videos, gym tours, or reviews. Offer them exclusive access to your gym, free memberships, or promotional codes to share with their audience. This strategy can help increase brand visibility, reach new potential members, and leverage the influencer's credibility and trust among their followers.
What are some ways to differentiate my new gym from competitors in the market?
To differentiate your new gym from competitors, focus on your unique value proposition. Identify what sets your gym apart, whether it's specialized classes, state-of-the-art equipment, highly trained staff, or a supportive community atmosphere. Highlight these unique selling points in your marketing materials, website, and social media content. Offer personalized experiences and exceptional customer service to create a memorable and positive gym experience. Engage with your members and actively listen to their feedback to continuously improve your offerings. By consistently delivering on your promises and providing a standout experience, you can establish a strong brand presence and attract members who resonate with your gym's distinct offerings.
Get Started Marketing Your New Gym
Marketing is essential to the success of any business, and a new gym is no exception. Without effective marketing, it can be challenging to attract new members and grow your gym's brand. A well-executed marketing strategy can help you reach potential customers, build relationships with local businesses and influencers, and differentiate your gym from competitors.
To successfully market a new gym, you should first define your target audience by identifying potential customers and understanding their needs and preferences. Developing a strong brand identity that includes a unique name, eye-catching logo, and consistent messaging can help differentiate your gym in a crowded market. Building an online presence through search engine optimization (SEO) tactics and social media engagement is another critical step in marketing your new gym.
Promotions like free trials or discounts can help attract new members while hosting fitness classes or workshops can showcase your gym's offerings. Building relationships with local businesses and influencers can further expand your reach.
Overall, creating an effective marketing strategy takes time, energy, resources but it ultimately pays off by attracting customers to join your facility. By following these steps outlined in this article not only will you increase membership but also establish yourself as top-of-mind within the industry.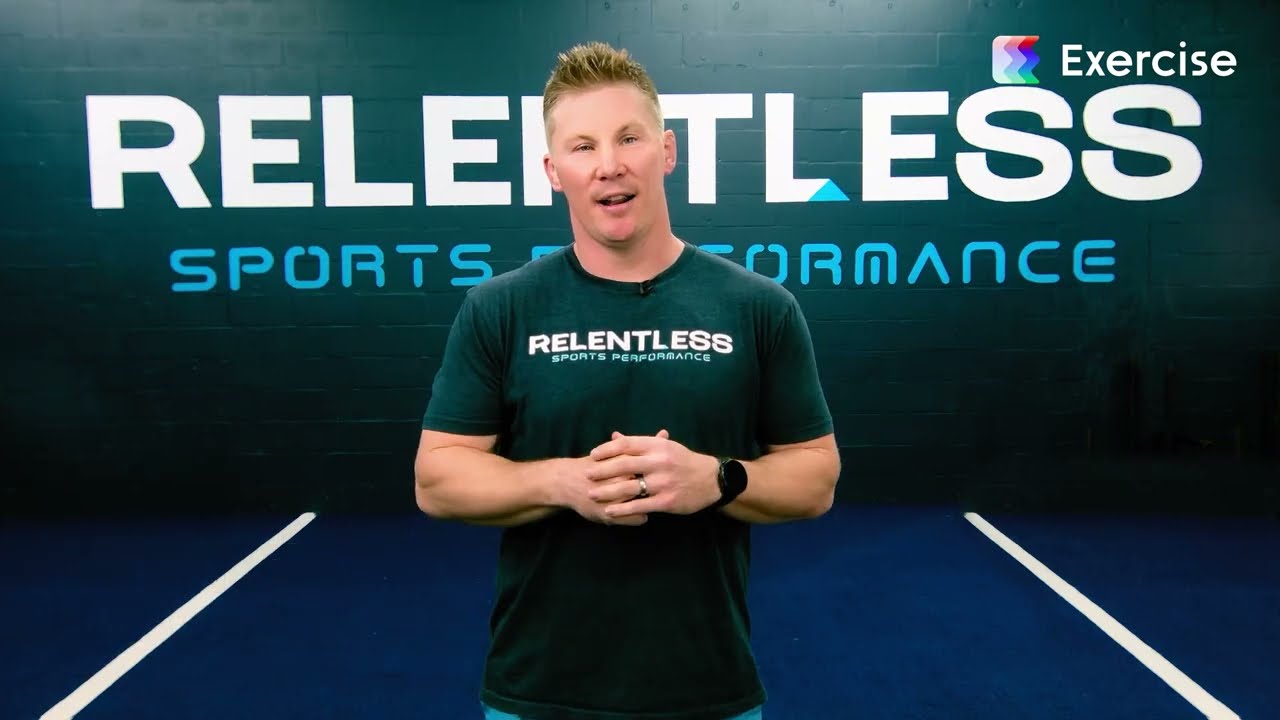 If you want to offer an elite service for the end user you need to get with the times and use elite level software that is intuitive, visually appealing, and effective. That is exactly what Exercise.com delivers to its clients.
Jimmy Myers
Owner/Trainer, Relentless Sports Performance
Want to get a tour of the best gym technology software solution?