Key takeaways
The fitness industry relies on hashtags to create a feeling of community online.
There are six ways to implement hashtags on Instagram to gain attention.
Fitness hashtags are extremely popular; we list the top 100.
Implementing hashtags takes a little bit of strategy, but overall, is extremely easy to do.
You should aim to post on Instagram between one to three times per day.
No matter what level of experience you have on Instagram, using hashtags is a fairly simple process. As you post before and after pictures, a video of your new workout, or a tasteful photo of the ingredients you used in today's breakfast, include a short caption and some hashtags—which sends the algorithm into motion, categorizing photos and video content to help it get discovered later. Below, we breakdown the uses of hashtags, explain how to utilize them, and give you the top 100 hashtags used within the fitness community.
Once you start to gain traction with new clients learning about your business, you'll need to find a way to manage them all. Book a demo to try our All-in-One Business Software today!
What Is a #Hashtag?
According to Lyfe Marketing, a hashtag on social media is a keyword or phrase preceded by the hash symbol (#). A hashtag is spelled out without spaces. People search hashtags on their favorite social media websites to discover more of what they're interested in.
Hashtags are a great way to:
Build your company's brand
Boost a marketing campaign
Keep in touch with your audience
Lyfe Marketing also showcases the practicality of hashtag usage:
You can categorize your social media posts based on topic, purpose, or marketing campaign.
You can create your own branded hashtag to help you monitor your visibility on social media. This way you'll be able to see how many people are posting with your hashtag.
You can raise awareness of your business and get more customers
Capitalizing on this massively popular trend is a great way to grow your followers and increase exposure. If you're a business or influencer, or just want to share tips and find inspiration, using the right fitness hashtags in your posts and stories gives you a real chance to expose your accounts to a bigger audience.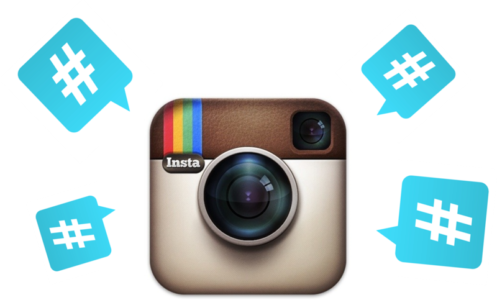 How Hashtags Work in the Fitness Community
The fitness community has taken over Instagram. There are influencers who post their every move, including their workouts and daily meals. Business owners are attempting to gain traction by implementing tutorials, exercise guidance, nutritional guidance, and more. Lastly, everyday people are showcasing their fitness journeys to stay accountable and to hopefully inspire others. If you have a fitness business, are wanting to build a business within the fitness industry, and/or you are seeking a fitness community, having an Instagram account (and utilizing #hashtags) is a must!
Social Media Today broke down six distinct ways that hashtags can be used to build one's business/following, we break down those six ways below:
Boosting posts and profile reach
Since hashtags are searchable and mostly clickable, they are a great way to boost the organic reach of your social media postings. Using these hashtags could help to place your content in front of your ideal and target market/audience.
Finding and joining conversations on social media
The searchability of hashtags can also help you to find conversations and trending topics. Being a part of a trending topic can offer your brand or business exposure.
Social research and development
Using the conversations we mentioned previously can help to see the current trends within your audience which will help you to create content and expand your offerings catered to the target market. Therefore, using the hashtags for research and development can bring your business value.
Creating your own branded hashtag
The ability to create your own hashtag can help reinforce your branding, keep track of your user-generated content, and overall, allows you to keep track of the success of your campaigns.
Driving engagement and conversation during events
Hashtags allow attendees to post about the event, interact with others who are attending, and the speakers/headliners can utilize the event hashtags as well. This helps to keep everyone updated on event information and/or any news that needs to be repeated.
Building a community
Hashtags give business owners an opportunity to build a community online. Users can chat using the hashtags at the end of their sentences to converse back and forth.
See for yourself - Meet with the Exercise.com Team today
Grow and manage your fitness business better with Exercise.com
The Most Popular Hashtags Within the Fitness Industry
Fitness (General)
Looking to become the next fitness influencer of Instagram or have a great workout plan to share? Adding these hashtags to your posts can not only attract followers but can help others, whether they are looking to take that first step or need more motivation. Remember to include niche hashtags as well to target a smaller following and to ensure that your posts really stand out. 
#Fitness #Instafit #Getfit #Fitspiration #Fitnessaddict #Fitnessmotivation #Fitnesslife #Fitnesslifestyle #Fitnessgoals #Fitnessfreak #Fitnessfreaks #Fitnesstips #Fitnessinspiration #Fitnessblogger #Fitnessfun #Fitnessjourney #Fitnessgoal #Fitnessfood #Fitnesslove #Fitnesstransformation #Fitnesscoach #Fitnessforlife #Fitnessphysique #Fitnesswear #Fitnessjunkie #Fitnessguru #Fitnessaddicted
Workout & Gym
Instagram is a huge market for online personal trainers, gym owners, or those looking to get more exposure. If you are looking to increase your followers, clients, and ultimately, revenue, add these hashtags. Even brick-and-mortar gyms can benefit from a well-planned social media strategy.
#Workout #Workouts #Workoutmotivation #Gym #Gymlife #Gymmotivation #Gymtime #Gymrat #Physique #Shredded #Ripped #Gainz #Gains #Gymjunkie #Gymaddict #GirlsWhoLift #Workoutvideos #Workhardplayhard #Workoutroutine #Workouttime #Workoutclothes #Gymfit #Muscle #Train #Training #NoPainNoGain #GetStrong #Trainingday #TrainHard
Bodybuilding
Preparing for the stage of your next bodybuilding competition and want to take others along for the journey? Tired of people asking you for workouts? Increase your following, engage your fans, and invite others along with you as you head to the gym.
#Bodybuilding #Bodybuildingmotivation #Bodybuildinglifestlye #Strongwomen #Powerlifter #Powerbuilding #Liftingweights #Weightlifting #Olympiclifting #Olympicweightlifting #Powerliftingmotivation #Squats #Benchpress #Absworkout #Legworkout #Legday #ChestDay #Backday #Arms #Shoulderworkout #Glutes #Lats #Pullups #Deadlift #Biceps
Health (General)
Whether you're looking to be featured on a magazine or want to be a part of a community with like-minded and health-and-fitness-oriented people like yourself—exchanging recipes, "healthy" sweet treats, and brand new workout routines—Instagram gives you access to healthy users like you. By featuring specific hashtags as well, you'll be able to connect with other niche enthusiasts.
#Health #Healthy #Wellness #Healthylifestyle #Healthandwellness #Healthychoices #Healthytips #Exercise #Transformation #Workout #Getfit #Gym #Healthyfood #Cleaneating #Mealprep #Healthymeals #Eathealthy #GetHealthy #HealthyLife #HealthTalk #MindBodySoul
Motivation/Inspiration
It's actually part of some people's workout routines to look on Instagram for ideas and inspiration. Be that inspiration! By choosing your photos and posts to help others get up and moving, you can create a following and create revenue! Use these hashtags to help get traffic from those inspiration-seeking gym-goers to your site.
Weekday Specific
Every day can be another day to train. Using these fitness day hashtags can give you a bit of a variety to gain more followers, no matter what day of the week it is. Like an exercise diary, use these on a daily basis—all seven days of the week.
Monday: #motivationmonday #medalmonday #meatlessmonday
Tuesday: #transformationtuesday
Wednesday: #womencrushwednesday #workoutwednesday
Thursday: #tbt
Friday: #flexfriday #fitnessfriday
Saturday: #sweatysaturday
Sunday: #sundayrunday
Implementing #Hashtags
While knowing all of the popular hashtags is helpful, you ultimately need to know how to implement the #hashtags correctly. Once you've selected the hashtags that make sense for your brand, use them on every post. You have the opportunity of using up to 30 hashtags per post; by maximizing the amount you use, the better your chances are of reaching more people. You can choose to include your hashtags in your post caption or a comment.
Social Buddy lays out an overview of how to implement #hashtags into your marketing:
The more specific hashtags you use, the more likely it is that your post will get noticed, wherein a generic hashtag like #fitness there are over 300 million posts for yours to compete with. Social media gurus recommend using 11 or more hashtags to really get your post out there and attract likes and followers. Include one or two major hashtags and then focus in on more distinct hashtags with fewer posts to make your post stand out.
Frequently Asked Questions (FAQ)
Is it better to add hashtags to a post or into the comments?
Either way works. However, many social media gurus recommend placing them into the first comment under your post so that readers can enjoy your post without all of the hashtags seeming too spammy. If you are planning on using a popular hashtag, however, placing it in the body of your post is the better choice as hashtags are time-sensitive.
Should we only utilize the popular hashtags listed above?
No. Use the popular hashtags above intermittently. #fitness has over 200 million posts, while #healthy has over 100 million, and #workout has 88 million posts. Therefore, when you're choosing the hashtags for your next post, don't forget to use ones that may have a smaller, yet more engaged following so your post has a chance to stand out.
How often should one post on Instagram?
You should aim to post on Instagram between one to three times per day. Major brands post on average of 1.5 times per day, so if you aim to follow the same rule you should do well. Thankfully, there are many ways to create your posts ahead of time and schedule them accordingly.
Do the hashtags only work on Instagram?
No. Hashtags are used on many platforms. Hashtags are prevalent with Twitter, Facebook, Pinterest, and LinkedIn. Each platform will likely have a different set of "popular" hashtags, so be sure to research those accordingly to gain greater exposure.
Mastering hashtags is only half of the battle when it comes to running a fitness business. Contact us today for a demo of our All-In-One Fitness Business Management Software to see how you can run your business efficiently and effectively.