How to Live Stream Fitness Classes Online in 2023
Learn how to live stream fitness classes online for group fitness classes, host virtual fitness classes for gyms, and offer live stream fitness classes online for free to your community. Live streaming fitness classes have become increasingly popular in recent years, especially with the rise of virtual workouts and remote training options.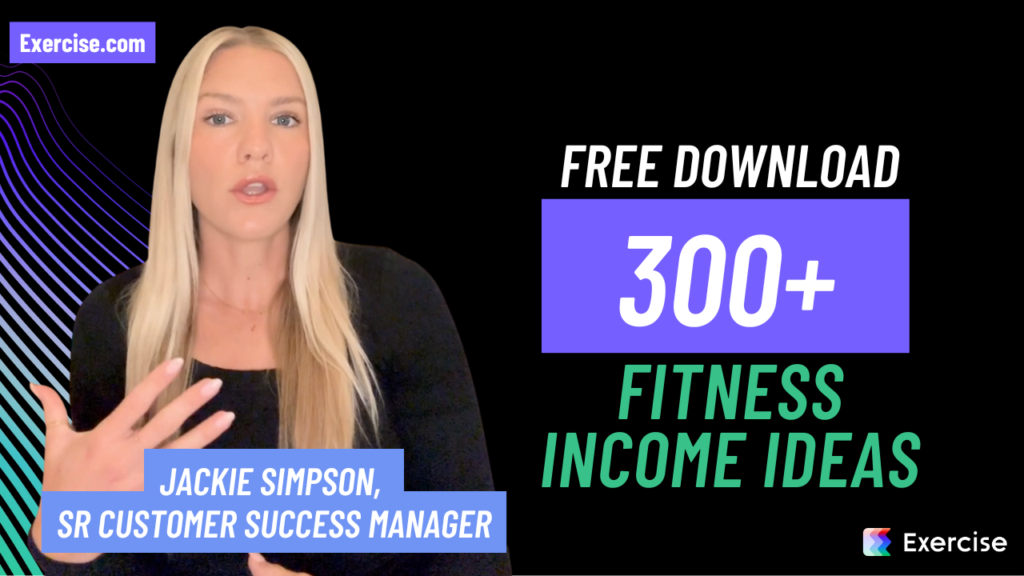 This article will guide you through the process of livestreaming group fitness, covering everything from the benefits and platform selection to essential equipment and participant engagement. By the end, you'll have a comprehensive understanding of how to successfully navigate the world of live streamed group fitness. Learn how to livestream group fitness classes and engage your audience from the comfort of their own homes, and then use the best fitness livestreaming software and decide if you want to start your own fitness streaming business selling workouts, online membership groups, and more—all through your own custom branded fitness apps.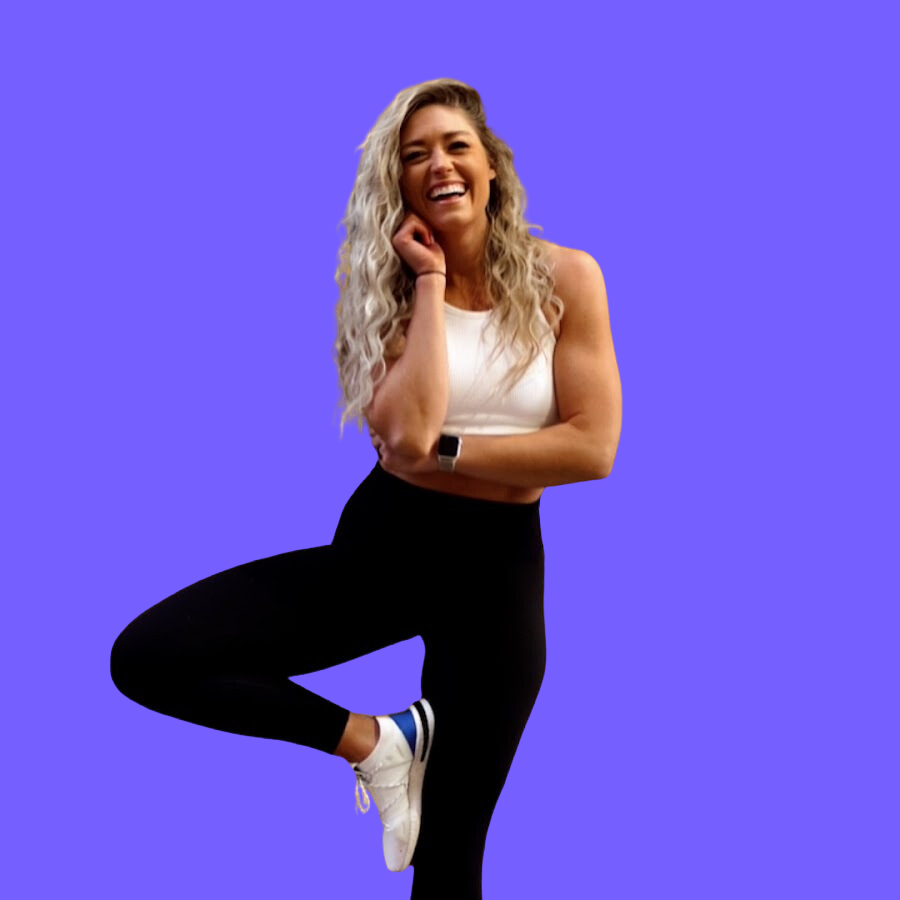 Our overall experience with Exercise.com is a breeze. We love how easy it is to integrate this app with our current workflow while providing great fitness programs for our customers and save us time in the process.
Julie Ledbetter
Owner, Ledbetter Fitness
Start Hosting Virtual Workout Classes Online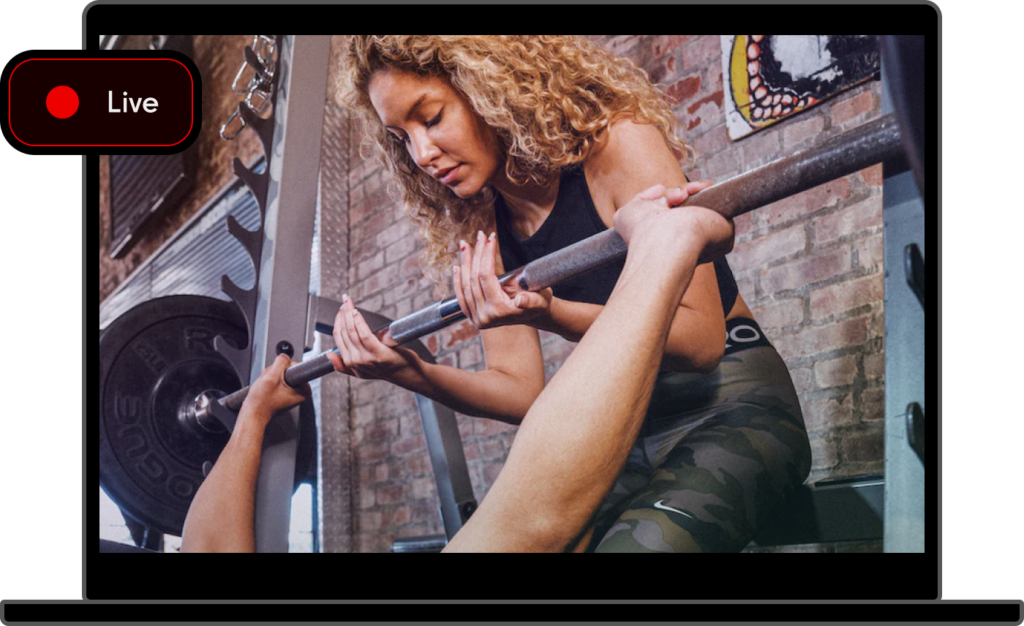 If you're considering live streaming fitness classes, there are a few things you'll need to do before hitting "record." Use the tips below to learn how to live stream your workouts, what you'll need to do so, and why streaming fitness classes online is a great way to boost revenue. Live streaming fitness classes is the perfect antidote to social distancing antipathy. Continue reading to discover tips and benefits of streaming fitness classes online.
The Entrepreneurs of Streaming Fitness Classes Online
The Equipment for Streaming Fitness Classes Online
The Execution of Streaming Fitness Classes Online
Even for seasoned workout warriors, conducting online fitness classes can be a challenge. Not to worry, below, we are going to share some tips for live streaming fitness classes online that will boost your confidence and ensure your success.
The key is to just keep it as simple as your days in grade school and remember: Who, What, When, Where, Why, and How.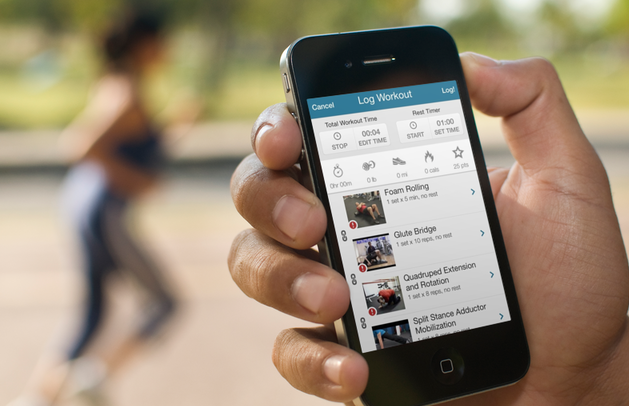 "My custom-branded apps have made my life easier and helped streamline my online training, which in turn has transformed into a pretty awesome additional revenue stream for me and my family."
Tony Gentilcore
Founder, Core Online
After reading, be sure to get a demo to learn more about how our best online gym management software, best online personal training software, and best online training software for fitness influencers can help you reach more clients across the globe, and grow your fitness business online.
Now, let's dive in.
Who Can Live Stream Fitness Classes?
The simple answer to this is, well, anyone. It's recommended that you have the credentials in your field of choice prior to training others, but there are no "rules" per se since you do not need to be certified to sell workouts online. Live streaming an exercise class does not fall under the same umbrella as only being able to practice medicine in the state you're licensed in.
A better question may be, "Who typically live streams fitness classes?" It's safe to say, no matter your niche, there's an audience for you; but here are three subgroups that have really taken advantage of the online training boom:
Personal Trainers (and other Fitness Professionals) – Depending on what part of the country (or world for that matter) you live in, access to a traditional gym or workout facility has been, at times, limited and inconvenient. Personal trainers and other fitness professionals can stay connected to their current clients and reach thousands (and potentially millions) of potential clients by showcasing their services through streaming online fitness classes. In fact, the best fitness professionals have been able to adapt and incorporate online classes as part of their fitness business model and delivery of service.
Yoga Instructors – When studios and public spaces all across the globe were forced to shut down due to the coronavirus pandemic, many yoga instructors and yogis demonstrated their flexibility by pivoting to offering yoga sessions online (this goes for pilates and barre instructors, as well).
Nutritionists/Dietitians – Nutrition is a significant component of fitness and wellness and that component can also be enhanced through live streaming. Dietitians and nutritionists can live stream helpful tips for pre-workout and post-workout snacks/meals.
Read More:
What Do I Need for Live Streaming a Fitness Class?
The "What" of live online fitness classes boils down to having the proper equipment, a stable Internet connection, and engaging exercises.
Equipment Needed for Live-Streaming a Workout
As a fitness instructor tasked with live-streaming a class, it can be easy to focus so heavily on the broadcasting component of the stream – and the equipment required – that you forget about the workout equipment that will be used while you're streaming. Here are tips on both sets of equipment needed for a successful fitness live stream:
For the Workout:
Be practical. Many of your viewers will be working out from their homes, so (as much as possible) stick to exercise equipment that is portable, accessible to the majority of your participants within their homes, or easily acquirable.
The following items are must-haves for any live streaming home gym: yoga mat, jump rope, medicine ball, light free weights (3-, 5-, or 10-pound dumbbells or kettlebells), resistance bands, hula hoop, and a foam roller. If you're targeting a specific niche, like, for example, powerlifting, you should have a suitable home gym set up so you can walk your viewers through the program as prescribed (in this case, having a barbell, plates, rack, and bench are required).
For the Broadcast:
High-definition camera. It doesn't matter if you use a good smartphone, a computer webcam, or a separate Handycam—just make sure it is capable of high-quality transmissions and has a wide-angle lens.
A tripod. Save yourself the hassle and heartache of trying to balance your laptop or phone on a stack of books. Invest in a sturdy, versatile tripod that can capture all of your movements from a safe and stationary position.
Microphone. You can use a Bluetooth headset or a small wearable mic to ensure that your viewers are receiving your instructions loud and clear as they participate in your online fitness classes.

Note: If you plan on having music on in the background, be wary of music rights. Epidemic Sound is a great royalty-free background music subscription service that many online trainers and YouTubers recommend.
Read More: How to Choose the Best Webcam for Fitness Streaming
Invest in Reliable Wi-Fi
Nothing can derail your online live streaming fitness business faster than a shoddy internet connection. Make sure you have enough bandwidth to smoothly deliver your classes to the masses online.
Consider investing in a Wi-Fi extender to give your streaming capacity a boost before you broadcast; and, if you have the ability to upgrade your service, you may want to consider doing so. While it will cost you more each month, it will be worth the investment to ensure that your streams come through without interruption.
Create Scalable, Home-Based Workout Routines
You can create workout routines on the Exercise.com platform and then sell them in custom branded fitness app that have your branding, your content, and your aesthetic.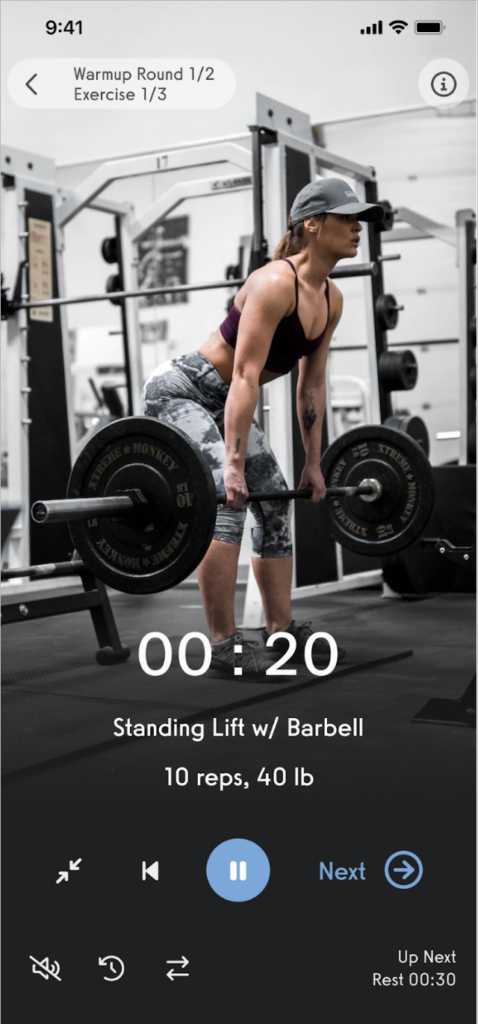 When streaming fitness classes online, you have to be aware that you'll be interacting with a varied group of participants with differing levels of energy, expertise, and experience when it comes to working out. You should design routines for your group fitness class that reflect that diversity.
Start with a consistent warm-up and cool-down routine; this will not only reinforce proper movement and technique but also give every viewer a level baseline from which they can ease or spring into the workout based upon their skill level. Then, when you begin your demonstrations, make sure to include modified and amplified versions of exercises that will decrease or increase the rigor of the exercises according to the needs and abilities of the participants.
Also, don't forget to monetize your fitness community who may not be able to workout live with you. You can make money selling workout plans online, offering a fitness apps with workouts pre-loaded, and more.
I sold a workout program and matched my yearly salary of in-person training within two weeks of selling to my community!
Paul Fabritz
Founder and BS, CSCS, NSCA-CPT, ACE, FMS, PJF Performance
Read More:
When Should I Live Stream My Fitness Class?
Think about when your classes at your brick-and-mortar location are the busiest, or when you usually have the most requests for personal training sessions. Chances are, these are safe places to start. However, with more people working from home, you may find that you have more-than-usual interest in a lunchtime stream or a stream at a time when people would usually be commuting to and from work.
No matter what time of day you choose to hold your live broadcast, make sure to be prompt. If you advertise that the class will begin at 10:00 AM EST, then start at 10:00 AM EST (not 10:05 or 10:10).
And if you promote an hour-long class, make sure to begin to wrap things up at the 50- or 55-minute mark so that you can deliver final instructions and your viewers can cool down properly. You can use those last five to ten minutes to provide helpful post-workout routines and habits to your participants. Be respectful of your clients' time and it will increase the likelihood that they will be repeat customers.
Where to Film Your Live Stream
You have two options: indoors and outdoors. Both have advantages and disadvantages.
Outdoor Live Streaming
Conducting your live stream outdoors gives you the advantage of natural light exposure – and plenty of opportunities to be creative and varied in the background and ambiance you present to your audience. If you do choose an outdoor setting, make sure to isolate or seclude yourself to a certain degree.
You don't want your session to be disrupted by random joggers and cyclists in a public park, nor do you need your class participants distracted by unwanted sounds of cars or trains passing by in the distance. If you opt for filming your fitness class outdoors, it's wise to invest in a good mic so that your voice is not drowned out by the natural noises that the outdoor world offers.
One big downside of live streaming outdoors is that you're at the mercy of the elements. Depending on the scheduled length of your session, you may run into a surprise sunshower or thunderstorm. So, if you're planning to be outdoors when streaming fitness classes online, make sure you're paying close attention to the local weather forecasts on a regular basis. If there's a good chance of rain, it's better to be safe than sorry and conduct your session indoors.
Indoor Live Streaming
When live streaming fitness classes indoors, be mindful of the acoustics and the surroundings. Make sure that your space is both echo-free and clutter-free. Nothing dispels the mood of an enthusiastic workout faster than poor sound quality and disorganized space. If you invest in some sleek, soft fabric furniture and a couple of colorful rugs, you'll create a workout area that is both aesthetically pleasing and acoustically practical.
Make sure that your indoor space has locks on the door to keep out uninvited "guests" from interrupting your live stream. Make a "Do Not Disturb" or "Do Not Enter" sign and hang it outside the doors while you're conducting a class. This will prevent any awkward intrusions into your space by friends, family members, or pets. And it will save you from having to have an uncomfortable conversation with that unsuspecting intruder at the conclusion of your session.
Why You Should Live Stream Your Workouts
The coronavirus and the ensuing social distancing regulations and lockdowns have threatened the physical and mental well-being of many people all around the world, pushing them to the precipice of depression. This sobering reality has returned our focus to the importance of self-care and reminded us of the symbiotic relationship between physical activity and mental wellness.
Streaming fitness classes online allows coaches and clients to continue or restart their physical activity to combat the bouts of depression that can be caused by inertia. Even though there exists physical separation due to the implementation of safety protocols, live streaming group fitness classes allows for interpersonal connection and a sense of community among the participants. The exercise and social interaction of these group classes have been proven time and time again to help alleviate depression and stress.
How to Live Stream Fitness Classes
Prepare
Preparation is the key to having sustained success in streaming fitness classes online. TEST EVERYTHING! Test your internet connection. Test your lighting. Test your camera. Test your microphone. Send a test link to the live stream to make sure it works. You get the point. Don't leave anything to chance. Make sure you have done all the prerequisite preparation for all of your equipment to minimize the possibility of anything problematic occurring when you go live.
This goes for clothing, too. When it comes to what to wear when live streaming, test the outfit you're planning on wearing. Steer clear of clothing with another company's logo on it. Wear a shirt with your company's name or logo and shorts/leggings with no logos. And don't wear something that is going to have you blending into the background like a white outfit with a white wall behind you.
Practice
With any good live performance in the theatre, in a concert hall, or in front of a studio audience, many hours of rehearsal time were clocked in before the official showtime. Your live group fitness classes online should be no exception.
While you don't need to devote dozens of hours to practicing your routine, you should, however, allow yourself one to three "dry runs" where you can block out your specific exercises and your transitions from one activity to the next. This will help you to pace yourself and communicate more clearly when it's time to perform in front of your live streaming audience.
Present
Finally, once you've nailed down your preparation and practice, all that's left to do is hit "record." Have fun and be engaging. Make it so that everyone, regardless of their level of expertise, feels like they're getting some value out of your time together. Remember to stress safety above all. You won't get many repeat attendees to your live streaming fitness classes if they walk away from your session with an injury.
Make sure to introduce yourself, to demonstrate proper warm-up and cool-down exercises, and to model the proper movement and techniques for the various activities you employ. Be sure to give both visual and verbal cues to reach the various learning modalities of your participants.
Your clients are more desirous for an enjoyable and productive experience with you than a perfect one, so don't stress out if things do go exactly as you planned. If any issues do pop up (as any trained thespian knows, unexpected issues can arise even when you have prepared thoroughly), address them, acknowledge them with your audience, and continue.
Ultimately, the goal for you and your participants is to promote good health and to have some fun while doing it. So, keep it simple and stay active. Together.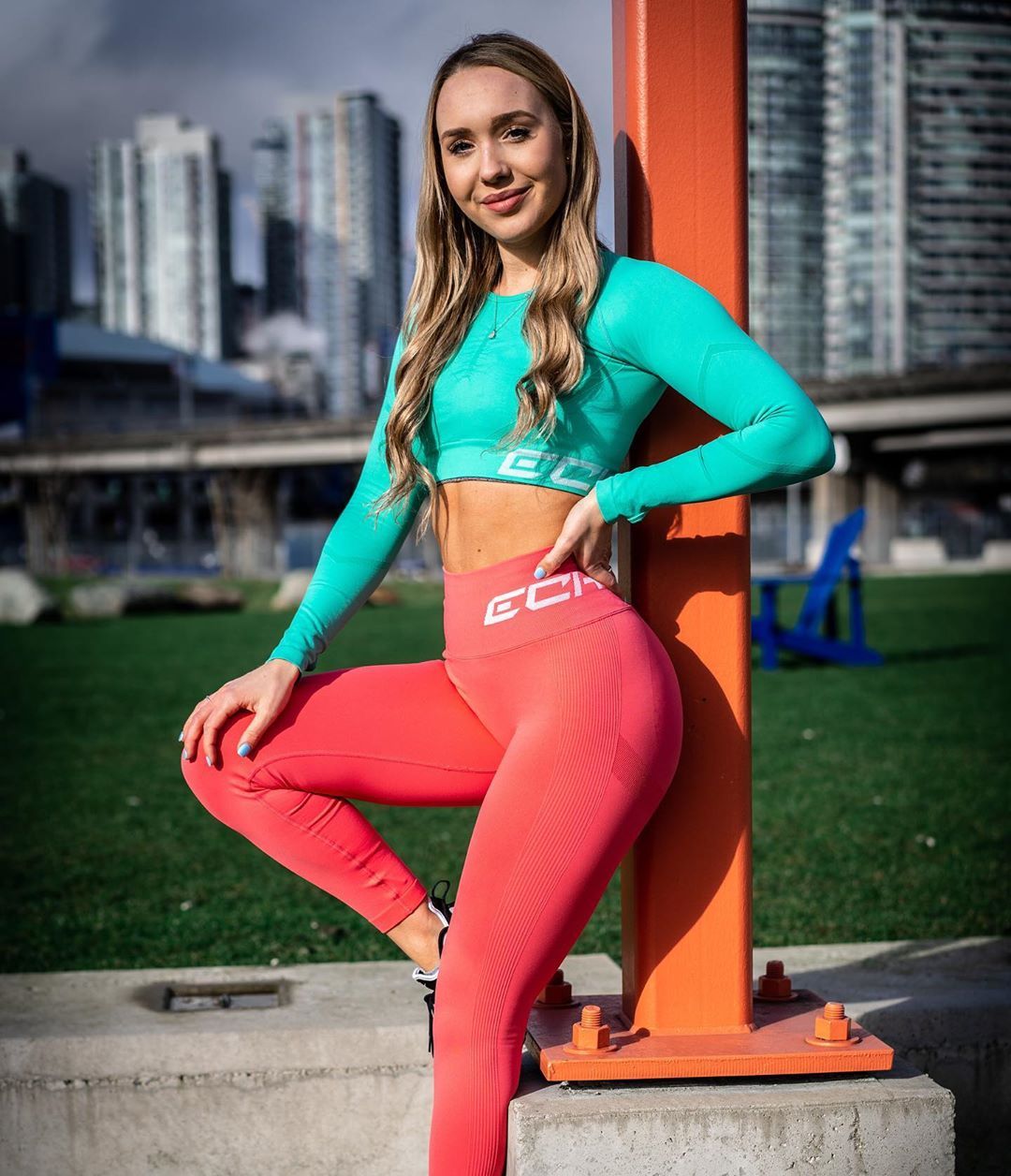 Exercise.com is amazing! Positively surprised by the efficiency at responding and helping out!
Erica Nangle
Owner, Erica Nangle Fitness
To start live streaming your fitness classes today, connect with us for a free software demo.
The Benefits of Livestreaming Group Fitness Classes
Livestreaming group fitness classes offers numerous benefits for both fitness instructors and participants. For instructors, it allows you to reach a wider audience, expand your client base, and offer more flexible scheduling options. It also eliminates the need for a physical location, reducing overhead costs. For participants, livestreaming provides convenience, as they can join classes from the comfort of their own homes or while traveling. It also allows them to access a broader range of classes and instructors, providing variety and opportunities to discover new fitness styles.
Another benefit of livestreaming group fitness classes is the ability to interact with instructors and fellow participants in real-time. Through chat features or live Q&A sessions, participants can ask questions, receive immediate feedback, and engage in discussions with others. This creates a sense of community and support, even in a virtual setting.
Additionally, livestreaming group fitness classes often offer the option to replay or access recorded sessions. This means that participants can revisit classes they enjoyed or missed, allowing for flexibility in their workout schedules. It also provides the opportunity to practice and improve techniques at their own pace, without the pressure of keeping up with a live class.
Choosing the Right Platform for Livestreaming Group Fitness
When it comes to selecting a platform for livestreaming group fitness, there are several factors to consider. Firstly, ensure the platform is user-friendly and accessible for both instructors and participants. Look for features like chat or messaging capabilities, virtual hand raising, and screen sharing options. Additionally, consider the platform's stability and reliability, as technical glitches can disrupt the flow of a class. Popular platforms for livestreaming group fitness include Zoom, YouTube Live, and Facebook Live. It's worth experimenting with different platforms to find the one that best suits your needs and the preferences of your participants.
Another important factor to consider when choosing a platform for livestreaming group fitness is the ability to monetize your classes. Some platforms offer built-in payment systems or integration with third-party payment processors, allowing you to charge participants for access to your classes. This can be a great way to generate income and support your fitness business.
Furthermore, it's essential to think about the scalability of the platform. If you plan on growing your group fitness classes and reaching a larger audience, you'll want a platform that can accommodate a high number of participants without sacrificing performance. Look for platforms that offer scalability options, such as the ability to upgrade your plan or handle large attendee numbers. With Exercise.com, we have a full Zoom integration that makes running your fitness classes online a breeze (and collecting payment, sending reminders, and more—all through a professional experience fully custom branded to your business).
Read More:
Essential Equipment for Livestreaming Group Fitness
While livestreaming group fitness classes requires minimal equipment compared to in-person sessions, there are a few essentials to consider. Firstly, invest in a good quality webcam or smartphone with a high-resolution camera. This will ensure that participants can clearly see and follow your movements. Additionally, consider using a microphone or headset with a built-in microphone to ensure clear audio. A stable internet connection is crucial, so make sure your connection is fast and reliable. Lastly, consider your lighting setup to ensure you are well-lit and easily visible to participants.
Setting Up Your Livestream Studio for Group Fitness Classes
To provide an engaging and professional livestreamed group fitness experience, it's important to set up a dedicated studio space. Choose a room with adequate space for you to move around freely and consider the acoustics of the room to minimize background noise. Decorate your space in a way that aligns with your brand and creates a motivating environment. Test different camera angles and positions to find the best setup that allows participants to see your full range of movements. Make sure your studio is well-lit to enhance visibility, and remove any clutter or distractions from the frame.
Preparing Your Participants for a Livestreamed Group Fitness Class
Prior to starting a livestreamed group fitness class, it's important to communicate with your participants and provide clear instructions on how to join the class. Send out reminders and instructions via email or your chosen communication platform. Emphasize the importance of having a stable internet connection and suggest participants test their audio and video settings in advance. Provide any necessary equipment or modifications in advance, so participants can come prepared. Encourage participants to create a comfortable and distraction-free workout space at home, and remind them of any class-specific guidelines or requirements.
Creating Engaging and Interactive Workouts for Livestreaming Group Fitness
To keep participants engaged and motivated during a livestreamed group fitness class, it's important to ensure your workouts are interactive and varied. Incorporate elements of partner or team work, where participants can interact with each other through virtual breakout rooms or discussion platforms. Use music and visual cues to guide participants through the workout. Consider incorporating interval training or circuit formats to keep the intensity high and avoid monotony. Utilize props or equipment that participants can easily find at home, such as resistance bands or water bottles. Encourage participants to ask questions or provide feedback through the chat feature, and acknowledge and respond to their comments to create a sense of connection and community.
The Importance of Clear Audio in Livestreaming Group Fitness Classes
Clear audio is crucial in livestreaming group fitness classes as it ensures participants can follow instructions effectively. Invest in a good quality microphone or headset with a built-in microphone to ensure your voice is crisp and audible. Avoid speaking too softly or too loudly, and enunciate clearly to ensure participants can understand you. Consider using background music that enhances the workout experience without overpowering your voice. Regularly test your audio setup before each class to ensure everything is functioning properly and make adjustments as needed.
Lighting Tips for Livestreaming Group Fitness Classes
Proper lighting is essential for achieving a professional and visually appealing livestreamed group fitness class. Natural light is ideal, so choose a room with large windows or set up your studio near a well-lit area. If natural light is not available or consistent, invest in lighting equipment such as ring lights or softboxes to create even and flattering lighting. Position the lights in front of you and experiment with angles to minimize shadows and ensure your face and movements are clearly visible. Avoid harsh overhead lighting or lighting from behind, as this can create unflattering shadows or silhouettes. Regularly check your lighting setup and make adjustments as needed to provide the best visual experience for your participants.
Promoting and Marketing Your Livestreamed Group Fitness Classes
Effective promotion and marketing are key to gaining participants for your livestreamed group fitness classes. Utilize social media platforms to advertise your classes, engaging with your existing audience and reaching out to potential new participants. Create eye-catching graphics or video snippets to showcase what participants can expect from your classes. Offer promotional discounts or special introductory rates to attract new participants. Collaborate with other fitness professionals or influencers to cross-promote each other's classes. Encourage your current participants to share their positive experiences and invite their friends to join. Utilize email marketing to communicate updates, new class offerings, and exclusive content to your subscribers. Consistency and creativity in your marketing efforts will help you build a loyal following for your livestreamed group fitness classes.
Read More: Gym Video Marketing Guide
How to Handle Technical Issues During a Livestreamed Group Fitness Class
Despite careful preparation, technical issues may still arise during a livestreamed group fitness class. It's essential to have a backup plan in place to quickly address and resolve these issues. Communicate with participants ahead of time about potential technical difficulties and how they will be handled. Have a contingency plan for switching platforms or restarting the livestream if needed. Let participants know how they can contact you for immediate assistance or troubleshooting during the class. Stay calm and composed if technical issues occur, and reassure participants that the class will resume as quickly as possible. Afterwards, reflect on what went wrong and take measures to prevent similar issues in future classes.
Incorporating Modifications and Progressions in Livestreamed Group Fitness Workouts
As a fitness instructor, it's important to cater to participants of different fitness levels and abilities, even in a livestreamed group fitness setting. Incorporate modifications and progressions into your workouts to ensure everyone can participate safely and effectively. Clearly explain the options for modifying or progressing exercises and encourage participants to listen to their bodies and choose the appropriate level for themselves. Provide visual demonstrations or cues for modifications or progressions to guide participants. Regularly check in with participants through the chat or messaging feature to see if they have any questions or need additional support.
Maintaining Participant Engagement and Motivation in Livestreamed Group Fitness Classes
To keep participants engaged and motivated throughout a livestreamed group fitness class, it's important to utilize various strategies. Begin each class with a warm-up that is both physically and mentally engaging, setting the tone for an energizing session. Incorporate frequent check-ins and encouragements throughout the class, both verbally and through the chat feature, to let participants know they are doing well and to keep them motivated. Use effective cueing and clear demonstrations to ensure participants understand and execute each exercise correctly. Add variety and surprises to your workouts, such as incorporating new exercises or challenging sequences, to keep participants mentally stimulated and excited for each class. Lastly, create a sense of community by fostering interaction between participants, such as through virtual high-fives, sharing achievements, or hosting virtual post-class chats.
Analyzing Metrics and Data from Livestreamed Group Fitness Classes
Collecting and analyzing metrics and data from your livestreamed group fitness classes can provide valuable insights into the effectiveness of your classes, participant engagement, and areas for improvement. Monitor metrics such as participant attendance, engagement levels, class duration, and feedback. Utilize platform analytics or third-party tools to gain quantitative data. Additionally, encourage participants to provide feedback through surveys or questionnaires to gather qualitative data. Regularly review and analyze these metrics to refine your classes, identify trends, and tailor your offerings to meet the needs and preferences of your participants.
Best Practices for Managing and Interacting with Participants in Livestreamed Group Fitness Classes
Managing and interacting with participants in a livestreamed group fitness class requires a different approach compared to in-person classes. Use the chat or messaging feature to greet participants as they join the class, creating a warm and welcoming atmosphere. Address participants by name when responding to their comments or questions, creating a sense of personal connection. Regularly engage with participants by asking for their input or suggestions, and acknowledge their contributions. Be attentive and responsive to their needs, providing modifications or clarifications promptly. After the class, encourage participants to share their experiences or ask follow-up questions through post-class communication channels. Regularly reflect on your interactions with participants and continuously strive to improve and deepen the relationships you build through livestreamed group fitness.
Expanding Your Reach: Reaching New Audiences through Livestreaming Group Fitness
Livestreaming group fitness provides a unique opportunity to expand your reach and attract new audiences. Consider offering themed or specialized classes to appeal to specific target markets or niche interests. Collaborate with other instructors or fitness influencers to co-host classes or promote each other's offerings to their respective audiences. Offer free trial classes or discounted rates for first-timers to encourage new participants to give livestreamed group fitness a try. Encourage your current participants to invite friends or family members who may be interested in joining. Utilize social media and online advertising to target specific demographics or geographic areas. By continually exploring new strategies and leveraging the reach of livestreaming, you can attract diverse participants and grow your livestreamed group fitness business.
By following these comprehensive guidelines for livestreaming group fitness, you can create engaging and interactive classes that provide value to participants and help you establish a successful online fitness business. Remember, mastering the art of livestreaming takes time and practice, so continue to refine your skills and adapt to the evolving needs of your participants. With dedication and a commitment to delivering quality fitness experiences, you can thrive in the digital landscape and inspire people to achieve their health and wellness goals through the power of live streamed group fitness.
Read More:
How do I host an online fitness class?
Hosting an online fitness class involves choosing a platform, planning your class content, promoting your class, and delivering the class effectively. Exercise.com provides a comprehensive platform that integrates with Zoom, allowing you to schedule, host, and promote your online classes. You can use the platform to communicate with members, manage bookings, and track participants' progress.
How do I start an exercise channel?
Starting an exercise channel involves identifying your niche, creating engaging content, and promoting your channel. Using a platform like Exercise.com can streamline this process, allowing you to host video content, manage subscriptions, and engage with your audience. The platform also provides tools for tracking user engagement and performance, which can guide your content creation.
How do I create an online fitness platform?
Creating an online fitness platform involves selecting a platform that offers the features you need, such as scheduling, booking, video hosting, workout tracking, and communication tools. Exercise.com offers a comprehensive platform that can be customized to suit your needs. You can brand the platform with your logo and colors, and the platform supports a wide range of features to engage your clients and manage your fitness business.
Read More: How do I create an online fitness platform?
How profitable is online fitness coaching?
The profitability of online fitness coaching depends on various factors, including your pricing, the number of clients you have, your operating expenses, and the value you provide. Online coaching can be highly profitable due to its scalability—you can serve many clients without the need for a physical location. Exercise.com's platform can support the profitability of your online coaching business by providing tools for managing clients, tracking workouts, scheduling sessions, and automating payments.
Read More: How profitable is online fitness coaching?
Can you use zoom for fitness classes?
Yes, you can use Zoom for fitness classes. It allows for real-time interaction, which can help create a more engaging workout experience. Exercise.com integrates with Zoom, allowing you to schedule and manage Zoom fitness classes directly from the platform. You can easily manage bookings, communicate with participants, and track their progress.
Read More: How to Use Zoom for Fitness
How to make and sell fitness programs?
Creating and selling fitness programs involves designing effective workout routines, creating engaging content, and marketing your programs. Exercise.com's platform provides a comprehensive solution for creating, selling, and managing fitness programs. You can create custom workout plans, track clients' progress, manage bookings and payments, and engage with your clients, all within the platform.
Read More: How to Make and Sell Fitness Programs Online
How do I become an online fitness influencer?
Becoming an online fitness influencer involves building a following by providing valuable, engaging content, interacting with your audience, and promoting yourself and your services. Exercise.com's platform can support your journey by providing tools for hosting content, managing subscriptions, tracking user engagement, and promoting your services.
Read More: How to Become a Fitness Influencer (Free Guide)
How do I host an online fitness challenge?
Hosting an online fitness challenge involves planning the challenge, promoting it, managing participants, and tracking progress. Exercise.com's platform provides a comprehensive solution for hosting fitness challenges. You can manage sign-ups, track participants' progress, communicate with participants, and automate rewards, all within the platform.
Read More: How to Run an Online Fitness Challenge
How much do people pay for online coaching?
The cost of online coaching can vary greatly depending on the coach's expertise, the services provided, and the market demand. It's important to set a price that reflects the value you provide while also considering what your target market is willing to pay. Exercise.com's platform provides tools for managing your pricing, processing payments, and offering different packages or tiers of service.
Read More: How much do people pay for online coaching?
How many clients can an online fitness coach have?
The number of clients an online fitness coach can handle depends on the coach's capacity and the level of service provided. Online coaching can be more scalable than in-person coaching, as it allows for automated communications, group training sessions, and digital resources. With Exercise.com, you can effectively manage a large number of clients by leveraging features like automated communications, workout tracking, and scheduling tools.
Read More: How many clients can an online fitness coach have?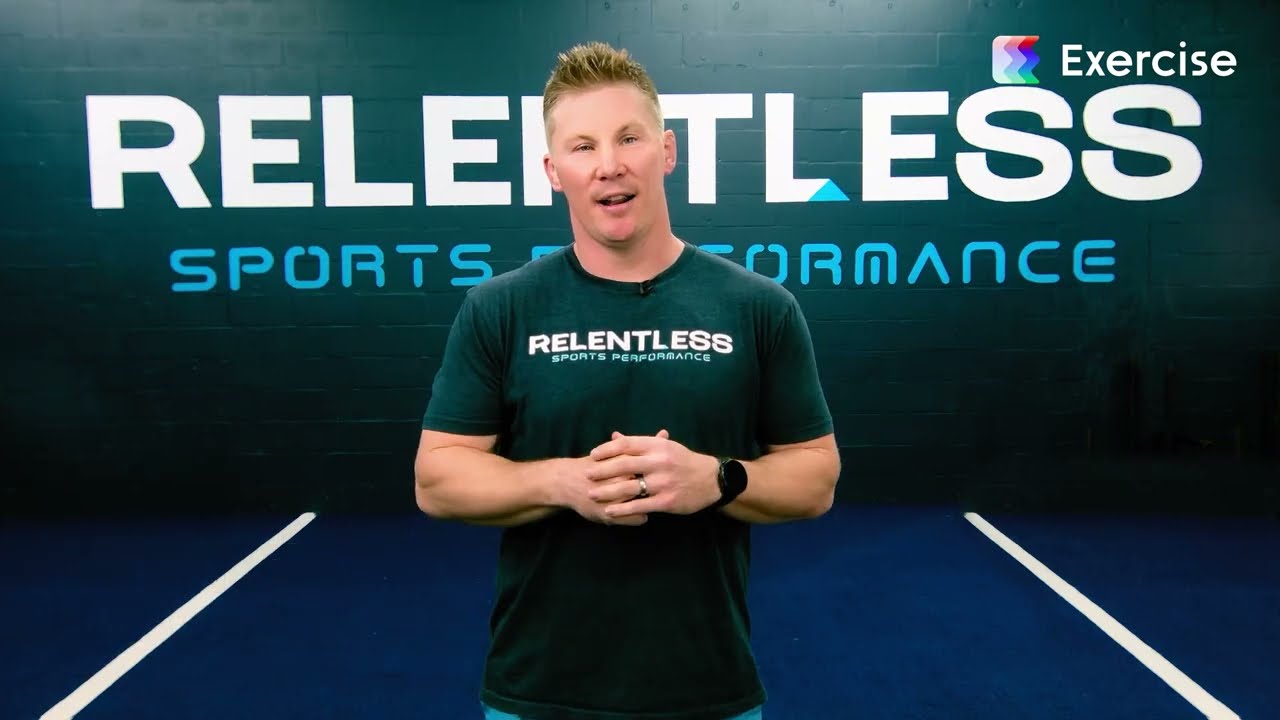 If you want to offer an elite service for the end user you need to get with the times and use elite level software that is intuitive, visually appealing, and effective. That is exactly what Exercise.com delivers to its clients.
Jimmy Myers
Owner/Trainer, Relentless Sports Performance