Get the Basics...
Generating new gym memberships is an important aspect of building your gym/fitness business.
There are multiple ways to generate leads online, as well as in person.
Each of these examples can help to build your business and expand your reach.
Some of these are ideas that are easy to implement, inexpensive, and use little resources, whereas others may require a little more monetary investment and time.
If you're the owner of a gym, you know that generating new gym membership leads is one of the most important aspects of your business. New leads turn into new clients and new clients turn into increased gym revenue. Recurring monthly revenue is the life-blood of any fitness business, and the more leads you generate, the better. While we wish we could provide you with a secret gym lead generator, there is simply none out there.
Instead, lead generating takes work, practice, and time. We will help guide you to learn about different lead generation ideas that you could utilize for your gym (or the gym you manage). We've broken these ideas into two categories: (1) Lead Generating Online and (2) Lead Generating In-House.
Something that is essential for a gym owner to grow their business is a business management software platform that will allow them to manage their clients and run their training business effectively. Request a demo of our All-in-One Fitness Business Management Software to learn more today.
Lead Generating Online
Whether you own a gym, manage a gym, or you have an online-based training business, generating leads online will turn out to be very resourceful. We live in a social media world and even if you see your customers daily, finding potential clients can be done online. The following ideas will help you entice potential leads to either (a) provide you with information that you can then use in your future marketing tasks and/or (b) actually come into the gym or purchase your services online.
Lead generating online will focus on reaching clients through creating lead magnets, through social media, through content creation, and paid advertising. One factor that can be seen among all of these outlets is the building of your email list.
According to CampaignMonitor.com, email lists are important because email marketing is the best way to connect with customers vs. social media. In fact, you are six times more likely to get higher click-through rates through emails as opposed to tweets.
Also, email is 40 times more effective at acquiring new customers than Facebook or Twitter. See the video below for more reasons why email marketing is a must:
#1– Creating a Valuable Lead Magnet On Your Website
A lead magnet is something of value that your site visitor receives in exchange for lead information. When someone arrives on your landing page, they'll be asked for something like their email or phone number and receive something in return — a "magnet" for your leads. According to Philip VanDusen, CEO of Verhaal Brand Design, for every lead magnet that you create, you'll want to ensure that you have the following four items along with it:
Call-to-Action – The call-to-action is something for the lead to click on to start the process of obtaining their information.
Landing Page – This is the area where the lead will input their information in exchange for receiving something of value from you
Thank You Page – This page is where the lead will either download or be directed to the item that you have promised in exchange for their information, and this is also a great page for you to thank them for joining your email list and/or for giving you their information.
Welcome Email – Immediately upon exchanging lead information for something of value, you could set up an automation for your lead (and potential client) to receive a welcome email to let them know what their "subscription" means and how they will continue to receive valuable information in the months to come.
Now that we understand what lead magnets are (generally speaking), it's important to make sure that your lead magnet is effective enough to draw people into it. After all, if no one is interested in your "magnet" then you won't be very successful at generating leads.
To create a valuable lead magnet, you must think about what potential clients you are hoping to reach. Since you own (or manage) a gym, you know that these "magnets" should be centered around the health and wellness industry. Therefore, some helpful magnets could be:
Freebies in the Gym  – trading gym classes or sessions for leads

7 Day Free Class Pass
Free Body Composition Assessment
Fitness E-Book – trading knowledge for leads

"How to Follow Macronutrients"
"How to Start a Weight Loss Regimen"
"The Ultimate Guide" – trading exclusive information for leads

"The Ultimate Guide to Building Your Glutes"
"The Ultimate Guide to Getting Your First Pull-Up"
Resource Guides – trading curated information for leads

Keto Recipe Resource Guide – a list of helpful places to find the best recipes
Powerlifting Gear Resource Guide – a list of places for powerlifters to purchase their gear
Checklists – trading checklist items for leads

"10 Things To Do Before You Start A Weight Loss Regimen"
"5 Tasks To Complete Each Night Before Bed"
Workbook or Template – trading guidance/tools for leads

"Filling In Your Goals For The Week Ahead"
"Exercise Calendar To Stay On Track"
#2 – Content Marketing
Following the idea of creating a landing page with a lead magnet is the thought that to get people to your website in the first place, you must be creating quality content. OptinMonster.com says
"Great content attracts an audience. With an audience, you can generate leads. And once you've captured those leads, you can market your products and services to make sales."
BostonDigital.com put together a full guide of 41 different ways to utilize content marketing that will help you to sell your service/product: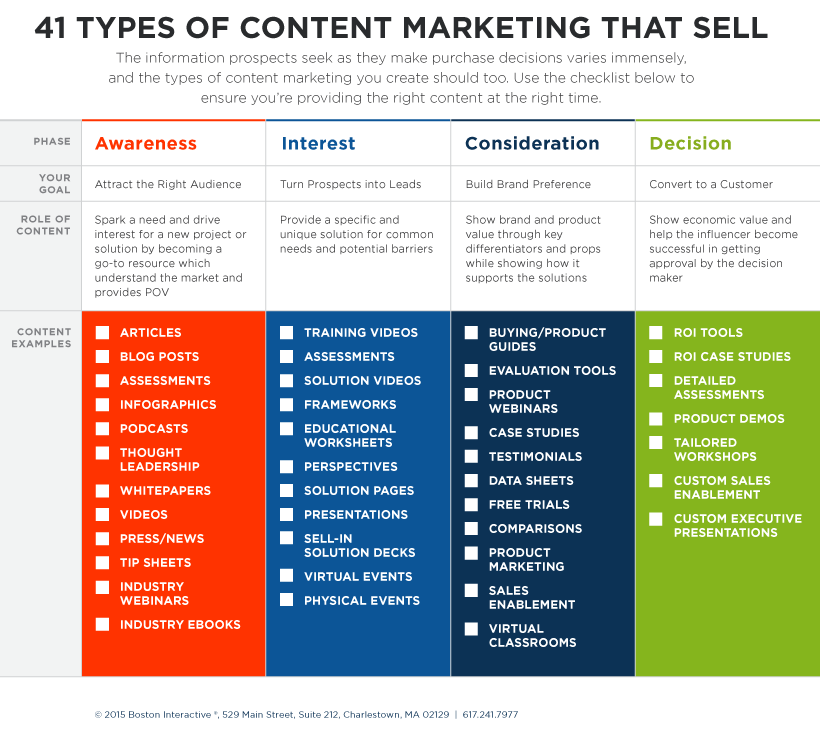 All of these styles of content marketing seen above will add value to your brand and reputation, as well as generate interest in what else you have to offer. Focus on your target market and their interests and you'll gain leads authentically.
#3 – Social Media Marketing
While social media is a place to establish your business and build your overall brand, it's also a great place to generate leads. According to SocialSprout.com, when done correctly, you can use sites like Facebook, Twitter, LinkedIn, and Instagram to generate real leads for your business. The cherry on top is that social media lead generation is cost-effective and produces results:
Social media marketing has reduced costs for 45 percent of businesses.
24 percent of businesses saw their revenue increase when they utilized social media for lead generation.
To start generating leads on social media, you need to do the following:
Figure out your target market and what type of channel they use (e.g., 20-year-olds are more likely to use Instagram than LinkedIn)
Implement hashtags whenever possible
Use videos to catch more attention
Post relevant information consistently
#4 – Paid Advertising
Even with all of the content marketing and social media marketing that we do today, paid advertising is still an important part of a comprehensive lead generation strategy, particularly online. Today, online advertising offers a variety of options when it comes to how your ads will look and where they will appear. There are many forms of online paid advertising and the mechanics of how they operate can vary. Two of the most common forms are:
Cost-Per-Click (CPC) – You only pay for click-throughs. This means that if you set your max CPC at $1, you will pay up to $1 every time someone clicks on your advertisement and gets redirected to your landing page.
Cost-Per-Mille (CPM) – You pay based on how much it costs for 1,000 impressions. Whether people click on your advertisement or not, you get charged the same amount.
KickoffLabs explains that to be efficient with paid advertising you must:
Get acquainted with analytics
Test your advertisements to see what worked well and what didn't
Gauge its effectiveness
Test again with metrics
Optimize your campaign
Many marketing companies will take over this style of advertising for small companies since it can oftentimes be pretty complex. If you're wanting to tackle some of the paid advertising on your own, many recommend the following places to start: Google AdWords and Facebook Ads. Both of these seem to be the most user-friendly, however, you should do your research to ensure that you're making good decisions since money is on the line.
See for yourself - Meet with the Exercise.com Team today
Grow and manage your fitness business better with Exercise.com
Lead Generating In-House
In addition to all of the outlets you may use online to gather potential clients, you also have the opportunity to generate leads within your gym walls. There are a variety of ways to use your already loyal clients to help gather leads for your business. Below, we included quite a few ways you can generate leads by putting together in-house activities.
However, for this to work seamlessly, you need to ensure that inside your gym, you have a way to gather each potential client's information. Perhaps you have a sign-in sheet for them to fill out when they arrive or maybe you focus on scheduling a consultation with them right then. Since you have them face-to-face, you'll want to capitalize on that right away.
#5 – Charity Workouts
Leading charity workouts is a great way to introduce your business to new people while helping a great cause (see video below). The charity itself will oftentimes help to promote your free workout and your current clients will have a blast working out alongside new potential clients. During these charity events, you could hold raffles or giveaways to help bring more people in to show up and participate.
#6 – Bring A Friend Week
What better way to bring new people to your gym than through your current members? To encourage your members to tell their friends about your gym, offer them some kind of incentive (like a raffle prize for those who bring in the most friends, etc).
This is a benefit for a few different ways, the new potential clients are coming in with someone they know so they are already more comfortable and they can use your already loyal client as an accountability partner in the case that the potential client decides to buy a membership.
#7 – Workshops
Workshops help you earn more revenue and boost your retention at the same time. (The more knowledge and tools a gym member has, the more successful they will be, and that success correlates with greater retention.) Furthermore, it will entice potential clients if they are interested in the topic being offered (see video above).
The goal is always to bring more people to your gym space. Also, industry professionals will lead a workshop (for free) in exchange for access to your gym members. For example, a massage therapist could host a workshop on foam and trigger point rollers for mobility, and a competition prep coach could give an overview of the fitness competition space.
#8 – Challenges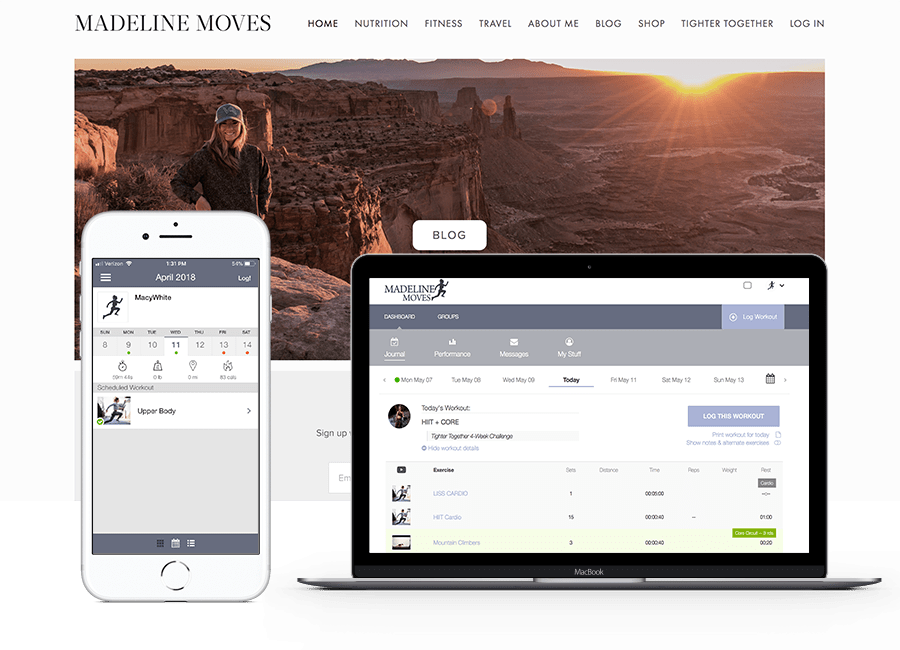 If you want to revive the motivation in your members, as well as appeal to potential clients, holding a challenge or contest can get your members revved up in no time. A friendly, motivating challenge is a great way to build a sense of community leading to increased memberships.
Be sure to design various competitions based on the fitness levels and the types of services that you are offering. You can also hold contests based on certain fitness criteria such as most miles covered, maximum weight loss, most calories burned, etc. If there is a prize involved, it may even encourage more people to sign up. Be creative and try different challenge ideas from time to time.
Exercise.com's custom-brand apps has helped fitness pros take challenges to the next level. For instance, Madeline Moves (see above) runs quarterly challenges as well as daily workout challenges. These challenges are a great way to engage clients and get them into your programs.
#9 – Social Gatherings
It's time to bond with your members beyond the walls of your gym center. Consider inviting your members to dinner after a Friday evening session or entertain them with a night out once per month. The idea is to strengthen your social bonds on a personal level so that your members view you as more than a mere mentor.
This type of bonding would increase the likelihood that your clients will want to stay with you for the long haul. Also, many potential clients may look at their current gym membership community and realize that they would love that gym-life relationship their friends have. A welcoming open culture is bound to get you soaring membership rates.
#10 – Volunteering/Community Work
Getting a few marketing stunts done right within your local community is a great way to build trust and retention among your existing clients while reaching out to more people. You can run a seminar on some popular fitness topics or address health conditions that are prevalent in your community. A half an hour session on health family meals or reverse aging workouts can get the residents interested in your seminar. Make the entry free for everyone and encourage your visitors to bring along friends and family.
#11 – Business Partnerships/Joint Ventures
By joining hands with other local businesses, you can easily run large-scale events. This way you will not be able to reach out to a wider audience but also connect to your partner's target audience. While this might be true for your partner too, opt to partner with a business that would complement your product and services without being in direct competition with your brand. You can form partnerships with massage centers, physiotherapists, healthy food outlets, etc.
#12 – Invest in a Fitness Business Management Software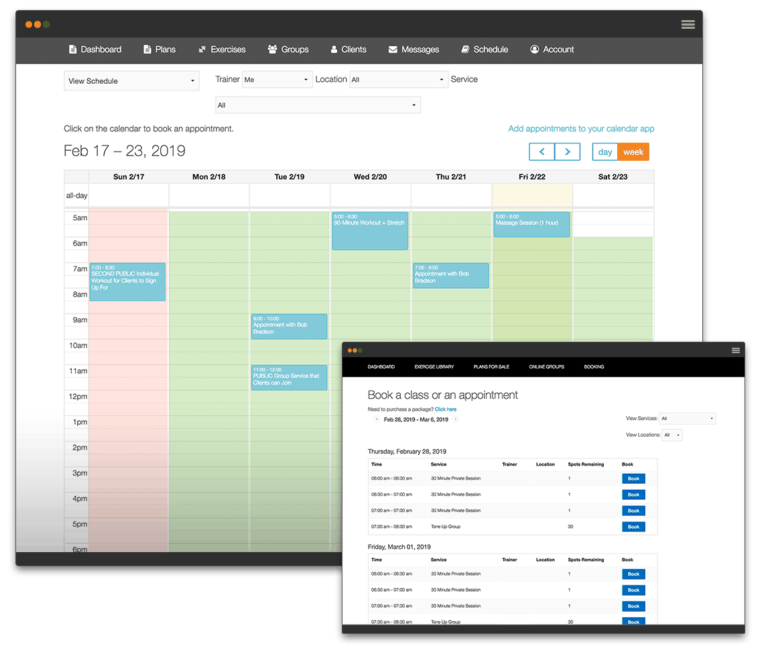 Generating your leads and diversifying your income is important and it's just one way Exercise.com can help you. Our custom-branded all-in-one software can save you time and increase revenue.
It can open up the possibilities of upselling and downselling clients. Engaging them in ways that are professional and advanced via your own custom apps.
You can also selling your works in a variety of ways — in a gym settings, online, via challenges, subscriptions, groups, individuals. You name it our software can do it.
Check out these pages for more information on what Exercise.com can do for you:
See what our clients are saying about Exercise.com below:
Frequently Asked Questions (FAQs)
Should I hire a marketer to generate leads for my business?
You don't necessarily need to hire someone to handle lead generation for your personal training business; however, if you have the disposable income to do so, it may prove to be the best option for your business.
Do I need to pay for advertising?
No. While it can be beneficial, paying for advertising is not necessary. Something is better than nothing. If you can only afford types of marketing and advertising that are free, start there and reevaluate in six months.
Are there tools available to manage email marketing and/or social media marketing?
Yes. Sites like MailChimp and Constant Contact are great for email marketing. Websites like HootSuite allow you to compile all social accounts onto one platform where you can post and schedule content for all of your social media accounts.
These are just some ideas to get you started on generating more leads for your gym. Once you can get potential clients in, the next step is to retain them. Within the Exercise.com app, you can bring your fitness community together with leaderboards, your own unique created workouts which you can deliver to clients, a fully customized workout library to show members each exercise, and workout tracking so that members can see where they started, how far they've come, and how much further they have to go.